When you arrive in Frankfurt, the first thing that strikes you is the abundance of skyscrapers. A Chicago-like skyline is the city's trademark and reflects its financial importance and the lots of business going on here. However, we're still in Germany, and you've got a lively green city behind the high towers of steel and concrete.
Frankfurt am Main is an ultimate destination for a rich cultural scene, non-stop shopping, heartfelt Hessian cuisine, and superb outdoor activities. Come here to visit the museums, explore the nearby spa towns, and sip the local Apfelwein.
Come here to enjoy life.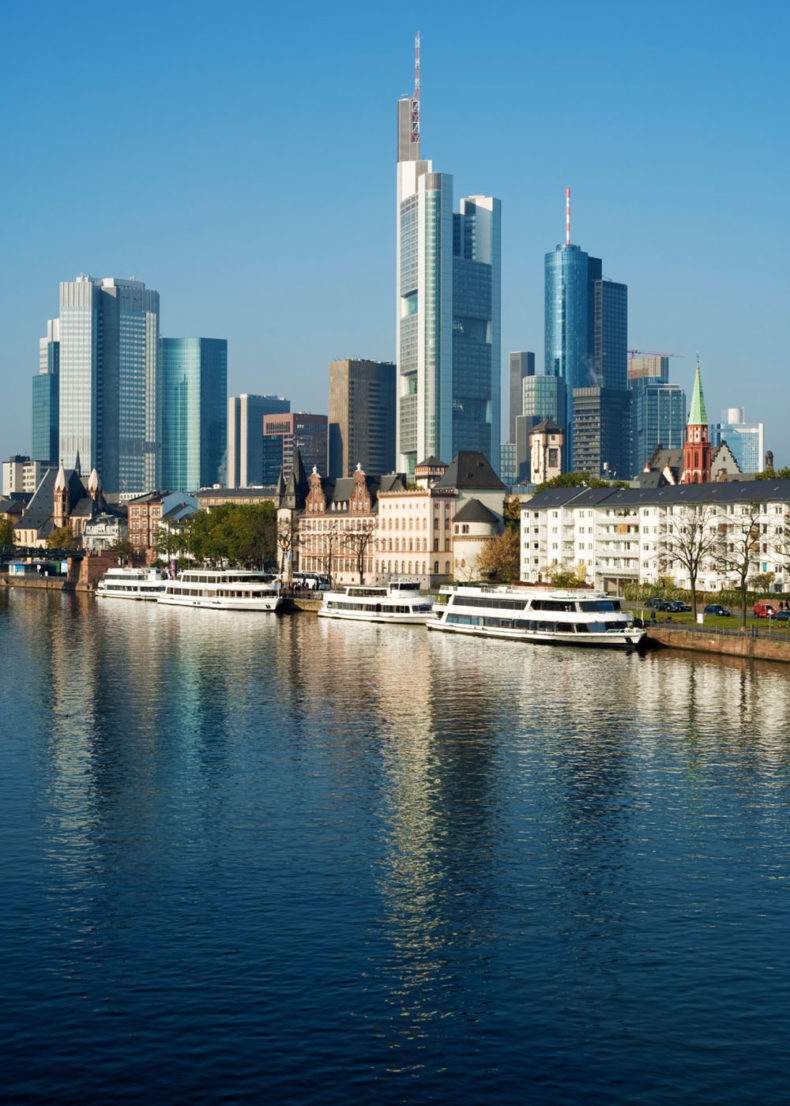 The most iconic spots
Frankfurt's present-day cityscape is defined by the fusion of thoroughly restored Old Town buildings and ultra-modern high-rises. In that regard, it's quite a unique city for Germany and also for Europe as a whole, where you don't find American-style downtowns that often.
The Second World War left the city in ruins, and Frankfurt decided to rebuild in its own fashion with an emphasis on modern architecture rather than bringing back its former appearance (as did Dresden and Warsaw).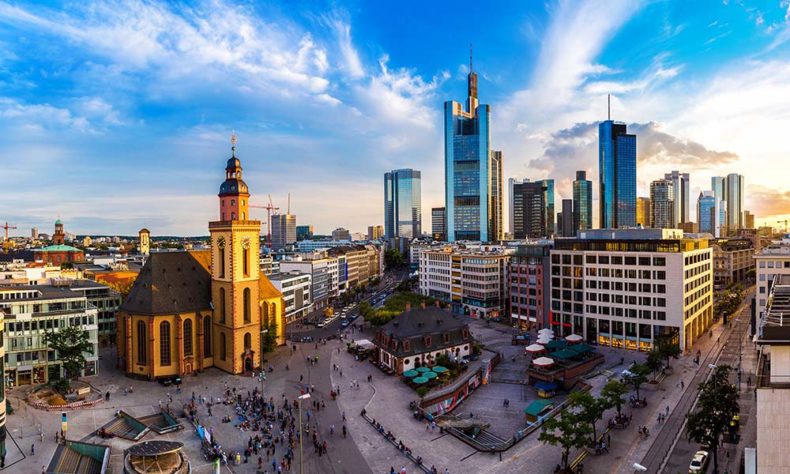 Still, lovers of the old won't be disappointed, because Frankfurt's Old Town is a picture-perfect must-visit. Here you'll find narrow streets, multicoloured medieval burgher homes, and plenty of cosy cafés and restaurants serving local fare.
The centrepiece of the district is the pretty Römerberg, a busy square with the city's most photogenic buildings and half-timbered houses. Proceed to Neue Altstadt (the 'New Old Town') for even more historical buildings.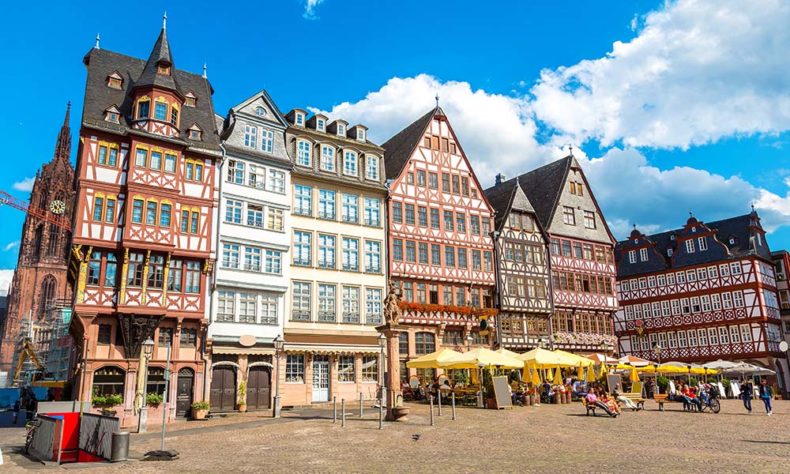 There's no better way to see Frankfurt than from above, and thankfully you've got some good awesome options. First of all, be sure to explore the Gothic grandeur of Frankfurt Cathedral, the city's restored landmark. Three hundred eighty-six steps lead to the top of the bell tower for an unparalleled vista of the city's skyline.
But while the cathedral's height of 66 metres is impressive, how about hitting the 200-metre mark? That's what you'll get on the observation platform of Main Tower in the business district. It's particularly breathtaking at sunset.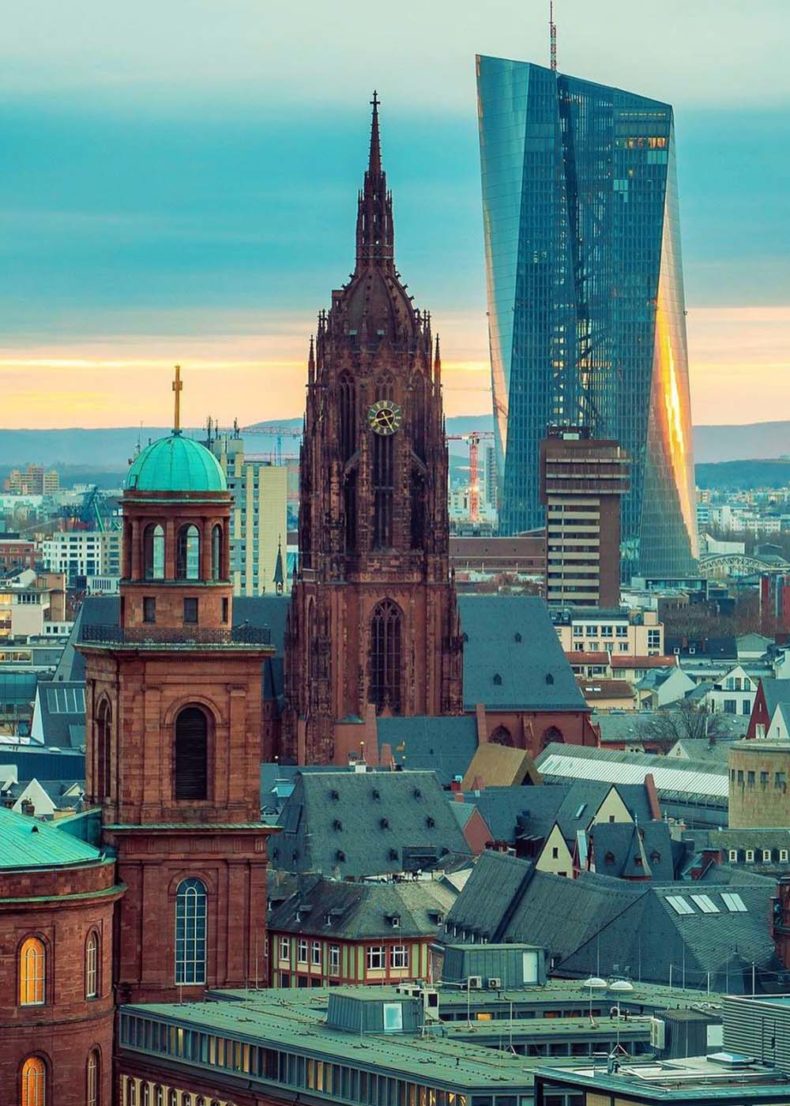 Frankfurt is serious about its museums. Also, the way they're organised here is quite remarkable. The majority of the city's museums are located along the banks of Museumsufer, or 'Museum Riverbank', which occupies both banks of the Main River.
So, when other cities have pub crawls, Frankfurt offers a 'museum crawl', in which you can easily go from one museum to the next, endlessly exploring.
For fine arts, check out the superb Städel Museum; the Historical Museum provides information about the city's development; and the local Museum of Applied Arts is among Germany's best.
As for contemporary art, head to MMK, Schirn Kunsthalle, and Portikus. To finish the evening in class, catch a performance at the Alte Oper.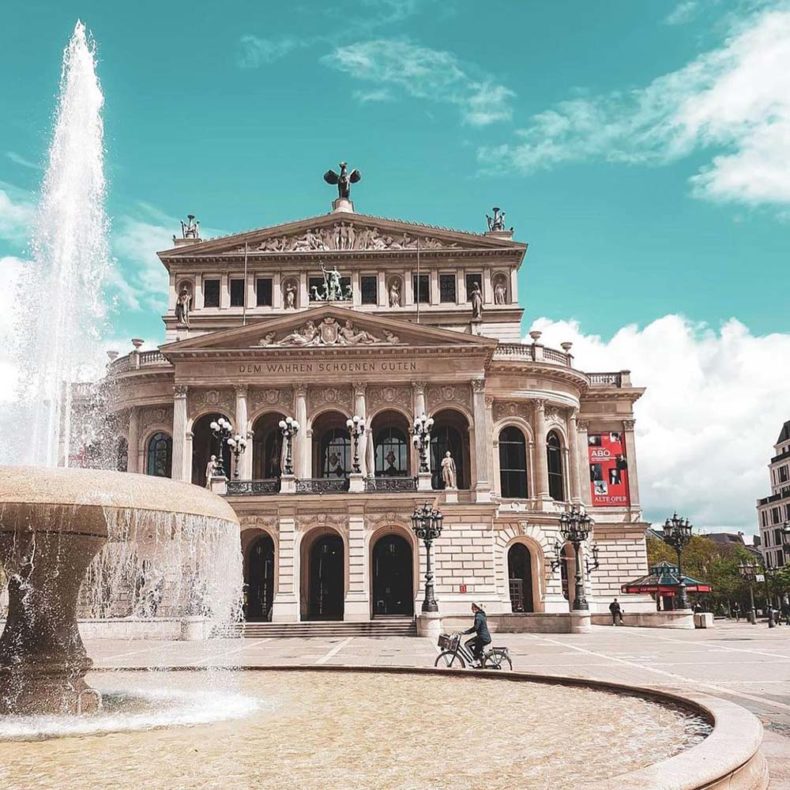 The ultimate shopaholic destination
Shopping is an important part of Frankfurt's DNA. The offer is indeed unlimited, with plenty of shopping malls, luxurious boutiques, artisan stores, and everything in between.
But one location stands out from the rest: the street known as the Zeil is the ultimate shopaholic destination and a mecca for everything commerce in Frankfurt am Main. Having been the pumping heart of the city ever since medieval times, today it's one of Frankfurt's icons.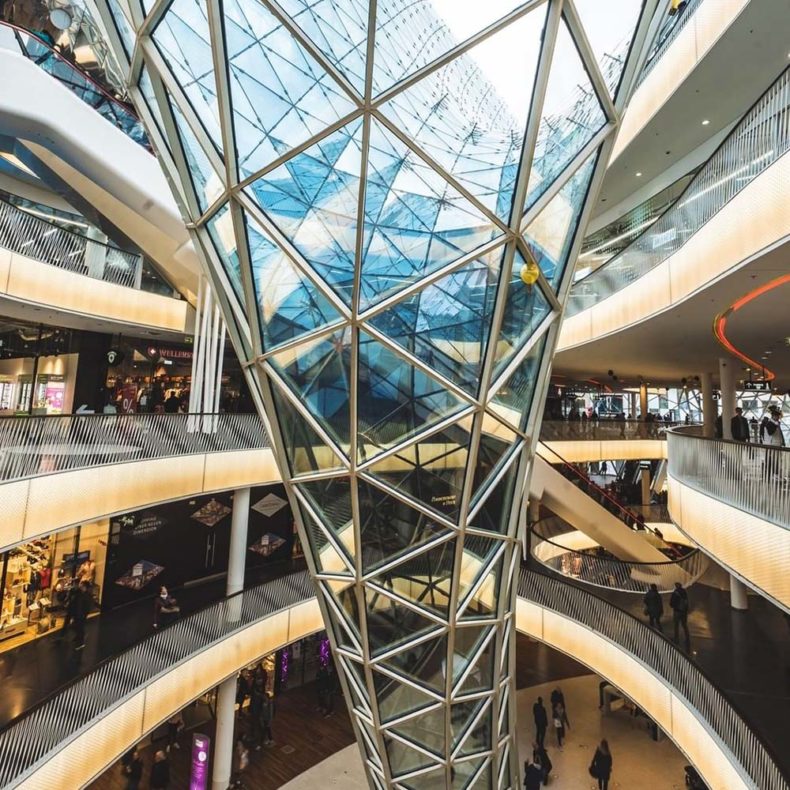 The futuristic architecture of the MyZeil shopping arcade designed by Massimiliano Fuksas immediately draws one's attention. The black hole-like tube in the middle invites you to be engulfed by the multi-level centre featuring well-known fast-fashion brands, a plethora of diverse stores, and a food court. But that's not all on the Zeil.
Here you'll also find the Galeria Kaufhof and UpperZeil for even more shops and endless browsing. Mega malls outside the city centre include Nordwestzentrum, Hessen-Center Frankfurt, and Skyline Plaza, which has a scenic rooftop.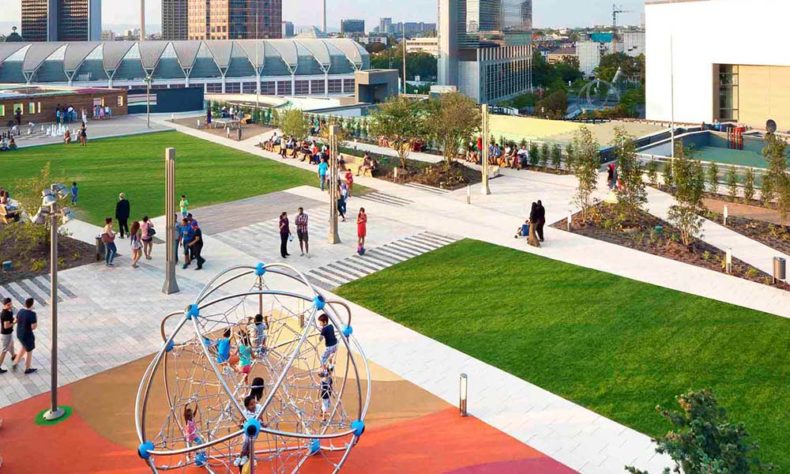 As for luxury items, Goethestraße near the Zeil is the address to look for. With Michael Kors, Gucci, Versace, Dior, Cartier, Chanel, Jimmy Choo, and other de luxe boutiques, fashionistas won't be disappointed.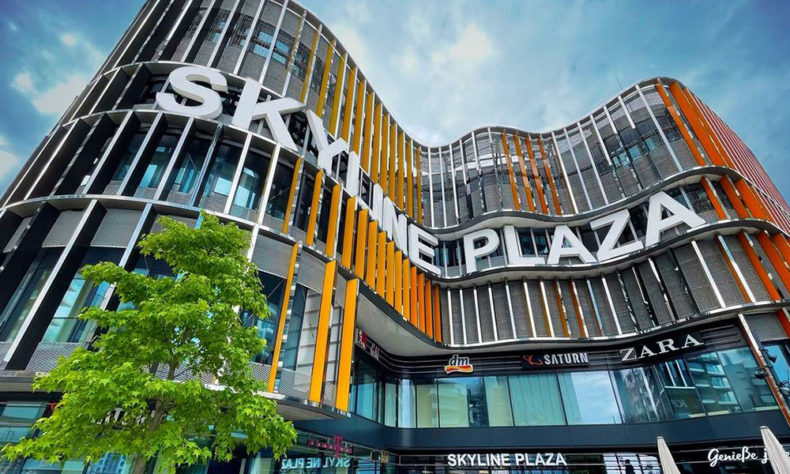 Head to Berger Straße for hip, vintage, local shopping as well as a quirky atmosphere. Here, the many cafés and Apfelwein taverns dotting the city's Nordend-Ost and Bornheim neighbourhoods provide a more authentic experience as opposed to the commercialised, business-heavy skyscraper area and the Old Town.
Festival season
Not many cities in the world have democracy as a part of their ethos. Frankfurt does, and it duly celebrates this fact. It was in 1848 in St. Paul's Church that the German parliament voted on a liberal constitution and created a German nation-state, thus establishing a democratic tradition in the country. The St. Paul's Church Festival in 2023 will highlight the 175th anniversary of this event.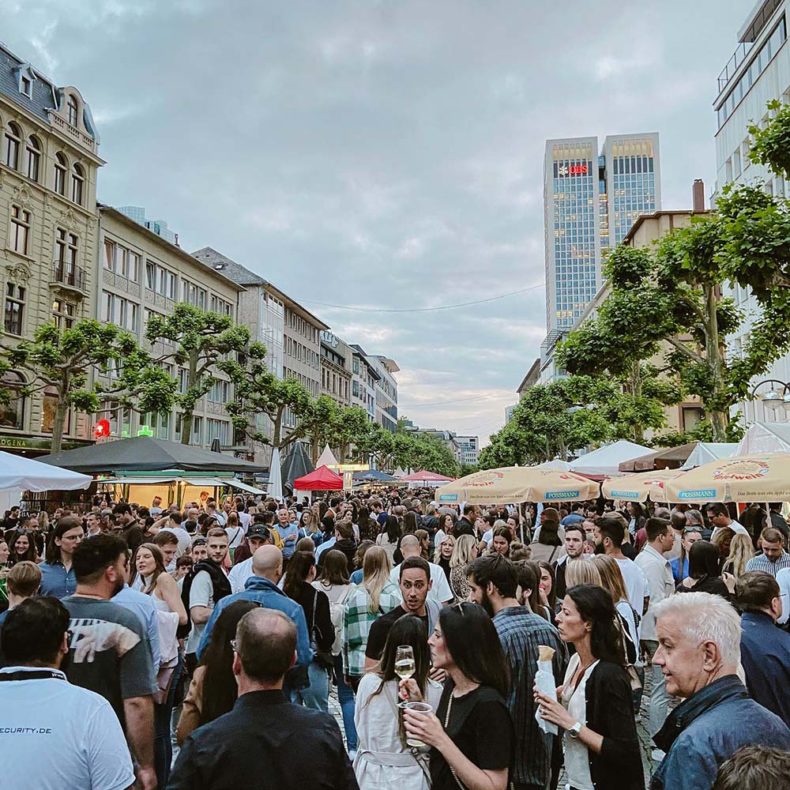 This autumn, however, the city continues doing what it does best, namely, throwing a good festival. Wine lovers will feel at home at the Rheingau Wine Festival, which takes place in the first week of September on the centrally located 'Freßgass'.
Then there's the Dippemess, a traditional fair with a market and an amusement zone held in the city ever since the 14th century. It's the best place to sample street food, have some family fun on the carousels, and ultimately experience a very Frankfurt-ish happening.
Finally, jazz prevails on October 3, when the Jazz zum Dritten festival is held in the Old Town.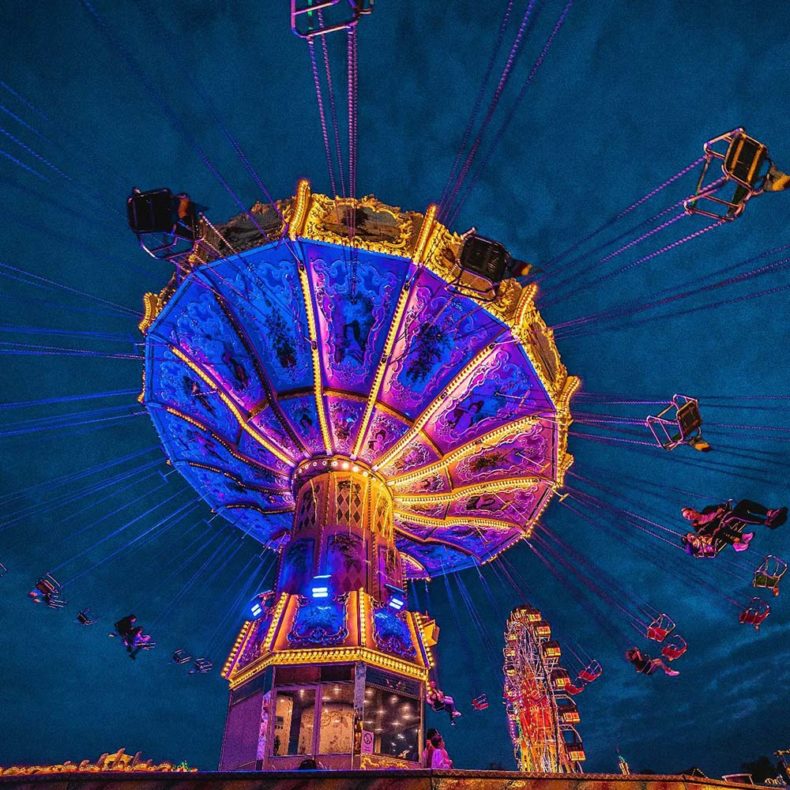 Apart from festivals, one of the best ways to get to know the real Frankfurt is to visit the weekly open-air markets.
An amazing city tradition, locals flock to these markets to socialise, buy fresh goods from local producers, and enjoy the buzzy atmosphere.
The biggest market is the Bauernmarkt Konstablerwache, held on Thursdays and Saturdays. Other markets to check out are the Bornheimer Wochenmarkt, the Wochenmarkt Schillerstraße, and the Wochenmarkt und Markthalle Höchst. Come hungry and be prepared to taste a lot of local delights.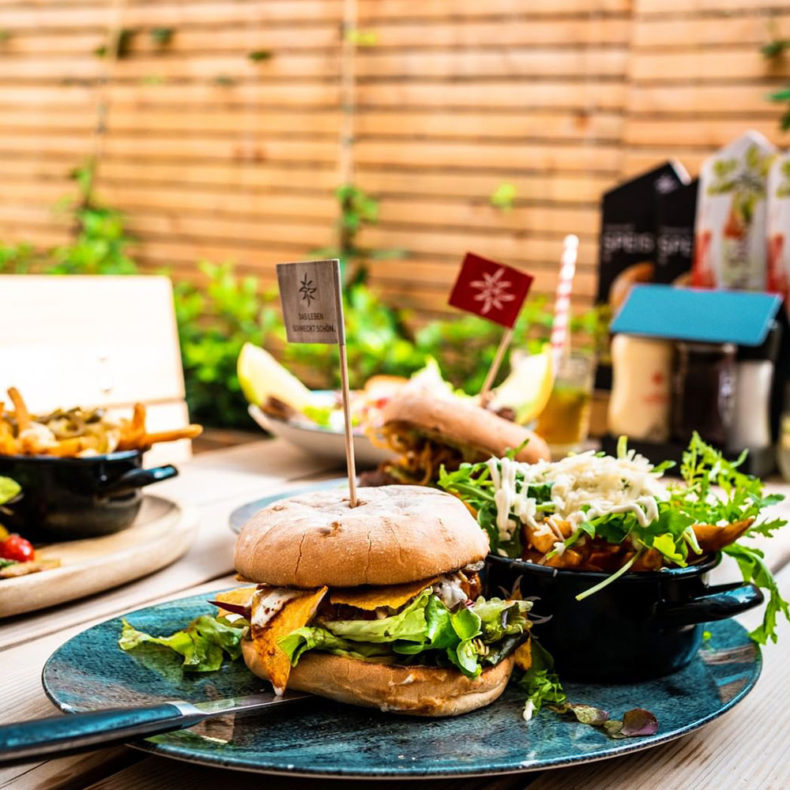 Tastes and flavours
When you think about something traditionally from Frankfurt, two things immediately come to mind. The first is, of course, Apfelwein. This sour, lightly alcoholic beverage made from service-tree apples is an integral part of local life. Frankfurters love to enjoy their Apfelwein outdoors, preferably on a simple, rustic terrace.
Go to the quieter neighbourhood of Sachsenhausen for the best selection of relaxing Apfelwein taverns to feel the true Frankfurt vibe.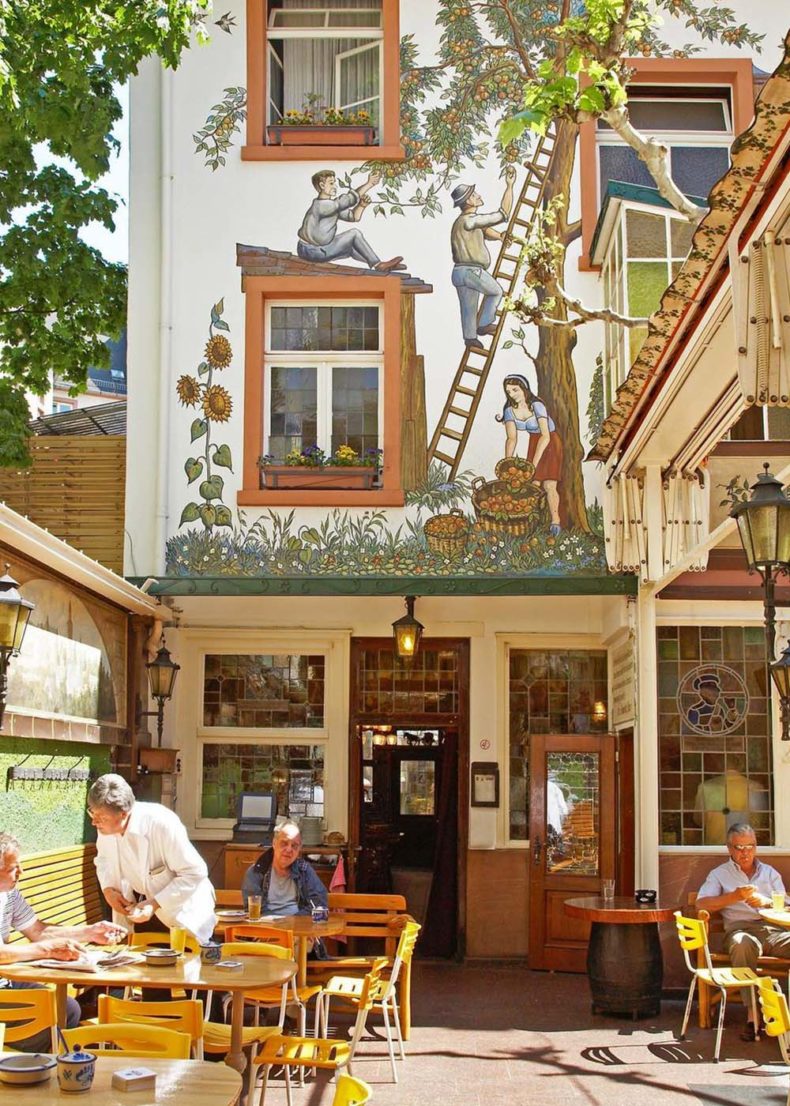 A second traditional flavour is Frankfurter Grüne Soße, an iconic green sauce. The favourite food of famous city resident Johann Wolfgang von Goethe, it's made of seven different herbs and goes very well with hard-boiled eggs and potatoes. Add a Frankfurter Schnitzel and a glass of Apfelwein and you'll get a full traditional experience that's also immensely delicious.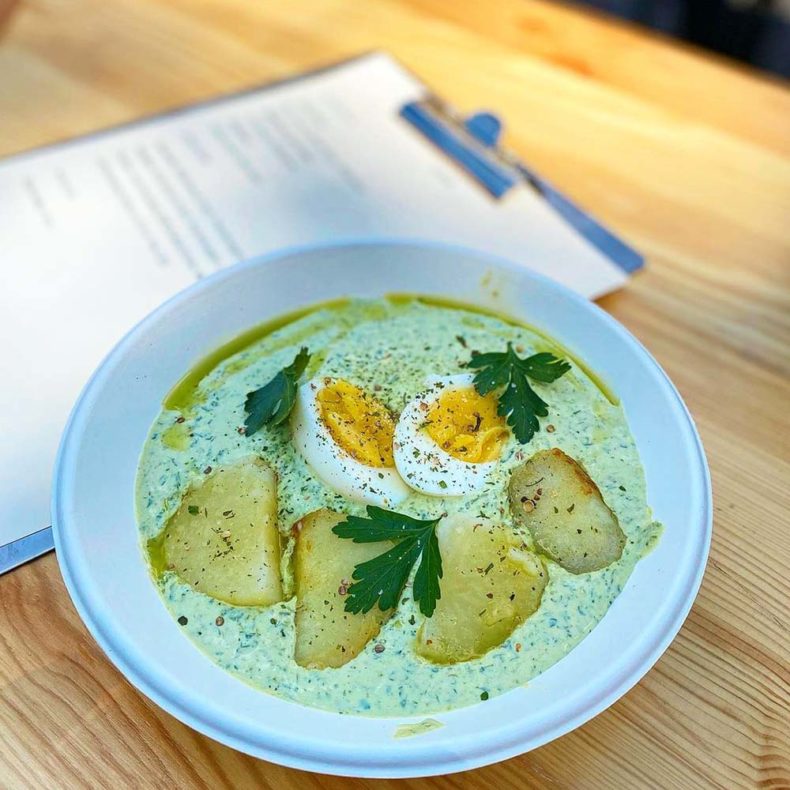 Frankfurt's fare may not be the most sophisticated, but it's definitely delicious and bears all the qualities of comfort food. For example, take another world-famous Hessian export – Frankfurter sausages. There's nothing more pleasant than enjoying this long, smoked piece of pork accompanied by bread and mustard on a sunny September day in one of the city's open-air taverns.
Another hot dish to try is Frankfurt loin ribs, traditionally served with sauerkraut and mashed potatoes.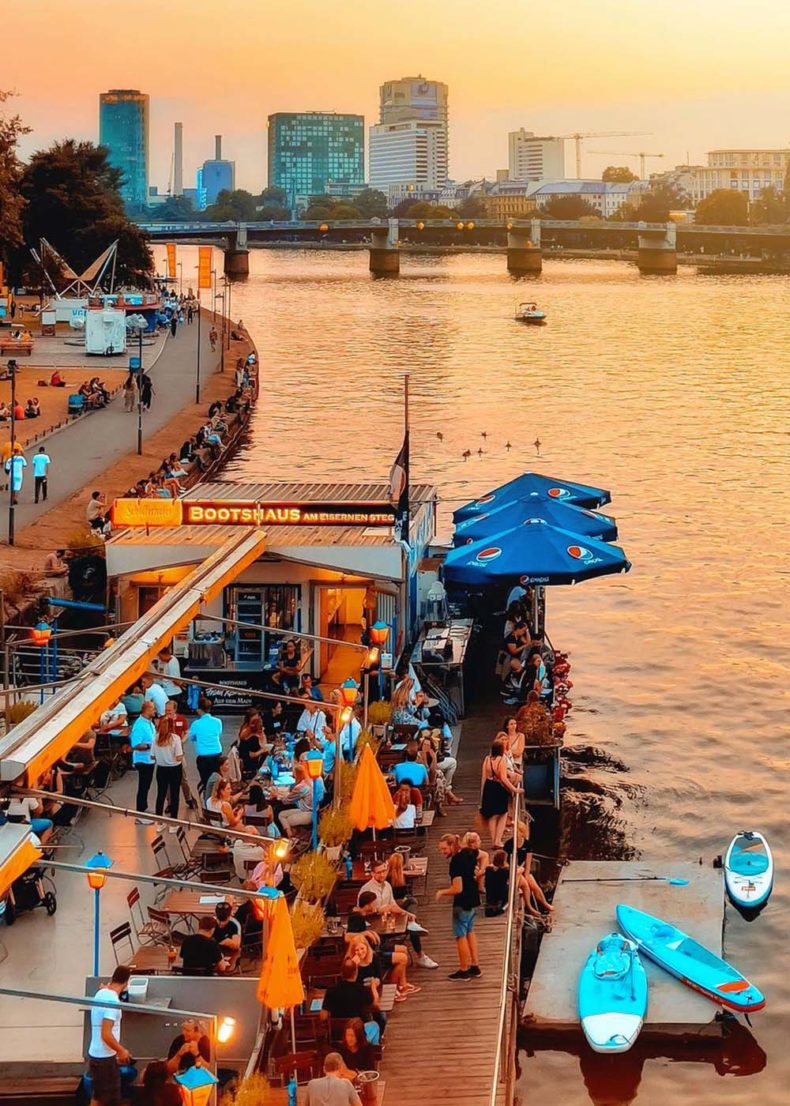 While this city may not be Munich, we're still in Germany, so beer is venerated. In fact, the local Radeberger Group is one of the largest breweries in the country. Needless to say, the meat-heavy local cuisine goes very well with beer.
Frankfurt is also home to many cool pubs, beer gardens, microbreweries, and hip bars. Check out Henninger am Turm for old-school German beer drinking, Naïv for a more contemporary offer, and Klosterhof for great local fare.
Still, Apfelwein is the king of local drinks, so you should definitely have a glass or two while you're in the city. Adolf Wagner, which has a great outdoor space and serves traditional local food, is a good place to start your cider journey. Fichtekränzi is another unmissable spot, as are old-school Apfelweinwirtschaft Frau Rauscher and Apfelwein Dax.
To buy some Apfelwein as a souvenir from Frankfurt, visit Apfelweinkontor.
Best day trips from Frankfurt
Thanks to fast, reliable, and affordable public transport and regional train lines, it's extremely easy to explore Frankfurt's environs. And there are a great many diverse day-trip destinations here to choose from as well, from fairytale-like old towns and spectacular fortresses to world-class spa resorts, superb natural escapes, and thrilling theme parks.
For starters, get to know the stunning green side of the city. Cycle to the vast Stadtwald Frankfurt (City Forest), which offers miles of walking and biking paths and a myriad of picnicking possibilities. You can also spend a whole fresh-air-filled day visiting three other prominent parks in the city: the beautiful 19th-century Palmengarten and its extensions, the Botanical Garden and Grüneburg Park.
Another cool outing idea is Lohrberg, the last-remaining vineyard within the city limits and a hill with quite a surreal view of the Frankfurt skyline.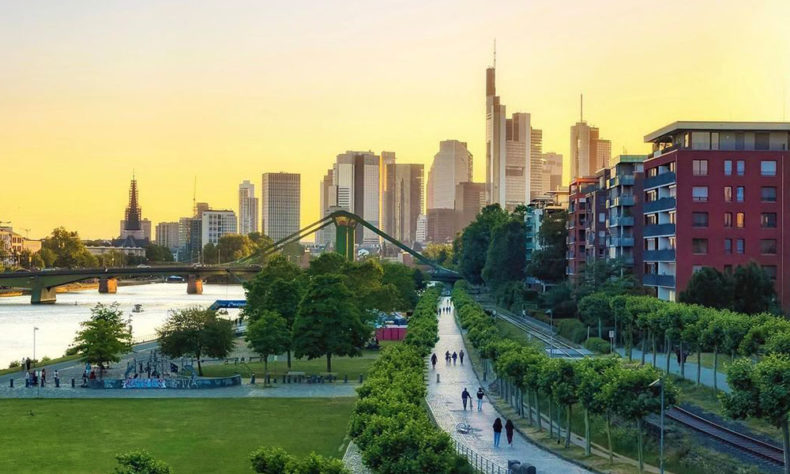 Embrace the romantic countryside of Hesse by visiting Wehrheim. While the locality itself is a typical sleepy German small town, its surroundings are packed with interesting sights.
First of all, there's Saalburg, a reconstructed Roman fortress with an archeological museum to explore. Families will enjoy Freizeitpark Lochmühle, a corn-mill-turned-theme-park with agriculture-inspired rides and animals to cuddle. The open-air Hessenpark museum is an ultimate Instagram destination with half-timbered houses, windmills, and cute wooden shops.
Discover the classy, leisurely side of the region by heading to one of the local Bads (Bad being a German equivalent of 'spa'). Just half-an-hour's trip from Frankfurt's centre and you're at the Jugendstil jewel of Bad Nauheim. Not only does this little town boast the largest Art Nouveau complex in Germany (the elegant Sprudelhof), but it was also home to Elvis Presley when he served in the U.S. military from 1958 to 1960.
For a more fashionable and notably larger spa town, visit Wiesbaden, which is among the richest cities in Germany.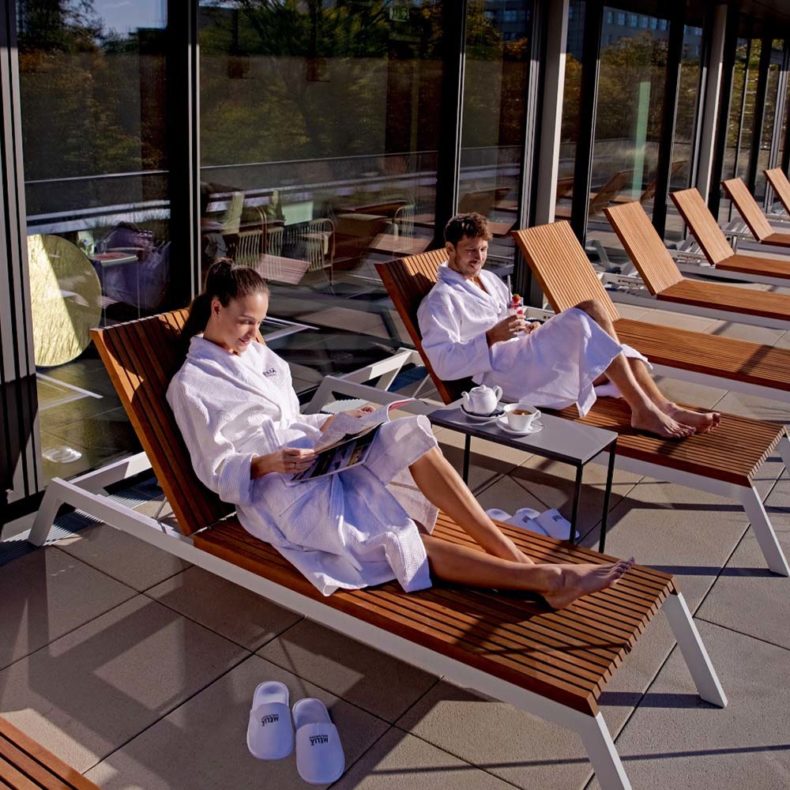 Text by Pavlo Fedykovych