Located amidst the picture-perfect hills of the Neckar River valley, Stuttgart is among the most exciting German destinations.
Embodying high standards of living, boasting fantastic outdoors, and offering an unlimited number of cultural happenings, the Baden-Württemberg capital is a charmer.
Also, the automobile was born here, and world-renowned car pioneers Mercedes-Benz and Porsche both hail from Stuttgart.
Add a beautiful Old Town, a superb selection of palaces, magnificent museums, countless wine taverns and beer gardens, and you're getting an essential German destination. For shopping enthusiasts, Outletcity Metzingen in the hometown of Hugo Boss is also just 30 minutes from the city centre and connected to it via a shuttle transfer. 
Here are the best things to do in Stuttgart.
Take a tour of famous automobile brands
The determination to create a so-called horseless carriage led one Stuttgart inventor to craft the world's first engine and, subsequently, the automobile. His name was Carl Benz, and his Carlinvention changed the way humans travel forever. Today you can trace the journey from horse-driven carriages and bicycles to luxurious cars at the excellent Mercedes-Benz Museum, a must-visit when you're in Stuttgart. One of the most popular museums in Germany, it displays more than 160 vehicles inside a beautiful contemporary building. But that's not all; there's also another treat in town for automotive enthusiasts. The Porsche Museum on the other side of the city showcases another iconic Stuttgart company and its state-of-the-art racing cars from the mid-20th century to the present day.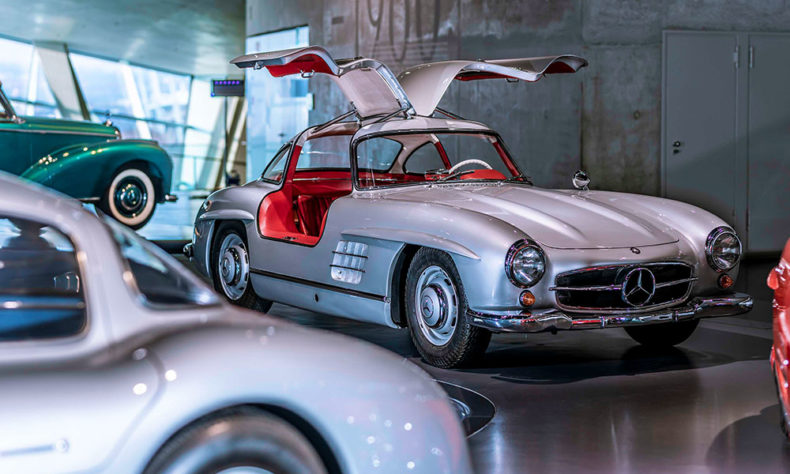 Photo by Mercedes-Benz AG
Explore historical architecture
Although many parts of Stuttgart's Old Town were destroyed in the Second World War, thanks to a thorough restoration you can still today admire the architectural gems of this city. Massive and spectacular, the Baroque-style Neues Schloss and the broad Schlossplatz are great starting points for an exploration of Stuttgart's historical core. The Old Castle nearby boasts a picturesque courtyard and houses part of the collection of the Württemberg State Museum.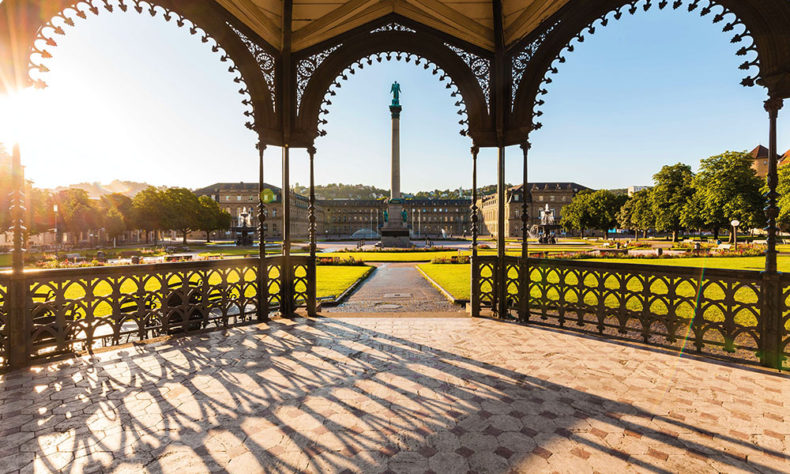 Photo by SMG, Werner Dieterich
Fans of architecture rejoice, because Stuttgart has another special something for you. The UNESCO-protected Weissenhofsiedlung is one of the best spots in the world to marvel at the work of the titans of 20th-century modernism. The complex was founded by celebrated architect Ludwig Mies van der Rohe, who gathered the visionaries of his time, including Le Corbusier (who built two houses for the project), to showcase the capabilities of the modernist movement.
Enjoy premium shopping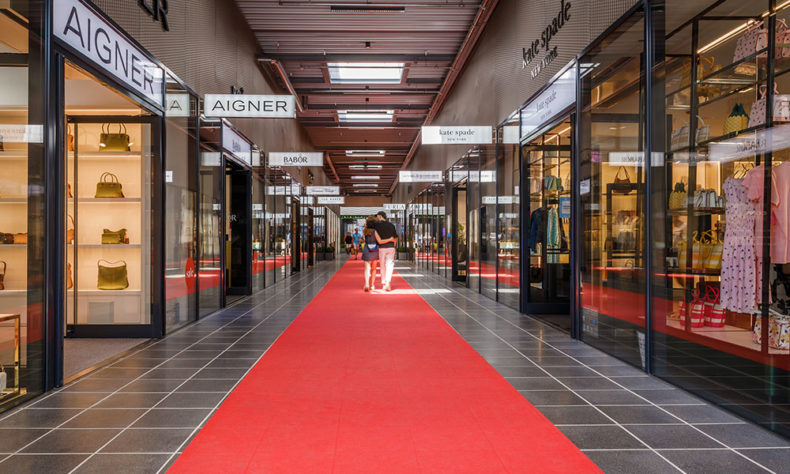 Photo by Outletcity Metzingen
Just 30 minutes from Stuttgart you'll find Europe's largest outlet, which is a delight for all shopping enthusiasts. Boasting more than 150 designer and luxury brands, Outletcity Metzingen, is a mecca for those looking for new products and great deals. From luxury and premium goods to sports, jewellery, and home & living, all of the featured brands tempt visitors with fabulous selections and prices that are reduced up to 70% all year long. The 'Shopping Shuttle' runs from Stuttgart to the outlet and back every Monday, Thursday, Friday, and Saturday. Book tickets directly online and board at one of the participating hotels.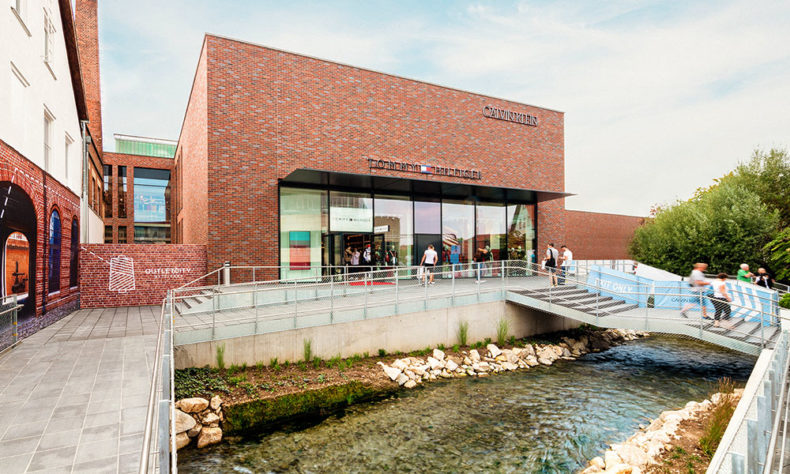 Photo by Outletcity Metzingen
The outlet's location in a picturesque town with a historical centre and surrounding vineyards is where Hugo Boss opened his tailor shop, which grew into a world-famous company. Its factory sale is the origin of Outletcity Metzingen, which is today home to the world's largest Hugo Boss flagship outlet store (over 5000 square metres). The combination of world-class shopping with history and a variety of restaurants makes this a great day trip from Stuttgart. Enjoy the tranquil but metropolitan atmosphere on the pretty old streets of Metzingen and explore the hiking trails in the surrounding Swabian Alb Biosphere Reserve, which is famous for vineyards and thermal springs.
Taste mouthwatering local dishes
One of the coolest aspects of Stuttgart is just how versatile it is in terms of food. As a rich German industrial powerhouse, it definitely knows how to dine in style, offering a plethora of top-notch restaurants serving fusion and molecular cuisine. However, this city is also very down-to-earth, and Stuttgarters are just as comfortable eating outdoors under the trees in a cheerful and simple Biergarten as enjoying perfect white-tablecloth chic at an expensive restaurant. But since you're here, it would be a sin to not try the best of the best of Swabian cuisine. Be sure to have a Zwiebelrostbraten (fried steak with onions), Gaisburger Marsch (an iconic local beef stew), and the obligatory Spätzle (Stuttgart's favourite type of egg noodles). And don't leave without a bite of a Swabian Bretzel, a defining street snack.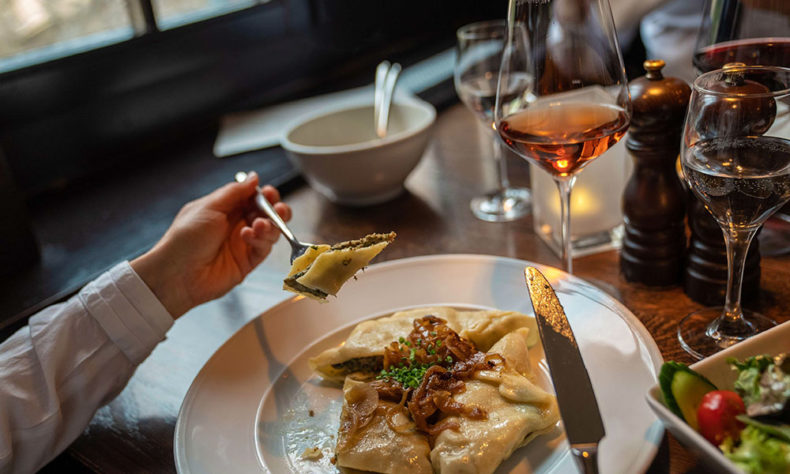 Photo by SMG, Alwin Maigler
Visit fascinating art museums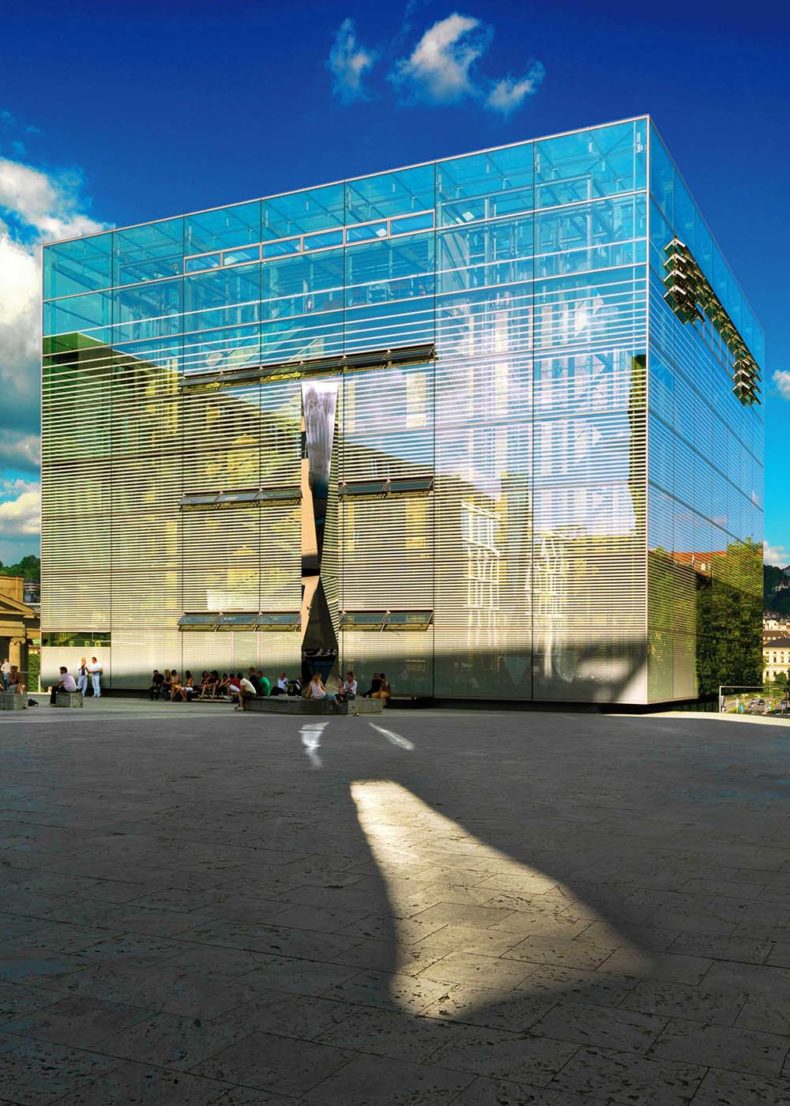 Photo by Kunstmuseum
On the museum front, Stuttgart is thrilling. With 12,000 square metres of exhibition space, and artwork spanning over 800 years of human history, the Staatsgalerie is among Germany's finest art museums. Its collection is divided between the Alte Staatsgalerie, which houses paintings up until approximately 1900, and the Neue Staatsgalerie (with a striking modern design by James Stirling), where you'll find work by Picasso, Schlemmer, Dalí, and Beckmann. For aficionados of modern art, there's also the Kunstmuseum, boasting the largest Otto Dix collection in the world. Finally, the StadtPalais is devoted to Stuttgart's history and also includes the Hegel House, where the world-famous philosopher was born.
Feel the cultural beat
Culture abounds in this German city. First on the list is the superb Staatstheater Stuttgart, which is comprised of three world-class institutions, all worth a visit. Check out the Staatsoper Stuttgart for a magnificently preserved interior, exciting repertoire, and famous performers. If you're into ballet, then Stuttgart Ballet specialising in full-length narrative ballets is a must. For drama, there's Schauspiel Stuttgart. And the city has also got the Apollo and Palladium musical theatres, which are Stuttgart's answer to Broadway.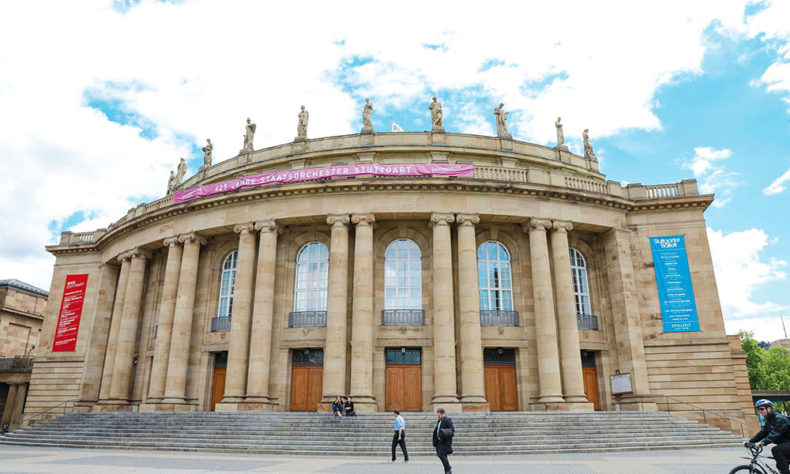 Photo by Fei Shiyu
See the spectacular symbol of eternal love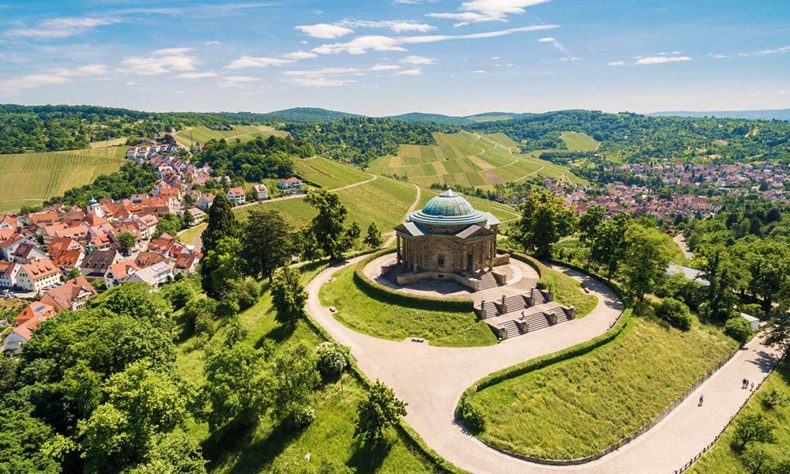 Photo by SMG, Jürgen Pollak
What connects India's Agra and Germany's Stuttgart? Both have stunning monuments devoted to eternal love. While the sprawling Taj Mahal complex is well known for its grand size and appearance, Stuttgart's Württemberg Mausoleum is a more compact, less known but equally wonderful place to visit. It was finished in 1824 and designed by Italian architect Giovanni Salucci for King William I of Württemberg in memory of his second wife, Catherine Pavlovna of Russia. There are two ways to reach the site: on board bus #61 or by hiking through the scenic vineyard terrain. The latter is the recommended choice, as it allows you to fully enjoy the outdoors, the views, and Stuttgart's spectacular location.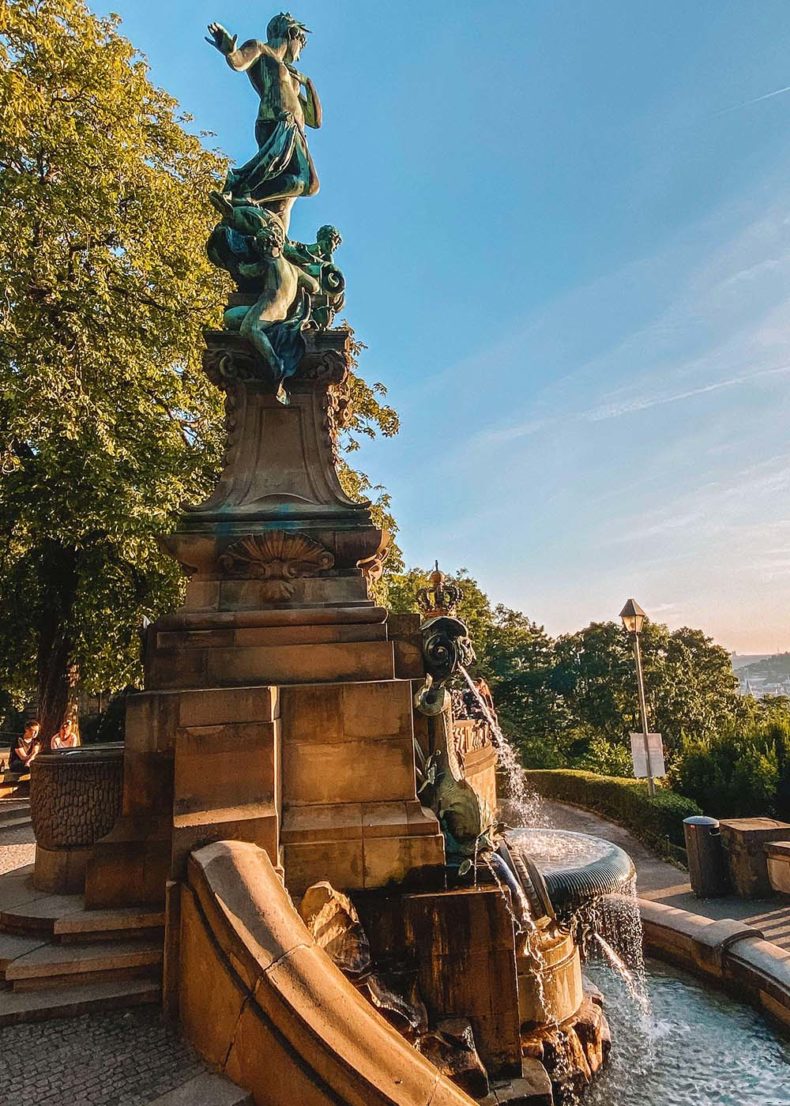 Photo by Nina Zasche
Improve your wine knowledge
While Germany isn't the first country most people think of when it comes to wine production, Stuttgart definitely loves its wines. The rich local history of viticulture began with the Romans, who first saw the potential of the fertile valley around the city, and the winemaking hasn't stopped ever since. Today, it's a city of more than 600,000 residents with a vineyard just 500 metres from the main train station. Everywhere you look there are vineyards! So it's no surprise that the numerous Weinstuben (wine taverns) are one of the staples of the local way of life. Must-try wines include Riesling, Pinot Noir, and Sauvignon Blanc.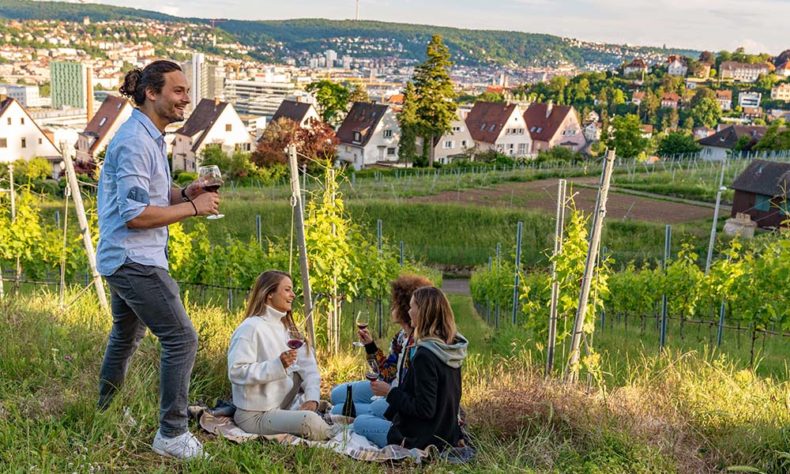 Photo by SMG, Martina Denker
To learn more about Stuttgart's wine production, visit the Museum of Viniculture. And don't miss the annual Stuttgart Wine Village, the city's biggest wine festival, which takes place from August 17 to September 4 in the heart of the Old Town. Combine wine sipping with some outdoor activity by taking the wine trail through the steep vineyards of Ober- and Untertürkheim, Rotenberg, and Uhlbach.
Choose sustainability
Sustainability is as important for Stuttgart as stately palaces, vineyards, and automobiles. The city's unique location in the heart of the valley gives you the opportunity to experience the outdoors firsthand by embarking on hikes, river canoe rides, long cycling trips, and hillside picnics. But the capital of Baden-Württemberg is also very eco-friendly in spirit. Support regional producers by shopping at the numerous flea and weekly markets, explore the diverse local vegan scene, and buy a sustainable souvenir from one of Stuttgart's many artisan shops. As with other German cities, public transportation here is very convenient, and there's also excellent bicycling infrastructure.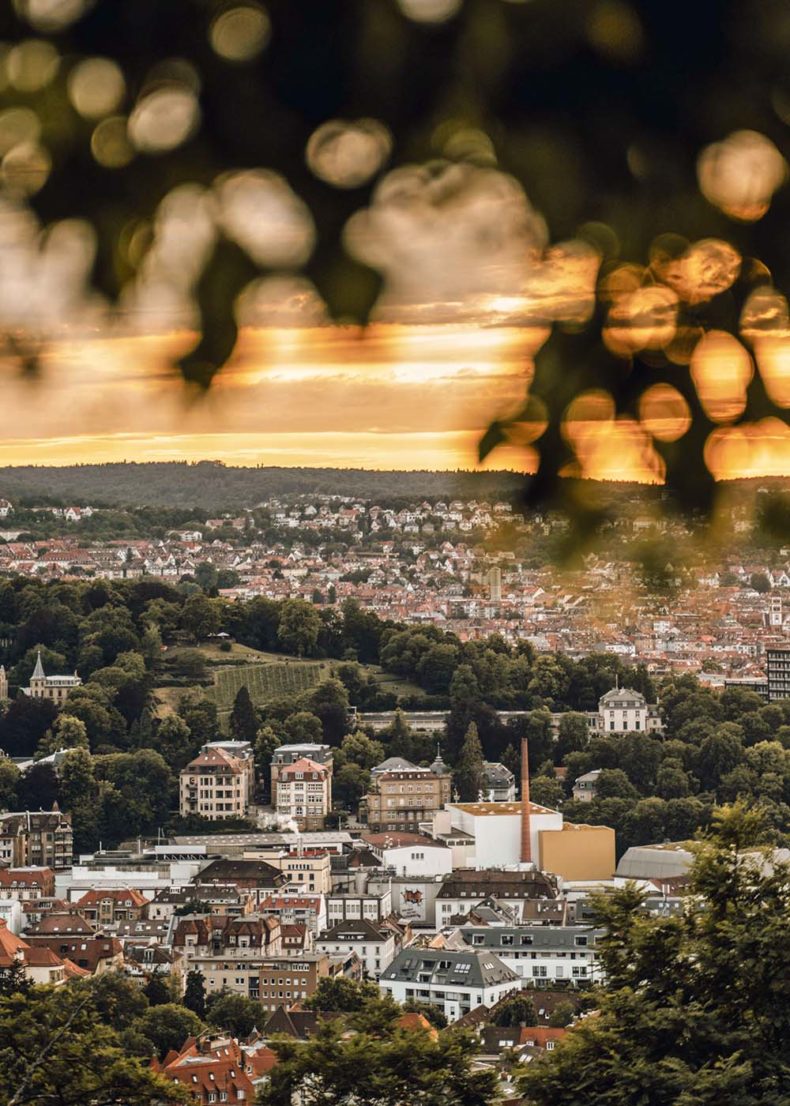 Photo by Sonne-wolken, globusliebe
Have fun at the airport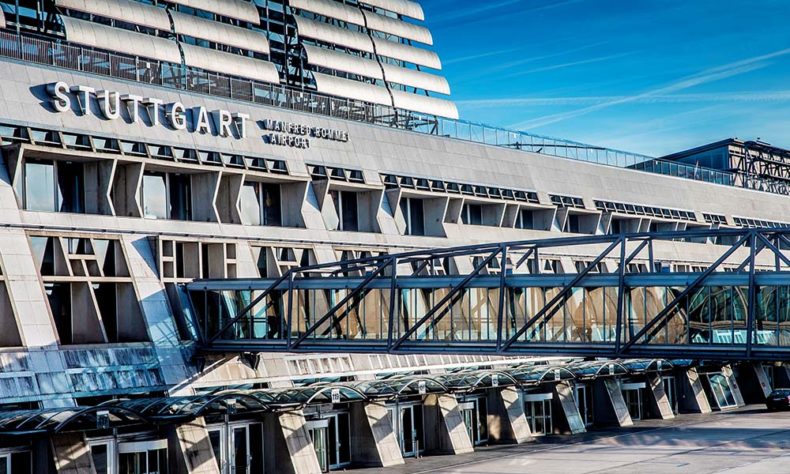 You can reach Stuttgart from Riga via direct flights three times a week. Stuttgart Airport is well connected to the city by the S-Bahn, subway, and bus. It's the sixth-largest airport in Germany and a very convenient gateway to the city. In addition to public transportation, visitors can rent a car for their stay from one of the eight car rental agencies. The airport is also home to SkyLand, an interactive visitors' centre with lots of cool aviation-related attractions that are great for a family visit. Take photos inside the turbine of a Boeing 777, play an interactive game where you become a marshal directing planes to their parking spots, and take a guided airport tour – there's something for everyone in this refreshing take on the airport experience.
Text by Pavlo Fedykovych