Our planet is a wonderful place. And it's all yours to discover!
Here are some of the most spectacular natural wonders that deserve to be on your bucket list.
Retezat National Park in Romania
Crystal-clear glacial lakes reflect the mountain peaks, meadows burst with the vivid colours of blooming wildflowers, and wild animals roam freely.
The Retezat Mountains are a stunning natural environment. Established in 1935, the eponymous national park is officially the first and the oldest in the country.
It's the kind of destination where you can easily meet a bear or a wolf – that's how wild this part of Romania is.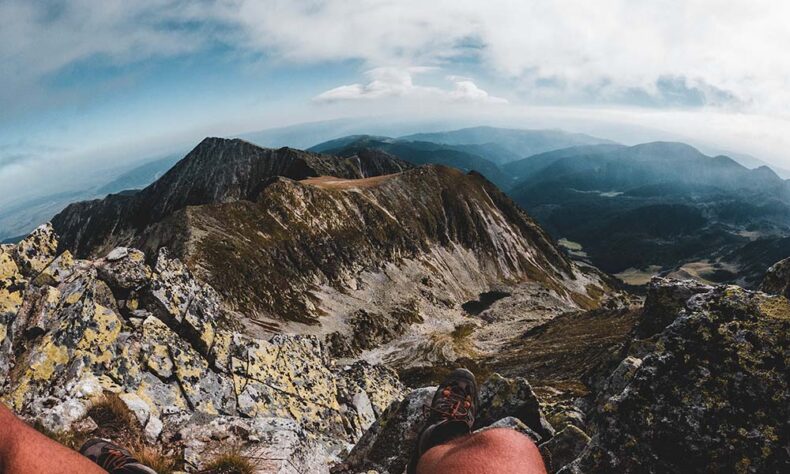 What makes Retezat National Park stand out as a biosphere reserve is the primeval forest. In fact, this is one of the last remaining spots on the European continent with an old-growth forest.
Seeing something so ancient and so precious is quite a privilege.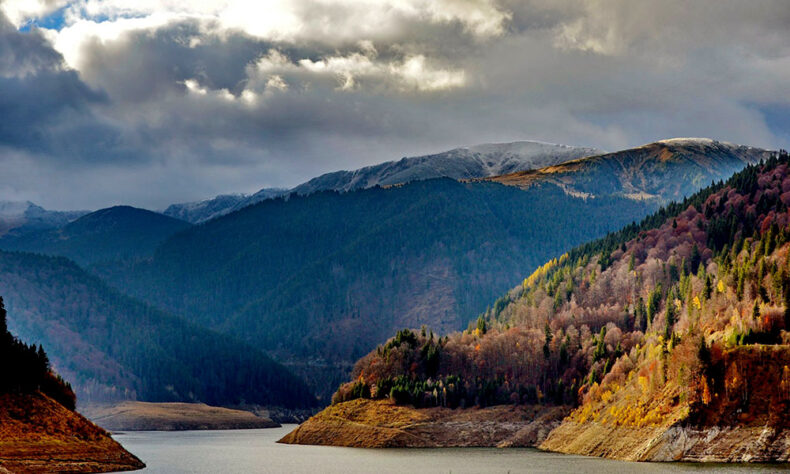 The park's stats are impressive, too. Retezat covers more than 380 square kilometres, boasts almost a hundred glacial lakes, and mesmerises visitors with more than 60 peaks higher than 2000 metres.
It's Romania's natural treasure and a place that requires a conscious and attentive visit. The park lies around 450 kilometres from the Romanian capital of Bucharest and is set in Hunedoara county in Transylvania.
Summer is the ideal time to visit, but always check the weather forecast before going; we're talking high altitudes here, and you don't want to get caught by surprise in a storm.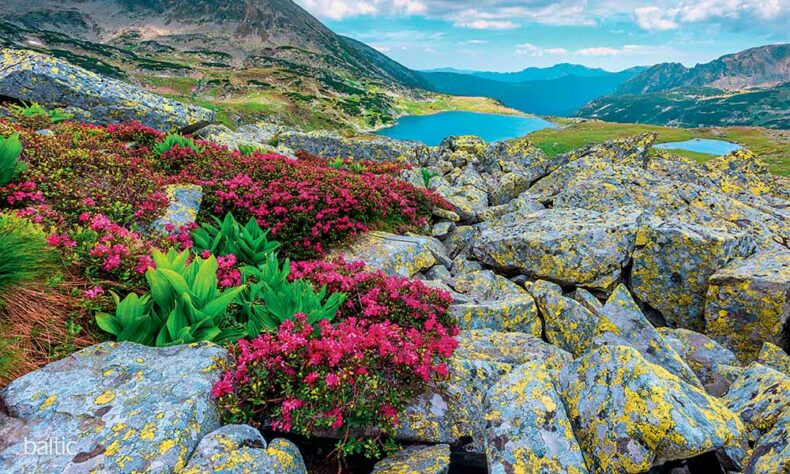 The absolute best way to experience Retezat National Park is by hiking. Here you'll find a kaleidoscope of well-marked trails that lead to the most striking parts of this fairytale-like outdoor playground.
The most popular one is the Bucura Lake Trail, which takes around three hours and lets visitors marvel at glacial perfection.
Another journey, the Peleaga Peak Trail, is a moderate six-hour hike that reaches the highest summit of Retezat National Park.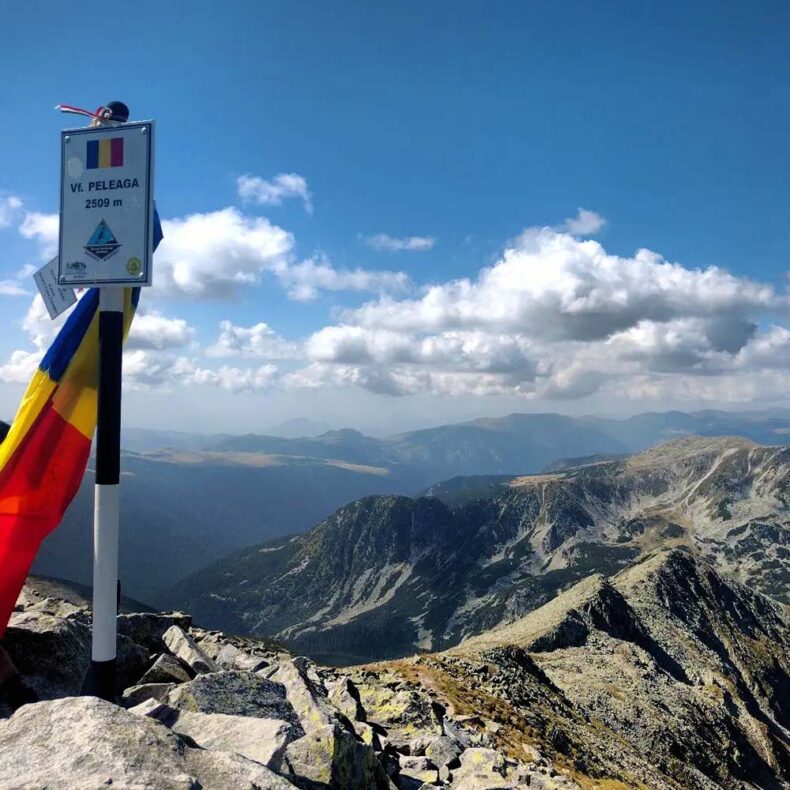 It's recommended to start from either Nucșoara or Râu de Mori, where the visitors' centres are located. Be aware that Retezat National Park is not a day trip; plan at least two nights to get a comfortable experience.
Those seeking fresh air will be delighted to find campgrounds in extraordinary places within the park's borders.
But for those who wish for a sweet spot between mountain exploration and convenience, there's a great selection of cabins in the villages adjacent to the park's entrances.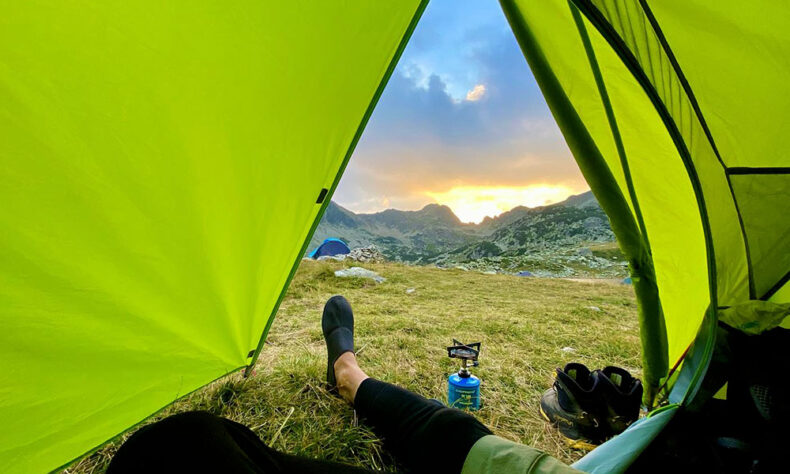 Gobustan mud volcanoes in Azerbaijan
It's quite an extraterrestrial landscape in Gobustan. Located just an hour away by car from Baku, the capital of Azerbaijan, this region could be a great stand-in for Mars or Jupiter, with barren, cracked terrain, craters, and the occasional spot of grey lava.
Get closer to the small hills rising up from the ground, and you'll notice something bubbling in them.
Welcome to the land of mud volcanoes, a fascinating region of Azerbaijan that has few rivals in the world!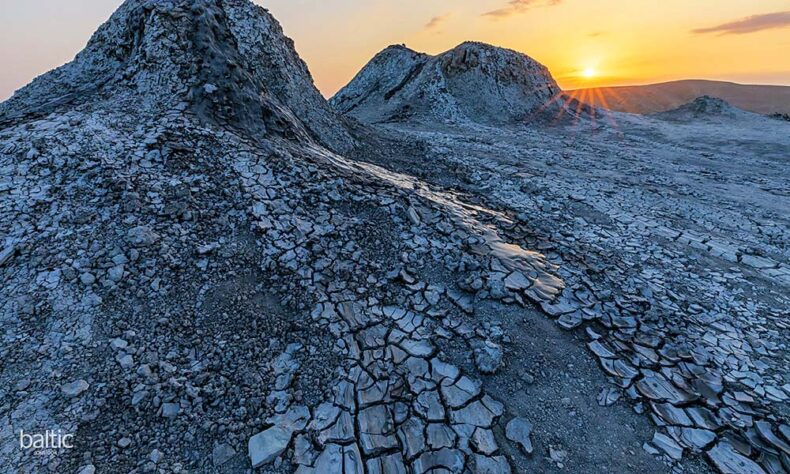 The numbers speak for themselves. More than 400 mud volcanoes are found in this country, making it a go-to place for witnessing the phenomenon.
Not only do you find them on the surface, but there are also submarine volcanoes hiding in the vast Caspian Sea.
Formed more than 25 million years ago, these geological formations are among the most curious attractions in Azerbaijan and definitely worthy of a day trip from Baku.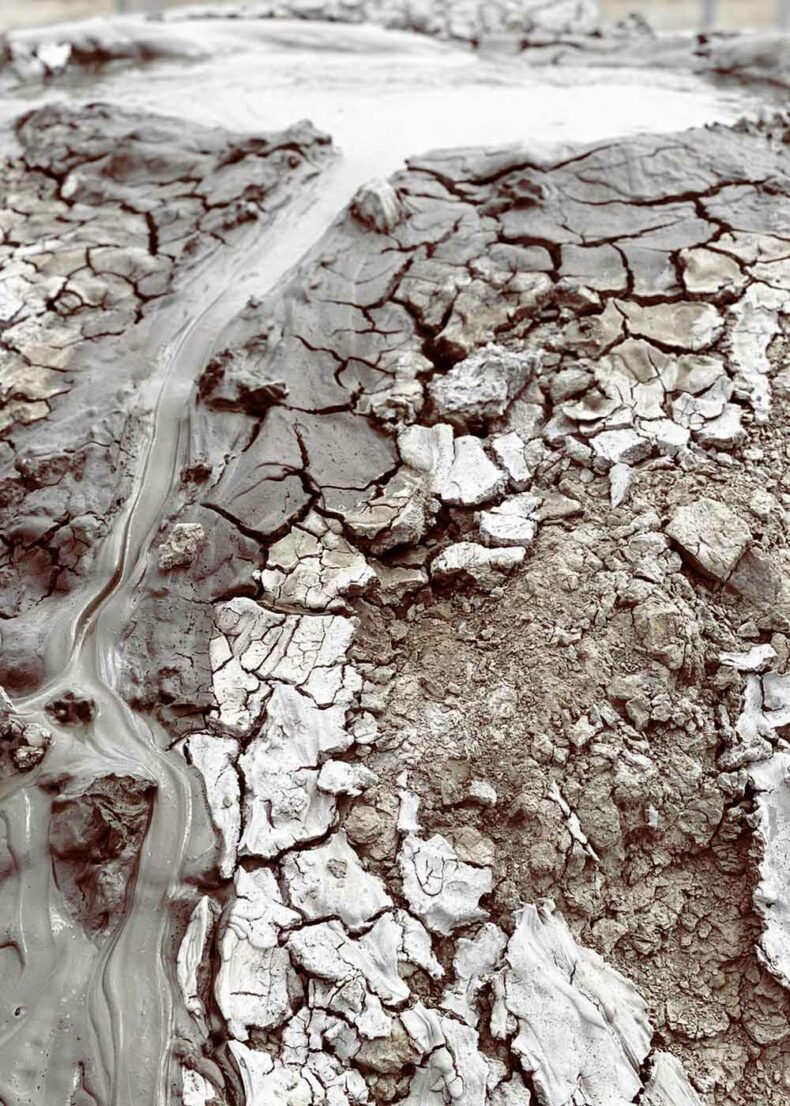 However, it pays to keep your expectations in check when visiting the Gobustan mud volcanoes. In other words, they're no Etna or Vesuvius. But that doesn't mean that they're not a thrilling experience.
Being next to a crater here is a special moment. The volcano seems to be alive, occasionally spitting out lava, making humming sounds, and vibrating.
You can literally spend hours staring at this bewitching spectacle – it seems as if Mother Nature is trying to say something with the help of the mud. The small eruptions are caused by tectonic movements releasing gases to the surface.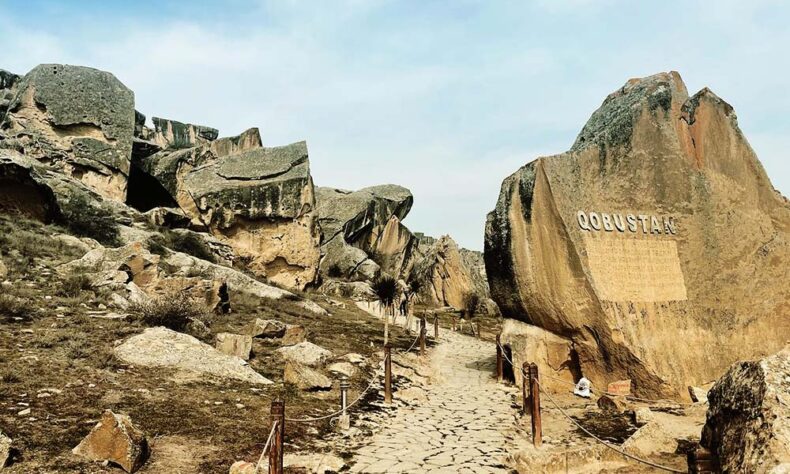 But Gobustan is not only about the mud volcanoes. In fact, it's a UNESCO-protected cultural landscape. Visitors flock here to see the more than 6000 carvings in the rocks left by the ancient dwellers of these lands.
The oldest petroglyphs date as far back as 20,000 years. They depict animals, people, scenes of tribal life, and hunting episodes.
Bizarrely enough, there's also a stone with Roman carvings on it that doesn't belong to the prehistoric canon; its origins are shrouded in mystery.
Add in the surrounding lunar landscapes and the panorama with the Caspian Sea in the distance, and you've got truly unusual, magnetic terrain.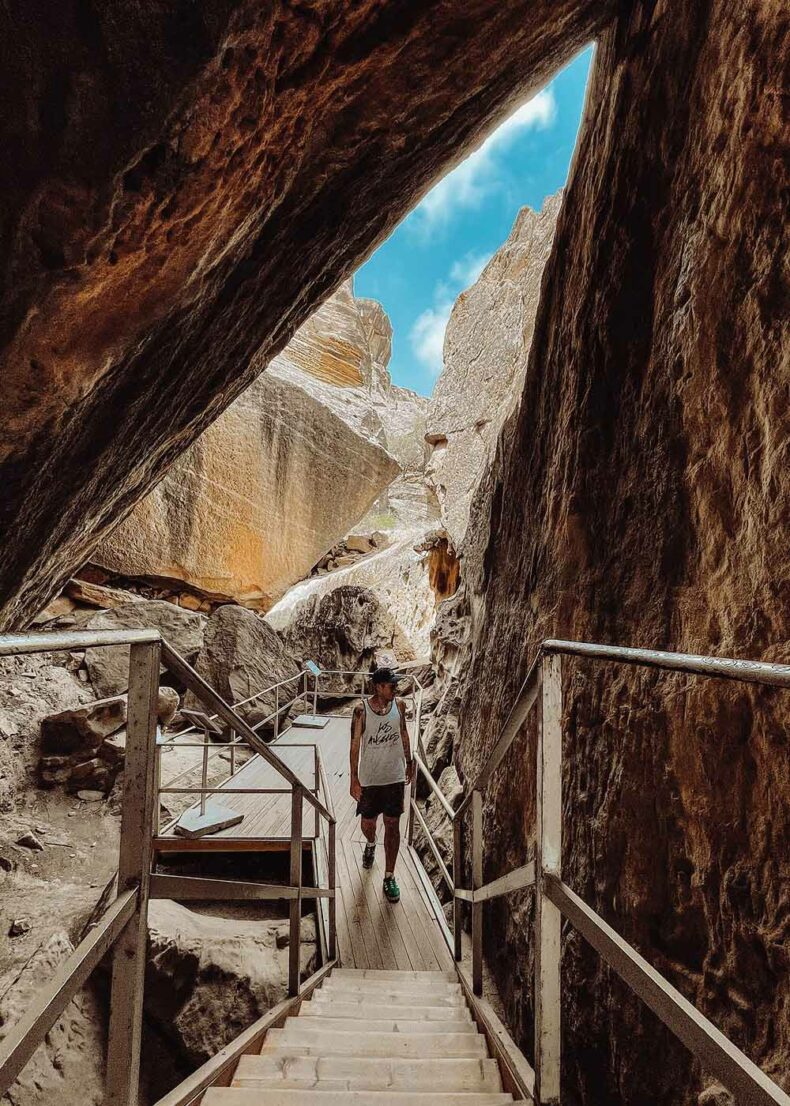 There are two good ways to experience Gobustan. You can rent a car in Baku and embark on a self-guided journey.
Or, you can opt for a tour operator in the capital who will take you to the area's top attractions. Its proximity to Baku means that the Gobustan region is very accessible and easy to explore.
Lake Sevan in Armenia
Nicknamed the 'blue-eyed beauty' for its striking azure palette, Lake Sevan is one of the crown jewels of Armenian nature.
Officially the largest lake in the whole Caucasus, and one of the largest high-mountain freshwater lakes in the world, it can easily compete in looks with Lake Geneva in Switzerland or Lake Garda in Italy…but without the dramatic peaks.
The beauty here is of a gentler kind, created by hills big and small as well as pastoral meadows.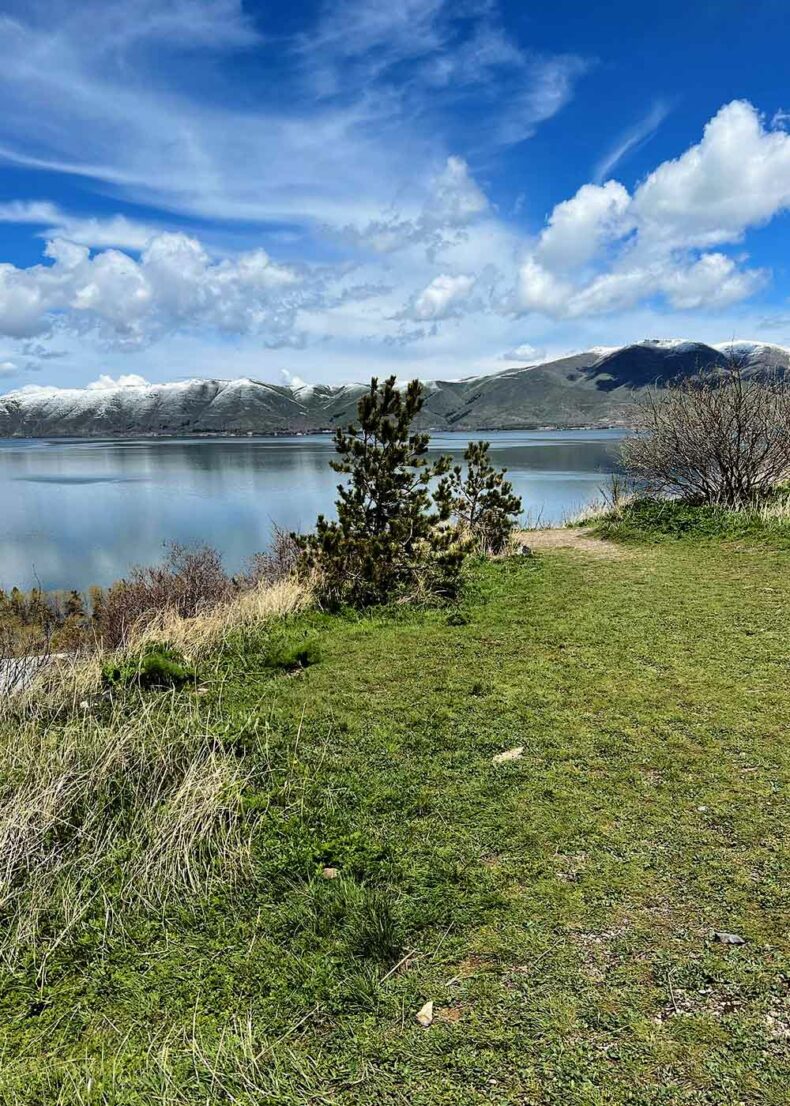 Lake Sevan's significance for Armenia is immense, both geographically and culturally. This body of water occupies one-sixth of the country's area, boasts the only recreational beaches in Armenia, and has diverse flora and fauna.
Sadly, Lake Sevan has had its hardships, too. During Soviet rule, it stood dangerously close to environmental catastrophe due to a huge drop in the water level caused by irrigation from the Hrazdan River.
Thankfully, today the lake is more highly valued and better protected, without major human-made interventions.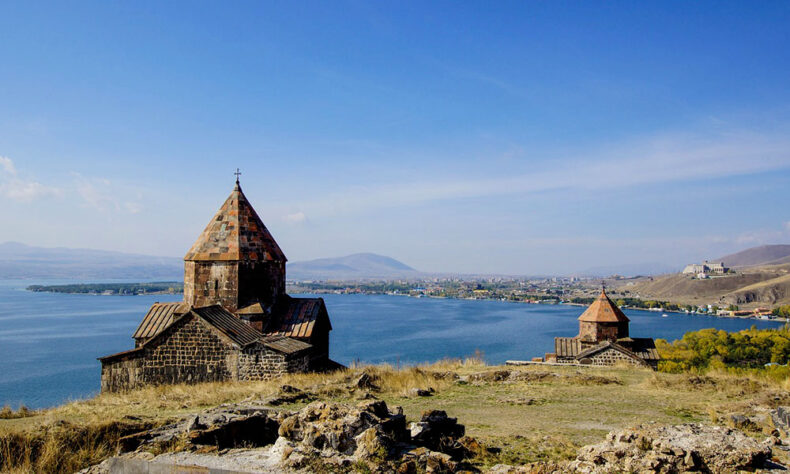 The first thing to visit here is Sevanavank, a spectacular Orthodox monastery complex crowning the peninsula that pierces the blue waters of the lake.
If you have an eerie feeling about this place, that's because it used to be an island before Joseph Stalin ordered the artificial draining of the lake.
Today, it's a highly inspirational place with impressive vistas of Lake Sevan. Here, you can truly feel nature's grandeur and see the lake's trademark blueness.
Step inside the church to find restored interiors dating back to the 9th century.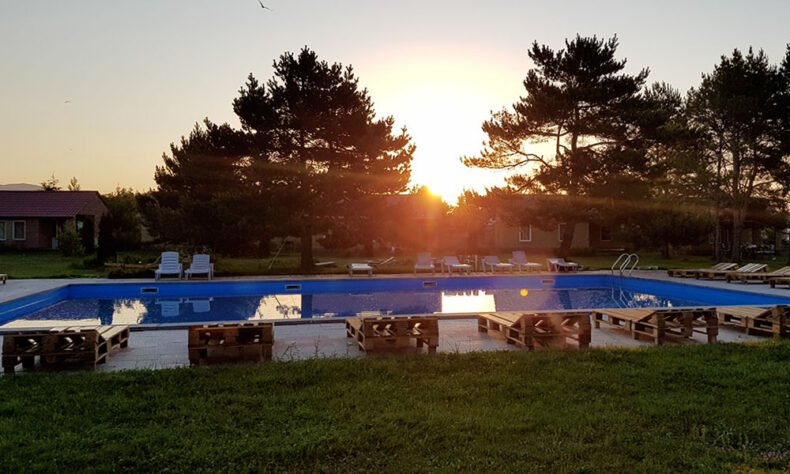 Next to Sevanavank is the town of Sevan, Armenia's most popular resort. Here, hotel complexes mix with vacation rentals, the town centre is filled with restaurants and cafés, and you've got a good selection of beaches and pools.
As the biggest waterside town in a landlocked country, Sevan can get quite crowded in the summer months, with Armenians and tourists arriving here to catch the sunshine, get active on the water, and play sports on the beaches.
If you're into the touristy buzz, Sevan is a good choice.
Wishup Shore, however, is a calmer, more tranquil beach you may also wish to check out.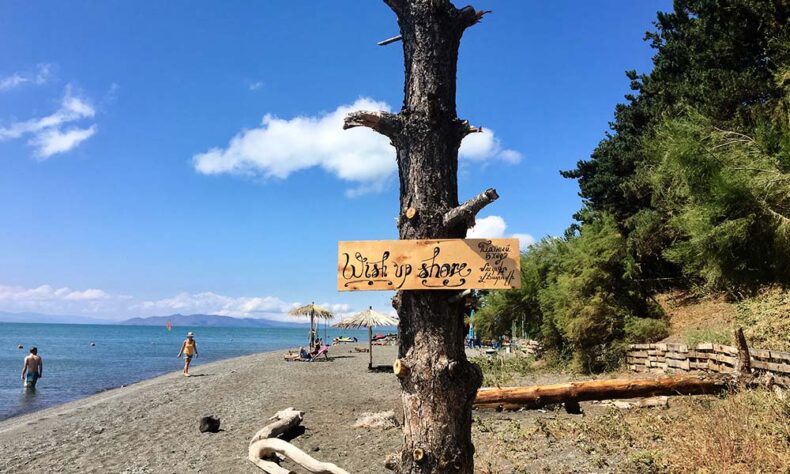 Lake Sevan lies just 60 kilometres from Yerevan, and the best way to explore it is by renting a car in the capital.
Another option is to hop on a direct marshrutka (private bus) to the town of Sevan or take a slightly pricey taxi straight to the resort town.
With a car, though, you'll have more freedom to move around and maybe even take a journey around the entire lake, savouring all of the local natural delights without any hassle.
Huge waves at Nazaré in Portugal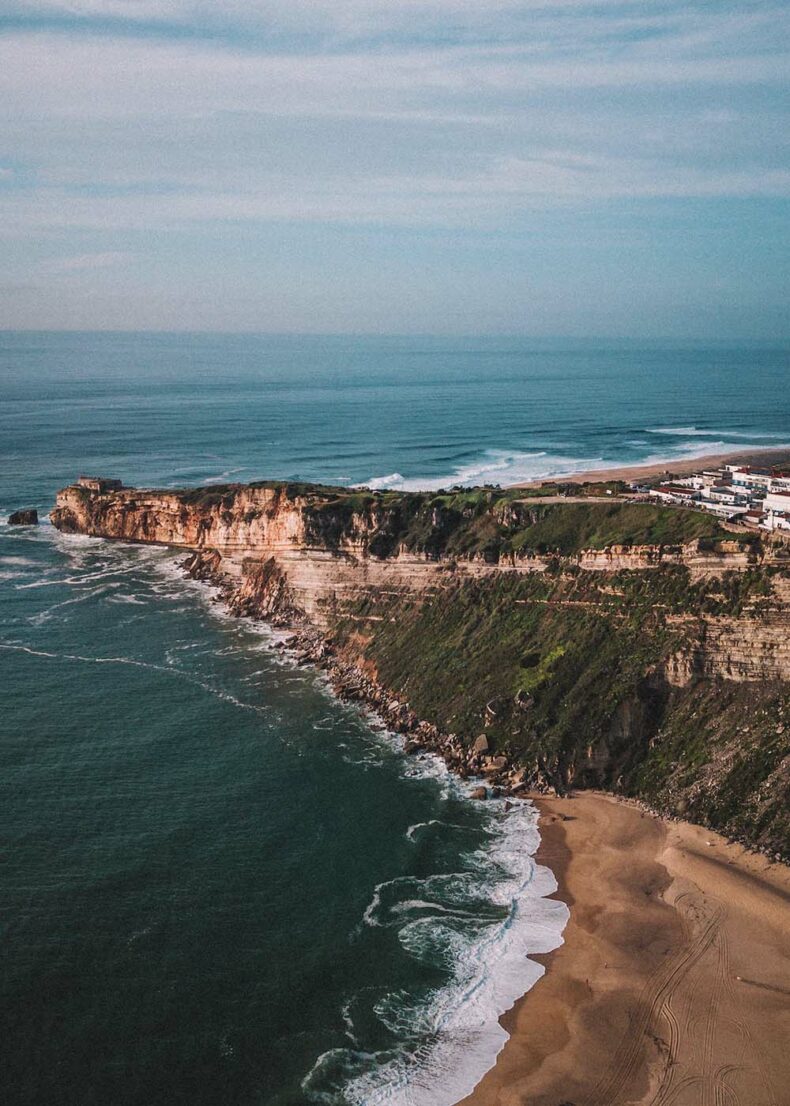 If you mention Nazaré to a surfer, expect an uncontrollable mix of excitement and admiration. It's here that surfing records are broken, and it's here that you'll find some of the highest waves on the planet.
Located on Portugal's Atlantic coast, Nazaré embodies everything great about this country. The views are breathtaking, the cuisine is mouthwatering, and the culture is vibrant.
There's an easygoing resort town here as well as easy access to dramatic natural landscapes. It's the best mix, if you ask us.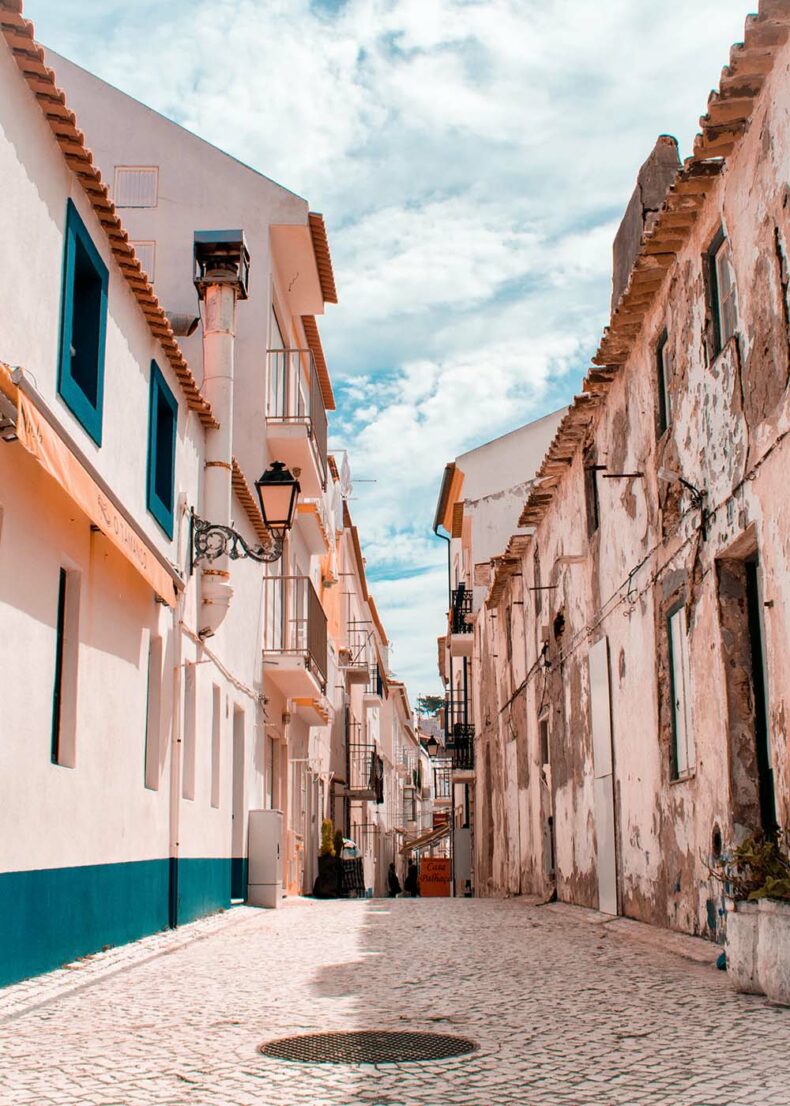 All the narrow streets of Nazaré lead to the Atlantic Ocean.
The local beach is a glorious, wide, sandy stretch that can easily give Rio's Copacabana a run for its money.
The Old Town and the epic cliffs complement each other perfectly.
Leisure feels awesome here. Spend a day basking in the sun, swimming in the ocean, or playing beach volleyball. Take a stroll around the picturesque streets, and pay a visit to the Church of Saint Anthony with its azulejo-covered façade.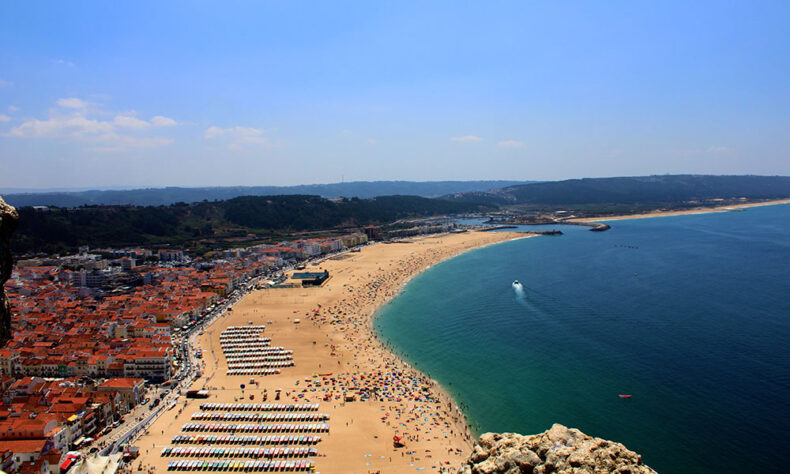 Portugal's Atlantic coast is a land of miradouros, or viewpoints, and in Nazaré you'll be able to access some of the nation's most spectacular ones.
Hop on the town's funicular to reach the mind-blowing Miradouro do Suberco. From there you have a fantastic panorama of the town, its golden beach, and the rugged coast.
Alternatively, hike up to Suberco along the Ladeira do Sítio trail. Don't miss the Sanctuary of Our Lady of Nazaré at the top, which is a 14th-century architectural masterpiece with a venerated Marian shrine inside.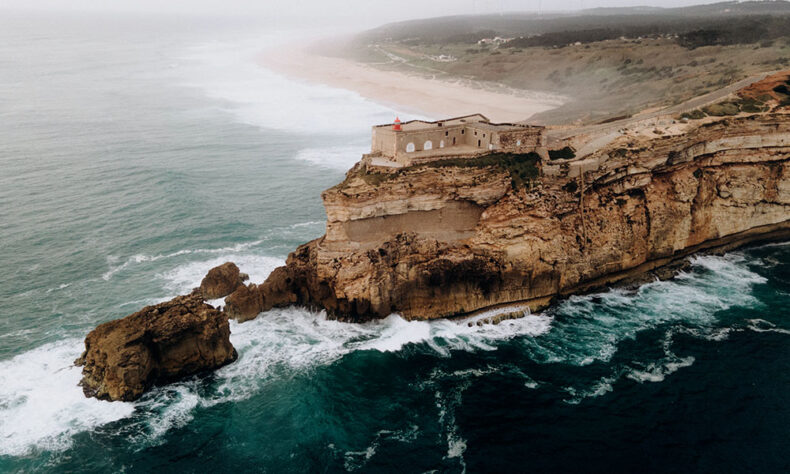 Fancy more overwhelming beauty? The Forte de São Miguel Arcanjo offers the best vantage point of the sprawling Praia do Norte (North Beach). That's the famous one with the surfing competitions and high waves.
Imagine being here in windy weather and witnessing the gigantic walls of water crashing onto the rocks and ferociously hitting the sand… It's truly a bucket-list experience.
Avid surfers will be happy to try taming the swells, while those who are just starting out on their wave-conquering journey can sign up for a lesson at one of the surfing schools in the town.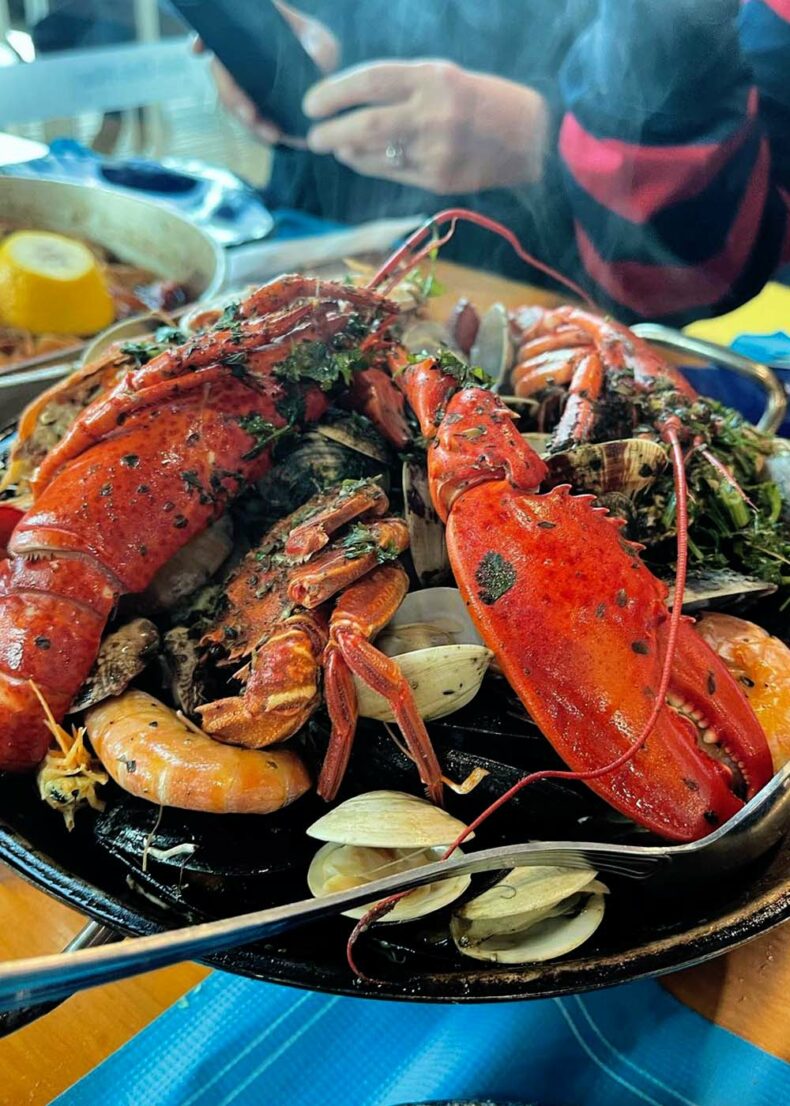 In addition to waves, one can't talk about Nazaré without mentioning the seafood. After an intense day of cliff-climbing, wave-watching, and surfing, getting a taste of the local culinary delights is a must.
This town started out as a modest fishing village, so it knows and respects the ocean.
Start with sopa de peixe (fish soup), then try the local superstar bacalhau à brás (salted cod mixed with fried potatoes and scrambled eggs), and don't forget about the grilled sardines and mussels. It'll be scenic and delicious in Nazaré.
Read more about authentic travel experiences in Baltic Outlook.
Text by Pavlo Fedykovych