Blessed with a plethora of mountain peaks and bucolic pastures, fringed by the Black Sea and the lush Danube Delta, Romania's borders pack a variety of backdrops to marvel at.
While inducing fantasies of vampires for many, there are age-old customs to discover and ancient monasteries in the heart of the countryside as well as medieval Transylvanian castles to keep you busy.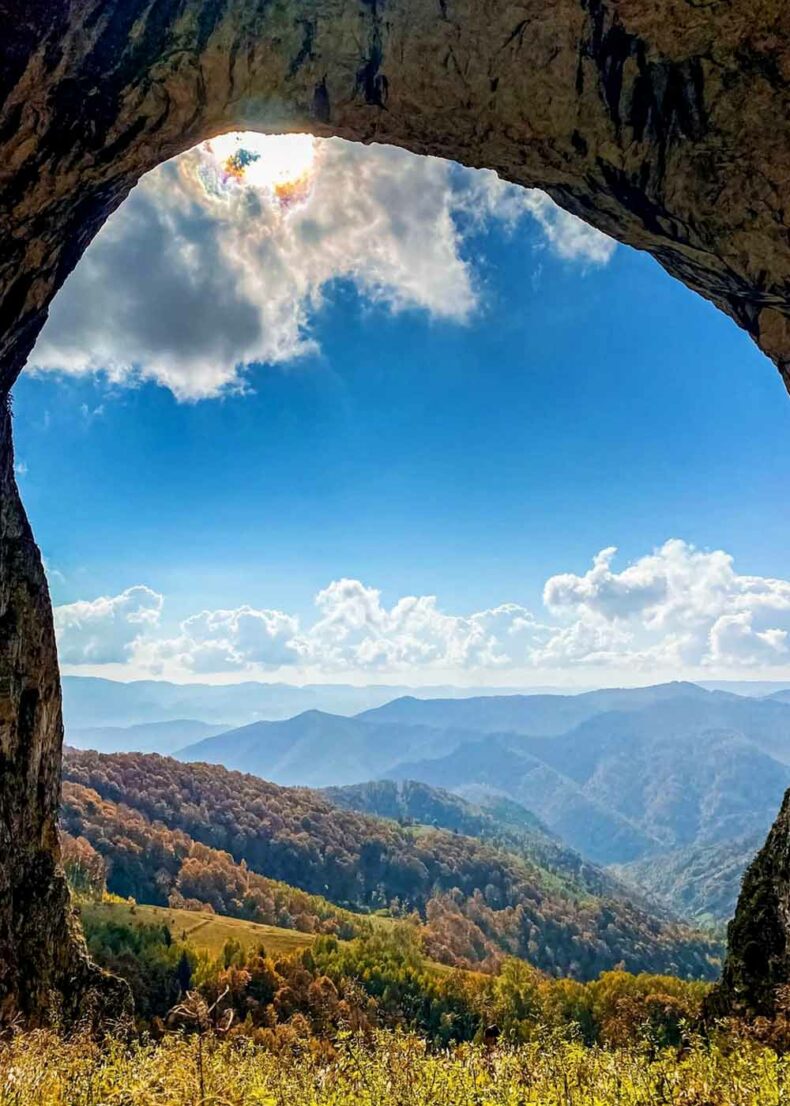 But the promises of unspoiled nature are what lure most visitors, who are keen for a wild-bear encounter or two.
Lively cities brimming with culture add to the charm, with gastronomy and nightlife options increasing all the time.
There's a lot to choose from in Romania, but a few regions stand out. Whether you're in Romania for a city break or a longer road trip across the country, here's what to expect.
Bucharest
With a population of two million people and more than five centuries since its first certification as a royal residence in 1459, Bucharest is Romania's capital and by far its largest city.
It has undergone significant transformations due to its many historical influences, and it most prominently earned the nickname of the 'Little Paris' during the rule of King Carol I of Romania, whose vision brought to life the main emblematic landmarks.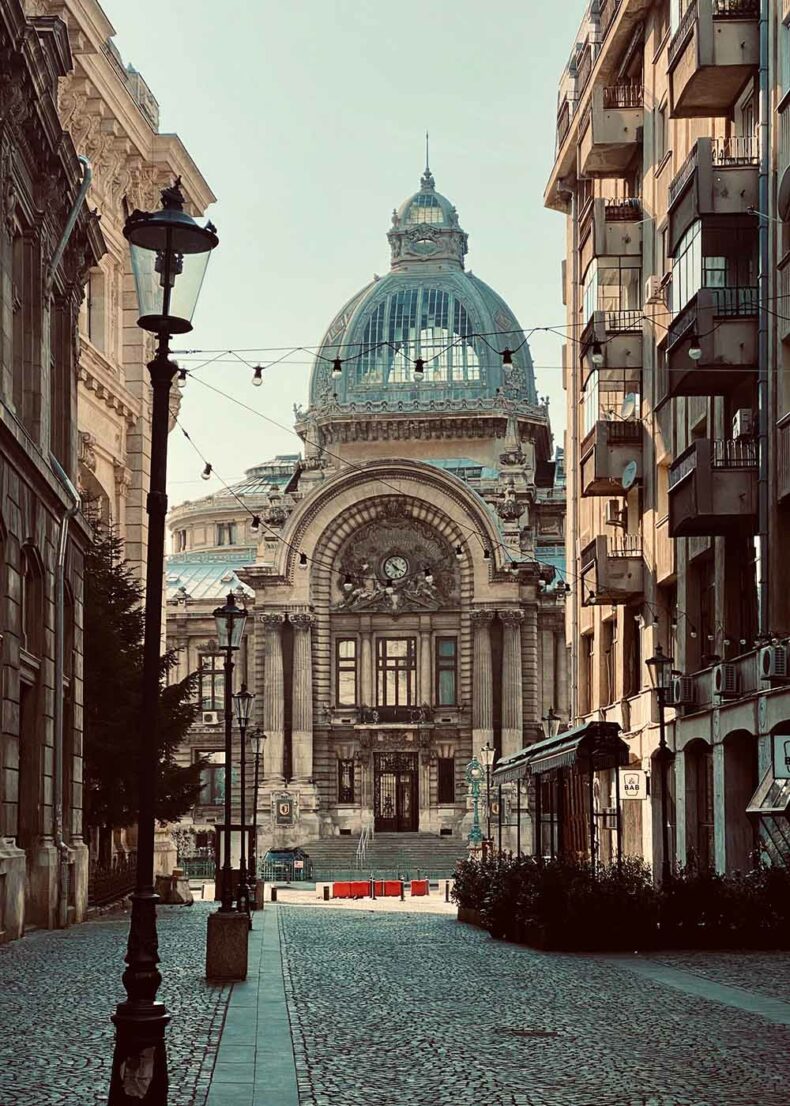 Calea Victoriei (Victory Avenue) is where you should start your stroll through la Belle Époque.
The former Royal Palace, now the National Museum of Art, overlooks the square where events of the 1989 Revolution transpired.
Right across from it, the superb Romanian Athenaeum, home to the George Enescu Philharmonic Orchestra, is a must-see both inside and out.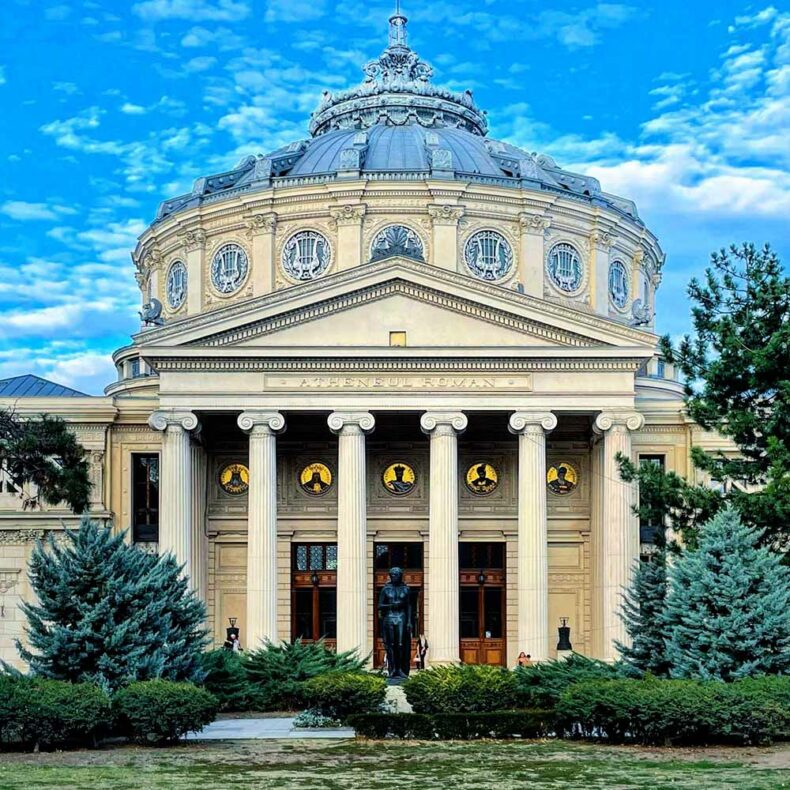 While the immense Palace of Parliament lures many sightseers curious about the second-largest building in the world, plan on visiting the Spring Palace in the classy Primăverii district instead.
Guided tours here provide a more vivid depiction of the communist era at the showy former family residence of dictator Nicolae Ceauşescu.
Nearby, next to King Michael I Park, the city's very own Triumphal Arch marks the country's victory in the First World War and brings to mind visions of Paris.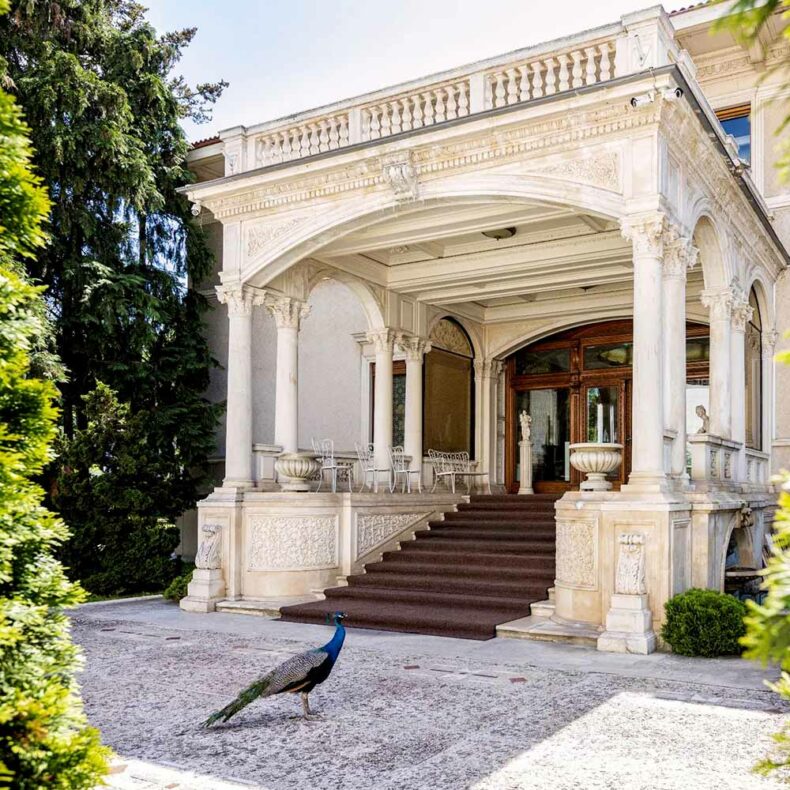 But Bucharest is perhaps best appreciated from a seat in a café. It's a busy metropolis with an ever-growing food scene, world-class specialty coffee, and lively garden bars tucked away in leafy courtyards.
Here, there's never a shortage of new offerings. For traditional Romanian food, Caru' cu Bere is the place to go.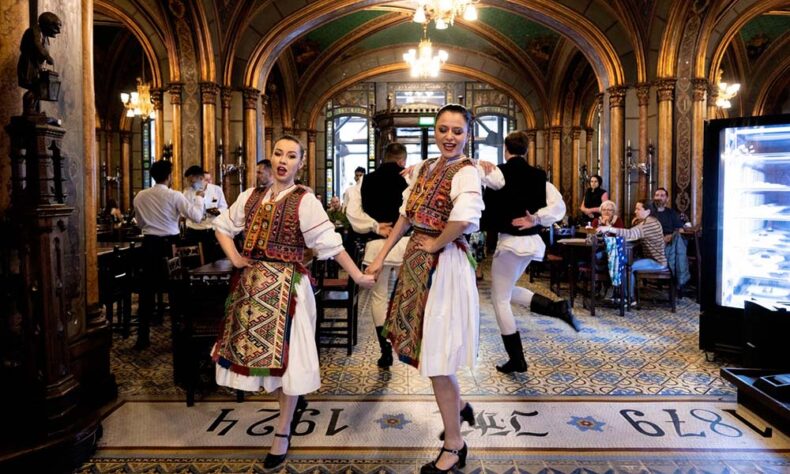 While very touristy, the capital's oldest brewery is a hit for its house beer, whose recipe dates back to 1879, and its Neo-Gothic décor with stained-glass windows.
Folk dances are performed every evening by a jubilant bunch of young dancers – you'll be invited to join, too!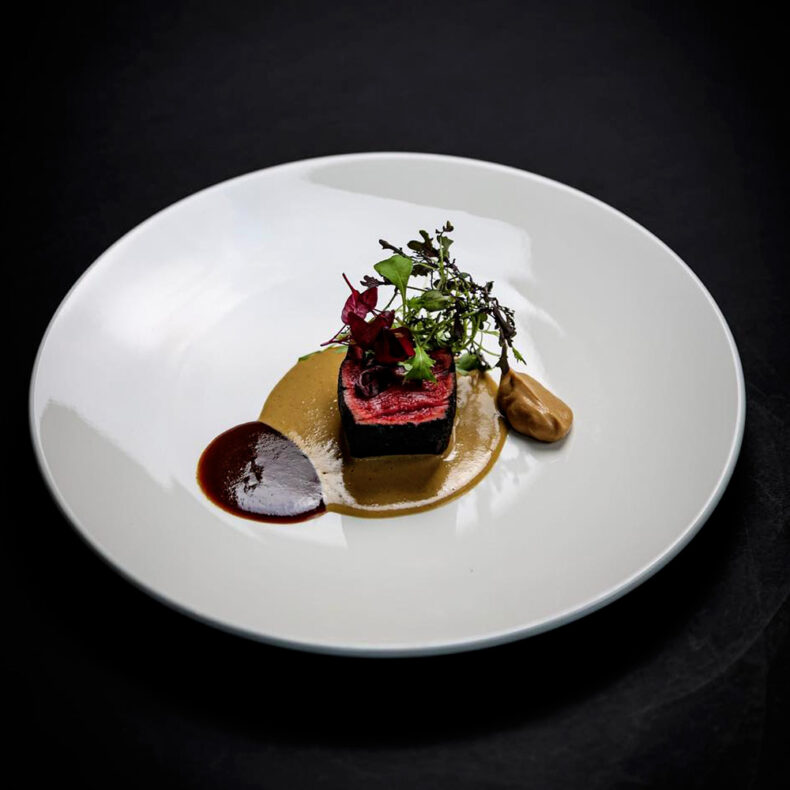 For fine dining, recent years have seen the rise of a 'New Romanian cuisine', with restaurants such as Kaiamo, a 'Best Discovery' by the World's 50 Best Restaurants that takes a most creative take on heartier, local dishes, using seasonal ingredients for a refined, experimental cuisine.
And, needless to say, Romanian wine is also widely available, with local grape varieties such as Fetească Regală (meaning 'royal maiden') and Fetească Neagră a must for accompanying homegrown bites.
The painted monasteries of Bukovina
At its core, Romania stands by its strong faith and deep-seated traditions.
And nowhere is this more evident than at the celebrated painted monasteries of Bukovina, one-of-a-kind UNESCO sites from the 15th and 16th centuries in northeastern Romania.
Located in Suceava County in what is known as southern Bukovina (northern Bukovina lies in Ukraine), this region was annexed by the Austrian Empire in 1775, when the name Bukovina first emerged.
It's derived from the German Buchenland, meaning 'the land of beech trees', and is an ode to this richly forested mountain landscape.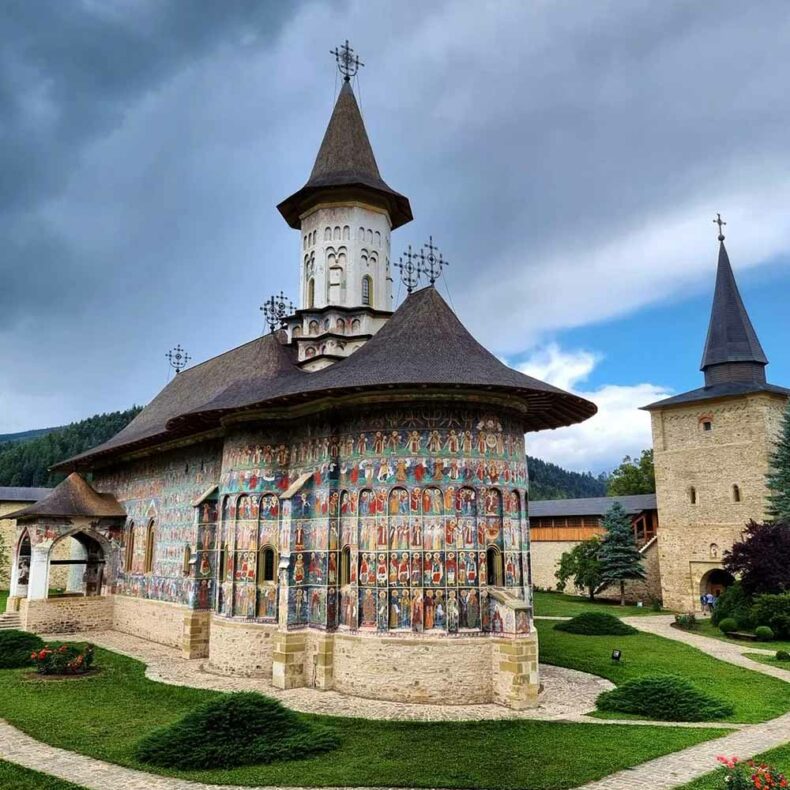 Built mostly under Moldavian ruler Stephen the Great as dedications after winning battles against the Ottomans, the exterior walls of these monasteries are also painted; in all other Orthodox churches, generally only the interiors are painted.
These masterpieces of Byzantine art depict religious scenes in fascinating detail and often in vivid colours. The frescoes have endured for hundreds of years, withstanding wars, climate disasters, and the effects of modern society.
The custom of nuns or monks striking a wooden beam with a mallet, known as toacă, is a spellbinding ritual for any visitor to witness – it's a call to prayer that has persisted ever since the Turks forbade the ringing of church bells.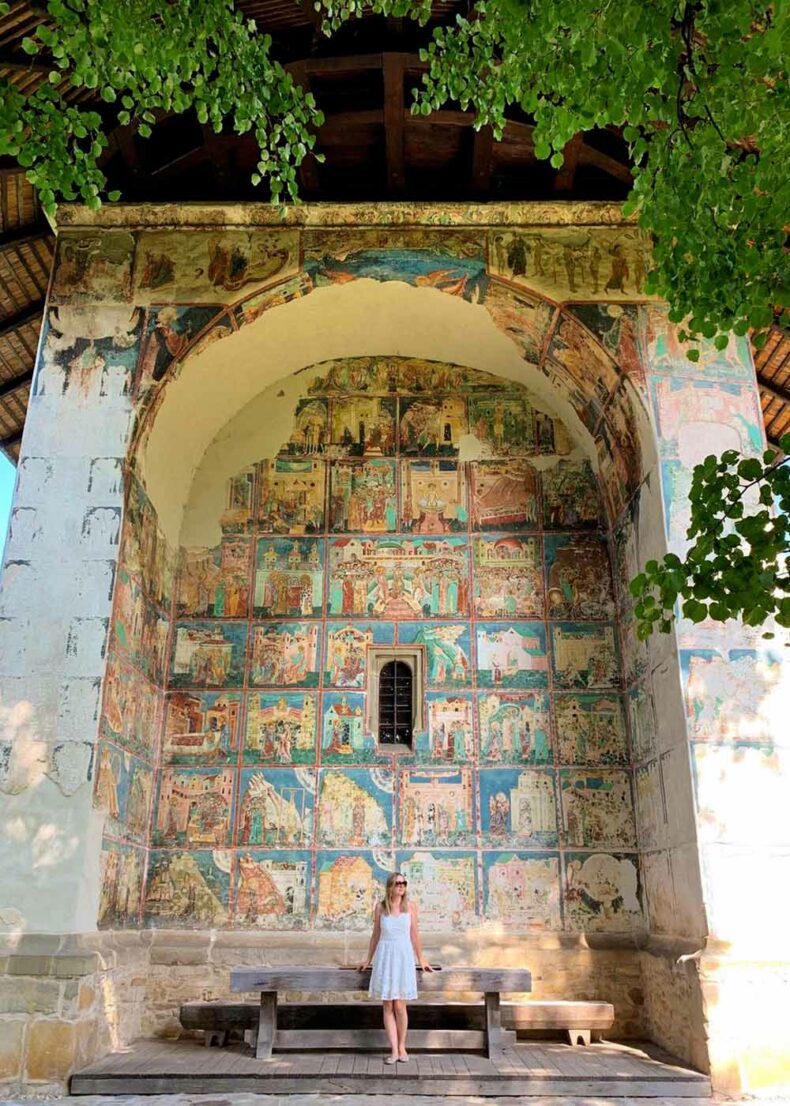 The names of these monasteries are Arbore, Humor, Moldoviţa, Pătrăuţi, Probota, Saint John the New, Suceviţa, and – perhaps the most famous one, known throughout Europe as the 'Sistine Chapel of the East' – Voroneţ Monastery.
In fact, the particular intense shade of blue used on its walls is called Voroneţ Blue.
Transylvania

Known for its myths about vampires and the infamous blood-thirsty Count Dracula, Transylvania ('the land beyond the forest' in Latin) is Romania's most popular region.
Home to an abundance of heritage sites and natural wonders, it's also the most multicultural region, with Romanians, Germans, Hungarians, and more cohabiting here for centuries.
Going back to the 12th and 13th centuries and the arrival of the Saxons, the province's culture was shaped by these settlers brought in during the Hungarian Kingdom to protect its southern borders from invading Turks and Tatar Mongols. They erected a wealth of fortified churches and citadels, which still stand to this day.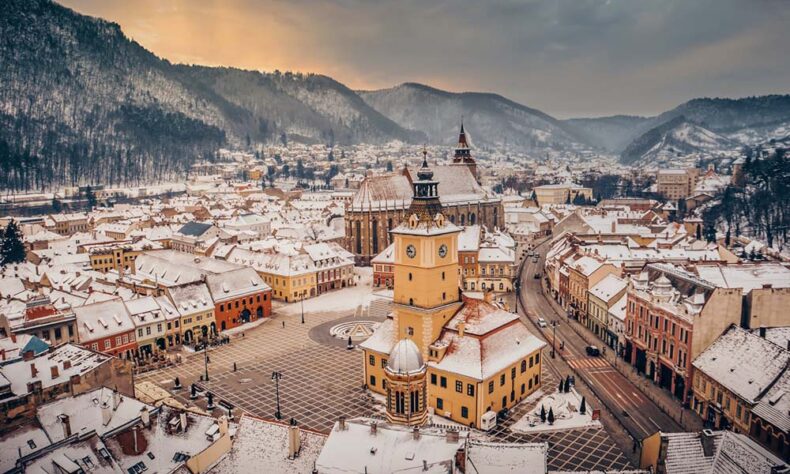 The region's German name, Siebenbürgen, meaning 'the seven citadels', is reminiscent of those times.
The best-preserved towns are Braşov (Kronstadt), a charming mountain resort town with old Saxon architecture; elegant Sibiu (Hermannstadt), a former Capital of Culture in 2007 with quirky 'houses with eyes'; artsy Cluj–Napoca (Klausenburg) as Transylvania's unofficial capital; and the storybook, UNESCO-inscribed Sighişoara (Schassburg) with the last inhabited medieval fortress in Europe and a 14th-century clock tower.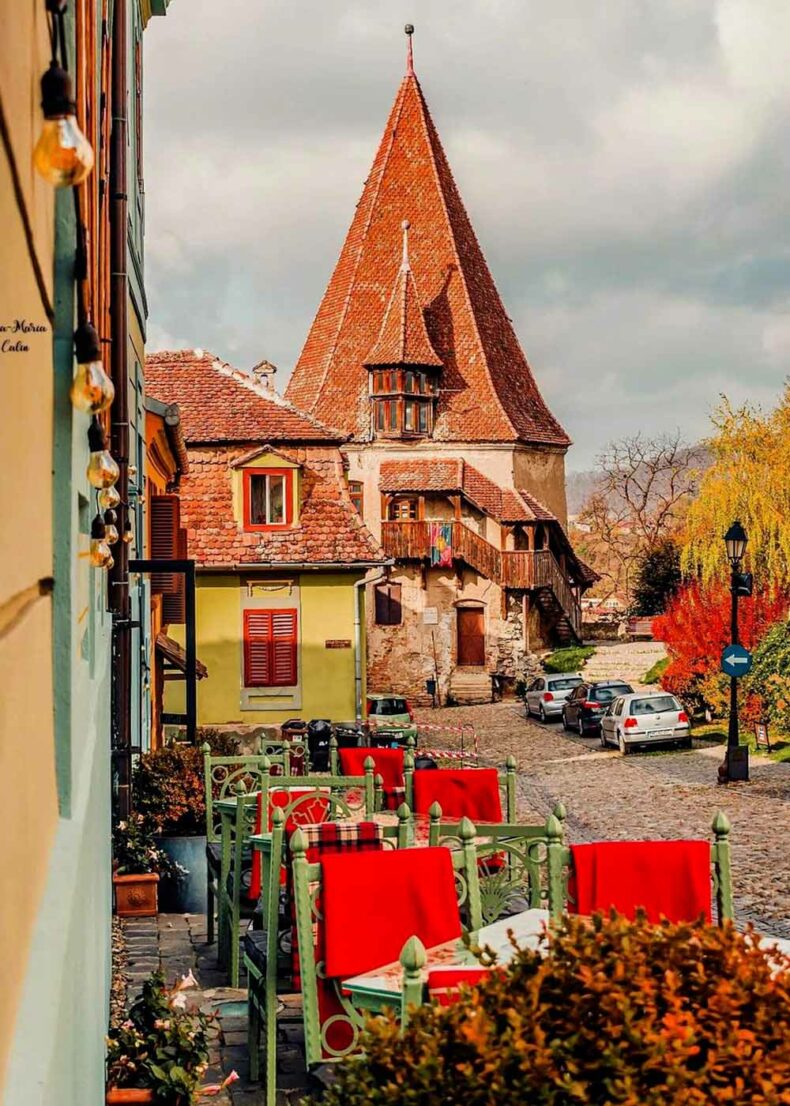 Vlad Ţepeş, the ruthless 15th-century Wallachian prince, is said to have been born in Sighişoara in 1431, in a colourful house that can still be visited today.
Known throughout history by the moniker of 'Vlad the Impaler', this real-life figure inspired Bram Stoker's fantasy novel Dracula.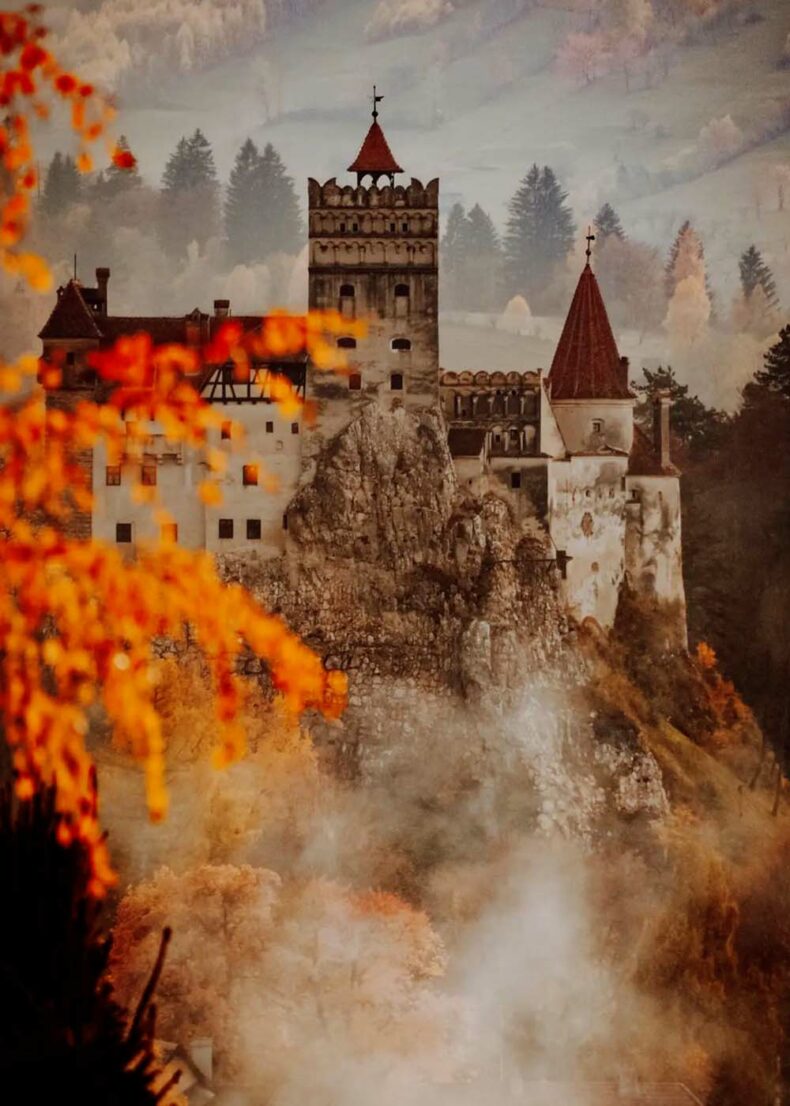 Stoker's book popularised sights such as the clifftop Bran Castle, which attracts crowds eager for a whiff of frightful mystery even though Ţepeş never actually lived there and Stoker himself never set foot in Transylvania, either. Legend or not, it's worth an outing, and best in the off season to avoid long lines.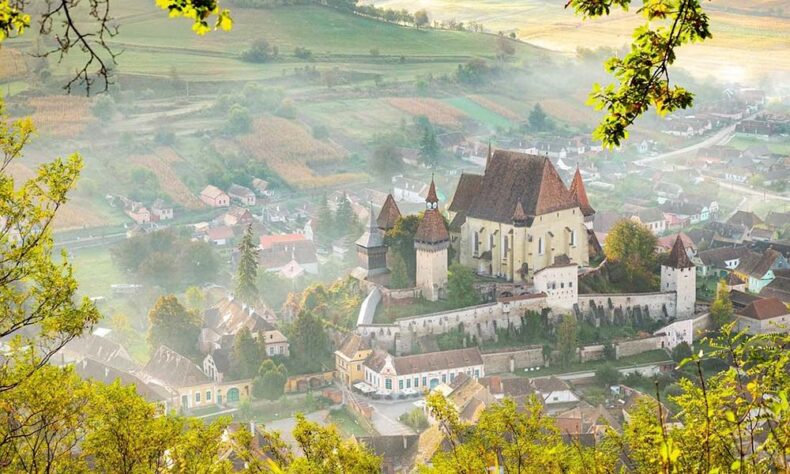 Not to be skipped are the seven villages – six of them Saxon and one Székely – that form a collective UNESCO cultural site due to their unique fortified churches and distinct crafts traditions.
Mark your map to make a stop in Biertan, Viscri, Saschiz, or Prejmer, which are some of the most beautiful ones.
The Carpathian Mountains
Thanks to having the last primal forests in Europe, Romania features a large variety of landscapes, flora, and wildlife and is a true nirvana for nature and adventure enthusiasts.
Its national and natural parks offer a bounty of options for outdoor activities: trekking, rock climbing, horseback riding, mountain biking, paddling, exploring mud volcanoes and ice caves, and more.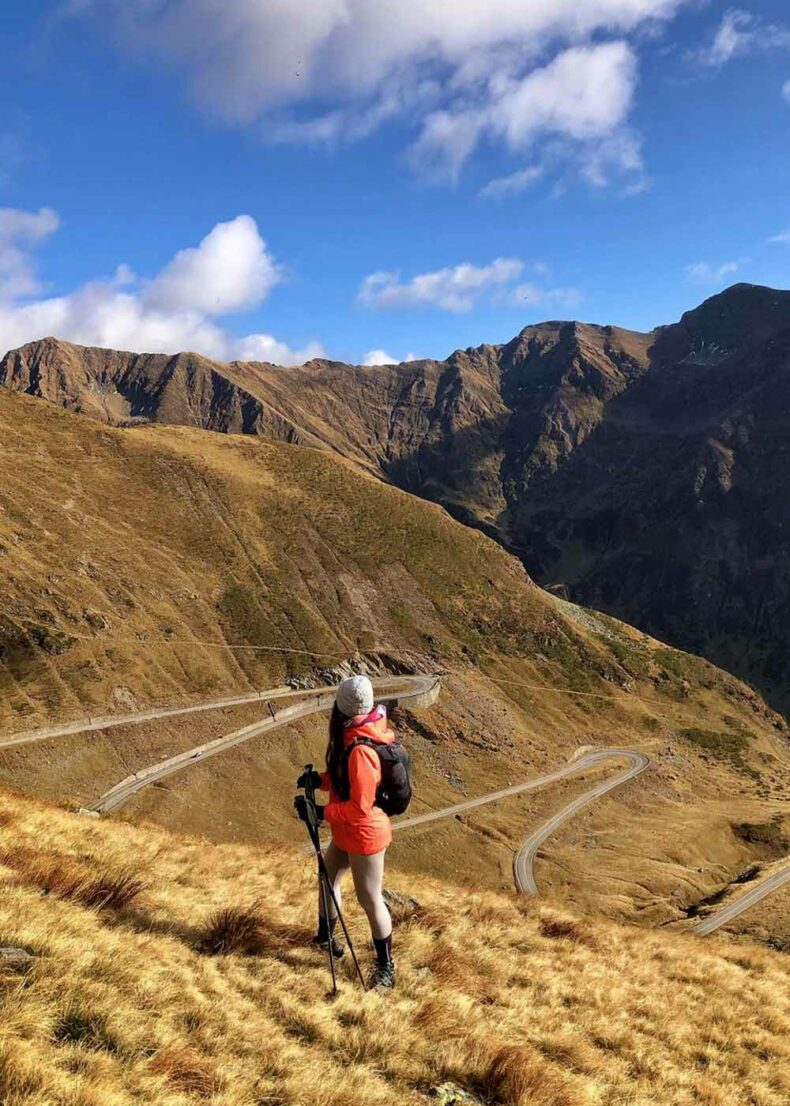 Forming a semi-circle of sorts that encloses Transylvania, the Carpathian Mountains are home to some 400 species of mammals, including the Carpathian chamois said to have lived here since antiquity.
They're also home to the largest concentration (about 60%) of brown bears in Europe. Bear encounters have become a daily occurrence in these areas, descending as far down as popular mountain resorts and people's households. You're in for a bit of thrilling, harmless fun – just don't attempt to feed them!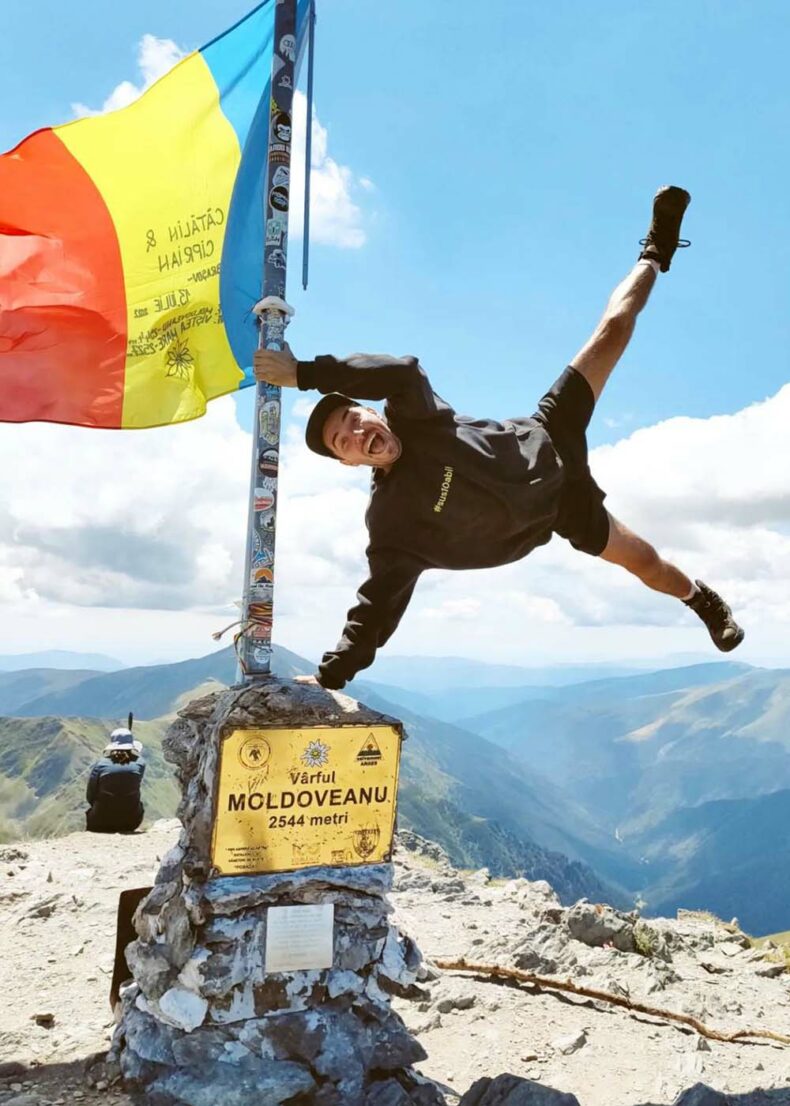 At 2544 metres, Moldoveanu is the highest peak in Romania. It's located in the Făgăraş Mountains, the highest and most gripping of the Southern Carpathians.
Moldoveanu is only slightly higher than the Negoiu and Viştea Mare peaks in the same mountain range, making for an exciting multi-day hike.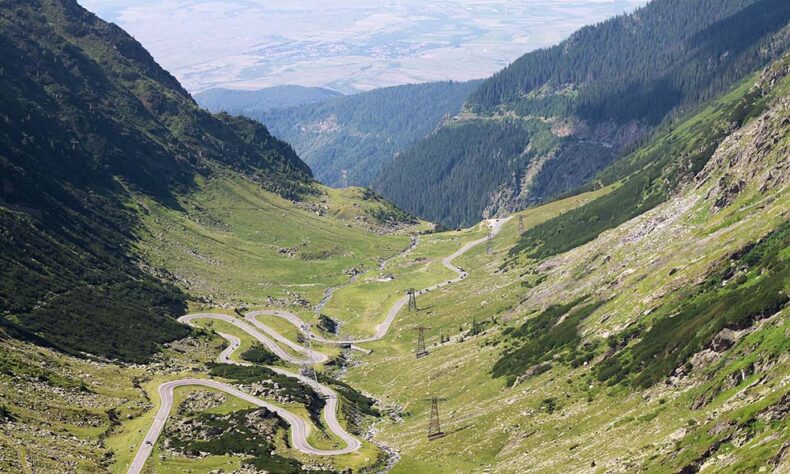 While here, don't miss driving the spectacular Transfăgărăşan road that crosses the entire area. Dubbed the best road in the world by BBC's Top Gear, the journey caps at 2042 metres, at the picturesque Bâlea glacier lake.
Open from mid-June to the end of October, double check before embarking on this route, because it's sometimes closed temporarily.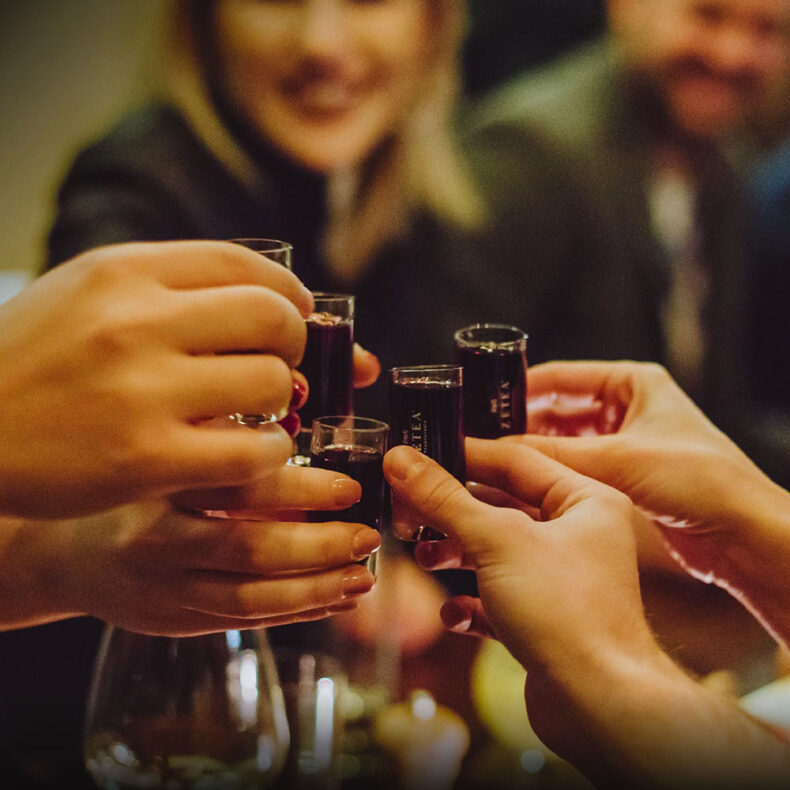 Take the opportunity to revel in slow ecotourism here, in the old-world mountain villages where traditional crafts are still practised.
Reserve a few days to stay at a family guesthouse that grows its own food and where wholesome country fare and plum brandy are a given. Known as ţuică or pălincă, the brandy is between 40 and 50% alcohol, so consider yourself warned!
For a pilgrimage route, take the newly inaugurated long-distance Via Transilvanica trail (1400 kilometres) that aims to nurture rural Transylvania and beyond.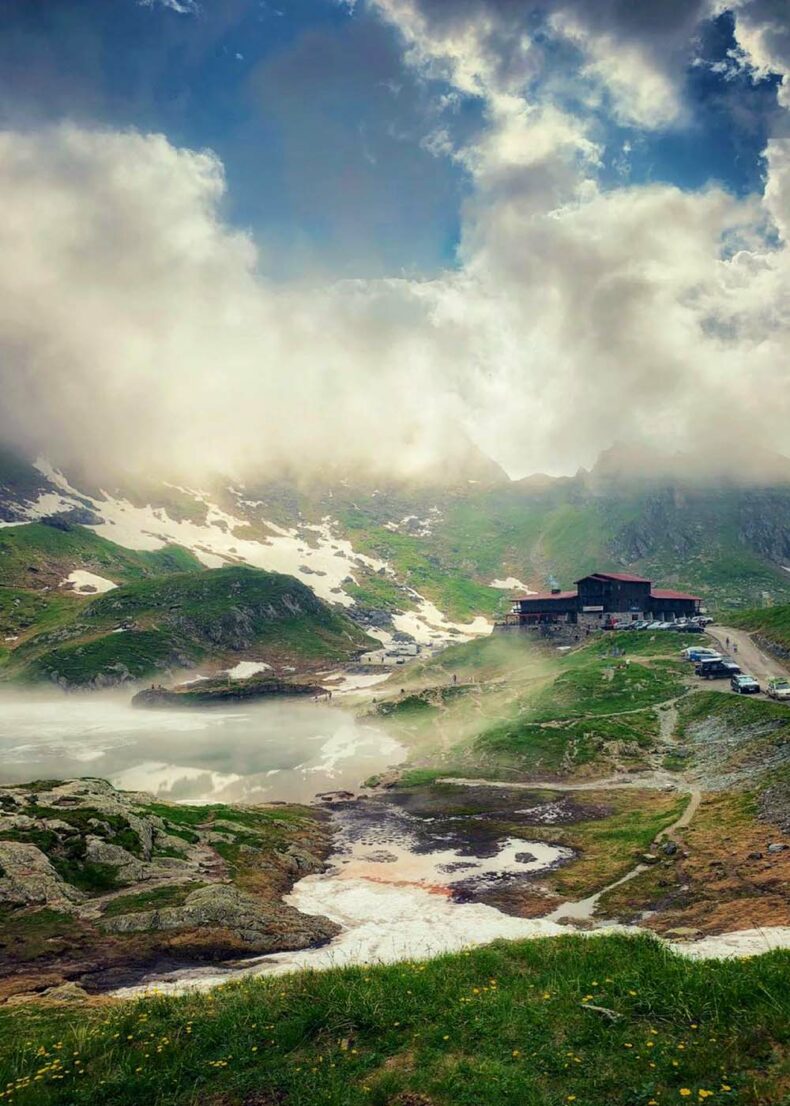 The Danube Delta
Springing from Germany's Black Forest, the Danube River runs all the way to the Black Sea in Romania's Dobrogea region, where it forms the best-preserved delta and largest river wetland on the continent.
With more than 300 species of birds, the Danube Delta Biosphere Reserve is simply a birdwatcher's paradise.
A UNESCO World Heritage Site, here you can spot the greatest number of white and Dalmatian pelicans in Europe.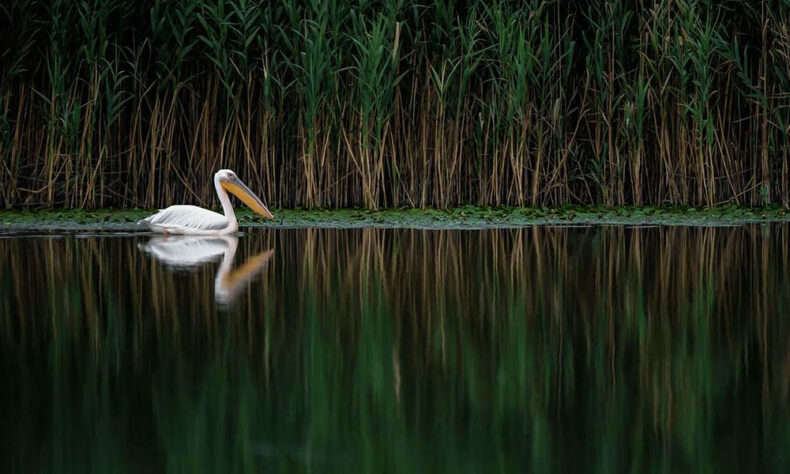 An area with the third-highest level of biodiversity in the world (over 5500 flora and fauna species) after Australia's Great Barrier Reef and Ecuador's Galapagos Archipelago, there are 5000+ square kilometres of rivers, verdant canals, marshes, lakes, and reed islands to explore in Dobrogea.
Early in the morning, the spectacle of birds flying into the sunrise is a sight to behold among the tangled thatch, willows, and oak trees. It's pure elation to witness such scenes up close.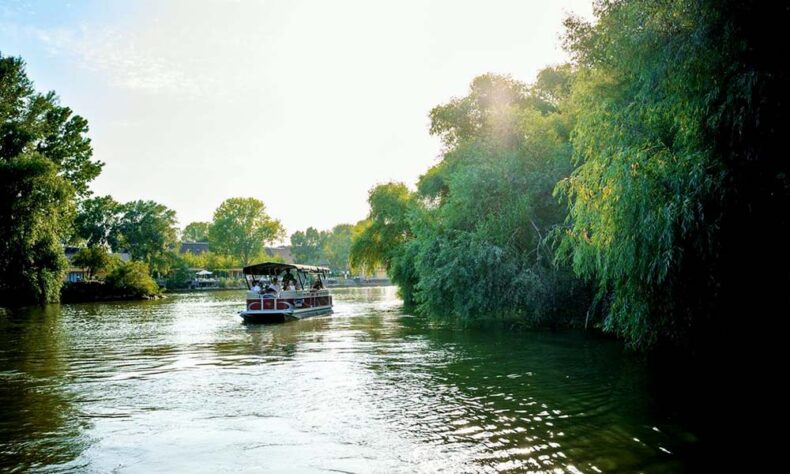 Formed by three estuary channels, the Chilia in the north, the Sulina in the middle, and the Sfântu Gheorghe in the south, visitors can take a day trip and boat ride from the adjacent towns (Tulcea is the largest and a good starting point) or explore the region as part of a Danube River cruise.
It's a real privilege to spend at least three days taking in the unbeatable serenity of this area.
A must-try here is the traditional gastronomy with borsch-like fish soups, such as storceag made with catfish and sturgeon, and grilled fish drenched in mujdei, a deliciously pungent garlic sauce.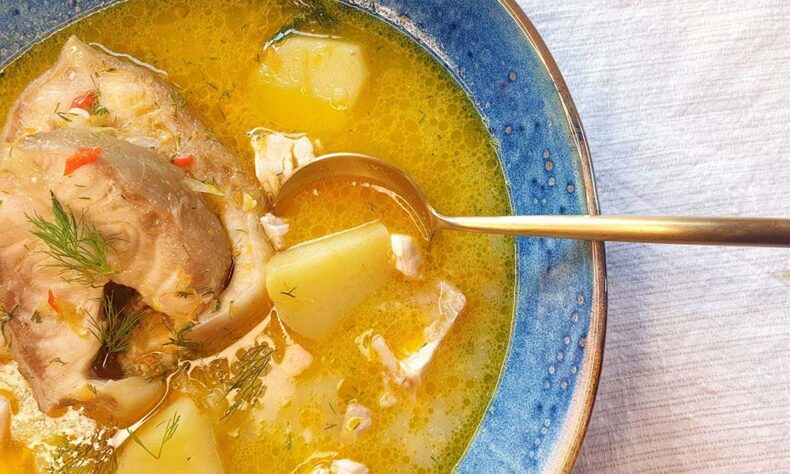 Bet careful, you might just get hooked!
Text by Monica Suma