It's not about the place; it's about that special someone. However, let's be frank – travelling to the right destination is never a bad idea, either.
That's why we've collected these romantic Valentine's Day getaways that are sure to give you and your true love an unforgettable time together. Because at the end of the day, it's all about the positive experience and a perfect backdrop for your love story.
In answering the 'where is a good place to go for Valentine's Day' question, we've taken an original approach. The non-cliché is trending in 2023, and it's a delight to look at such superstars as Paris, Vienna, or Milan from a new perspective.
So get aboard to discover the best Valentine's Day destinations in Europe from unexpected angles.
Milan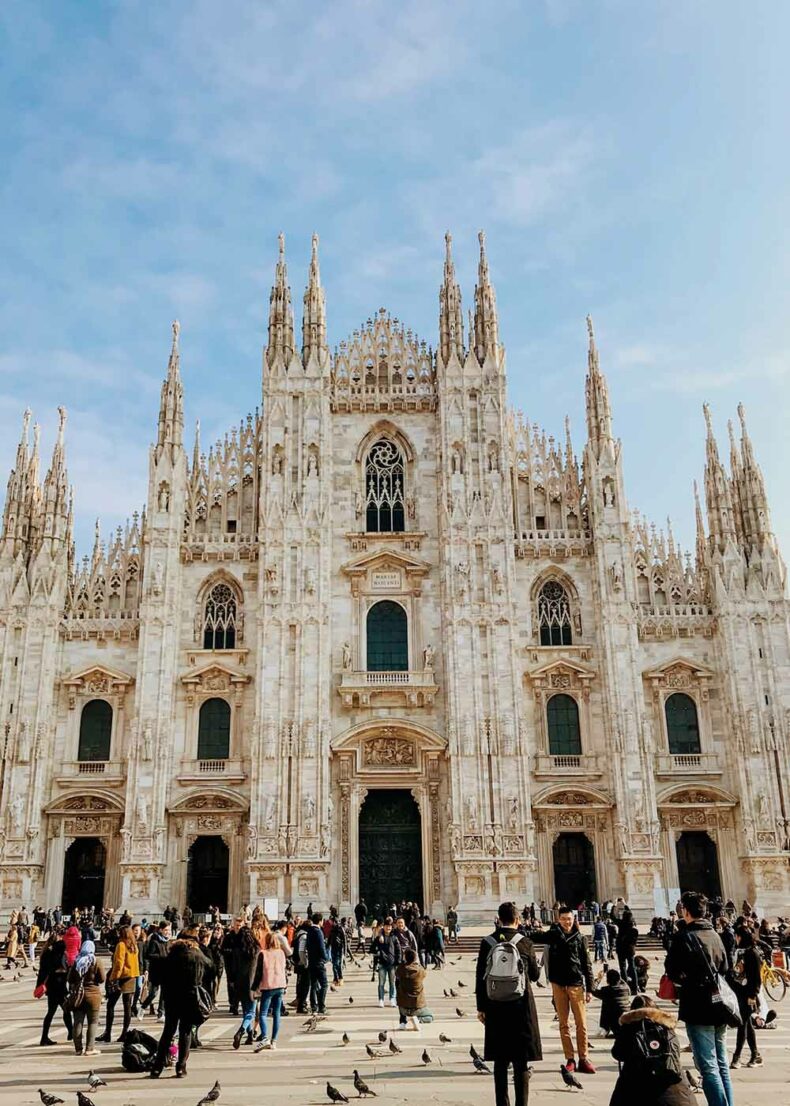 Milan is one of the world's iconic Valentine's Day weekend getaways. Elegance and sophistication are the things that define this northern Italian stronghold of fashion, and the city is always ready to surprise.
Its central Duomo is breathtakingly grand, and the iconic Galleria Vittorio Emanuele II is still extra Instagrammable.
But venture a little bit further and you'll get rewarded with a slightly different, more relaxed side of Milan. For example, head to Navigli, a charming neighbourhood situated between two canals, the banks of which are filled with cafés, restaurants, and bars. It's kind of like Venice without the crowds and with the zing of a megapolis.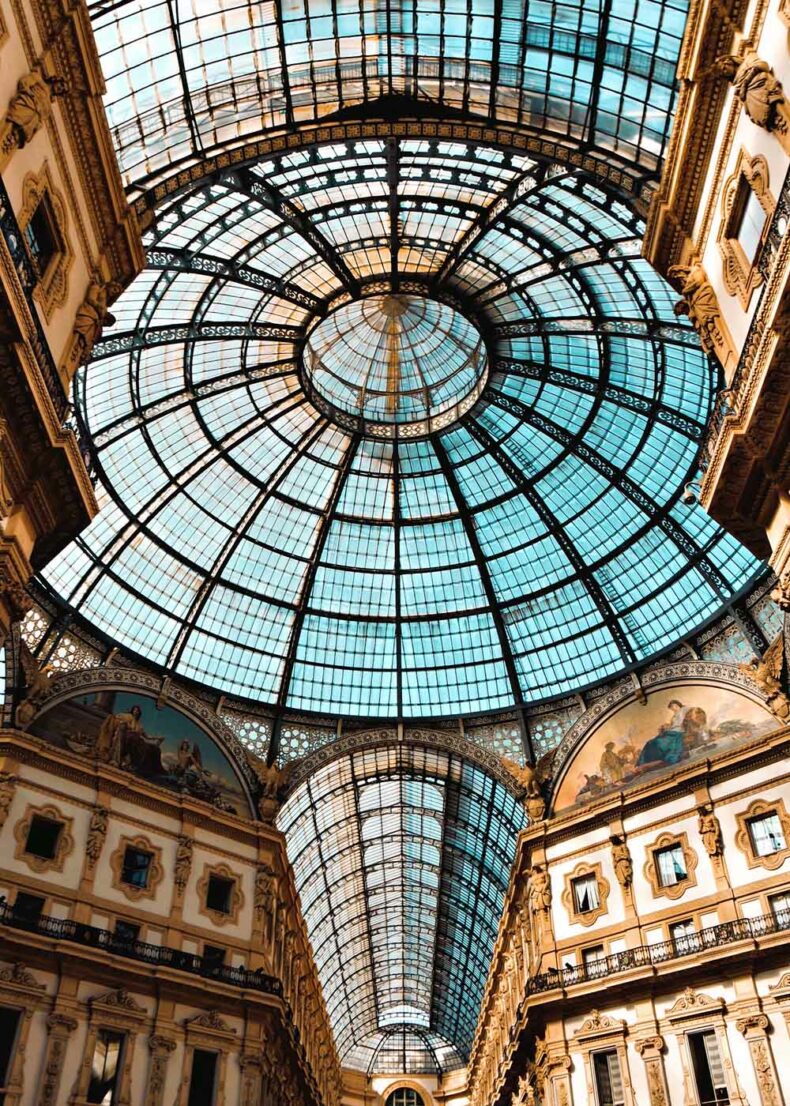 If you're into fashion, the Quadrilatero della Moda (or Fashion District) is an obligatory Milan stop. But be sure to also check out the artsy Porta Venezia neighbourhood nearby, where you'll find lots of cool vintage boutiques.
And it's hard to find a more aesthetic place for a coffee date than Bar Luce at the Fondazione Prada, designed by none other than American visionary director Wes Anderson.
For more creativity, head to Armani/Silos, a state-of-the-art fashion museum that's irresistible for chic apparel lovers.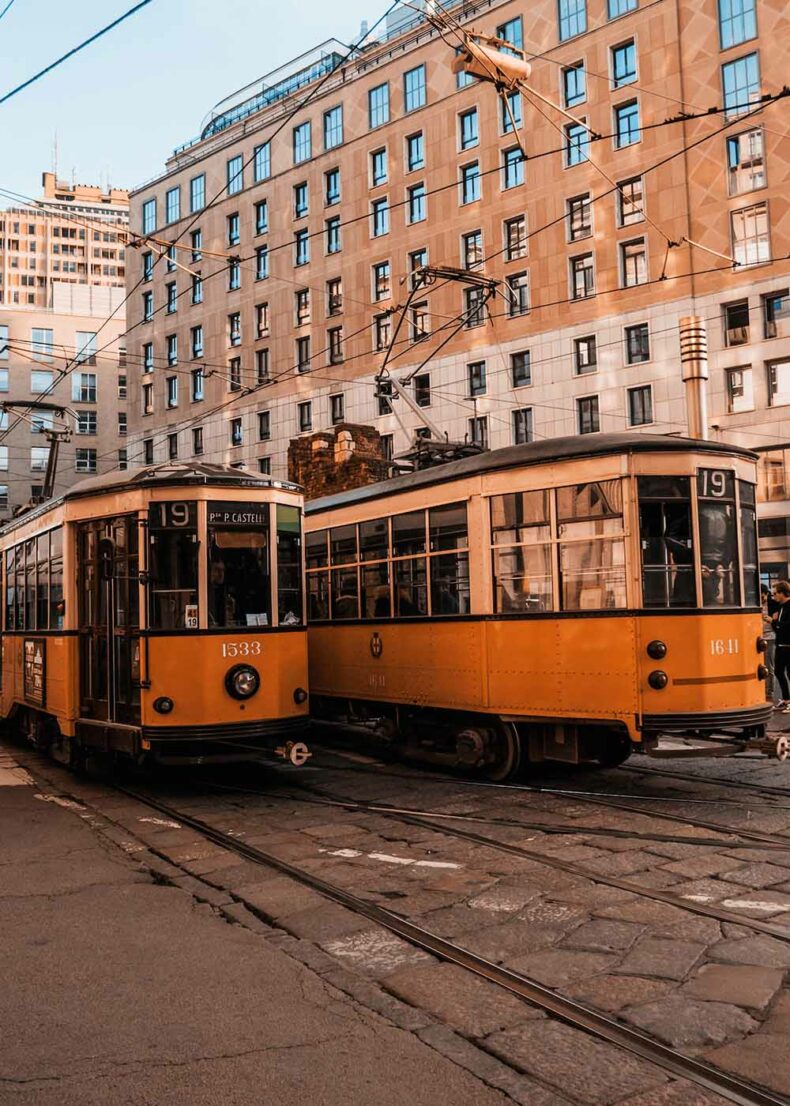 And when it's time for sunset, why not get an aperitivo with a view in a city that exudes great style?
Thankfully, Milan has quite a selection when it comes to fantastic terrazzi, with the best being the upscale Terrazza Gallia, Radio Rooftop Bar with a prime skyline view, and the super central The Roof Milano.
Lisbon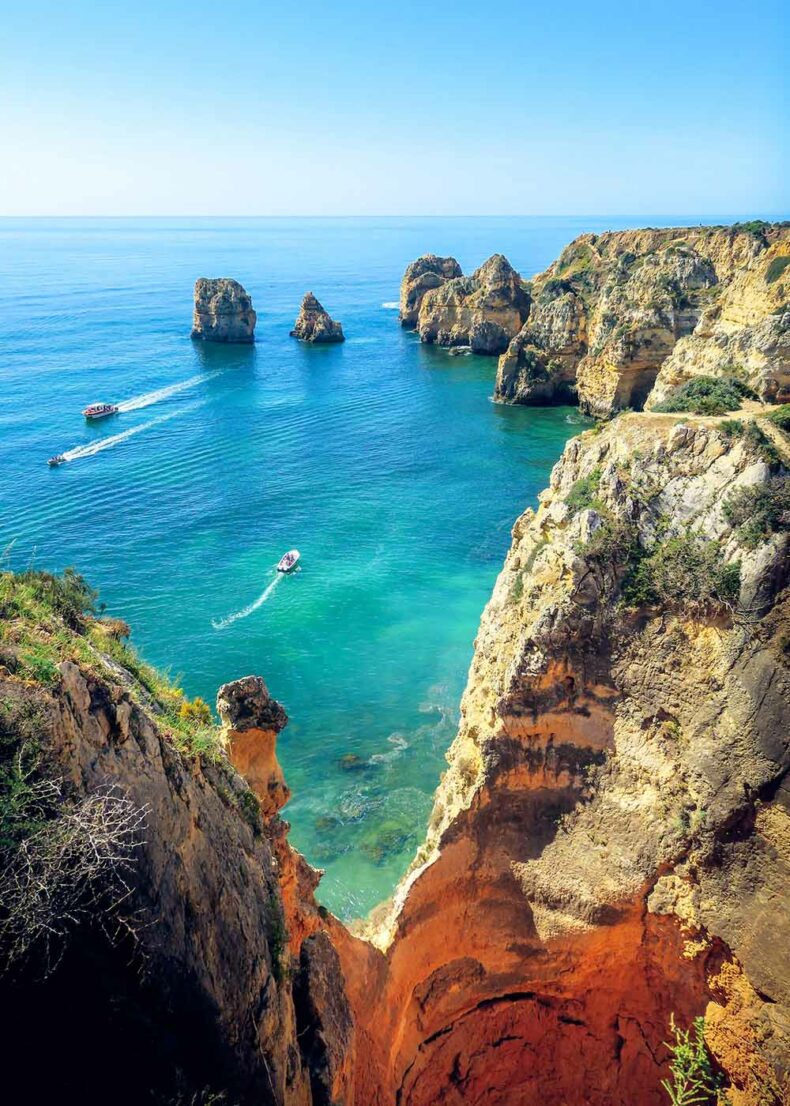 Close your eyes and imagine you're on a cliff with the endless Atlantic Ocean at your feet. You've enjoyed the whole day outside in nice, sunny weather and have enjoyed some of the tastiest seafood. A breathtaking sunset awaits, as does some wine tasting at a local tavern with traditional Portuguese music.
You're in Lisbon, of course – one of our favourite Valentine's Day trips in 2023 – and it feels absolutely outstanding!
The Portuguese capital is a fascinating playground for romantics that combines effortlessness with sublime urban and natural beauty.
Your pick for accommodation should definitely be the Alfama neighbourhood, which offers affordability, authenticity, and killer vistas of colourful old houses and the towering Moorish São Jorge Castle.
For sweets and coffee, check out Alfama Doce (R. da Regueira 39); for a cosy restaurant serving local seafood, head to Lugar Marcado; and for wine, go to Antiga Wine Bar.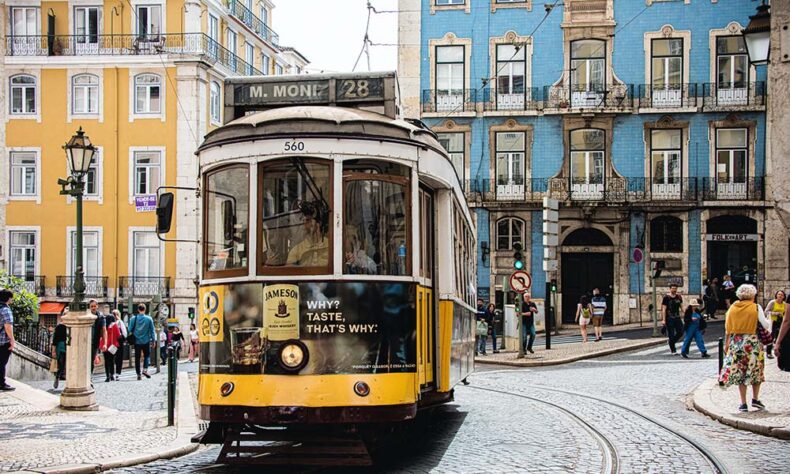 What's cool about Lisbon is that February here is like April in most other European countries.
You'll get lots of sunshine and comfortable weather to explore such outdoor musts as Arrábida Nature Park just outside the city and the scenic Atlantic beaches of Tamariz and Cascais.
And if you want some explosive architecture with romantic gardens, head to the less-known park and palace of Monserrate on the outskirts of Sintra.
Paris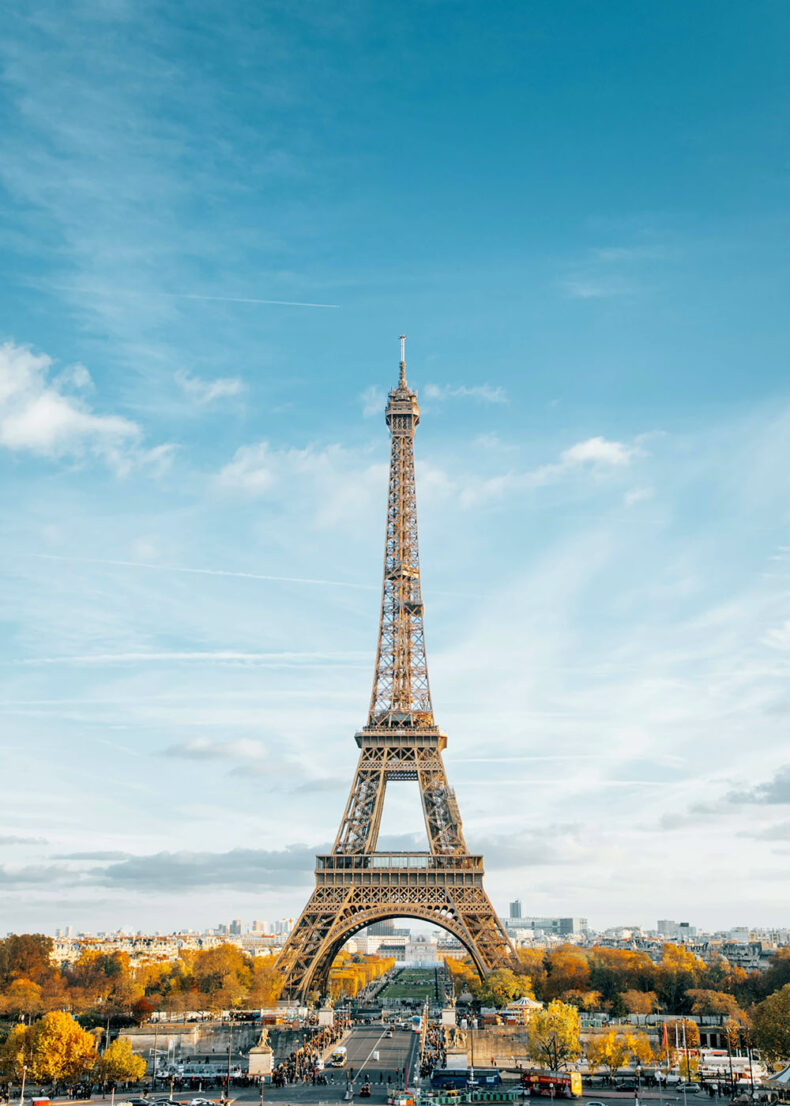 When it comes to all things love and romance, Paris is surely among the most clichéd Valentine's Day trips for couples.
But is it really? As much as we love the Eiffel Tower, Montmartre, and Notre Dame, Paris is much, much more than that. It's when you get off the touristy beaten path that you're truly able to embrace the wonderful essence of the other Paris, that sustainable and green city filled with hidden gems and lots of fresh air.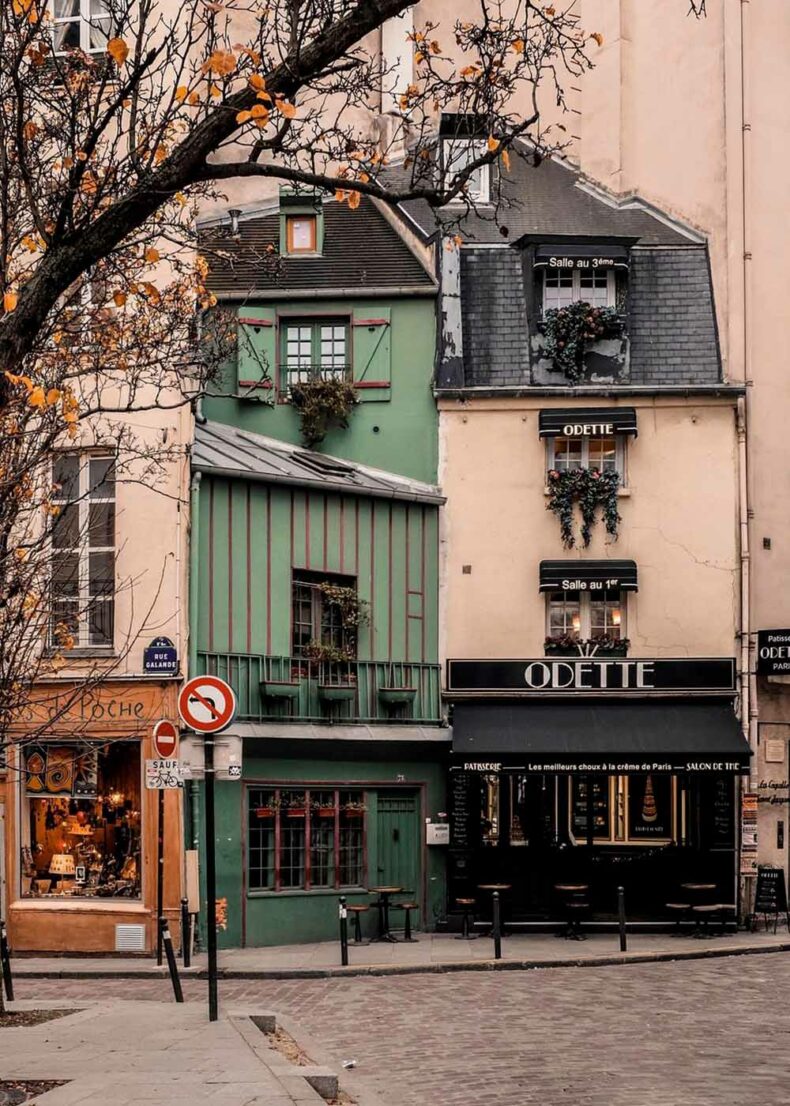 Start with one of the most beautiful and elegant botanical gardens in the world, the stately Jardin des Plantes in the centre of the city.
You can spend a whole day here walking through the marvellous Beaux-Arts greenhouses and exploring the numerous museum buildings.
Continuing your outdoor exploration, check out the picturesque Canal Saint-Martin with its pretty bridges, small covered boats, and abundance of cosy bistros and cafés to get you in a Parisian mood.
Du Pain et des Idées is where you get the best pastries, and Le Comptoir Général is a legendary bohemian waterside bar.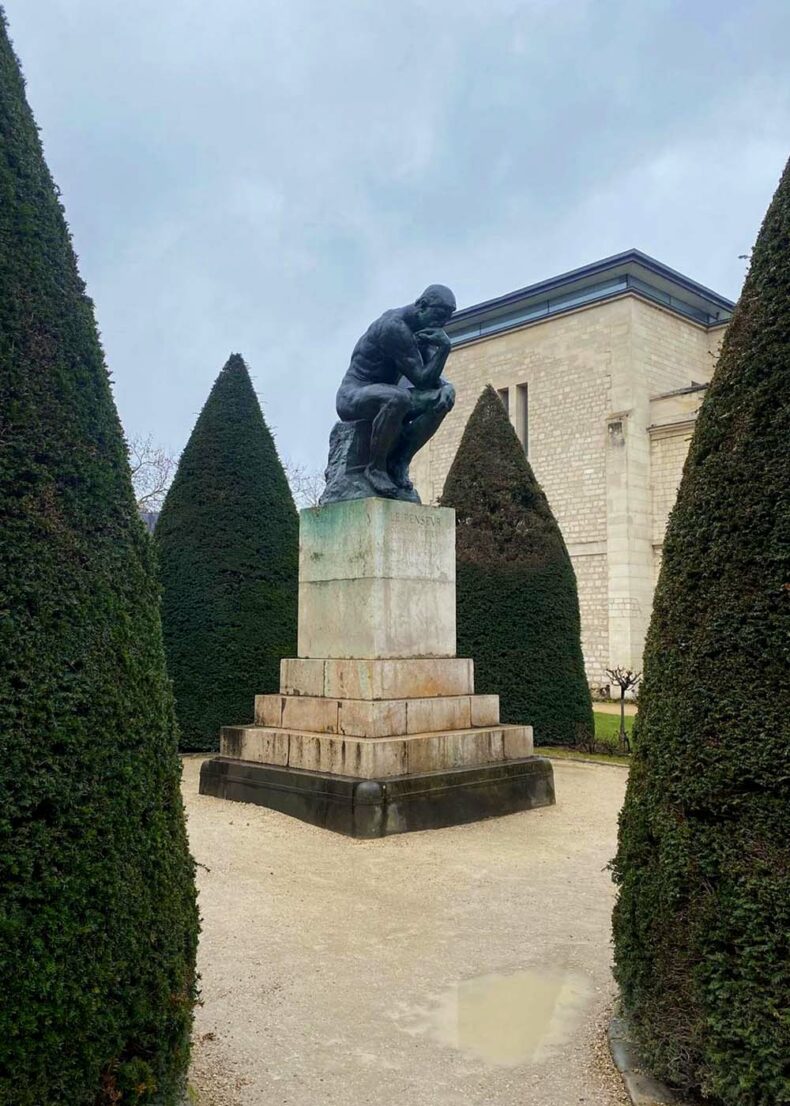 Paris is also home to many marvellous courtyards and hidden gardens, such as the one in the adorable Musée de la Vie Romantique, the lovely Renoir Gardens in the Musée de Montmartre, and the tiny garden with a view of the Eiffel Tower at the Maison de Balzac.
For even more cool green spaces and sculptures in a stunning setting, head to the Rodin Museum.
Prague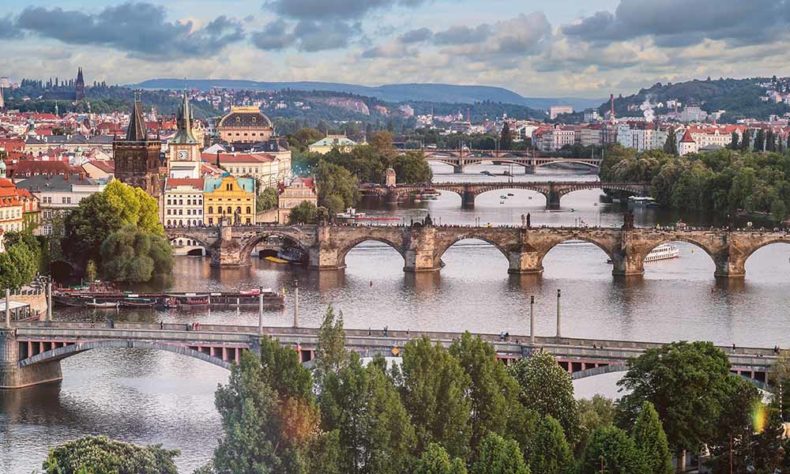 With a fairytale atmosphere, swans on the Vltava River, and cobblestone streets, Prague is the epitome of Old World romance.
But even though it's a tourist favourite and the main sights get overcrowded pretty quickly, you can easily find quieter neighbourhoods and less-known attractions that are equally mesmerising.
Views come first, and thanks to the hilly location of the city, it has plenty of Instagrammable spots, such as the Letná Park viewpoint overlooking the iconic bridges, the Chotek Gardens providing a first-hand vista of the medieval Old Town, and Vítkov Hill offering an expansive, all-encompassing Prague panorama.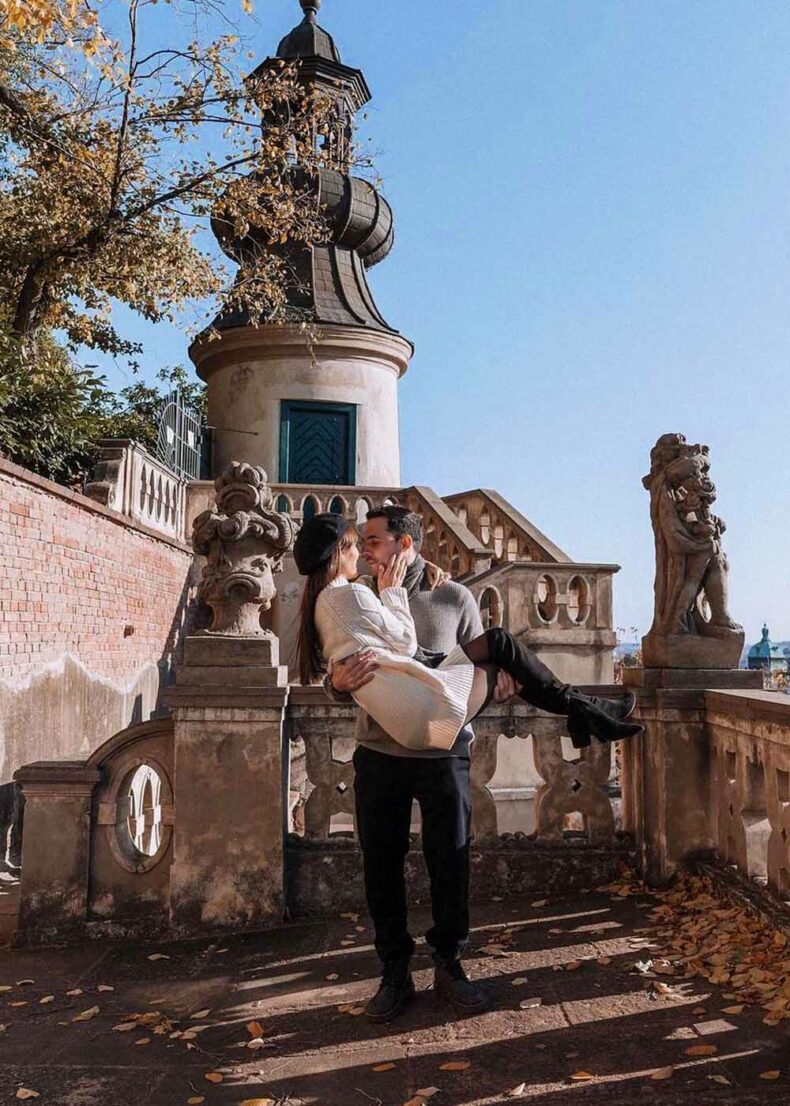 As for the best neighbourhood to base yourself and catch some romantic Prague vibes, the boutique hotels in Malá Strana provide a balance between tranquil surroundings and proximity to all the sights, such as the Charles Bridge, Castle Hill, and the Old Town.
The riverbank is also here, so you can enjoy long sunset walks on Kampa Island.
In addition, some of the cosiest coffee shops are in Malá Strana, allowing for a caffeine fix at such old-time charmers as Café Kafíčko and Kafírna u Sv. Omara.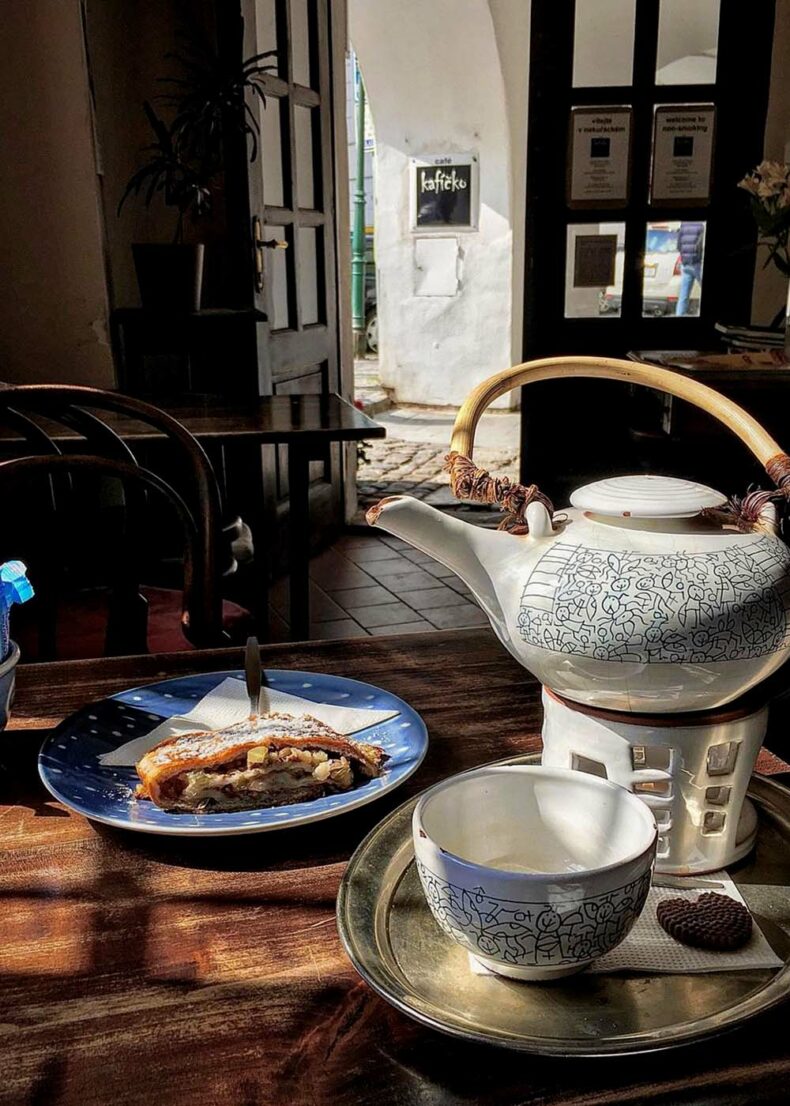 Art aficionados will be delighted to tour the lovely small galleries found around the city, such as Josef Sudka Atelier (a hidden garden photo studio running photography exhibitions), the superb Critics' Gallery located in the Rondocubist Adria Palace, and the excellent DSC Gallery.
Vienna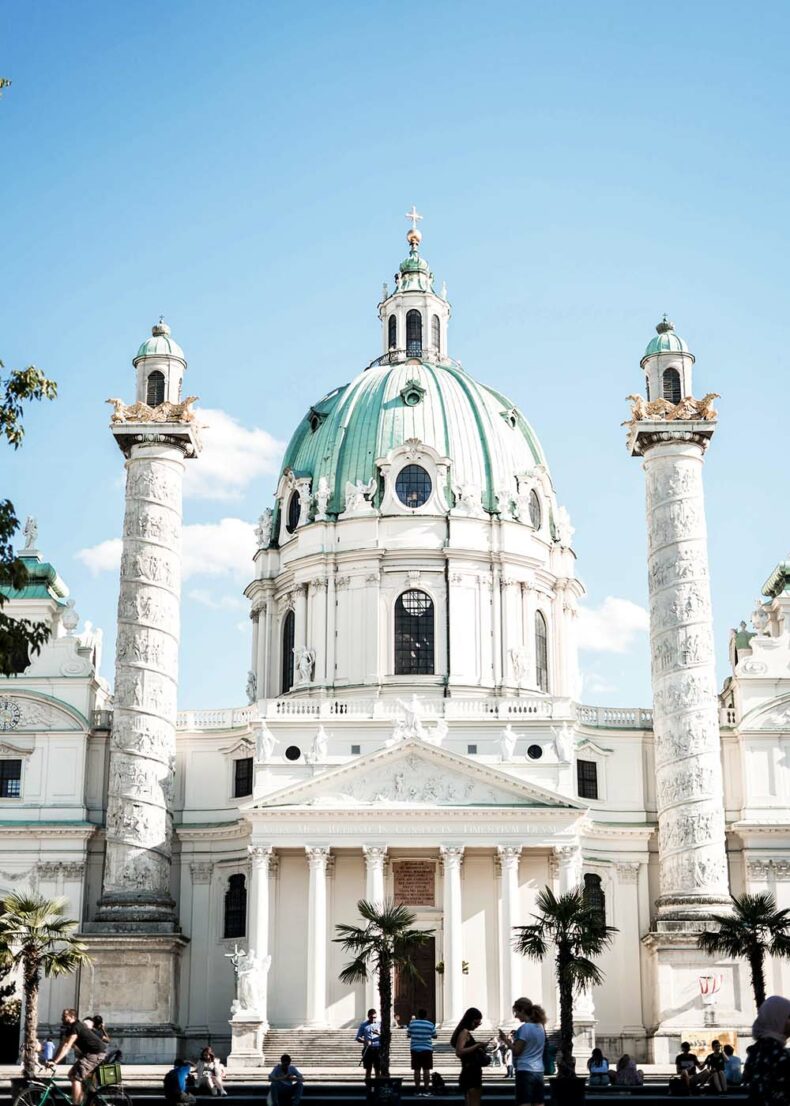 Vienna is always among the most brilliant Valentine's Day travel destinations.
It's the class, the flavours, the service, the variety… Frequently topping lists of the best cities to live in, the Austrian capital is perfect for a hassle-free self-indulgent holiday break.
Famous for its iconic UNESCO-protected coffee culture, countless opulent palaces, state-of-the-art gastronomy, and world-class museums, Vienna is quintessentially romantic.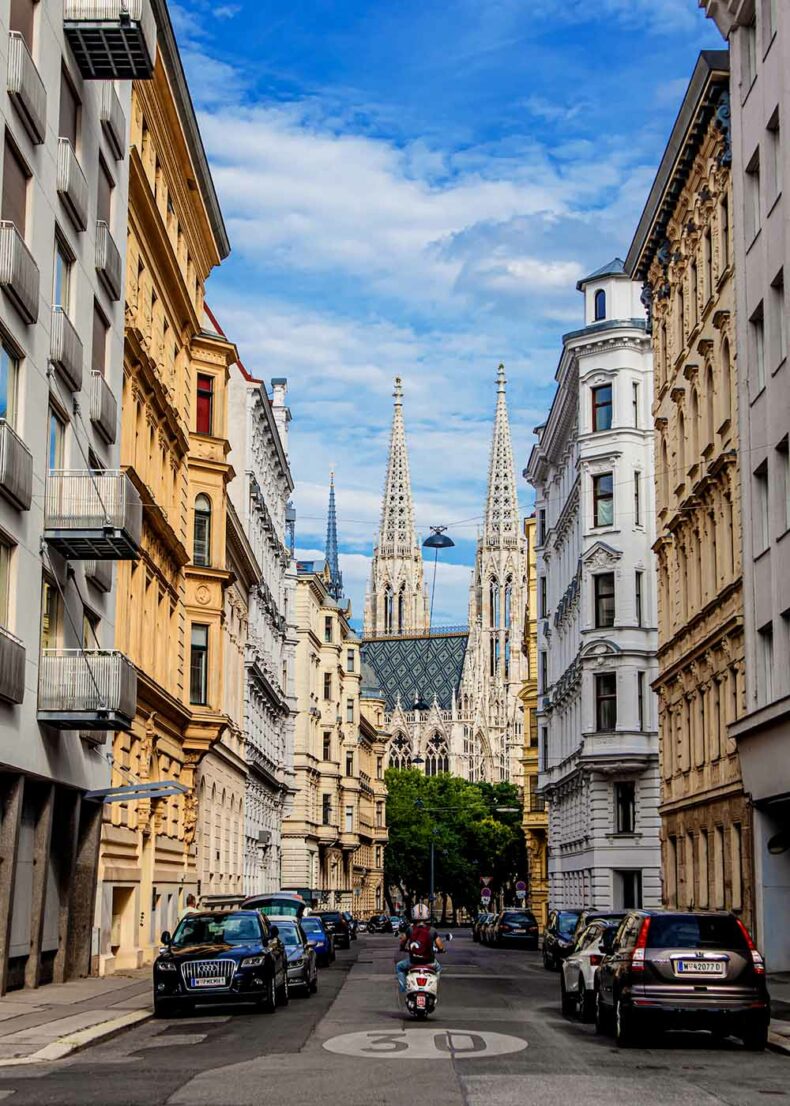 February sees the reopening of the famous Lower Belvedere gallery palace, and its inaugural exhibition, Dalí – Freud, focuses on surrealism and psychoanalysis.
The Upper Belvedere Palace, for its part, is the crown jewel of Vienna and boasts a definitive collection of Austrian art in addition to being ultra photogenic.
But don't stop there. Have a walk around the magnificent Belvedere gardens as well as the nearby University of Vienna Botanical Garden, which puts an amazingly diverse range of flora on display.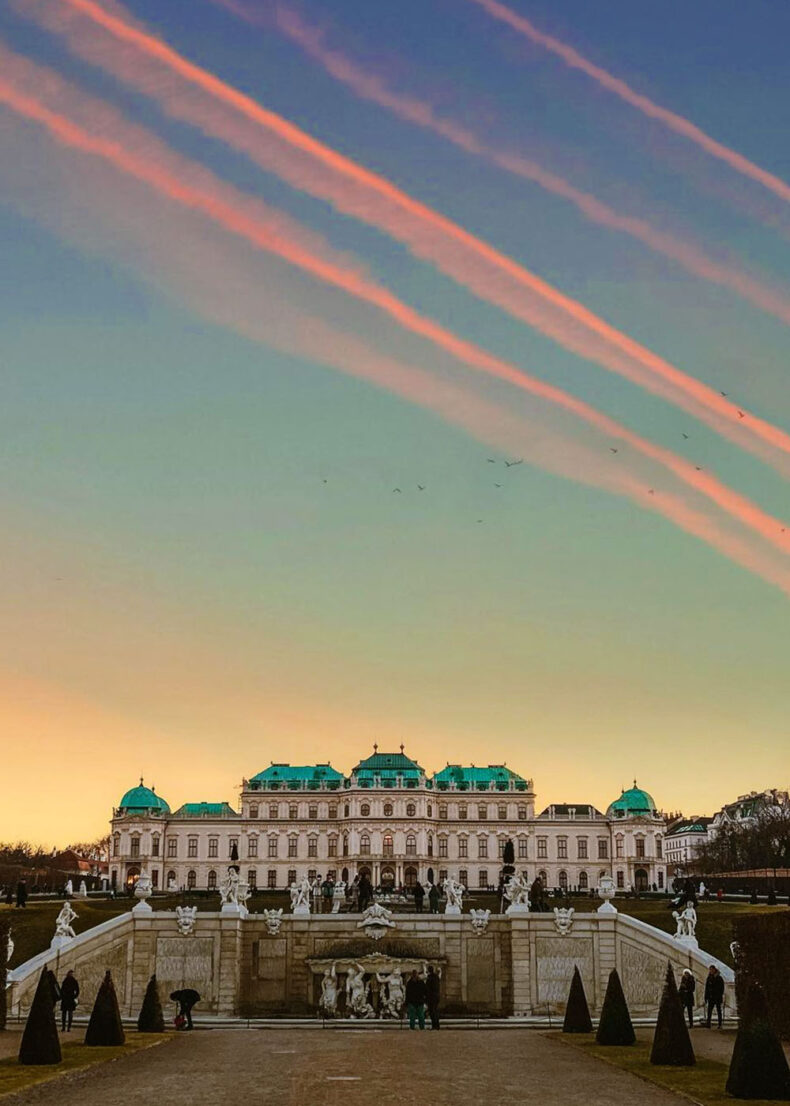 On the culinary side of things, a Beisl, or traditional Vienna bistro, is something to discover for heartfelt and affordable local cuisine.
With more than 100 years of history and universally beloved by locals, Steman is a great representative. Gasthaus Rebhuhn is another institution to check out.
For tasty local wines, head to contemporary Heunisch & Erben and the oenophile paradise at Eulennest.
Munich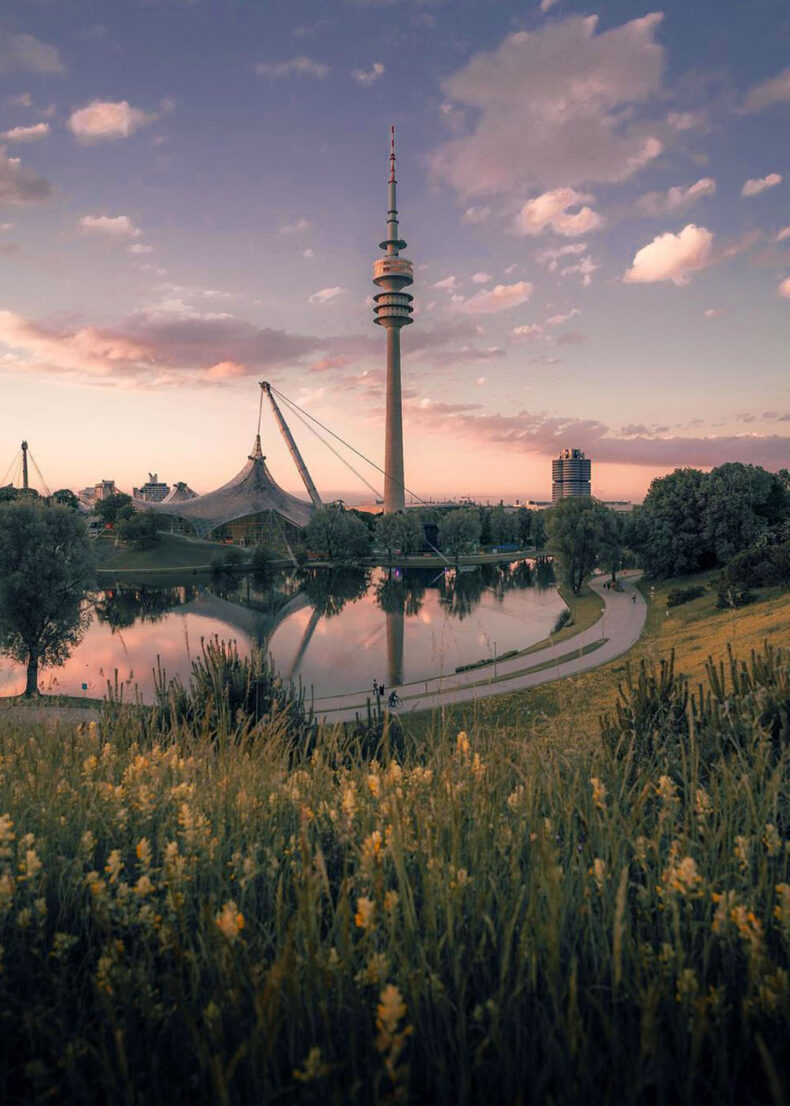 With Alpine peaks and pristine lakes just around the corner, Munich is an amazing destination to combine sightseeing with outdoor activities.
Energetic, beautiful, and uber-comfortable, this city is all about the enjoyment of life. Be it the numerous beer gardens, fascinating modern museums, pretty old streets of the Altstadt, or romantic banks of the Isar River, Munich is relaxing and inviting.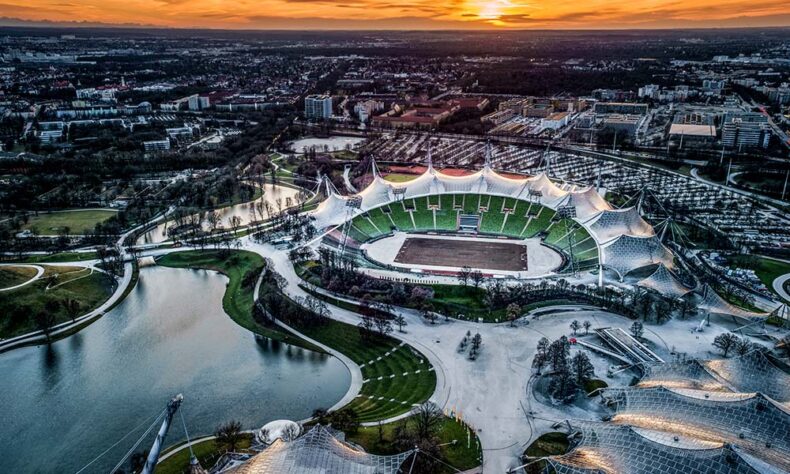 Spend a day at Nymphenburg Palace with its sumptuous halls, canals offering gondola rides, wonderful gardens, cascading waterfalls, and hidden pavilions.
For more stunning greenery, visit the Botanical Garden, which features various thematic greenhouses and is also home to cute turtles.
After the gardens, unwind in the pools, steam baths, and saunas at the striking Art Nouveau-style Müllersches Volksbad bathing complex.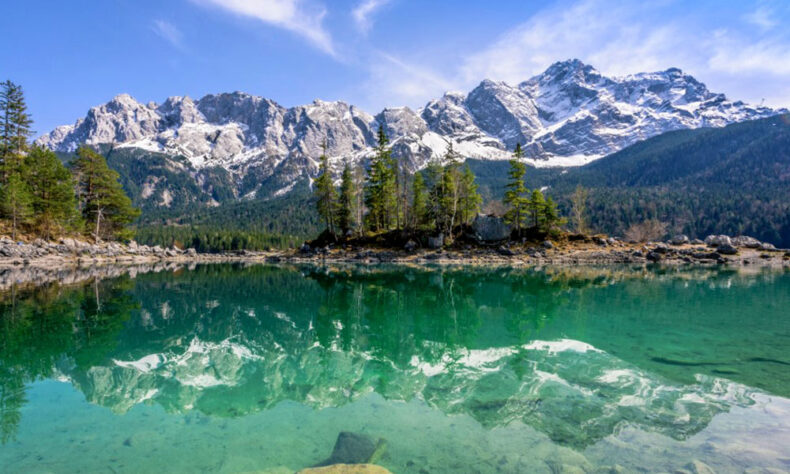 Proximity to the Alps gives you a great opportunity to combine a visit to Munich with a mountain escape.
Just take a train that departs hourly from Munich to Garmisch-Partenkirchen and enjoy a scenic 85-minute ride to Germany's ski capital.
There, a myriad of hiking and skiing opportunities await you along with breathtaking vistas of the country's highest peak, Zugspitze, which can be reached by the Bavarian Zugspitze Railway from Garmisch.
Text by Pavlo Fedykovych