Lisbon is known for its sunny weather, colourful buildings, and friendly locals. During her visit to the Portuguese capital, Baltic Outlook writer Nadīna Elekse became acquainted with the wonderful culinary heritage and natural wonders of this region.
An exotic fairy tale
On my very first day, I make an early start by catching a train to Sintra, a small town about 45 minutes from Lisbon where one of the most beautiful man-made sites in Portugal can be found. The colourful Pena Palace (Palácio da Pena) is a Romantic-style castle built in the 19th century at the top of a hill.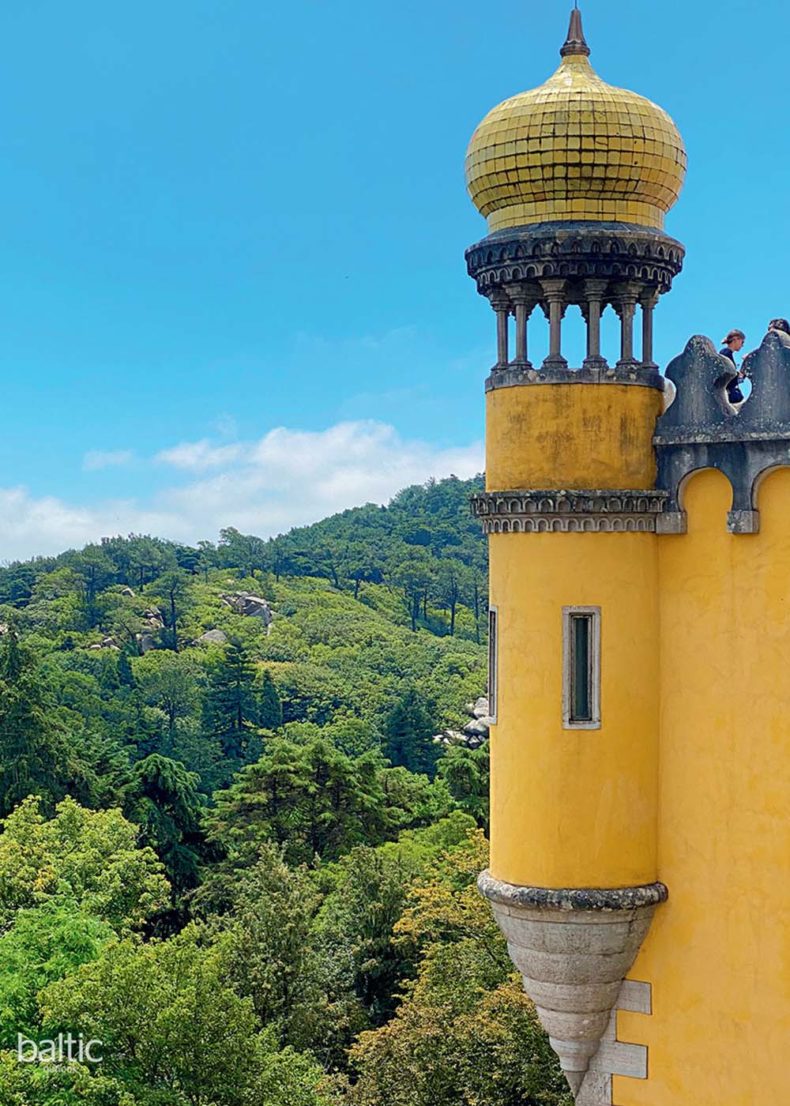 Before being reconstructed as a palace, however, Pena was a small, quiet monastery housing no more than 20 monks. The building had been damaged by forces of nature before, but it was the Great Lisbon Earthquake of 1755 that reduced it to ruins.
The devastating event lasted for up to six minutes and was followed by a tsunami. And if that's not bad enough, it happened on All Saints' Day, which meant that the thousands of candles that had been lit in churches, monasteries, and people's homes now created havoc of their own. It took decades to rebuild the destroyed, flooded, and burnt city. And yet, here it is again.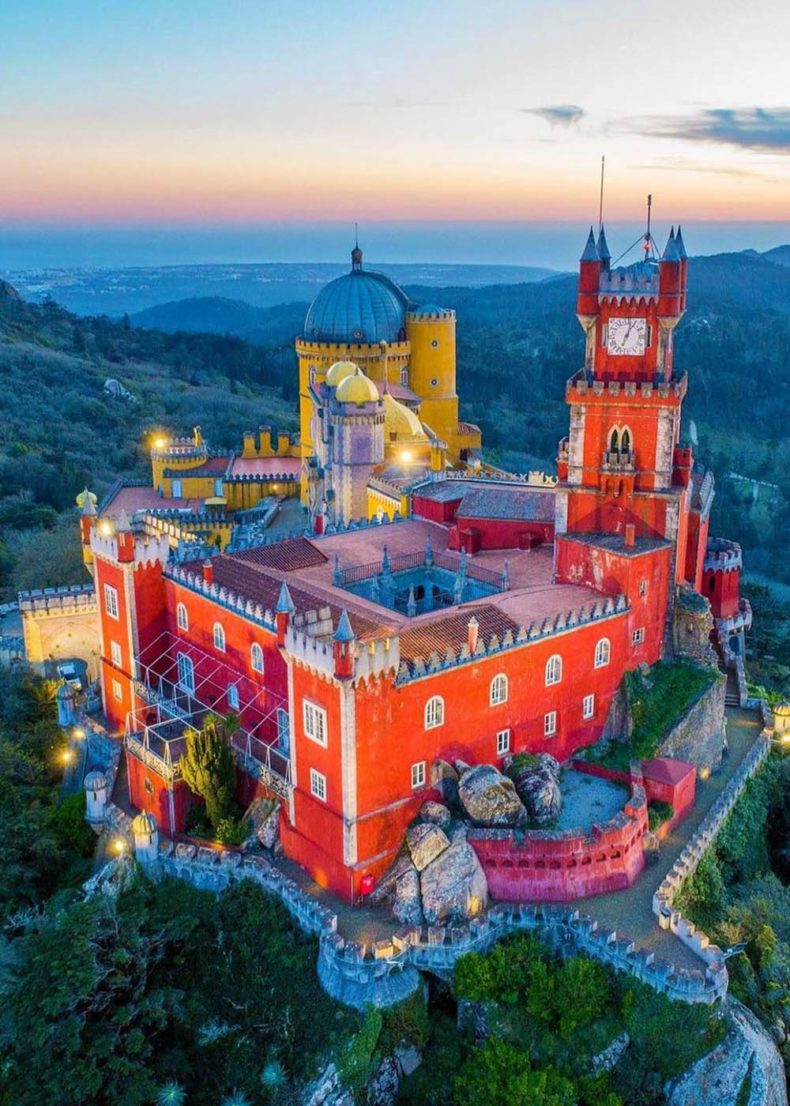 The Pena monastery remained abandoned until 1838, when Prince Ferdinand acquired the ruins along with a large area of land around it and built the famous palace we know today as well as the vast gardens around it. Today, Pena Palace is the most-visited castle in Portugal, and, to keep its magic colours bright, it's repainted every year.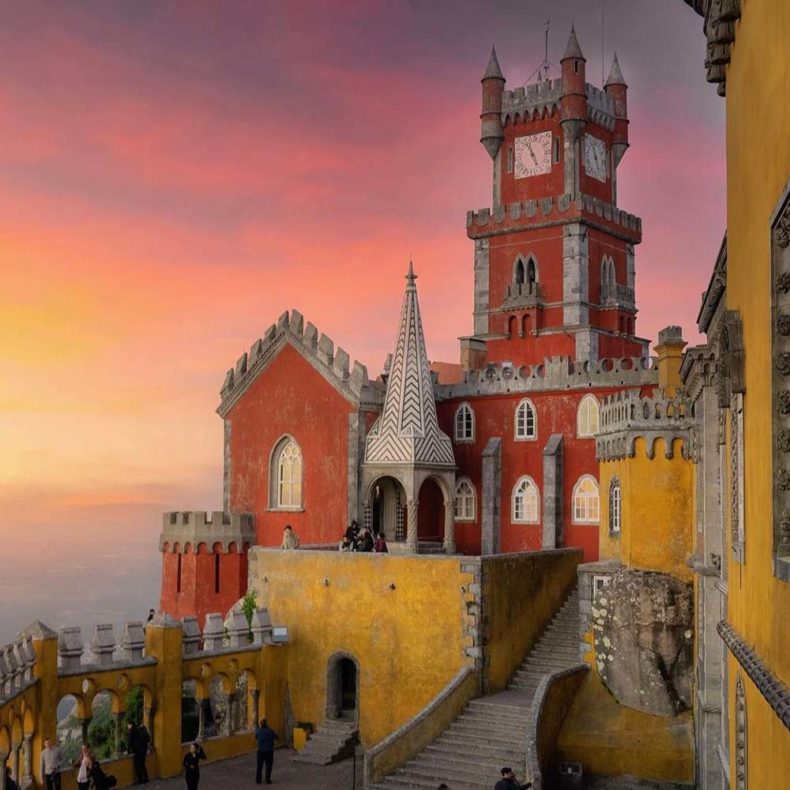 Even though I leave Lisbon very early and get myself to the gates of the palace right when it opens, there's no way around it: almost two million tourists visit the palace every year, so the chance of it not being crowded during the high season is close to zero. This can be somewhat avoided by shifting your focus from the interior to the terraces outside and the surrounding gardens, which many people skip.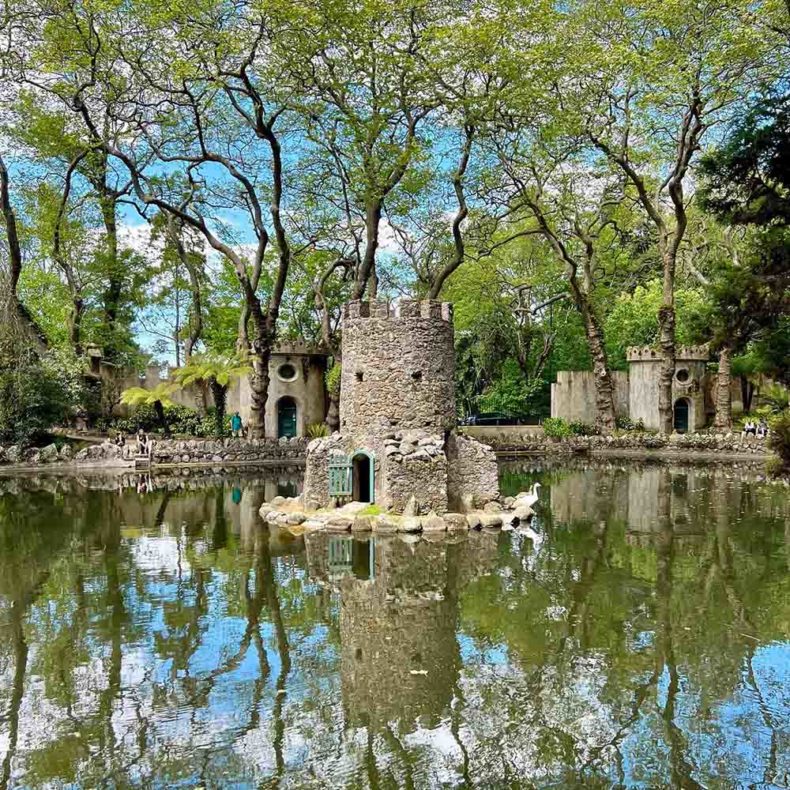 Take your time to walk up to the castle. It takes around 15 minutes, and the climb is not steep at all. If you arrive in the early morning, there's a chance of fog, and while the mist makes the castle more difficult to see and photograph, the gardens with their centuries-old trees and plants take on a mysterious feeling and the fresh mountain air helps you soak up the atmosphere of the place.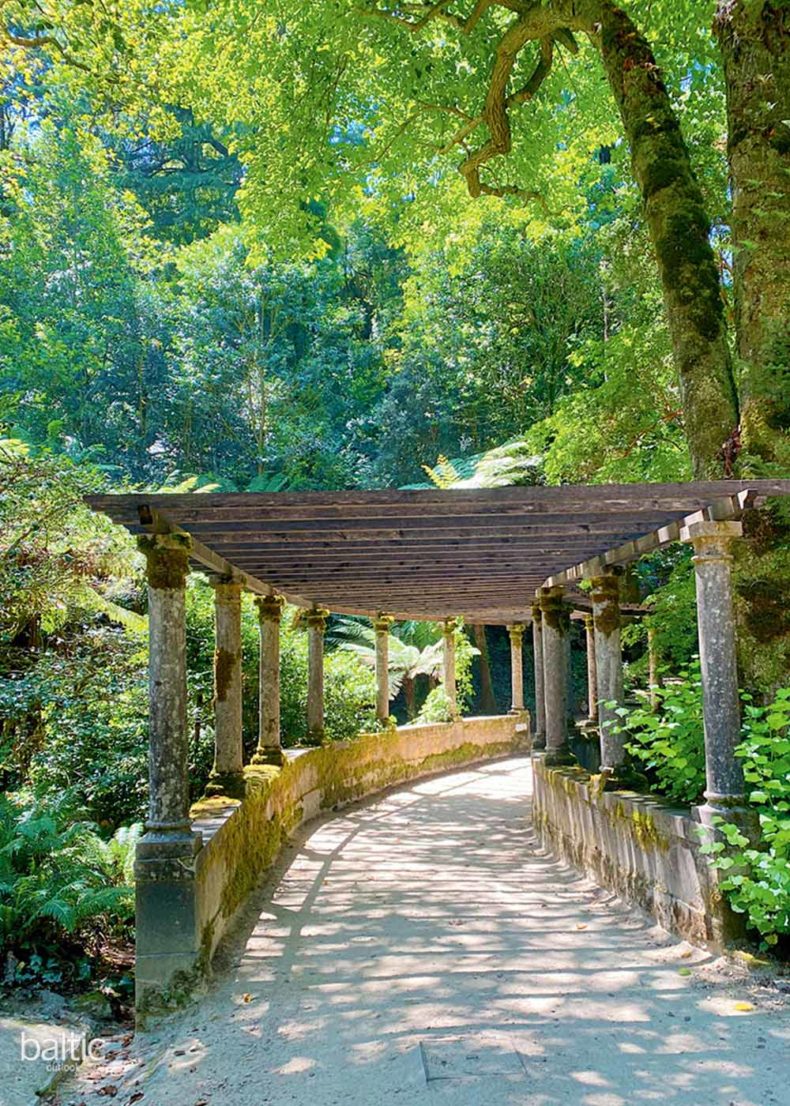 After exploring the terraces around the castle, I find a spot in the outdoor café and watch the clouds slowly clear, revealing the beautiful views from the mountain top. The castle, which was at first cloaked in fog, now shines bright in the sunlight. It's truly spectacular, and I understand why people line up for hours to see it.
The best beach escape
Before returning to Lisbon, I want to make it down to the beach town of Cascais, which is especially famous among surfers. While waiting for the bus, I examine its route. The road to Cascais leads past Cabo da Roca, the westernmost point of mainland Europe.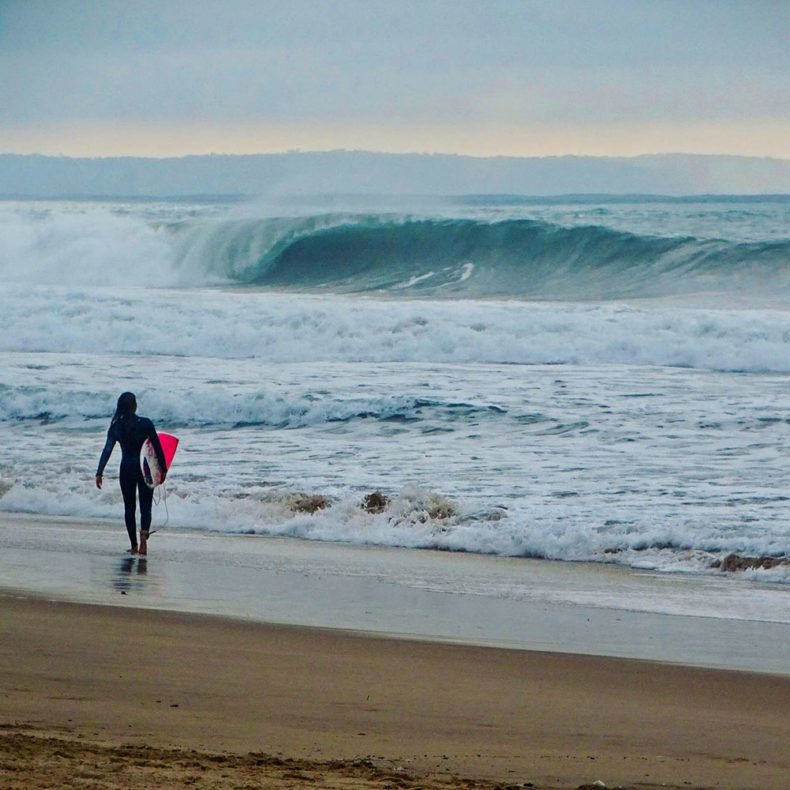 The official viewpoint at Cabo da Roca is easy to reach from the bus stop and the main parking lot, but I notice a couple of other parking lots, and the map shows a small path and more viewpoints along the cliffs. I embark on this route and, while it's an easy path, it provides no shade from the hot summer sun, only a bit of a breeze from the ocean.
The views really are spectacular, and I notice the path starting to slant downwards into the cliffs. There are quite a few people moving in both directions, and I decide to see where this leads me.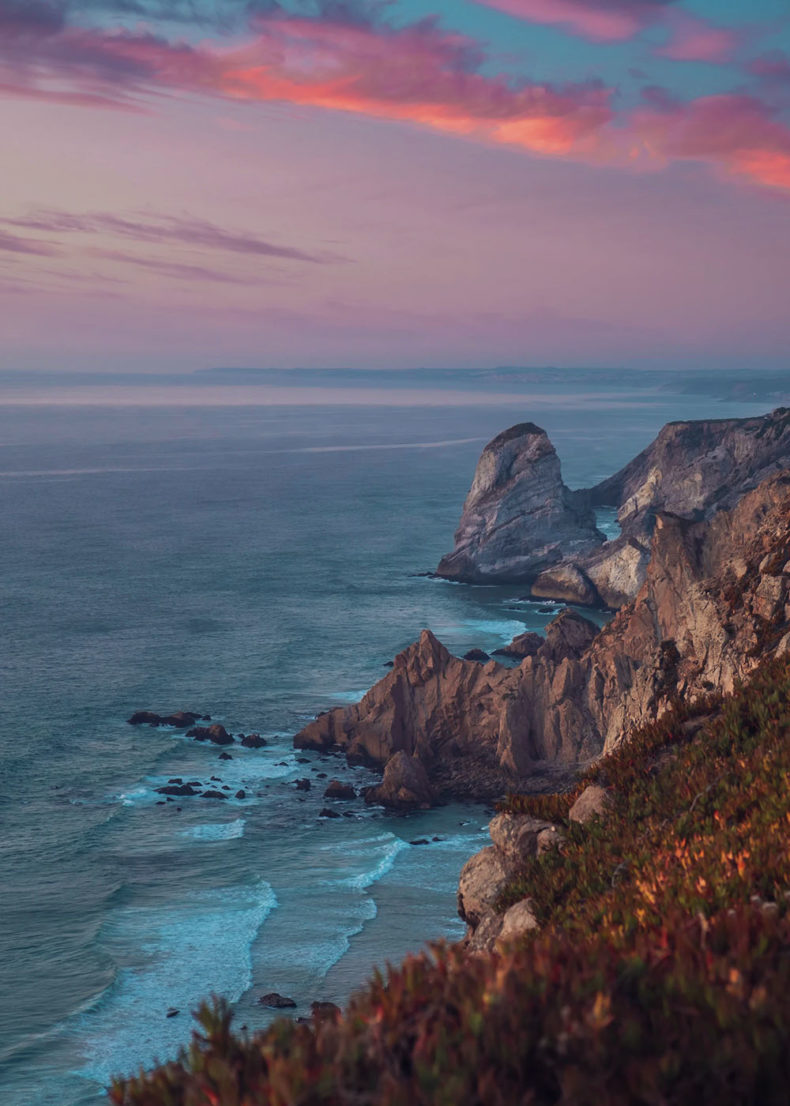 The path ends at probably the most beautiful beach I've ever been to. It's also definitely the most difficult beach to get to. The climb down turns into a very rocky path that no longer involves just walking – I have to climb, jump, and keep my balance steady. After 20 or 30 minutes, though, I'm rewarded with views of Praia da Ursa, or Bear Beach.
As I make my way to Cascais, any prior plans about going to a museum dissipate. Cascais is a favourite spot for visitors and is quite full, but the town manages very well by giving over entire streets to restaurant tables and live music. I wander around examining the vast restaurant options.
Here you'll find traditional food as well as hip fusion restaurants serving ceviche, hot dogs, and vegan food in trendy interiors. While I appreciate the diversity, after all the climbing I've done, tonight is just not the night for tapas and finger foods.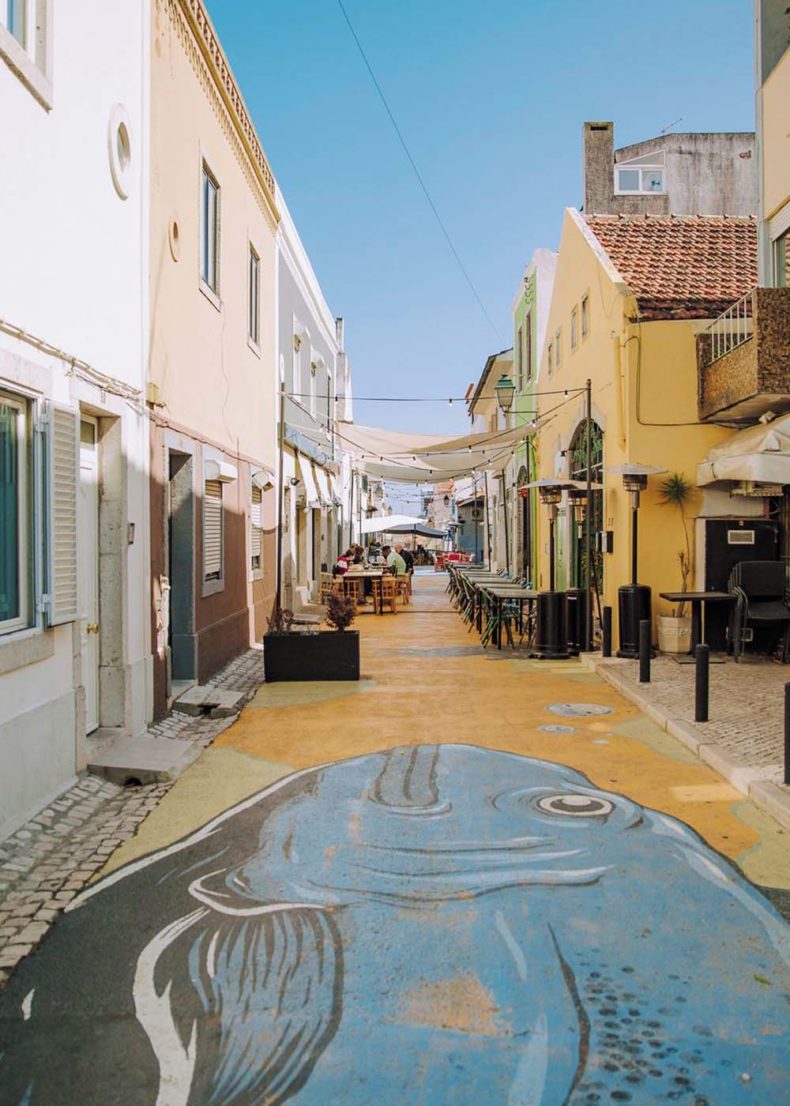 I find the biggest, loudest Portuguese restaurant that looks like it hasn't changed in decades and where nobody cares about the fonts on the menu as long as the customers leave unable to eat a bite more. I order a huge portion of traditional Portuguese piri-piri chicken, and it's gone within 15 minutes.
When I finally reach my bed back in Lisbon about an hour later, I realise how incredibly tired I am. As much as I enjoyed my trip to Sintra and Cascais, all I want to do the next day is escape the crowds.
First-time birdwatching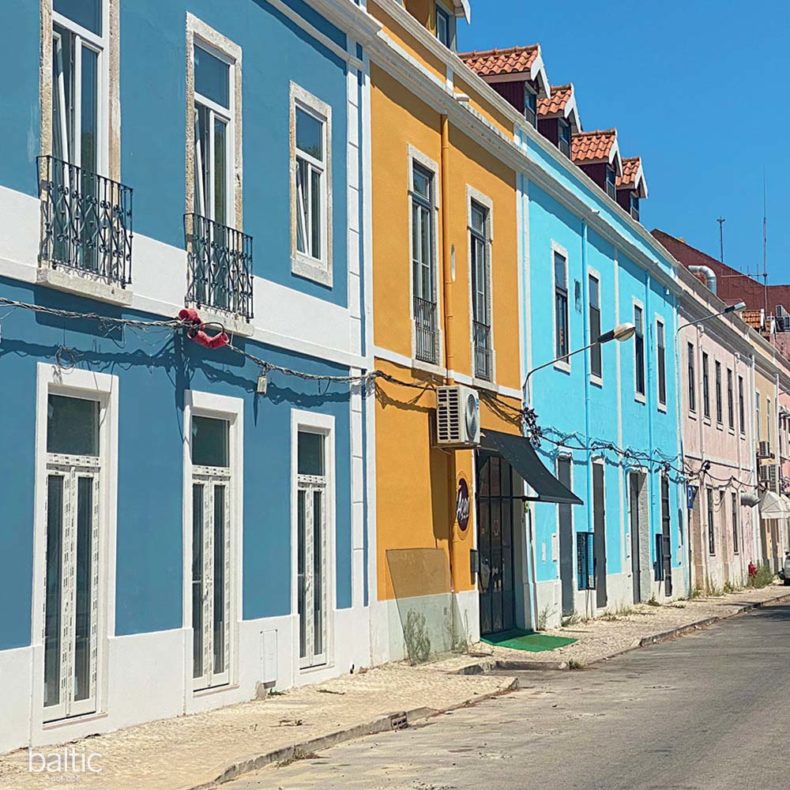 I've been advised to go to Setúbal, a lesser-known town not far from Lisbon. In the 20th century, Setúbal was the epicentre of the Portuguese fishing industry, and, while none of the sardine factories are in use today, fishing still plays a crucial role in Setúbal's identity.
The town's main marina is dedicated not to yachts and private motorboats but to fishing boats of all shapes and sizes. Accordingly, the Mercado do Livramento in the heart of the city is considered one of the best fresh seafood markets in the world.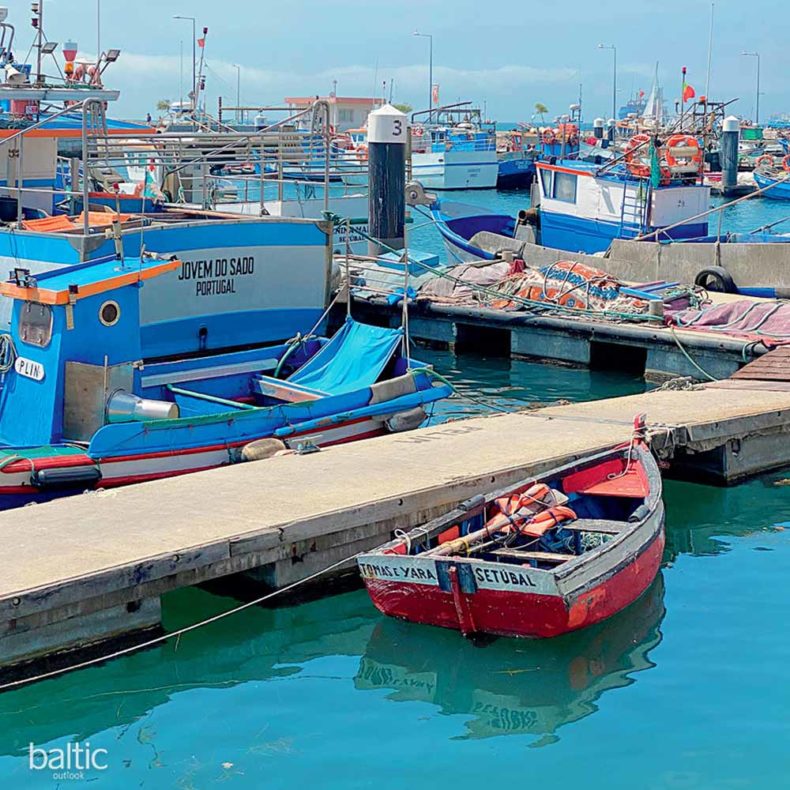 The market is also my first stop in the town. I can't deny the fact that my Sintra–Cabo da Roca–Cascais trip has taken a toll on me.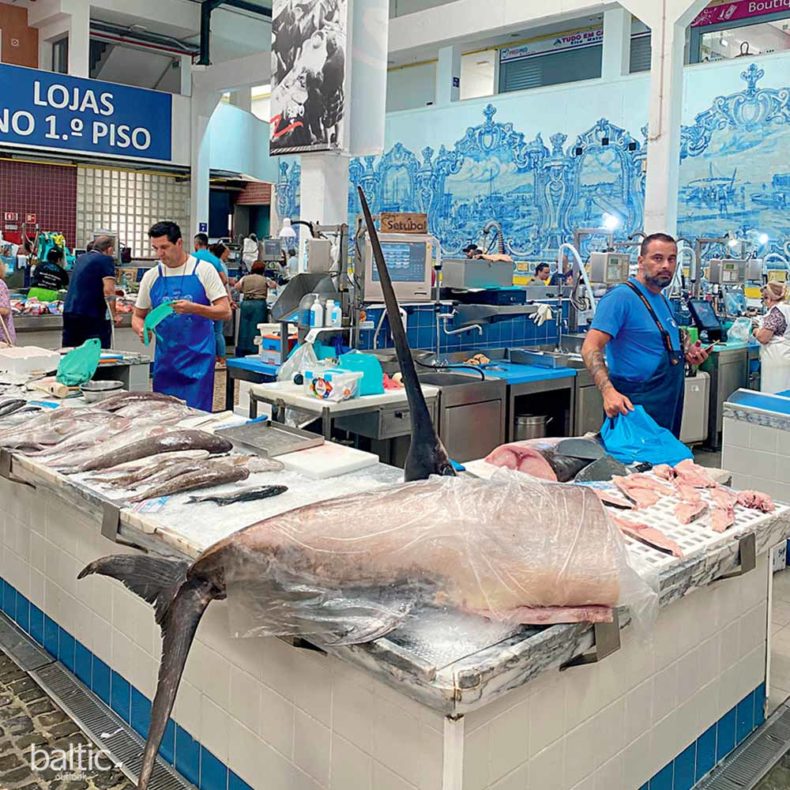 After marvelling at all the sea creatures for sale, I stop at a small shop called Setúbal in My Heart at the edge of the market, which attracts me with a selection of local port wines. I start chatting with Nuno, who works at the store, about things to see in Setúbal, where I'm from, and what I've done so far in Portugal.
Nuno tells me that his company does dolphin and birdwatching tours, and, while the dolphin tour has already taken place in the morning, the birdwatching tour starts later in the afternoon. I realise that after a day of extreme self-navigating, climbing, and walking, I really crave being guided and shown around. And what better off-the-beaten-track way to do that than exploring the wildlife with a local guide?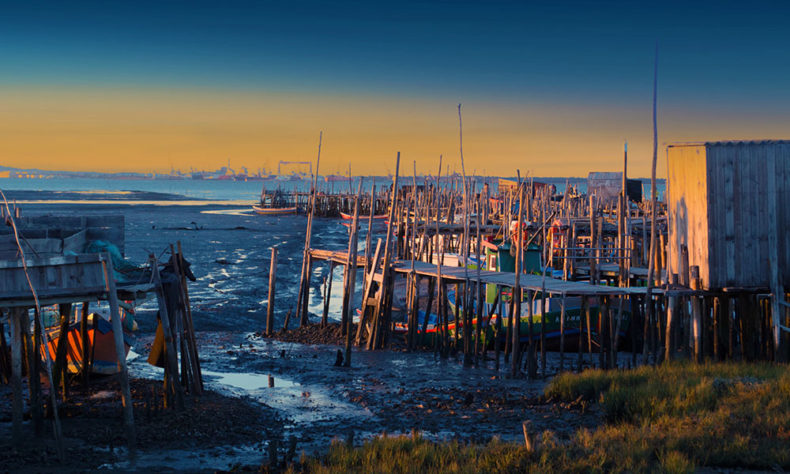 Nuno picks me and a Portuguese couple up in a van, and we start making our way to the Sado Estuary Nature Reserve, which spreads across 23,000 hectares of wetland along the banks of the Sado River. 
We've each been given binoculars, and, as we enter a more swampy area, we slow down and Nuno starts examining the landscape.
After about 30 minutes, my eyes have completely gotten used to the binoculars, and as I look around, I can tell that the area is buzzing with birds everywhere. Nuno has a little book with all the birds that can be found in these wetlands. He also has a more serious telescope that he uses to show us the different species.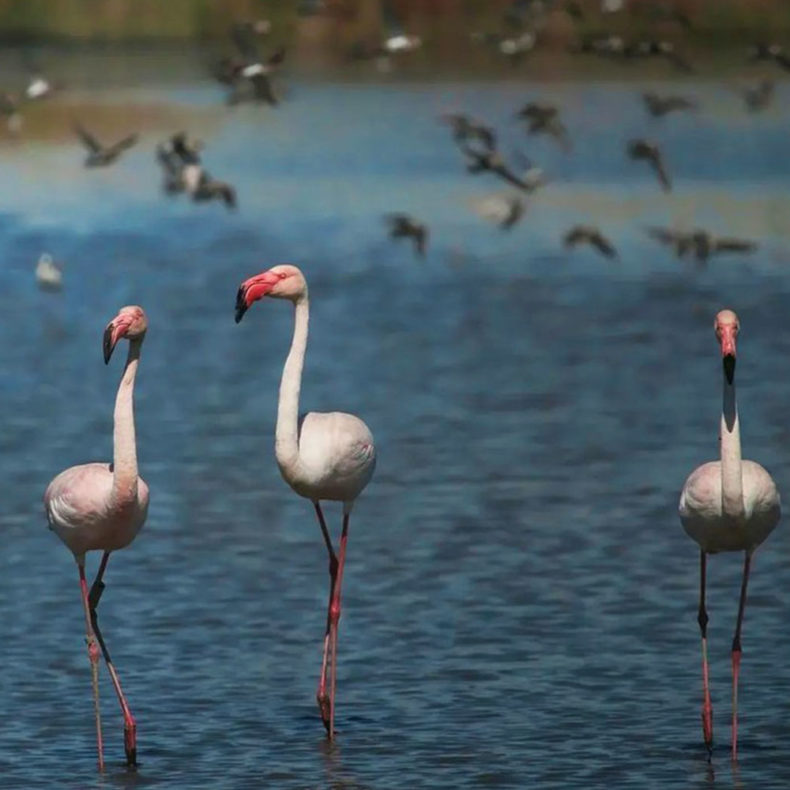 We stop a couple more times to observe a flock of flamingos in a pond. The sight is quite surreal, with the cranes of Setúbal's industrial port in the far distance and a peaceful summer's day right here with these dreamy birds. 
As we drive back, Nuno tells us about the work he and his eco tour company, Rotas do Sal, have been doing in the area, such as joining in the efforts to save the stork population that began to dwindle some years ago but is now back to healthy numbers.
'We can't just use wildlife for tourism,' he says. 'We have to give back, we have to help the environment. I think everyone should do this.'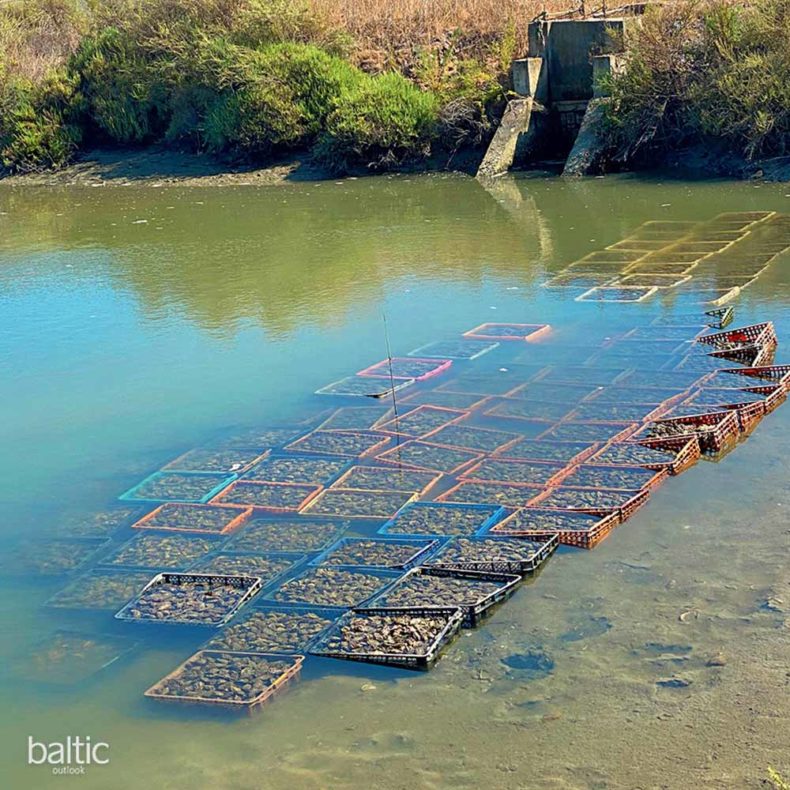 We stop by an oyster farm that operates in the Sado River to chat with the owners as they weigh each oyster (with a scale that looks like it's seen a few tons of oysters) and sort them into boxes according to size.
Setúbal is famous for its dolphins and oysters – two species that were the first to suffer due to polluted waters resulting from the city's industrialisation. 'There's been a great effort to reverse this,' Nuno tells us. 'And now they're back!'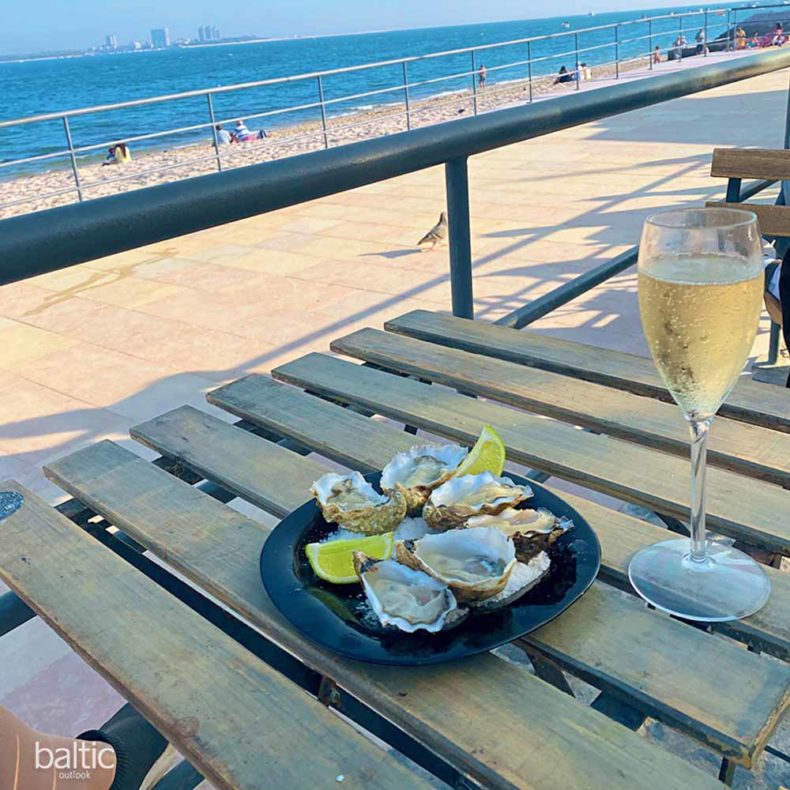 Before I head back to Lisbon, I have to try those famous Setúbal oysters. There's a great selection of seafood restaurants on the waterfront, but there's also an oyster truck almost right on the beach.
I can have oysters at a restaurant in many places, but coming across oysters from a truck is quite rare, so I decide to order six oysters and a glass of sparkling wine. The taste of a Setúbal oyster is like none other I've ever had. It's very salty and has a clear underwater taste to it, but none of it is overwhelming. Paired with some freshly squeezed lime juice, it's simply delicious.
Cooking class
It's impossible to go to Lisbon and not try pastel de nata, one of the most famous Portuguese desserts. The little pastry was originally created by monks due to a surplus of egg yolks, since egg whites were widely used for starching their habits as well as other uses.
The original recipe is said to be a secret to this day, gifted by the monks to one family, which has kept it away from curious eyes ever since. However, a pastry recipe is not really rocket science, and many have attempted to recreate it. As a result, you'll find pastel de nata on every corner in Lisbon.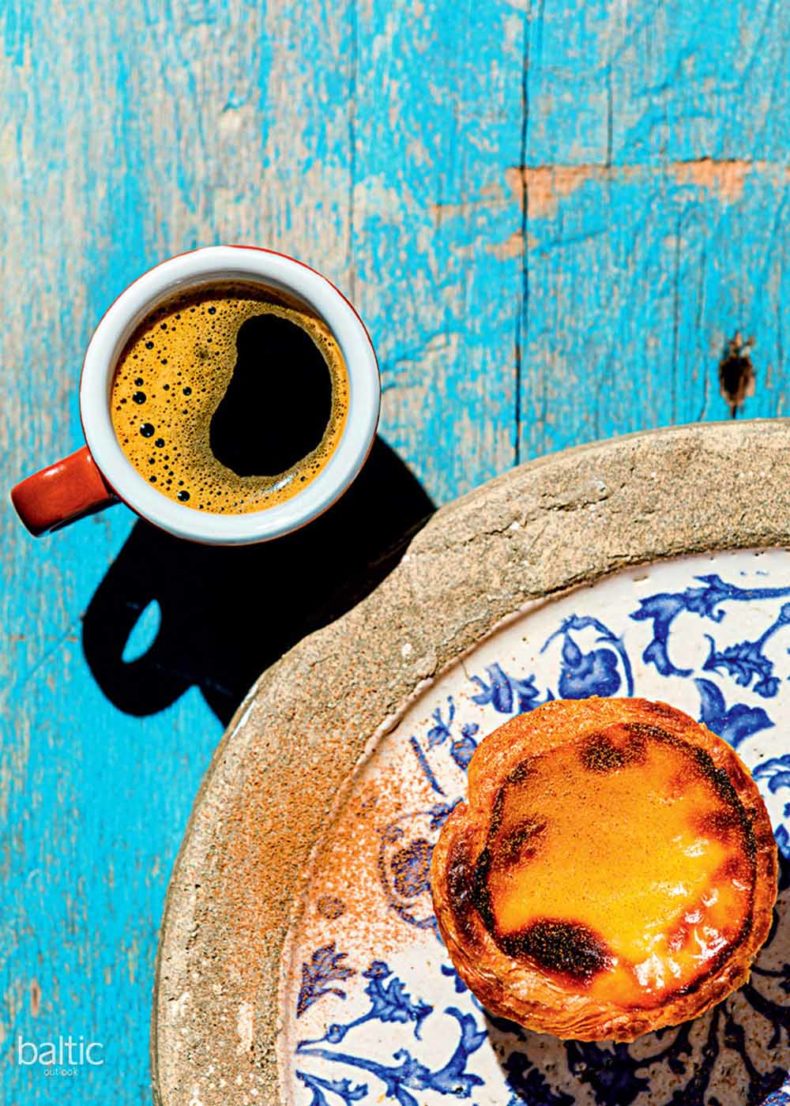 Is the original far better than the copycats? You'll have to judge for yourself. The bakery in possession of the original recipe, Fábrica de Pastéis de Belém, serves up to 20,000 of the egg yolk pastries a day, and you'll most likely have to wait in line with many, many other tourists.
I've decided to dissect the pastry myself and learn to recreate it with the help of Cooking Lisbon, a company that provides classes on Portuguese food for visitors who are interested in more than just eating.
After the class, I chat with Filipe Cordeiro, the creator of Cooking Lisbon. 'People all around the world eat Portuguese food every day, and they have no idea that it comes from here,' he tells me, so he has made it his mission to change that.
It makes sense, because Portuguese sailors travelled all around the world, bringing their cooking techniques with them, which thus reached places as far as Brazil, India, and Japan, where they merged and evolved with the local cuisines. Famous examples of this include piri-piri (or peri-peri), vindaloo in Indian cuisine, feijoada in Brazil, and tempura in Japan.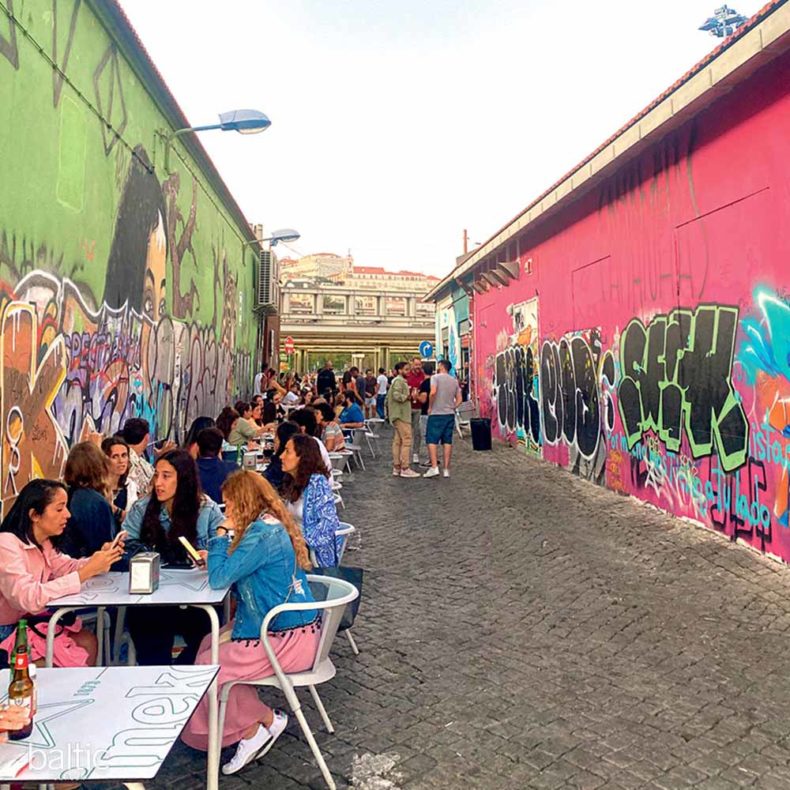 In my remaining time in Lisbon, my only plan is to wander around. I visit the hip reclaimed industrial area called LX Factory, walk along the waterfront, and look for some unusual souvenirs in the Feira da Ladra flea market in the Alfama district.
The flea market in itself is interesting enough, but on my way out I happen to take a street where some local artists are selling original paintings and photography with the slogan 'support independent artists'.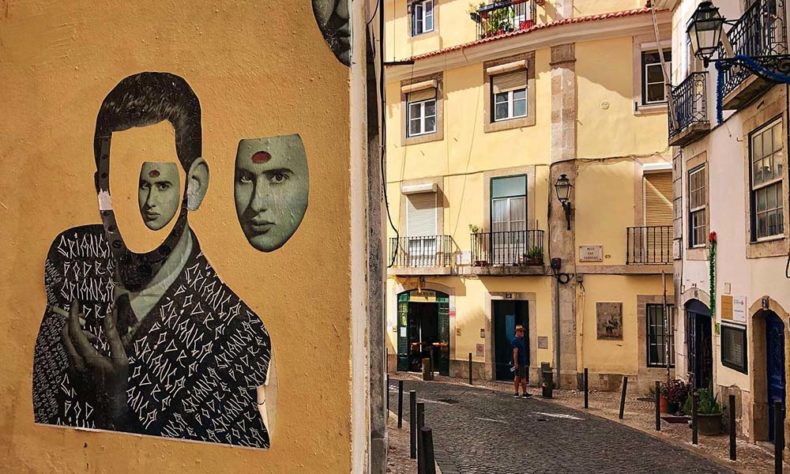 I chat with one of the artists, named Batu, whose abstract artwork explores the trauma of being born. Again, I feel like little gems and unique conversations are just around the corner, off the beaten track.
It's little things like these that make me feel that I've found more in the city than meets the eye and more than the tourist pamphlets will tell you. I've managed to look closer.
Read more about Lisbon in Baltic Outlook.
Text by Nadīna Elekse