airBaltic – the world's first airline to issue non-fungible tokens (NFTs), releases its next edition (#9) in airBaltic City collection. Each of the limited collector NFTs is a digital art piece showcasing an individual Airbus A220-300 with its registration and one of the most beloved cities of Latvia to promote tourism and Latvia in the world. Previous cities features have been Kuldīga, Cēsis, Alūksne, Liepāja, Bauska, Sigulda, Jelgava and Ogre. All airBaltic NFTs have been issued on the OpenSea marketplace and are placed in Metaverse 3D gallery.
Edition 9 is showcasing an individual Airbus A220-300 and one of the oldest towns in Latvia – former member of the Hanseatic League – Valmiera, which is located at the northern tip of Gauja National Park.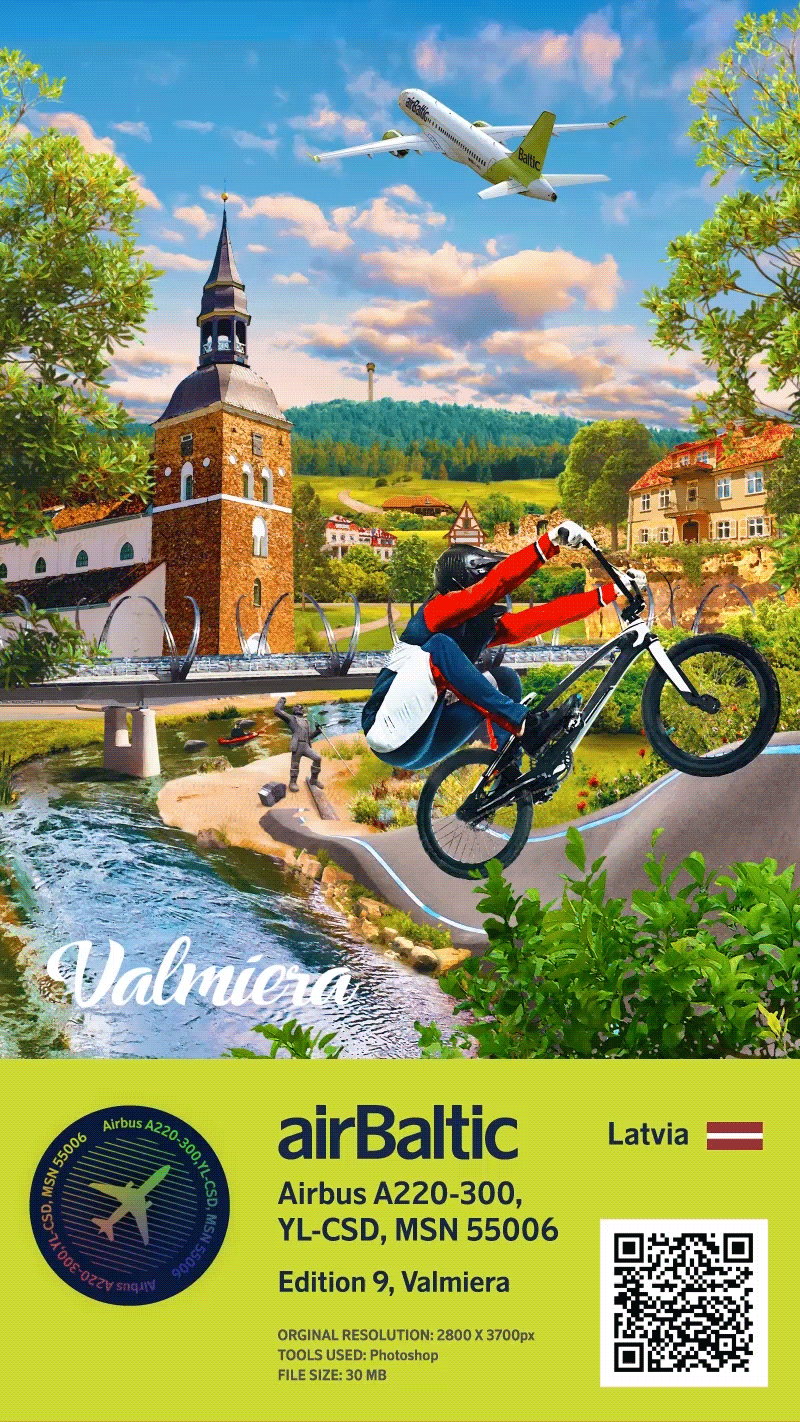 Discover Valmiera
Valmiera is one of the oldest towns in Latvia. This beautiful destination and former member of the Hanseatic League is located at the northern tip of Gauja National Park.
Valmiera was first mentioned in historical sources in 1323, but the area was already inhabited in the 3rd–2nd millennium BCE. Situated along the Gauja River and an active trade route, Valmiera served as an influential regional centre for many centuries, often hosting meetings of the leading cities in northern and central Europe.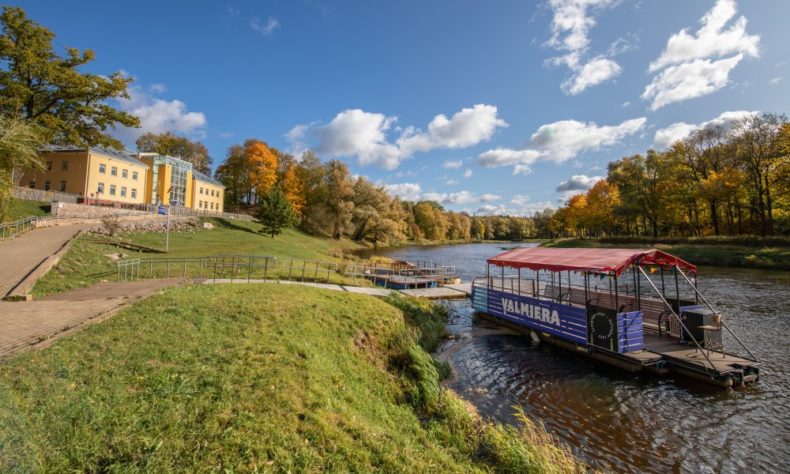 Photo Edmunds Mitenieks
Today, Valmiera is associated with cultural life, beautiful nature, and talented Latvian athletes. Did you know that Valmiera is the birthplace of many leading Latvian BMX racers, including two-time Olympic champion Māris Štrombergs?
If you've decided to explore Valmiera and its surroundings, make sure to pack hiking clothes for the daytime as well as something a little dressier for an evening at the theatre or a concert. And indulge in the old stories and legends that you're sure to encounter here at every turn.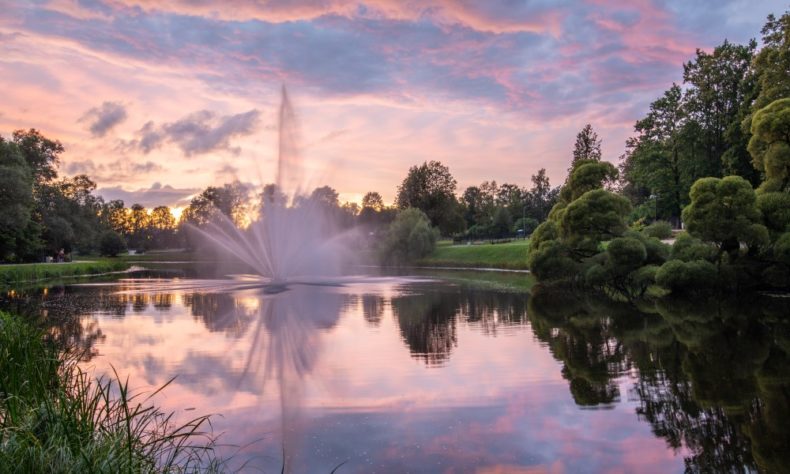 Photo Edmunds Mitenieks
Where to find history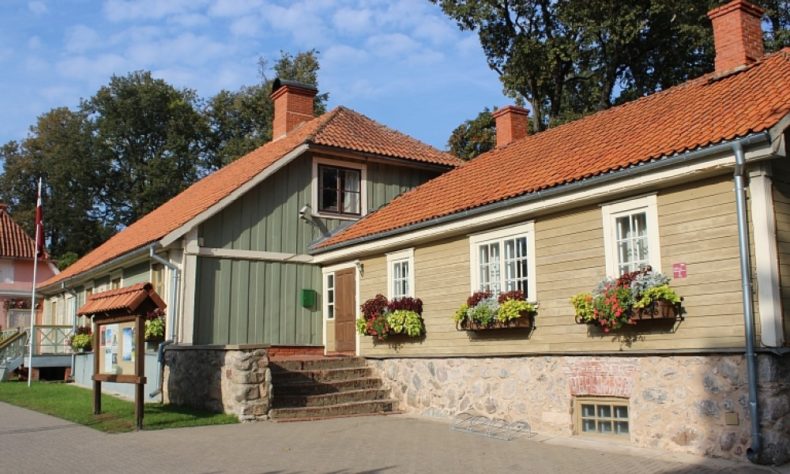 Valmiera has long taken pride in its historic castle complex and the Old Pharmacy, a very old wooden building within the complex. Completed in 1736, it's the oldest surviving wooden building in a Latvian city or town built in this archaic style. The Old Pharmacy is a valuable example of Baroque-era wooden architecture and contains construction elements typical of that era.
Must-see site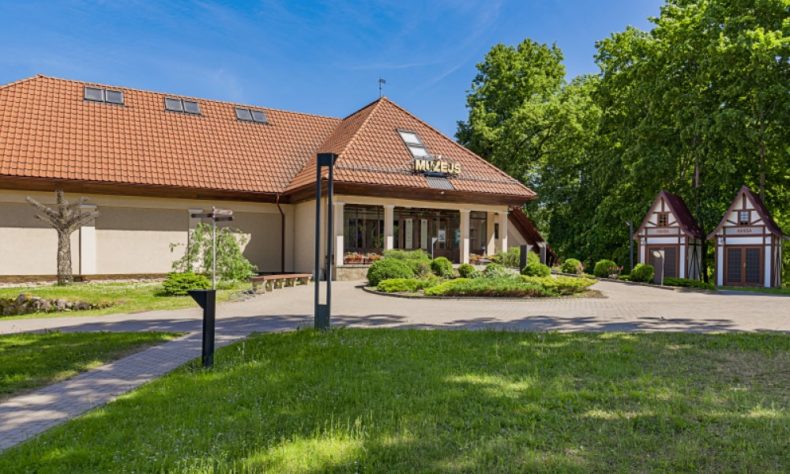 The ruins of the Livonian Order Castle, which reflect the grandeur of the 13th-century castle, and the Valmiera Museum, which spreads across eight historic buildings (including the Old Pharmacy), are located in Valmiera's historic centre. Here you'll find exhibitions about the city's rich history and objects from various different eras as well as an herb garden with at least 150 medicinal plants and herbs.
What to do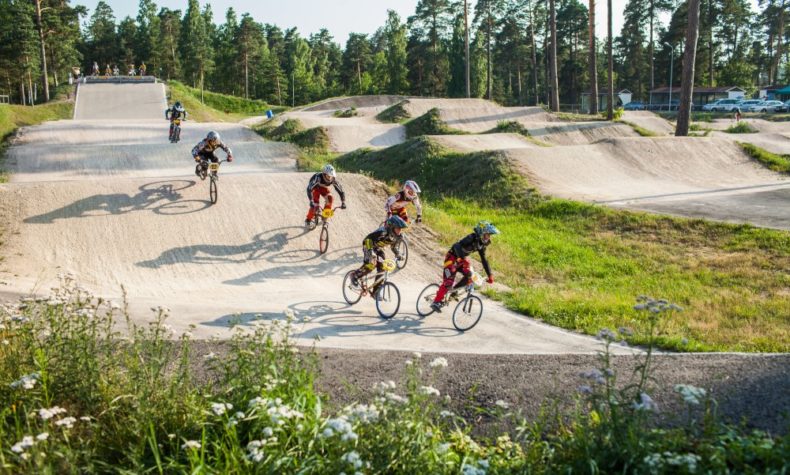 Photo Ģirts Raģelis
Valmiera is known for its athletic spirit, so it's no surprise that the town has several ski slopes and ice-skating rinks in winter. You'll find cross-country ski trails at the BMX track named in honour of Olympic champion Māris Štrombergs and in the Jāņparks park. Skaters can try out the outdoor ice rink at the Vidzeme Olympic Centre. The Baiļi recreation centre, with its downhill skiing and snowboarding slopes, has been a legendary place among Latvia's winter enthusiasts for years.
Where to find the best view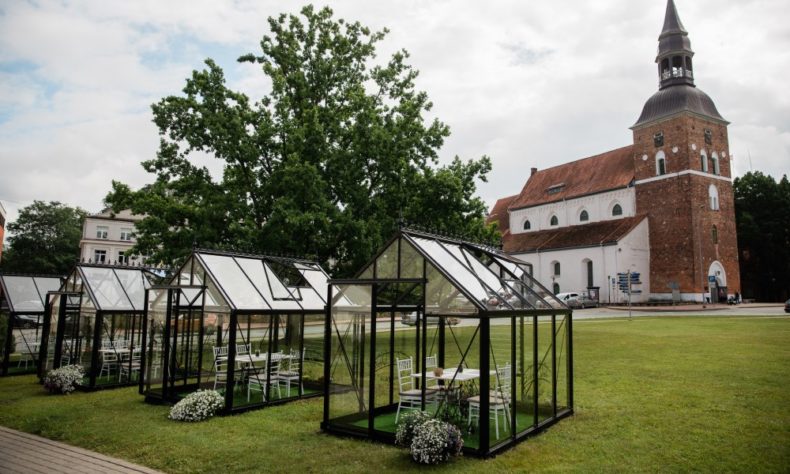 The Valmiera St. Simon Church, construction on which began in 1283, is one of the most important monuments of medieval architecture in Latvia. It has almost completely preserved its original appearance and houses several valuable items of art. However, many people know the ancient church not only for its historic altarpiece, pulpit, and organ but also for the wonderful panoramic view of Valmiera from the church tower. And if it's a clear day, you may even see Zilaiskalns (Blue Hill) in the distance, about which so many legends have been told. According to the tales, many magicians and charmers have lived there.
Where to hear legends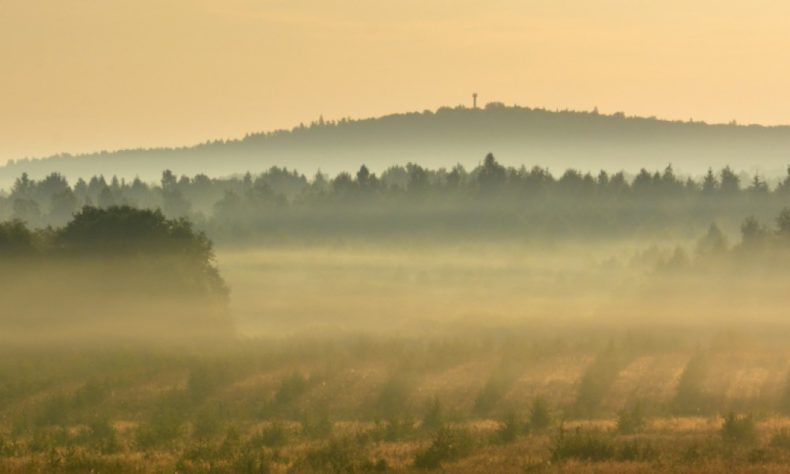 One of the most fairytale-like places in Latvia lies less than 15 kilometres from the centre of Valmiera. The 127-metre-high Zilaiskalns is an ancient sanctuary. The hill, which has for centuries been shrouded in tales, legends, and myths, was a particularly sacred place for ancient peoples, where they celebrated feasts and performed ancient rituals.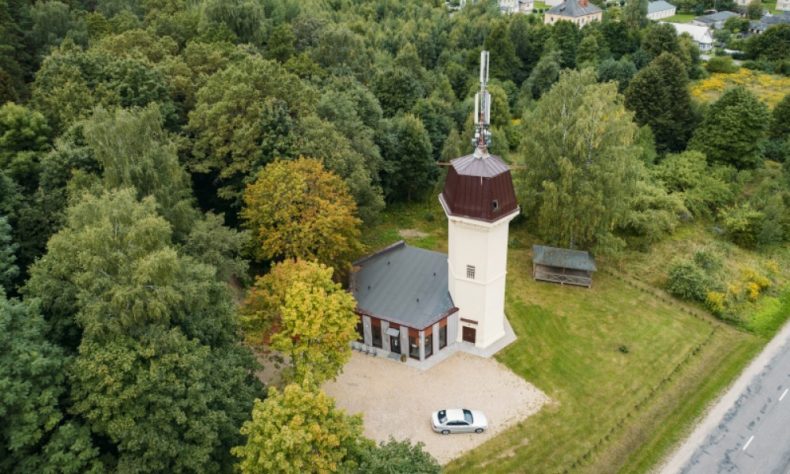 Today, ZTornis – a visitor's centre housed in an old water tower – sits at the foot of the hill. Learn about the history, culture, and nature of this area from the interactive exhibits, and enjoy an expansive view of the surrounding area from the top of the tower.
Where to enjoy culture
For generations, Rigans have headed to the Valmiera Drama Theatre for extra doses of culture. Founded in 1923 as a professional repertory theatre, it has managed to attract many of Latvia's most renowned directors and actors. Reconstruction of the building began last year, but performances are still held in one of the theatre's halls. This is a theatre that often stages iconic classics, including plays by William Shakespeare, Henrik Ibsen, and Anton Chekhov. To experience the magic of the Valmiera Drama Theatre stage for yourself, sign up for a behind-the-scenes tour of the theatre. Who knows, maybe you'll be able to try on a costume from a famous play!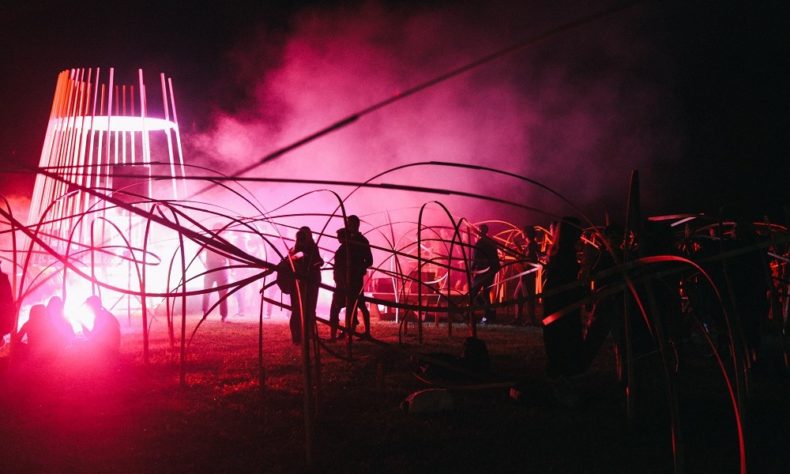 The long tradition of theatre in this town has also given birth to the Valmiera Summer Theatre Festival, which focuses more on newly created works. This summertime event features performances for the whole family that entertain, enrich, provoke, and leave no one indifferent. The festival takes place every year (this year from August 4 to 7) and pays particular attention to hosting programmes that appeal to children and teenagers.
Where to go with children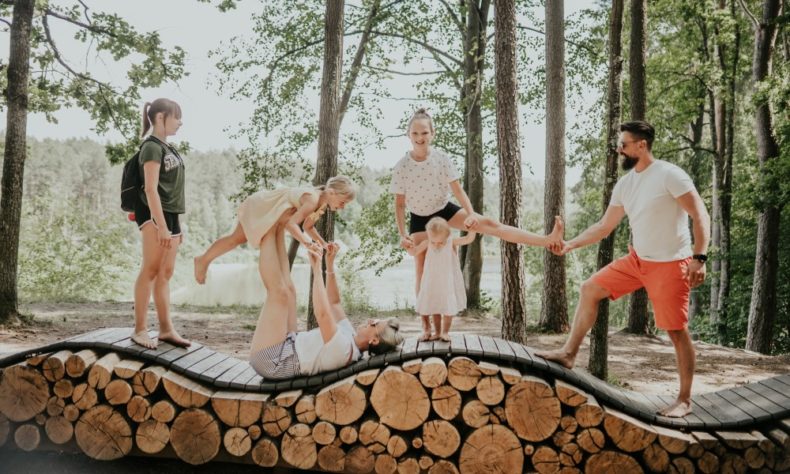 Photo Raivo Sarelainens
The Park of Senses will awaken the spirit of adventure in the youngest members of the family as well as teenagers and adults. In winter, it's a magical place for a stroll, but with the start of spring, several additional fun trails for the whole family open up. The almost two-kilometre-long Treetop Trail challenges visitors with ropes, ladders, and nets at different heights in the forest and even four zip lines across the river.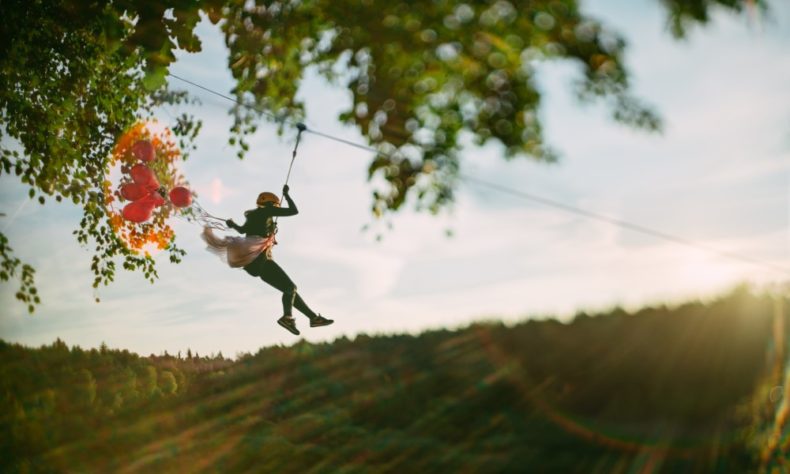 The Barefoot Trail is a real find for nature lovers and budding nature explorers, with two kilometres of barefoot exploration on a variety of surfaces, including pine cones, sand, and small glass spheres.
Where to enjoy nature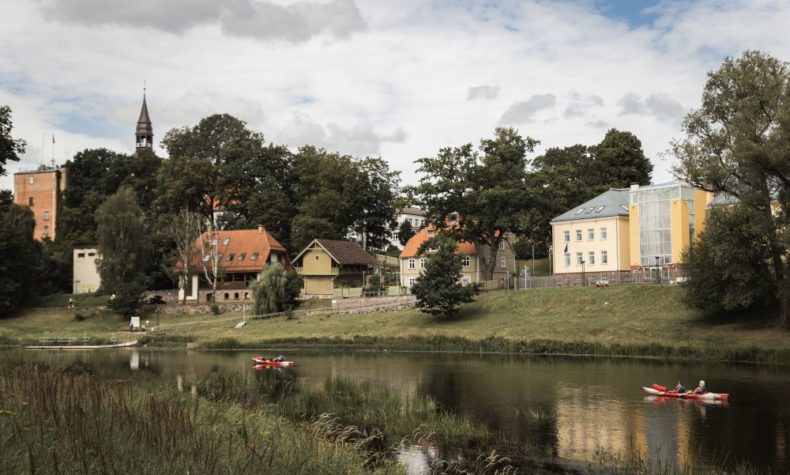 Photo Nauris Vasiļevskis
In Valmiera, you'll feel the presence of beautiful nature at every turn. For example, the 12-kilometre hiking trail whose name translates to 'Between the Four Bridges of Valmiera' leads along the pretty banks of the Gauja River and passes many of the most notable and popular sights in the town.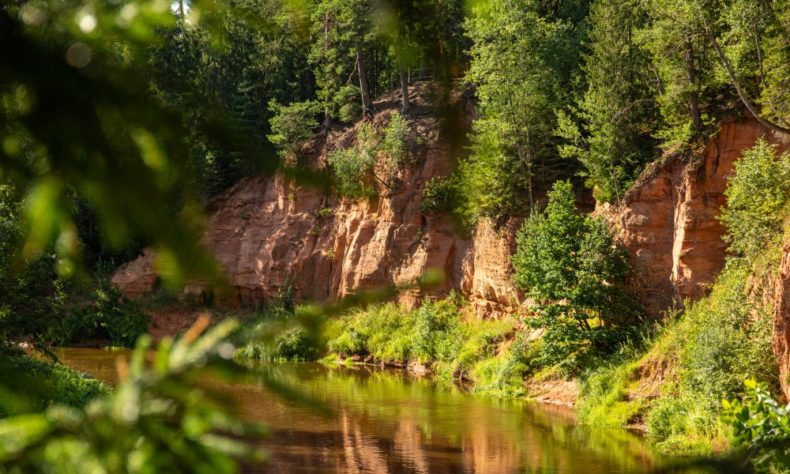 If this hike is not enough, make the trip to Skaņaiskalns Nature Park about 50 kilometres from Valmiera. The park lies on the banks of the Salaca River and offers caves, springs, mighty pine forests, and some of the most picturesque red sandstone outcrops in Latvia for visitors to explore. The most recognisable part of the park is the 20-metre-high Skaņaiskalns outcrop, which is visible on the left bank of the Salaca River and has unique acoustic qualities. This gently curved wall of rock conducts sound excellently and produces the strongest echo in Latvia. In addition to natural wonders, the park also features specially designed wooden sculptures and interactive wooden objects along the trail.
Must-try food
Not many towns in Latvia are immortalised in the name of a food. 'Valmiera salad' was created in 1969, when the town had a very strong recipe development strategy in the field of public catering. Back then, prestigious competitions were held in which chefs came up with new recipes that were later included in menus at local catering establishments. Valmiera salad consists of cheese, pickles, boiled eggs, mayonnaise, and spicy tomato sauce.
Where to dine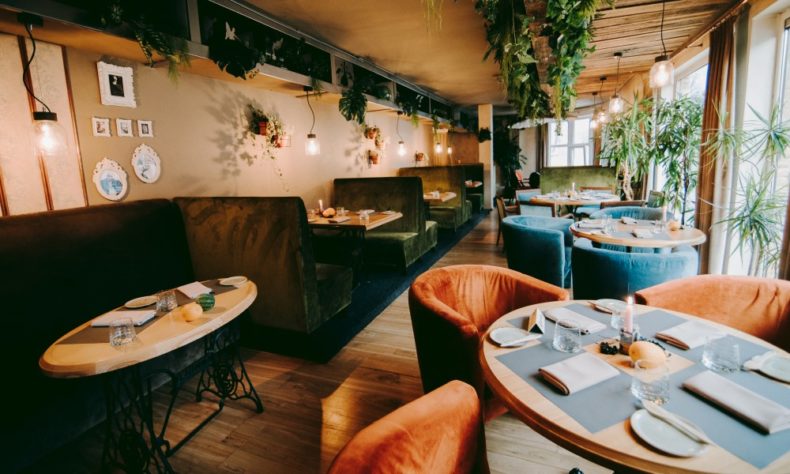 The Rātes Vārti restaurant is a gourmet favourite located in the heart of the city, opposite Town Hall Square. Here you can taste seasonal dishes made with ingredients sourced from local farms. In summer, the restaurant's terrace is a beloved spot for guests to enjoy the town's pleasant atmosphere.
Another obligatory stop is the Valmiermuiža brewery, which is located in an old estate complex and conjures a wonderful holiday atmosphere for visitors. Valmiermuiža uses all-natural ingredients to unhurriedly brew live beer, but it's also a place to try fine, contemporary Latvian cuisine.
Where to stay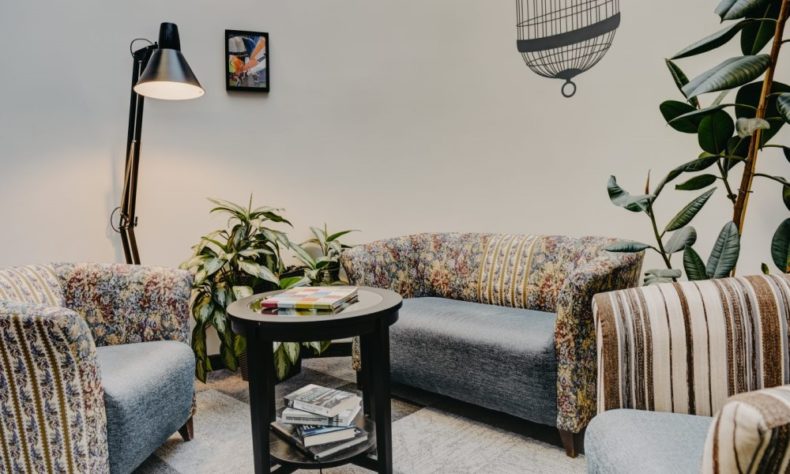 If you're planning to spend several days exploring Valmiera and the surrounding area, the centrally located Wolmar is a good place to stay. Named after the town's former name, this four-star hotel is like a miniature prototype of the city. The hotel restaurant invites you to enjoy a culinary journey through the flavours of Latvian cuisine and classics from the cuisines of other countries.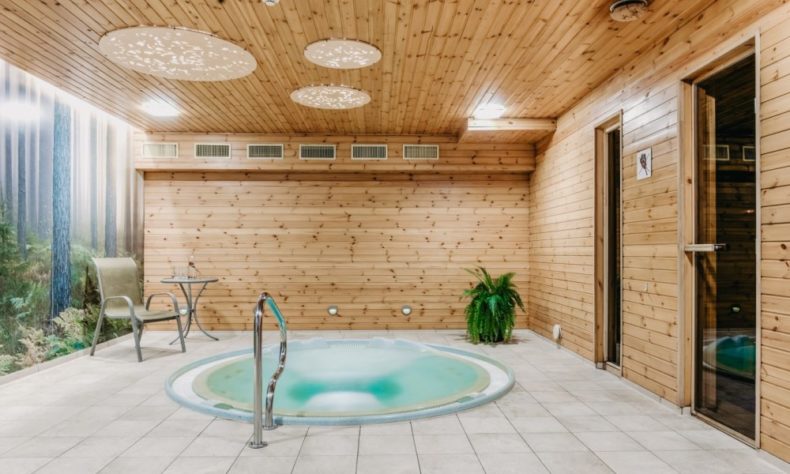 To pamper yourself, Wolmar also offers a spa complex with a sauna and hot tub.
Read more about Valmiera at visit.valmiera.lv