Recently, airBaltic became the world's first airline to issue limited collector non-fungible tokens (NFTs). The first artwork showcased an individual Airbus aircraft with its registration as well as one of the most beloved Latvian cities – Kuldīga. The second NFT of the collection featured the picturesque Medieval town of Cēsis in Latvia.
Now, the third NFT from the collection has been released, featuring the most beautiful lake town in Latvia – Alūksne.
These digital art pieces serve as a tourism campaign for Latvian cities, certainly still an undiscovered destination for many.
All three airBaltic NFTs have been issued on the OpenSea marketplace, available here.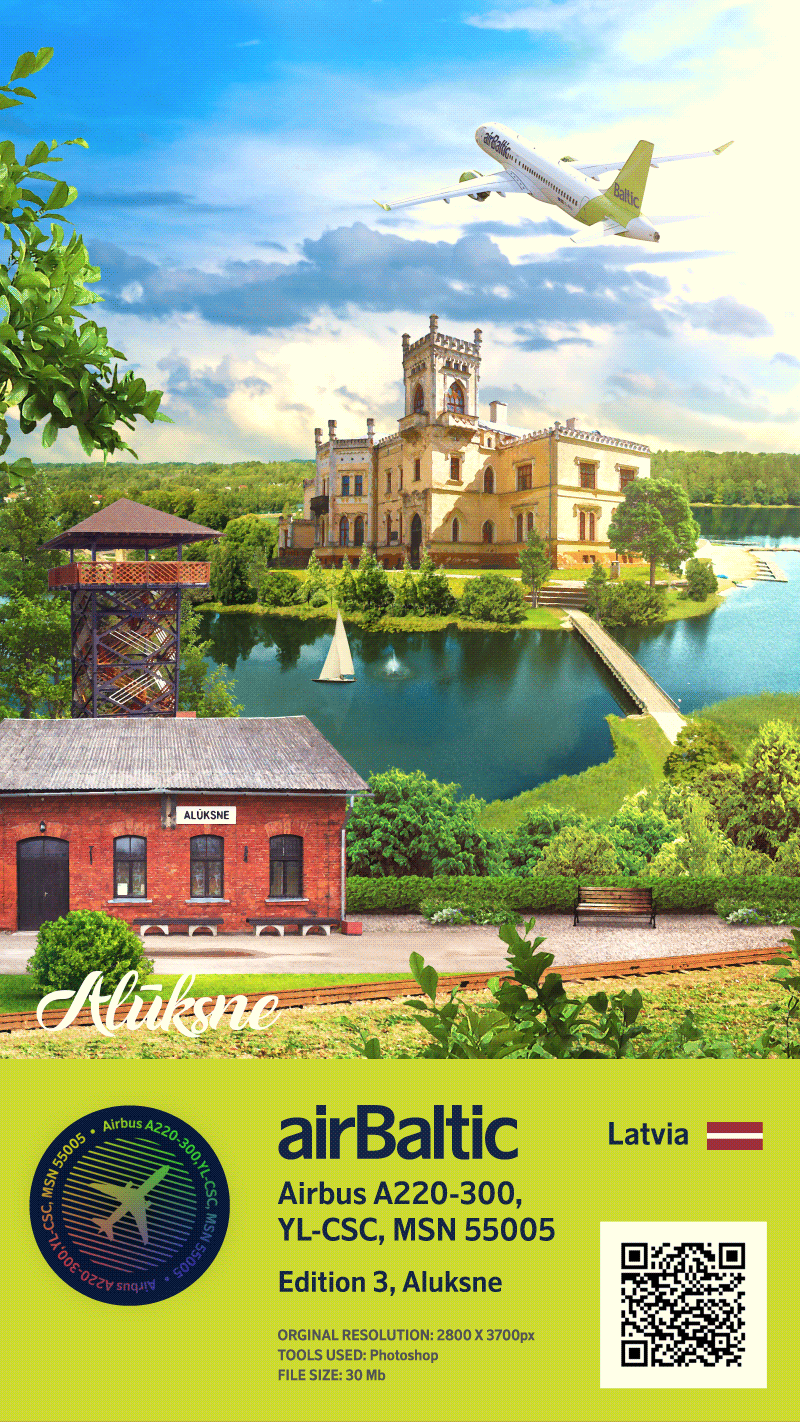 Discover Alūksne
This green town with hills, pure water, and plenty of relaxing nature is the perfect place to escape city life.
Located in the northeast corner of Latvia, Alūksne is the ideal place to catch the tail end of any season. Missed the blooming of the lilacs? Head to Alūksne. The snowdrops are already blooming in the rest of Latvia, but you still want to do some cross-country skiing? Enjoy the last snows on one of the ski trails in Alūksne.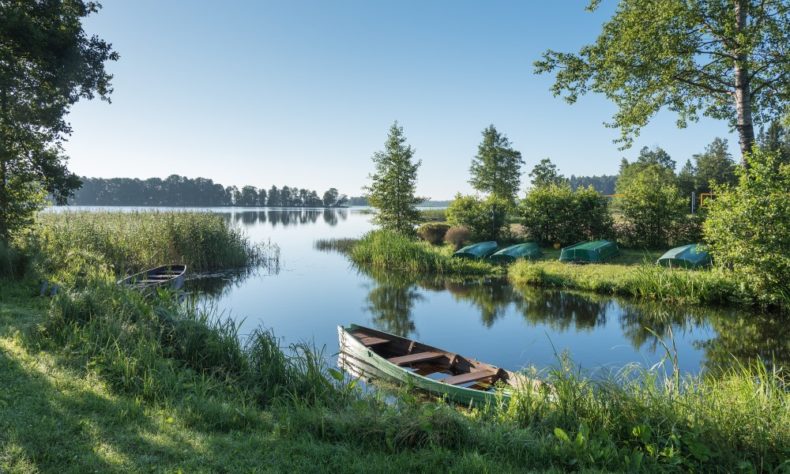 At 200 metres above sea level, Alūksne has the highest elevation of any city in Latvia. This green town with hills is defined by Alūksne Lake, which has been deemed one of the cleanest lakes in Latvia. On the banks of the lake you'll find ancient castles and parks as well as a contemporary spa.
This, the eleventh largest lake in Latvia, delights travellers with a wide range of water-related activities, the Ezertaka nature trail, and a bicycle route that leads around the lake.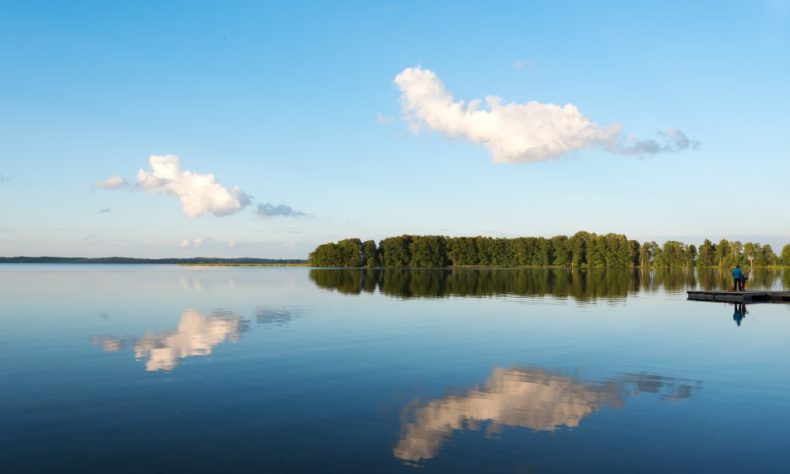 Although Alūksne earned city rights only in 1920, it has been mentioned in historical documents since the 13th century. In fact, the legendary empress of Russia Catherine I, born Marta Skvarovska (1684–1727), lived in Alūksne for several years. Back then, the town was called Marienburg, and Marta, an orphaned 12-year-old girl, was raised here by the pastor Ernst Glück and his family.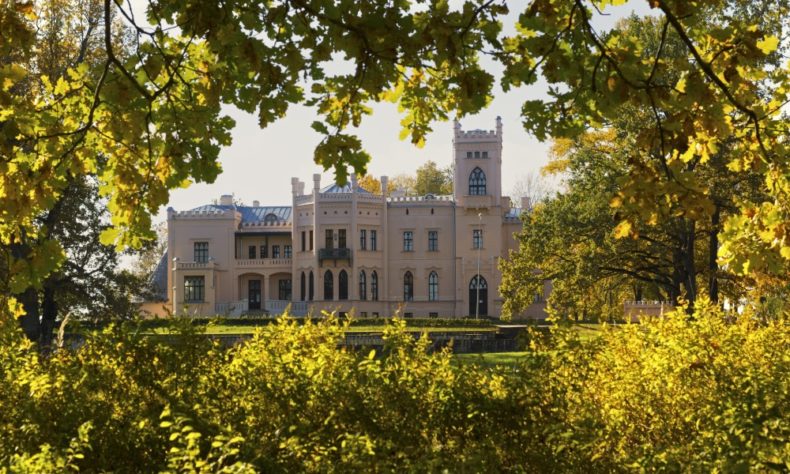 The several castles, palaces, and manor houses in Alūksne and the nearby area are witnesses to this area's unique historical and cultural heritage. Already in 1935, this small but pretty town and its surroundings were lauded as 'Latvia's most beautiful region' by the Shell Guide.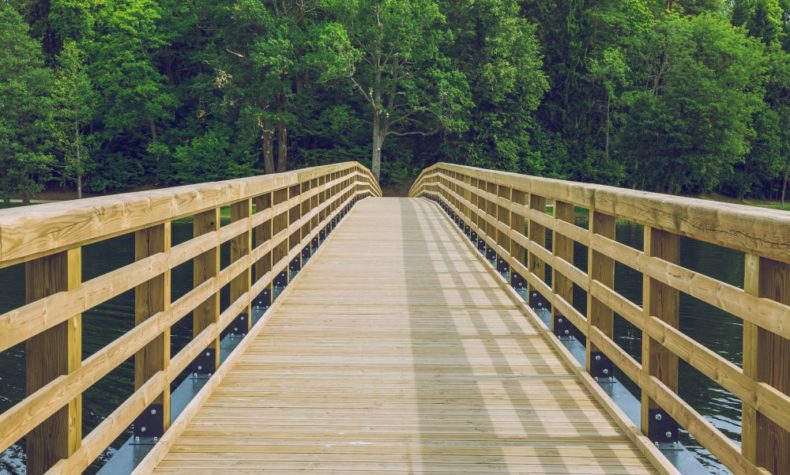 Today, one can also become acquainted with and enjoy this picturesque area through its observation towers, hills, well-groomed nature trails, bicycle trails, and dozens of lakes. Here, there's enough fresh air, birdsong, and tranquillity for all!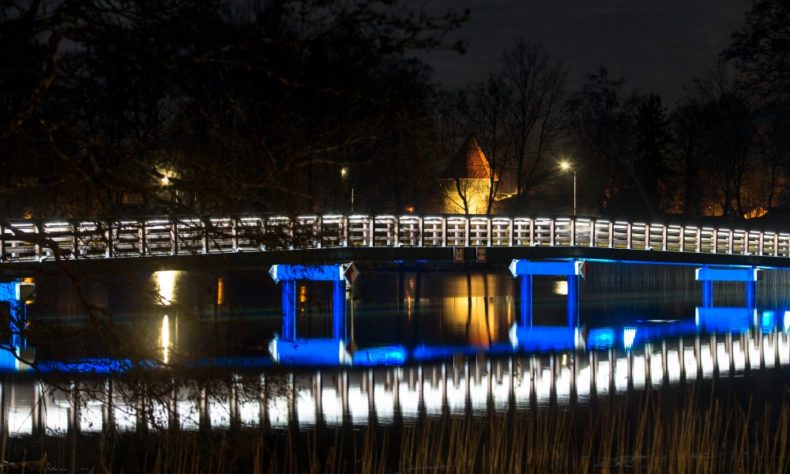 Photo courtesy of Māris Šļivka
But there's also another way in which Alūksne stands apart from other towns in Latvia. To wit, in recent years it has paid particular attention to embracing good design in its urban environment. This is beauty that can be enjoyed day or night. The musical pedestrian bridge to Temple Hill has won a number of architecture awards, and in the summer, illuminated fountains light up the Manor Park adjoining the New Palace.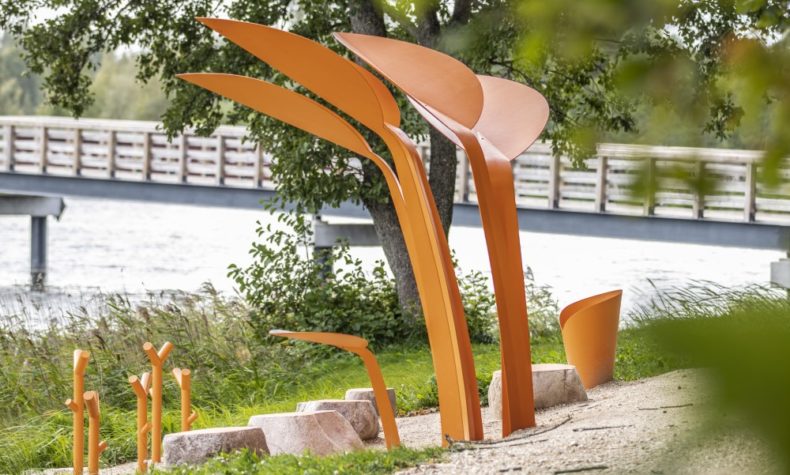 Whether you're looking for an active holiday with hiking and water sports or just want to enjoy a peaceful, lazy weekend, these quintessential stops will help you catch the vibe of charming Alūksne.
Where to find history?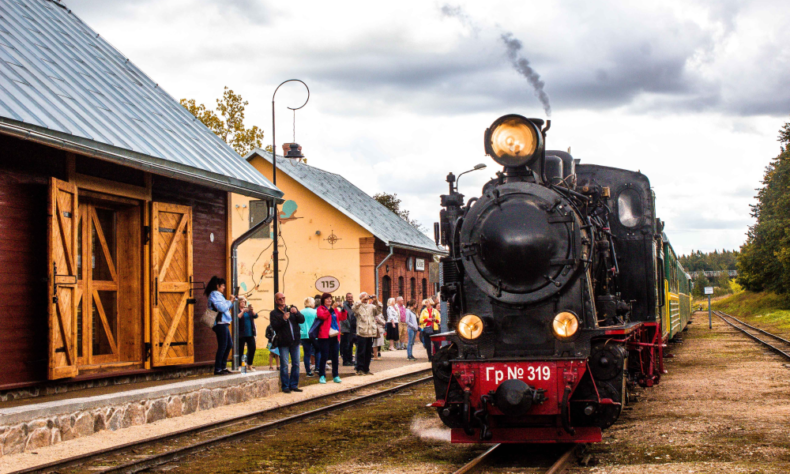 Photo courtesy of Linda Kļaviņa
Alūksne is the end station for the only active narrow-gauge passenger railway in the Baltics. Here you can visit the new multimedia exposition, called the Alūksne Bānītis Station (Jāņkalna iela 52; FB/AluksnesBanisastacija), which creates the illusion of a gently rocking train and takes visitors on an exciting virtual journey with stories about the railway's history based on the memories of local residents.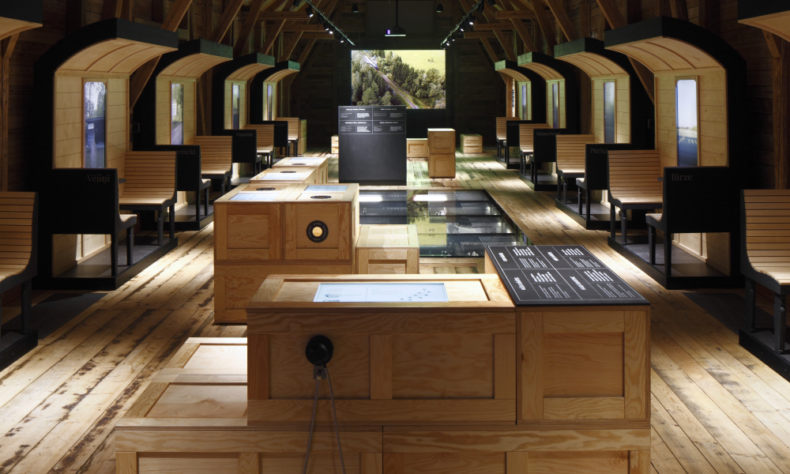 Photo courtesy of H2E
Located in the station's century-old baggage hall, the exposition has won several prestigious international design awards.
Did you know?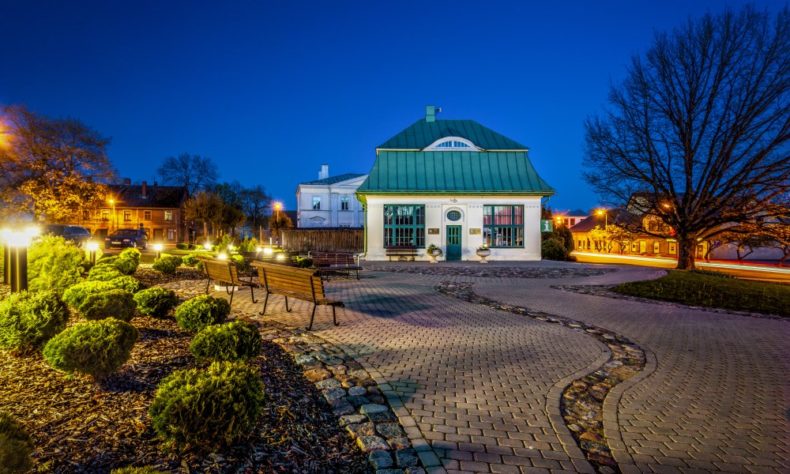 Photo courtesy of Ints Vikmanis
Alūksne is famed for being the place where German pastor and teacher Ernst Glück (1652– 1705) translated the Bible into Latvian. He translated the New Testament in 1685 and the Old Testament in 1689. To commemorate this accomplishment, he planted two oak trees in the parsonage's park (Pils iela 15A), which can still be admired today, standing proudly on this site.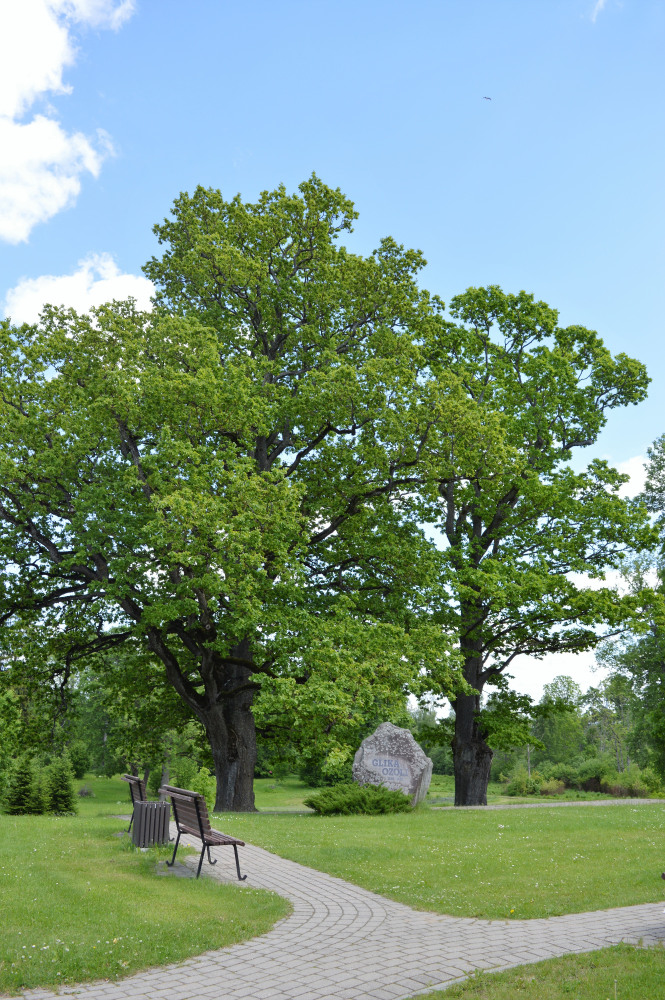 Photo from TIC archive
At the Ernst Glück Bible Museum (Pils iela 25A) you can view Bibles in 40 different languages as well as a variety of sermon and song books. Here you can also read texts in old Latvian print and study the development of the language over the centuries.
Must-see site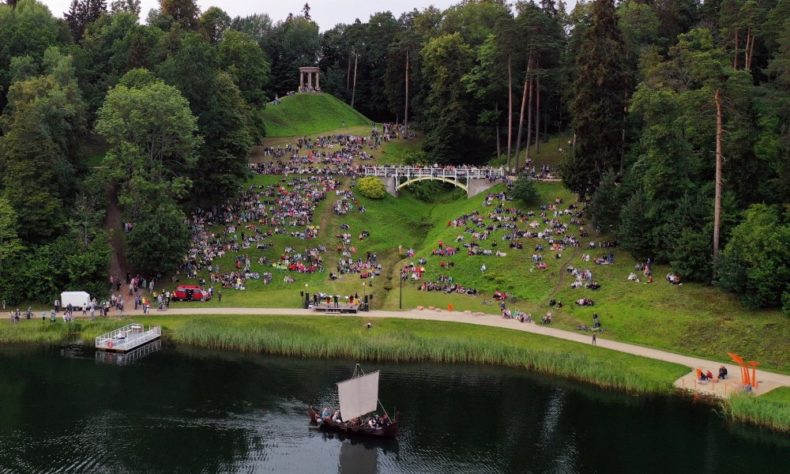 Photo courtesy of Alvits Grīvnieks
Temple Hill is an old Latgalian hillfort. According to one legend, warriors used their hats to carry all of the soil to the site that was needed to build the hill. You'll need to climb 153 steps to reach the viewing platform of the tower here, which is one of the highest such towers in Latvia.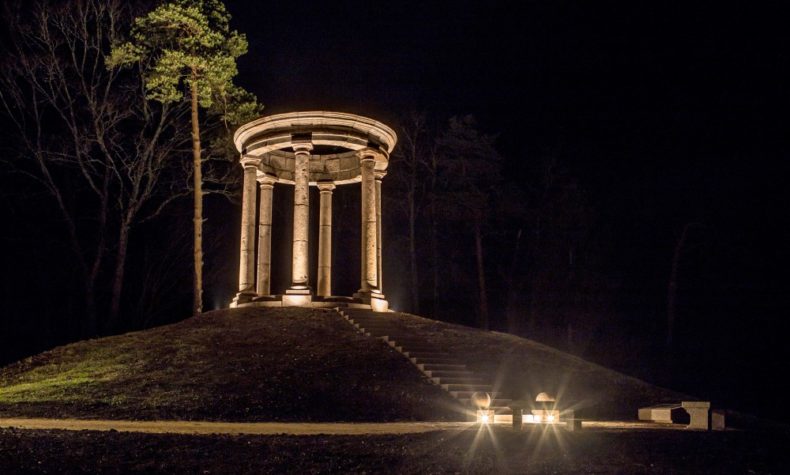 Photo courtesy of Māris Šļivka
From there, at a height of 37.8 metres, you'll have a grand view of the park, Alūksne Lake, and the Livonian-era castle ruins on Pilssala, or Castle Island, the biggest island in the lake.
What to do?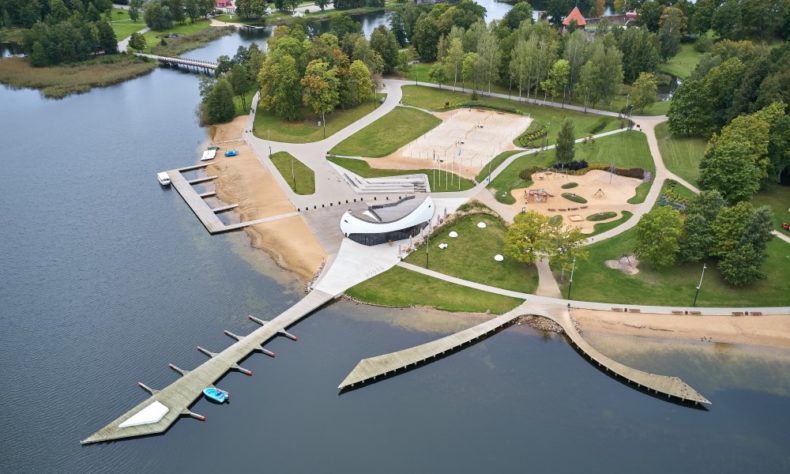 Alūksne takes pride in having one of the prettiest lakes in Latvia, and it's a great destination for a lazy or active day by the water. Castle Island has a beach and children's playground, while water sports enthusiasts can rent SUP boards, catamarans, and even water skis. There's also a wake park near the city.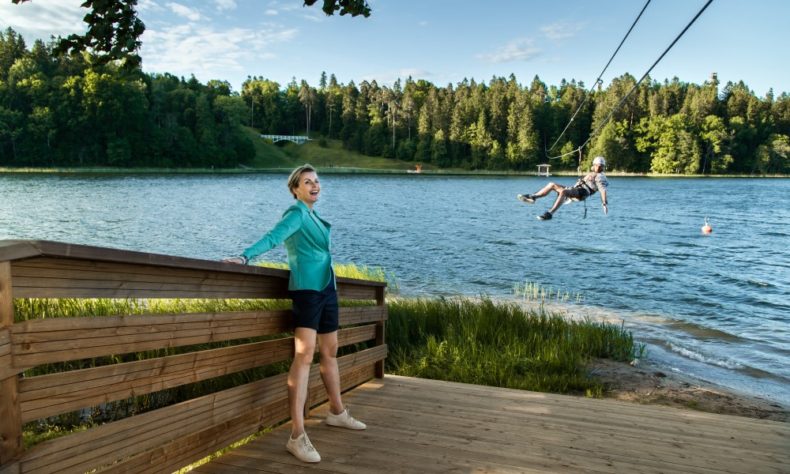 Photo courtesy of Māris Šļivka
For even more of an adrenaline rush, try Latvia's fastest and longest zip line over water (Tempļakalna iela 6A; FB/ziplinealuksne) – it's a breathtaking ride over picturesque Alūksne Lake, rushing at high speed along a 350-metre-long aerial ropeway. The adventure begins in Temple Hill Park and ends at the swimming area on Castle Island.
Where to hear legends?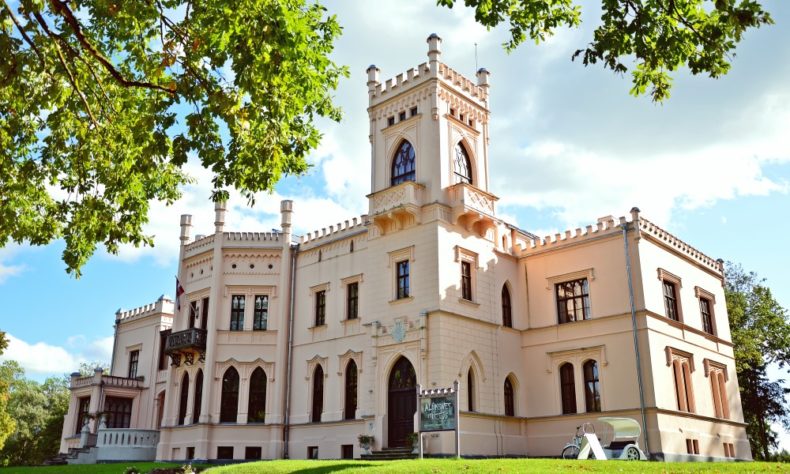 Photo courtesy of Liene Gusta
Alūksne and the surrounding area has many castles, palaces, and manor houses. At the centre of town is the ornate New Palace (Pils iela 74) and the adjoining Manor Park. Built in the 1860s in the late Tudor Neo-Gothic style, it's one of the most impressive architectural monuments in Latvia. It also houses the Alūksne Museum, which tells about the cultural and historical heritage of this area.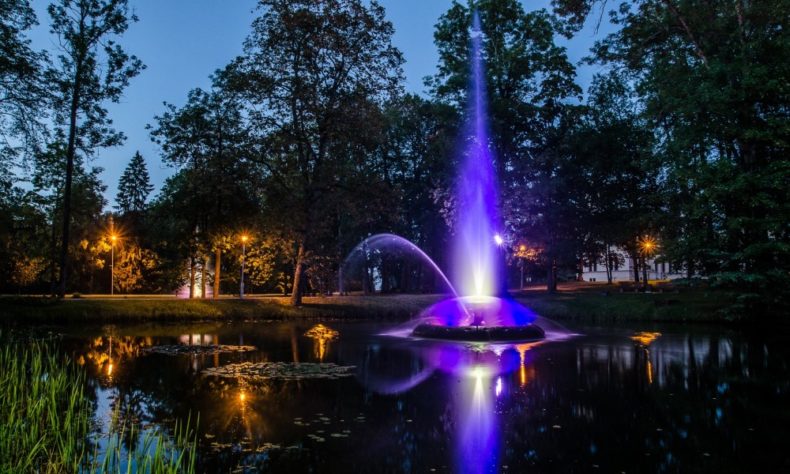 Photo courtesy of Alvits Grīvnieks
The 32-hectare Manor Park features romantic pavilions and fountains and evokes an atmosphere of bygone days.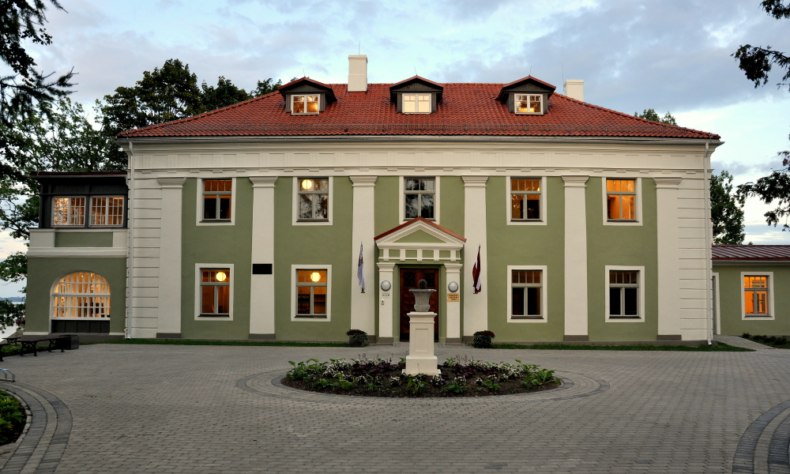 Photo from TIC archive
The Old Palace, also known as the Lakeshore Palace (Ojāra Vācieša iela 2), was built in 1794 in the Classicism style and has in large part retained its original appearance and layout to the present day. It is currently home to the Alūksne Art School.
Where to find the best views?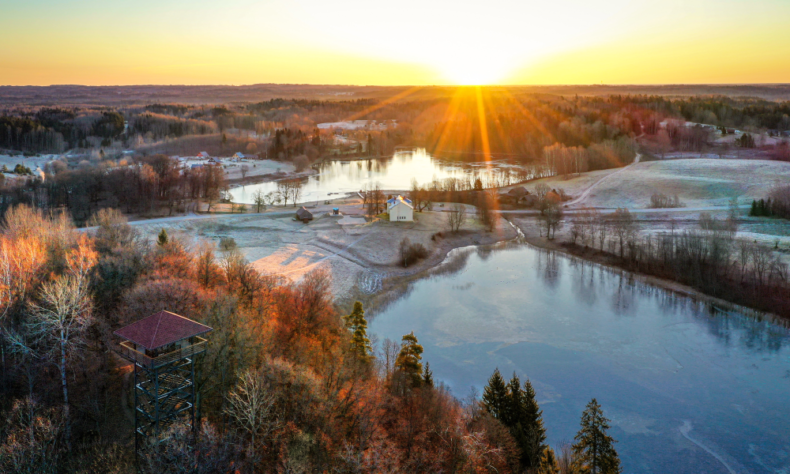 Photo courtesy of Ainars Gaidis
The hilly relief of Alūksne tempts visitors to seek out the highest points, and therefore many people come to this region to tour its observation towers. In addition to the sightseeing tower right in Alūksne itself, it's also worth checking out Dēliņkalns Hill. At 271.5 metres, it's the highest hill in the Alūksne Uplands. At the top of the hill is a 27-metre-high observation tower with a viewing platform and binoculars. The view is breathtaking!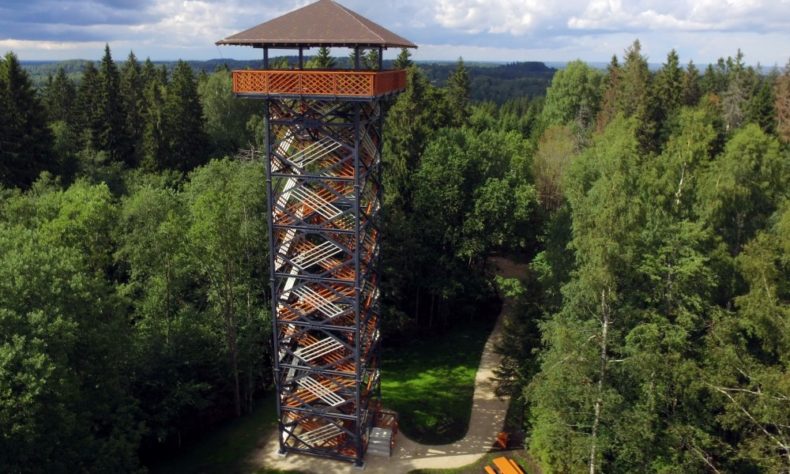 Photo courtesy of Alvits Grīvnieks
Another great place is the Korneti Sightseeing Tower in scenic Veclaicene administrative parish. Also 27 metres high, it provides one of the finest views in Latvia.
From here you can see several lakes as well as Estonia's highest point, Munamägi.
Where to go for adrenaline?
Photo courtesy of Druvis Mucenieks
The Soviet nuclear missile base at Zeltiņi was a top-secret military site. Although now abandoned, here you can still find various military buildings as well as rocket launching pads and underground bunkers.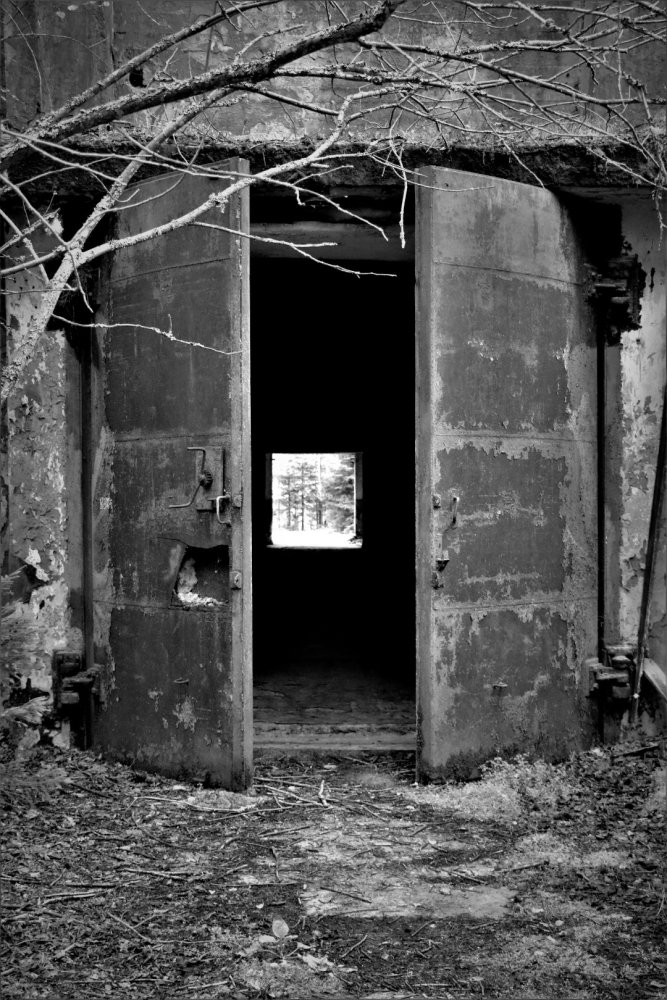 Photo courtesy of Druvis Mucenieks
We recommend hiring a guide when visiting the site. And, to make the visit even more interesting, play a game of laser tag! It's available for groups up to 12 people, and you can choose to play for 60, 90, 120 minutes. Call ahead to make reservations: +371 26520677. ("Skola", Zeltiņu pagasts, Alūksnes novads)
Must-try food
Due to the fact that Alūksne Lake has four islands, several nearby restaurants and cafés offer a delicious dessert called 'floating islands', which consists of meringue floating in vanilla sauce.
Of course, the lake theme continues in a wide range of fish dishes as well. With pike, eel, rainbow trout, zander, and many other freshwater fish species, Alūksne Lake is one of the best lakes in Latvia for fishing.
Where to dine?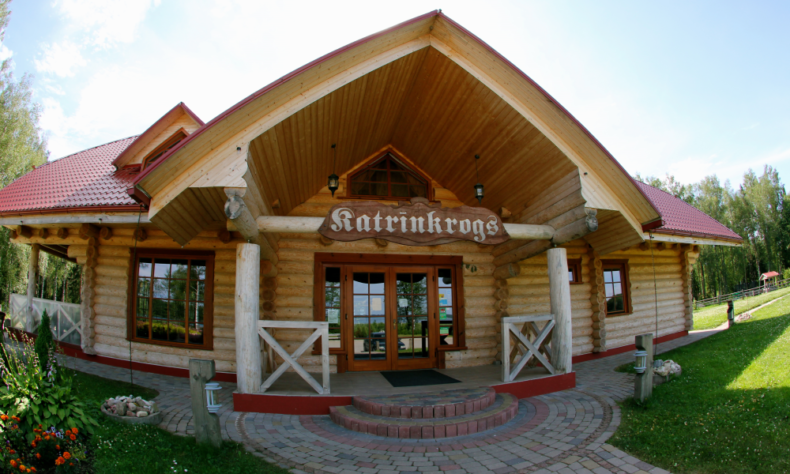 Photo from TIC archive
Visit the Katrīnkrogs pub at the 'Jaunsētas' country tourism and recreation centre for a lunch in the local style.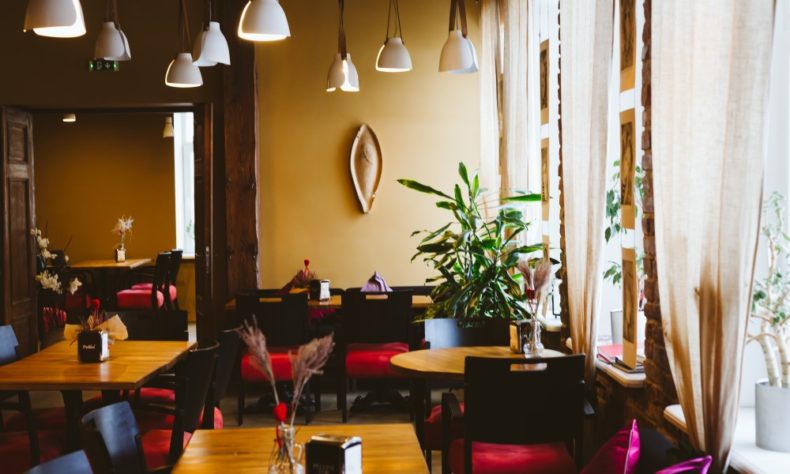 Photo courtesy of Hotel Benevilla
Hotel Benevilla (Brūža iela 8;) has beautiful views of the lake, an extensive menu featuring meat and fish dishes, and in summer it operates a special produce stand that sells seasonal, local fruit and berries.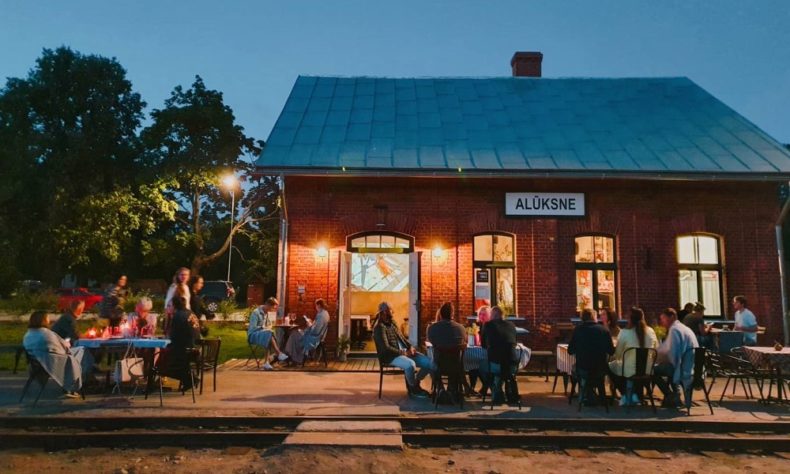 Photo courtesy of Tvaiks x Ogle
For homemade burgers, head to Tvaiks x Ogle (Jāņkalna iela 52; FB/tvaiksogle) near the narrow-gauge railway station, which is a real treat for meat lovers and vegetarians alike.
Where to stay?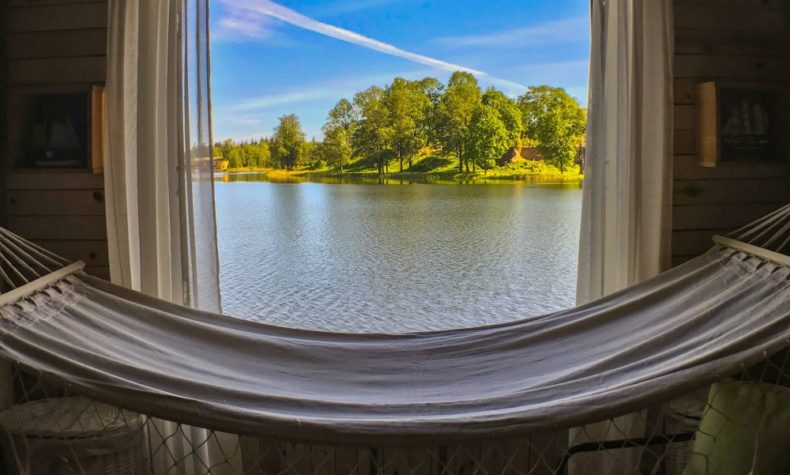 Photo courtesy of Bed & Boat
Alūksne offers a range of hotels and holiday homes, many with a sauna and lake access. The two-storey Bed & Boat (Iekšezers 3;) promises a unique experience and charming atmosphere.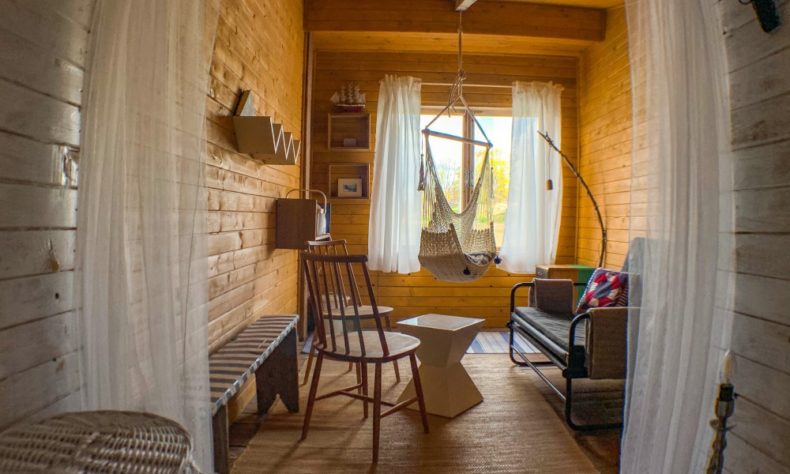 Photo courtesy of Bed & Boat
The boathouse with its own private boat looks out over Alūksne Lake and the impressive Livonian Order castle ruins. It's located on the shores of the lake, in a secluded location that happens to be right in the centre of town.
Read more about Alūksne at visitaluksne.lv