Bavaria has so many amazing things to offer, so why not discover this fascinating corner of Germany for yourself?
Blending centuries-old traditions with an easygoing modern lifestyle, this region is perfect for a relaxing break.
Base yourself in Munich and have a blast exploring the exciting culinary scene, touring the numerous museums, visiting world-class events, and enjoying the greener side of this German powerhouse.
And then, just a short drive away, are the Alps in all their natural glory.

Here's a list of highlights and top attractions you simply have to see in and around Munich.
Vibrant neighbourhoods
While the Altstadt (Old Town) usually gets all the attention, Munich can give Berlin a run for its money in terms of many interesting neighbourhoods.
Although quite compact, the Bavarian capital is extremely colourful when it comes to its different districts.
After admiring the grandeur of central Marienplatz, head to hip Schwanthalerhöhe (or Westend), where cultures mix and amazing things can be found, such as Munich's historic and much-loved Augustiner Brewery and the Deutsches Museum Verkehrszentrum with its definitive collection of old cars.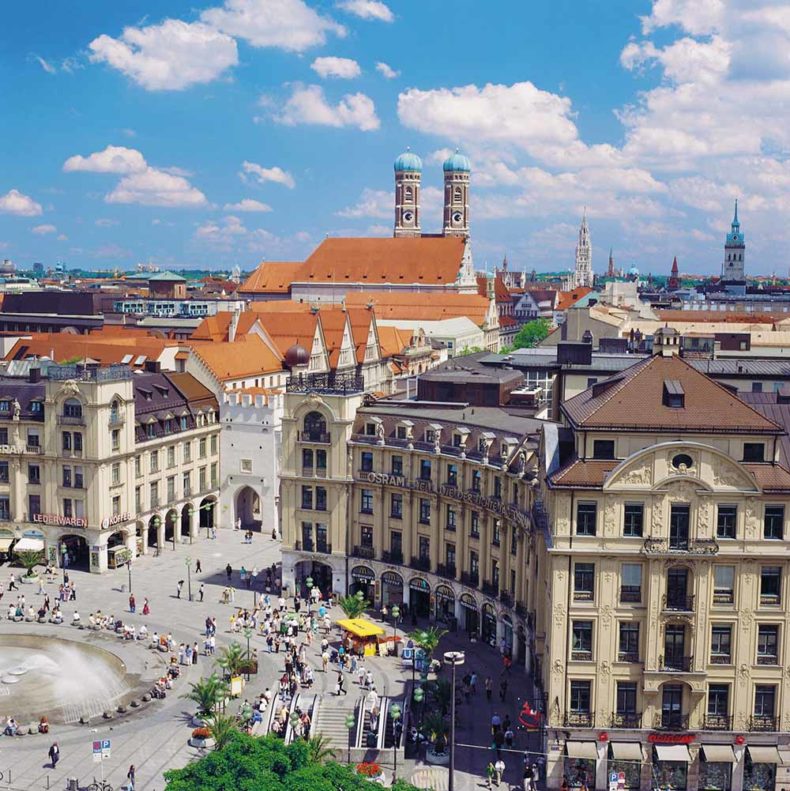 Glockenbachviertel is another cool quarter to visit. It's a neighbourhood of trendy bars, boutique galleries, and vintage shops hugging the Isar River.
On the opposite shore is the laid-back café paradise and quieter atmosphere of Au-Haidhausen.
And if you're looking for an upscale mood, Schwabing fits the bill, boasting the best restaurants in the city and chic luxury stores.
A diverse food scene
Munich is a city that's used to delivering the highest quality, and that goes for its gastronomy as well.
Whether you opt for traditional Wirtshaus taverns or Michelin-starred restaurants, small cafés or spacious beer gardens, you can expect a superb experience.
If you know where to look, of course.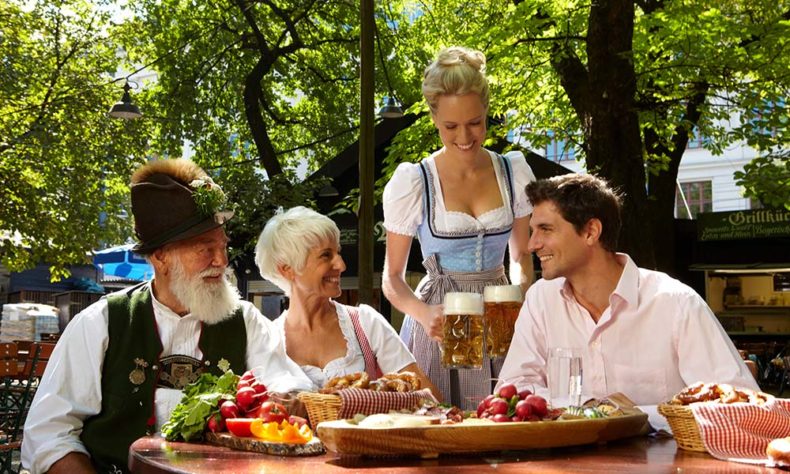 When in Munich, it would be a sin to not try Bavarian cuisine.
Meat-heavy, sausage-friendly, and washed down with lots of beer, it's an international icon in itself, amplifying its appeal during Oktoberfest.
As the largest beer garden in all of Bavaria, Hirschgarten will happily introduce you to the delights of local food.
Michelin-starred Schwarzreiter, for its part, serves Bavarian meals with a modern twist.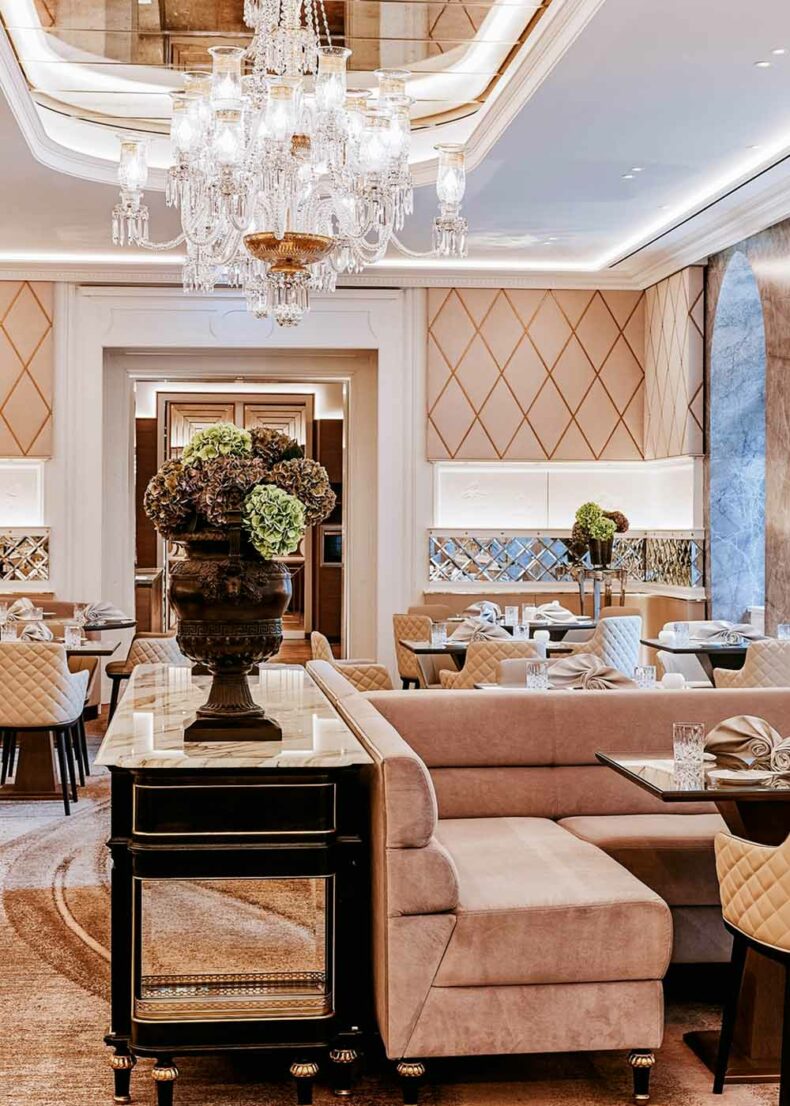 And thankfully, nobody cancelled the afterparty. Munich has its share of rooftop bars, and they are excellent.
The elegant Ory Bar on top of the Mandarin Oriental has the best views of the Old Town, while at M'Uniqo (the city's highest bar) you can see clear to the Alps.
Bar of Bel Air, for its part, serves as a scenic hipster refuge.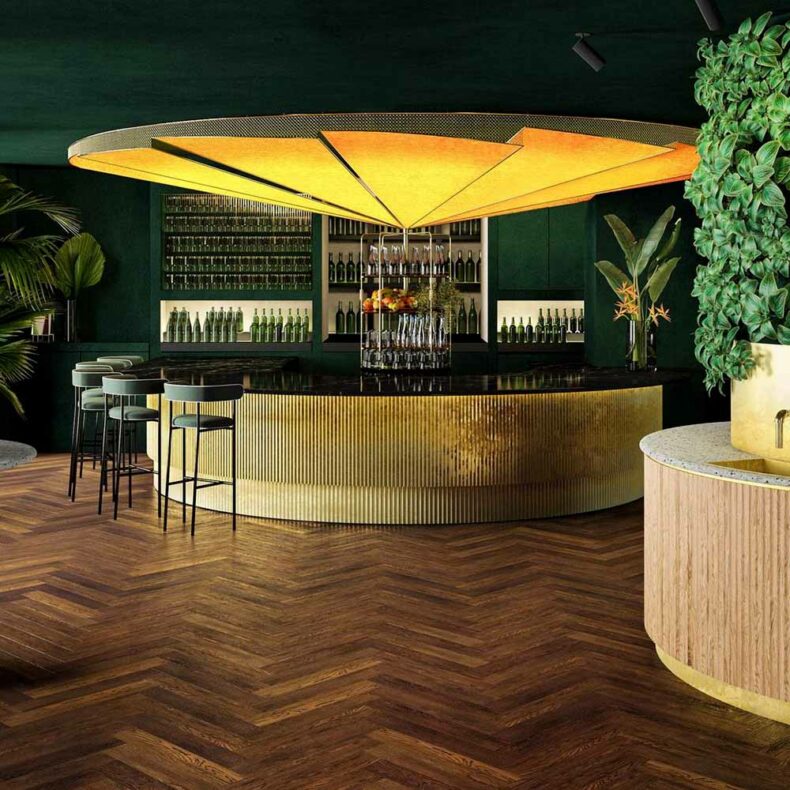 Cool museums
There's hardly a better place in Europe for museums than Munich.
The Bavarian capital has gone a long way from the devastation of the Second World War to a cultural renaissance, carefully restoring district by district and giving new life to its many museums.
Don't miss visiting the most grandiose of them all, the outstanding Deutsches Museum, which occupies an entire island in the Isar River and is the largest science museum in the world.
Another must is Kunstareal, a fantastic complex of art and history museums housing many masterpieces and ancient artefacts.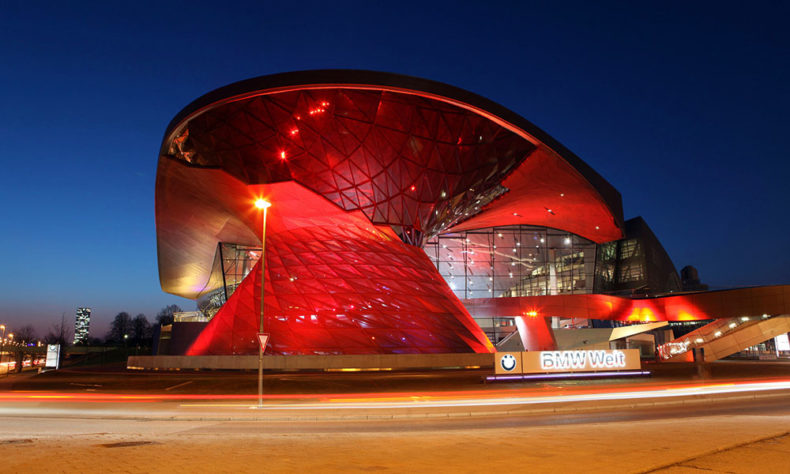 For some modernity, the BMW Museum is an essential visit with a big, interactive showcase of Germany's well-known car brand.
And you'll find contemporary art at the quirky Museum Brandhorst, which has Europe's biggest collection of artwork by Andy Warhol as well as many other masterpieces of pop art.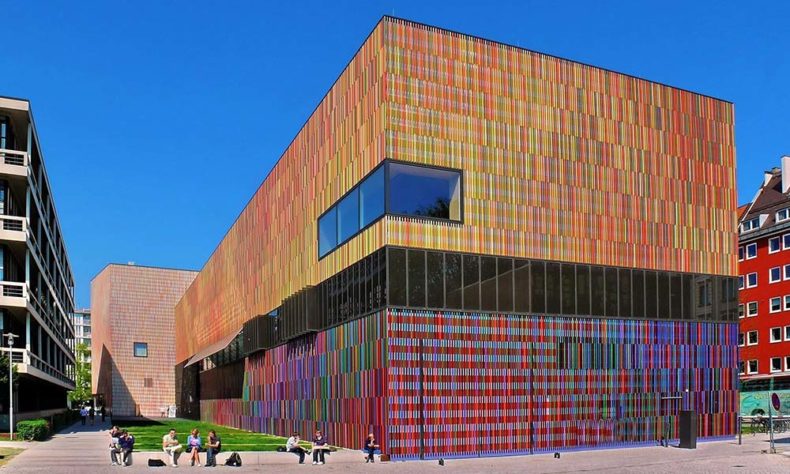 Living green
Munich does sustainability differently than other cities and is a pioneer in living harmoniously with nature.
This green outlook is explained by a deep respect for the outdoors that's deeply rooted in Bavarian culture and the city's proximity to Alpine peaks.
There really can be no other attitude to sustainability when you're surrounded by crystal-clear lakes, idyllic meadows, and picture-perfect mountains.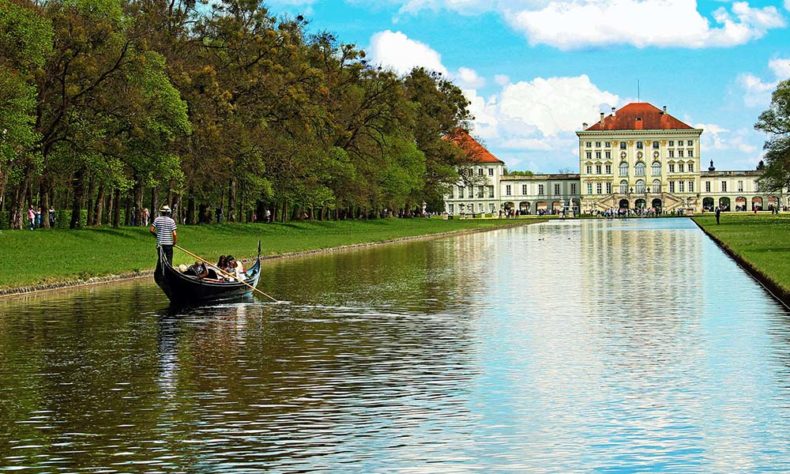 Still, you don't have to go outside of Munich to profit from nature, as the city itself offers many refreshing, green areas.
Take the Englischer Garten, for example. One of the biggest urban parks in the world, it boasts 75 kilometres of hiking paths, a series of streams, an artificial lake, and more than 100 bridges.
Other fantastic outdoor spots include the sprawling Flaucher (a park along the shores of the Isar River) and Westpark with its rose garden and pond.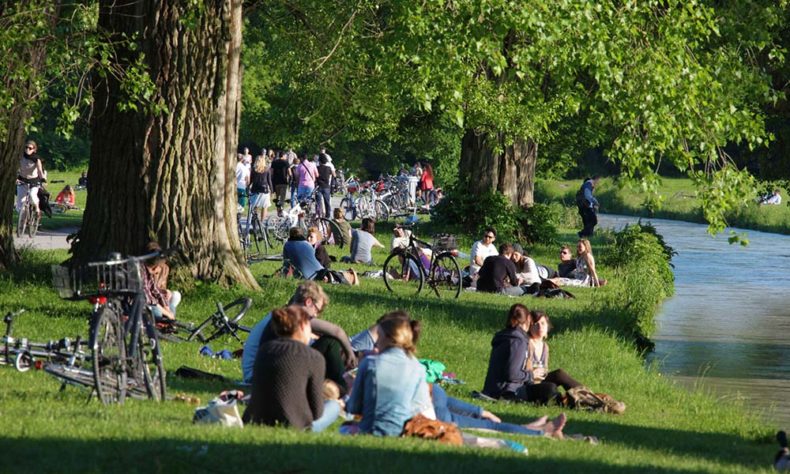 A shopping paradise
Shopping is pleasant in the Bavarian capital.
In the Old Town, you have a series of upscale department stores that will satisfy even the pickiest shoppers.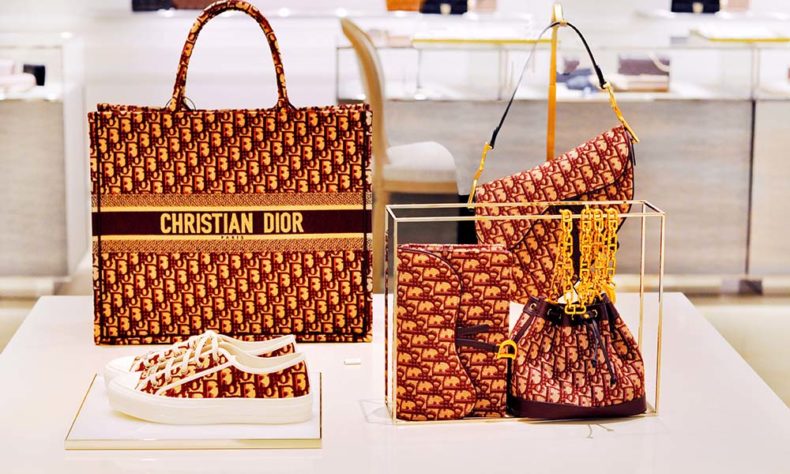 Oberpollinger is a natural choice for designer boutiques in a historic setting, while Kaufingertor Passage is Munich's more modern and more functional answer to Milan's Galleria Vittorio Emanuele II.
For the classic 21st-century mall experience, head to Hofstatt.
Don't miss a chance to explore the small vintage stores scattered around the hip districts of Au-Haidhausen and Glockenbachviertel.
The city is also home to a thriving designer scene, so pay a visit to local boutiques for a unique shopping experience.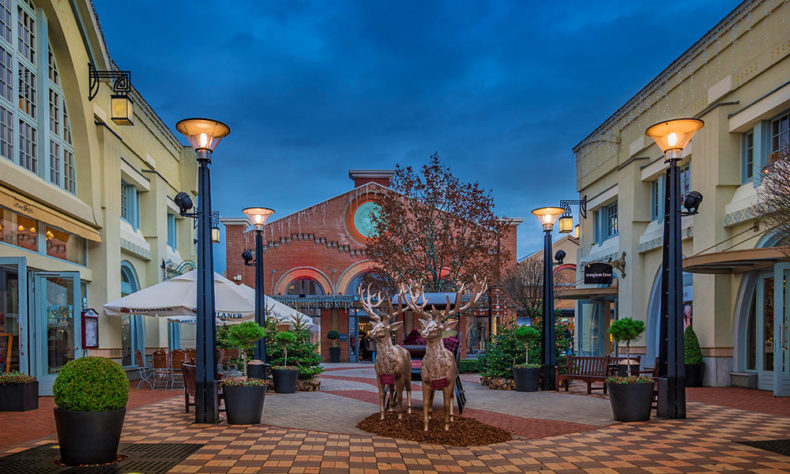 Outlet aficionados will be happy to find one of Europe's finest establishments, Ingolstadt Village, just an hour's drive from Munich.
World-class events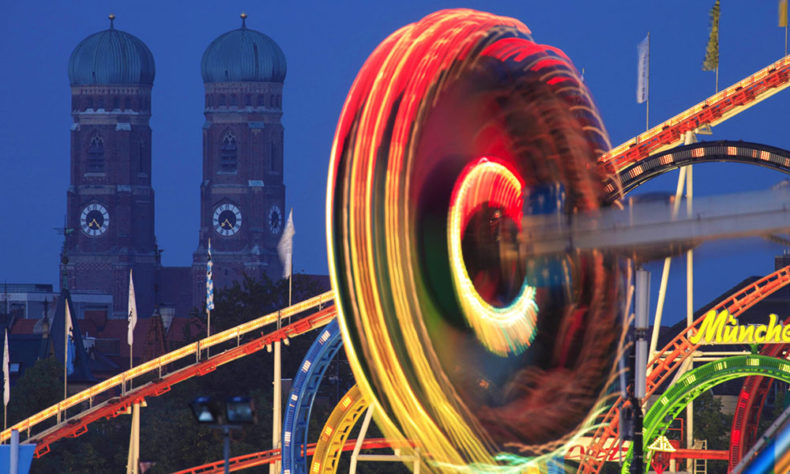 Although Oktoberfest definitely stands out in Munich's calendar of events, the city is not only about beer-consuming festivities.
Summer is a great time to visit, with many cool things happening in the Bavarian capital.
The season starts with Tollwood, a conscious-oriented festival with music, lectures, and a market in Olympiapark.
The Munich Film Festival is a great pick for cinema lovers, and its summer cinema screenings on the Seebühne in Westpark add some romance to summer.
July sees the joyful Kocherlball dance spectacle in the Englischer Garten.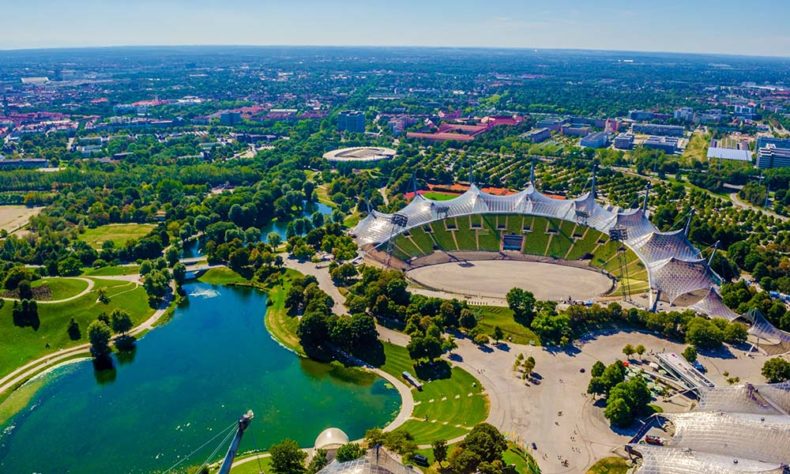 On the sports front, the European Championships come to Munich in August.
The grandiose event will be the country's biggest since the 1972 Summer Olympics and will gather athletes from the whole continent to compete in nine Olympic sports for the title of European Champion. August 11 to 21 are the dates to save, and, naturally, Olympiapark is the main venue.
Alpine hiking areas
When you book a ticket to Munich, you're also booking a ticket to the spectacular Alps.
One of the city's advantages is its proximity to breathtaking peaks and countless hiking trails.
If you want to make the most of your visit but don't have much time, the Garmisch-Partenkirchen ski resort should be your primary choice for a day trip.
Easily reachable by train from downtown Munich in little more than an hour, this town is an ideal spot to feel the immense beauty of the Alps.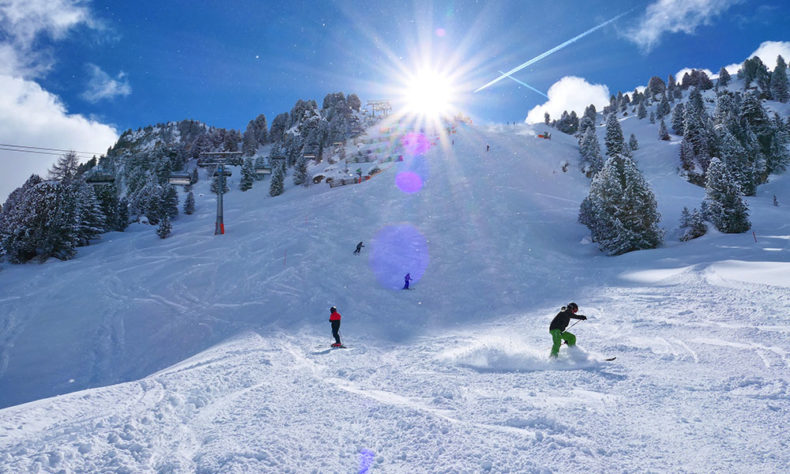 Zugspitze, the highest mountain in Germany, is also there waiting to be explored.
Thankfully, a cable car from Grainau will help you reach the summit.
Alternatively, if you're into trekking, hike the 21-kilometre route to the top.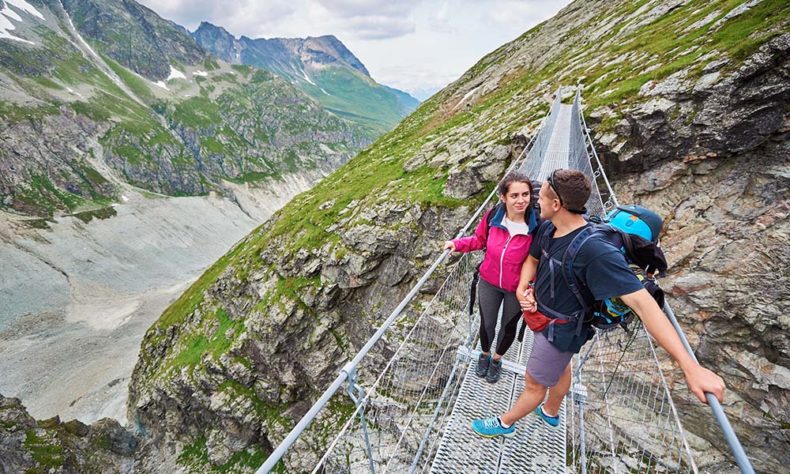 Garmisch-Partenkirchen boasts not only Zugspitze but also a whopping 300 kilometres of hiking routes, so everyone can find something suitable for their needs and wishes.
The most popular ones are the relaxing path from Partenkirchen to Farchant and the picturesque way from Kochelbergalm to Aule Alm.
Scenic lakes
According to a wonderful rule in this part of the world, where there are stunning Alps, there are also lakes. And to a traveller's delight, Bavaria has no shortage of the latter.
Moreover, with so many fantastic places that look straight out of a fairy tale, you can come here just for the lakes.
Start with Lake Starnberg, an expansive body of water very close to Munich that offers endless outdoor sports opportunities and features a royal castle in Berg.
Sapphire Tegernsee with its eponymous spa town and gentle panorama of towering mountains is another great location to visit.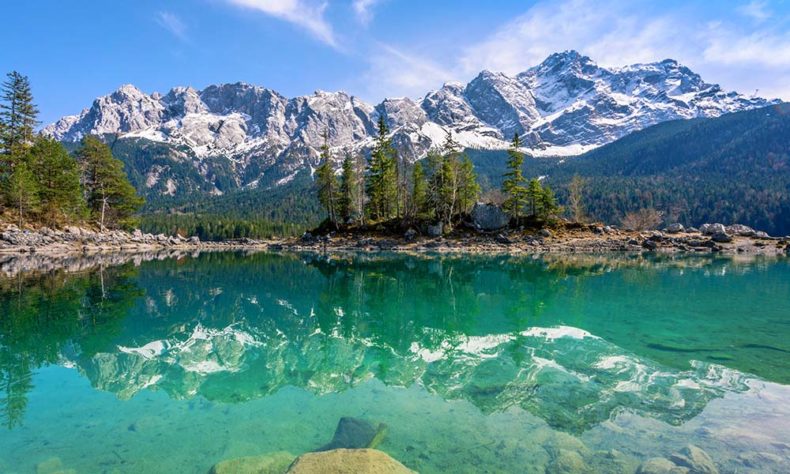 For some Instagrammable perfection, head to the mountains to find the magnificent glory of Kochelsee and Walchensee among the towering crags.
Apart from windsurfing and sailing, you can also take the Herzogstandbahn gondola to enjoy a far-reaching panorama above Walchensee.
Fairytale castles
Chances are you've seen it countless times on puzzles, classic tourism images, and even at the beginning of Disney movies.
It's Neuschwanstein, the quintessential image of a European castle that served as inspiration for Disneyland's Sleeping Beauty Castle.
And this architectural jewel is found right here in Bavaria, less than a two-hour drive from Munich.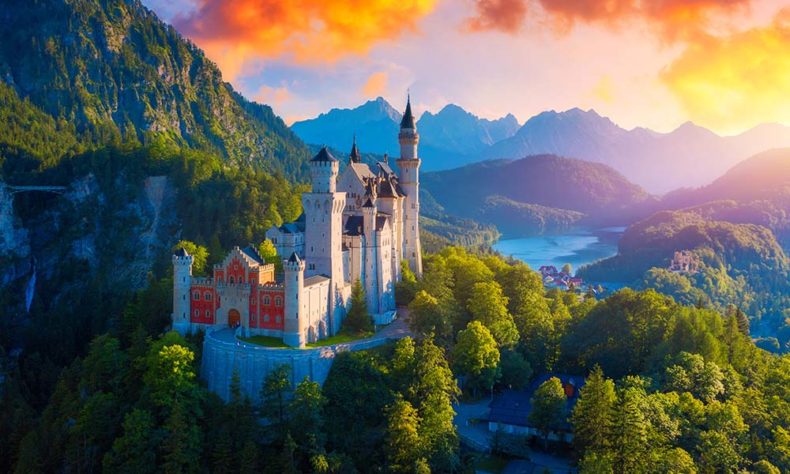 You really have to see it to believe it – a gorgeous white structure set against the charming Alpine scenery.
You'll want to pinch yourself to make sure you're indeed in the real world and not in some kind of animated fantasy fable.
Be sure to go inside the castle to admire its whimsical Romanesque Revival architecture and hike the surrounding hills for the best views of Neuschwanstein.
Hohenschwangau Castle nestled below Neuschwanstein offers equally gorgeous interiors, albeit without the large crowds.
And if you'd like more castle architecture, Munich has its own palace, the stately Nymphenburg with sumptuous rooms and elegant gardens all around.
Finally, there's the boutique Linderhof Palace, a 19th-century romantic dream castle built by eccentric King Ludwig II.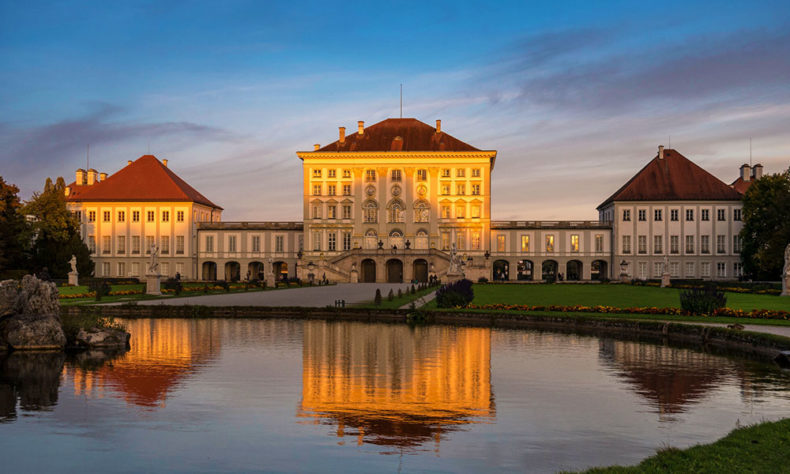 Beautiful towns
Fairytale scenery is something that defines Bavarian towns.
Colourful timber houses, Alpine rivers flowing under medieval stone bridges, old market squares, picturesque churches… It often feels like you're in a Brothers Grimm tale and Rapunzel may appear in the window of a tower or Cinderella may cross the cobbled street at any moment.
Rothenburg ob der Tauber is one such destination – an ultra-Instagrammable affair and an ideal town for medieval sightseeing.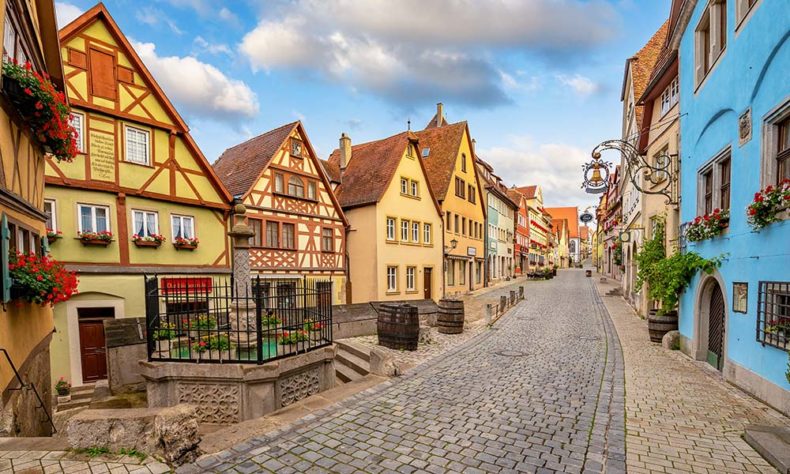 Regensburg is another must-visit in Bavaria.
A Danubian gem of a city, it's famous for its splendid Old Town, stone bridge, and superb 13th-century Gothic cathedral with two high spires.
Three rivers gloriously meet in Passau, an elegant border city next to Austria that should be visited for its Baroque architecture and postcard-worthy historical centre.
For some lakeside perfection, head to Lindau located on awe-inspiring Lake Constance.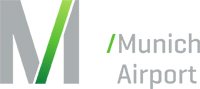 Text by Pavlo Fedykovych