Fancy treating your pet to a city break abroad and letting them indulge in their wanderlust? It's easier than you think.
From canine-friendly hotels to cafés and restaurants that welcome animals with open arms, make your next trip one to remember by bringing along your four-legged friend to one of the following pet-friendly cities.
Flying with pets: everything you need to know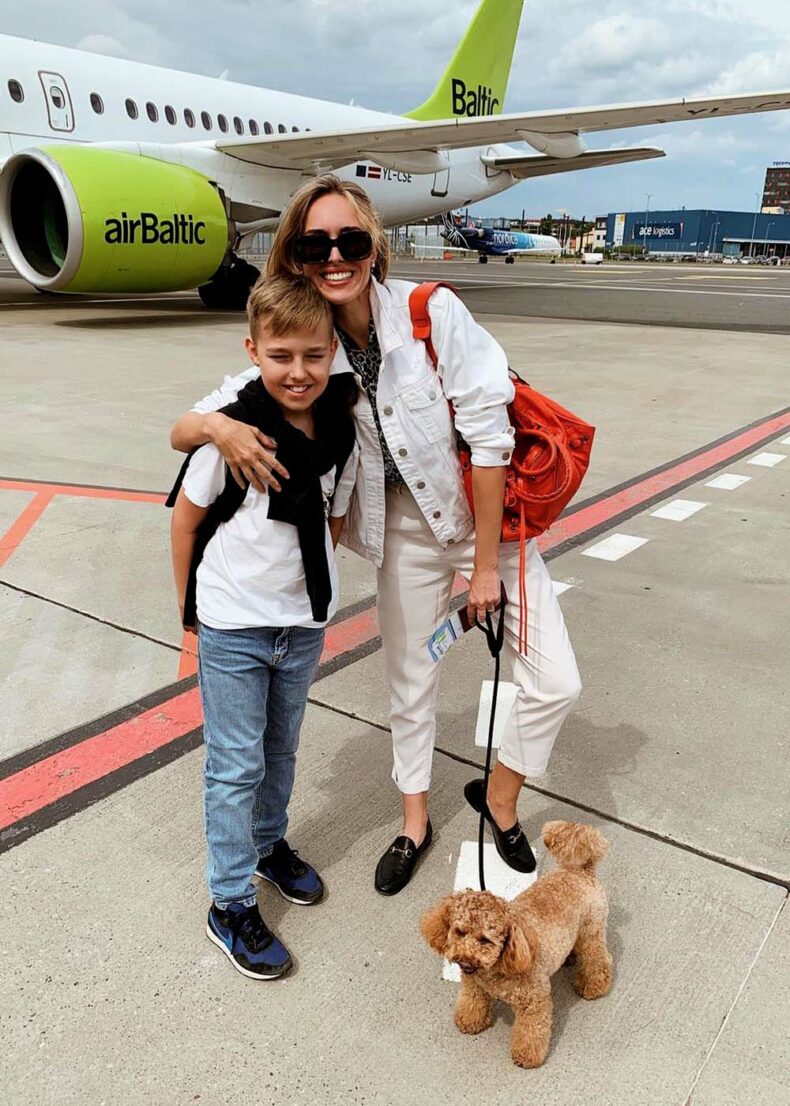 The logistics of travelling with your pet means that you're going to have to be extra-prepared before you leave home. Luckily, we've gone over the main details.
Essential items for travelling with your pet:
Collar: if you haven't already, remember to put a tag on the collar with your pet's name and your contact details.
That way, if you get separated while abroad, it will be easier to reunite with your furry friend.
Leash: just as important as a collar is a leash.
Even if your pet is the most well-behaved animal in the world, in public spaces across the world it still needs to be on a leash.
Container, kennel, or cage: remember that, when travelling with your pet on a flight, you'll need to provide your own container, kennel, or cage to transport them safely.
Waste bags: whether it's in the airport or at your destination, it's always the responsibility of pet owners to clean up after their little friends.
Food and water: travelling is not only tough on us, but also on our pets.
That's why having some extra food on hand to keep their energy levels up is a great idea when flying.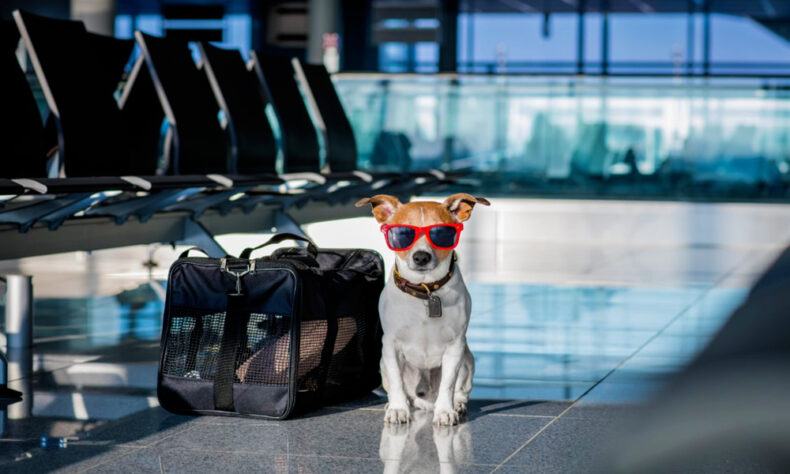 Flying with pets in Europe: the rules
Of course, there are certain rules and regulations that you must follow if you're planning on flying with your pet.
For flights within the EU, it's mandatory that you'll need to show the following documents:

ID-marking microchip
Pet passport
Anti-rabies vaccination

There are some EU countries where additional requirements must be met.
Always remember to check the import and export regulations of each country before you book your ticket.
If you're travelling to and from the United Kingdom, Ireland, Iceland, or the United Arab Emirates, special rules apply when flying with your pet.
On flights TO these countries, pets are only allowed to be checked in as manifested cargo. On flights FROM these countries, all pets (except service animals) will have to fly as checked baggage or manifested cargo.
How to organize in-cabin air travel for your pet
Small cats and dogs are allowed to be classified as hand luggage and transported in the cabin.
The passenger must provide their own carrier box. The weight of the box and pet inside must not exceed 12 kg and needs to be kept under the seat in front of you for the entire flight.
To organize in-cabin air travel for your pet, you'll need to inform airBaltic when booking the ticket.
The maximum dimensions of the container are 55 x 40 x 23 cm (length x width x height).
The cost of transporting a pet in the cabin is EUR 70 per direction.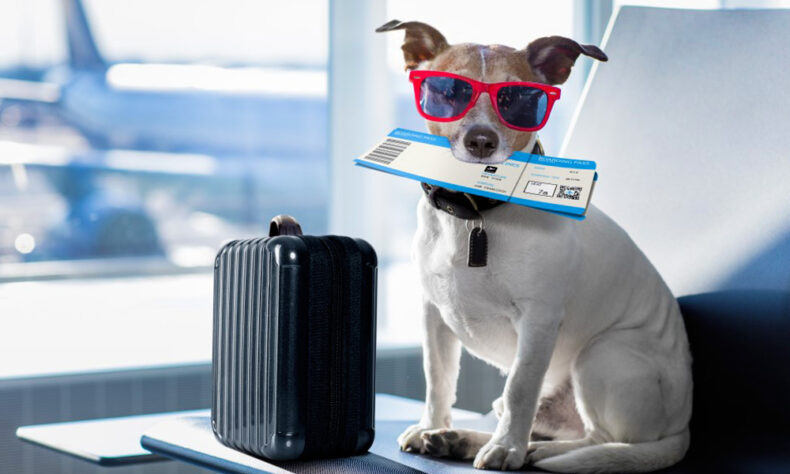 For larger pets
Any larger animals that exceed the weight restrictions of the in-cabin allowance must be transported as checked baggage.
Again, passengers must provide their own carrier box, and the total weight of the animal and box must not exceed 75 kg.
The maximum dimensions of the container are 117 x 84 x 84 cm (length x width x height).
The cost of transporting a pet in the cargo hold is EUR 100 per direction if the weight of the animal and container is between 1–32 kg, and EUR 200 per direction if the weight of the animal and container exceed 32 kg.
Extra-large animals that exceed 75 kg must be checked in as manifested cargo.
Experience travelling with a pet
Kristjaana Mere is a 29-year old fashion, travel and lifestyle blogger based in Tallinn, Estonia but travelling the world.
With her sophisticated style, mixed between feminine and casual, this online marketing and communications specialist has caught the eye of multiple top global fashion, beauty and lifestyle brands.
Passionate about fashion, healthy living, travelling and personal development, Kristjaana shares the stories of all topics with her readers through her blog and her social media channels.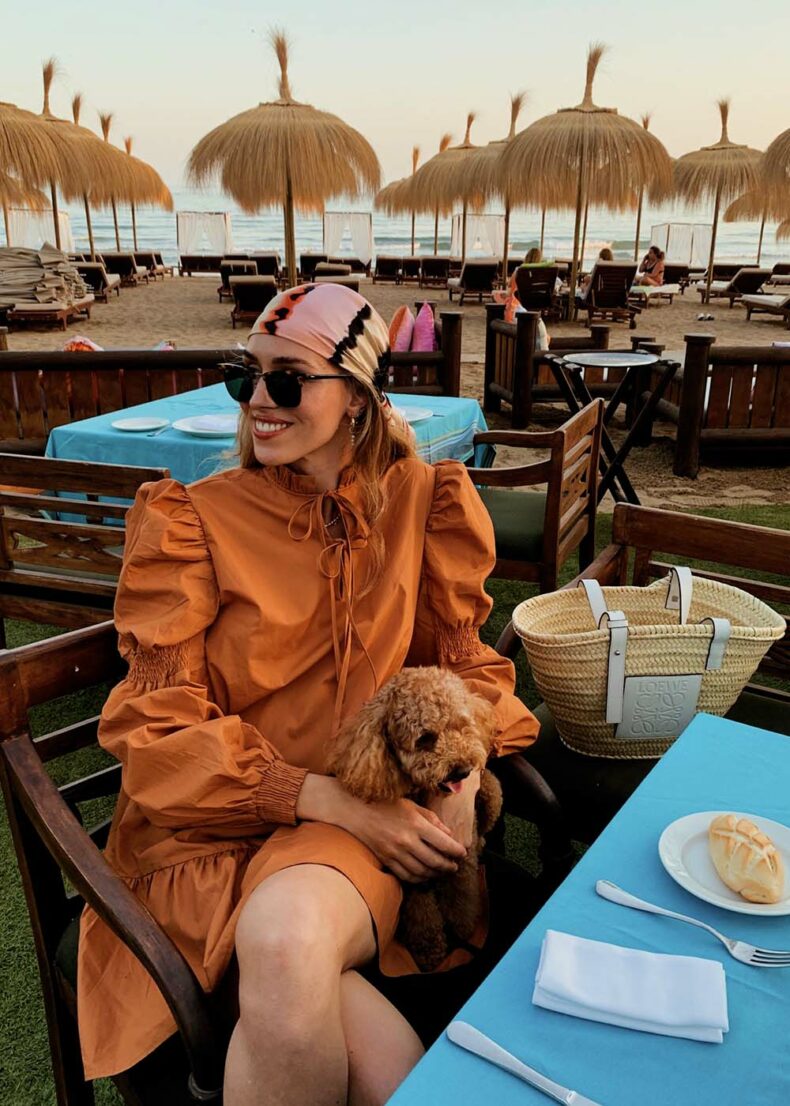 Photo by Kristjaana Mere
"I like to think that pets are like family members, which is why I often take our toy poodle with us to lots of different places.
I have now travelled twice together with our dog, once to Paris and just recently to Malaga, both times flying with airBaltic.
The crew on board is always very helpful and makes us feel comfortable. Such a pet-friendly airline, from our experience!
Photo by Kristjaana Mere
In addition to following all the set rules when travelling with pets, there are a few things I'd suggest paying attention to when you're thinking about taking the next trip together with your furry friend.
"First, do your homework in advance! Make sure that the destination you're heading to is a dog-friendly one.
From my experience, countries like Spain, France, and Italy are very dog-friendly and you can take your pet everywhere with you.
On the contrary, Portugal and Finland aren't the best options for travelling with your dog, since pets aren't allowed in restaurants, cafés, shops, etc. Which makes it a bit difficult to enjoy your holiday."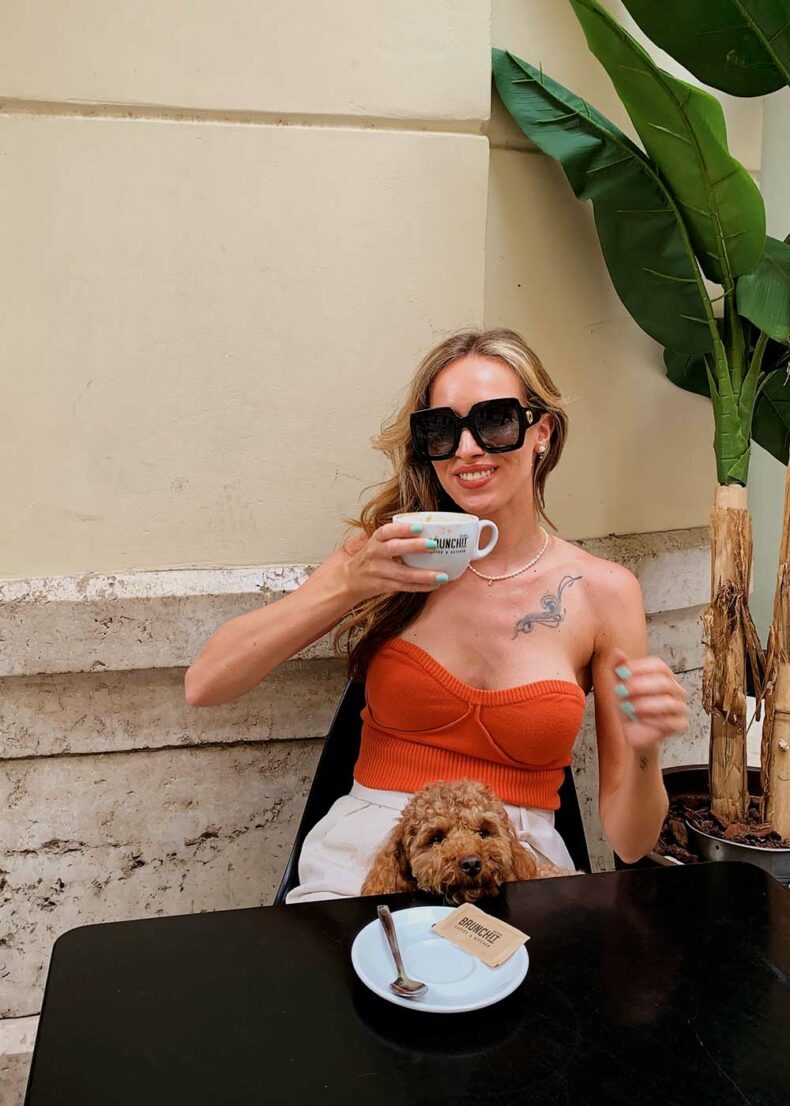 Photo by Kristjaana Mere
"Second, make sure your dog is very comfortable on the plane. Get him a carrier bag or a box that fits him properly and feels comfortable.
Feed your pet and take a long walk with him before the flight so he won't mind staying put for many hours.
And don't forget to bring water and a few of your dog's favourite toys with you.
I'd also recommend practicing keeping your dog inside his bag/basket beforehand, so it won't be a new experience for both of you when actually on board.
And last but not least, make it a great experience for both of you! Travelling with your pet is fun, and I definitely recommend trying it!"
Milan, Italy: for the fashion hounds
Fashionable, chic, and elegant, Milan with its loads of green spaces, pet-friendly restaurants and bars, and a wealth of things to discover is also a fantastic choice for a vacation with your pet.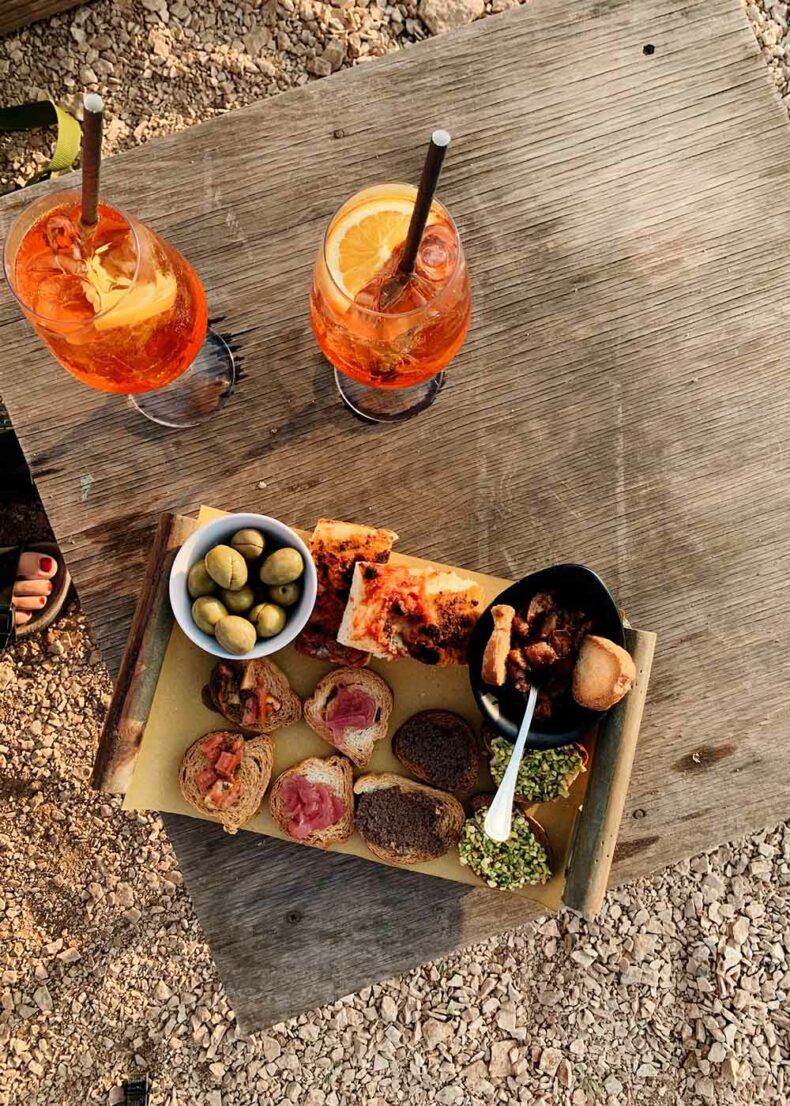 If there's one thing that Italy is known for, it's the cuisine. And that goes for Milan as well, which is the birthplace of the famed aperitivo.
Generally, wherever you choose to go, there will be outdoor terraces for you and your pet to enjoy the aperitivo hour, sipping on a cocktail while sampling olives, cheese, cured meats, and more.
A popular spot to visit for this Milanese ritual is the Navigli district, where bars and restaurants line the beautiful canals.
Head straight to Mag Café or Fonderie Milanesi to enjoy this classic tradition.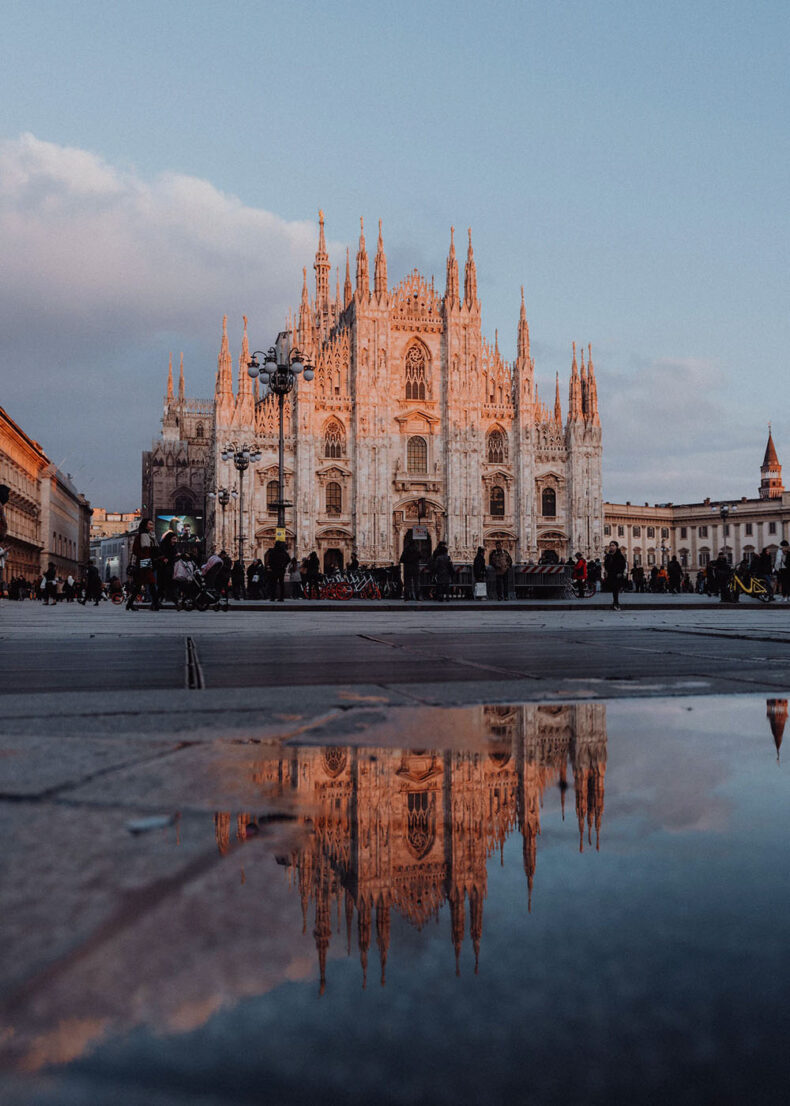 The streets of Milan are filled with locals walking their dogs.
Taking in the sights of the city centre with your pet is a must, from the imposing and stunning Duomo cathedral to the world's oldest shopping centre, the Galleria Vittorio Emanuele II.
The latter is open to dogs, letting you admire the stunning architecture and high-end shops with your four-legged friend in tow.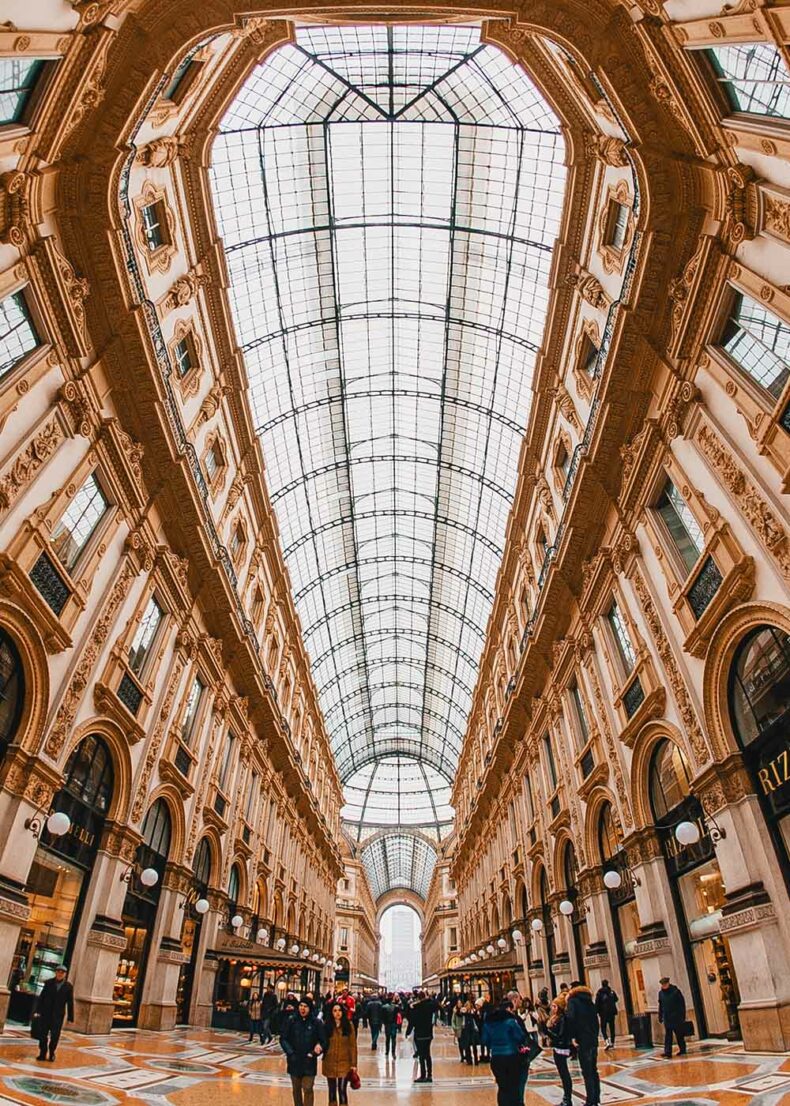 From there, it's only a short walk to the Quadrilatero della moda, or the fashion quadrangle.
Milan is one of the world capitals of fashion, and this neighbourhood is the epicentre of it all, with streets lined with some of the world's most famous designer labels.
You might see a stylish pup or two walking with their equally fashionable owners, ducking into the stores to purchase a new Prada bag or pair of Louis Vuitton shoes.
Dogs are allowed inside almost all the stores, unless otherwise posted.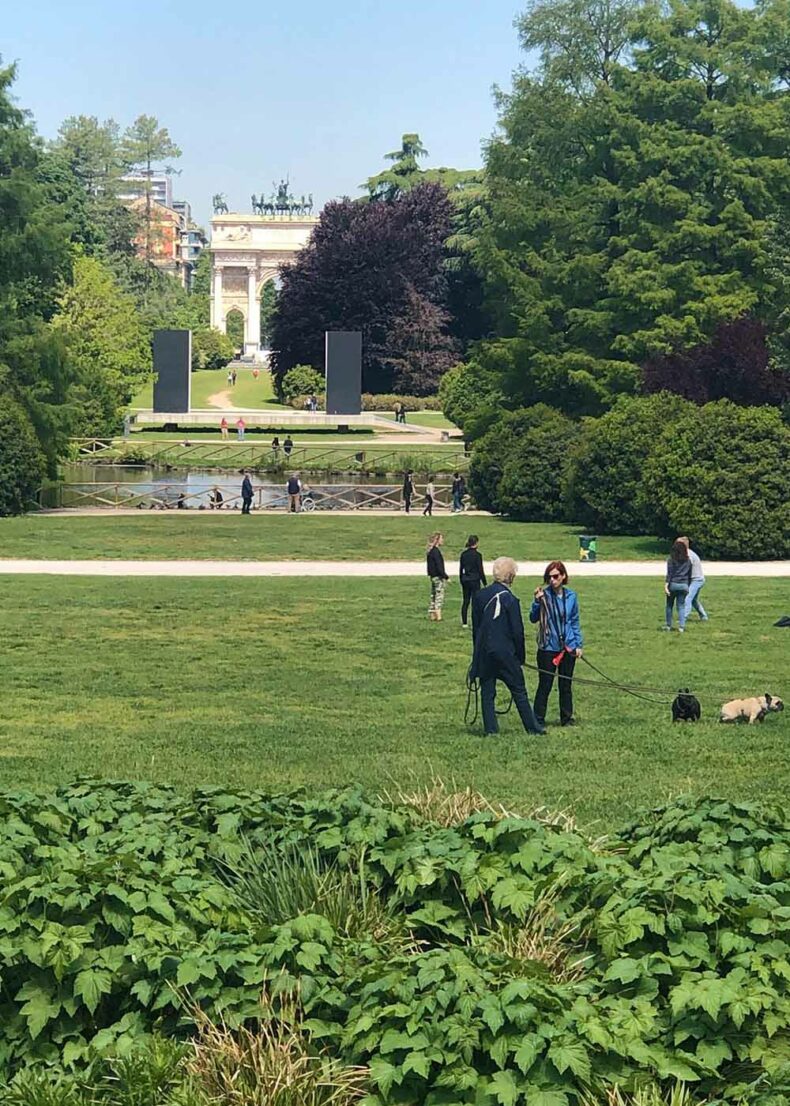 For those who are craving some of Milan's greener spaces, there are plenty of options to go with your pet.
The largest park in the city is Parco Sempione, just north of the city centre. There's plenty of green space to explore on the leash as well as two separate dog parks for when your pet needs to run free and meet some of the local Milanese dogs.
Another great park is the Indro Montanelli Gardens, where you'll find the Mobility Dog Park.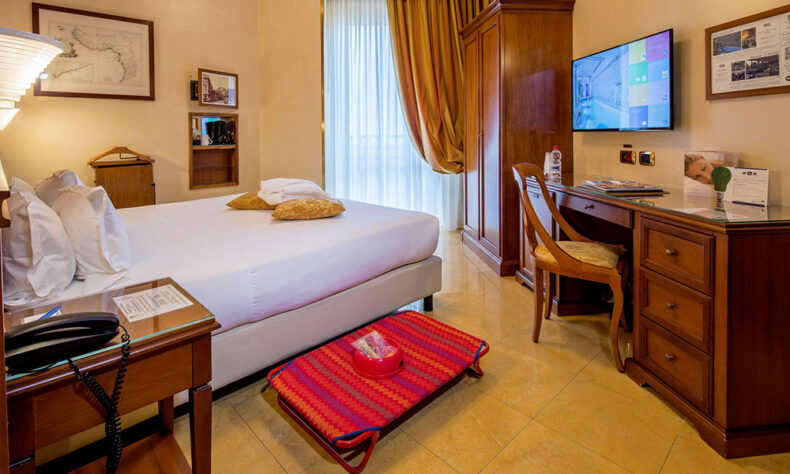 Milan also has a great range of pet-friendly hotels.
Check out Hotel Galles in the city centre, with rooms that include dog beds, litter boxes for cats, food and water bowls, and hygienic bags.
Another great option is the Hotel Pierre Milano in the historic centre, with a fabulous central location and pet-friendly facilities.
Valencia, Spain: sun, sea, and sand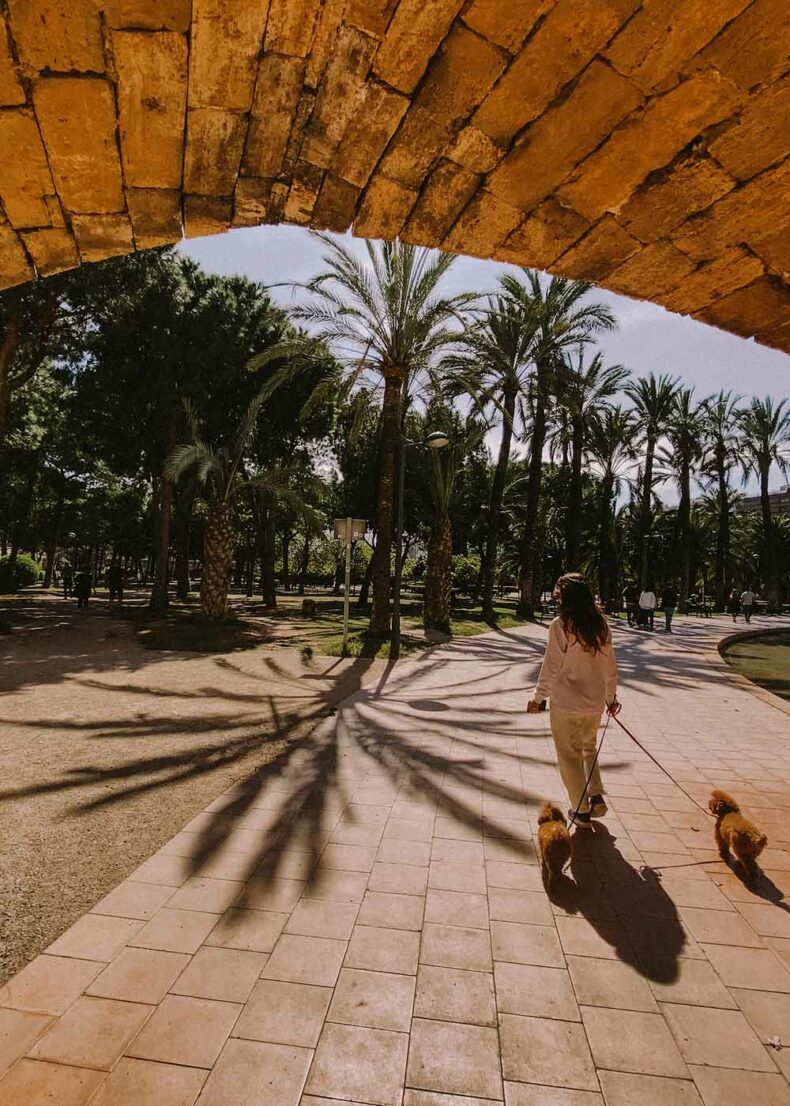 With year-round sunny weather, a beautiful and walkable historic centre, and boundless parks and gardens to enjoy, Valencia is another fantastic choice of holiday for you and your pet.
Spain is a country that seriously loves dogs, but Valencia takes this to another level completely. In 2019, the city was awarded the 'pet-friendly city' stamp thanks to its extensive open spaces, all of them welcoming for you and your pet.
From the over 2000 years of history contained in the centre to dog-friendly beaches and beautiful parks, this is one holiday you and your pet won't forget.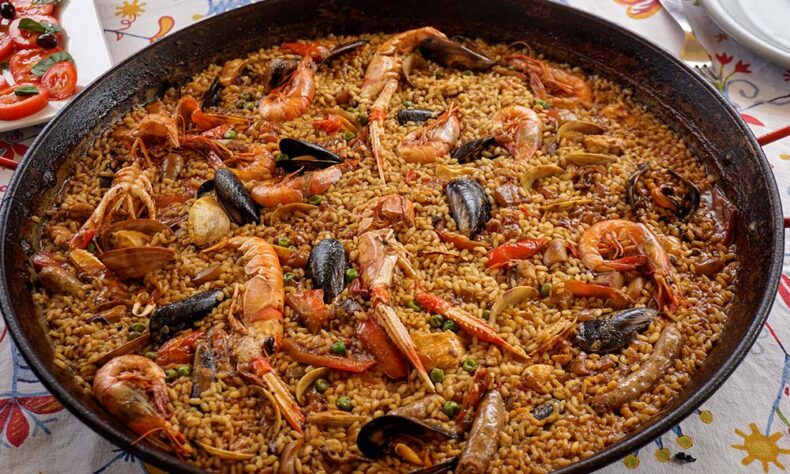 Regarding food, you won't want to leave Valencia without trying a paella – after all, this is the birthplace of Spain's most famous dish.
For one of the best paellas in the city, stake out a seat on the terrace at Restaurante la Ferrera, south of the city's main port.
Specialising in traditional Valencian paellas with rabbit, chicken, and duck, there's also a bounty of seafood to try that's freshly plucked from the Mediterranean.
But the best part? The restaurant is right on one of the city's most dog-friendly beaches, the Playa de Pinedo, which has a special area reserved for dogs and their owners.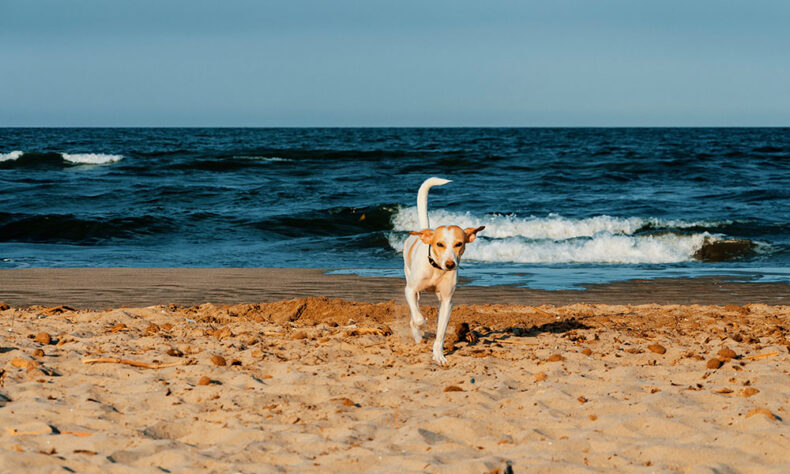 Back in the city centre, the pleasant old quarter is well worth a ramble with your furry friend.
With over 2000 years of history and relics from the Romans, the Visigoths, and the Muslims, there's something to discover around every corner.
Luckily, there are plenty of sunny restaurant terraces scattered throughout the old quarter's plazas for a bite of tapas for you and your pet.
Restaurants are also more than happy to bring out a dish of water on those warm Spanish summer days.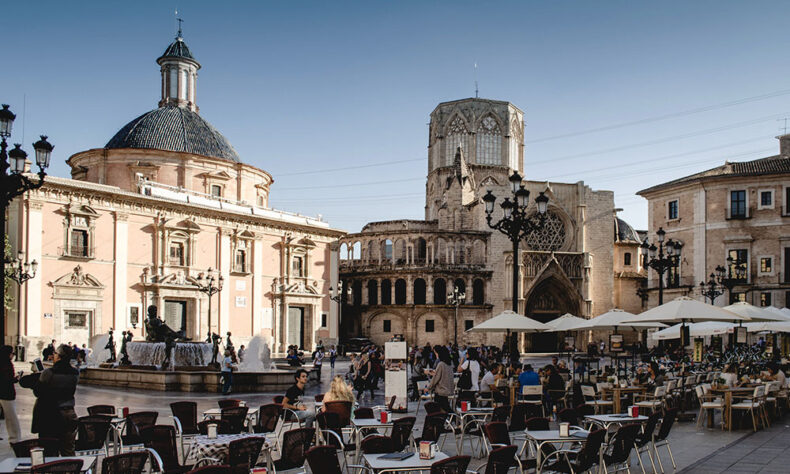 Open spaces in the city are easy to come across. Valencia boasts plenty of spaces for letting loose with your dog in the open air, but nothing beats the Turia Gardens.
Cutting through the middle of the city and following the old course of the Turia River, this extensive collection of green spaces has more than 50 kilometres of trails for walking. There are also areas where you can let your dog off the leash, letting them run free with the other locals.
For a central hotel that welcomes pets with beds, foods, and walking services, consider The Westin or the Casual Vintage Valencia.
Paris, France: pet-friendly dining
One of Europe's most timeless and romantic destinations, Paris is also a fantastic city to visit with your pet.
Thanks to the tiny apartments in Paris and lack of private backyards, Parisians tend to take their dogs with them everywhere.
Whether they're popping down to their corner store to pick up a baguette for lunch or travelling across town to meet friends for a drink, dogs are often along for the ride. As such, whenever you leave your hotel, taking your dog with you isn't a problem.
Exploring the romantic boulevards, sighting the magical Eiffel Tower, and enjoying coffee and croissants around town are all pet-friendly activities.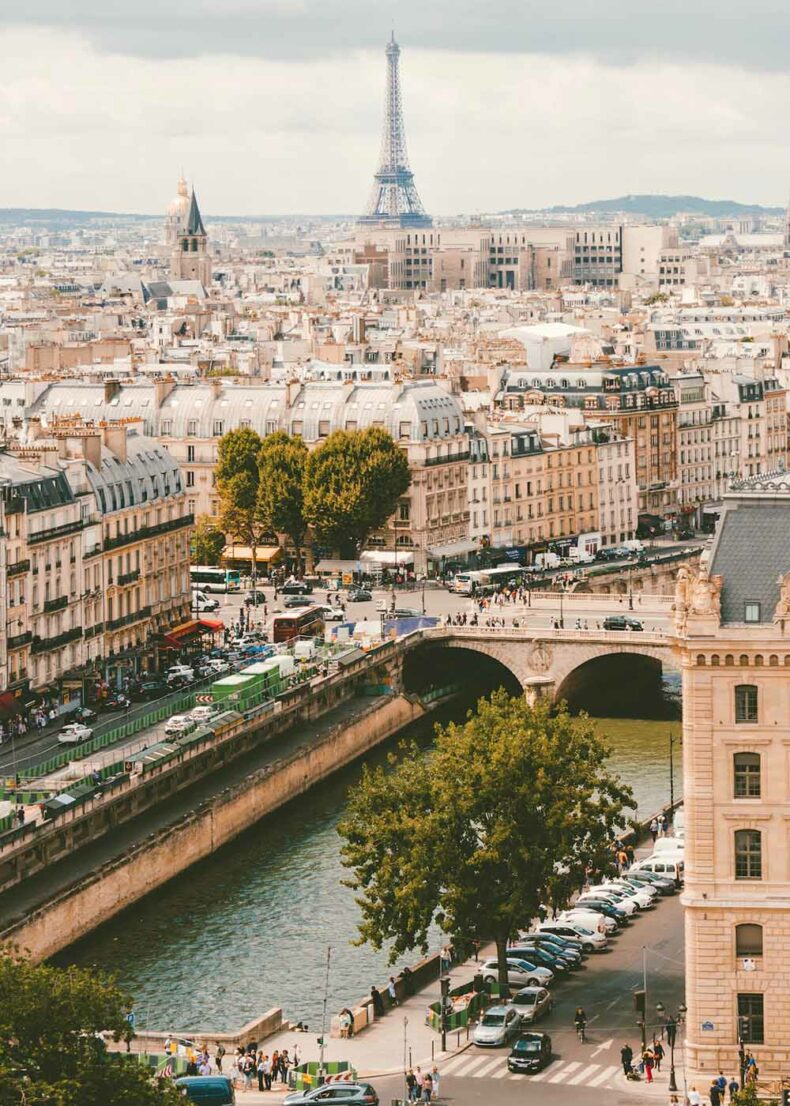 At the forefront of pet-friendly services in Paris are the restaurants and cafés.
Most owners will do their best to accommodate you and your pet, greeting them with a friendly pat before immediately whisking over a container with some water. In fact, some people even think that the dogs get better service than the humans.
One popular pet-friendly pilgrimage is a visit to Le Moulin de la Galette in the Montmartre neighbourhood. Serving all the classics, from escargot to boeuf bourguignon, this restaurant was immortalised in paintings by famous artists such as Renoir, Van Gogh, and Pissarro.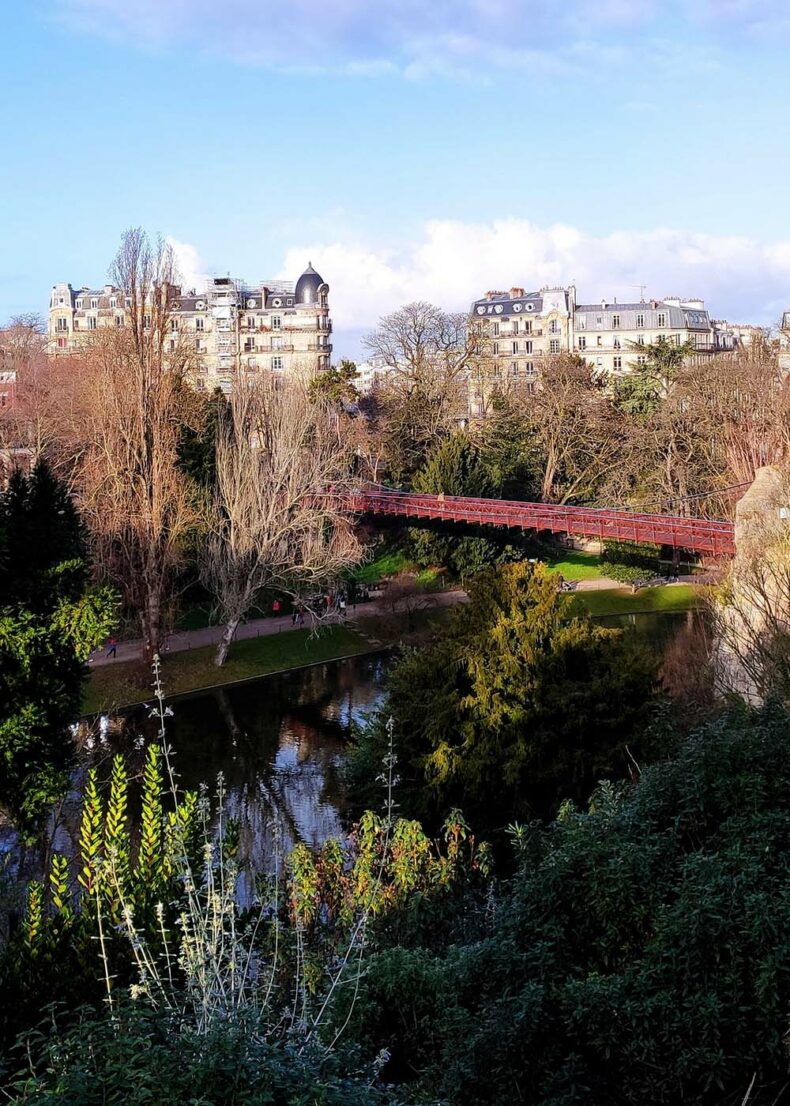 Surprisingly, many of the parks in the city are off limits to dogs, so you'll have to seek out the handful of areas where you are allowed to roam with your four-legged friend in tow.
There are dog enclosures to run free at the north end of the Tuileries Garden and the southern end of the Luxembourg Garden, but by far the best park to go with your dog is Buttes Chaumont Park in the 19th arrondissement.
Dogs are allowed to run free there, and the park is beautiful – you'll even find a waterfall and a set of ruins.
There are around 800 pet-friendly hotels across Paris, meaning that you'll be able to find something for you and your pet no matter the budget.
If you're looking to splash out on an extravagant experience for your pet, consider staying at either the Hôtel de Crillon or Le Meurice.
The former will welcome your dog with a personal butler who takes them for walks (charges apply), while the latter offers personalised name tags and an embroidered carpet with your pet's name on it.
Prague, Czech Republic: pooches of culture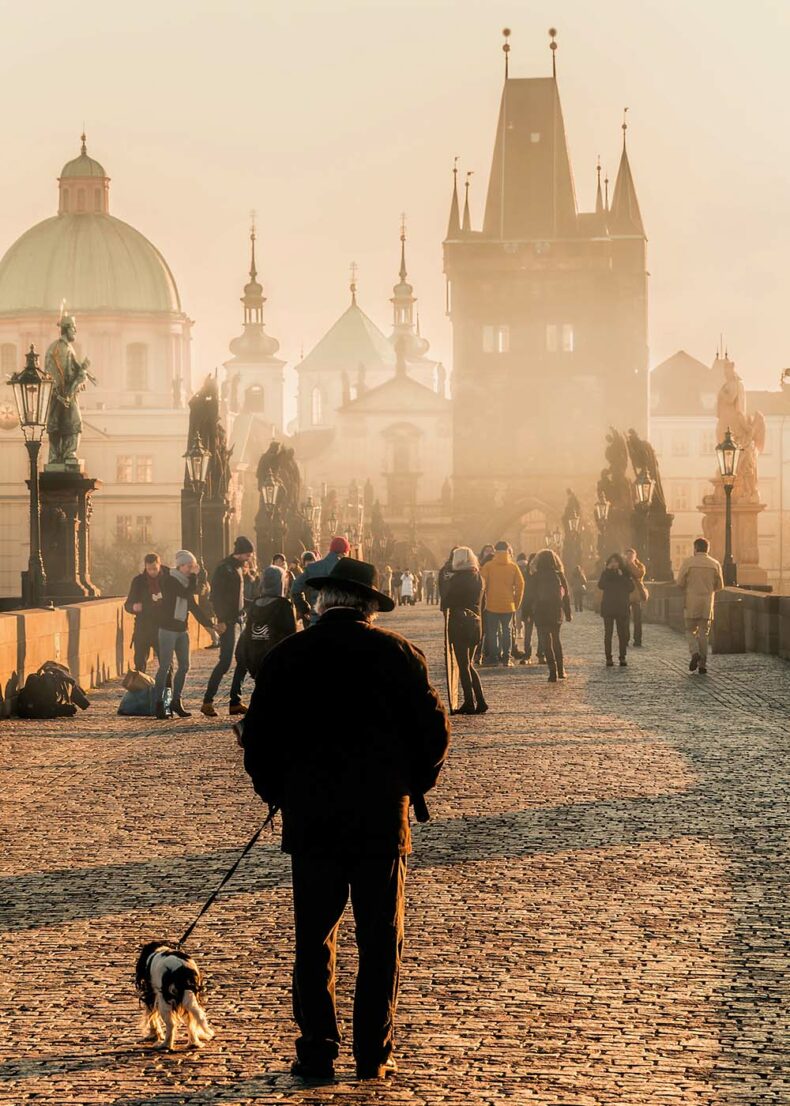 For culture, history, and plenty of beer, it's hard to pass up an opportunity to travel to Prague, the capital of the Czech Republic.
One of the biggest draws for doggie travellers to this city is the law that allows dogs to walk alongside their owner without a leash – if they're under the control of their owner, of course.
You'll also love the fact that dogs are allowed in many restaurants and cafés across the city. And that's a great thing, because the food in the city is fantastic.
There are plenty of hearty meals to try in the restaurants and pubs, such as vepřo-knedlo-zelo (roast pork, bread dumplings, and stewed cabbage) and guláš (stewed meat in gravy with vegetables).
For either, check out Konvikt Restaurant, a traditional restaurant and pub that's more than welcoming for dogs.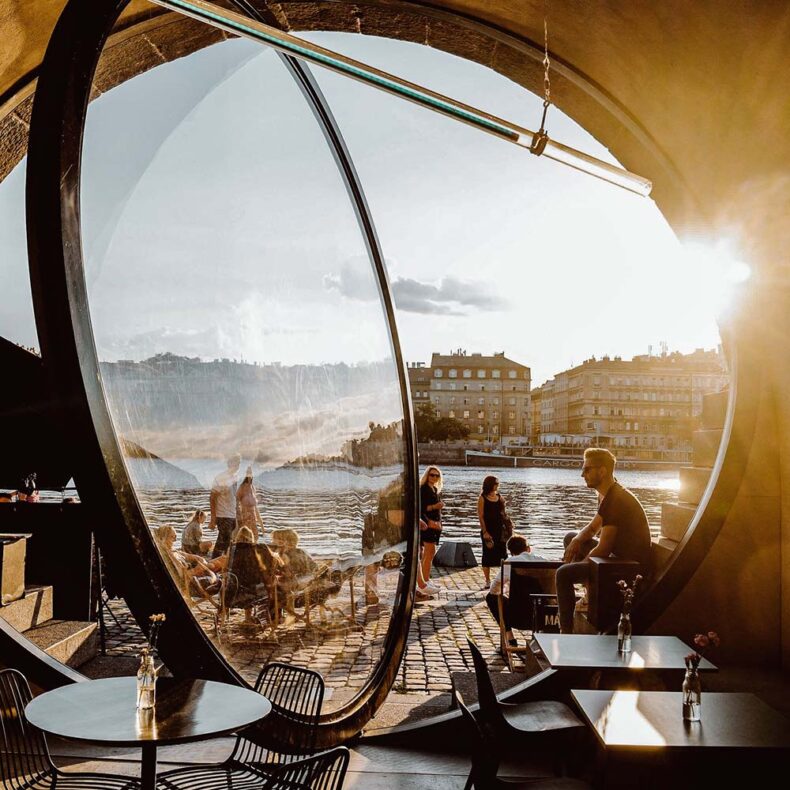 As far as hotels go, more than half the hotels in Prague will let you stay with your pet. Conditions apply, though, and most often you'll have to pay an extra charge between EUR 10–20.
An excellent choice is the Hotel Pod Věží, located right next to Charles Bridge and with fantastic views from a rooftop terrace.
Another great option is the designer NYX Hotel near Wenceslas Square. With neon lights and street art filling the hotel, it's an atmospheric urban stay for you and your pet.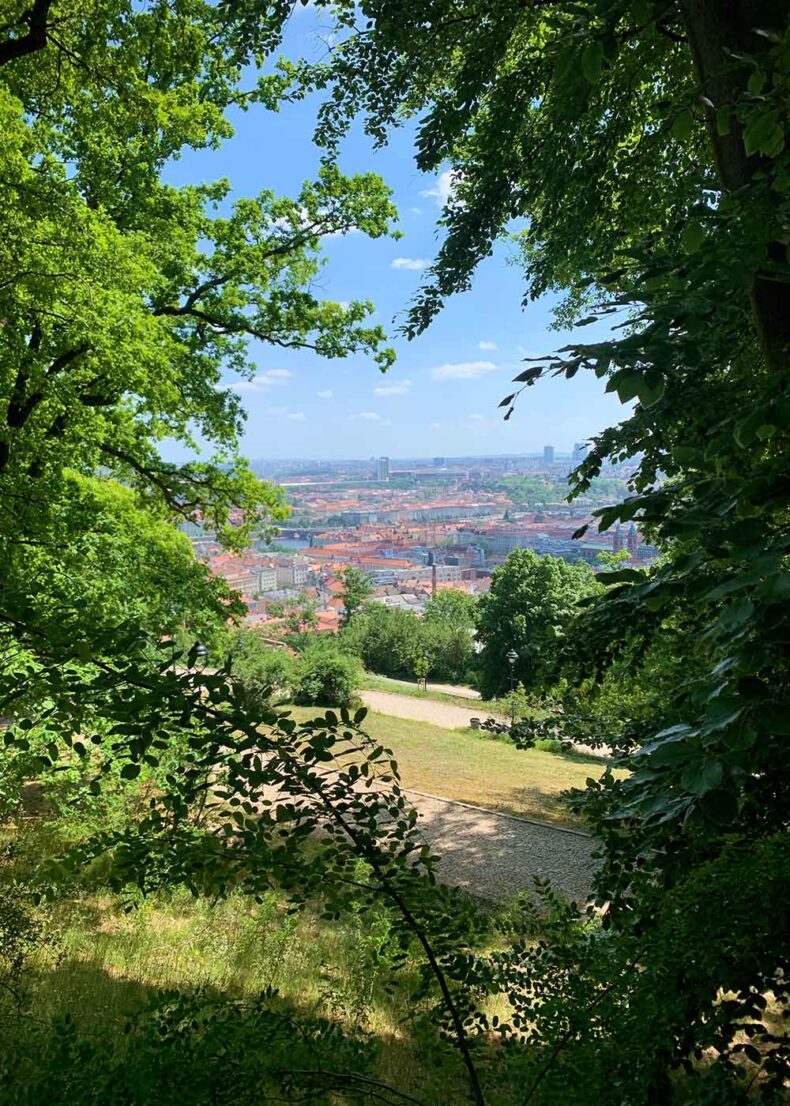 There are plenty of green spaces and parks to enjoy with your pet in Prague.
One of the most popular and easy to reach from the city centre is Letna Park, with breathtaking views over the city from the vast grassy areas and shady gardens. To get there, head north across the river.
Another fantastic spot is Petřín Hill east of the river in Mala Strana, where a miniature Eiffel Tower from the 1891 Prague Exhibition still stands.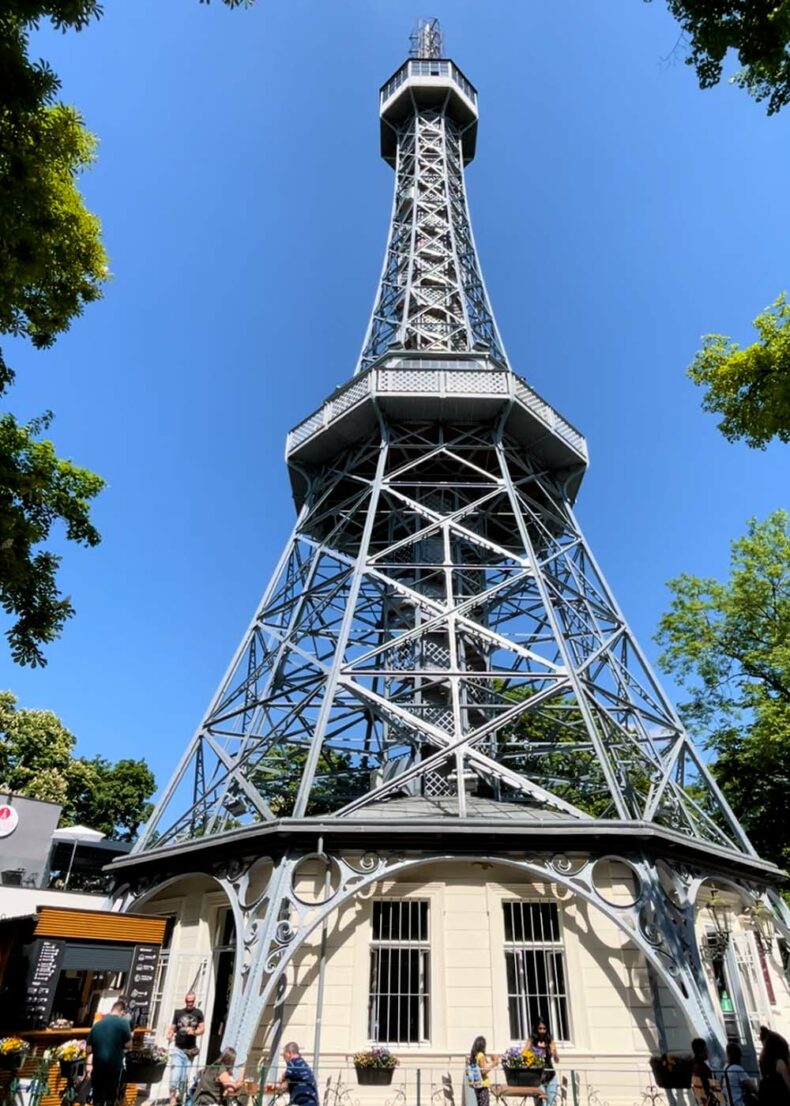 Finally, it's hard to leave Prague without relaxing with a crisp glass of pilsner beer – this is a capital of beer, after all.
Pilsner Urquell is the city's most famous brew, alongside the popular Kozel.
Both can be sampled at beer halls, bars, and restaurants across the city, most of which will also welcome your dog with a friendly pat and bowl of water.
Berlin, Germany: for the cool cats and dogs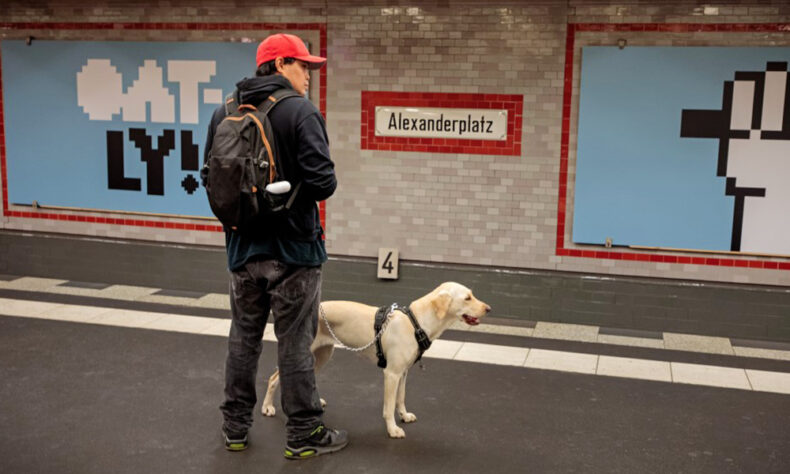 Berlin is one of the greenest cities in Europe, with boundless parks, gardens, and forests to explore with your four-legged friend.
Add in plenty of dog-friendly restaurants and laid-back locals who love animals of all kinds, and you've got one of the best city trips for you and your pet.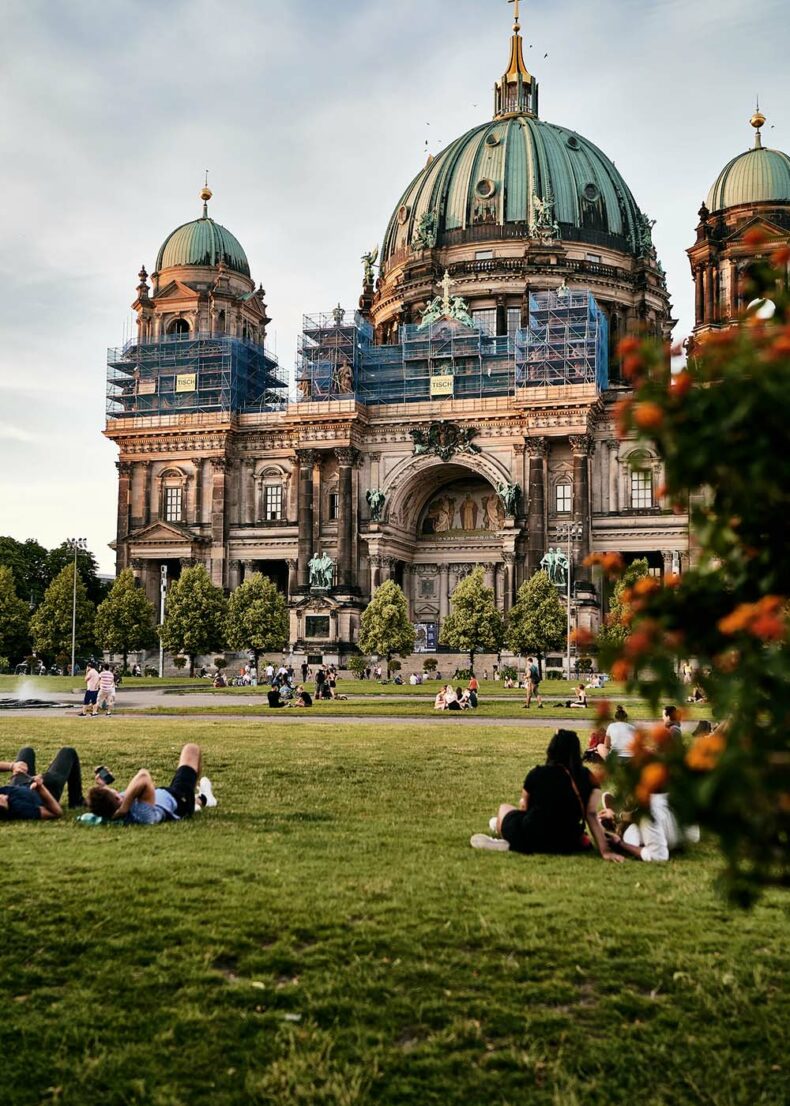 As you wander throughout this fascinating city, a leash is necessary. But there are also plenty of dog parks where you can let your pet run free and meet some new friends.
The city's most accessible area where you can let loose is Tempelhofer Feld, an expansive green space on the grounds of a former airport.
For an even bigger green space, head further into West Berlin and you'll find the popular Grunewald Forest. With boundless walking paths to discover, a beautiful waterfront, and a dogs-can-run-free rule, this is a great spot to discover with your pet.
Getting there doesn't have to be that difficult, either; pets are allowed on all public transport in Berlin. Small dogs must be kept in a suitable closed container, while larger dogs will need their own ticket (at a reduced cost, of course).
When you've worked up a hunger, there are plenty of pet-friendly restaurants across the city for you and your pooch to choose from. In fact, most restaurants, bars, and cafés welcome dogs with a friendly hello and bowl of water.
But this is Berlin, so it's time to join the locals and settle in for a cold beer. One of the most popular spots for pet owners looking for a cold brew is BRLO Brwhouse in the heart of Gleisdreieck.
It's a brewery, restaurant, and taproom all rolled into one, housed in 38 shipping containers.
The large beer garden out front is perfect for you and your dog, enjoying a craft brew and some of the brewhouse's specialty vegetarian cuisine or regional meat dishes.
Your dog might even make it onto the establishment's Instagram page for dogs TheDogsOfBRLO.
After a long day of exploring, collapse at Pestana Berlin Tiergarten, a dog-friendly hotel conveniently located right next to Tiergarten, another fantastic inner-city park to enjoy.
Text by James Taylor