A trip to the Baltics in winter is sure to leave you with unforgettable memories and a newfound appreciation for the beauty of the seasons.
The Baltics in winter are like a postcard coming to life, full of Christmas decorations, traditional markets, and the aroma of gingerbread and mulled wine.
Here are some of our favourite things to do in winter in Riga, Vilnius, and Tallinn.
Immerse yourself in historical beauty while also exploring the contemporary quarters, endless recreational activities, and the refreshing natural environment.
Latvia
A magical Christmas celebration
Legend says that Riga was the birthplace of the Christmas tree, and Riga is staying true to the myth – the city comes alive when it's covered in snow and Christmas lights.
Numerous Christmas markets and trees are scattered throughout the city centre, with the market on Cathedral Square (Doma laukums) being the most prominent one.
It features live music, several cosy cafés to hide from the cold, and marvellous local treats, from caramelised apples to classic grey peas with bacon – a traditional Latvian Christmas dish.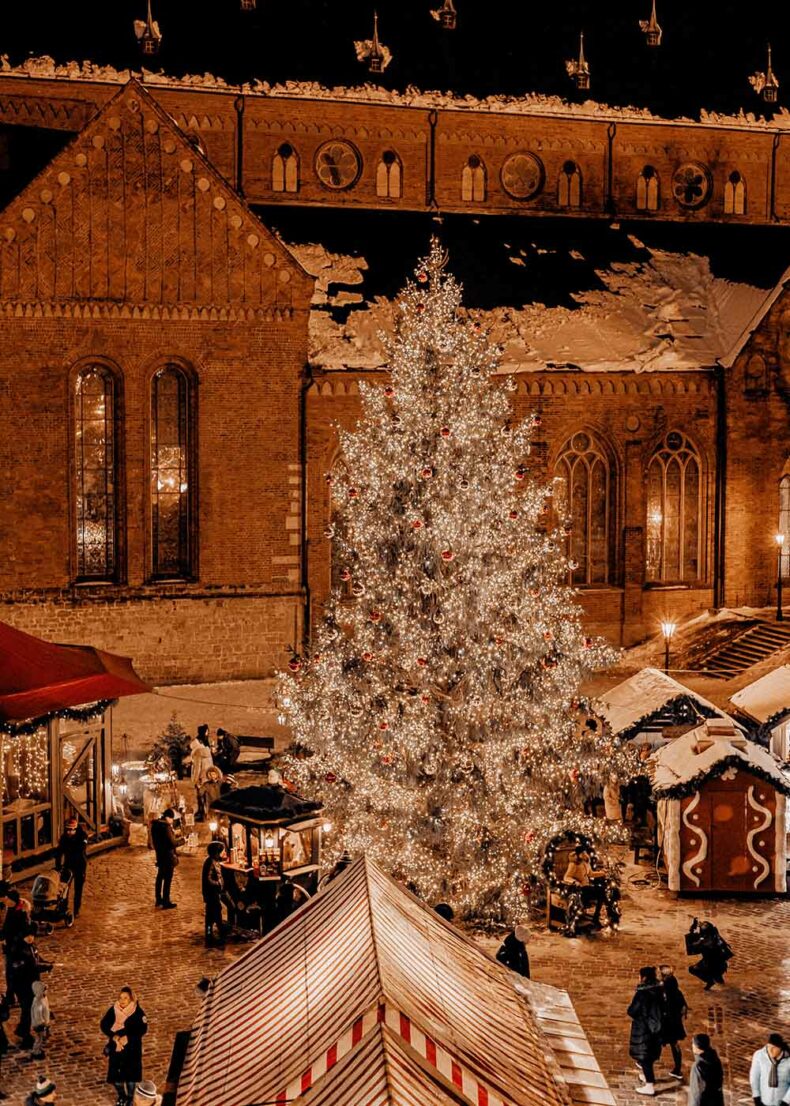 Meanwhile, the nearby Esplanāde Market has a rabbit farm to delight the little ones, a festive Ferris wheel, and a great variety of handmade goods for gifts. It's impossible to escape the Christmas cheer there!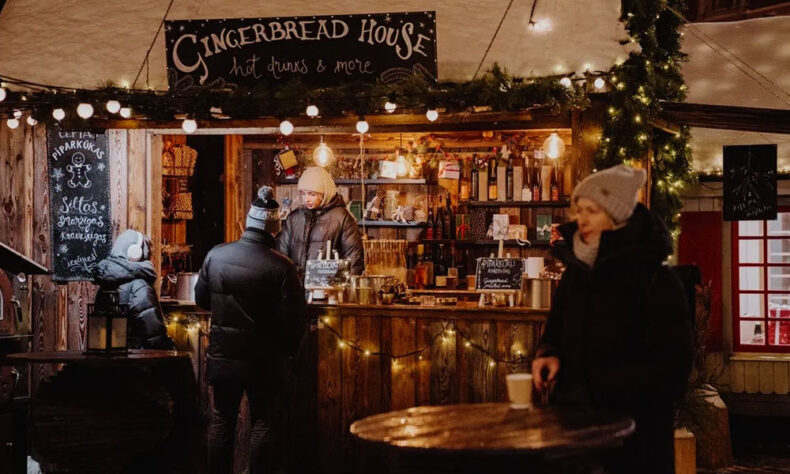 In addition to Christmas markets, for the second year in a row the beautiful Riga Christmas Lights Trail leads through the city centre and Old Town.
Follow it through the well-known parks of Riga from December 1 until February 5 to explore Riga in a different light.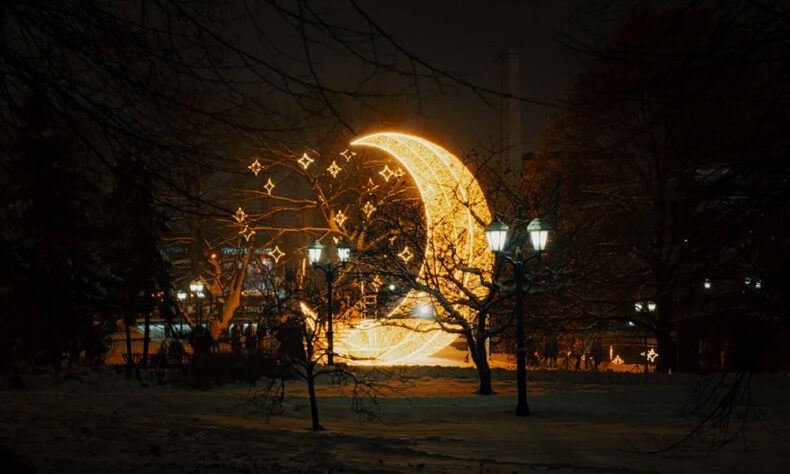 Each installation reveals a Latvian fairy tale, letting visitors to the city learn more about the country's rich culture while also seeing key sights.
The trail has already been recognised as one of the most magical Christmas festivals of light in Europe, as each installation combines beautiful handiwork, hundreds of thousands of Christmas lights, and ambient music.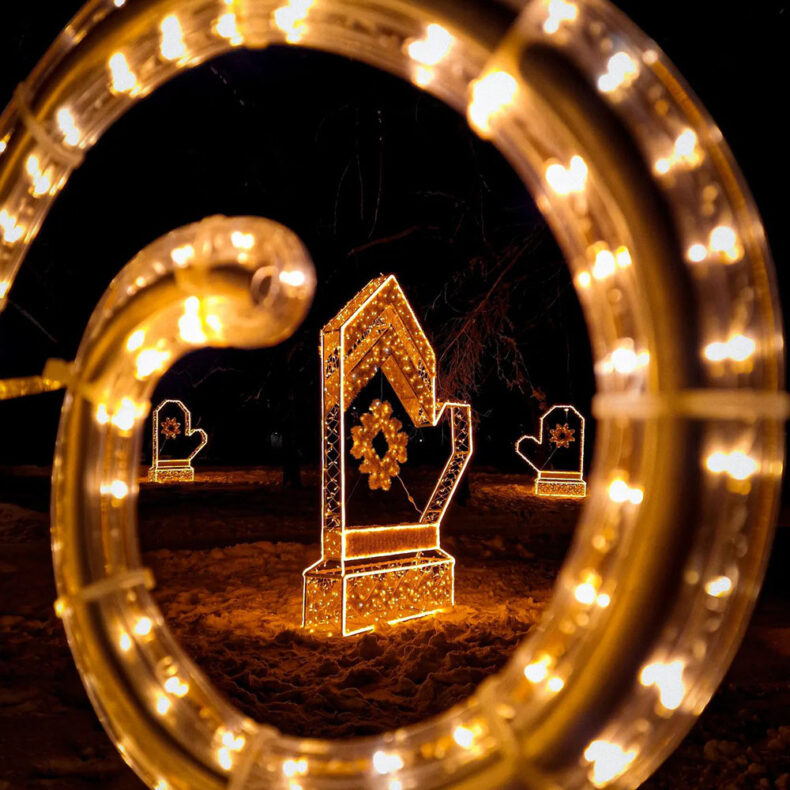 No visit to Riga at Christmas is complete without paying a visit to the Latvian National Opera.
The most prominent show is the classic New Year's concert. However, if you miss that celebration, don't worry – the opera has plenty of other magical spectacles on offer.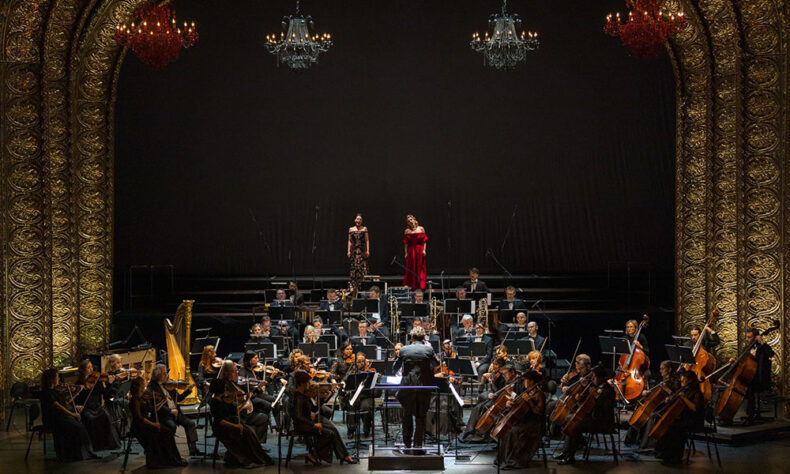 The Nutcracker ballet is presented all winter and will surely put you in a festive mood, especially if Christmas proper is already over and the cold weather demands an additional boost of happiness.
A romantic stroll through Art Nouveau
Riga is famous for its Quiet Centre (Klusais centrs), which is full of unique Art Nouveau-style buildings.
The extravagant façades, life-like sculptures, and magnificent details can sometimes be hidden by the trees in summertime, but in winter one can finally capture the detailed beauty of each building!
The most prominent sights in the Quiet Centre are found on picturesque Alberta iela. Although quite short, every house on this street is a work of art.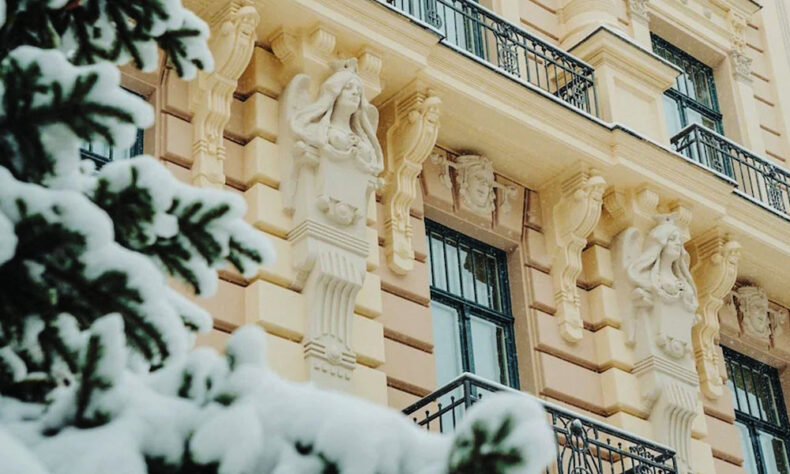 If the cold becomes unbearable, combine the revolutionary discovery of artificial heating and culture in the nearby Art Nouveau Museum. It presents the history of this city quarter as well as unique pieces of art that portray the artistic movement in Latvia.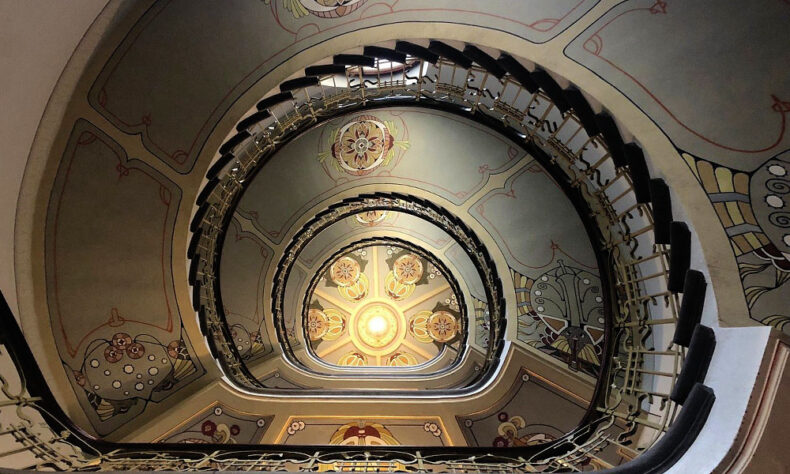 Another unforgettable Art Nouveau-era site is the historical Splendid Palace cinema, which celebrates its centenary this year.
Its Neo-Baroque façade with bronze sculptures hides an intriguing Neo-Rococo interior and exotic paintings, drawing parallels to the famous Palace of Versailles.
The cinema is still operating, so pick a movie – a lesser-known one or perhaps a popular blockbuster – and spend an evening in this historical beauty!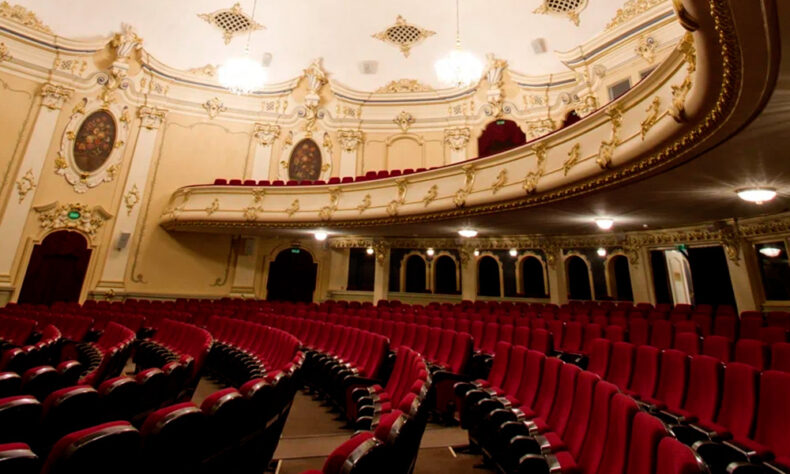 Splendid Palace overlooks the romantic Vērmanes Garden. Children playing in the snow, couples strolling through with cups of mulled wine or hot coffee, and a high-quality restaurant with heartwarming food – Vērmanes Garden is a magical slice of winter paradise in the middle of the city.
The Whitehouse restaurant is an atmospheric place in the park for long conversations, delightful evenings, and a memorable gourmet experience.
Its vast variety of Asian and European dishes will make you come back for all of your winter dinners. Make sure to try the exceptional seafood.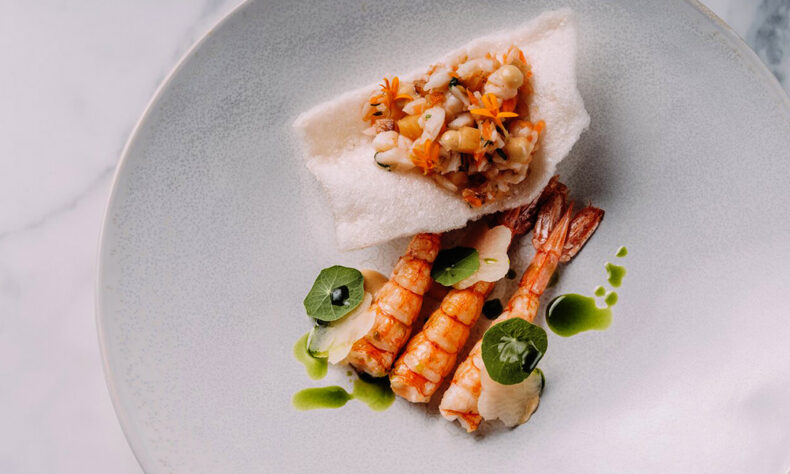 A cosy evening with art and jazz
It's never too cold for a night out at an old brewery, right? The Briāna Quarter is the new hip place among Riga locals, featuring the M/Darbnīca jazz bar, which often hosts jam nights and concerts, the beloved Labietis beer bar, the industrial Desiņas un mīdijas café serving only mussels and sausages, and numerous other establishments for an eventful night.
Located on the grounds of the historical C. C. von Stricky Manor and brewery, this quarter has an air of modern trends and centuries-old architecture.
Put on a comfy sweater, order a warm drink with cinnamon or ginger, and experience a Riga winter night just like locals do!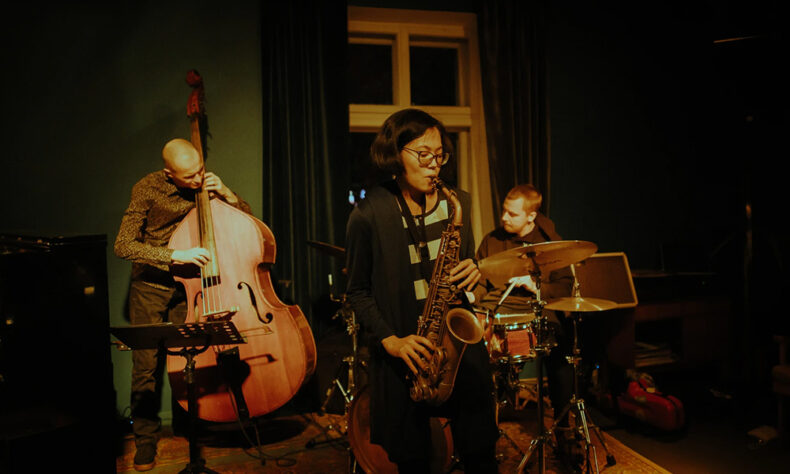 Winter is a great time to catch up on the newest activities in the arts. Riga has plenty of independent art museums to feed your creative soul.
For example, the remarkable Zuzeum contemporary art centre houses the largest private art collection in Latvia.
Its minimalist interior in combination with the unique artwork provides for a fine afternoon activity accompanied by a delicious pastry in the museum's café.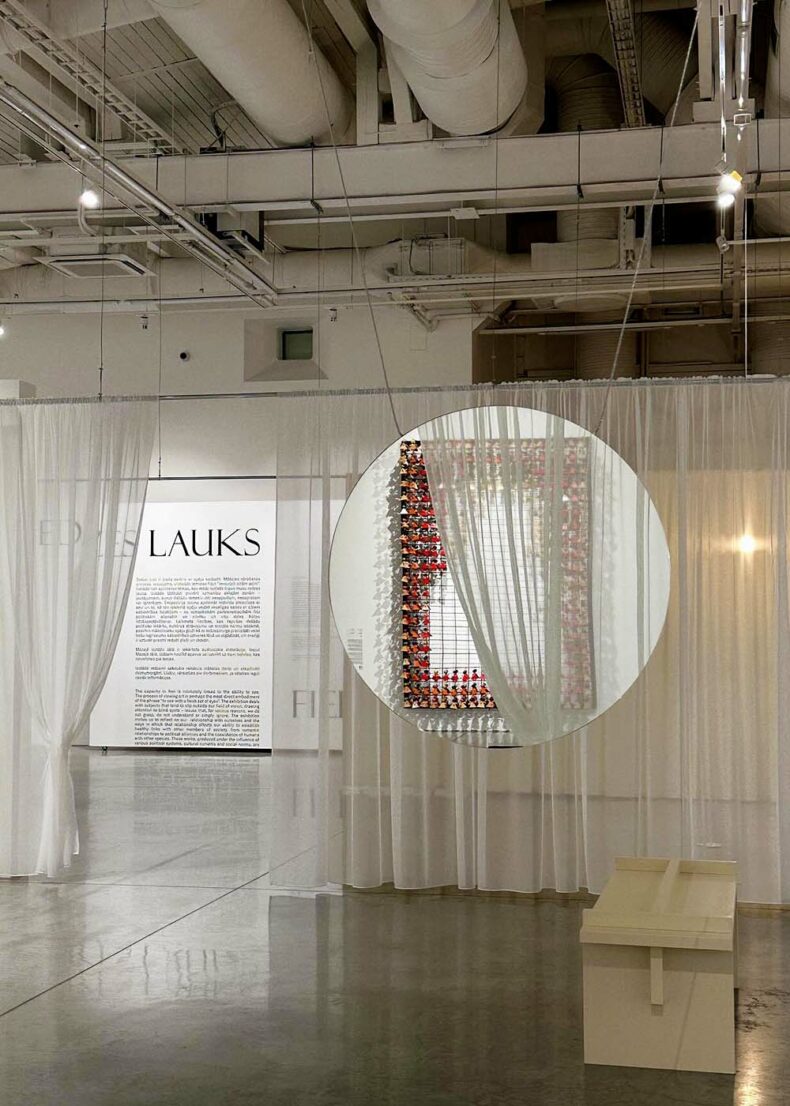 kim? Contemporary Art Centre is located in an old industrial quarter now dubbed Sporta Kvartāls.
A ten-minute walk from the Old Town will bring you to its gallery, which is full of artwork by up-and-coming Latvian artists.
The owners are constantly at work on expanding the exposition, providing delightful surprises for even the most frequent visitors.
A well-deserved spa holiday
Yes, the Baltics can be cold in winter. And there's nothing better than inhaling some of that fresh cold air after spending a good few hours in a hot sauna or jacuzzi.
The best contrast between warm water and cold air can be felt at the Espa Rīga spa centre.
This luxurious spa is located in the heart of the city and, in addition to its variety of saunas, jacuzzis, and massages, it has a heated open-air pool on the roof. Experience the unique shock of winter air on your face while you're immersed in warm water!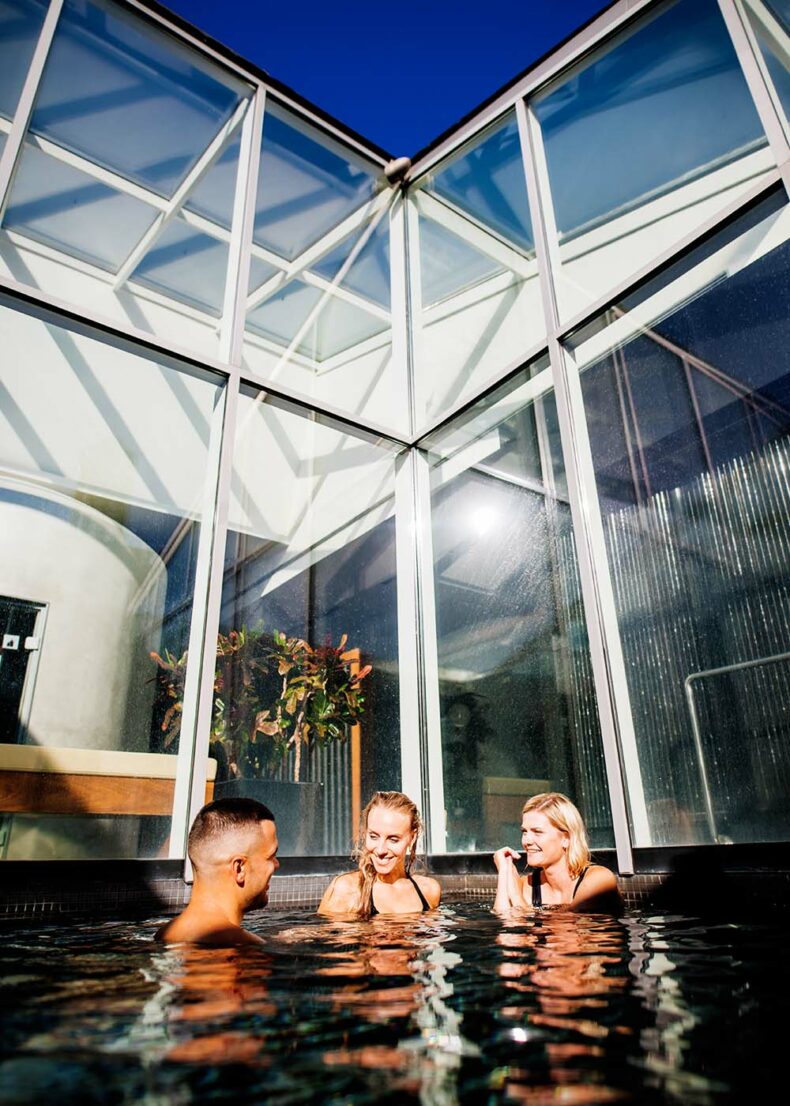 Latvia has much more to offer in winter besides just Riga, so make sure to take a train or bus ride to the nearby city of Jūrmala to see snow on the beach. Although the Baltic Sea does not freeze in winter, its shores are still a great place for a windy but refreshing walk.
Finish that walk along the sea with an intriguing spa procedure at Hotel Jūrmala Spa, which offers amber-infused massages.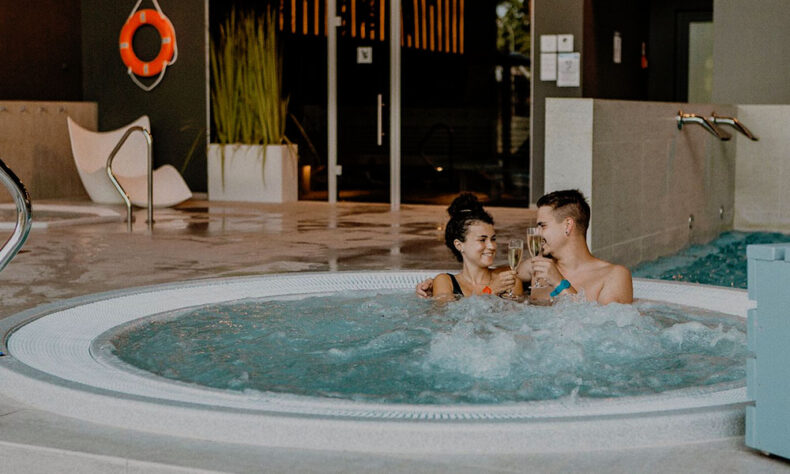 Alternatively, escape the city lights and hide in a snow-covered cottage far away amongst the trees.
Located a 90-minute car ride from Riga, Annas Design Hotel Spa is the ideal destination for a winter forest getaway.
Its rooms and suites are designed in a cosy, minimalist style, and the fireplaces are perfect for curling up next to with a cup of steaming hot chocolate. Add to that a few spa procedures followed by a romantic candlelit dinner, and it will be an evening to remember.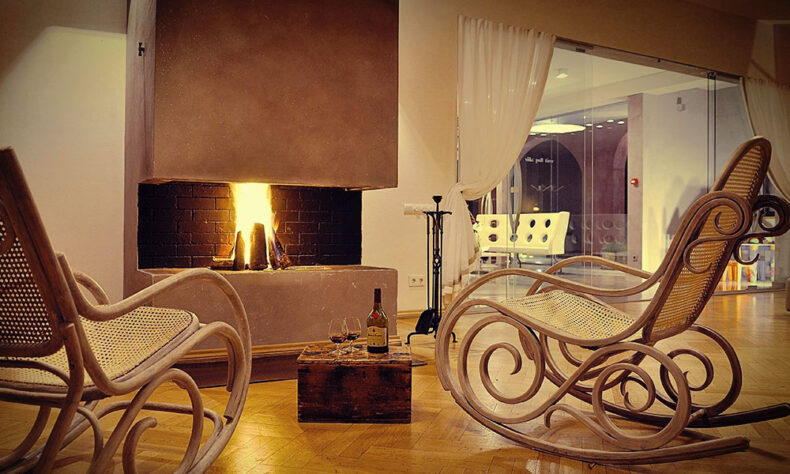 Did you know that bogs cover around 5% of the area of Latvia? Winter is a good time to explore these natural beauties.
For even more beauty and pink-purple skies, schedule a tour at sunset. Choose one of the many bogs in Latvia, rent snowshoes, and experience untouched wintertime nature!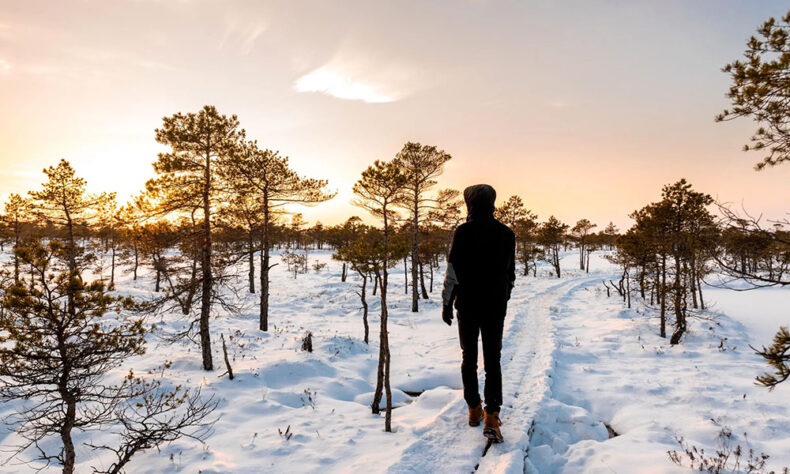 Lithuania
Atmospheric Christmas shopping
Authentic charm in combination with outstanding decorations and unique handmade gifts? Vilnius has it all!
A lavish Christmas tree overlooks the Cathedral Square Christmas Town, which provides a grand variety of mouth-watering dishes and Christmas gift ideas.
Its wooden houses make one feel as if having stepped into a modern Christmas fairytale and believing in Santa Claus again, while the Christmas tree itself is often considered one of the most beautiful ones in Europe.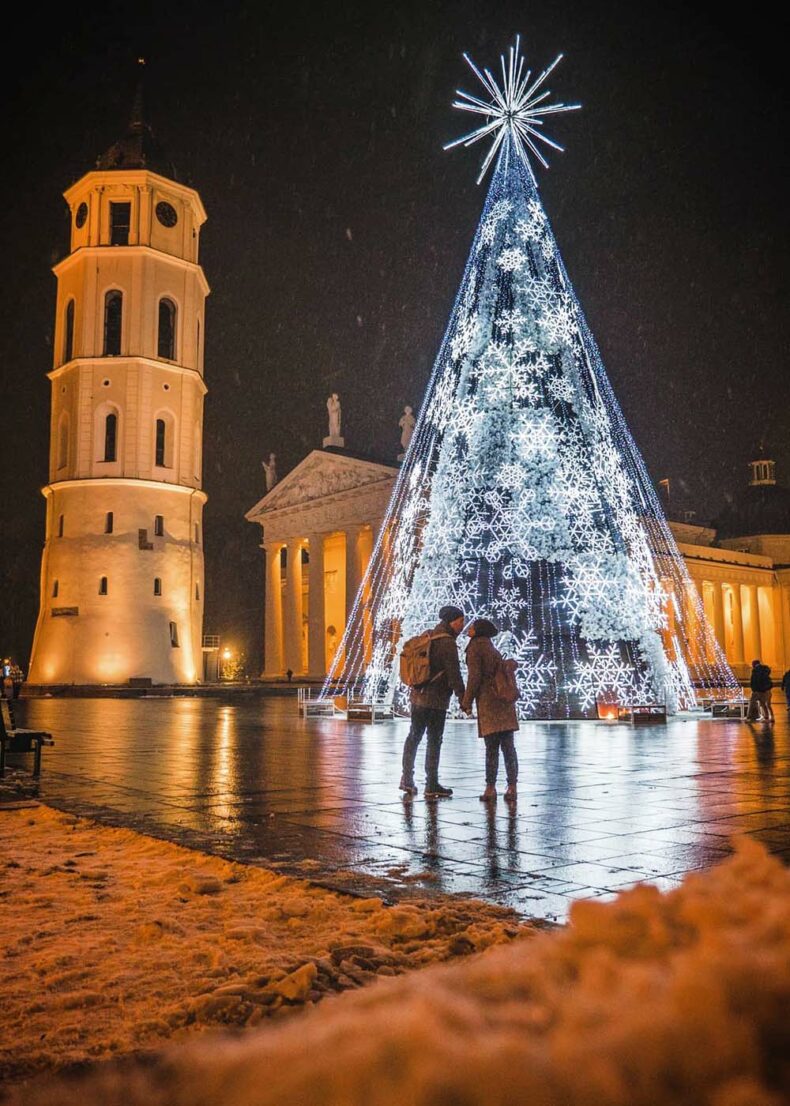 Head to nearby Vincas Kudirka Square for Vilnius-made gifts with a personalised touch and also the opportunity to meet their lovely creators.
This stylish market is the right choice for anyone still seeking a unique gift or an unmatchable souvenir from Christmas in Vilnius. Take a piece of Lithuanian sincerity and warmth back home with you!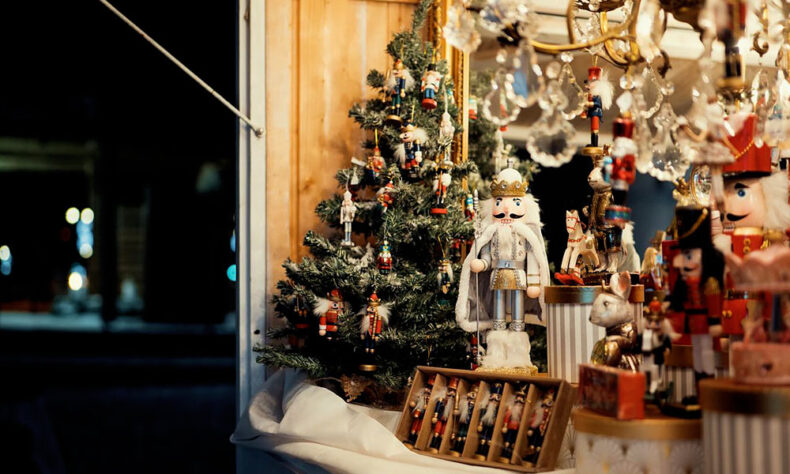 The whole Old Town is lit up in colourful Christmas lights thanks to the annual Christmas in Vilnius festival of light.
The lights lead visitors to other marvellous decorations and events Vilnius offers, fully embracing the festive cheer and footsteps in the snow.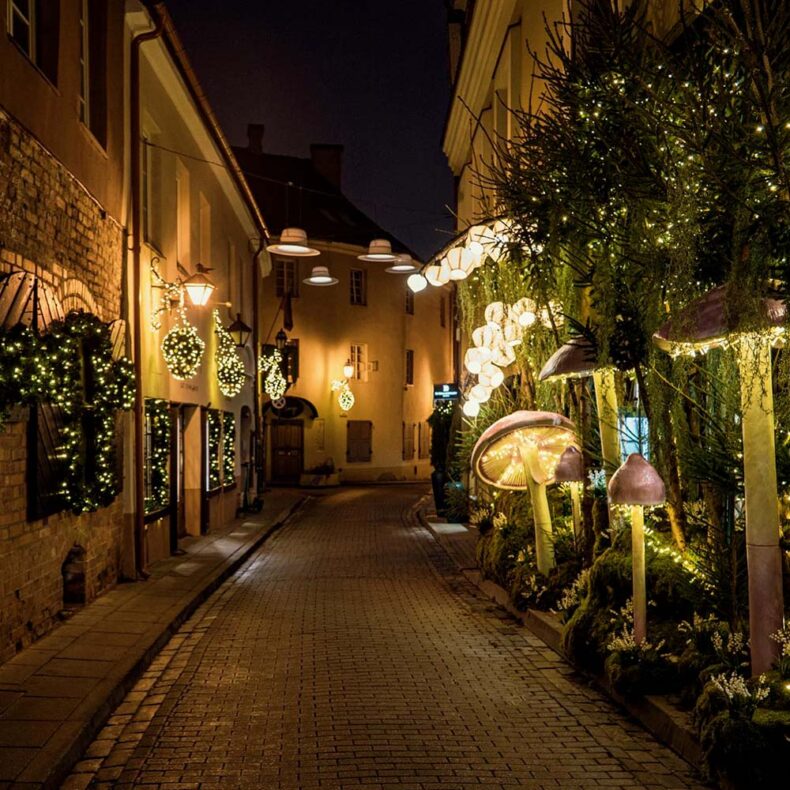 Those with a sweet tooth ought to visit the charming Ponių laimė café and bakery.
This paradise of desserts is like Christmas in a building, with an impressively decorated exterior of gigantic candy canes and Christmas trees that invite passers-by in for a hearty treat.
Picture-worthy cakes and cookies as well as high-quality European dishes will make you want to return!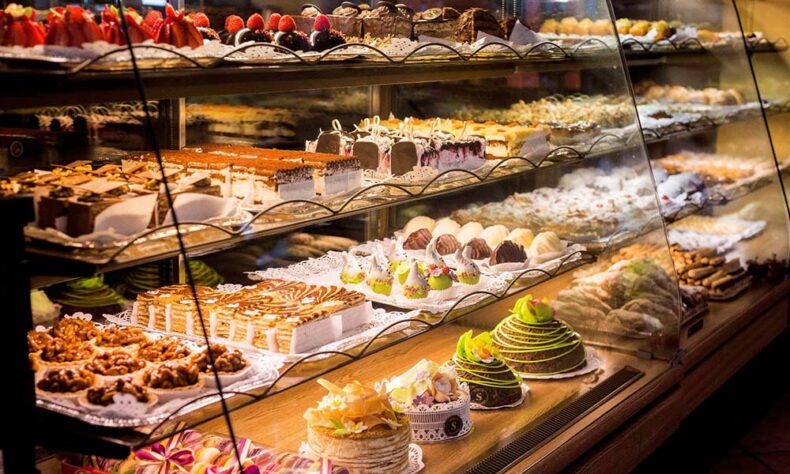 A royal journey through history
The centre of Vilnius is full of monuments and historical buildings to visit. Vilnius was the capital of the Kingdom of Lithuania back in the 13th century, and some of that majestic charm and pride can be still felt here today.
In winter, a contemplative walk around the royal grounds of the Vilnius Castle complex makes one feel like belonging to a royal family.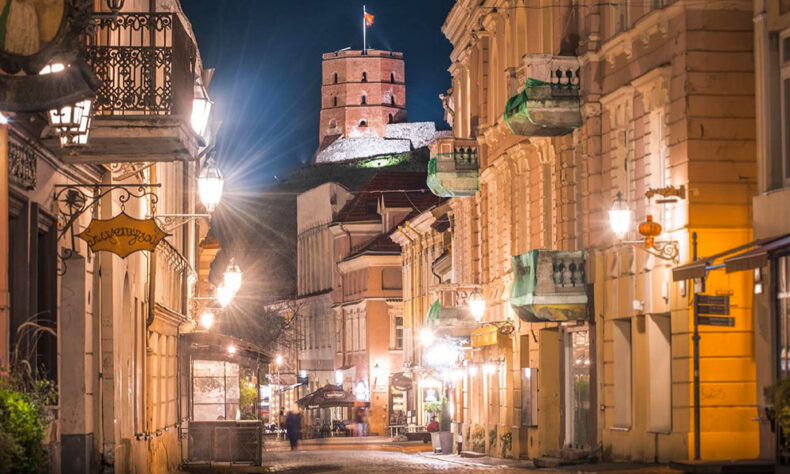 Photo by Gabriel Khiterer on Instagram
The best view of Vilnius and the Neris River flowing through it can be seen from Gediminas Tower, which rises above the Old Town. The view provides a visual trip back in time, as Vilnius has successfully integrated its old buildings into the ever-growing uptown.
To enhance the atmosphere, count all of the snowflakes dancing downwards and feel the northern wind in your hair!
The grand Vilnius Cathedral is one of the most prominent landmarks in Vilnius, and it's no wonder why – the white walls and impressive dome take on a completely different light in wintertime.
Its vast square is a popular meeting point for locals, and you'll often see people impatiently loitering in the square, waiting for a loved one to arrive for a romantic stroll through the Old Town.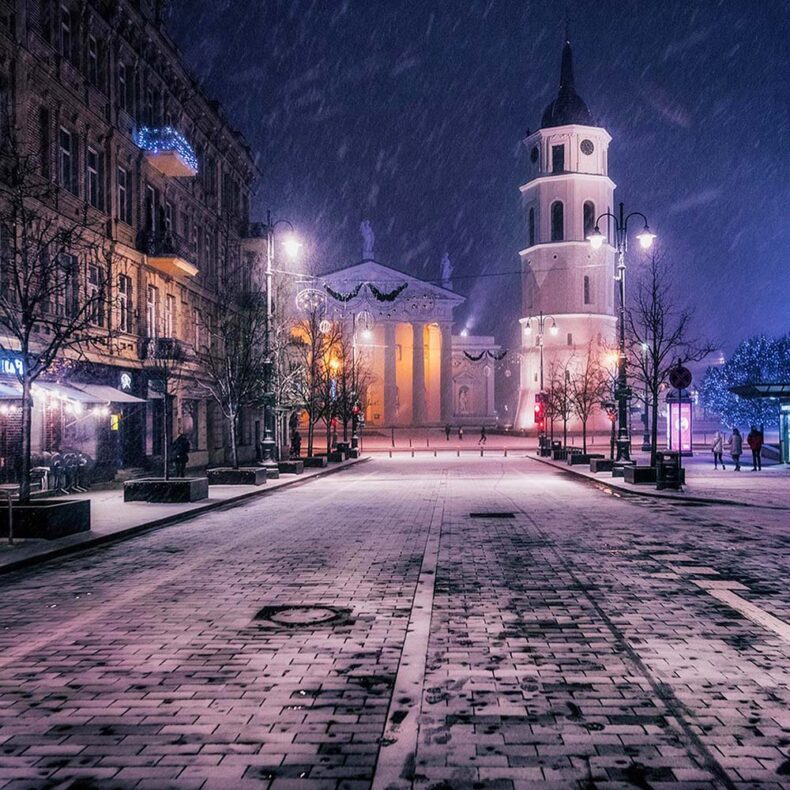 Nothing says 'winter' better than a hearty meal, and that's something Lithuanians are seriously good at. Vilnius is full of classy restaurants to finish the day on a traditional yet luxurious note.
Ertlio Namas takes guests through centuries of historical Lithuanian flavours with a new twist.
After visiting the impressive medieval castle complex, a gourmet take on the recipes that Lithuanians have prepared for centuries is a must-do.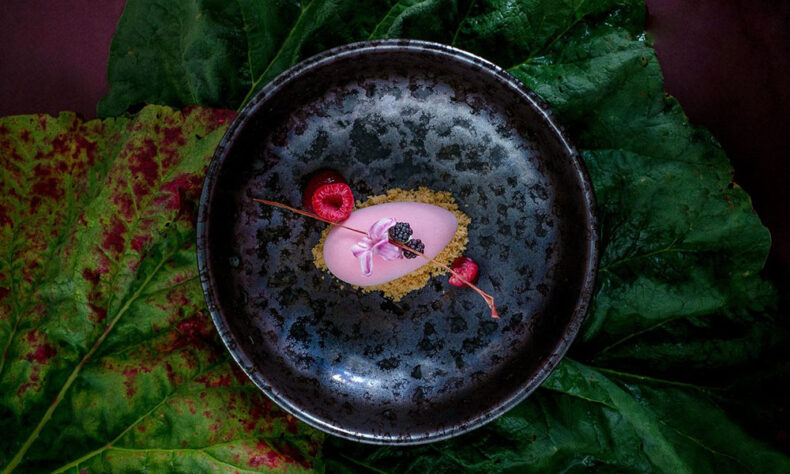 Funky things not to miss
Did someone say, 'I wonder what a contemporary winter would look like?' Look no further!
Nothing says 'contemporary winter' more than an ice-skating session at a former Soviet prison. Lukiškės Prison is a key winter destination for those seeking an outdoor activity in the city centre.
Combine that activity with a tour through the prison to experience the feeling of a 20th-century detention centre.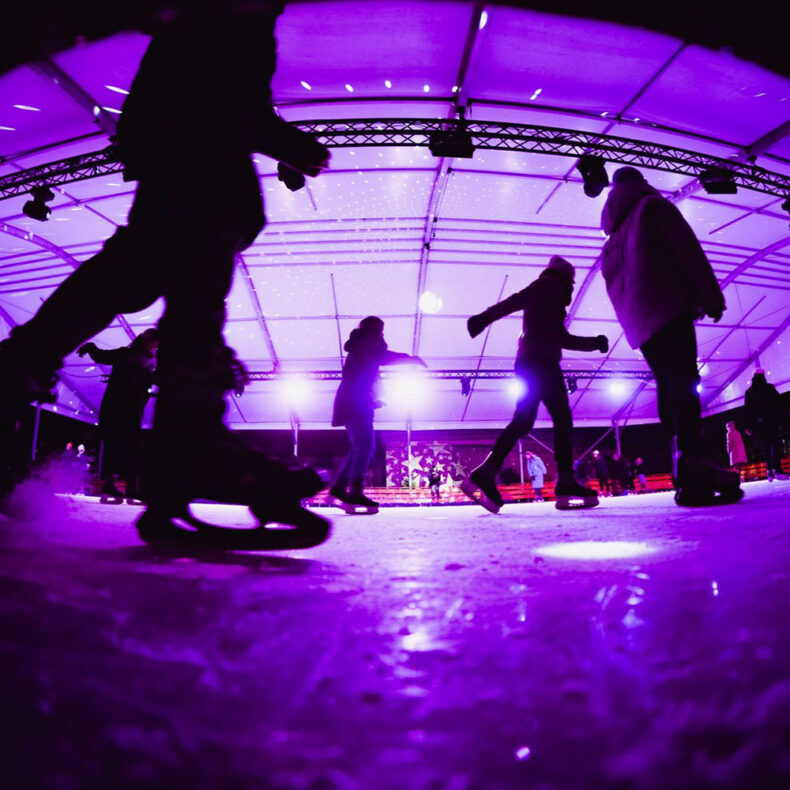 Photo by Rytis Seskaitis on Instagram
For art lovers, the mythical Užupis area in the Old Town is a beloved place for a walk.
This alternative neighbourhood is often compared with Montmartre in Paris and Christiania in Copenhagen, thanks to its grungy architecture, revival of post-modern buildings, and various atmospheric cafés.
The gloomy winter weather nicely complements these cool streets, making a stroll through the neighbourhood an exciting experience.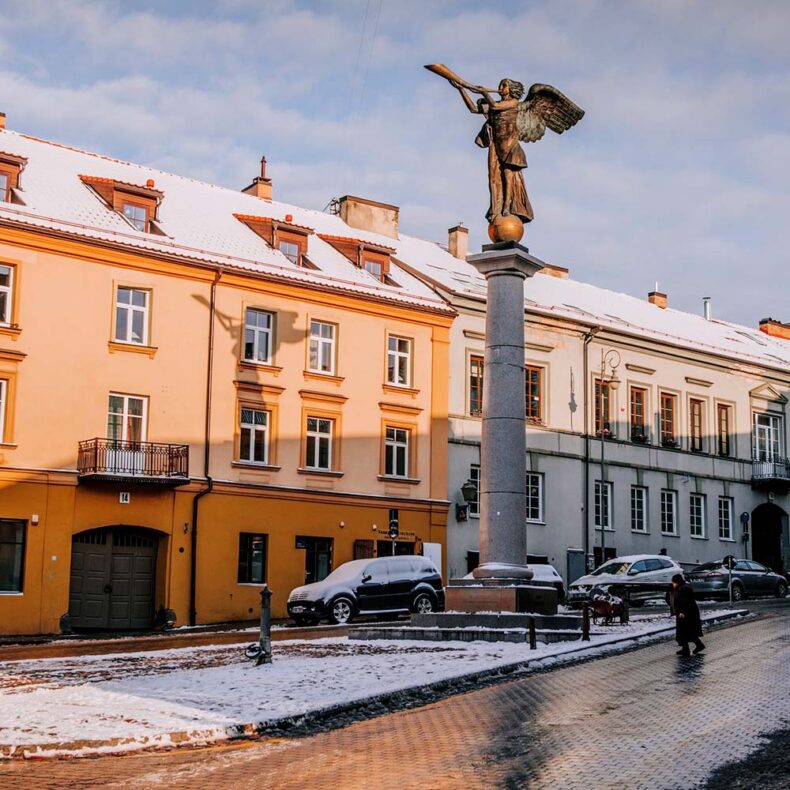 Photo by Patryk Biegański on Instagram
Hide from the cold in a cultural manner by paying a visit to the MO Museum. This museum of modern and contemporary art is located in the city centre and houses the freshest trends in Lithuanian art.
The building itself is a minimalist work art – a gigantic cube with a futuristic cut for an entry.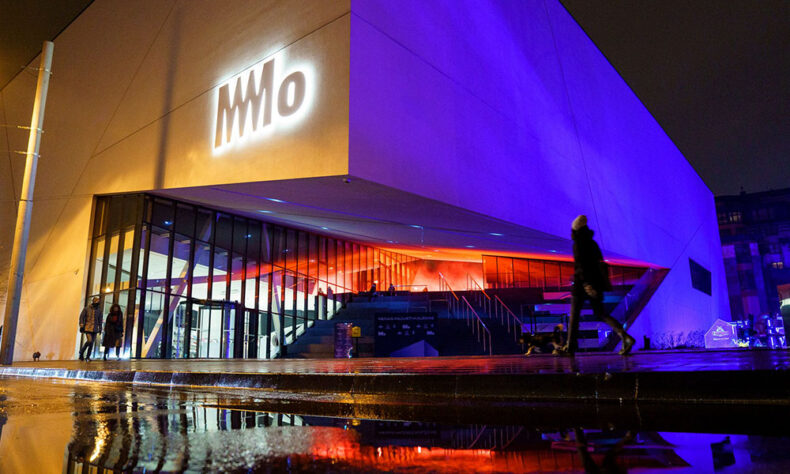 Photo by Rytis Šeškaitis on Go Vilnius
Brick walls, bright windows, and fairy lights lead people to Senatorių Pasažas, a historical passage that has recently been turned into an expansive food court. Two restaurants, numerous cafés, and shops focus on local products, sourcing all ingredients from organic farms around the country.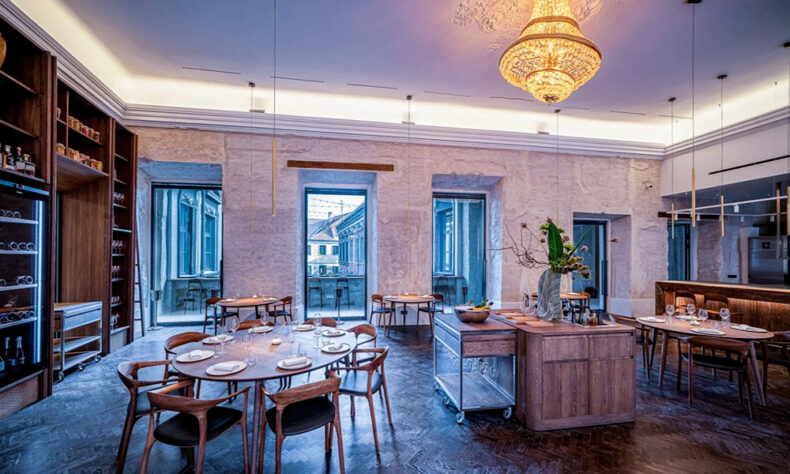 Winter therapy on the unique Curonian Spit
Astonishing winter sun and bright white snow create the perfect conditions for an active day outdoors! Jump into a car and proceed to the local natural miracle of the Curonian Spit at the western end of Lithuania for a unique winter sea experience.
Once the Curonian Lagoon is completely frozen, it's time to rent an ice boat and go on a sailing adventure. Available only in winter, this activity will put a big smile on your face and give you such a boost of adrenaline that you'll want to repeat it every year.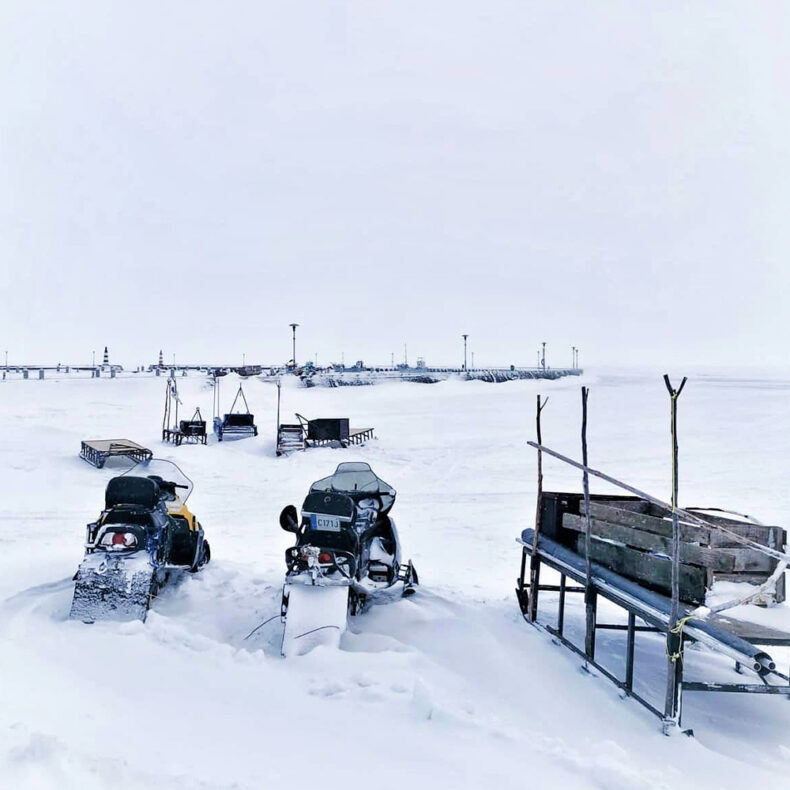 If outdoor activities in winter are not your cup of tea, opt for a literal cup of tea at one of the many recreational centres in Lithuania.
The famous Egles sanatorija medical spa is located southwest of Vilnius and attracts people from all over the Baltics for the highest-quality massages and relaxation.
Numerous saunas, pools, and tailored treatment programmes will make you leave the spa feeling like a brand-new person.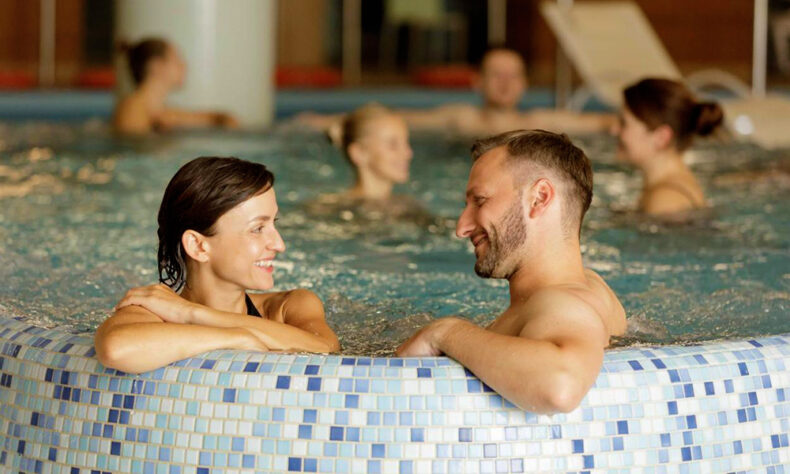 Warm up your body inside and out at the exclusive Nidos Kopos amber massage centre in Vilnius.
While amber is a popular souvenir that can be purchased on every other corner, its healing properties come in especially handy during wintertime. Tank up on amber powder, oil, sand, balm, and warm amber sachets to keep a bit of sunshine with you during the dark winter.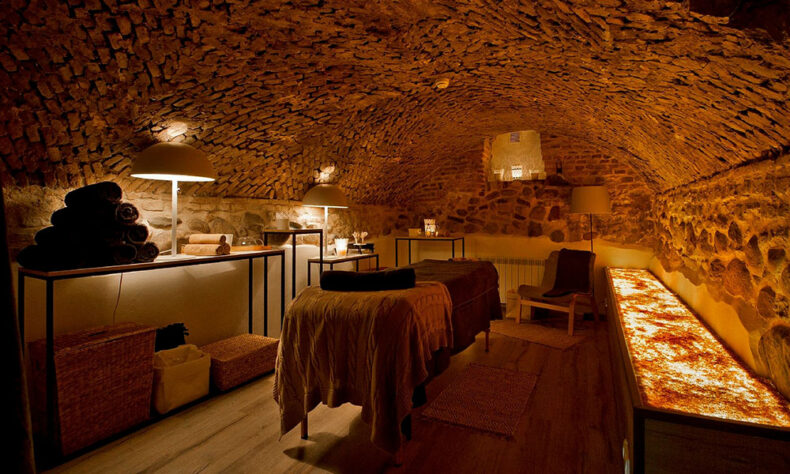 Estonia
Christmas traditions meet Michelin
Besides the Christmas markets in the Old Town, the largest traditional Christmas party in Tallinn takes place at the Estonian Open Air Museum.
Because winter has historically been the slow, calm season of the year, the museum takes advantage of this time to focus on community and celebrating togetherness.
Don't miss the opportunity to participate in handicrafts, try out traditional Estonian children's board games, and taste the delicious Estonian take on mulled wine, called glögi.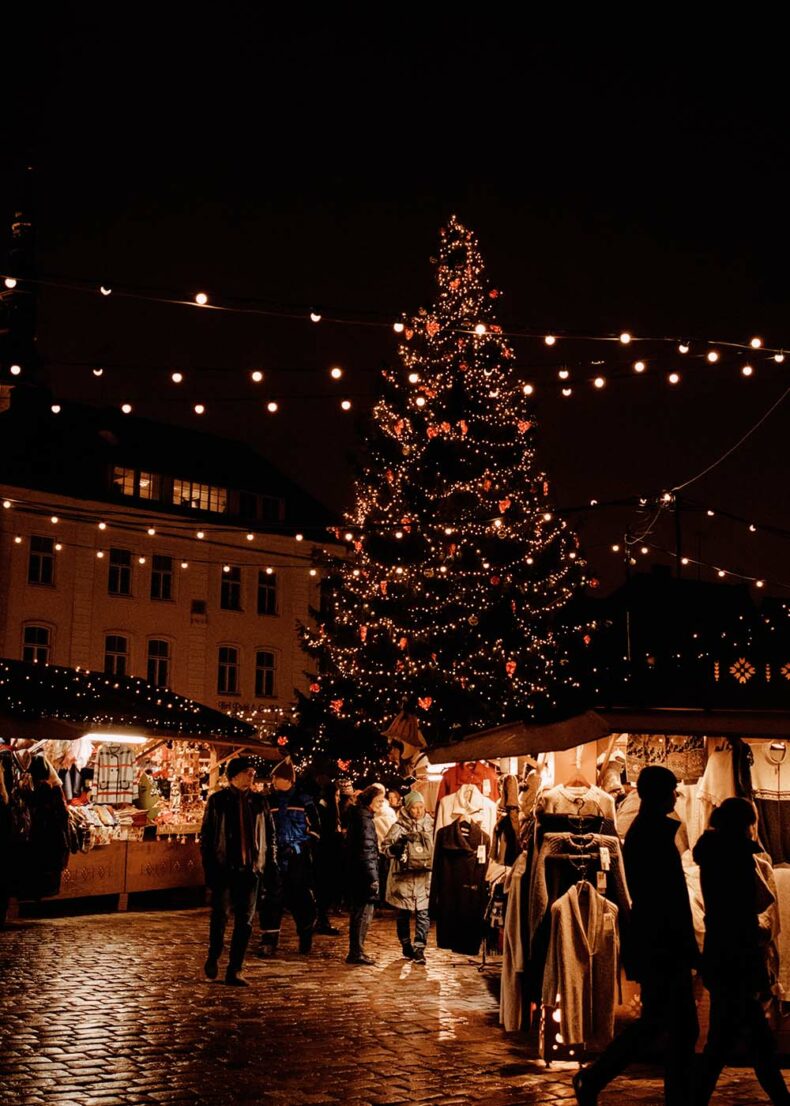 The aroma of gingerbread is present on every street thanks to the traditional Gingerbread Mania exhibition that takes place at the Design and Architecture Gallery.
Around one hundred artists create miniature houses, jewellery, and even clothing from the Christmas season's favourite treat, gingerbread.
If you're feeling extra hungry after the exhibition, grab a cookie in the museum's café.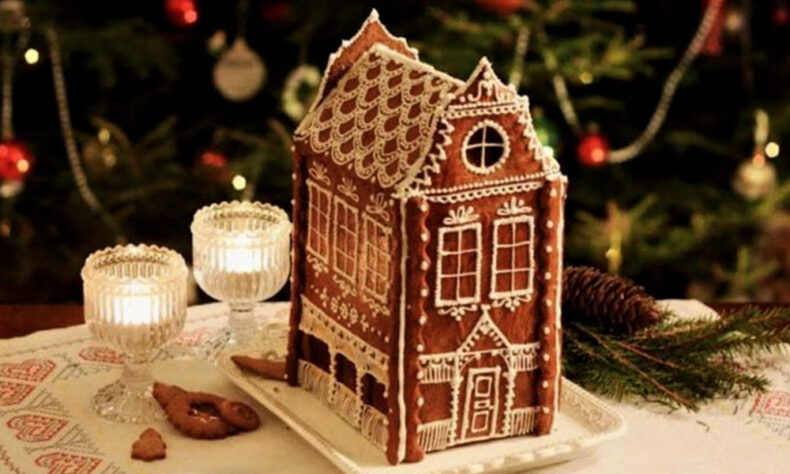 Don't miss the jazzy Christmas tunes that take over Tallinn from November 29 to December 15, when the long-awaited Christmas Jazz Festival takes place.
Various concert halls all over the city turn into winter wonderlands welcoming locals and tourists alike to experience Christmas miracles in a modern sound.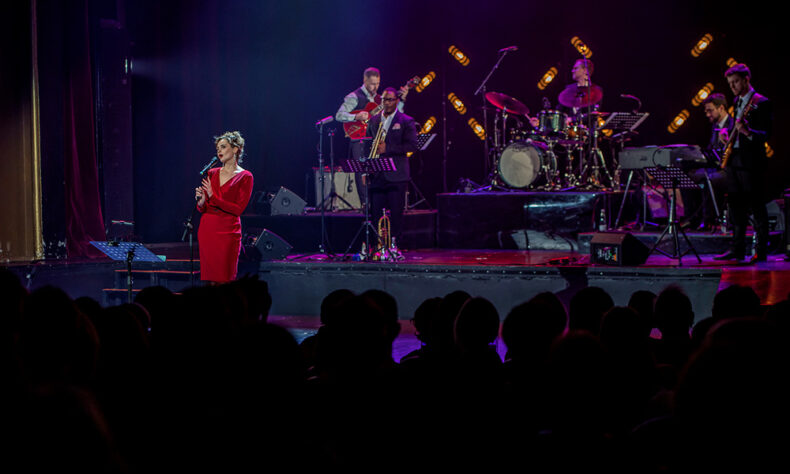 Photo by Festival Jazzkaar on Flickr
With fewer people, yachts, and attractions, the seashore might seem empty in winter. But this also means that it's free again, wild and untamed.
Watch how your feet leave marks in the untouched snowy sand and then explore the delicious restaurants near Port Noblessner for an unforgettable trip into the world of flavours.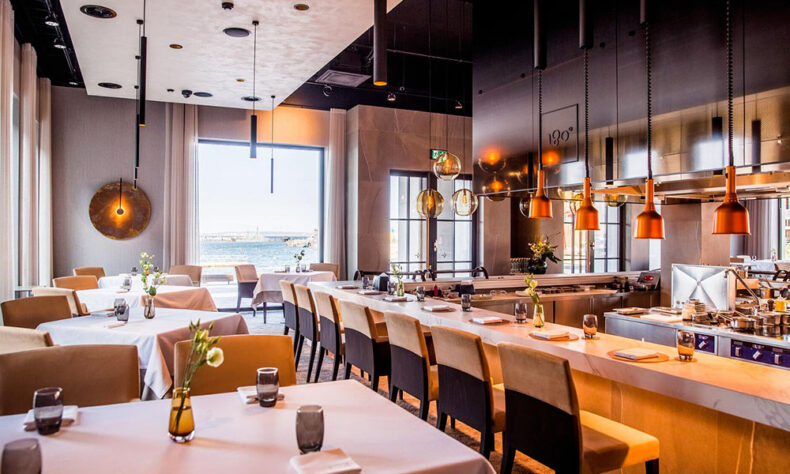 They include two Michelin-starred eateries: 180° by Matthias Diether and NOA Chef's Hall.
Charming medieval experiences
While Tallinn is a city full of trees and parks, once the leaves fall, the true colours of the city appear, revealing an outstanding array of historical buildings and narrow cobblestone streets.
The Old Town looks especially charming from the top of the medieval towers, named Tall Hermann, Maiden Tower, and Fat Margaret.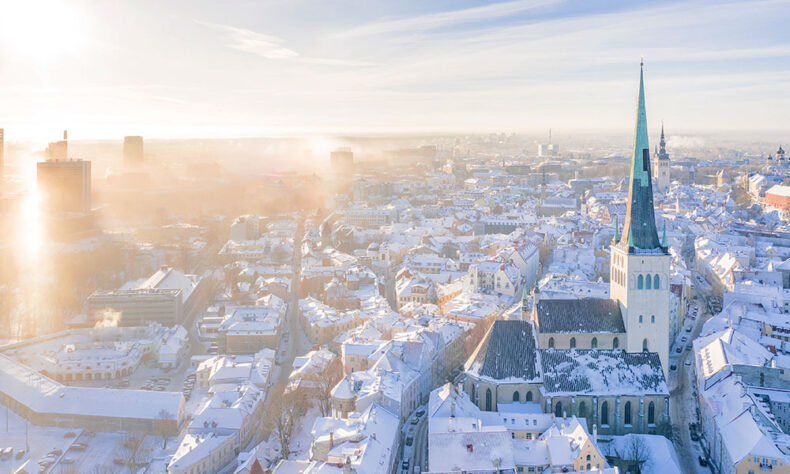 Medieval themes with welcoming fireplaces and lavish outfits are present in the restaurant industry as well.
For the most authentic medieval Estonian dishes, pay a visit to the Olde Hansa restaurant in the Old Town. Recipes securely kept for around 700 years seem like a truly delicious Christmas miracle.
To linger in the magical fairytale sentiment, a few buildings down is another medieval gem, III Draakon. This dark, secretive tavern provides a mystic atmosphere and hearty food to warm up after a long expedition through the snowy city.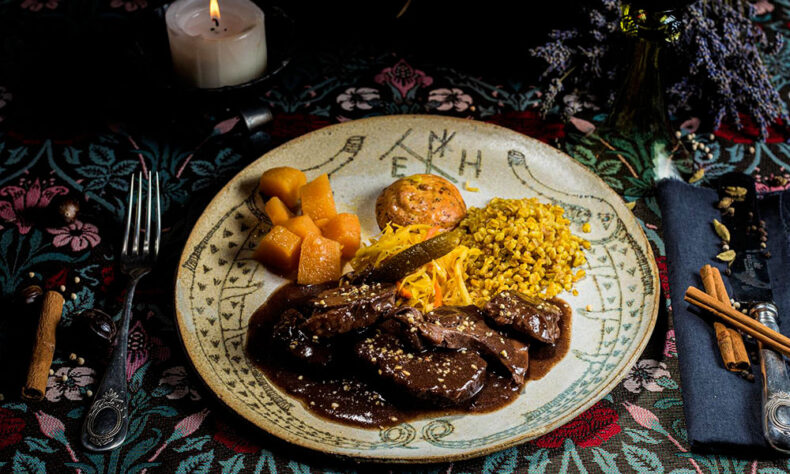 The most romantic gatherings and lavish celebrations in Tallinn historically must have taken place at the graceful Kadriorg Palace.
The Baroque-style castle was built in the 18th century and is now open to visitors as an art museum.
Its dreamy interiors and exterior exude particular charm in winter, when their bright colours contrast with the grey environment all around. A piece of French chic in combination with the harsh northern winter has never felt so breathtaking.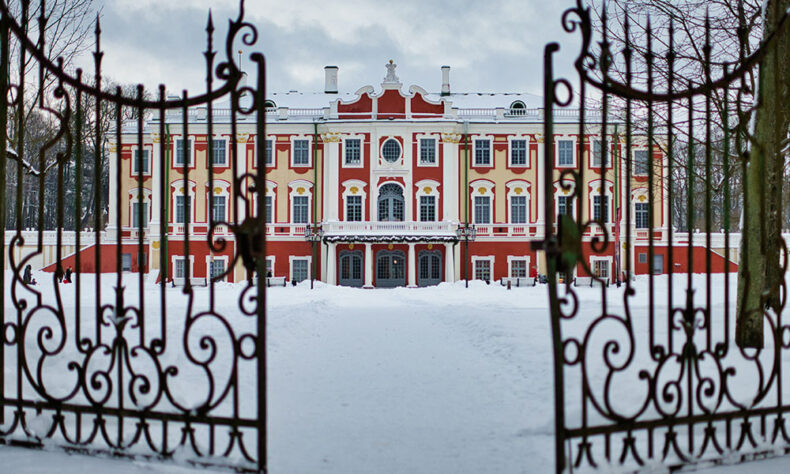 A paradise of street food
From traditional sauerkraut and oven-roasted potatoes to juicy burgers and crispy fries, Tallinn's food scene has something delicious for every taste.
Viru Food Hall and the Balti Jaam market fill up with people leisurely tasting goods from local farmers, teenagers spending their Christmas-gift budget on top fast-food items, and visitors to the city wandering around in awe of the many treats right under their noses.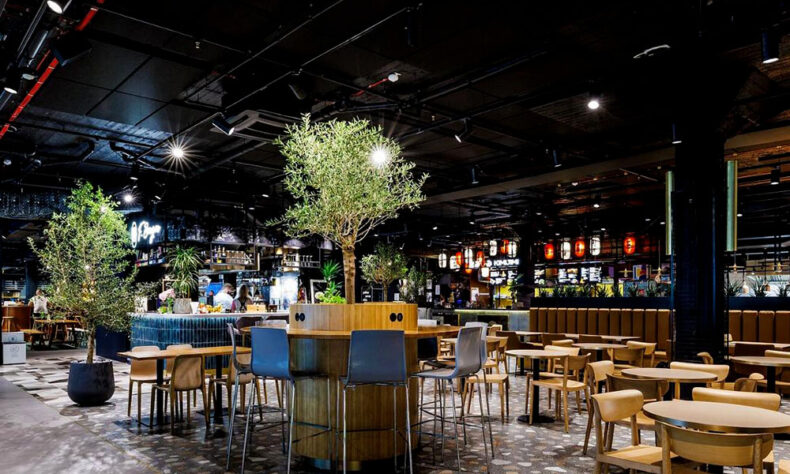 The industrial Telliskivi Quarter gathers Tallinn's creative youth and those seeking local design items.
Full of avantgarde murals and tiny cafés where people squeeze in to warm up during the cold weather, Telliskivi is a must-visit in any season. Its main landmark is the Fotografiska Tallinn photography museum, whose exhibitions force visitors to think out of the box and see the world from a different perspective.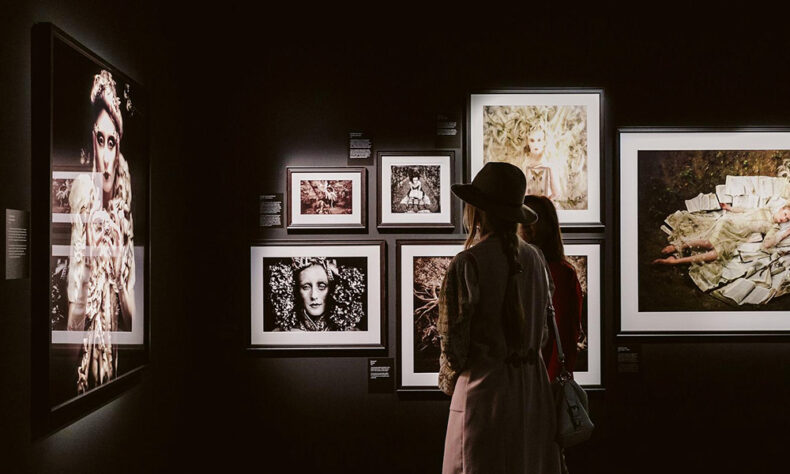 The Rotermann business quarter channels Estonia's northern vibe through its minimalist brick-and-glass buildings.
In addition to tall office complexes, Rotermann also houses Røst, one of the most delicious bakeries in town. This gluten-filled paradise is a Scandinavian-inspired sourdough bakery and charming coffee brewery that invites in all explorers to relax with a pastry and warm drink.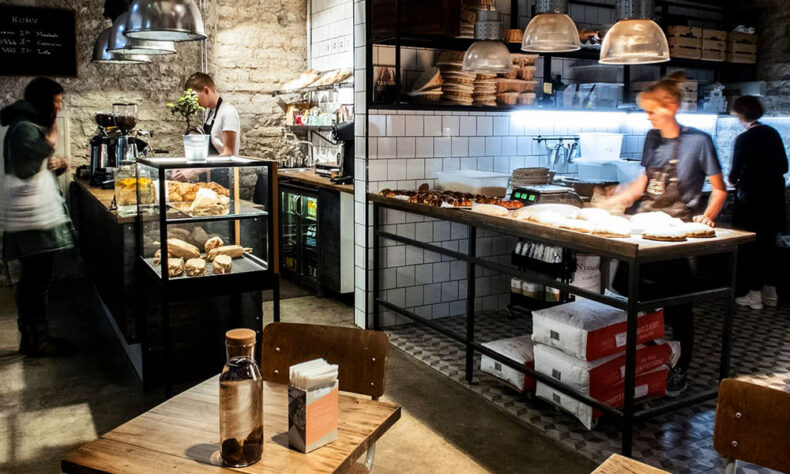 Wandering through the forests
Estonia's evergreen forests look as green as possible against a background of white snow. Discover the beauty of Estonia's nature by booking an off-road tour on the Pakri Peninsula.
Such tours take visitors through forests and along a magnificent coastline in addition to excursions to fortifications from the First World War and the Soviet era.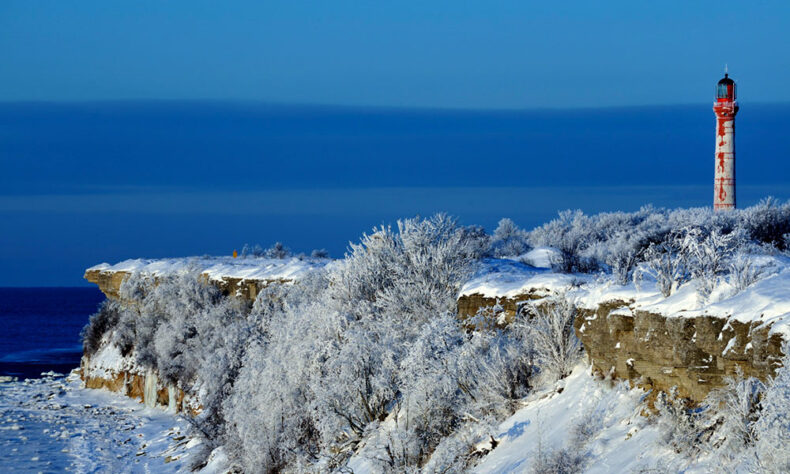 If wheels are not your calling, choose a sled-dog adventure instead! Numerous tours through the forests in the Järvselja and Peipsiveere nature reserves offer exotic winter sensations by seeing the frozen landscape from a dog-pulled sled.
The outings are always accompanied by a lovely campfire and picnic that give a special ending to the active day outdoors.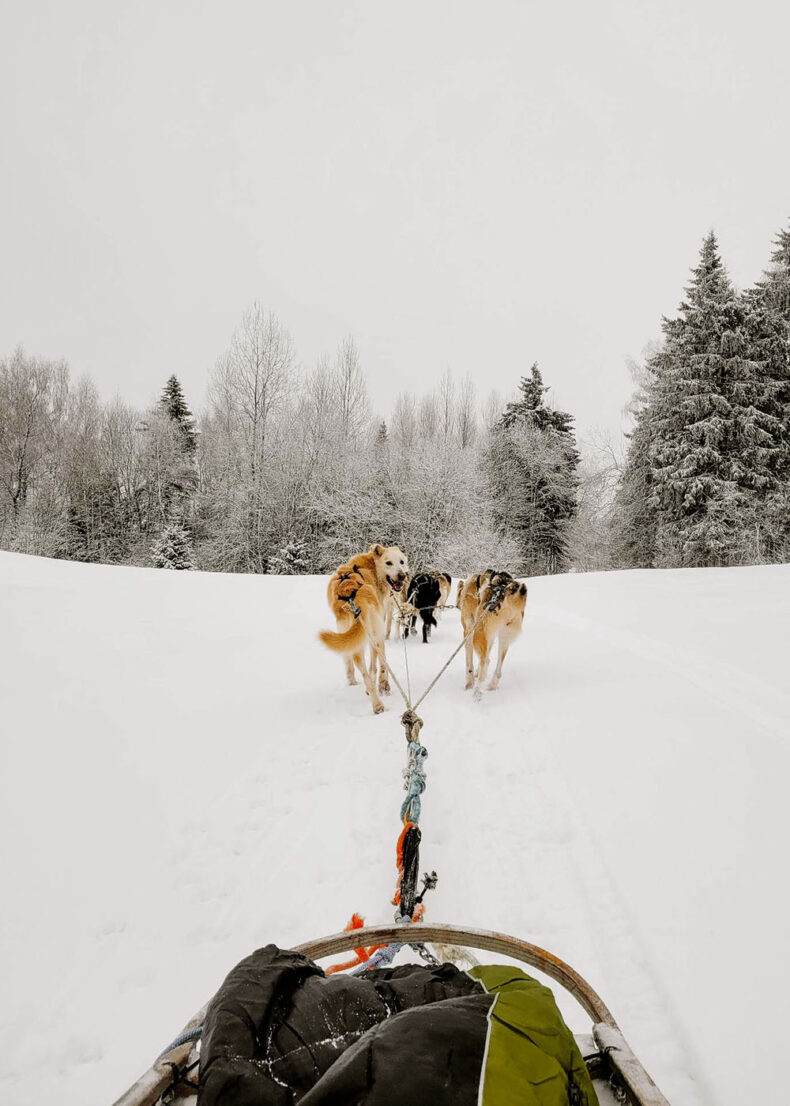 The forests in Estonia sometimes hide additional temples of magic in the shape of smoke saunas. To heat up a cold body after a long day outside, a smoke sauna is what you need.
Usually built next to a body of water for a refreshing dip afterward, these small saunas are scattered throughout the country and offer a special purification experience.
The smoke sauna on the Jantsu Talu farm combines the sauna ritual with a traditional cup of local herbal tea and a special sauna whisk to make the blood flow more quickly.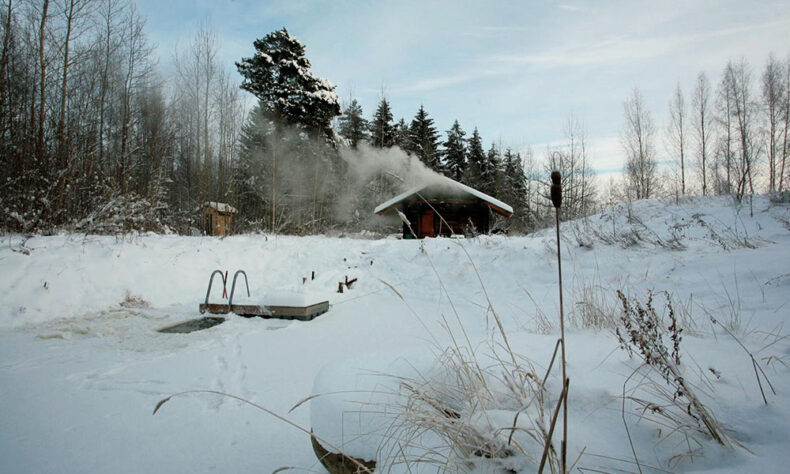 Sunny winter days require appropriate apparel and equipment, and after that you're ready to explore nature on skis as well!
Estonia's favourite ski resort is located in the town of Otepää. Feel the fresh winter wind on your skin while rushing down a hill or slowly explore the green forest trails on cross-country skis.
Text by Marta Metuzāle