If you're a snow bunny, you'll be glad to know that skiing in Europe this year is shaping up to be fantastic.
Whether you're into the après-ski scene with champagne and cocktails, high-altitude hangouts, cross-country skiing, alpine skiing, or just plain-old scary downhill runs, this list covers the best places to go skiing in Europe.
From Switzerland to Spain, Italy to Austria, each of these resorts are fantastic choices for your winter getaway.
Each of the destinations on our list is part of the airBaltic flight network. Within hours of landing, you could be jetting off into the mountains and carving up the slopes in no time.
Here's what we think are the best destinations for skiing.
Munich, Germany
Garmisch-Partenkirchen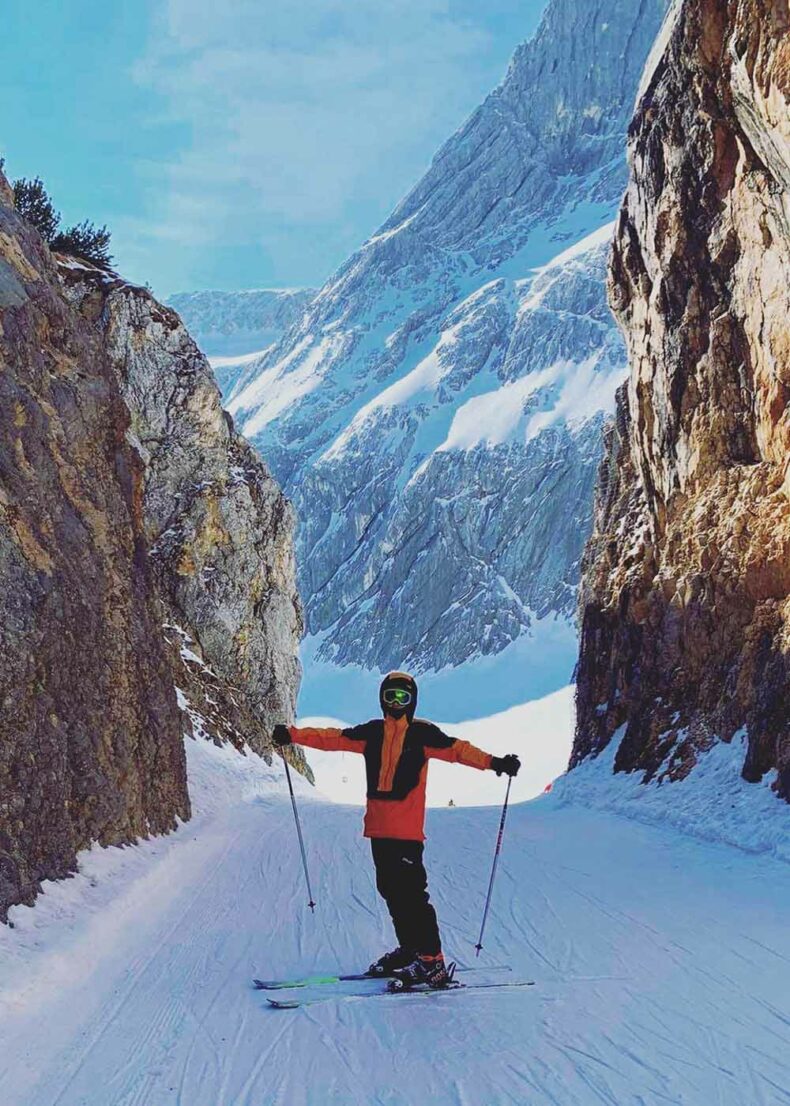 One of the best places to go skiing in Germany is in the Garmisch-Partenkirchen district. There's a total of 14 ski resorts in this gorgeous area, but the main resort, Garmisch-Classic garners the most attention.
This is where athletes in the 1936 Winter Olympics plied their trade, and today it remains as popular as ever.
There are 40 kilometres of runs to enjoy on three separate mountains, a snow-filled playground ideal for everyone from beginners to professionals.
The latter will love the adrenaline-inducing seven-kilometre run that starts at about 1800 metres above sea level – it's one of Germany's most thrilling pistes.
Total length of runs: 40 km
Ski lifts: 18
Elevation: 740 m – 2050 m
Zugspitze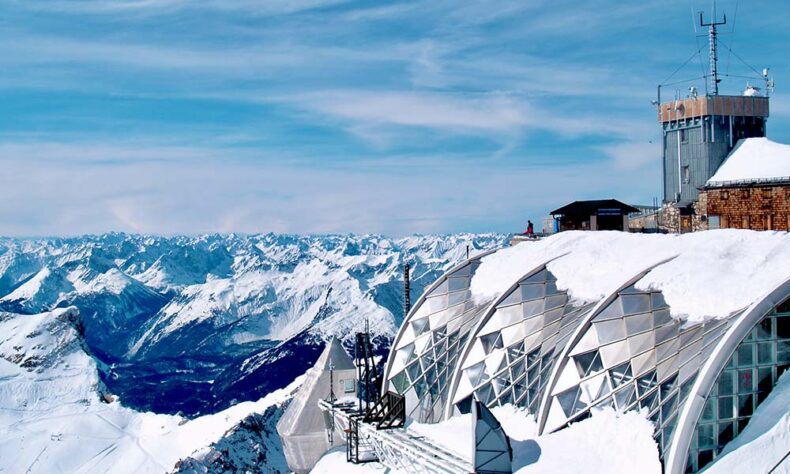 The second-biggest resort in the Garmisch-Partenkirchen district is Zugspitze, right next door to Garmisch-Classic.
Situated at a much higher elevation, this is Germany's highest mountain experience, with the Zugspitze mountain itself sitting at 2962 metres.
From the lofty heights of this ski resort, you'll be able to see mountains in four separate countries, the towns below reduced to small smudges in the white landscapes.
The ski runs here are ideal for lower to intermediate skiers who are looking for a fun challenge. At the end of the day, you can also take a cable car up to the top of Zugspitze, where a restaurant and viewing platforms enjoy fabulous views over the landscape.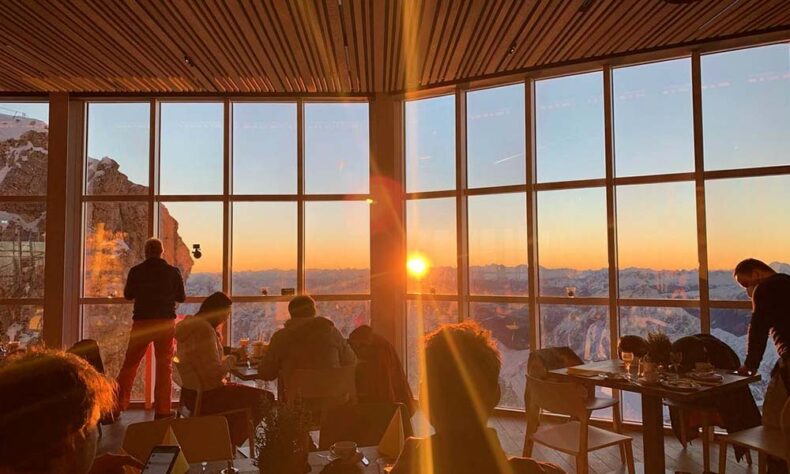 Total length of runs: 20 km
Ski lifts: 10
Elevation: 2000 m – 2720 m
Zillertal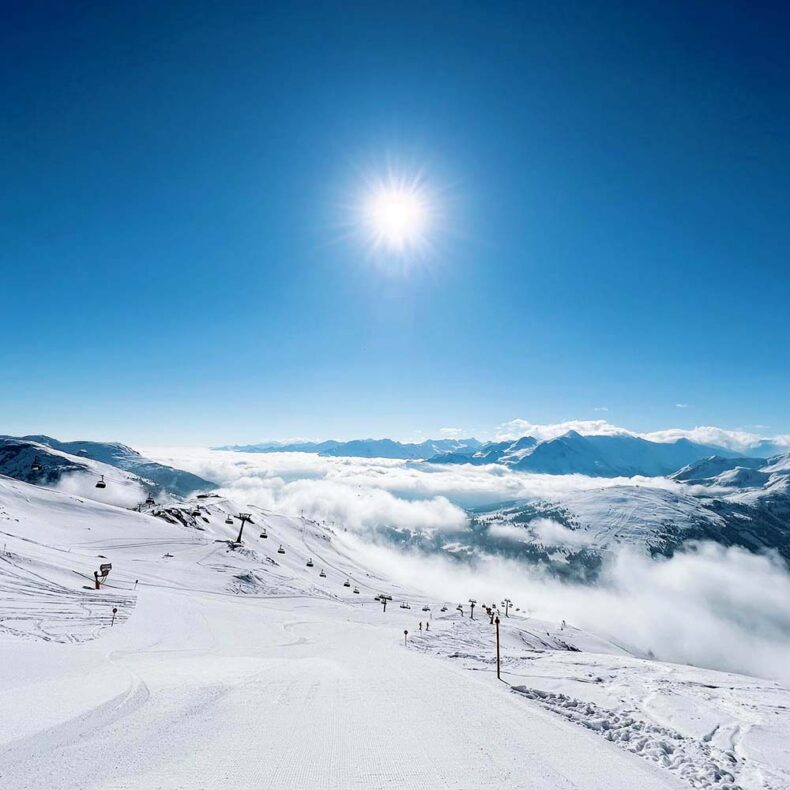 The Zillertal skiing region is without a doubt one of the best in the world.
Located in Austria just across the border from Munich, it's a great choice for skiing in Europe this winter.
The difficult part is choosing between the four different ski resorts in the area, which combined are home to around 542 kilometres of snowy pistes.
The largest is Zillertal Arena, a popular choice with a little bit of everything, while the other regions are good for families, free riders, and steep downhill enthusiasts.
The entire Zillertal valley was also voted the best ski valley in 2021, so you know it's going to be good.
This area can also be easily reached with flights to Salzburg.
Total length of runs: 542 km
Ski lifts: 180
Elevation: 580 m – 3250 m
KitzSki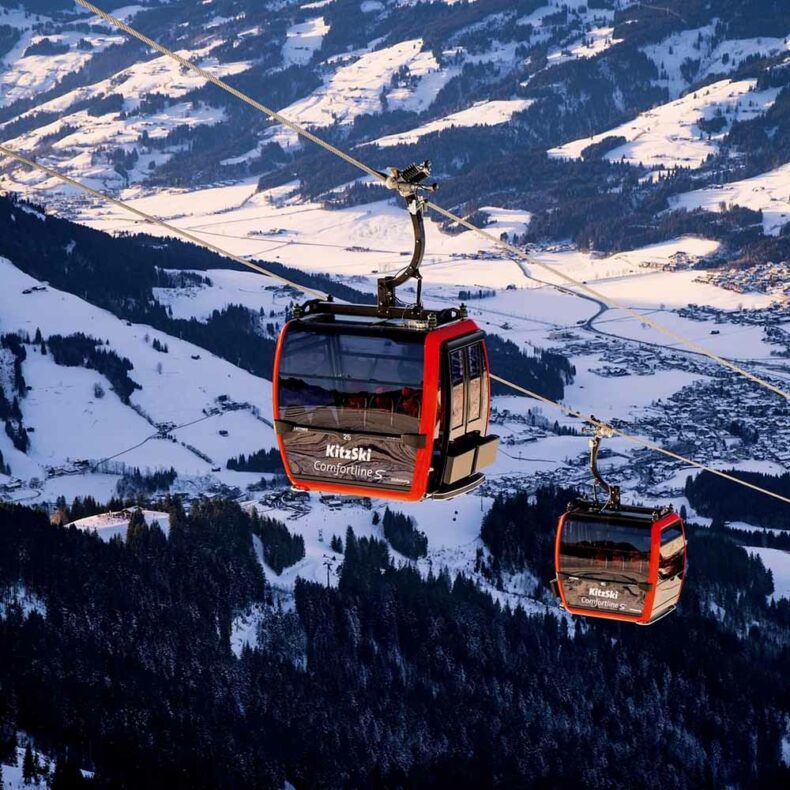 Many call KitzSki the best ski holiday resort in the world – and it's hard to argue with that. This resort gives access to two different regions, Kitzbühel and Kirchberg, all of it tucked away between two towering peaks.
The traditional and historic villages set the tone for your stay and are filled with charming inns and gorgeous restaurants offering a taste of the good life.
And then there are the slopes themselves. With 234 kilometres of action, there's something for everyone here, but thanks to the free ski lifts servicing gentle bunny slopes, this is one of Europe's great ski destinations for beginners.
What are you waiting for?
Total length of runs: 234 km
Ski lifts: 57
Elevation: 1630 m – 2313 m
Milan, Italy
Livigno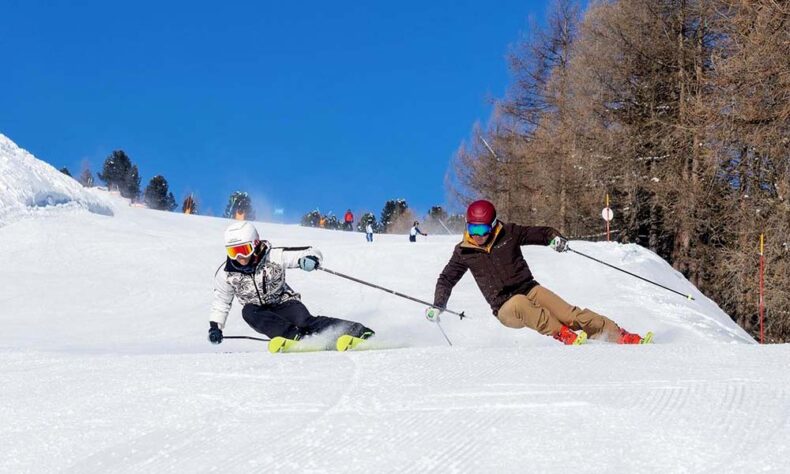 For travellers flying into Milan, it's a 3.5-hour drove to reach the ski resort of Livigno, but it's well worth the trouble.
This is one of the most premium skiing destinations in Italy, if not all of Europe. Low hills, great snow cover, and plenty of blue, red, and black slopes to choose from make this great for all levels of snow-sport enthusiasts.
There's also around 30 kilometres of cross-country ski trails for fans of Nordic skiing, making this a fabulous choice for skiing in Europe this winter.
Total length of runs: 115 km
Ski lifts: 32
Elevation: 1816 m – 2798 m
Salzburg, Austria
Obertauern

Obertauern is one of the most charming skiing destinations in Austria – it was here that The Beatles shot their parts for the film Help! in 1965.
Located to the south of Salzburg, that fun atmosphere lives on today. There's a big focus on the après-ski scene here, with plenty of restaurants and terraces to enjoy a drink or two, as well as steamy hot springs to soak in and enjoy the views after a day on the slopes.
Add in guaranteed snow from November until May, state-of-the-art ski lifts, and even the option for night skiing, and you won't be able to wipe that smile from your face the entire time you're here.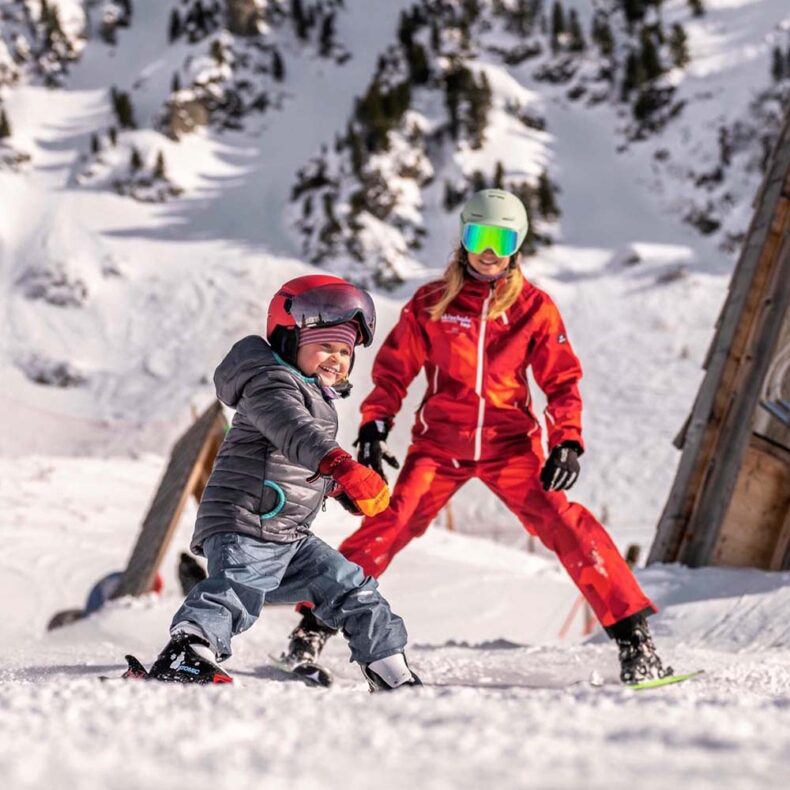 Total length of runs: 100 km
Ski lifts: 26
Elevation: 1630 m – 2313 m
Bad Gastein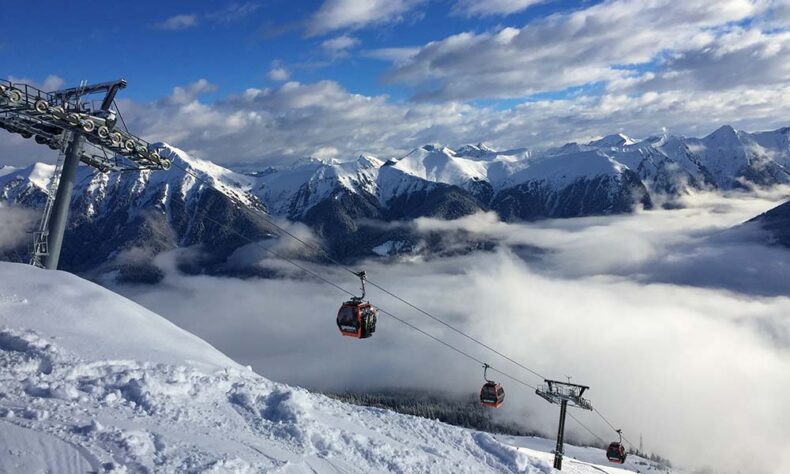 One of the best ski resorts in Austria's popular Gastein Valley is Bad Gastein.
This town gives you access to the Schlossalm-Angertal-Stubnerkogel ski area, which has a fantastic array of snowy pistes to choose from and is a great spot for a family ski holiday in Europe.
There are red and black runs as well for more advanced skiers, while on the other side of town is a ski lift that also lets you venture up the Graukogel mountain, a wooded alpine area with long and difficult runs to challenge even the very best skiers.
At the end of the day, the cosy town is perfect for a hearty dinner and some beer.
Total length of runs: 84 km
Ski lifts: 18
Elevation: 860 m – 2300 m
Vienna, Austria
Ski Arlberg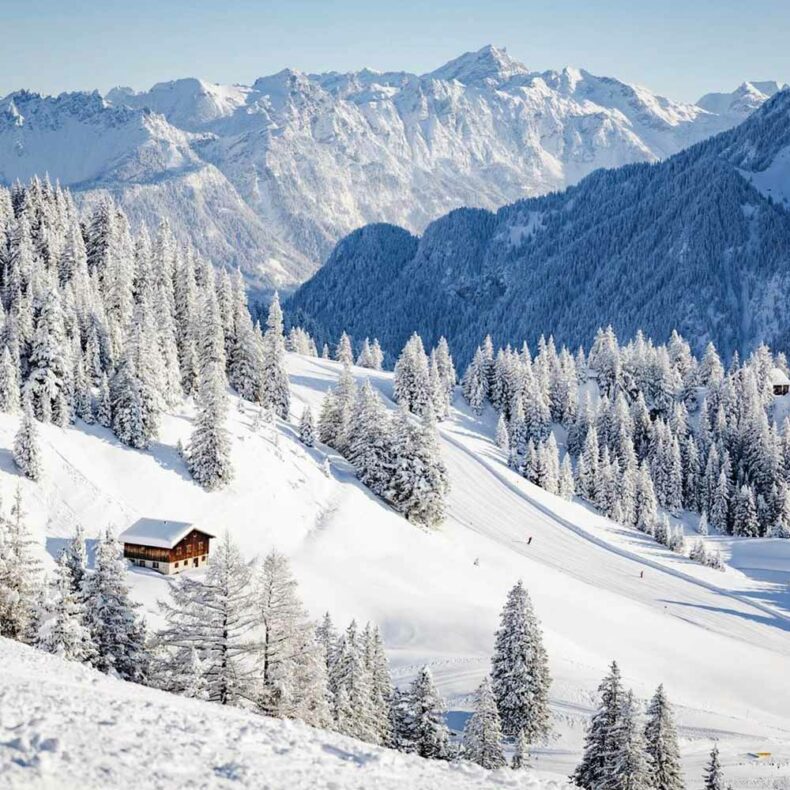 The largest ski resort in Austria, Ski Arlberg, is home to around 303 kilometres of slopes accessed from a collection of fairytale-like villages: St. Anton, St. Christoph, Stuben, Lech, Zürs, Warth, and Schröcken.
Although this is one of the most popular places to go skiing in Europe, you'll find that each village has retained its traditional Austrian warmth and hospitality.
The slopes themselves are what you'd expect of one of the world's premier resorts; from steep and dramatic runs to fun snowboard parks and permanent racing circuits, there's plenty here to keep you entertained and tempt you back for more the following year.
The hardest choice is choosing which village to stay in – our vote goes to St. Anton.
Total length of runs: 305 km
Ski lifts: 88
Elevation: 1300 m – 2811 m
Ötscher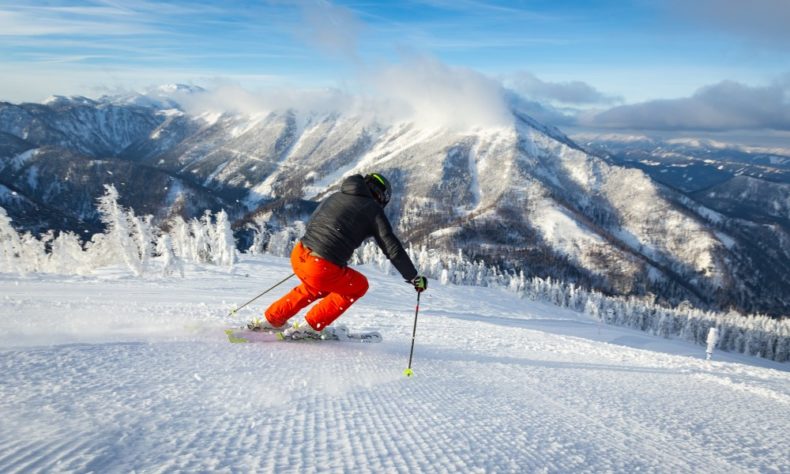 If you're wondering where to go skiing in Austria near Vienna, look no further than Ötscher. Located only 150 kilometres from the city, this ski resort takes in some beautiful alpine scenery in the Eastern Alps of Lower Austria.
This is another ideal spot for a family trip, with one side of the mountain that's great for kids and beginners while the other side of the mountain enjoys some more advanced runs for the adults.
The perfect slopes are complemented by the gorgeous mountain scenery, giving you views that you'll remember long after you've returned home.
Total length of runs: 19 km
Ski lifts: 6
Elevation: 812 m – 1426 m
Zurich, Switzerland
Flumserberg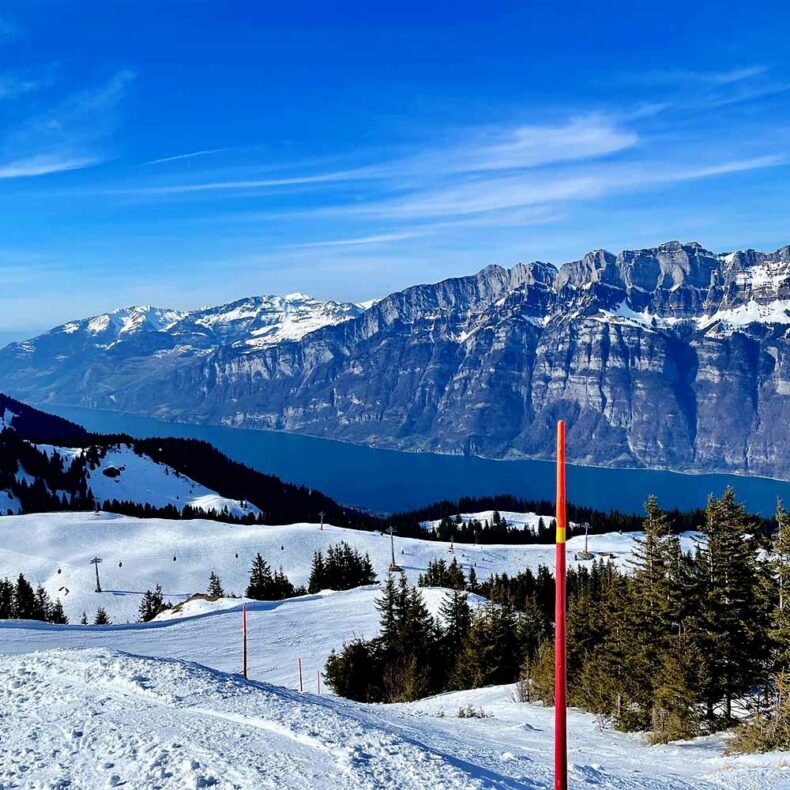 An hour-and-a-half-long drive from Zurich can take you to countless skiing destinations in Switzerland, but Flumserberg might just be one of the most tempting.
This skiing paradise features a selection of well-groomed runs of all difficulty levels, while the freeriding, fun parks, and jumps for snowboarders also deserve special mention.
Snow machines make sure the conditions are perfect whether you're looking to go skiing in November or as late as April.
Friday nights are especially fun, when they light up the slopes for some night skiing.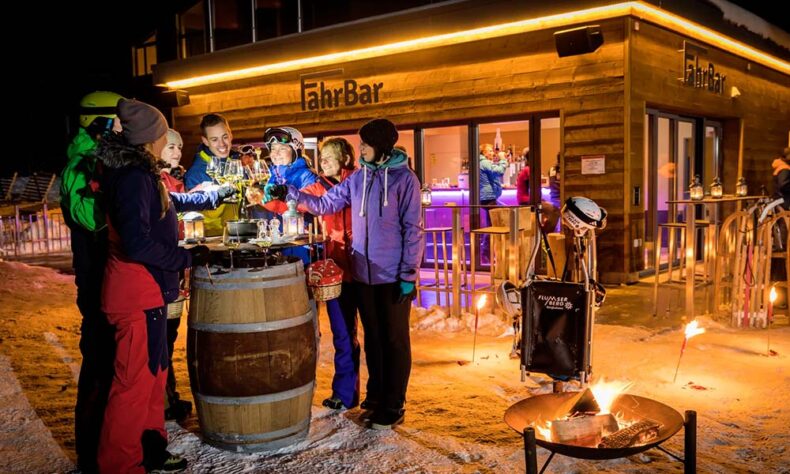 Total length of runs: 65 km
Ski lifts: 17
Elevation: 665 m – 2222 m
Engelberg
An article about skiing in Europe this winter wouldn't be complete without mention of Engelberg, which in English translates to 'mountain of angels'. It's an apt name for this gorgeous location, which guarantees snow as early as October that lasts well into May.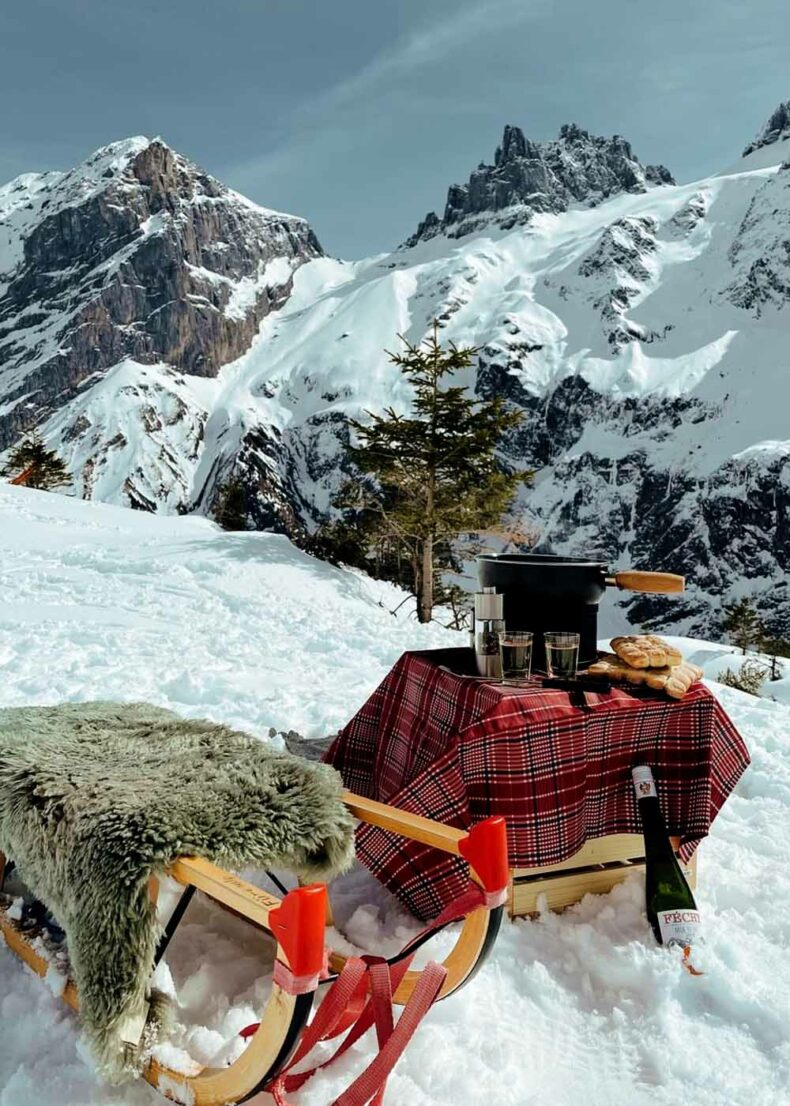 Skiing in Europe for beginners doesn't get any easier than here, either, with plenty of easy slopes on all three mountains accessible from town as well as a range of ski schools to choose from.
Advanced skiers will get their fill here as well, especially thanks to the towering Titlis mountain and glacier.
The village below is also home to a Benedictine monastery from the 12th century, cementing this spot as one of the best ski holiday destinations in the world.
Total length of runs: 82 km
Ski lifts: 23
Elevation: 1003 m – 3020 m
Geneva, Switzerland
Praz de Lys
If you were to ask where the best skiing in Europe is, Praz de Lys probably wouldn't crop up in conversation. But that doesn't mean that the skiing here is bad – in fact, it's the opposite.
This is one of Europe's best-kept secrets when it comes to skiing, the coolest resort you've never heard of. Located just 65 kilometres from Geneva in the French Alps, you can waste no time at all arriving in Switzerland, shooting across the border, and hitting the slopes.
Although Praz de Lys offers six black pistes, families, beginners, and cross-country skiing enthusiasts will feel at home as well.
The legendary Chamonix region has a unique, diverse relief and a wonderful view of Mont Blanc. The slopes will delight and challenge all skiers, but it's also great for photography enthusiasts thanks to stunning sunrises painting the mountain peaks in gold.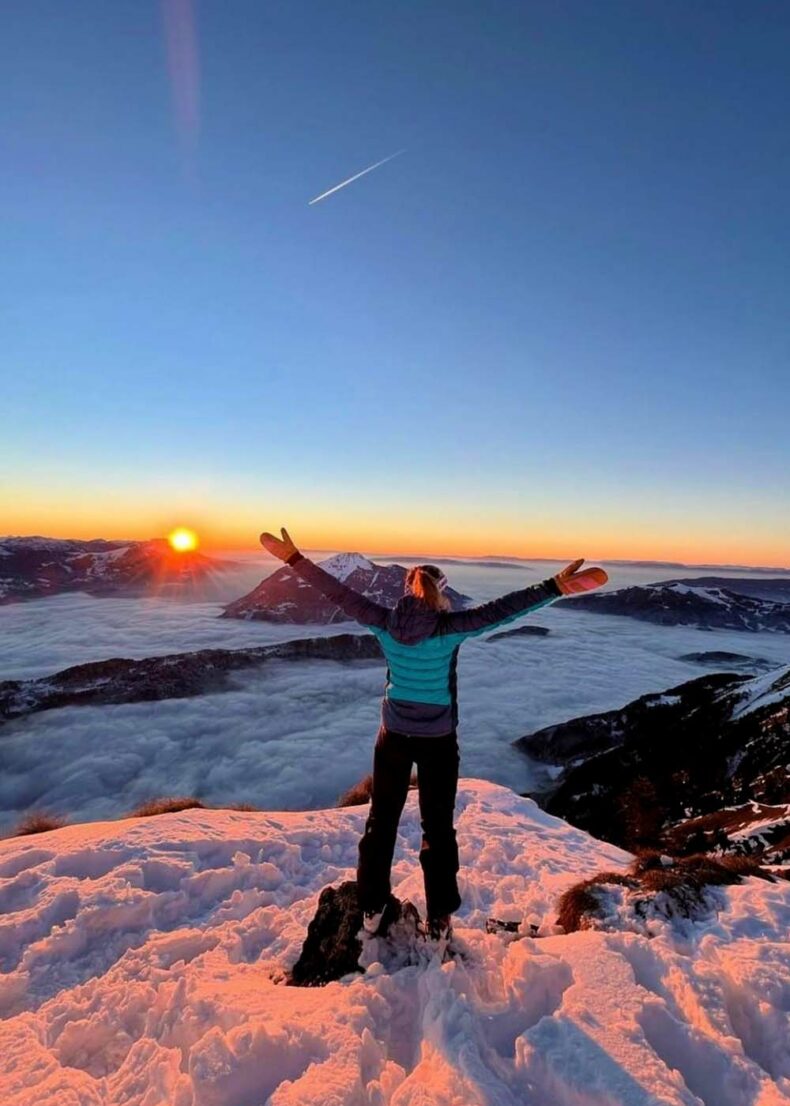 Total length of runs: 53 km
Ski lifts: 24
Elevation: 1500 m – 2000 m
Verona, Italy
Madonna di Campiglio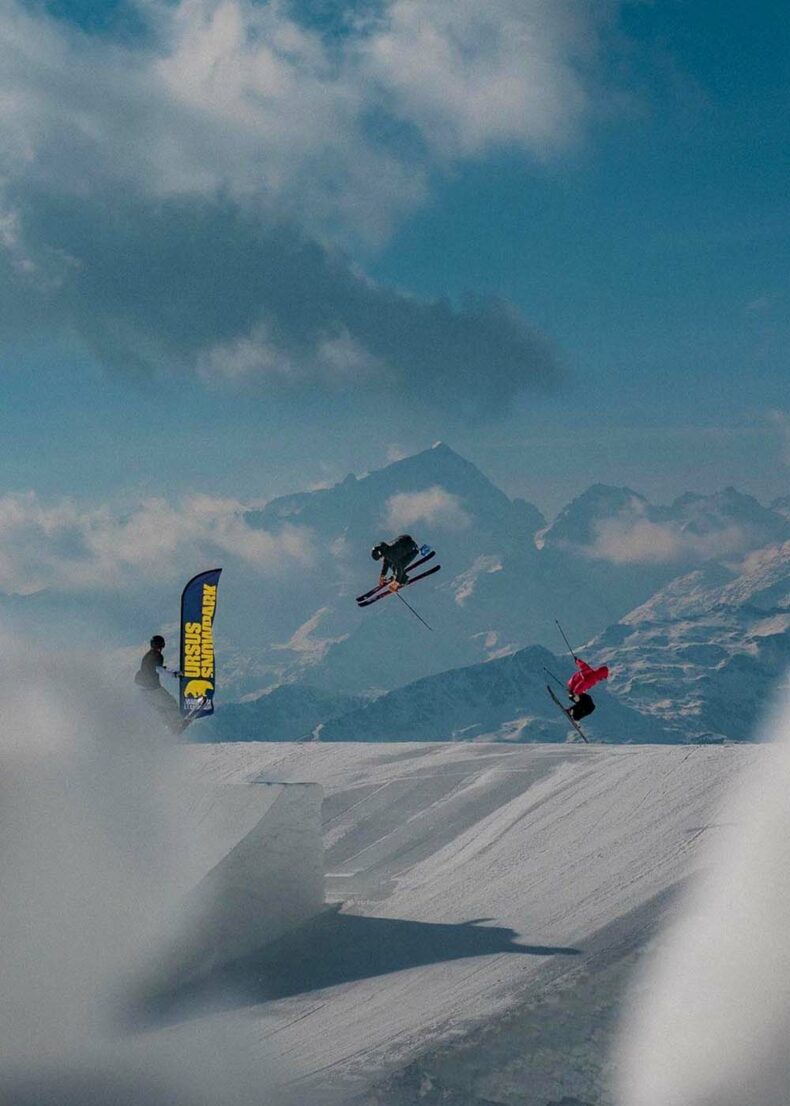 It's not only starry-eyed romantics who fly to Verona, thanks to Romeo and Juliet. Snow-lovers are equally in love with this area thanks to one of the most alluring skiing destinations in Italy: Madonna di Campiglio.
Located at an altitude of 1550 metres, this lofty ski resort is a great family getaway for winter, with plenty to do aside from the magnificent ski slopes.
You can, for example, glide across the snowy fields in a paraglider, cut your way up a frozen waterfall with ice axes, or spend a day enjoying some cross-country skiing. Add in dog sledding, ice skating, and snowshoeing, and you've got a true winter wonderland set in the stunning Dolomites.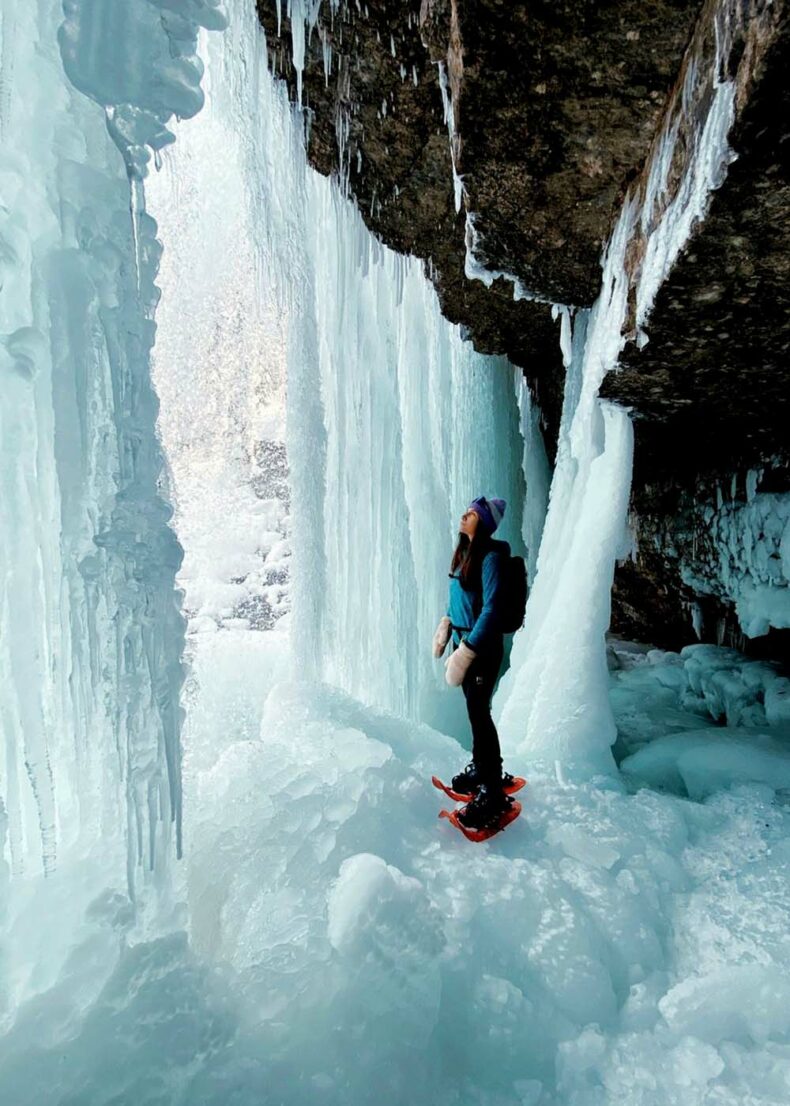 Total length of runs: 156 km
Ski lifts: 57
Elevation: 852 m – 2504 m
Tbilisi, Georgia
Gudauri Region
Countries like Georgia are far too often overlooked for their wonderful skiing conditions.
Gudauri is the largest resort in the country, letting you explore the wonderful mountains that form the border between Europe and Asia.
A metre and a half of snow covers the slopes from December to April, with slopes for all difficulty levels.
But the best part about this ski destination in eastern Europe are the opportunities for wild adventure.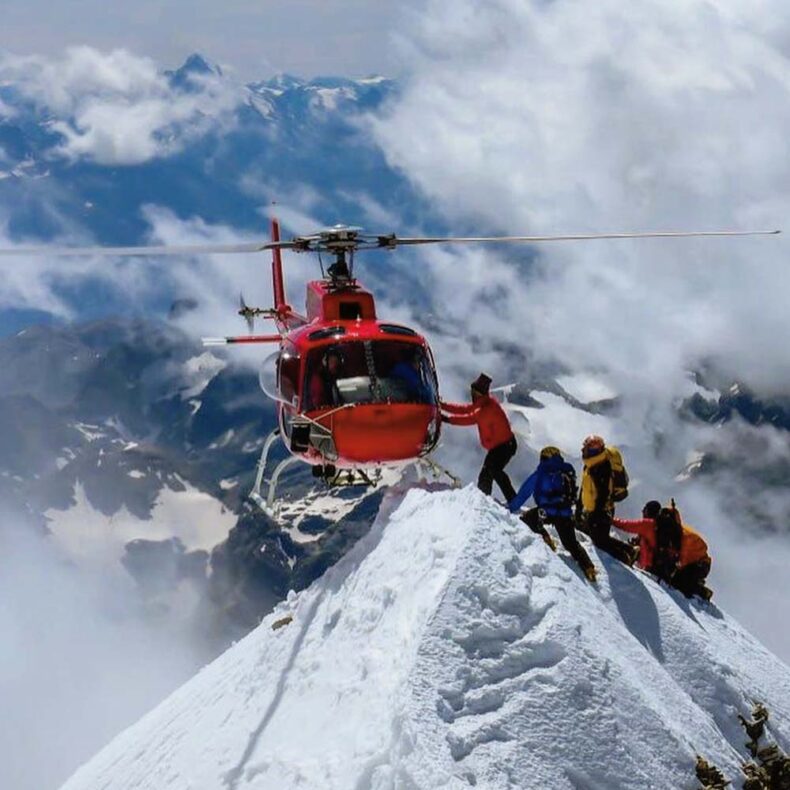 Heli-skiing drops you into the most extreme locations and lets you carve up previously untouched powder on your way back down.
At the end of the day, a refreshing sauna is just what the doctor ordered, preparing you for the next day.
Total length of runs: 34.8 km
Ski lifts: 15
Elevation: 1993 m – 3276 m
Barcelona, Spain
Baqueira-Beret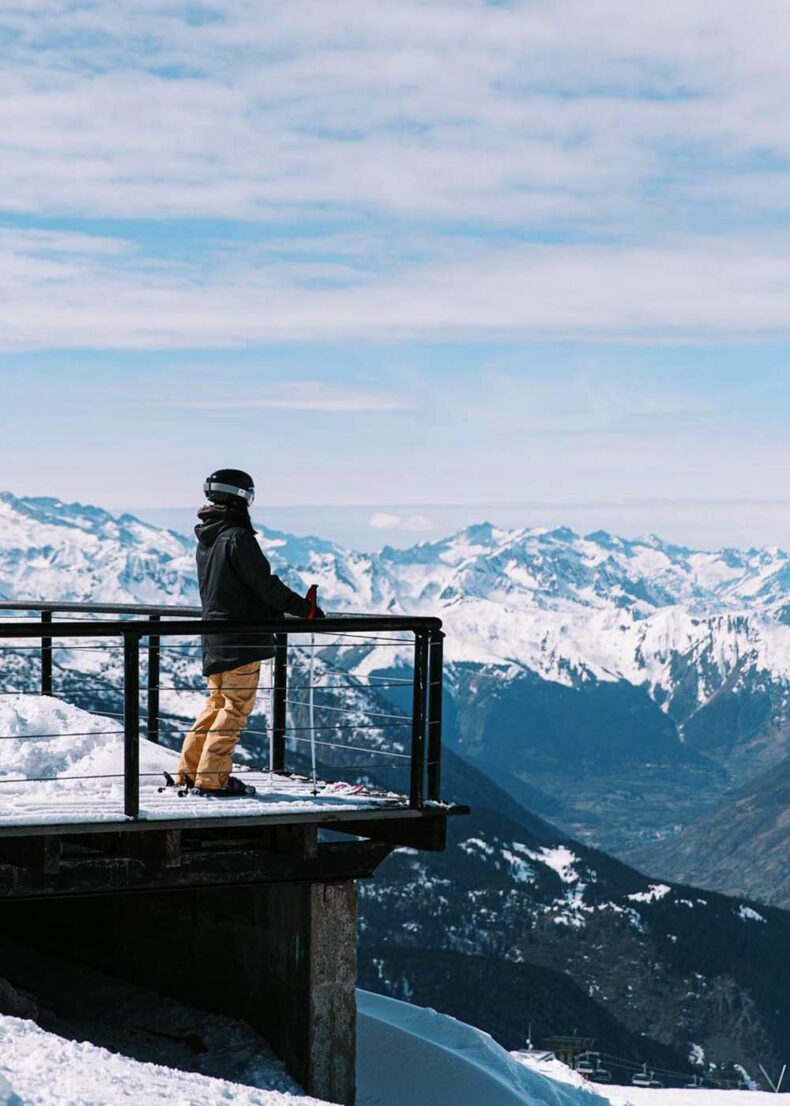 If you're looking at skiing in Europe this Christmas, Spain might be at the top of your list.
Although better known for its sun and sand rather than snow and slopes, just a couple of hours from Barcelona you'll find the fabulous Baqueira-Beret resort, another outstanding skiing destination in Europe.
Nestled in the stunning Catalan Pyrenees, this is one of the best skiing areas in Spain, with the season starting in November and lasting well into April.
The quality of the snow here is medal-worthy, and the perfect conditions mean you might even glimpse Spain's royal family carving up the slopes alongside you on the weekend.
Total length of runs: 160 km
Ski lifts: 29
Elevation: 1500 m – 2610 m
Text by James Taylor