When you think of a sauna, you probably think of the warm box you enter at a recreational centre after sipping cocktails by the pool or jacuzzi with your friends.
While there's no doubt that any kind of sauna is one of the best ways to relax, the sauna homeland of Finland brings the experience to a whole new level, both in terms of temperature and tradition.
Called the sauna capital of the world, Tampere makes an unforgettable winter getaway.
Tampere is the second-largest city in Finland, but its sauna-per-habitant ratio significantly surpasses that of the Finnish capital.
The Tampere region has more than 55 public saunas that are open throughout the year, providing endless opportunities to engage in the Finns' favourite activity.
Tampere is located farther north than Helsinki, its average annual temperature is 5.2 degrees Celsius, and snow can be present there up until early April, serving as the basis for a mystical winter wonderland in the city.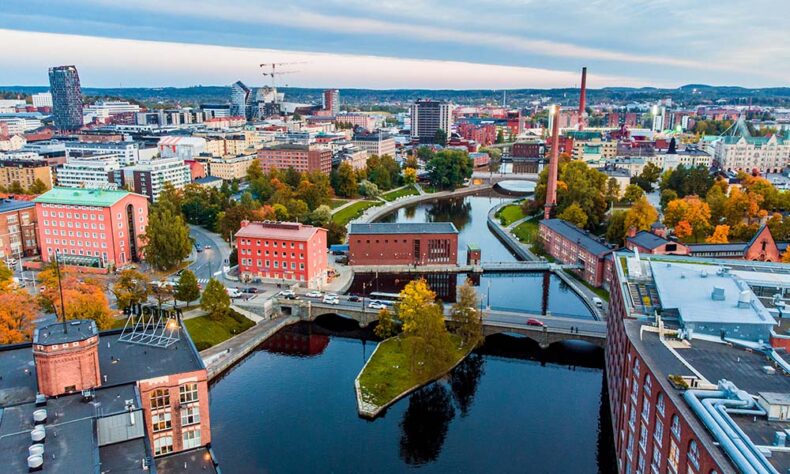 Surrounded by beautiful lakes and evergreen forests, Tampere provides an unexpected combination of urban cosiness and a breath of fresh air that can only be enjoyed in the vast and untouched Nordic nature.
If you look closely, you may even encounter deer and rabbits while exploring the nearby forests!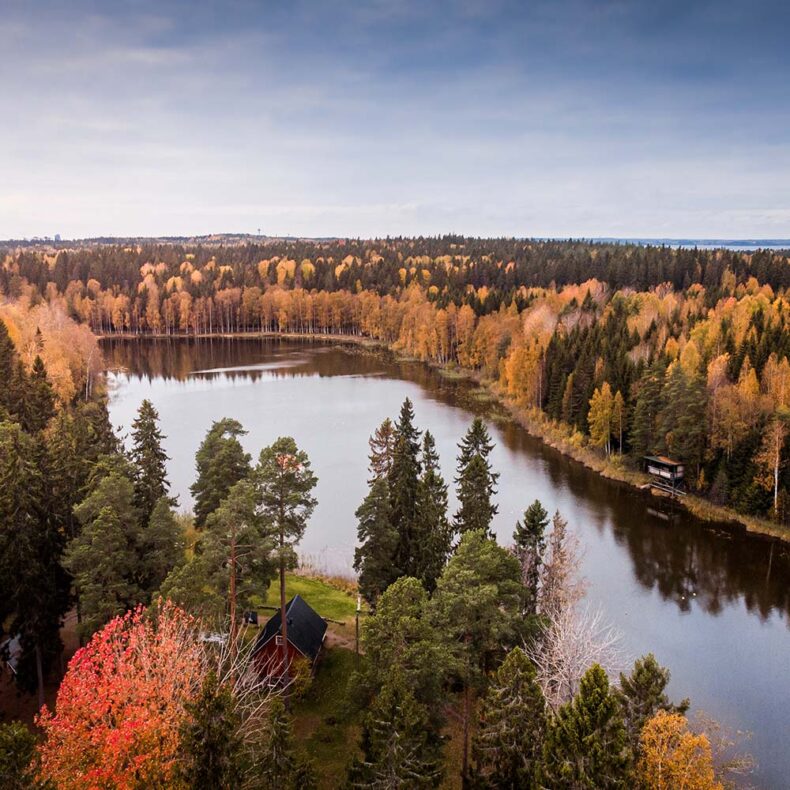 There's no doubt that freezing weather conditions call for additional heating and warmth, especially for those not used to the charm of winter boots and the sun setting right after lunchtime.
According to Finns, there's no more pleasant way to spend a cold day than engaging in a sauna ritual.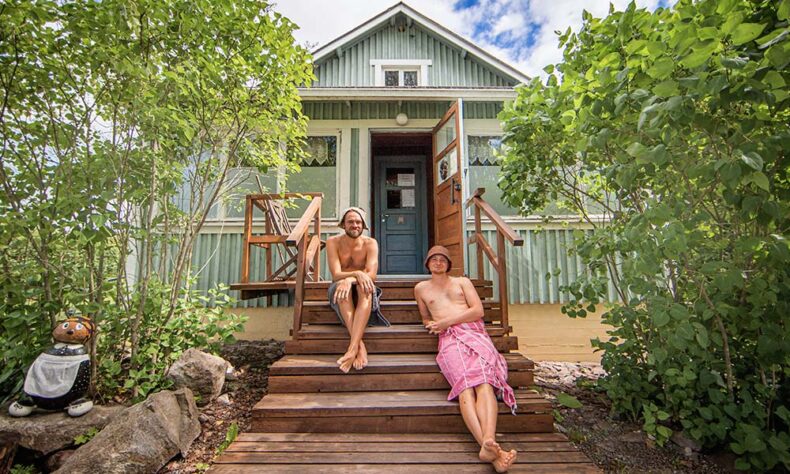 How to do sauna like a true Finn
Unlike most saunas in recreational resorts around the world, which are full of steam and humidity and range in temperature from 50 to 80 degrees Celsius, Finnish saunas tend to be drier and hotter, with a usual temperature between 80 and 110 degrees Celsius.
But heat is not the only aspect in which Finnish saunas differ – the whole experience is full of various rules and activities that you would not see elsewhere.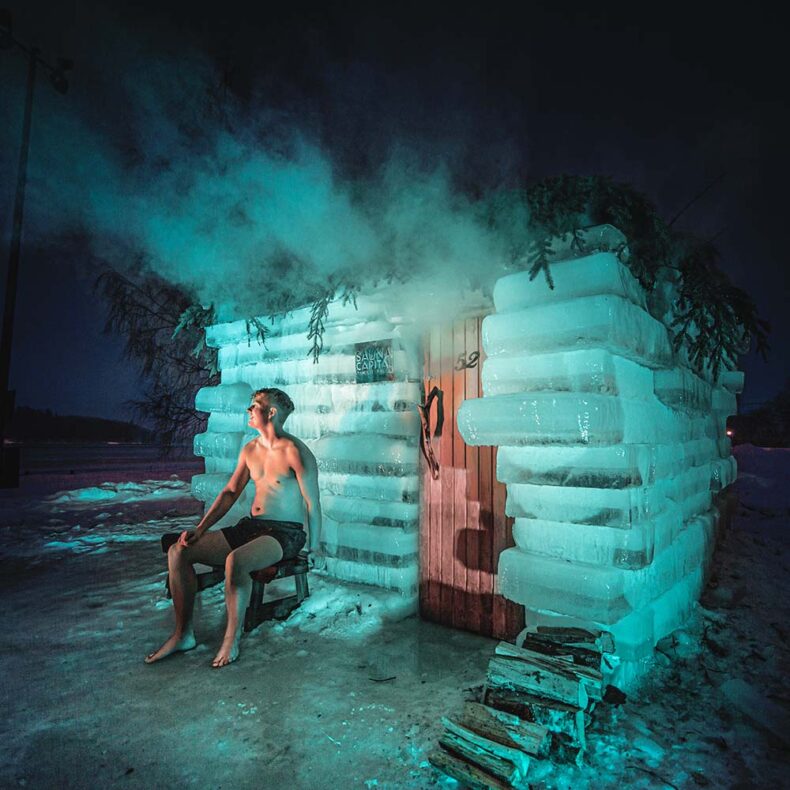 Let's start with the attire. In Finland, people usually go in the sauna naked – even if they are among strangers – and take with them only a towel to sit on.
Finns have always been very body-positive, and nudity is nothing to be ashamed of. However, if you feel uncomfortable doing that, it's completely okay to cover up with a towel. Numerous saunas also allow wearing swimwear.
To avoid potentially awkward situations, there are also separate saunas for men and women, as well as mixed saunas, so that everyone can find a sauna they feel comfortable in.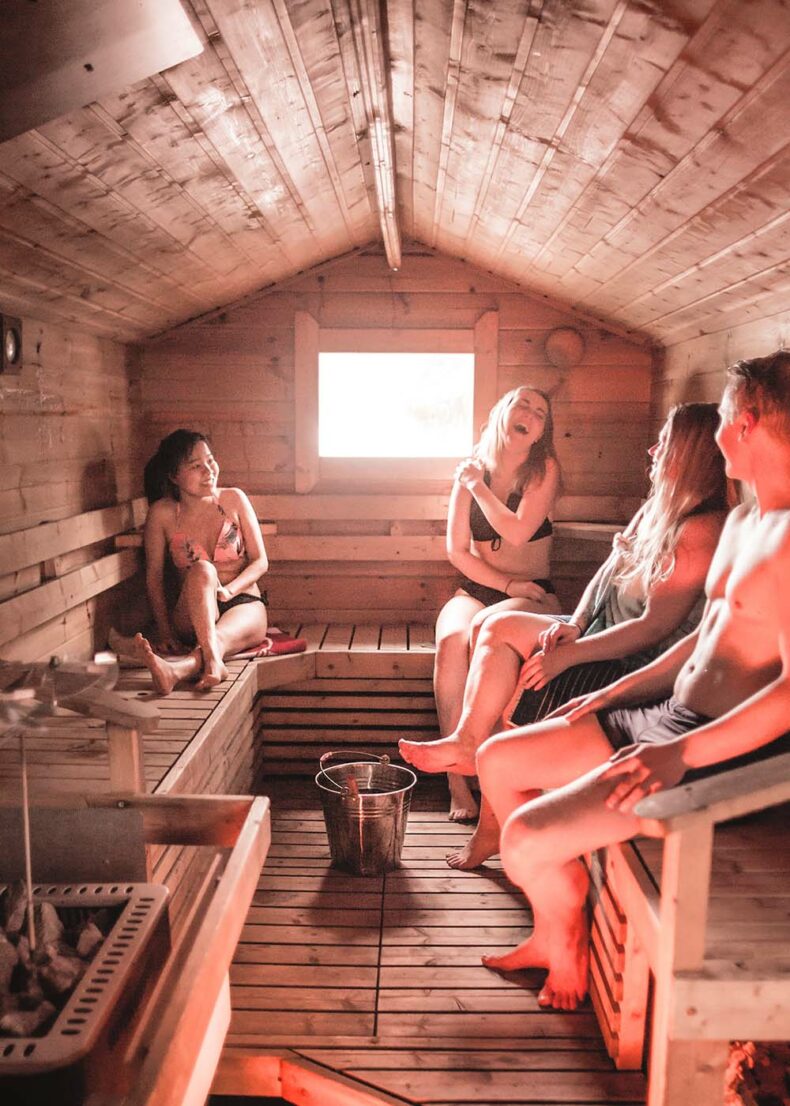 People usually spend around ten to 15 minutes inside the sauna, depending on the temperature and personal preferences.
The heat can be increased by throwing water on the hot stones sitting on the special sauna stove, called a kiuas in Finnish, but it's okay to leave the sauna once it gets too hot for you.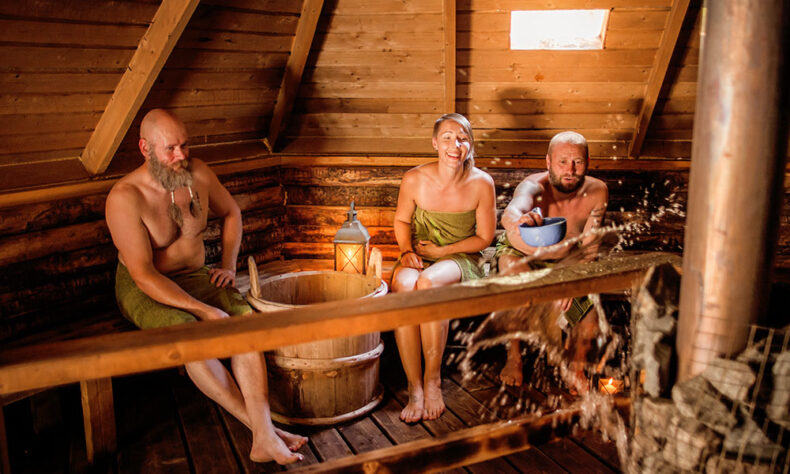 After exiting the sauna, it's customary to take a cold shower, cool down in the refreshing Finnish air, or even jump in a lake (yes, even if it's winter outside).
If it has snowed recently, it's a common practice to roll in the snow. When it starts to feel uncomfortably cold again outdoors, that's a sign that you need to return to the sauna.
People usually do two to three such cycles in the sauna.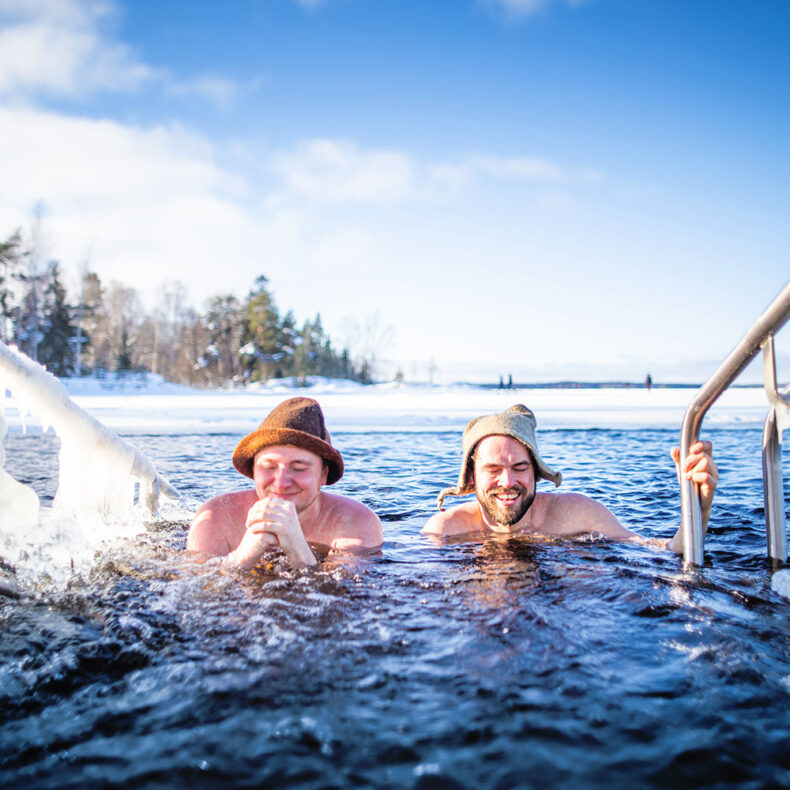 Besides warming up in the sauna and cooling down in a lake, one of the most important sauna rituals is brushing and gently beating the body with a birch whisk, called a vihta in Finnish.
Doing that has healing power, as it helps to release tension in the muscles, relieves stress, and improves the metabolism and the quality of one's sleep.
To add a special Finnish touch of magic, brushing with birch whisks is accompanied by sauna spells and songs, often led by a sauna master.
After two to three cycles in the sauna, visitors usually reward themselves with a glass of beer and a sausage next to the sauna.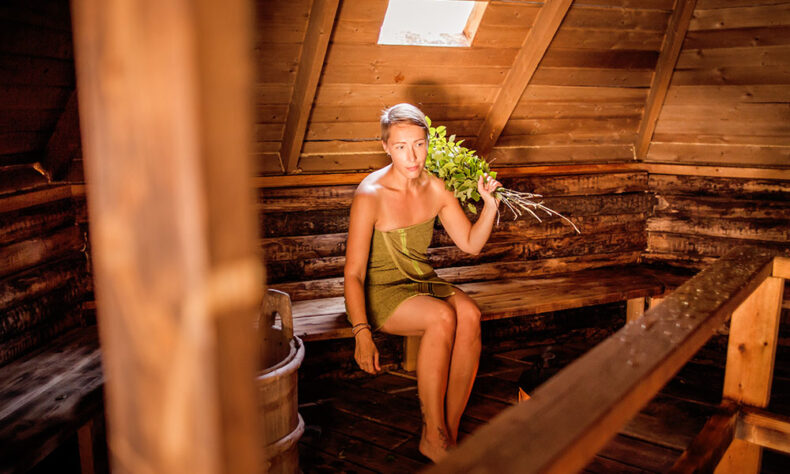 If you go to a sauna regularly, your body gets used to it and the sweating process begins sooner, meaning that your body is cleansing itself more efficiently. You also build up more endurance as your body gets used to the heat.
But a sauna is never about endurance. It's about taking care of the mind, body, and spirit with the help of löyly. Löyly means the steam that rises from the sauna stove or the heat of the sauna. In Finnish folklore, it also refers to the soul of the body.
Must-experience saunas in Tampere
Sounds intriguing? Tampere is the most authentic place to acquaint oneself with Finnish sauna culture, as the city has the oldest still-functioning public sauna in Finland – Rajaportti Sauna in the district of Pispala was founded back in 1906.
Having undergone only minimal upgrades, it provides a unique insight into the Finnish lifestyle more than 100 years ago and even has a massage therapist on site for additional relaxation.
Photo by Jukka Salminen on visit Tampere
Another historical sauna is the Niemi-Kapee sauna in Teisko, which offers an authentic Finnish smoke sauna experience.
There you can also extend the adventure to several days, as it has numerous lovely cottages for visitors to fully immerse themselves in the Finnish winter. Of course, each cottage is equipped with its own wood-heated sauna.
Both Niemi-Kapee and Rajaporti Sauna offer a traditional sauna healing ritual with professional sauna healer Siiri Koski.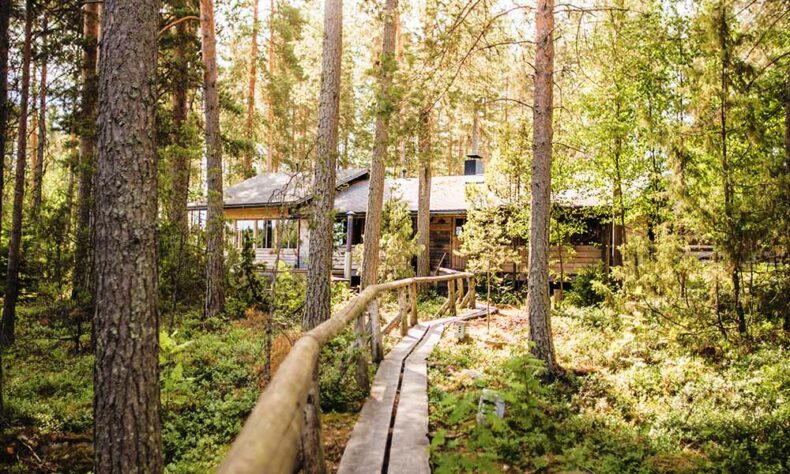 However, if historical atmosphere is not what you're after, Tampere has a grand variety of other public saunas with different focuses.
If you want to combine your first Finnish sauna experience with a mouthwatering meal, Saunaravintola Kuuma has got your back!
The sauna is equipped with a highly acclaimed restaurant merging traditional Nordic flavours with global trends and seasonal gourmet additions. Both meat lovers and vegetarians will find a suitable bite to match their cravings after a hot sauna and refreshing swim!
A delicious culinary experience featuring dishes from all around the world, a rooftop terrace with an astonishing view, plus never-ending jacuzzis? That's also possible!
Combine Finnish tradition with the comfort of a recreational centre at Restaurant Periscope. There you can even rent a whole sauna for your group of travellers to ensure a more private sauna session.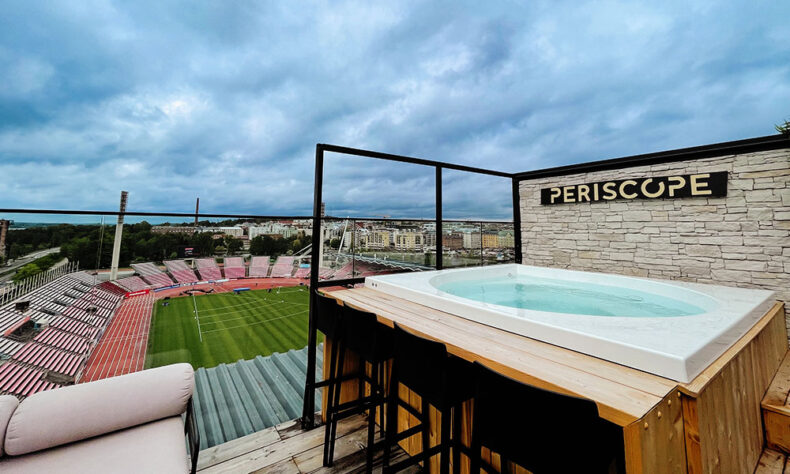 If you tell a Finn that you've been to a real Finnish sauna, his first question will be, 'How did you like the dip in the ice-cold water afterwards?' To be able to answer a question like that, a lakefront sauna is a must. Luckily, there are many of them, as the Tampere region is rich in freshwater lakes.
Rauhaniemi Folk Spa, which has been operating since 1929, has a lake and two traditional Finnish saunas to host everyone interested in the sauna experience.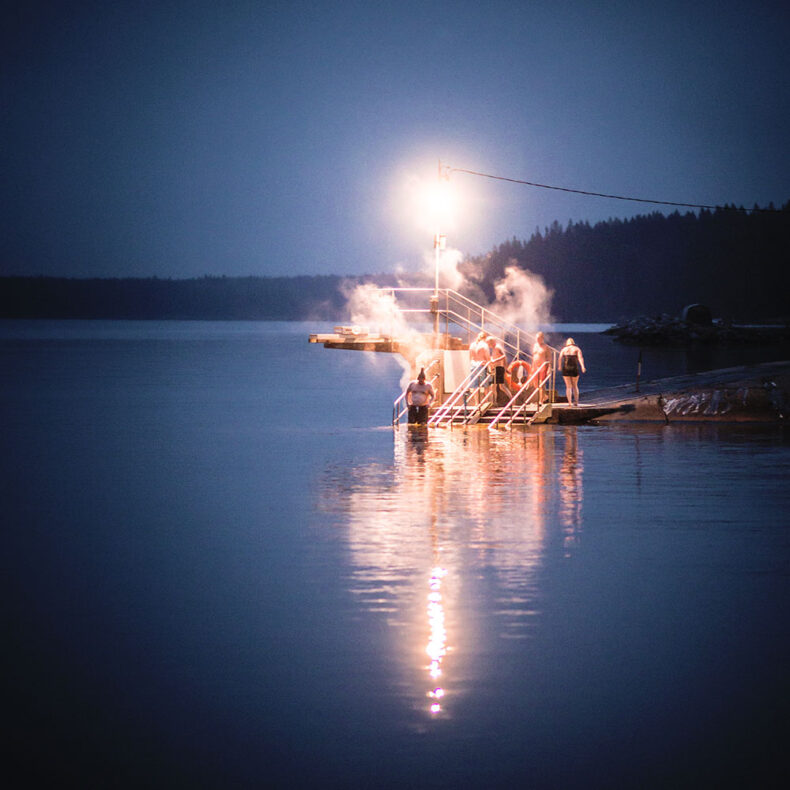 Another sauna where you can swim in the winter is Kaupinoja Sauna, which is one of the most popular saunas thanks to its spacious sauna rooms, sauna yoga, and high-quality invigorating steam all year long.
Opened in 1977, Kaupinoja Sauna has been a beloved sauna for several generations of Finns.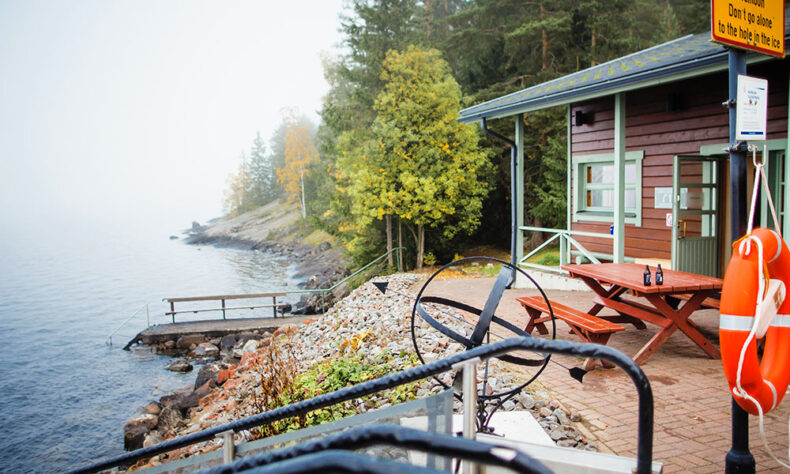 The Kaukajärvi sauna sits in a beautiful location next to marvellous Kaukajärvi Lake.
A crystal-clear lake, ice swimming, freshly renovated high-quality sauna facilities, and even swimming competitions are only a few of the great features this sauna centre provides.
Because the sauna is open every day until 10 p.m., it's a popular Finnish recreational activity after work.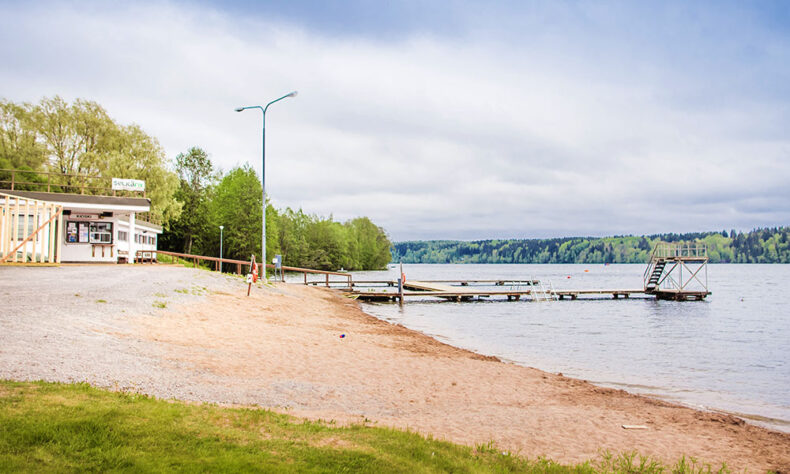 And for a picturesque panorama and Instagram-worthy shots, visit one of the newest additions to Tampere's sauna landscape, Pereensaaren Sauna in Pirkkala.
A beautiful lake, a cold plunge pool, a lounge, and a sauna terrace – as well as a traditional ice hole for winter dips – make Peerensaaren Sauna a strong contender to become a public favourite.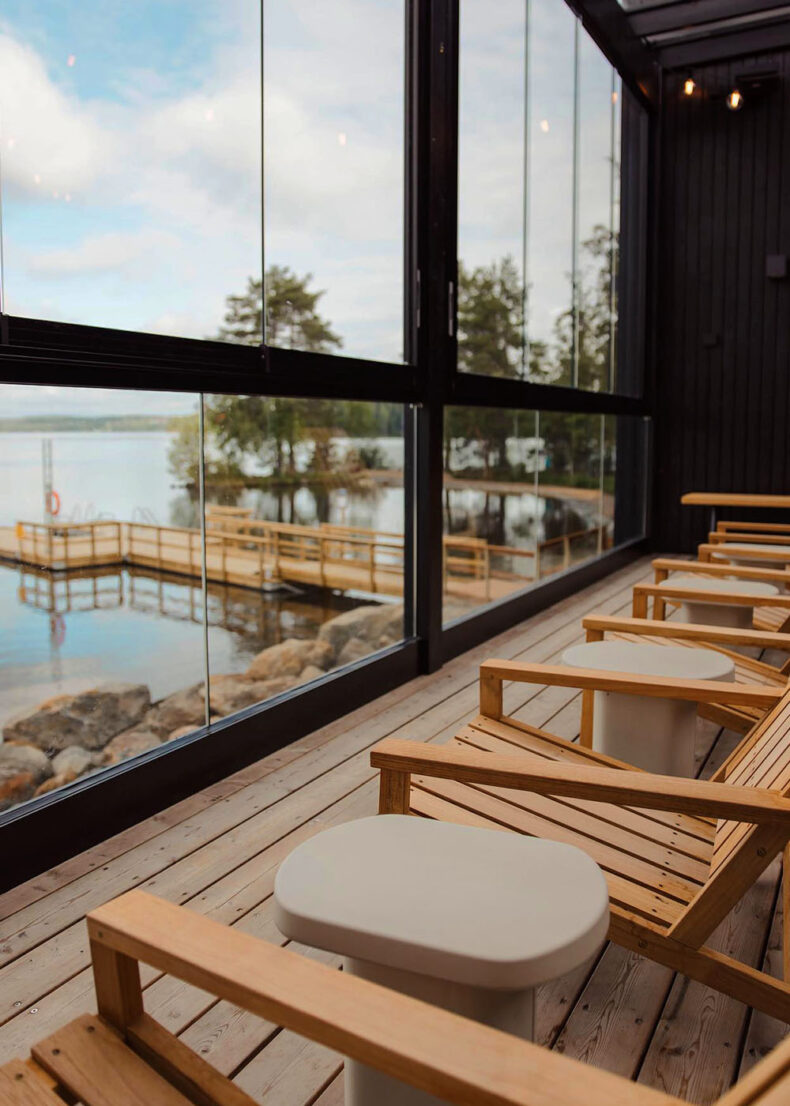 Don't worry if your current weekend getaway to Tampere features a stay in a hotel – like most households, most of the hotels here have a sauna, too.
For example, the 12th floor of Lapland Hotels Arena in the heart of Tampere includes a rooftop terrace and saunas with a contemporary Nordic vibe.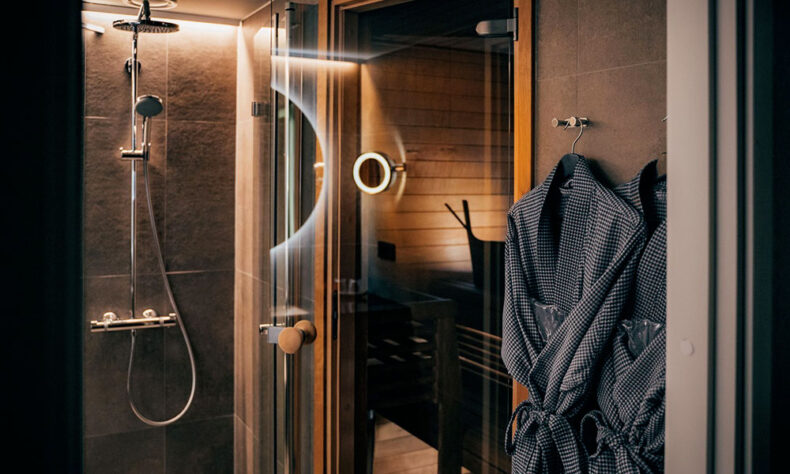 Thus, once you're in Tampere, there's practically no way to miss the wonderful experience of a Finnish sauna. So, now it's time to relax and spend an otherwise cold weekend amidst an array of saunas!
Cover photo by Laura Vanzo on visit Tampere
Text by Marta Metuzāle