Getting ready for your next trip can be overwhelming, since you have to remember to take care of a lot of things. With this Q&A post, learn a few tricks that can help make packing your cabin baggage a little easier.
Your cabin baggage is the most important factor to consider for your trip
Your cabin baggage should be made in an eye-catching color and material, but is should also be the right size with the required functions. Remember that your bag must be safe wherever you go – closed and with you at all times. If possible, things like your phone, passport, and wallet should be kept on you personally or in a sealed pocket in your bag.
When traveling by plane, remember the perfect size and weight of your cabin baggage

Always remember to check the size and weight restrictions of your cabin baggage before your flight.
On airBaltic flights, each Economy class passenger is allowed to carry on board 1 cabin bag (55x40x23 cm) + 1 personal item (30x40x10 cm) with a total weight of 8 kilograms, unless you have upgraded your cabin baggage allowance to 12 kilograms.
Please, be aware that before boarding, your cabin baggage weight and size may be checked. If you've purchased items prior to your flight at the tax free zone, and suddenly realize your bag will exceed the weight limit once you put the purchases in, remember that you're able to purchase heavy cabin baggage service up until the flight.
1. I have packed my cabin baggage, but it weighs 10 kg. Can I take it on board?
The free cabin baggage allowance for all airBaltic passengers in Economy class is 8 kg. However, we do offer the possibility to add an additional 4 kg to your ticket, making your total cabin baggage allowance 12 kg. This service is available starting from 11.99 EUR one-way; it can be bought during your original ticket purchase, later under the section "My Booking", or by contacting our Reservations department.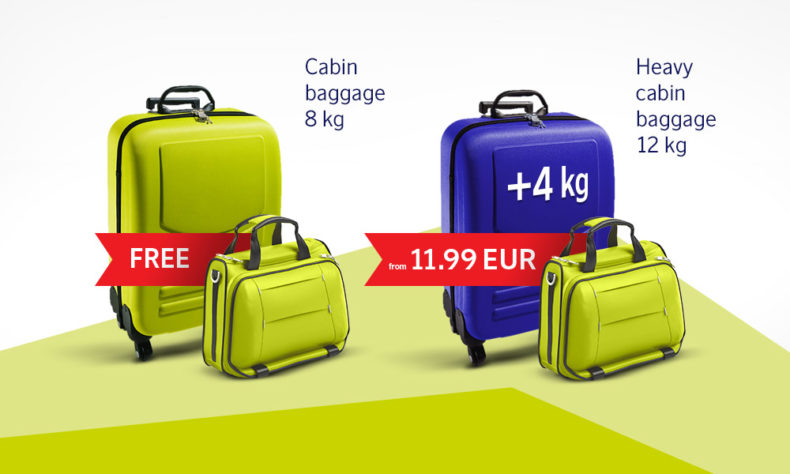 2. What happens if my cabin baggage is bigger or heavier than allowed?
If your cabin bag exceeds the weight or size limitation, you will need to check it in at the gate for a fee of EUR 60. If you are unsure whether your bag is the correct size or weight, check it at the Bag Drop desk before going through security. To be on even safer, consider adding the extra weight to existing cabin baggage or transport it as a checked bag (at a reduced online fee) when booking your ticket.
Once you've found the perfect bag, it's time to pack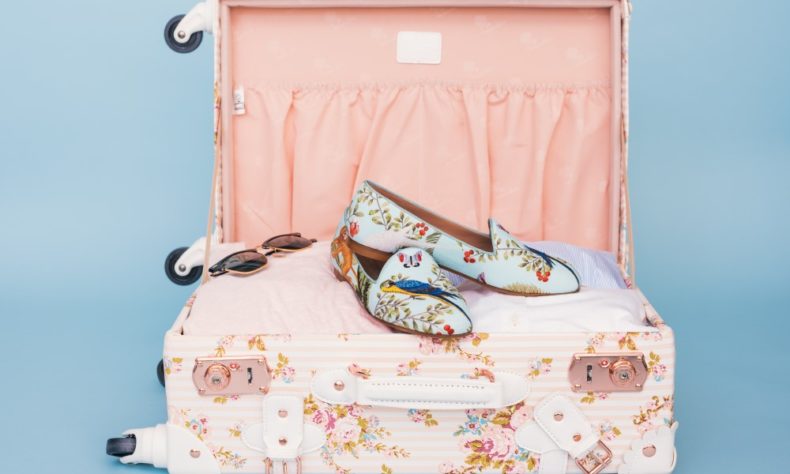 Before you start packing, ask yourself what kind of trip you're taking. Will you have checked baggage, or only a cabin bag? Remember that money, keys, medicine, important papers, valuable, passports, jewelry, precious metals, and electronic devices should be in your cabin baggage. Let's take a look at both options.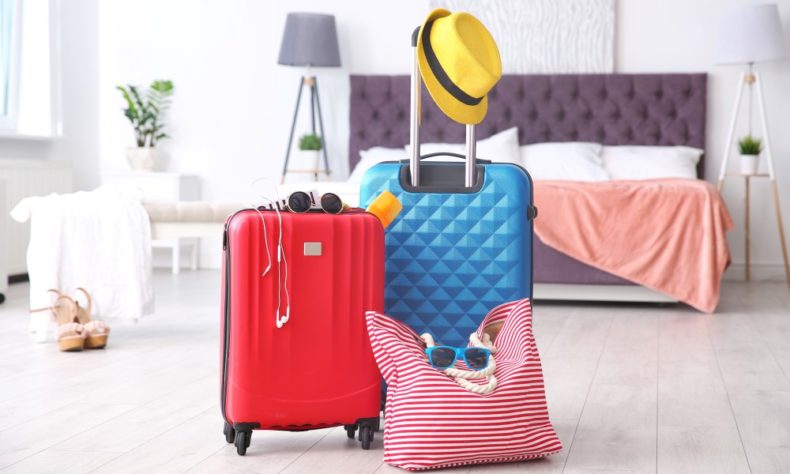 Trip with checked baggage and cabin baggage – congratulations, you've got more space to bring things back from your trip! As with cabin baggage, remember to also check the size and weight restrictions for checked baggage. In this scenario, you only need to put your essentials in cabin baggage – your travel documents, wallet and a book. All your other needs can be kept safely in your checked baggage, but remember to carefully check what can and cannot be put in it.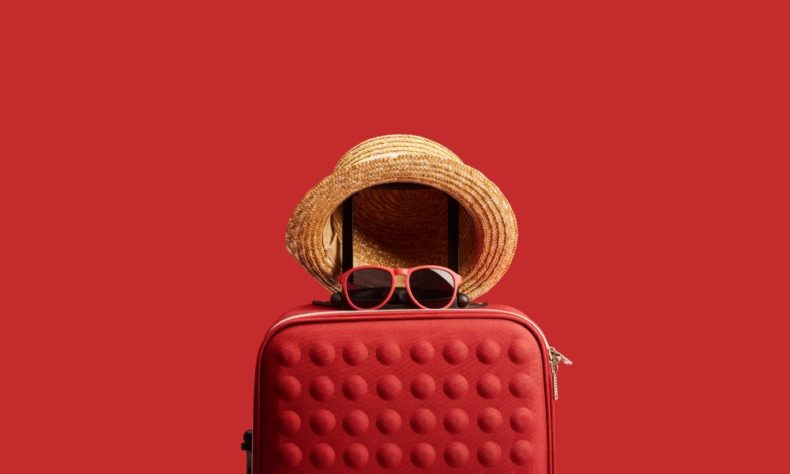 Trip only with cabin baggage – great choice! This will save time and simplify your trip. Avoid queuing at the airports check-in desk and reach your destination even faster – don't waste your time at bag carousel. In this scenario, you only need to consider what you are fitting in your hand baggage. Try different folding or rolling techniques, and remember, you always need less than you think.
3. Can I pack a bottle of water and toiletries inside my cabin baggage?
European Union aviation security rules state that you are only permitted to take small quantities of liquids in your cabin baggage. These liquids (for example, perfume, toothpaste, face cream, eye drops, etc.) must be placed in a see-through plastic bag; you can pick a bag up at the airport if you don't have one. Make sure that each individual piece does not exceed 100 ml, otherwise you will have to leave it at the airport. The easiest solution is to put all of your liquids in a suitcase and check it in, allowing you to take as much as you'd like.
4. I have a small laptop bag that I would like to take with me on board together with my cabin baggage. Is that allowed?
Yes. Each passenger can take on board one piece of cabin baggage with maximum dimensions of 55 x 40 x 23 cm (two bags for Business class passengers,) and one personal item (30 x 40 x 10 cm). The following are considered personal items: handbag, laptop bag, tax-free shopping bag, camera bag, and umbrella. Please note that your personal item (tax-free bag included) is considered part of your cabin baggage, and its weight combined with your cabin bag cannot exceed the maximum weight limits.
Travel with your entire family and create memories for your children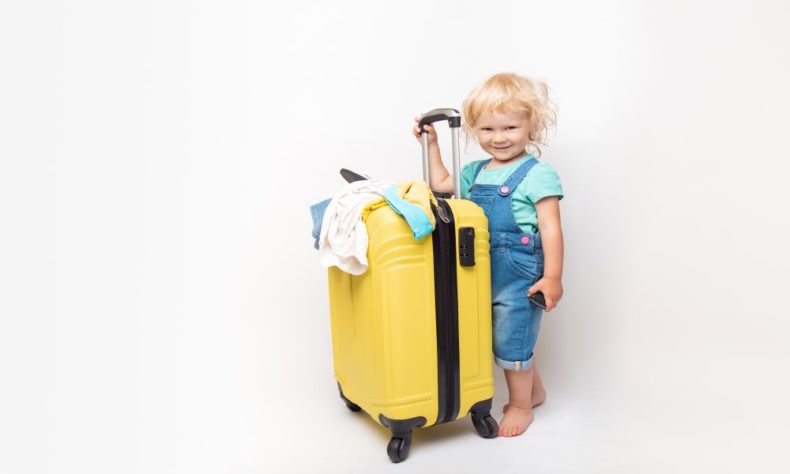 Travelling with other people or with children will take more time, so remember to take it slow and give yourself plenty of time. Don't overpack, take only the essentials, and you can always purchase anything you or the other travelers need. Book everything in advance and explain the details of the trip carefully, especially to the children. Don't be afraid to travel with a baby – it can easily be a pleasant experience, and we've taken all the necessary steps to make your flight with airBaltic as smooth as possible.
5. Can I take cabin baggage for my infant as well?
No. If your reservation includes an infant, one fully collapsible pram or stroller, carrycot, or infant car seat can be transported free of charge. You can also take 10 kg of checked baggage. This amount can be combined with your standard baggage allowance.
Your bags are packed and you're ready to travel, but your pet is looking at you with big, sad eyes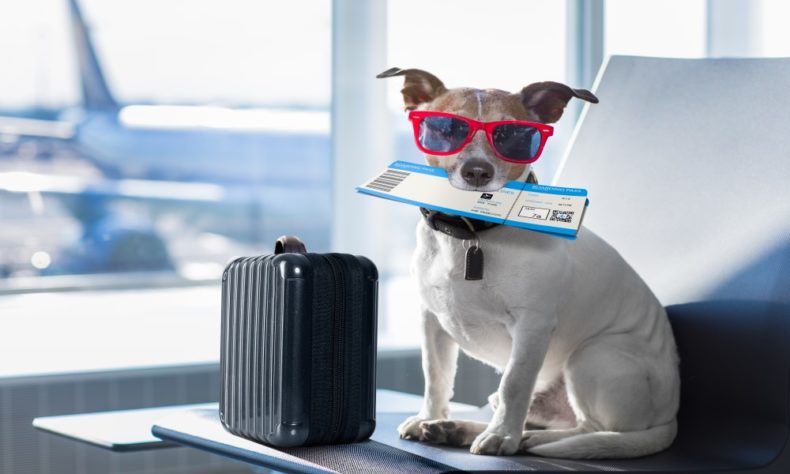 Check the necessary information about travelling with pets, give him a hug and take him with you! Passengers travelling with an animal must read the import and export regulations for animal transportation to your desired destination, and they must comply with all animal welfare provisions before booking the flight. This information can be obtained from the relevant country's consulate. The passenger must obtain all the documents required for the pet's transportation, including import, export, transit documents, and health and vaccination certificates. Please note that airBaltic will only transport cats and dogs, either in the passenger cabin (as hand luggage) or in the aircraft's cargo hold (as checked baggage) depending on the size and weight of the animal. Other animal species must be transported in manifested cargo only.
6. Can I bring a snake inside my backpack? It's friendly and will not cause any trouble.
No. airBaltic does not allow reptiles or rodents to be transported in the passenger cabin. Only small dogs and cats are allowed in the cabin. Animals must be held in a special crate that fits under the seat in front of you, and the fee for travelling with a pet is 70 EUR one-way. Larger animals can be transported in the cargo hold. You can reserve animal transportation via the airBaltic ticket office or call centre.
Whether it's your first trip, third or even twentieth – enjoy it!