With seven world-class courses tucked away among verdant forests and sandy seaside areas, Estonia is European golf's best-kept secret. This year Estonia also became the first Baltic country to be listed in the prestigious MICHELIN Guide. Thanks to the country's compact size, you'll have time for 18 holes near Tallinn in the morning and can fit in another nine on the other side of the country in the afternoon. Then, after a full day of golf, you can sit down to a gourmet dinner featuring fresh local ingredients at one of the 31 restaurants in the country to make it into the MICHELIN Guide.
Golf courses near Tallinn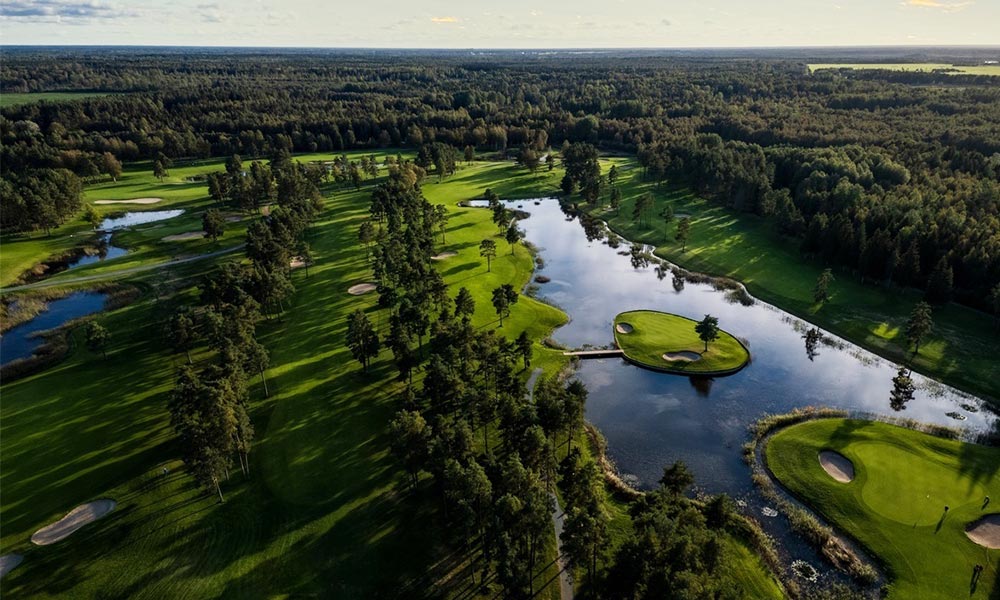 Photo by: Robert Lindström
Estonian Golf & Country Club
Estonian Golf & Country Club is 25 minutes outside of Tallinn and was voted the 2021 Best Golf Course in Estonia by World Golf Awards. The Sea Course meanders through virgin forest, and the Stone Course is set to be redesigned by 10-time major champion Annika Sörenstam as part of ambitious plans to create a complete family leisure resort.
Niitvälja Golf
As the oldest golf course in the Baltics, Niitvälja is a pioneer of Estonian golf. Its 18-hole parkland course is characterized first and foremost by natural features, including pristine forests and an abundance of water, guaranteeing an unforgettable golfing experience.
Rae Golf
Famous for its challenging island greens, Rae Golf Club is the largest golf club in Estonia and the closest golf course to Tallinn. After a round of golf, you can relax in the sauna and refresh yourself by swimming in the pond.
Where to sleep and eat
For historical luxury, stay in the middle of Tallinn's medieval Old Town at Hotel Telegraaf, housed in the former central office of the Estonian Telegraph. If you'd rather stay in the hustle and bustle of Tallinn's city center — and enjoy stunning views of the city — then check out the Hilton Tallinn Park Hotel or Radisson Collection Hotel.
Tallinn is also home to many of the country's top restaurants. Two of the city's restaurants, Restaurant 180° by Matthias Diether and NOA Chef's Hall, each received a MICHELIN star. There are 19 more outstanding places in Tallinn that made it into the MICHELIN Guide, like Fotografiska, Tchaikovsky, Lore Bistroo, Lee and Mon Repos, to name just a few.
Outside of Tallinn, you can check out Mere 38 and Ruhe, both of which are close to Estonian Golf & Country Club, and Wicca in Laulasmaa, near to Niitvälja Golf.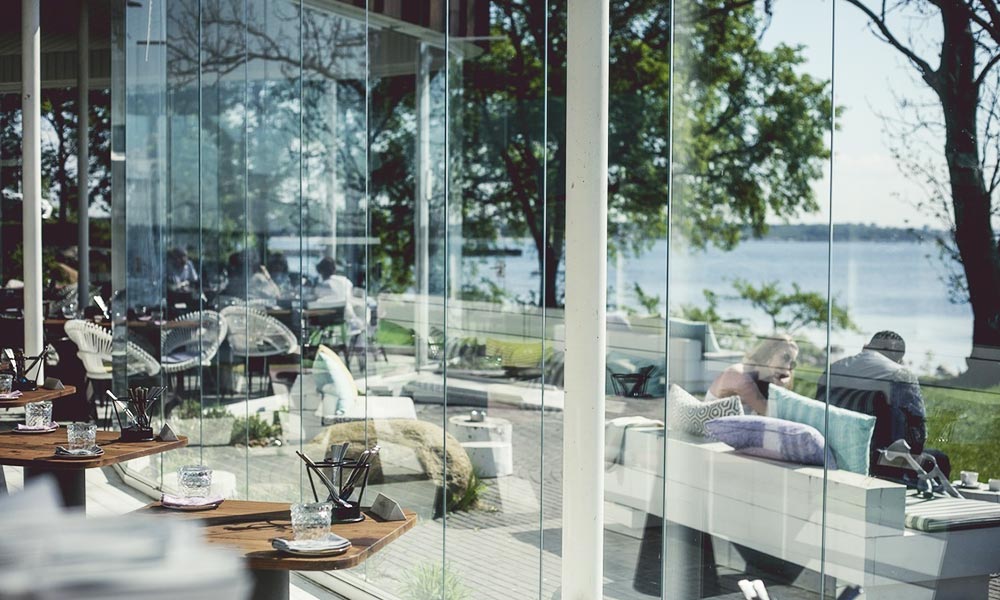 Photo by: Mariann Liimal
Golfing near the summertime capital of Estonia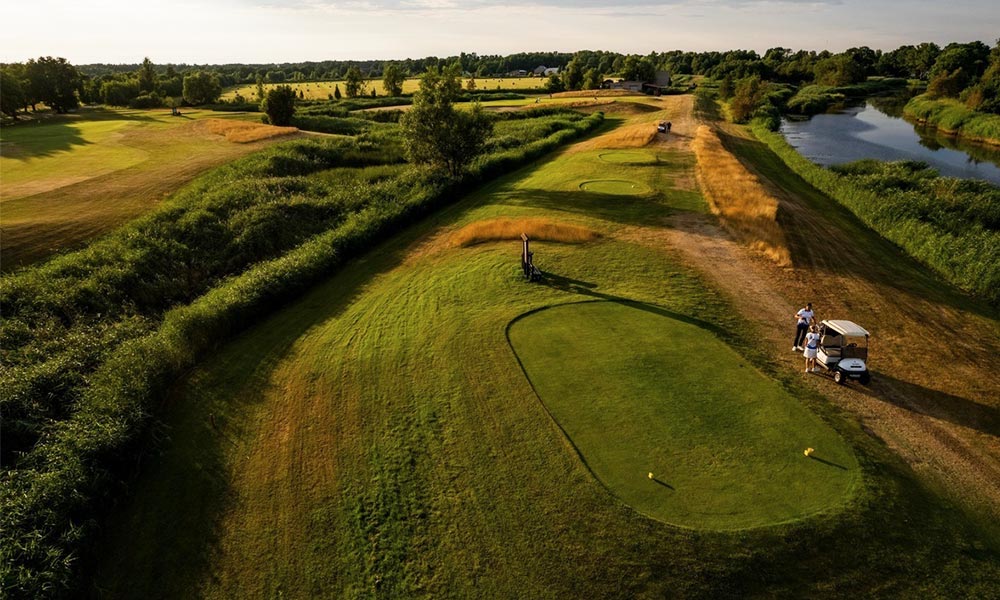 Photo by: Robert Lindström
Pärnu Bay Golf Links
Pärnu Bay Golf Links is a links course in the truest sense of the word: a coastal stretch of land with sandy soil and fescue grasses – the ultimate test of a golfer's ability. It is located a 10-minute drive from the city center of Pärnu – the summertime capital of Estonia.
White Beach Golf
White Beach Golf, designed by Kosti Kuronen, is the first 18-hole golf course in Pärnu County. The Audru River meanders along the course, along with numerous artificial lakes and hills that are sure to add excitement to your game.
Where to stay and eat
After a day on the course, treat yourself to a relaxing spa experience at the historic Hedon Spa & Hotel or enjoy the luxury of a room at the Frost Boutique Hotel or the Rosenplänter Boutique Hotel in Pärnu's medieval downtown.
There are plenty of restaurants around the area to choose from, like Raimond on the terrace of Hedon Spa or POKO by the beach promenade. Pastoraat, MUM Café and Ferro are all great restaurant choices located next to the Rosenplänter and Frost boutique hotels.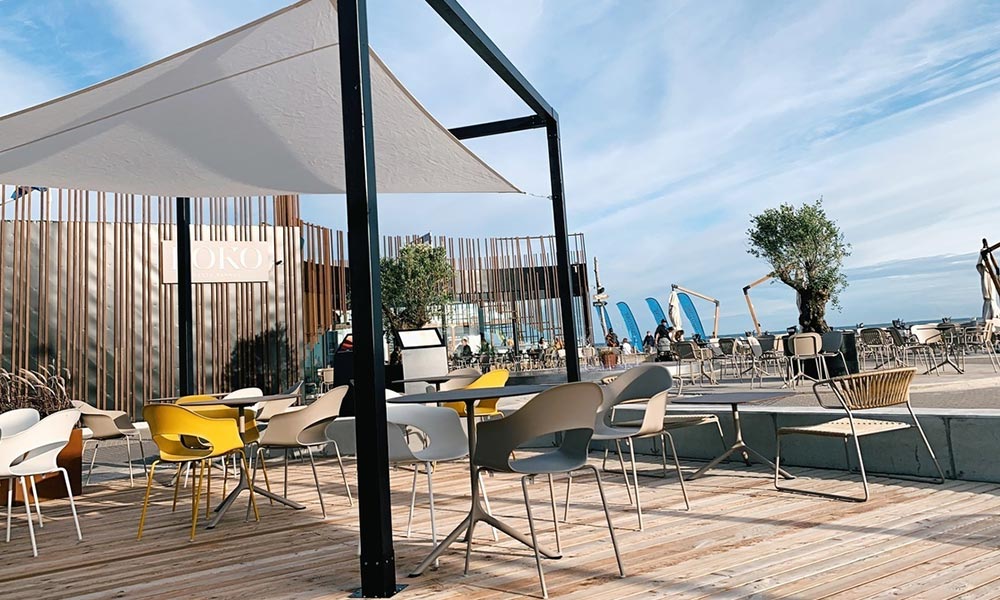 Photo by: Tatiana Metsala
An idyllic island course in the Baltic Sea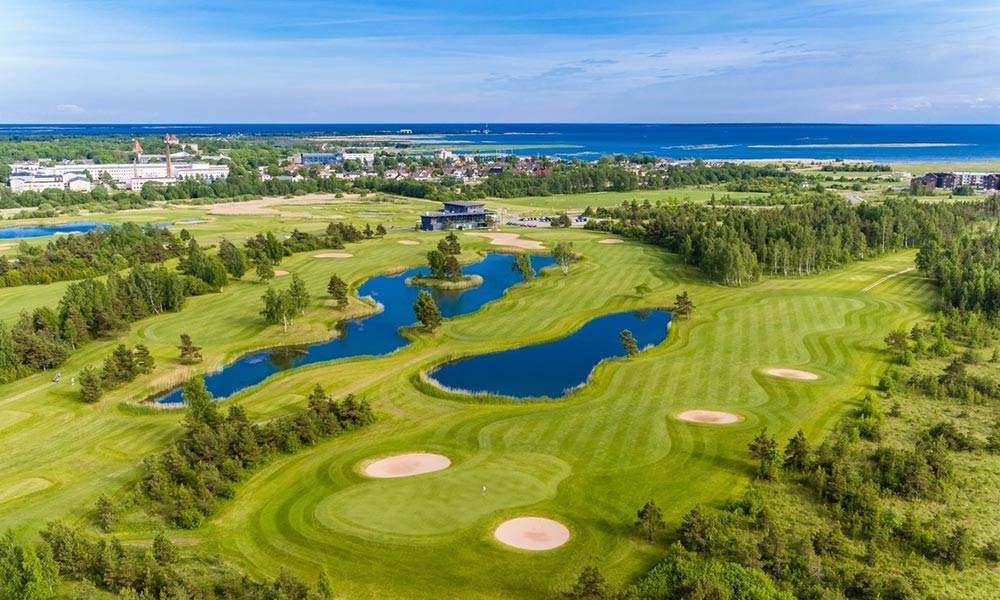 Photo by: Tarmo Haud
Saaremaa Golf & Country Club
Saaremaa Golf & Country Club is located on Saaremaa, Estonia's largest island. This course combines championship-level golf with the medieval town of Kuressaare's many activities and attractions, all situated within a 10-minute walk of the course. The course layout takes advantage of nature's handiwork to offer a memorable challenge for golfers of all skill levels.
Where to stay and eat
If you're traveling with family, spend the weekend at the George Ots Spa; they can enjoy unlimited use of the pools and saunas while you spend the day on the green. For a more private and peaceful scenery Arensburg Boutique Hotel is worth a visit.
Have a delicious meal of local ingredients on Kuressaare's main street in restaurant Castello or enjoy the view and fresh catch of the day in restaurant Hafen located in Kuressaare marina.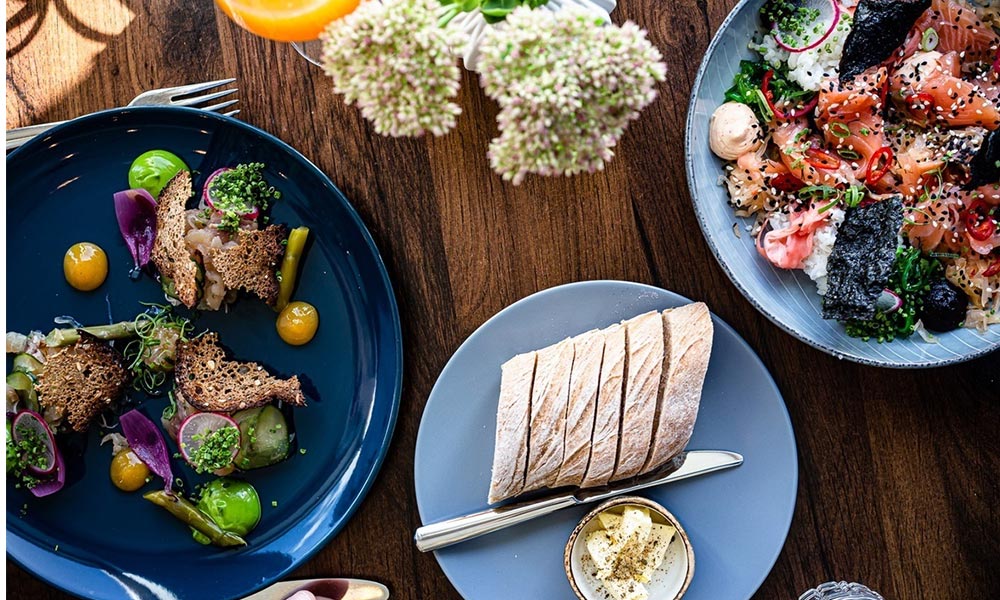 Photo by: Ragne Värk
Golf courses in South Estonia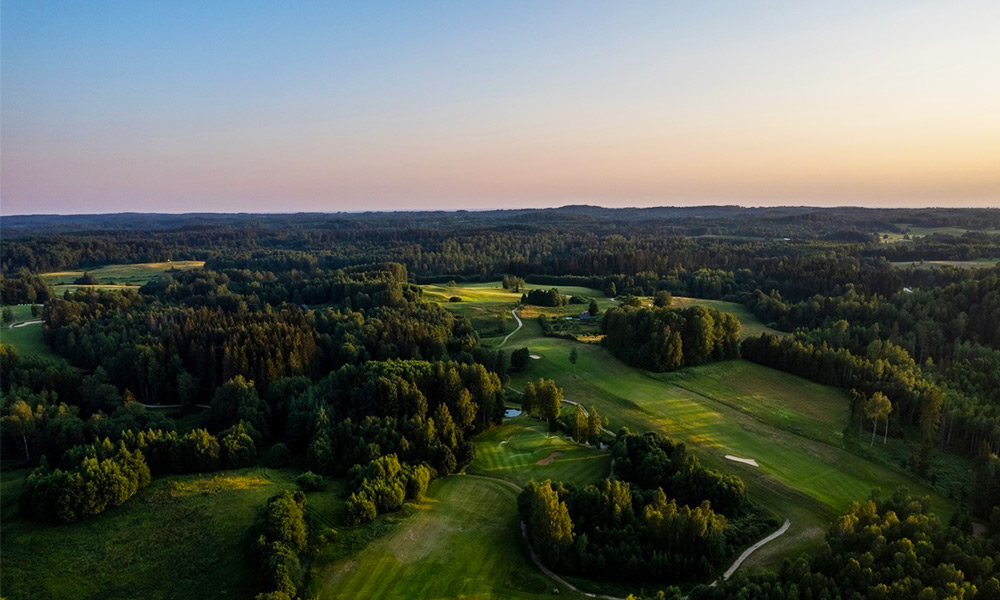 Photo by: Robert Lindström
Otepää Golf & Country Club
Otepää Golf & Country Club is a full-size championship course located in an ancient forest between beautiful lakes. Picturesque nature and rolling hills make golfing here both fun and challenging. As the sports capital of Estonia, Otepää is the perfect place to enjoy an active holiday with friends or family.
Where to sleep and eat
Spend the night in a mirrored cabin at ÖÖD Hotels Kääriku, or immerse yourself in the natural splendor of South Estonia at Kivitalu Country Hotel Cottages, featuring cabins along the shore of a small lake.
On the way back to Tallinn, stop by Viljandi for a meal at the cozy Fellin Cafe. Estonia's second city, Tartu, is also a short drive from Otepää. Stroll along the Emajõgi River promenade and have dinner at one of the three MICHELIN-recommended restaurants in town: Hõlm, Fii, and Joyce.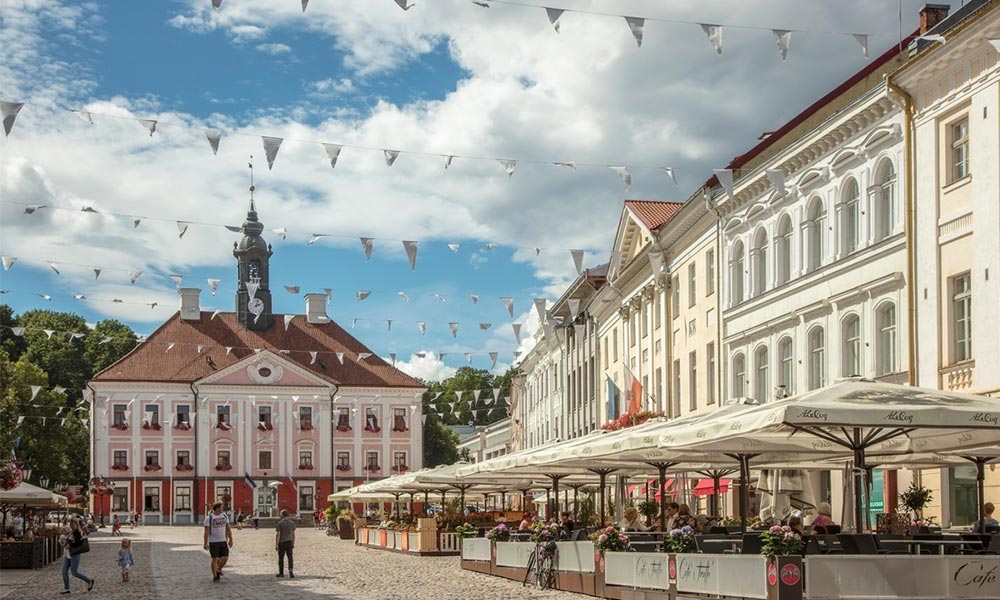 Photo by: Riina Varol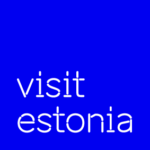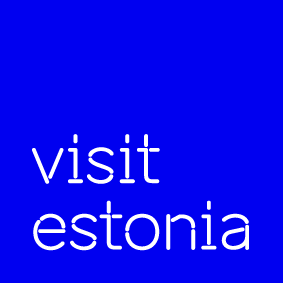 For more information about Estonia, go to visitestonia.com