With its stunning architecture, luxurious lifestyle, and world-class attractions, Dubai is a top destination that never ceases to amaze.
Mixing old-world traditions with over-the-top shopping, opulence, and an ambition for the future that's unmatched by any other destination, Dubai is an innovative city that ticks a lot of boxes for a vacation.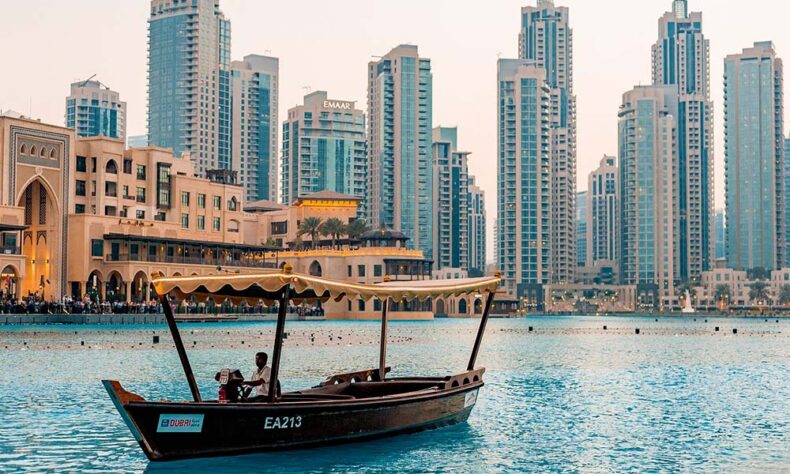 But did you know that Dubai is also a great destination to visit in the summer?
Contrary to popular belief, the scorching heat in summer doesn't make Dubai a bad place to visit. There are many reasons why you should consider spending your summer vacation in this amazing city.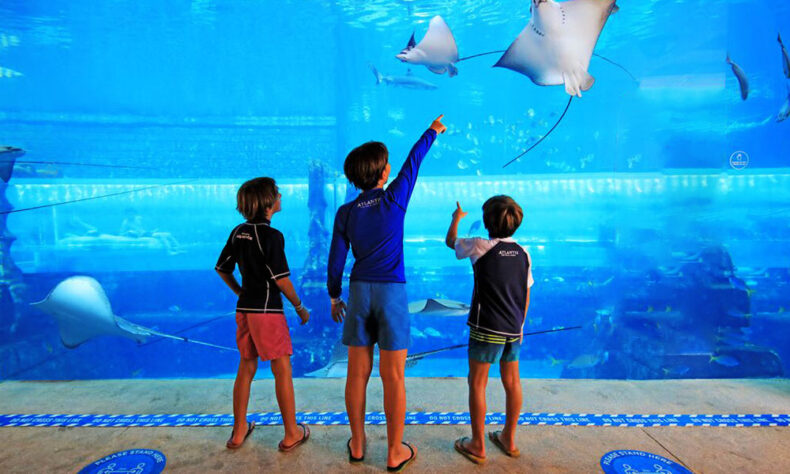 First, summer in Dubai is more affordable. If you're looking for a budget-friendly trip, summer is the best time to visit, with unbelievable deals on flights, hotels, attractions, and activities.
You can also enjoy discounts and offers on shopping, dining, and entertainment across the city.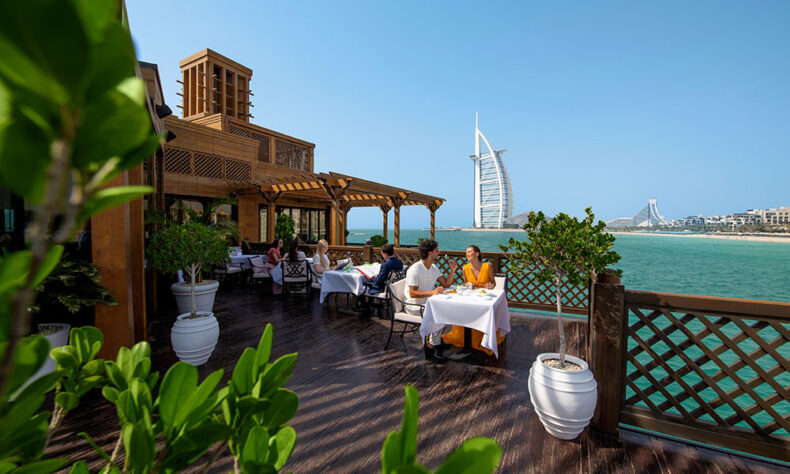 Summer in Dubai is also less crowded, making your visit more peaceful and relaxing. There's more space and privacy on the beaches and in the parks and museums, and there are also fewer crowds in the shopping malls.
And finally, summer is jam-packed with fun and exciting activities and events catering to all ages and interests.
From art exhibitions at the Jameel Arts Centre to pop-up dinners at contemporary museums, there's something for everyone.
Here are some unmissable experiences to try this summer.
Visit the desert at night
The days may be hot, but when night falls, temperatures in the desert are relatively cool, no matter the season. That's why escaping into the incredible desert on Dubai's border is an excellent way to experience the destination in summer.
Tours depart in the afternoon, taking guests on thrilling rides across the dunes in air-conditioned 4WD jeeps.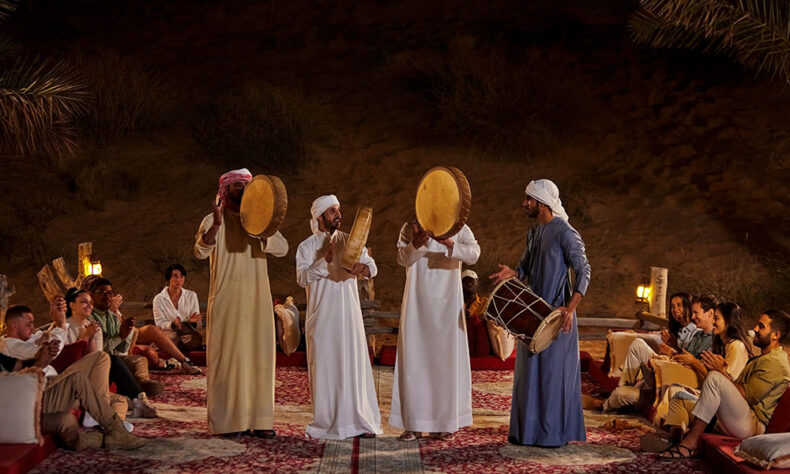 As evening falls, traditional Bedouin camps set up between the dunes host great barbeque dinners with live entertainment shows and various other activities, including camel rides, sandboarding, henna painting, and more.
Best of all, though, is the view of the night sky above. Without the city lights, the dazzling display of stars is awe-inspiring.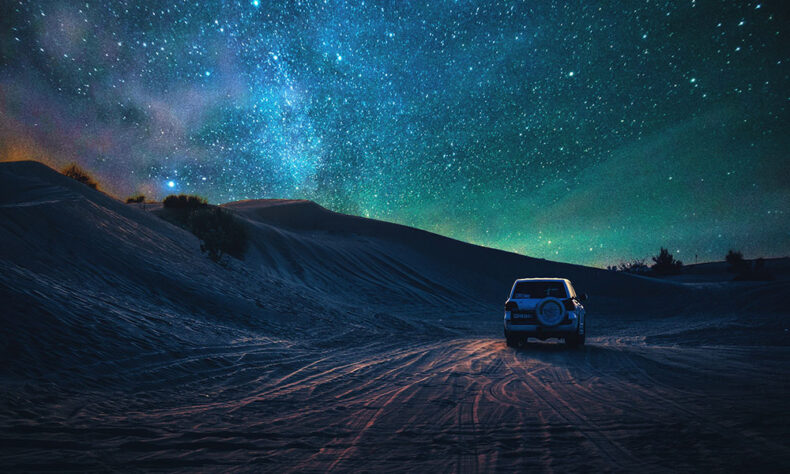 Stay cool at waterparks
Another way to beat the heat and have fun in Dubai is to visit one of its many waterparks.
Dubai boasts some of the best waterparks in the world, featuring thrilling slides, rides, pools, and attractions for all ages and levels of adventure.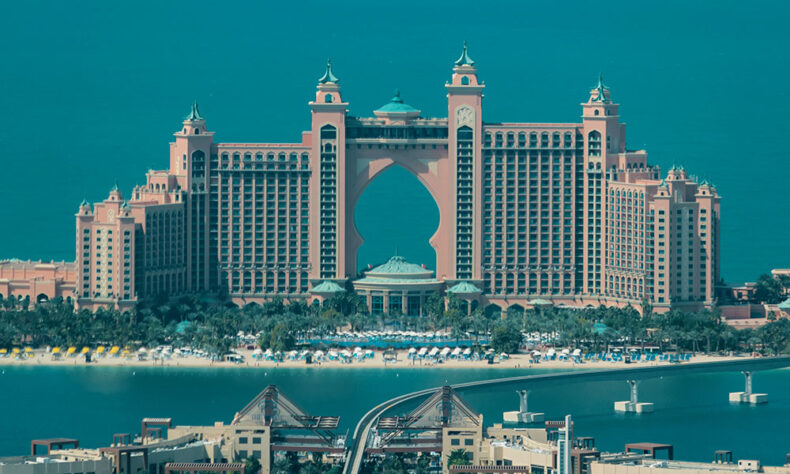 Some of the most popular waterparks in Dubai are Aquaventure Waterpark at Atlantis, T the Palm, Wild Wadi Waterpark at Jumeirah Beach Hotel, and Legoland Waterpark at Dubai Parks and Resorts.
If you're feeling particularly adventurous, take to the waves at one of Dubai's beaches with surfing coaches from Surf House.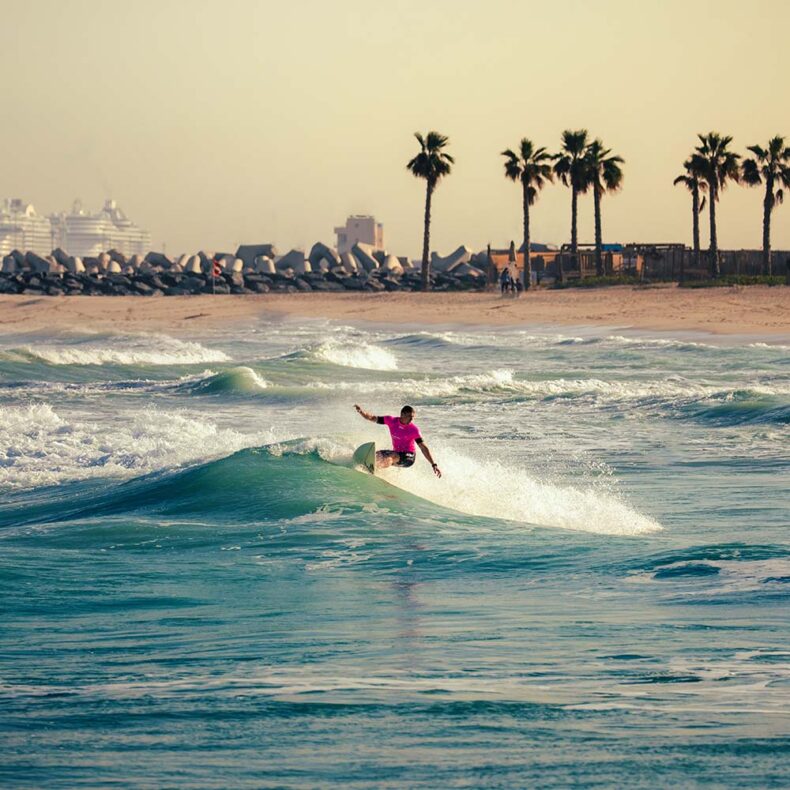 Enjoy world-class indoor activities
Dubai is a city with a plethora of indoor activities to enjoy in the summer.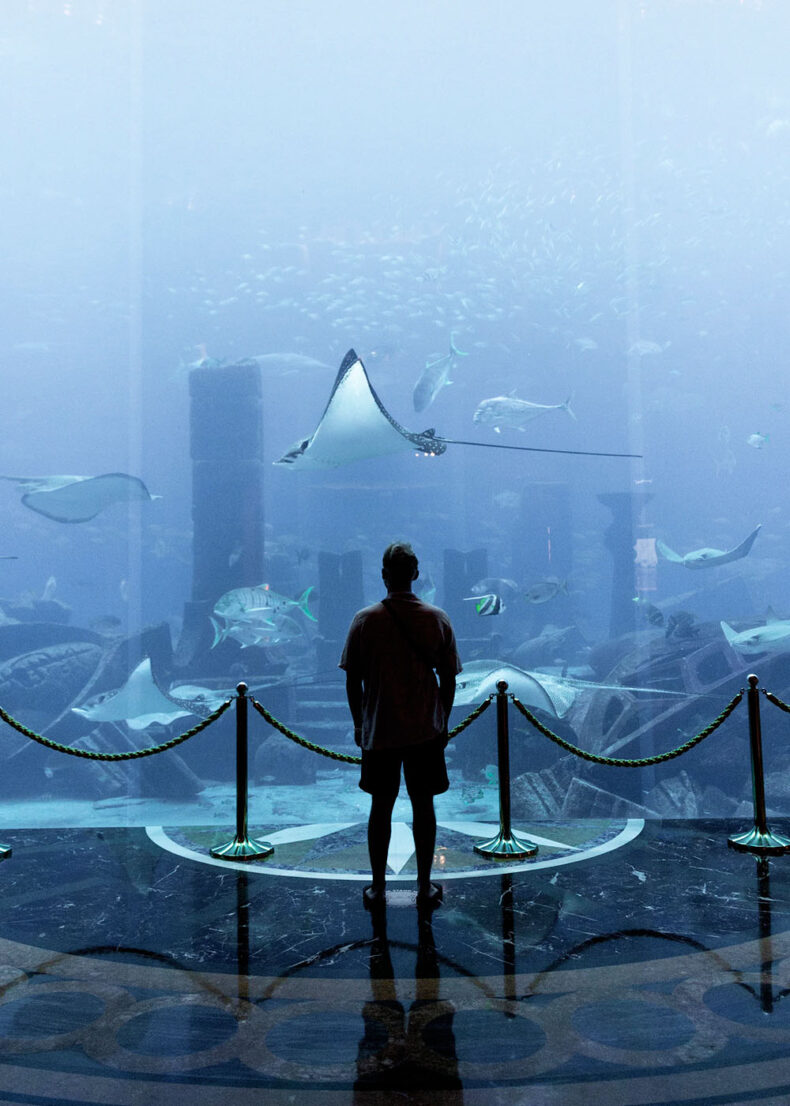 From skiing at the world's largest indoor snow park (Ski Dubai) to spending sprees at the world's largest shopping centre (Dubai Mall), you can easily enjoy the best Dubai has to offer in air-conditioned comfort.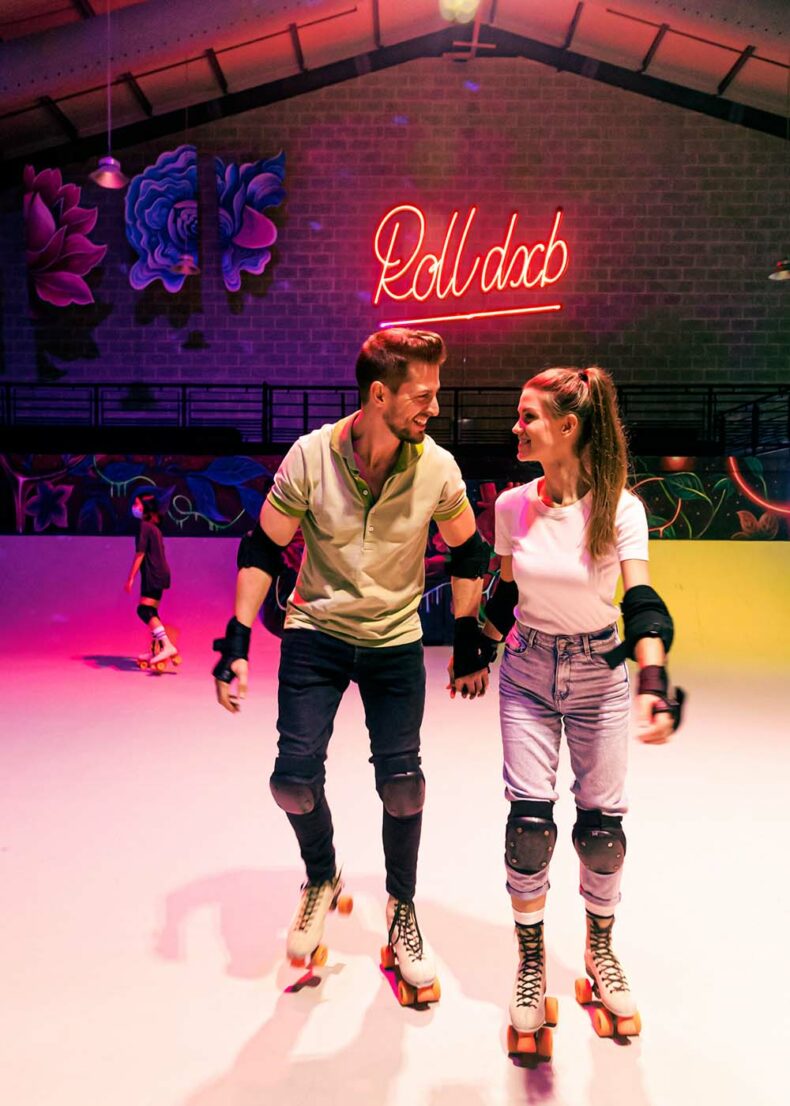 But the superlatives don't stop there; there's also one of the world's largest aquariums, a roller disco, an ice rink, and indoor theme parks, such as IMG Worlds of Adventure.
Finally, there are Dubai's incredible museums showcasing the past, present, and future.
Kids-go-for-free deals
Who said a family summer holiday in Dubai has to break the bank? Children will love this city, and Dubai loves them right back with its range of "Kids Go Free" deals.
From free hotel stays and free tickets to The View at The Palm to discounts at many other attractions, this is a great opportunity for a more affordable family vacation.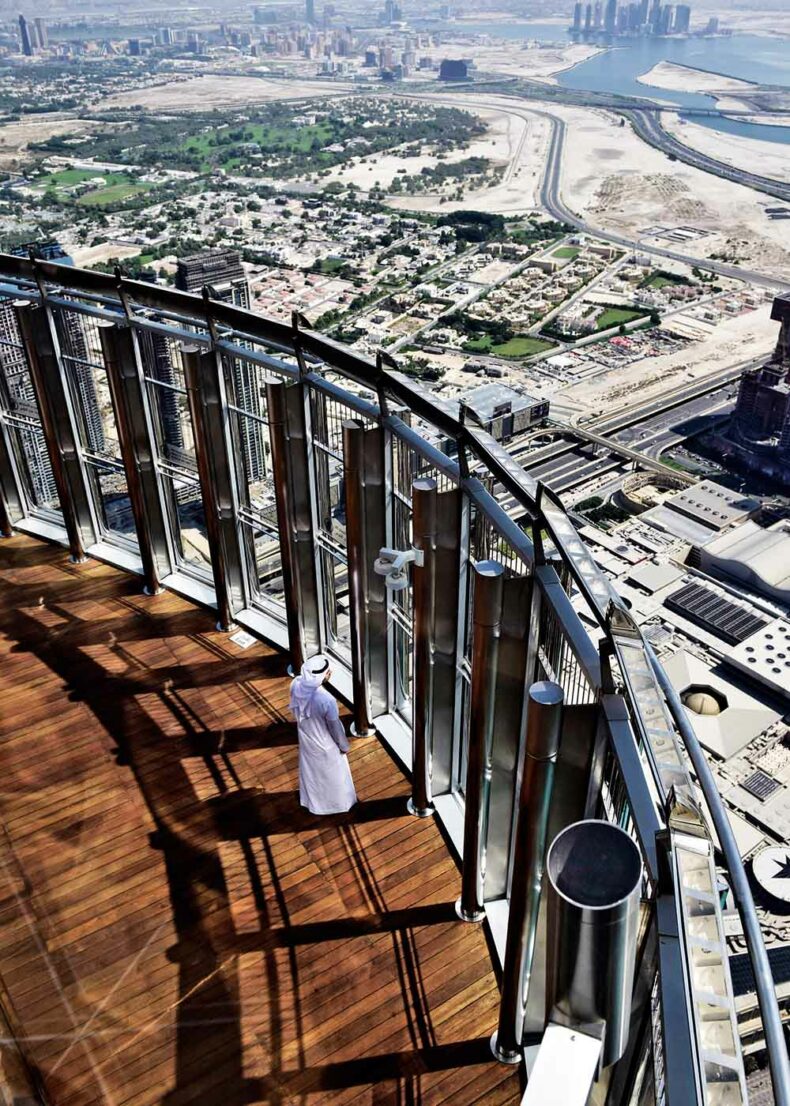 As far as attractions go, children get free admission to At The Top, the observation deck on the 124th floor of the Burj Khalifa.
Kids also get free entry to Madame Tussauds, Expo City Dubai, the Sky Views Observatory, and more.
Then, there are the free or discounted stays at some of the city's best hotels, including Jumeirah Emirates Towers, Legoland Hotel, The Atlantis, at The Palm, and plenty more.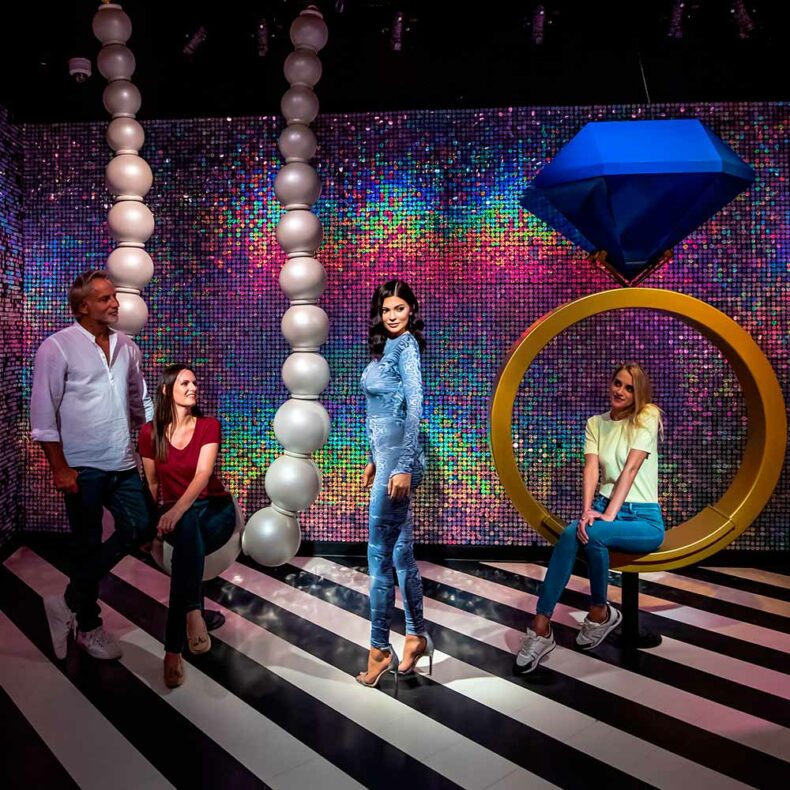 With so many savings to be had, a summer vacation in Dubai with children is a fantastic way to create memories together as a family.
See the views from on high
Dubai's skyline is a sight to behold, and if there's one way to enjoy it, it's by admiring it from above.
The city's iconic landmarks take on another quality from up high in the sky. An obvious way to take to the skies for city views is to go for a helicopter ride.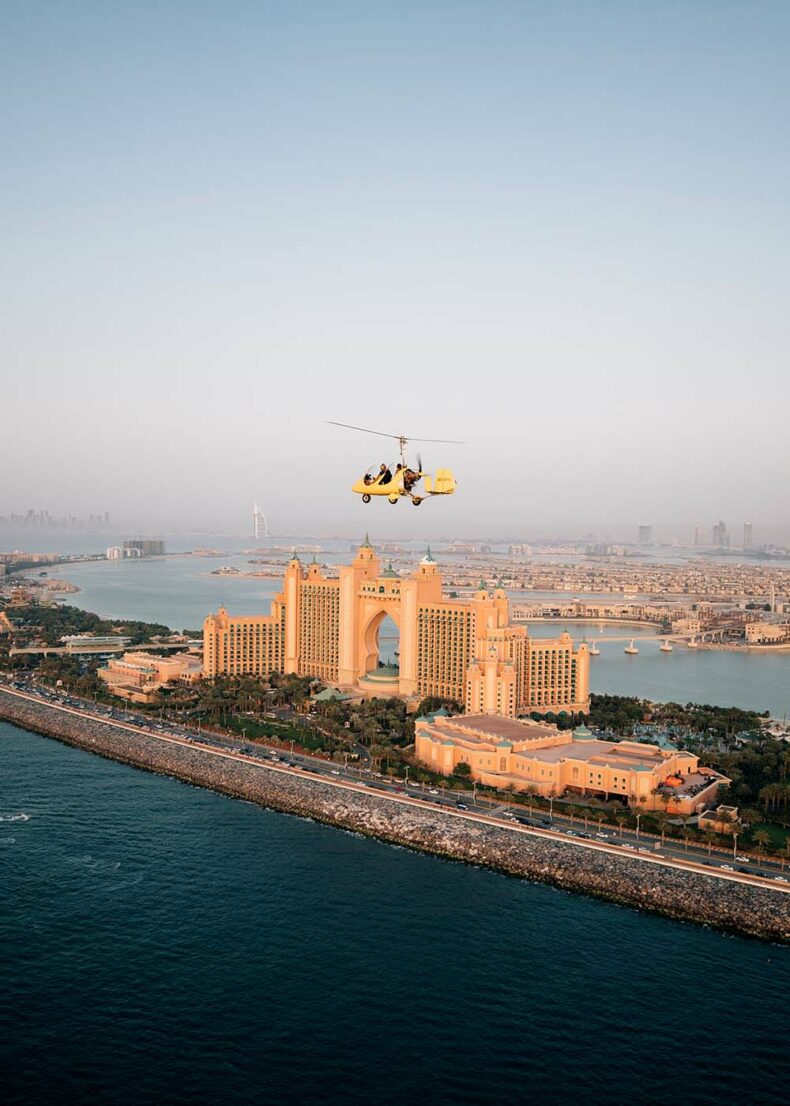 Soaring above this impressive desert city, you'll spy out all the famous landmarks, such as the Palm and the Burj Khalifa.
Speaking of which, the Burj Khalifa is also home to the high-end Atmosphere restaurant, located on the 122nd floor – a staggering height to enjoy a meal.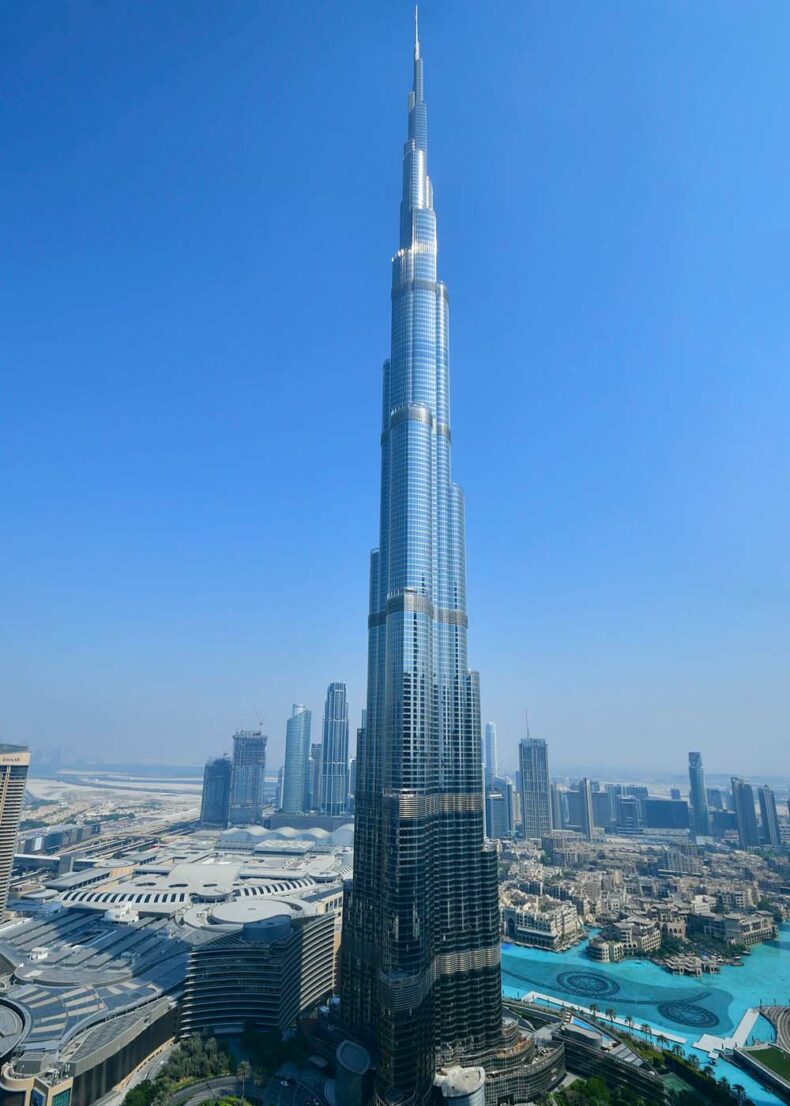 For more ways to admire views that will sweep you off your feet, head to Sky Views Dubai. Situated on top of the Address Sky View hotel, there are three distinct experiences to try at Sky Views Dubai.
A panoramic glass elevator whisks you up to the 52nd floor, from where a spiral staircase takes you up one more level, where you walk across a 46-metre-long walkway to the adjacent building.
Then, there's the glass slide, where you'll shoot back down to the 52nd level in a rush that's suitable not just for kids but for all ages.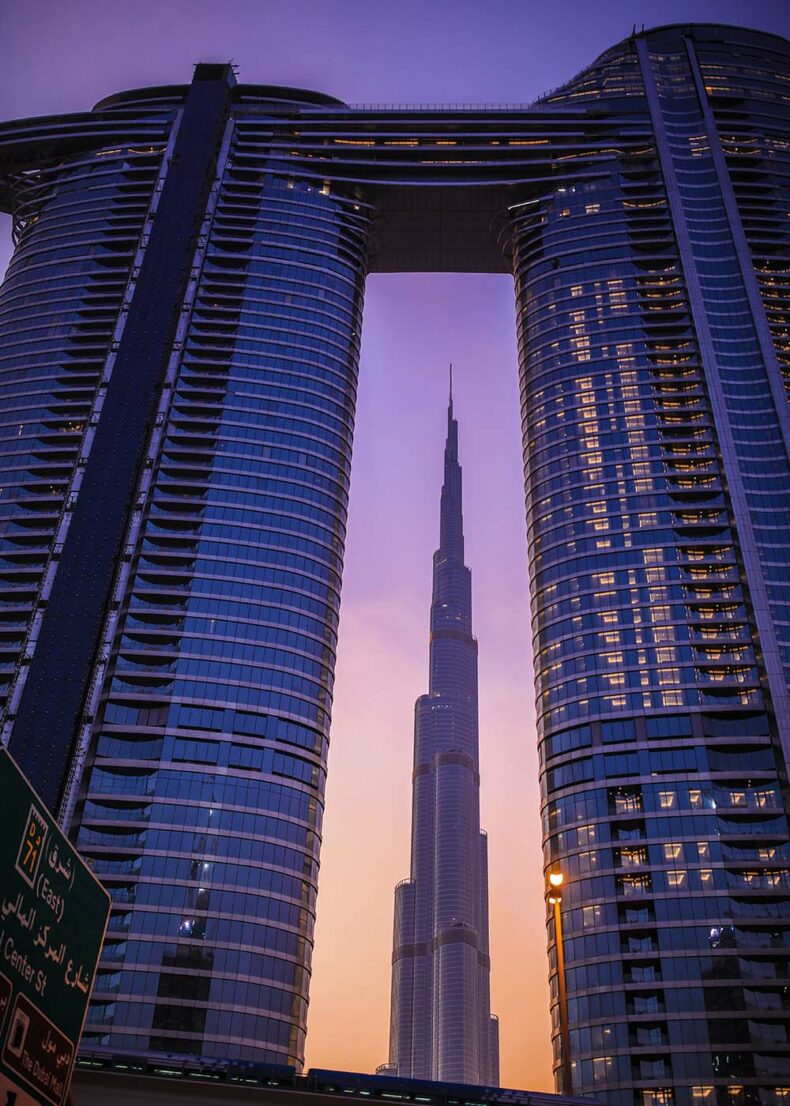 Finally, true risk takers will want to harness up and tackle the Edge Walk, where you'll walk the outer rim of the skyscraper.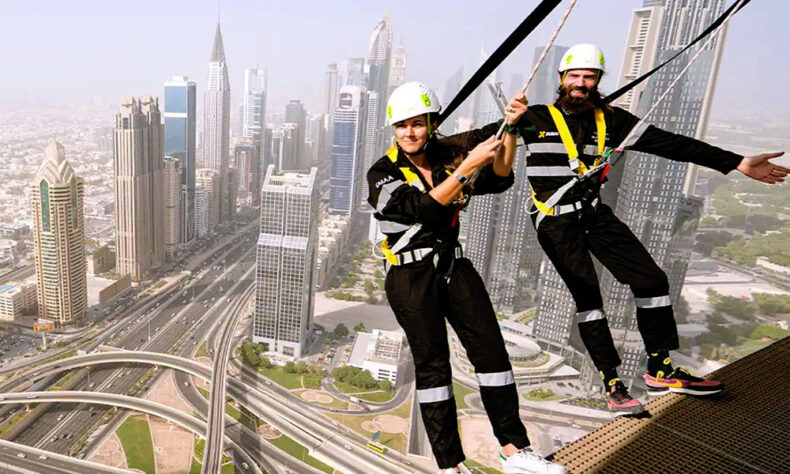 But there are even more ways to experience the thrill of seeing Dubai from above.
From skydiving to hot air balloon rides to zip lines, Dubai is a top destination for anyone seeking spectacular views.
Unwind at Dubai's beaches
The summer heat in Dubai can be hard to beat, but a sure-fire way to stay cool on your vacation is to enjoy one of the city's pristine beaches.
Dubai is home to miles of stunning shoreline and crystal-clear waters, offering a tempting place to unwind.
The water warms up quickly, so if you're looking to get in a dip, early morning or late evening is best, when the temperatures are a bit cooler.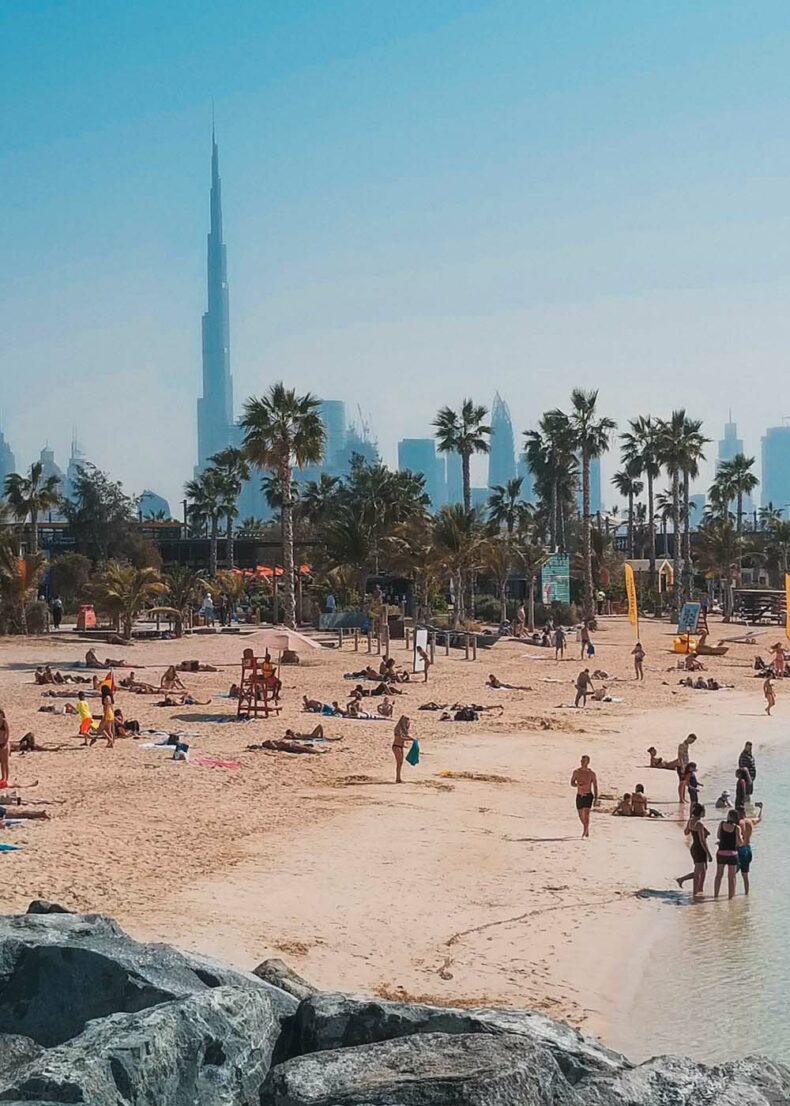 During the day, it's best to purchase a day pass to one of Dubai's beachfront resorts.
This is the best way to stave off the heat of the day, since they have temperature-controlled swimming pools, shaded areas, and plush cabanas, and you can also enjoy the on-site restaurants and cafés.
From world-class luxury hotels to free-entrance beach clubs, there are beach clubs in Dubai to suit all tastes.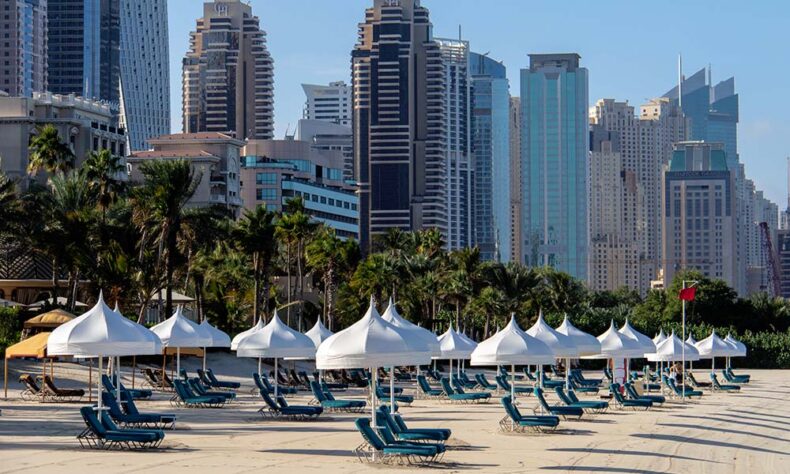 And for those looking to cool off with the spray of water and wind in their hair, there are a variety of ways to get out onto the water.
Jet skiing is a thrill, shooting across the sea with the Dubai skyline rising to one side.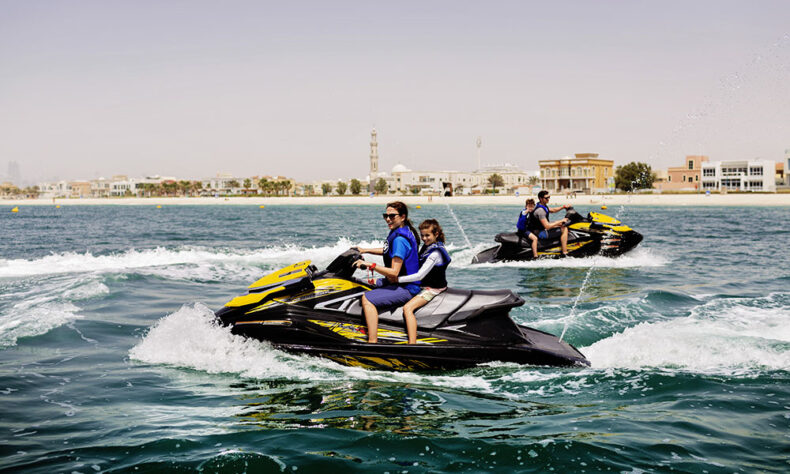 There's also kitesurfing, parasailing, stand-up paddleboarding, and much more.
In summer, most of these activities take place in the morning or evening, again avoiding the intense heat of the day.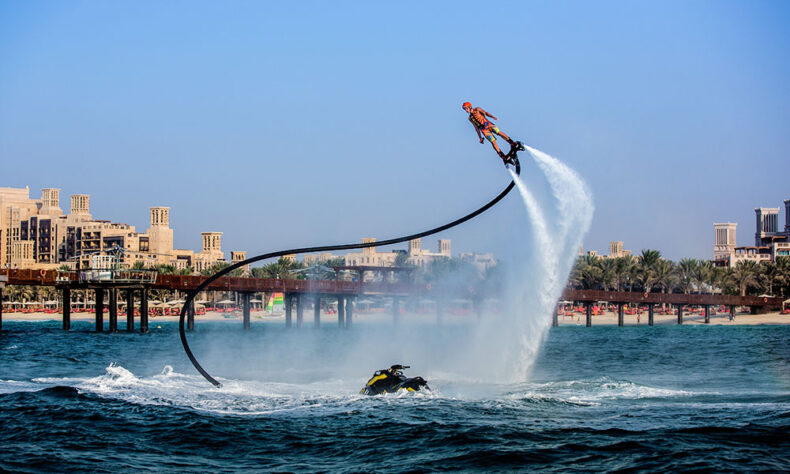 Enjoy a shopping spree at the malls
And finally, if the summer heat is getting to be too much, do as the locals do and escape into one of Dubai's luxurious shopping malls.
Inside these mega-malls you'll find anything you've ever dreamed of; this city is truly a shopper's paradise.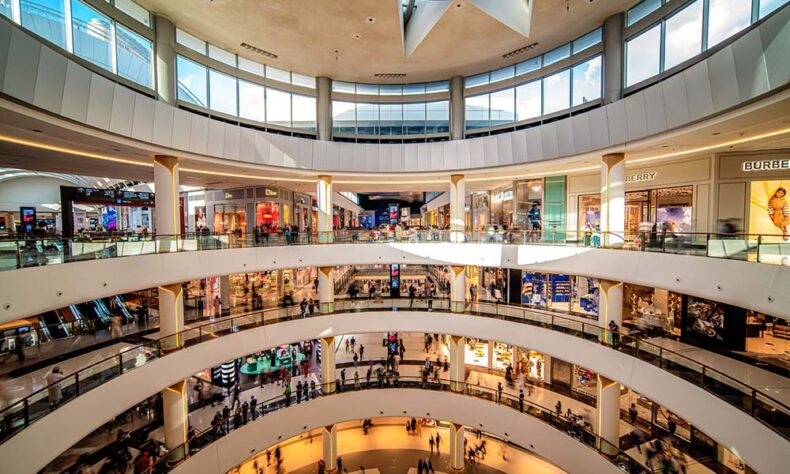 For some of the most compelling shopping experiences in Dubai, it's hard to look past the Dubai Mall, which, with more than 1200 stores to check out, is one of the world's largest malls.
In this city, shopping until you drop is a very real risk. The Dubai Mall is also home to an indoor ice-skating rink and the Dubai Aquarium and Underwater Zoo.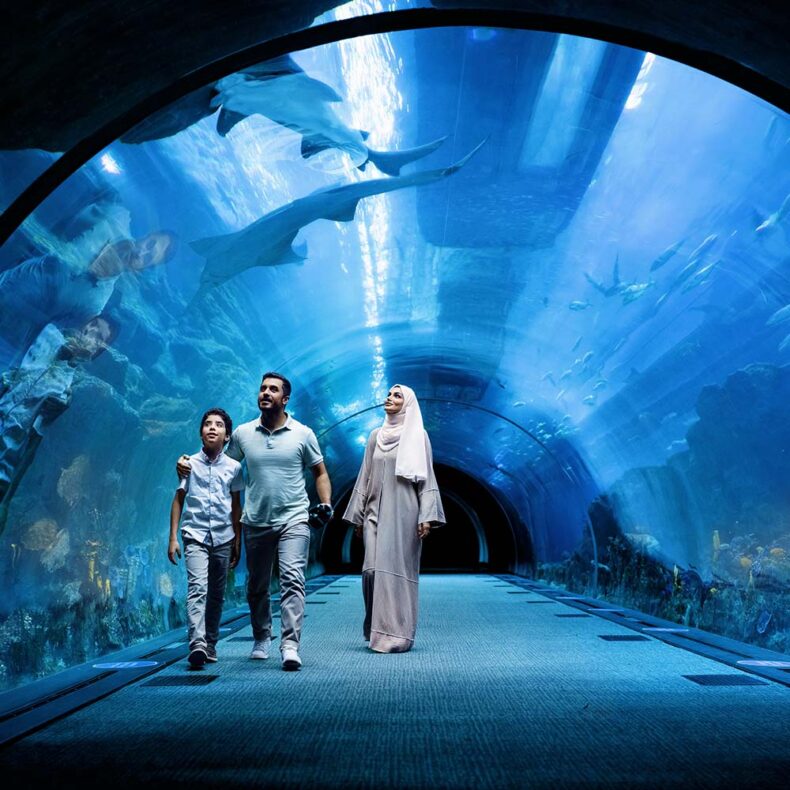 Then, there's the opulent Mall of the Emirates, a retail heaven where you can browse high-end fashion brands, street fashion, and other trendy brands in one of the more upscale malls in the city.
Don't forget to take a break from all the shopping to shoot down the mall's indoor ski slope, or keep the kids distracted with a trip to the Magic Planet theme park.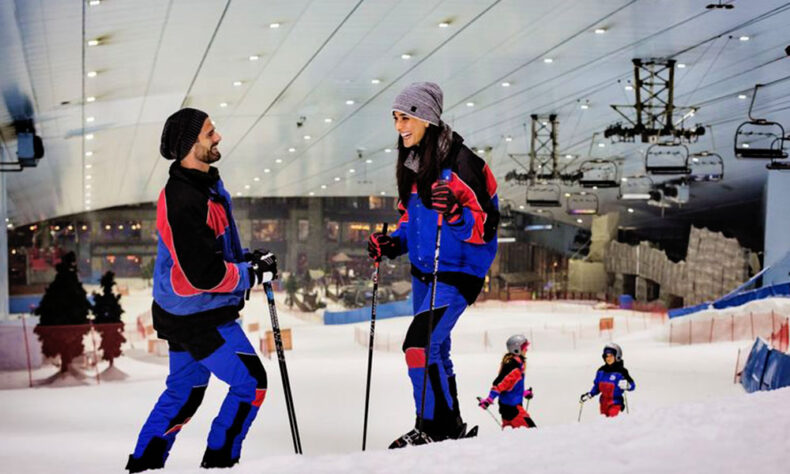 For something unique, the Ibn Battuta Mall lets you explore six different sections, each inspired by a different part of the world.
Here you can walk through a slice of Spanish Andalusia, Ancient Egypt, Tunisia, India, Persia, and even China.
The sights are attractions in and of themselves, but then there's the shopping as well, with a range of international brands, street fashion, and sprawling food courts to enjoy a leisurely lunch.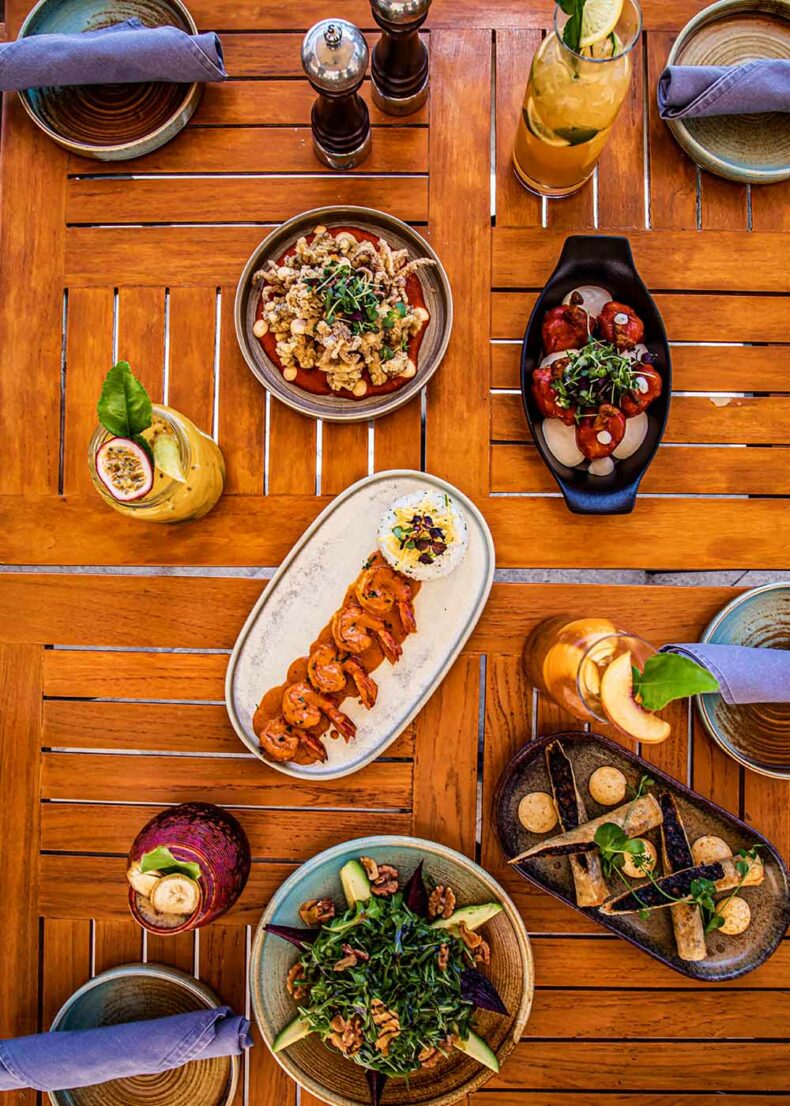 Text by James Taylor