Burgundy will steal your heart.
If you are ready to be carried away by picturesque, centuries-old villages and endless landscapes of vineyards, and dive into the art of gastronomy and fine wine, pack your bags, book a flight, and let the butterflies start flying in your stomach.
Burgundy, or Bourgogne in French, is the region whose core can be expressed in one word: nature.
Even those who usually don't get overexcited about getting lost in nature, will easily end up spending most of their time wandering around the vineyards and admiring the color palette almost as if it were painted by an invisible master hand.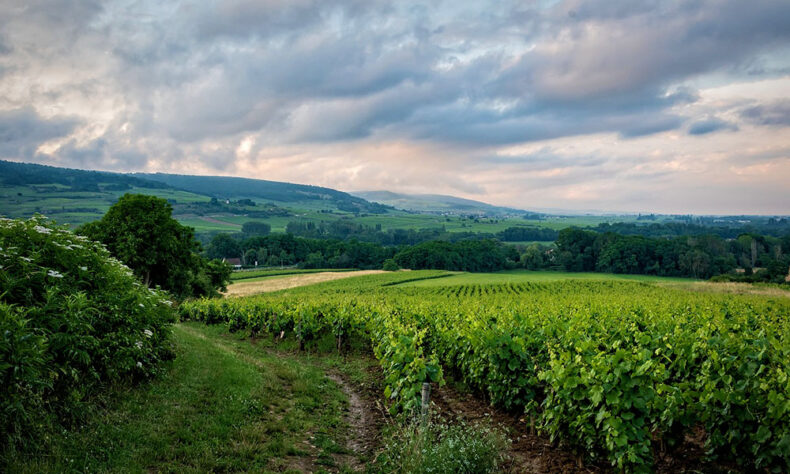 A mysterious veil of mist envelops the landscape during the winter months, before early spring arrives with bright sunshine and colors the plains in green. 
In the summer, the play of blue skies and white clouds makes you want to simply lay down under the canopy of vines and listen to the heartbeat of nature.
September is one of the most beautiful months of the year – in the fields you can see the bustle of harvesting, and the leaves of the vines light up in countless shades of red and yellow, justifying its name – Cote d'Or (Gold coast).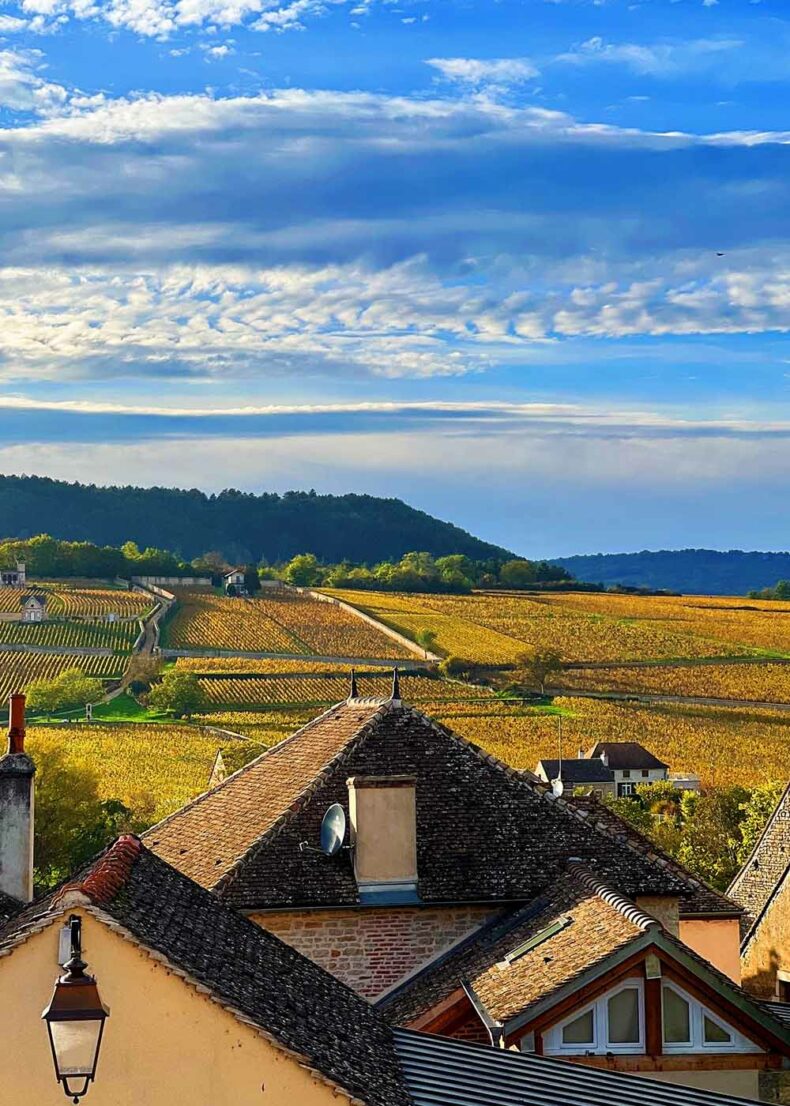 A 4-to-5 day stay in Burgundy will be best to explore the region in no rush. 
Beaune is not only the Capital of Burgundy Wines, but also an absolutely charming town- a day or two spent there wandering the small streets will almost make you feel like a time traveler to another century.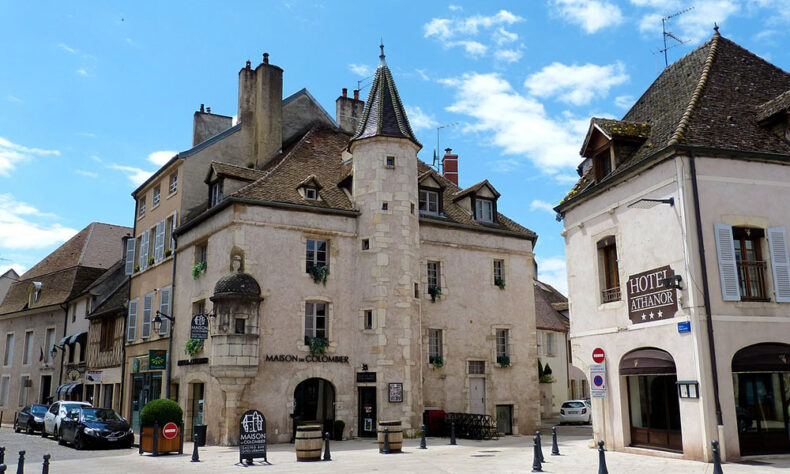 I recommend staying near Beaune, such as the beautiful villages of Pommard or Meursault, to soak up the true charm of the region. In the ancient villages, history is present on every step, starting from winegrowers' limestone houses with tiled roofs to the church in the main square whose bells still wake up residents and guests in the morning. 
Unusual peace resides in the streets of the village and the rhythm of life is pleasantly slow.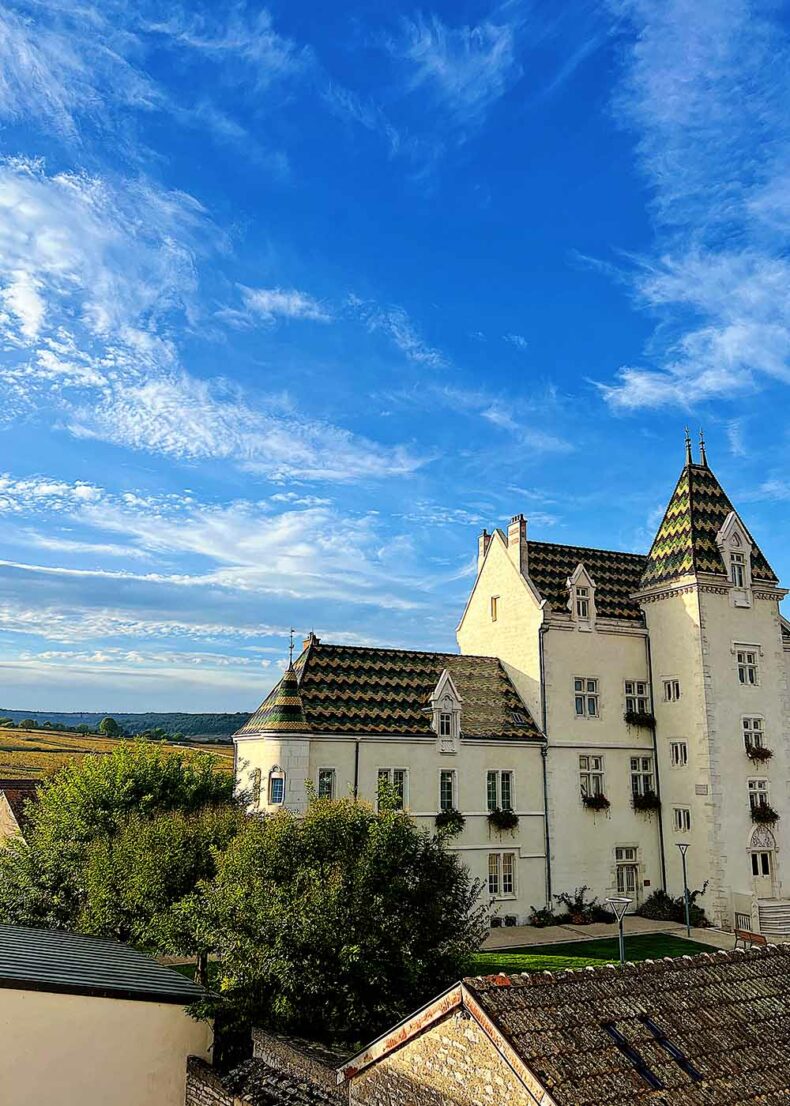 The capital of mustard, Dijon, is a 40-minute drive from Beaune. It is a bigger town, so I suggest exploring it at the end of your trip, and plan time for the marketplace and recently opened International Cité of Gastronomy and Wine.
Lyon is around a 1.5 h drive away, and  it is definitely a city to discover in a separate trip for one simple reason – Burgundy will steal your heart and make you wonder where the time went. 
Where to stay?
If you are looking for an absolute gem in the region, the five-room boutique hotel La Maison de Pommard is a must-stay.
This 18th century winemaker's house opened in 2021 and went through seven years of renovation to be reshaped into a boutique hotel.
Since its opening, it has attracted design lovers, wine lovers, and even winemakers who love an overnight stay to sample their wines together with the hotel guests and hosts.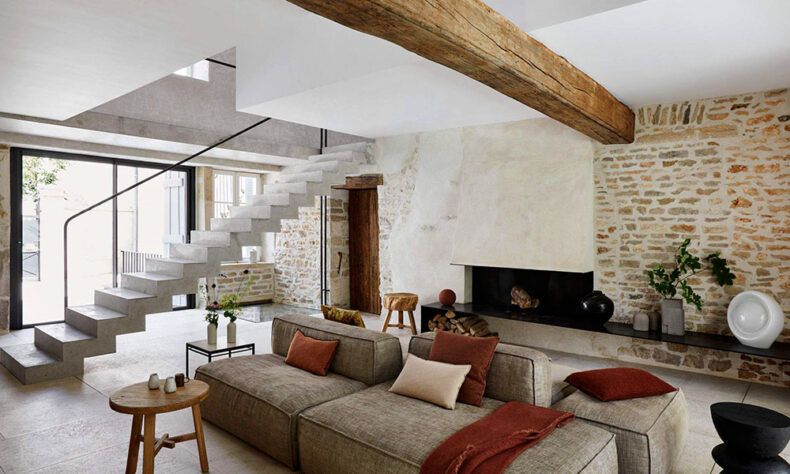 Located in central Pommard, a picturesque village surrounded by vineyards, the establishment is an oasis for those looking for a place where contemporary design meets historic details, like old beams and terracotta floor tiles.
Each room is individually designed and furnished with original furniture, of which a large part was designed by the architect of the house, Emanuele Salini.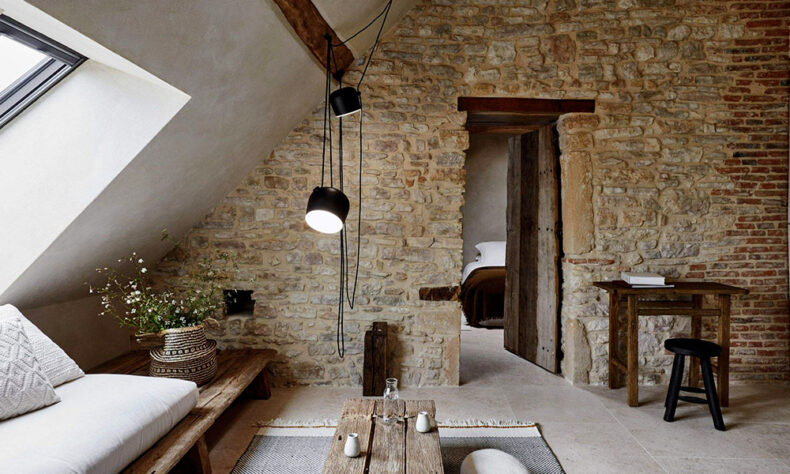 You're greeted there almost as if you're coming home and tranquility envelops you instantly. The pool is surrounded by a garden, where the owner Isabelle de Montille loves to garden herself.
Order a bottle of grower Champagne or Burgundy (think of producers like Domaine de Montille, Roulot, Hubert Lamy, Vincent Dauvissat, Comte Lafon) and take the time to slow down.
At least a two night stay is recommended to fully enjoy everything that this special place provides. Prices for a room start at 195 EUR, with an organic breakfast included in the price.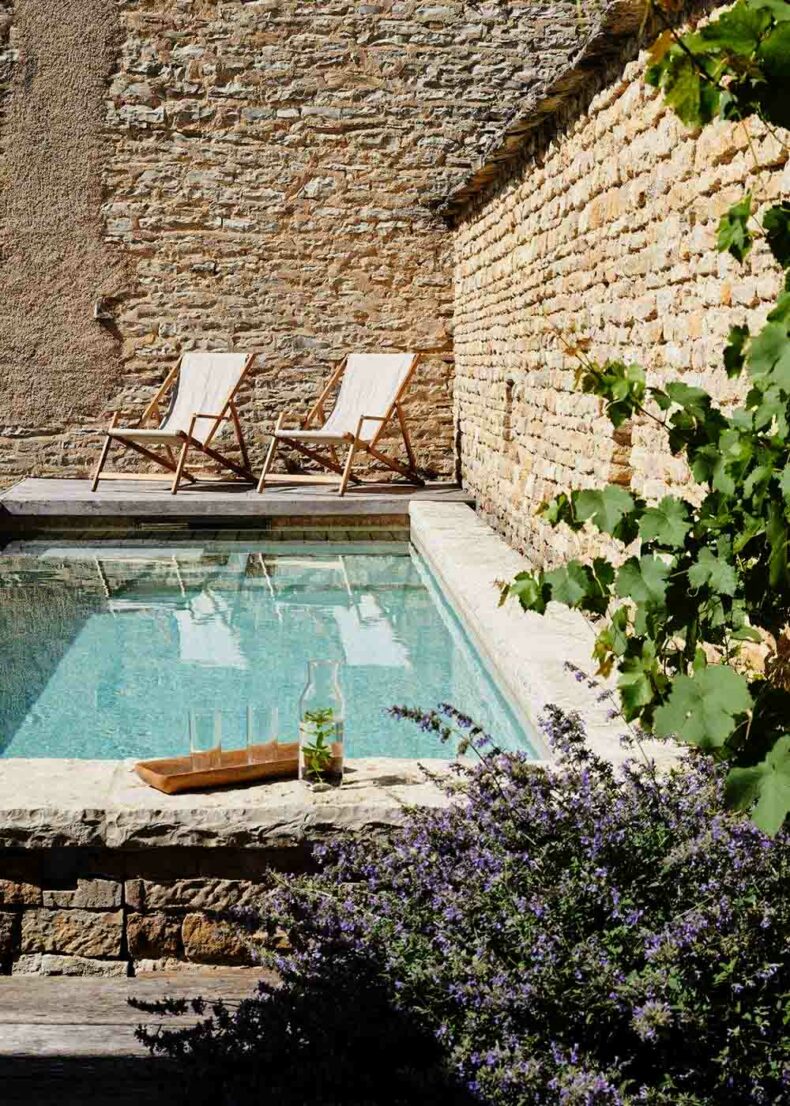 If you're looking for accommodation on Côte de Nuits side, the family owned Maison de Jacqueline in Vosne-Romanée is it.
The restored family estate is now a five-room hotel, the perfect place to hide away from the stressful world, spend hours observing the nearby vineyards and daydreaming.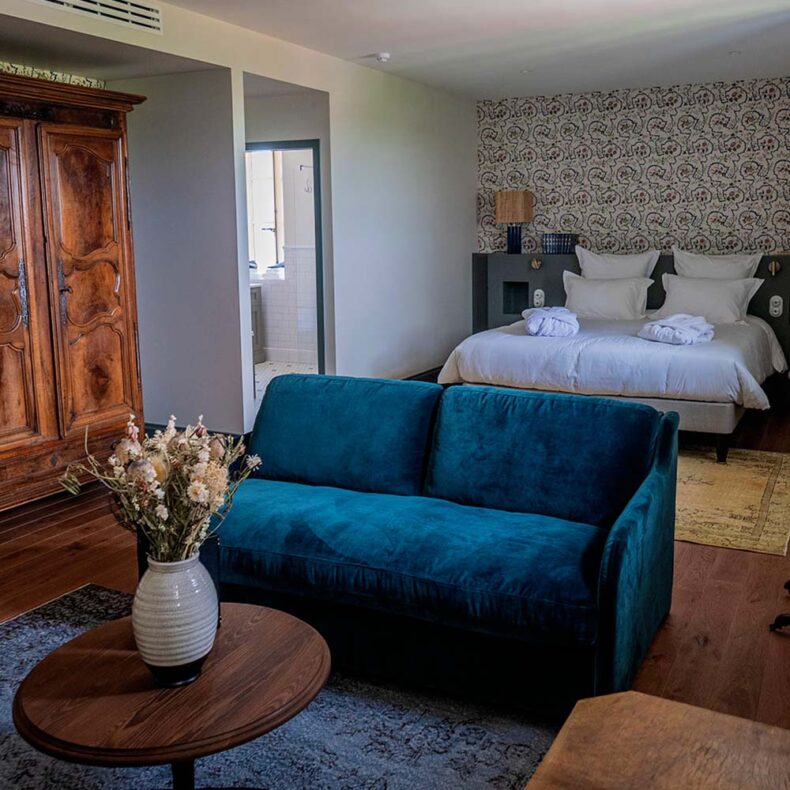 The house was acquired in 1932 and opened in 2022 after renovation. The owners preserved some of the original details and retained the ambience of the golden age through the furniture and interior objects.
As the owners, the Mugneret-Gibourg family, are famous wine makers, this place is certainly on the map for wine lovers because of the opportunity to enjoy estate wines here. Prices for a room start at 190 EUR.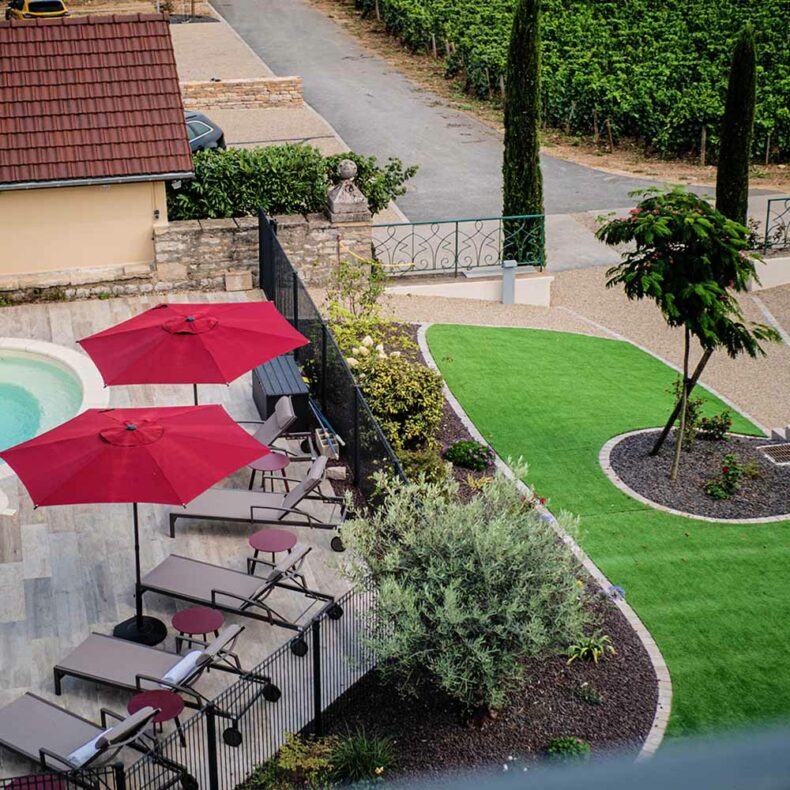 How to explore Burgundy?
If you wish to have a first glimpse, jump in the car and take Route des Grands Crus (follow the brown signs with a white grape cluster), as this way you will be able to drive through 38 picturesque wine villages, all the way from Dijon to Santenay.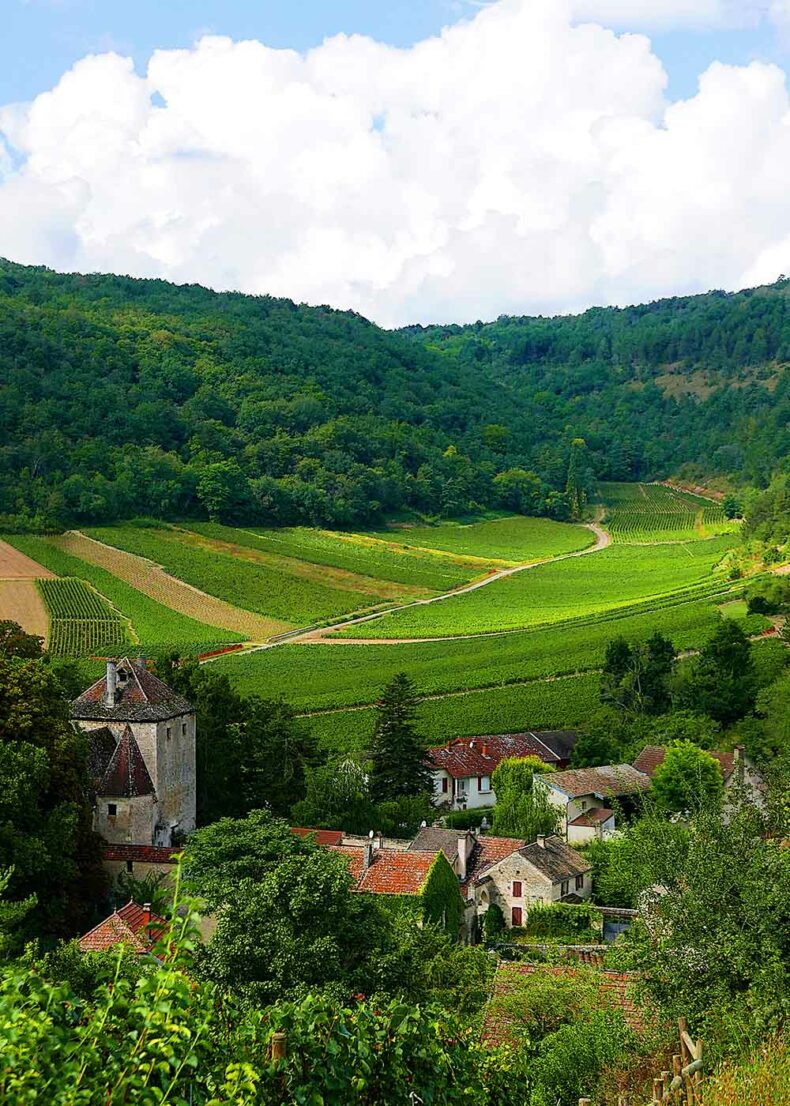 The Route des Grands Crus road signifies the most prestigious vineyards but the true beauty of Burgundy can be discovered in the best way by walking and biking.
The beautiful Voie des Vignes bike road leads through Burgundy vineyards all the way from Dijon to Santenay, passing through villages whose names make any wine lover's heart tremble – Gevrey-Chambertin, Vosne-Romanée, Beaune, Pommard, Volnay, Meursault, Puligny-Montrachet, Chassagne-Montrachet.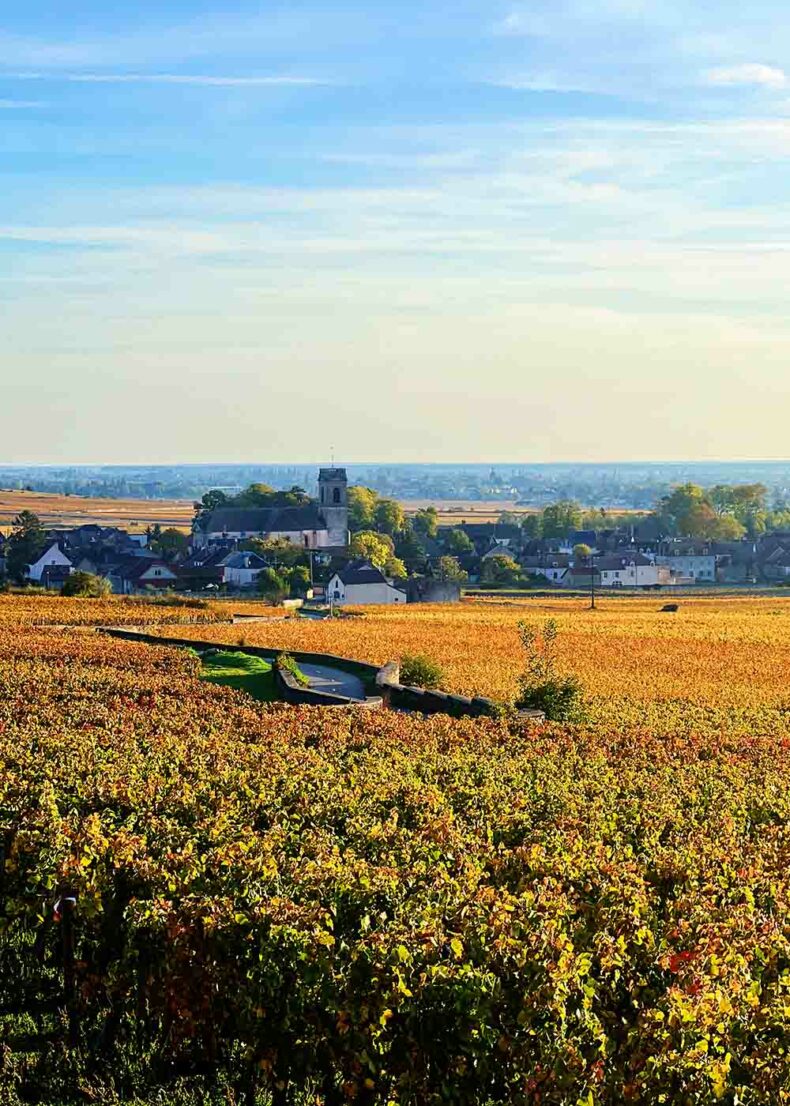 While biking or walking you can peacefully see the most prestigious vineyards in the world, including the iconic Montrachet, Bâtard-Montrachet, and Chevalier-Montrachet, to which one goes almost as if on a pilgrimage.
Take your time as there is nowhere to rush, except perhaps to lunch as many restaurants are only open for lunch between midday to 2 pm.
Apart from that, Burgundy is really the place where time slows down – people working in vineyards, horses plowing the soil, the villagers always greeting everyone with a lively 'Bonjour' create a sense of art de vivre in the air which everyone can breathe in and enjoy.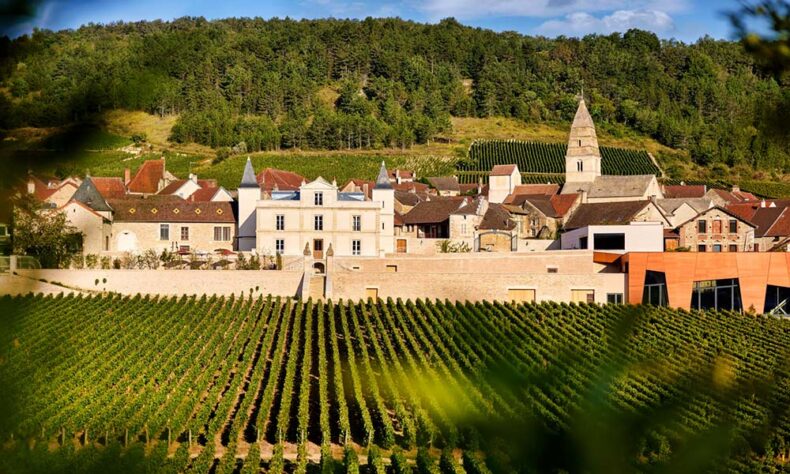 I suggest renting a bike (choose an e-bike as the slopes are quite steep) at Active Tours in Beaune and spending a day or two exploring the area.
The Beaune–Santenay bike route is  around 20 km long and is the best way to see the Grand Crus vineyards where the best white wine in the world is made.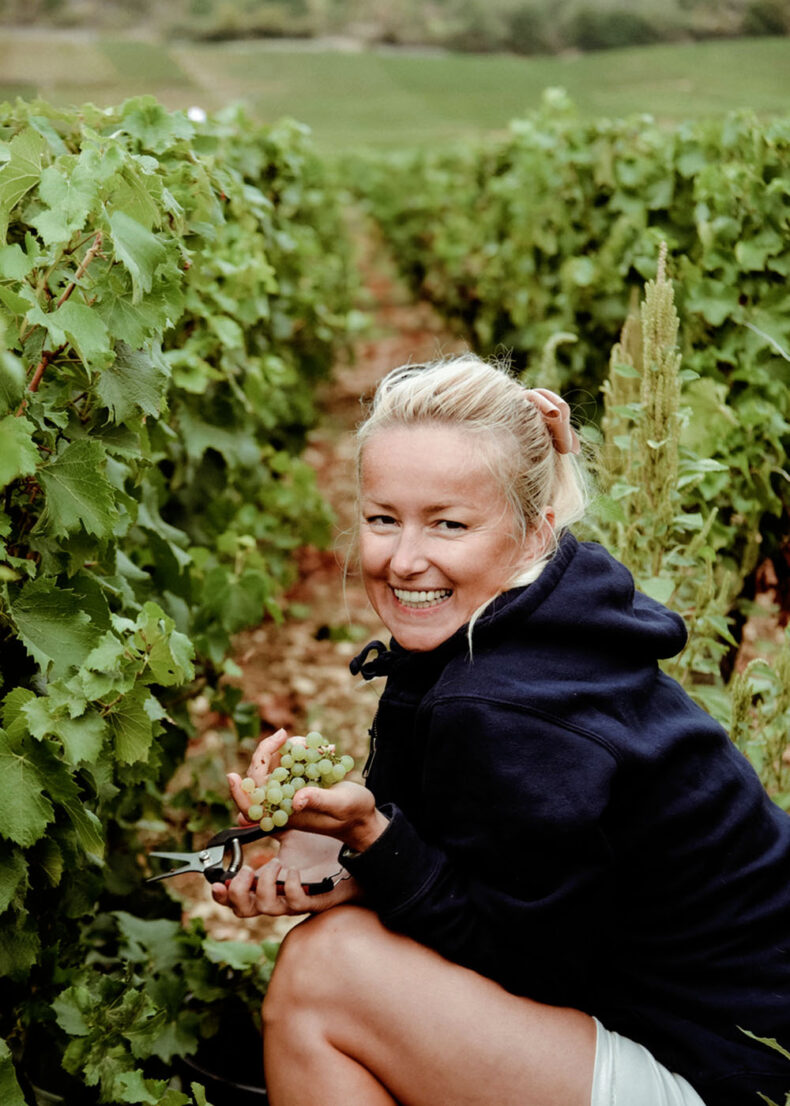 Photo by Gretchen
For the next day, visit Côte de Nuits by bike, where the red grape Pinot Noir dominates, and you will pass by the iconic Clos de Vougeot castle.
No matter which direction you choose to take, it is very easy to navigate by following the green signs that mark the bicycle route. That way, you don't need to constantly look at a map but can enjoy the breathtaking landscape instead.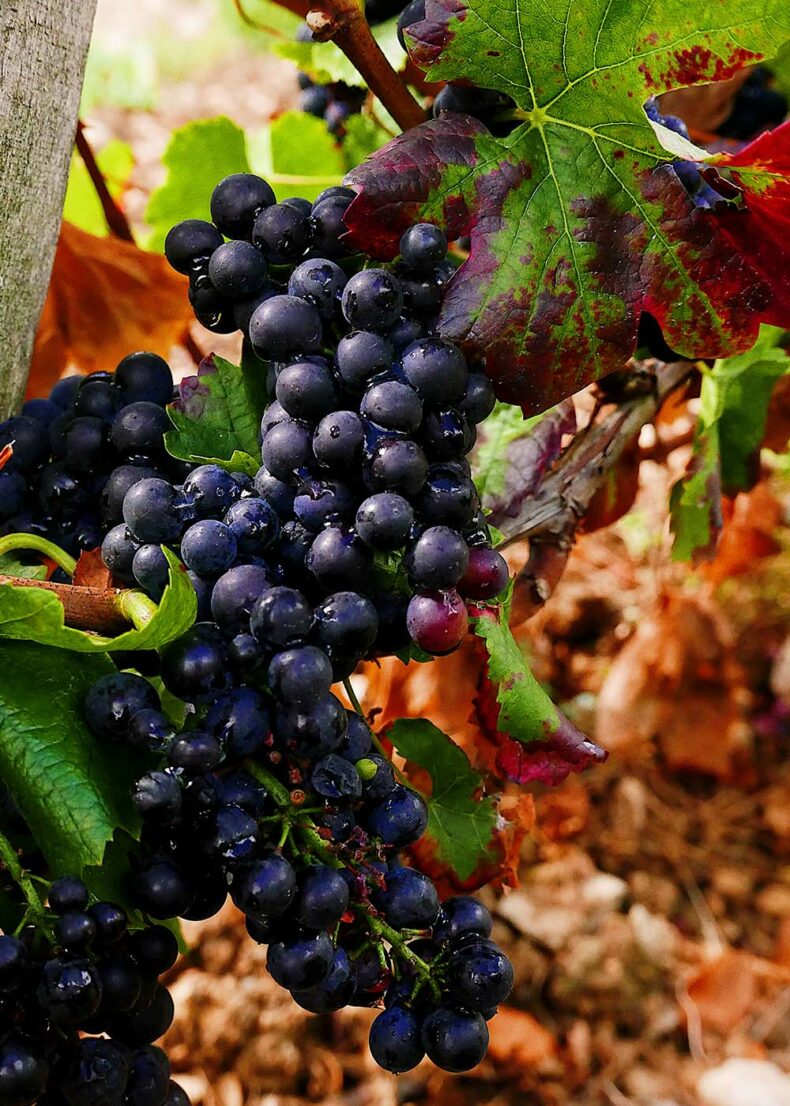 Beaune is so charming that it stays in travelers' hearts forever.
Start exploring the town from Parc de la Bouzaize, a peaceful oasis just minutes away from the city's historical centre. Locals love to hang out there with family and have a picnic on the grass while observing birds in the mini lake.
It's the perfect place to connect with nature and stroll in the shade on a hot day.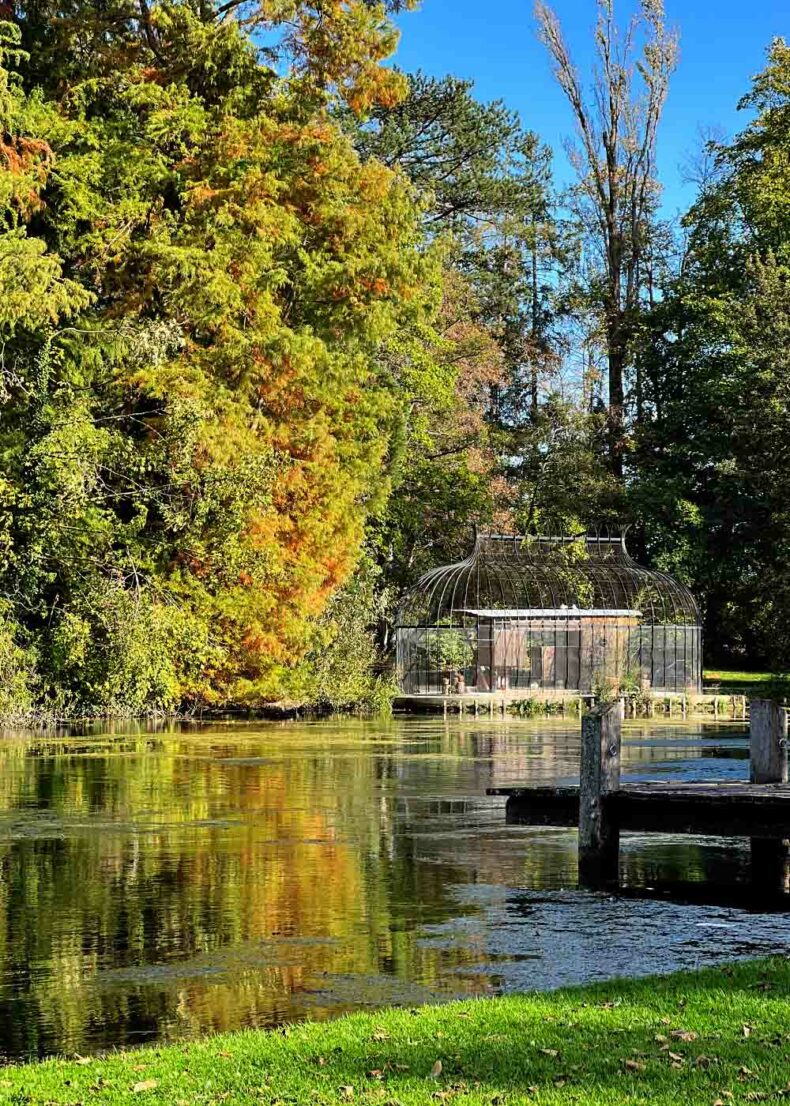 The historical centre is set in a circle so it is impossible to get lost there, but even if you do – enjoy it. You'll discover the quiet streets whose walls are whispering a long history of the town's secrets, and public gardens with fountains, and narrow passages where sculptures are built in the walls of houses.
The main crowd always concentrates around the iconic l'Hôtel-Dieu-Hospices de Beaune building, but lots of travelers don't realize that you can also stroll around the historical centre by the old ramparts to see the city from above – it's always so calm and peaceful there.
The Collégiale Notre-Dame church with gothic elements doesn't dominate but perfectly compliments Beaune's ancient charm, and at night its facade is illuminated by light installations that make it come alive.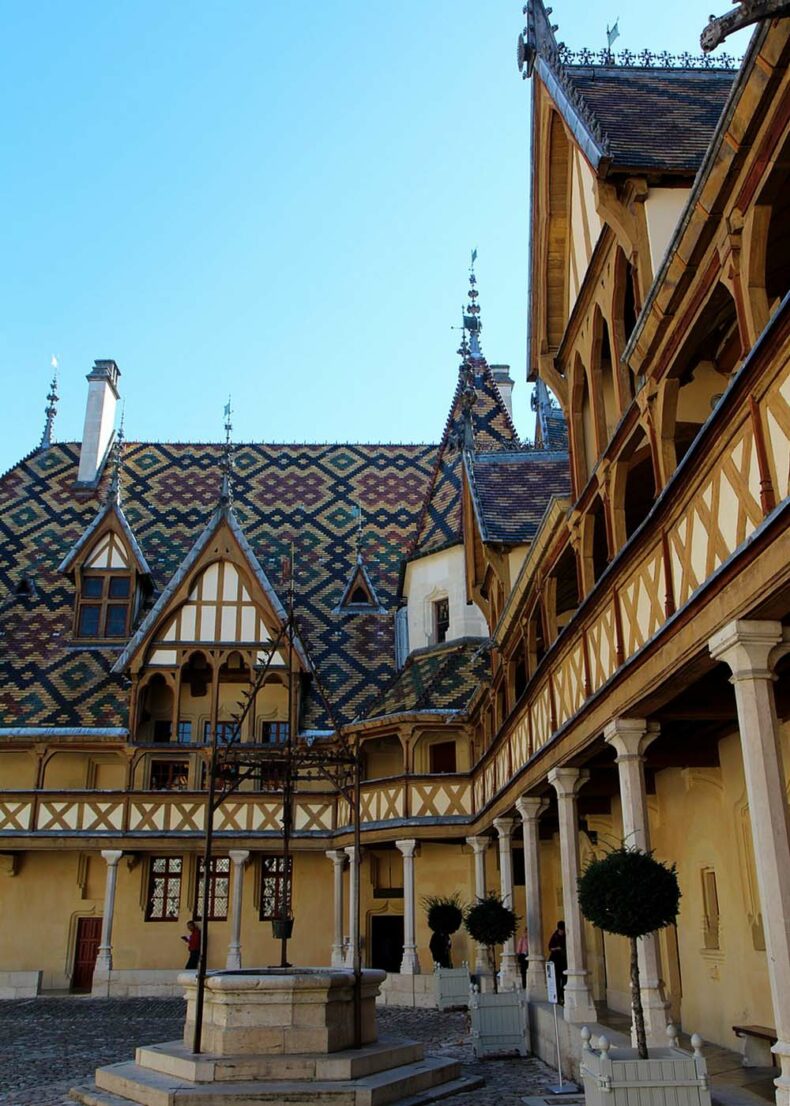 Make sure to stop at Boulangerie Marie Boucherot, where the owner bakes exceptional bread – from slow-fermented sourdough to pastries (think freshly baked pan au chocolat).
It's no wonder that by midday the shelves are almost empty as there is always a queue, but don't hesitate to chat with the locals while queueing as you'll get the best suggestions on where to get the best delicacies.
Almost every French person has their own favorite epicerie shop, butcher, and market to visit, as fresh, local food is almost a religion and Burgundy is no exception.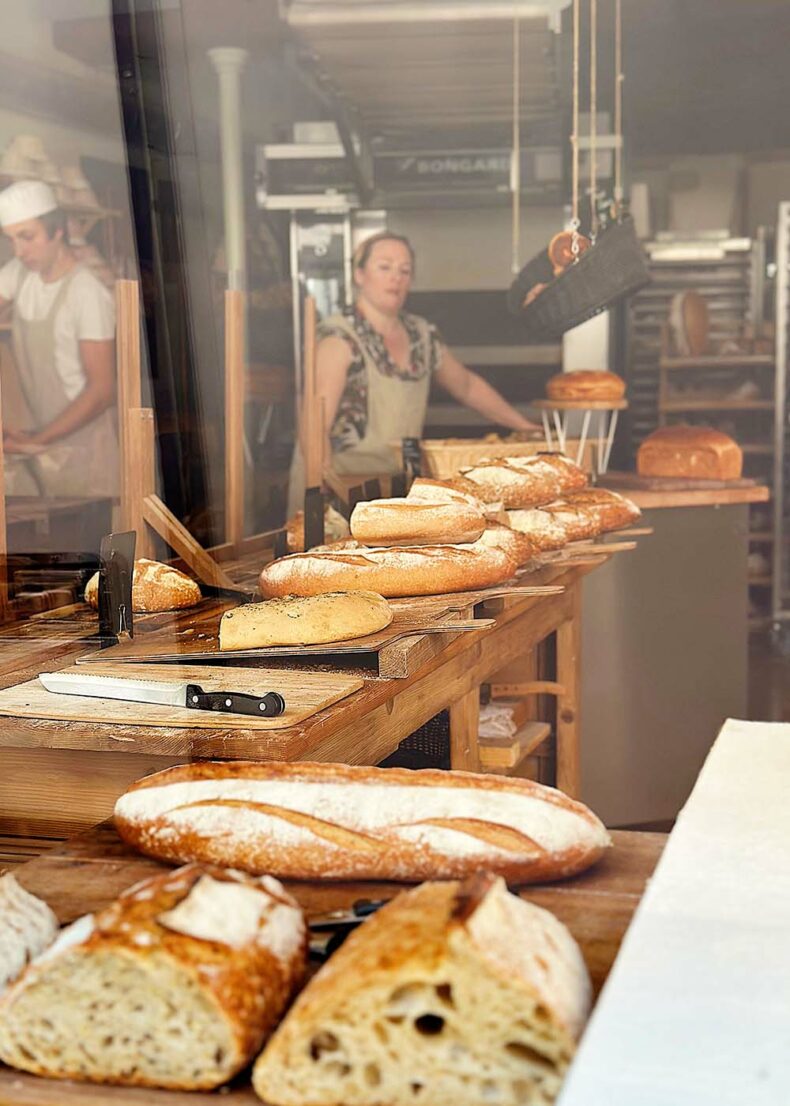 The Saturday market in Beaune is the highlight of the week and it can get quite busy in the summer. Again, a good idea would be to ask a local at which stand you can  get the best Bresse chicken, the most delicious cheese, and the most aromatic sausages, otherwise, you can easily get lost in the bustling market rows.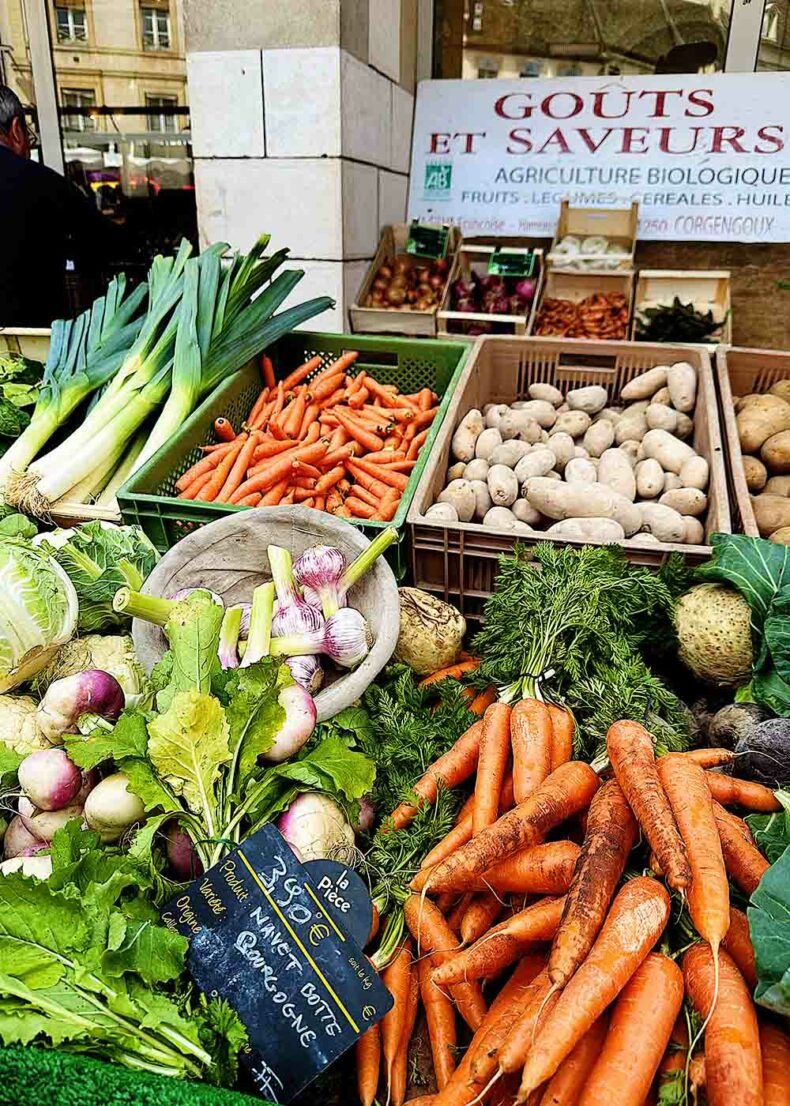 There is a quieter market in Meursault on Fridays, where I love to stop for Comte cheese and fresh vegetables.
Also, the village itself merits a visit to the stunning Hotel de Ville building with ancient, colorful roof tiles and a grand fountain next to it.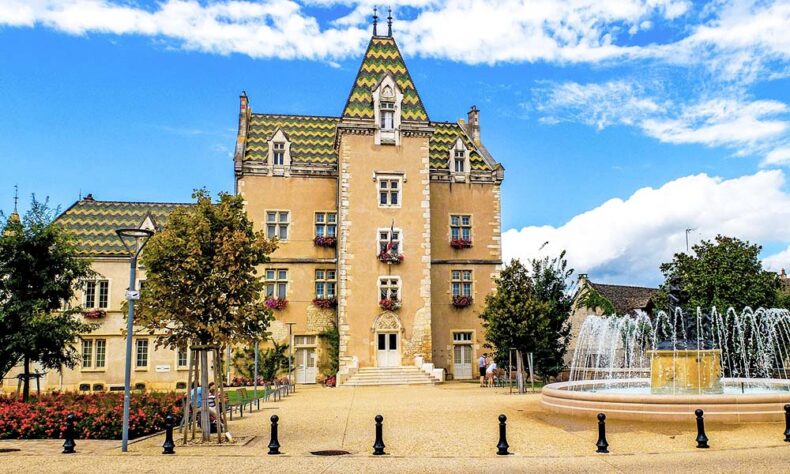 It's where the locals and travelers love to sit down, listen to the meditative sound of splashing water, and recall scenes from the classical French movie La Grande Vadrouille, which was partially shot here.
Don't miss the fromagerie La Petite Vadrouille; the owner will suggest the best local delicacies, from cheese and spices to the best dark chocolate.
Where to eat?
When it comes to the restaurant scene, you'll be spoiled in Burgundy.
It is almost impossible to find anywhere else where so many restaurants have one of the best wine lists in the world, and the fact that many restaurant owners have historical allocations from the most iconic winemakers makes the price for those sought-after wines more accessible than in any other part of the world.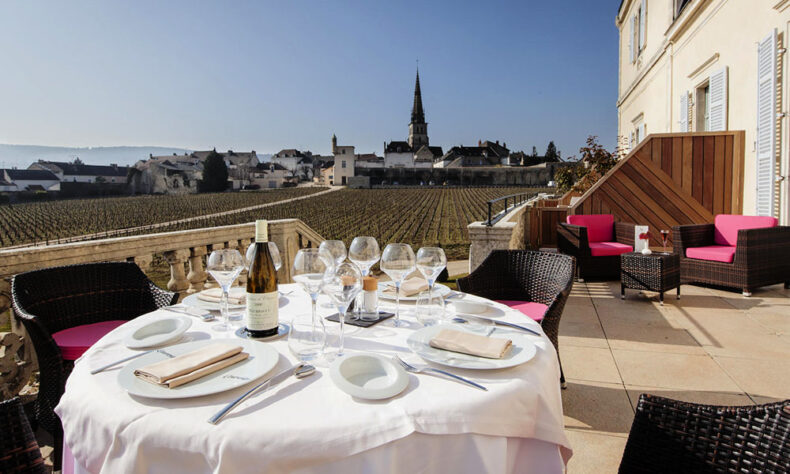 If you wish, you can easily find Michelin-starred restaurants in the region, but here are some suggestions if you're looking for a more easy-going ambiance (just don't forget to make reservations in advance, as they quickly become fully booked):
Maison du Colombier in Beaune – the most upscale wine list and bustling ambiance, almost no distance from table to table, so you almost feel you are in a big gathering of friends and family.
The restaurant is located in a 16th century building and the open terrace next to it is the spot to meet before and after dinner for drinks under the sky.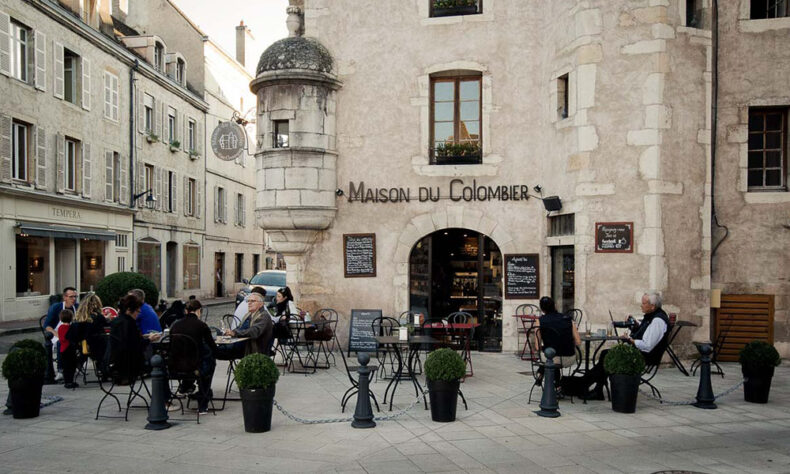 Auprès du Clocher in Pommard – David, Chef Remi, and Anna are the three people you will meet every time you enter this destination restaurant.
They have a set menu, but it's worth spoiling yourself with the 5 course journey to dive into the nuances of flavours. The wine list is excellent and natural wine lovers will also find many gems here.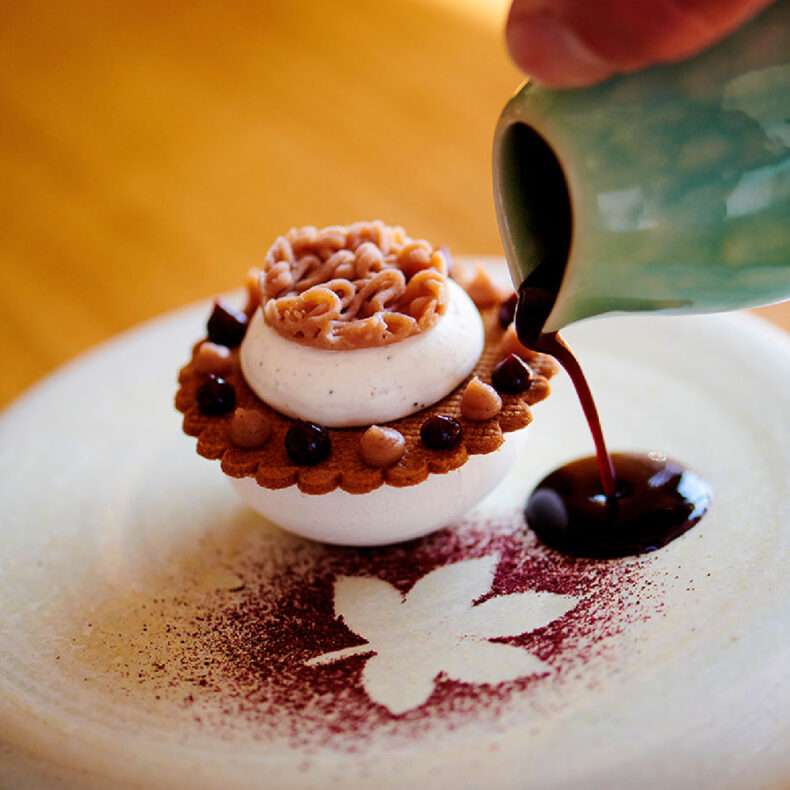 Le Soufflot in Meursault – the owners Charles and Jérémy and their friendly staff make sure that each guest is treated exceptionally and does not get lost in the countless pages of the restaurant's wine list.
The ambience is casual, but thanks to the open kitchen and crowd who loves to hang out here, including winemakers, each time you feel like you're visiting good friends. The food is tasty, made from local ingredients, and changes seasonally.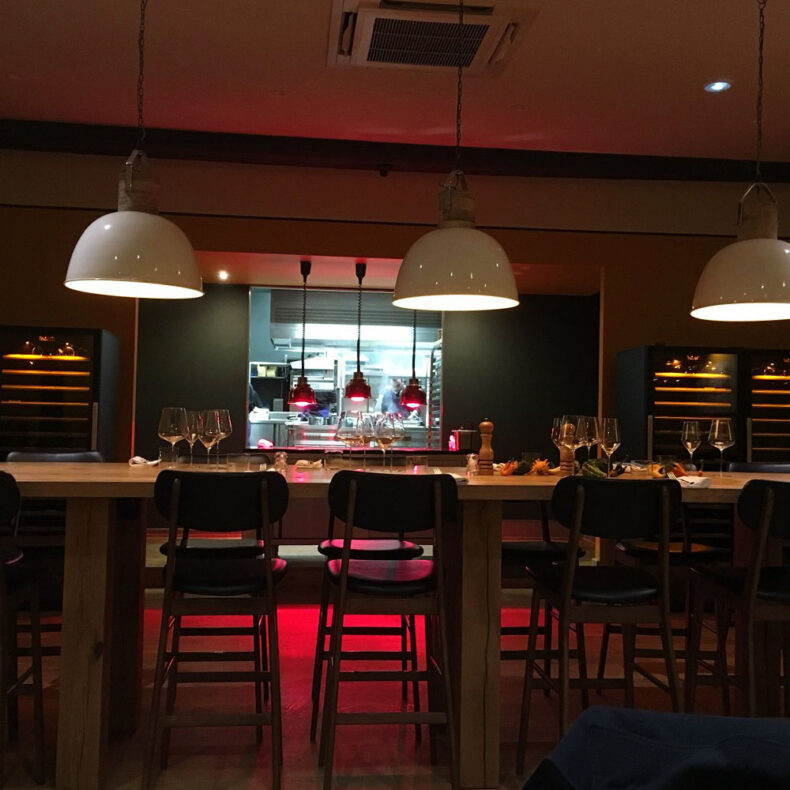 La Cabane in Chassagne-Montrachet – as the bicycle road passes by, it is hard to imagine a more perfect place to stop for lunch in the summertime.
Grilled trout and other grilled dishes are La Cabane's specialty.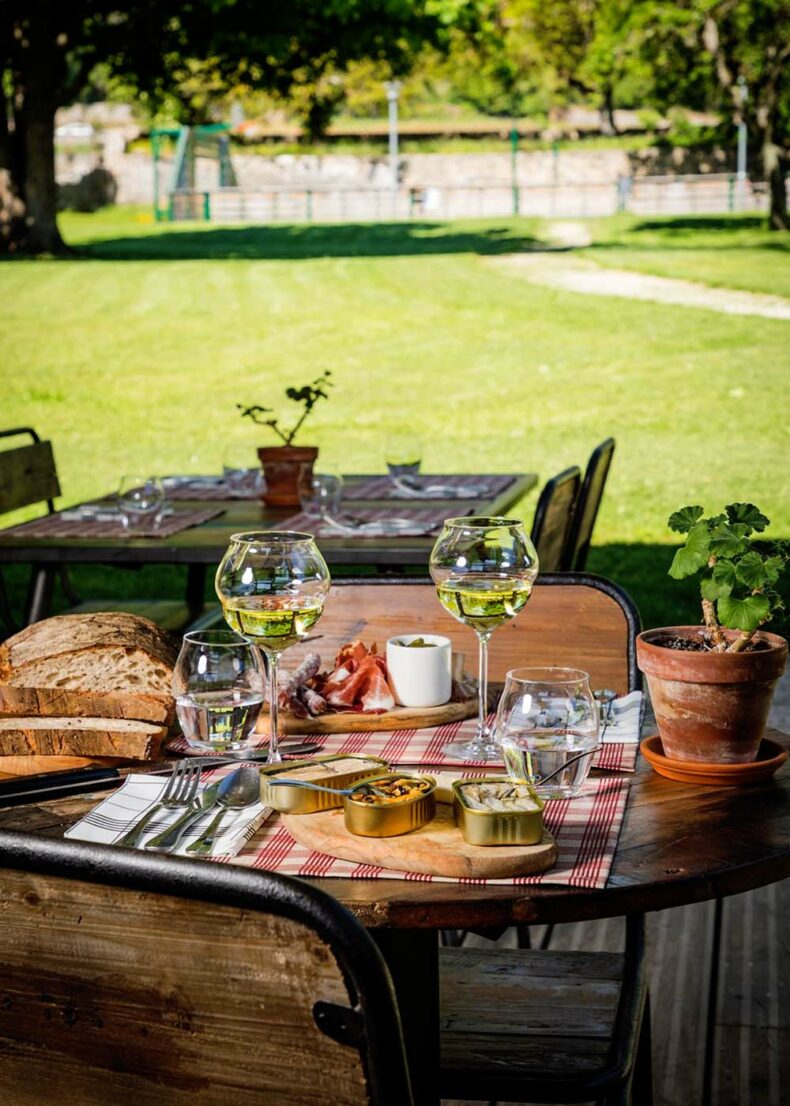 La Cabotte in Nuits-Saint-Georges – don't look for a better place for lunch or dinner in Côte de Nuits than this restaurant, where Chef Thomas prepares regional specialties with a modern twist.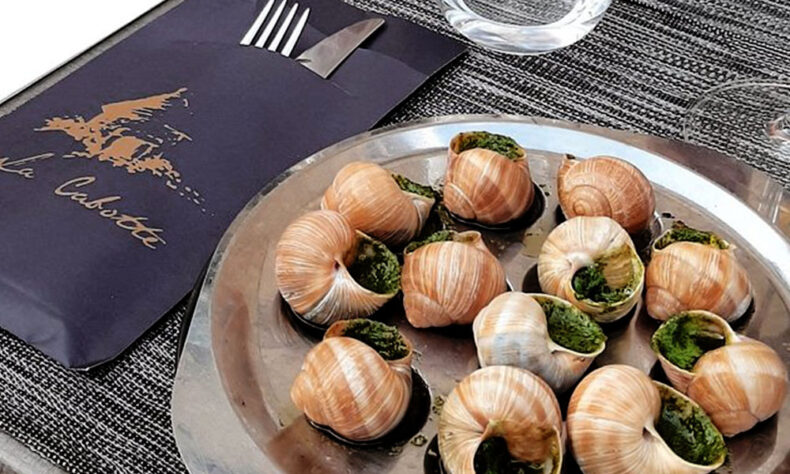 La Ferme de la Ruchotte – Fred, the manager and chef of this family-owned restaurant based on a farm, is unmistakable as his tattooed arms tell stories about his passion for food and metal music.
He looks like a Metallica band member, but he takes cooking with the same perfection as guitar playing, meaning that almost all supplies come only from the family's farm and it's hard to find a better place to taste French home cooking at a really upscale level.
It's open only for lunch, and don't be surprised if you feel like you're in the middle of nowhere while driving there. The destination is absolutely worth it!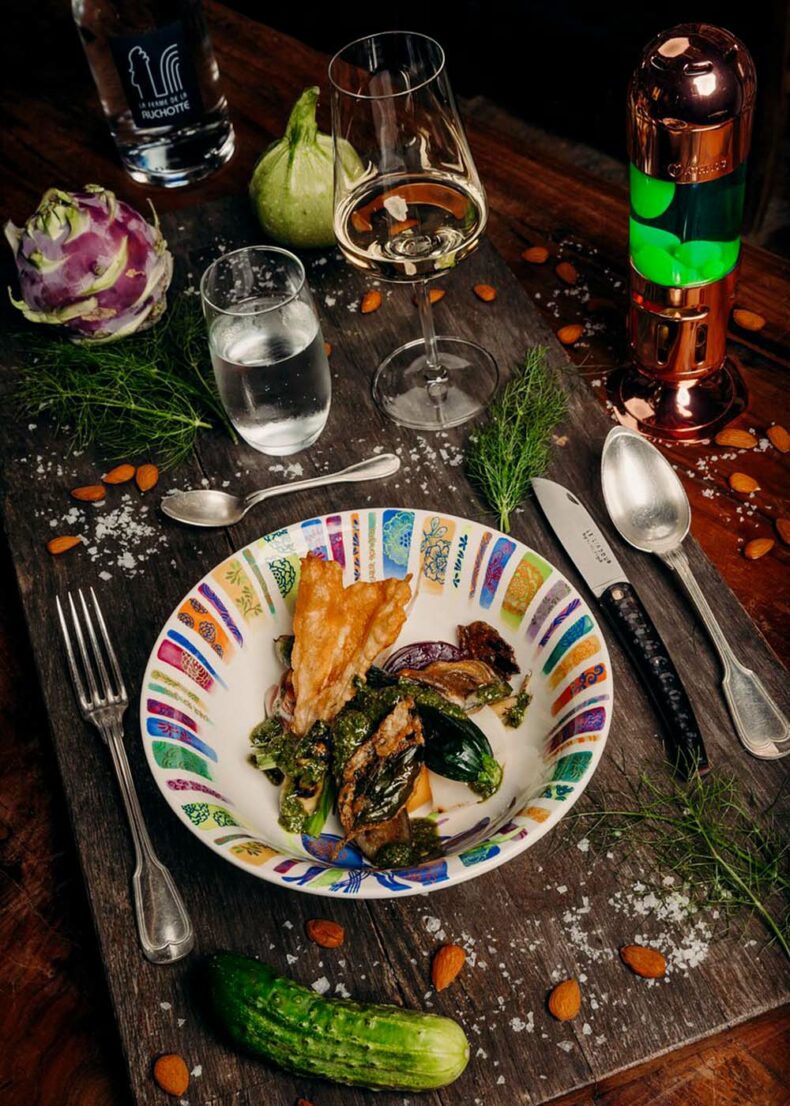 The Burgundy essence is a taste of life. You taste with your eyes while observing everyday life, you taste with your fingertips while touching the old walls of clos that surround the vineyards, and you taste with your heart when you drink Burgundy from your glass.
How to get to Burgundy?
Getting to Burgundy is actually quite easy – first choose a direct airBaltic flight from Riga to Paris, and then either rent a car in Charles de Gaulle airport for a scenic three-hour drive or take the fast TGV train from Paris Gare de Lyon station.
I always plan around 2.5 hours after landing to get to Paris Gare de Lyon station. After taking the train from the airport to the city, I prefer walking to Gare de Lyon since it's a great way to stretch my legs and unwind, and even take the opportunity to have a glimpse at the beautiful arrondissements of Paris.
After switching TGV to the regional train in Dijon, get off at Beaune station.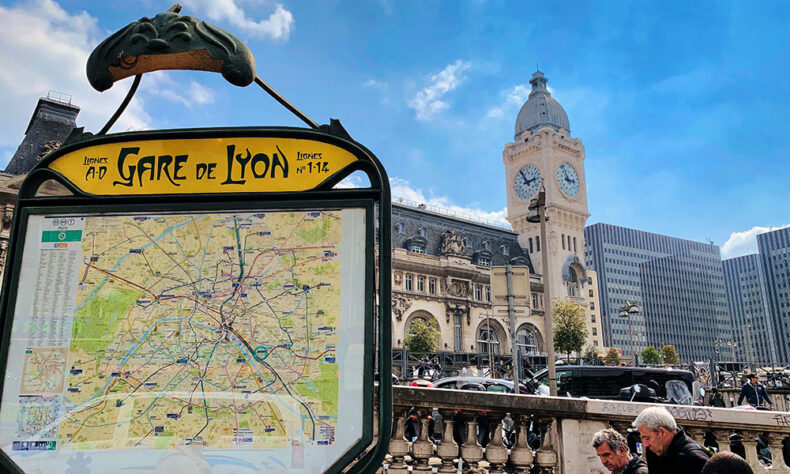 Reaching Burgundy from Charles de Gaulle airport:
By car: 3 hour drive.
By train: take a direct train from Charles de Gaulle airport to Paris city center (get off at Châtelet station).
Take an hour's walk to Gare de Lyon (or take 1 stop with the metro).
TGV train from Gare de Lyon to Dijon.
Regional train from Dijon to Beaune.
Othe SNCF app you can book a connecting ticket from Paris Gare de Lyon to Beaune.
Cover photo on Pixabay
Text and photo: Anda Karklina; "I'm grateful to airBaltic for the collaboration in making this material".