A trip with no coffee is no trip. And bad coffee can ruin your day quicker than you think. Times change, people change, and so does coffee culture.
A great deal of people these days won't have their coffee at just any old cafe, and they certainly refuse the coffee they're served at the hotel breakfast, googling the closest specialty coffee place instead while they chat with the breakfast waiter.
Looking at the map of Berlin, the good news is – this city has plenty of speciality coffee places and really good coffee spots.
But, as with all good things, you have to know where to look for them.
Bonanza Coffee
Bonanza Coffee Roasters was one of the first places in Berlin to kickstart the new wave roasting and serving culture.
Their coffee is worth the long walk (they are located a bit out of the centre) – in the steady hands of the barista beans and milk are magically transformed into a small piece of art, whether it's an espresso, a cappuccino (oh how silky smooth it was!), a flat white or one of the filter coffee drinks.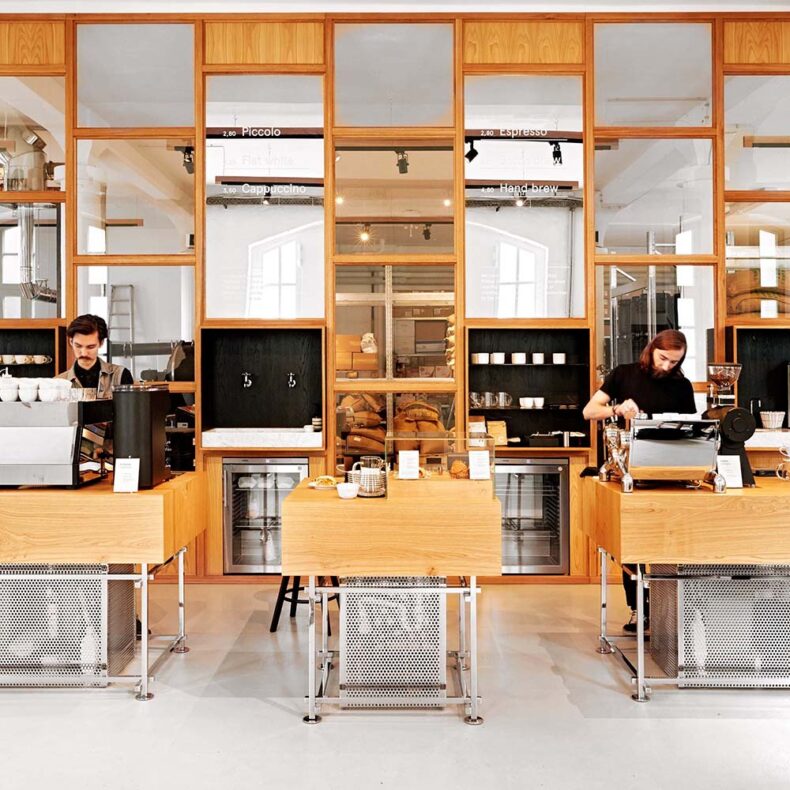 Elegant and thoughtful interior, wood, design magazines and tiny treats from Black Isle Bakery.
Baristas here are cool and collected, discreet, and do their job perfectly. And the coffee turns out just the same – perfect.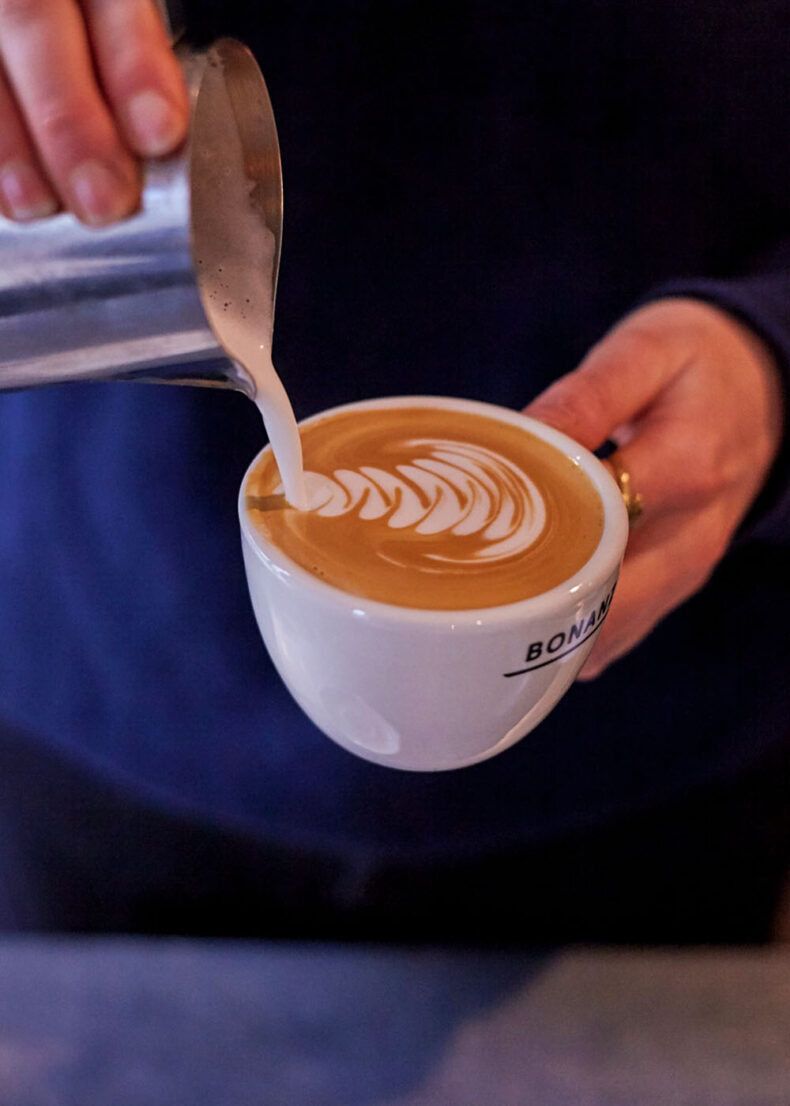 The Barn
Another roasting pioneer – they'll tell you exactly where the beans in each packet of their coffee come from, how they're roasted and why.
Head to The Barn Roastery to feel the gorgeous aromas of roasting.
A sturdy wooden counter, huge windows, a roasting machine, sacks and sacks of beans waiting to be roasted, and a whole coffee-making station that locals love to try their hands at when the roastery is holding classes.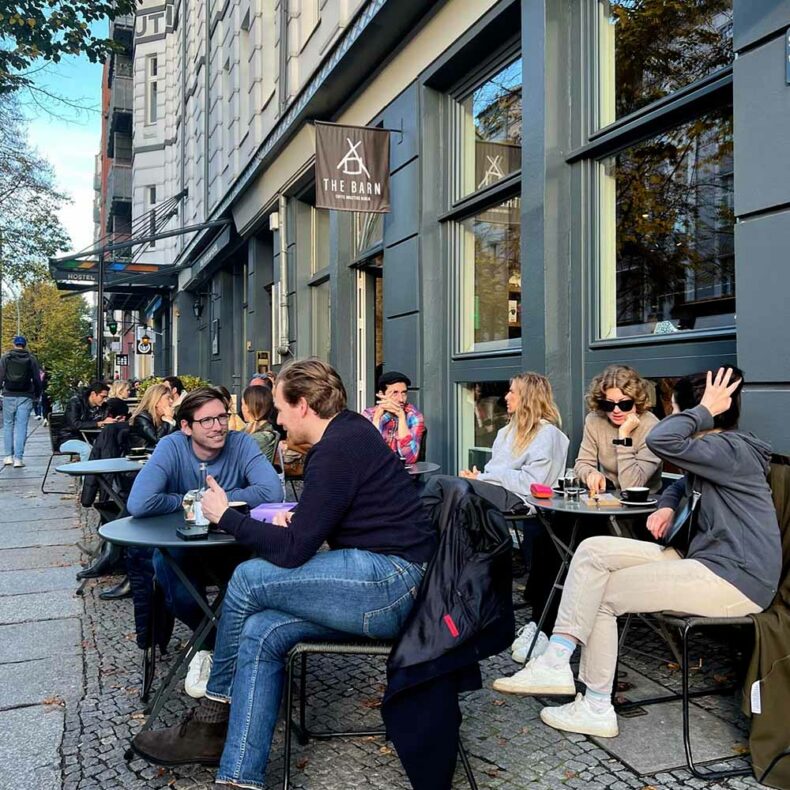 Meanwhile at The Barn Cafe you can feel what it's like when there's precious little space, loads of people aiming to claim it, but in the end everyone's happy.
At both locations you can enjoy lovely filled croissants, sandwiches, homemade cheese, carrot and Nutella cakes.
Get ready to keep up a conversation, since there's no music playing here, and silence can be awkward.
To get to know more about coffee, apply for a weekend coffee course.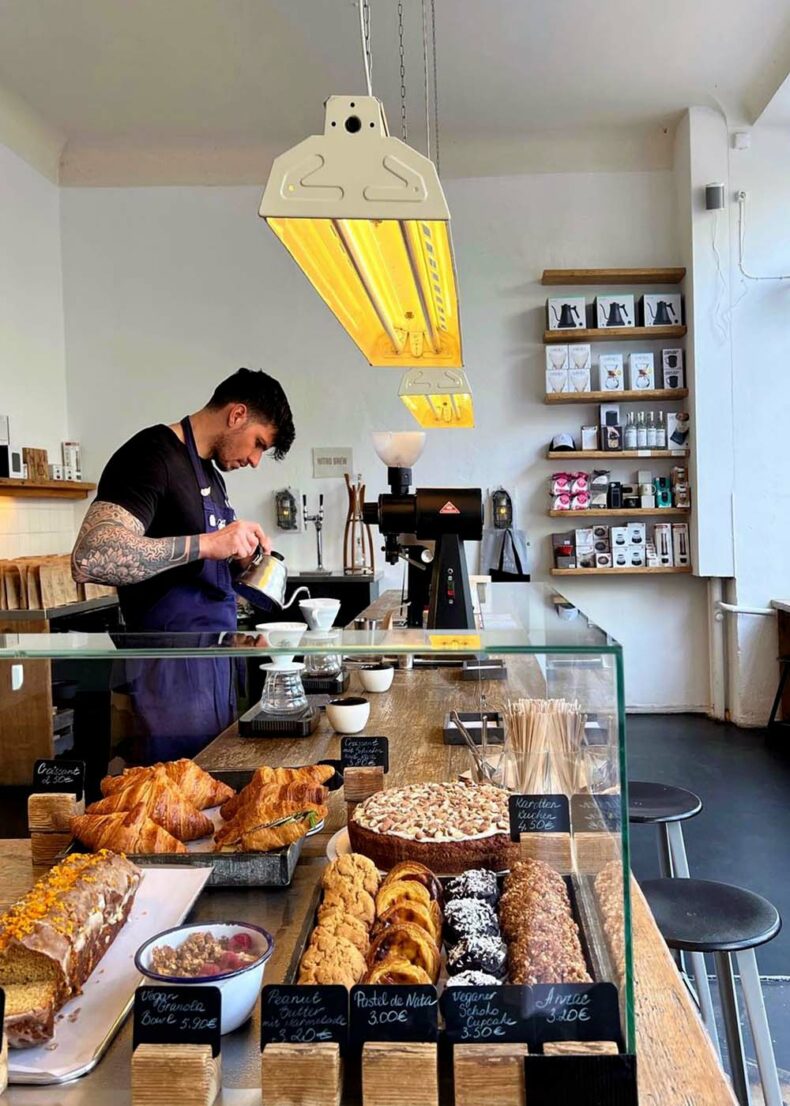 Café CK
In 2012 Cory Andreen, the owner of this cafe, was awarded the World Cup Tasters Champion title, and that shines through in each and every cup, made with exact knowledge of how and why.
Unlike other places, filter coffees at Café CK are made with beans from the Norwegian Solberg & Hansen roastery, while espresso-based drinks use coffee roasted at Five Elephant – which is located just a few minutes away, so they are in constant communication about the flavours and nuances that often change, as new batches are roasted every week.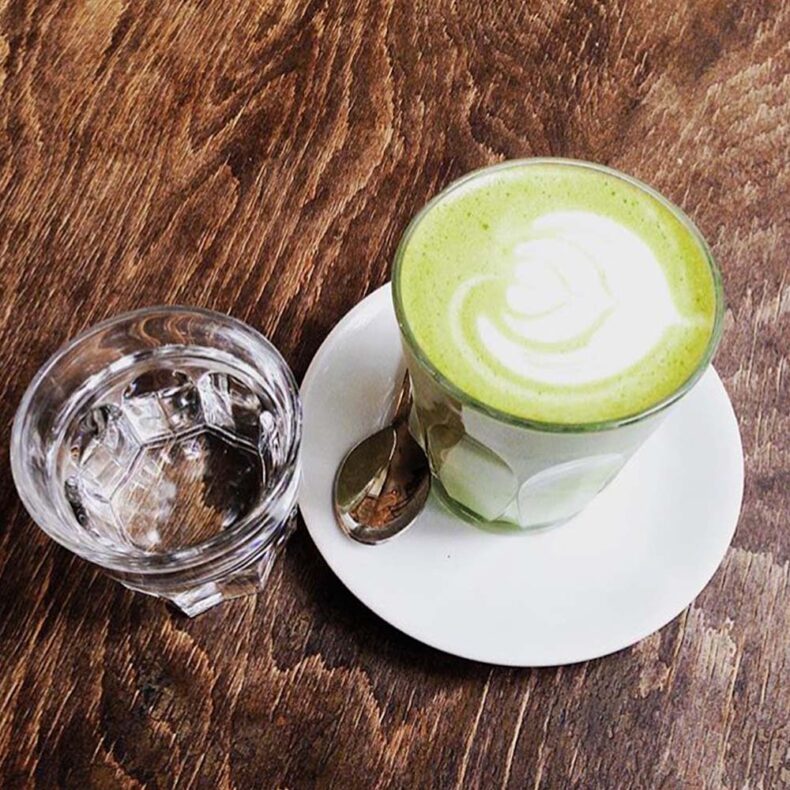 Here they serve espresso in a whisky glass and filter coffee in a small decanter and whisky glasses.
Try their special biscuits, cakes, and why not even the organic matcha latte or cappuccino.
Cuore Di Vetro
The place for Bronte pistachio, dark chocolate, Mozart (with marzipan), crème brûlée, stracciatella, vegan pear, cinnamon and other ice creams.
Cuore Di Vetro is a bit tricky to find, not being on any of the main streets. But it's worth the search if you love a good Italian gelato.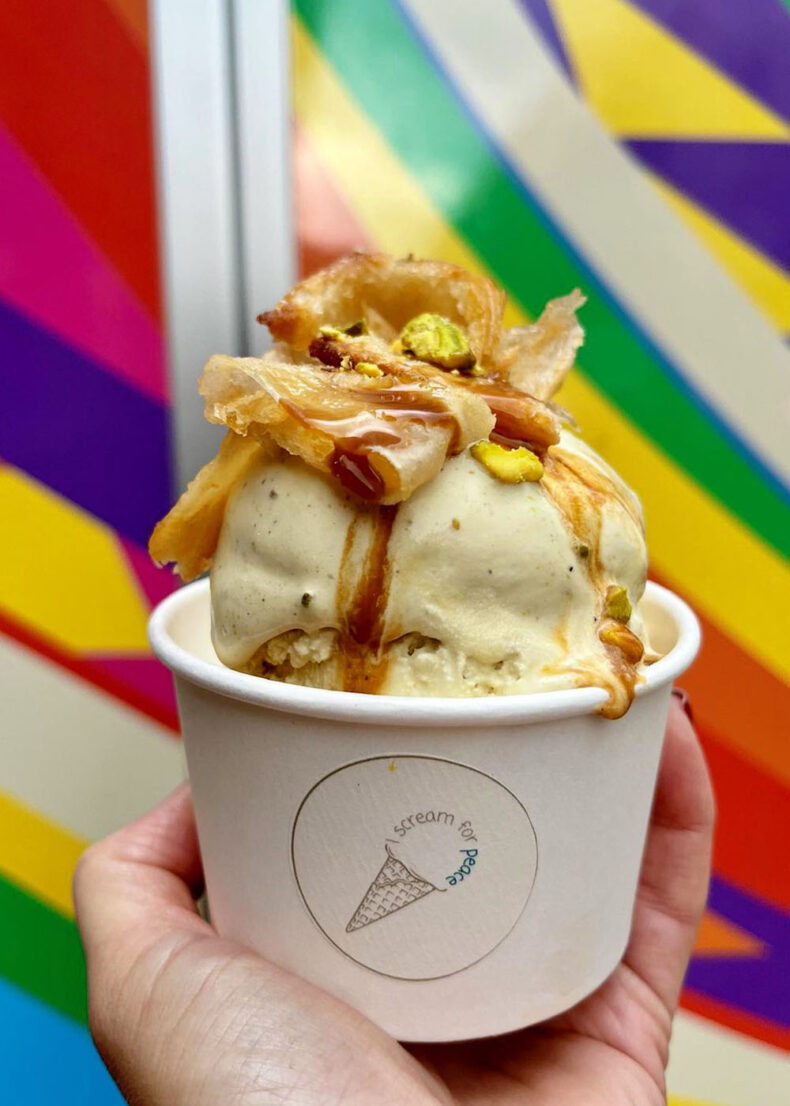 At this small workshop organic milk and ingredients from Italy become ice cream right in front of your eyes.
The place is also famous among Italians for its affogato, the renowned ice-cream-scoop-drowned-in-espresso dessert.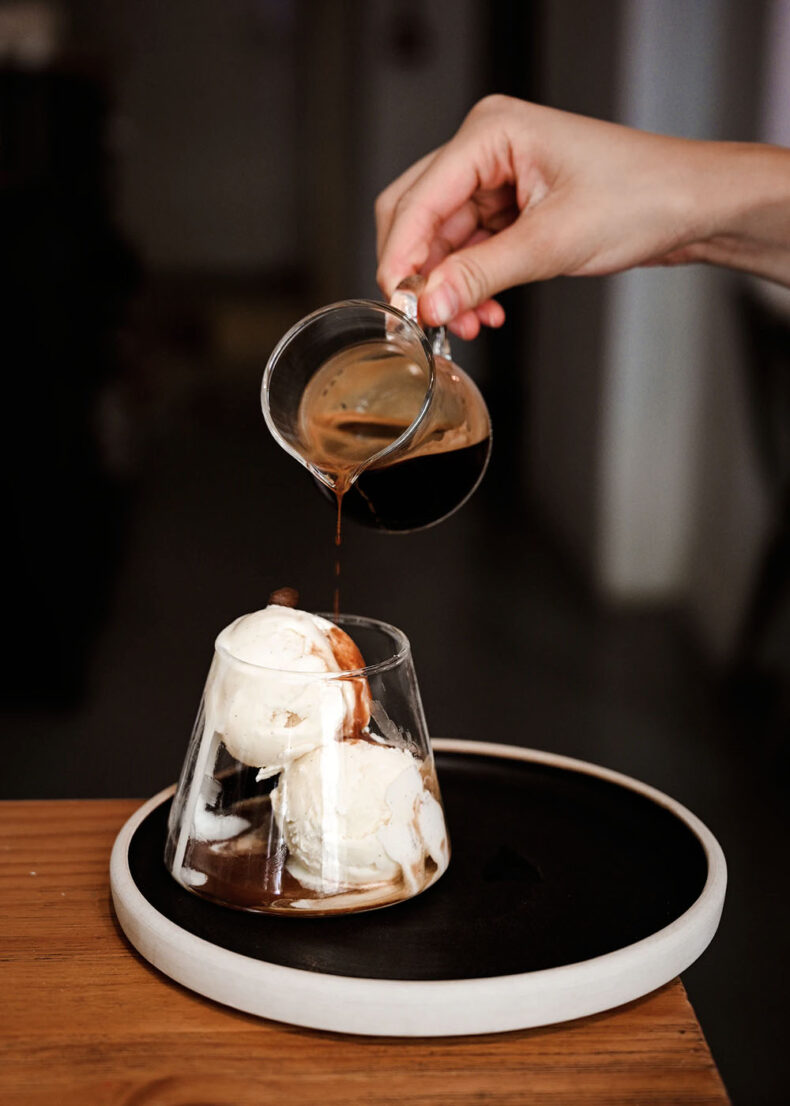 Besides ice cream you'll also find sandwiches and coffee drinks here, but don't leave without trying the ice cream.
Kauf Dich Glücklich Cafe & Mehr
Well known for superb waffles and crêpes (classic, vegan, full-grain, etc.), served plain or with the very popular filling of hot cherries, whipped cream and ice cream.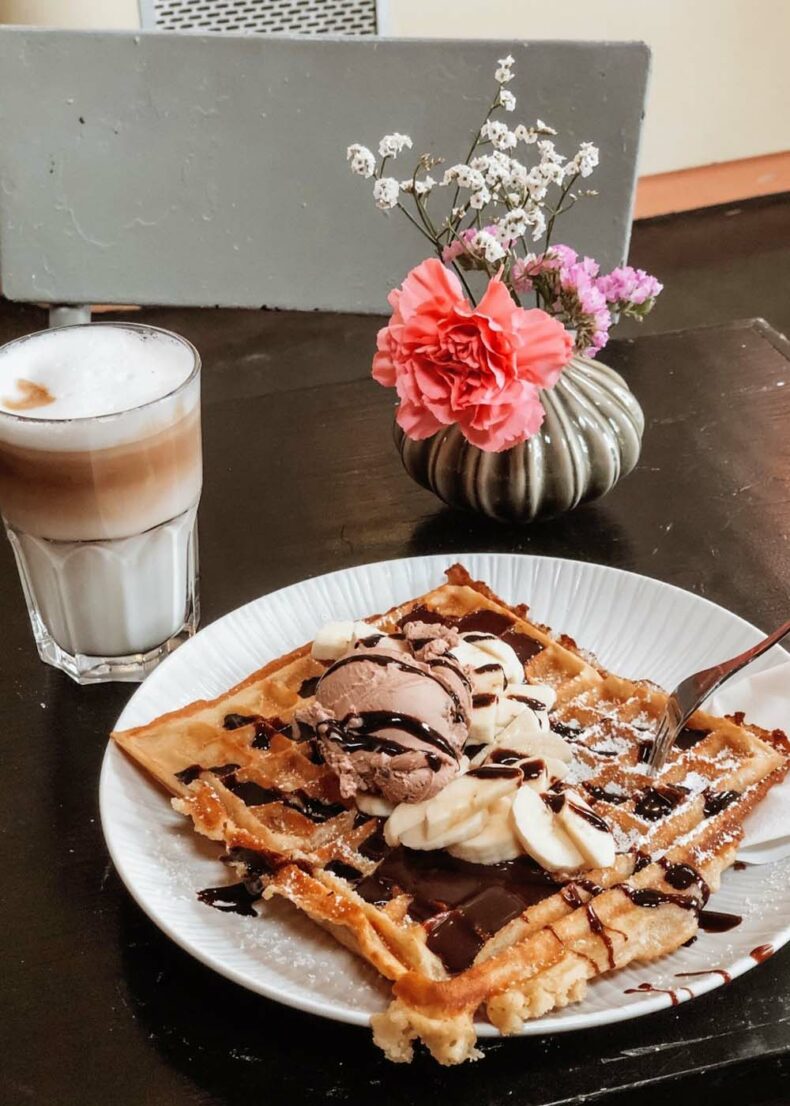 The ice cream (both the creamy kind and the refreshing sorbet) is made here on the spot, and it's truly heavenly.
The flavours change with the seasons, and their mango ice cream in the winter is more than perfect.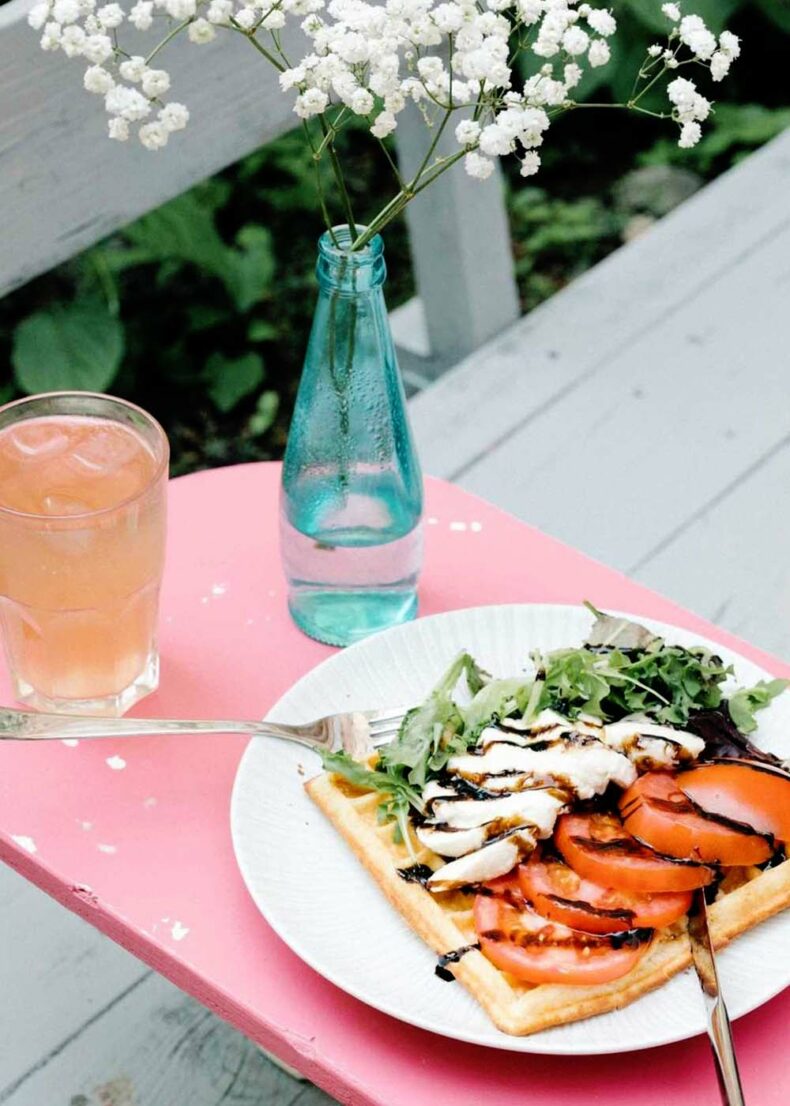 You can also have the savoury version of waffles and pancakes, if you like.
This is one of those breakfast and lunch places in Mitte that have plenty of space indoors and also on the terrace in the warmer seasons.