Strolling through streets lined with cosy cafés and charming wooden houses, seeing the famous fjords in their wintertime grandeur, and indulging in ancient ski traditions are only a few of the discoveries Baltic Outlook's journalist Laura Hall made during her recent trip to Bergen.
Read on to learn why this charming city might very well become your favourite discovery this winter, too.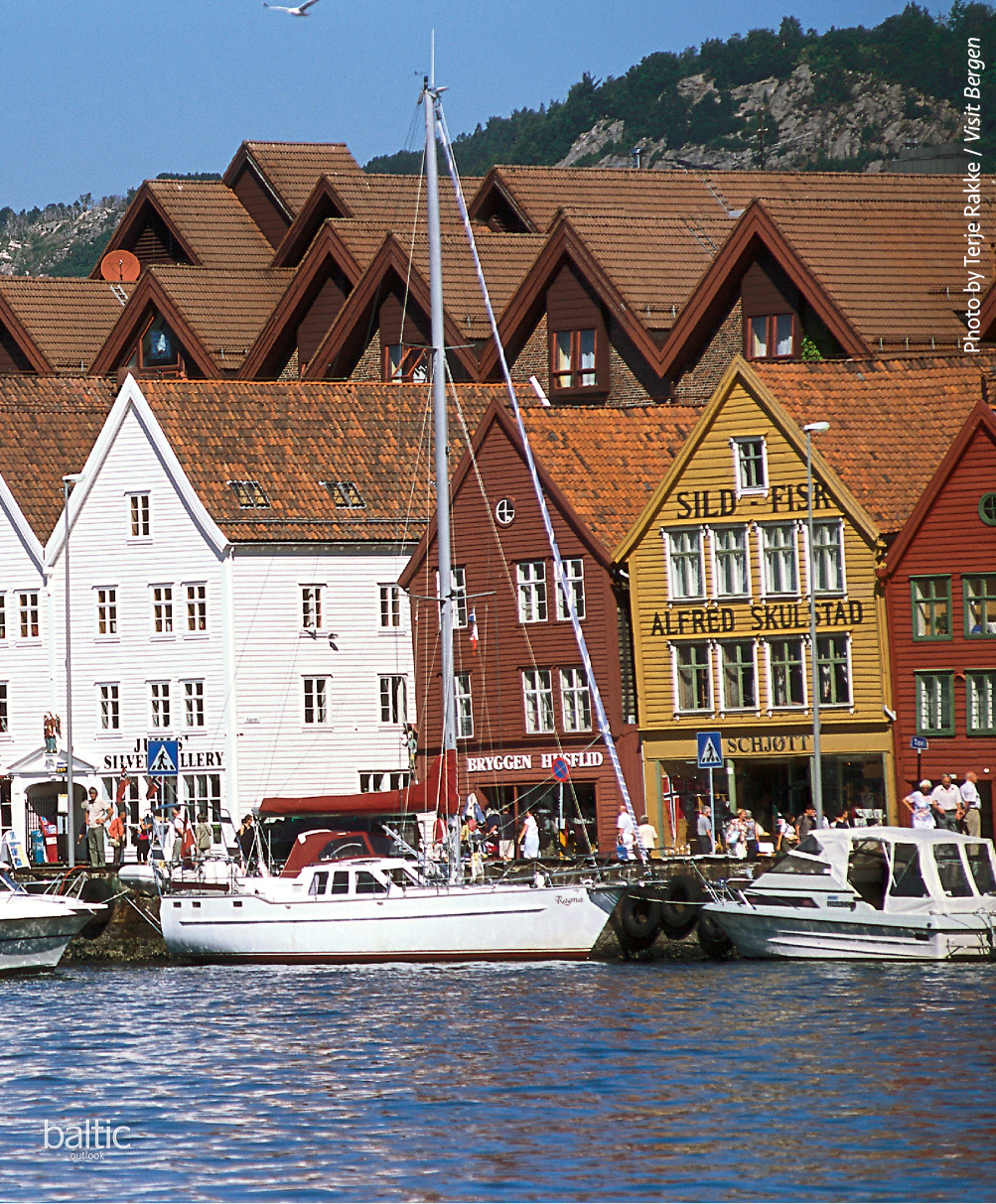 'Breathe deeply,' says Turid. 'Can you feel it? The air is coming from the north today. It's so pure.' Turid is my guide today on Mount Ulriken, the tallest of the seven mountains surrounding Norway's second city, Bergen. All morning, she has been telling me stories about the mountain, which was named and settled by the Vikings, and also about the more curious inhabitants of its mountain huts as well as about the city below, but it's this idea about the air that strikes deepest. Clean, fresh air straight from the glaciers of northern Europe, and a chance to breathe deeply. Because that's what we've been missing, isn't it?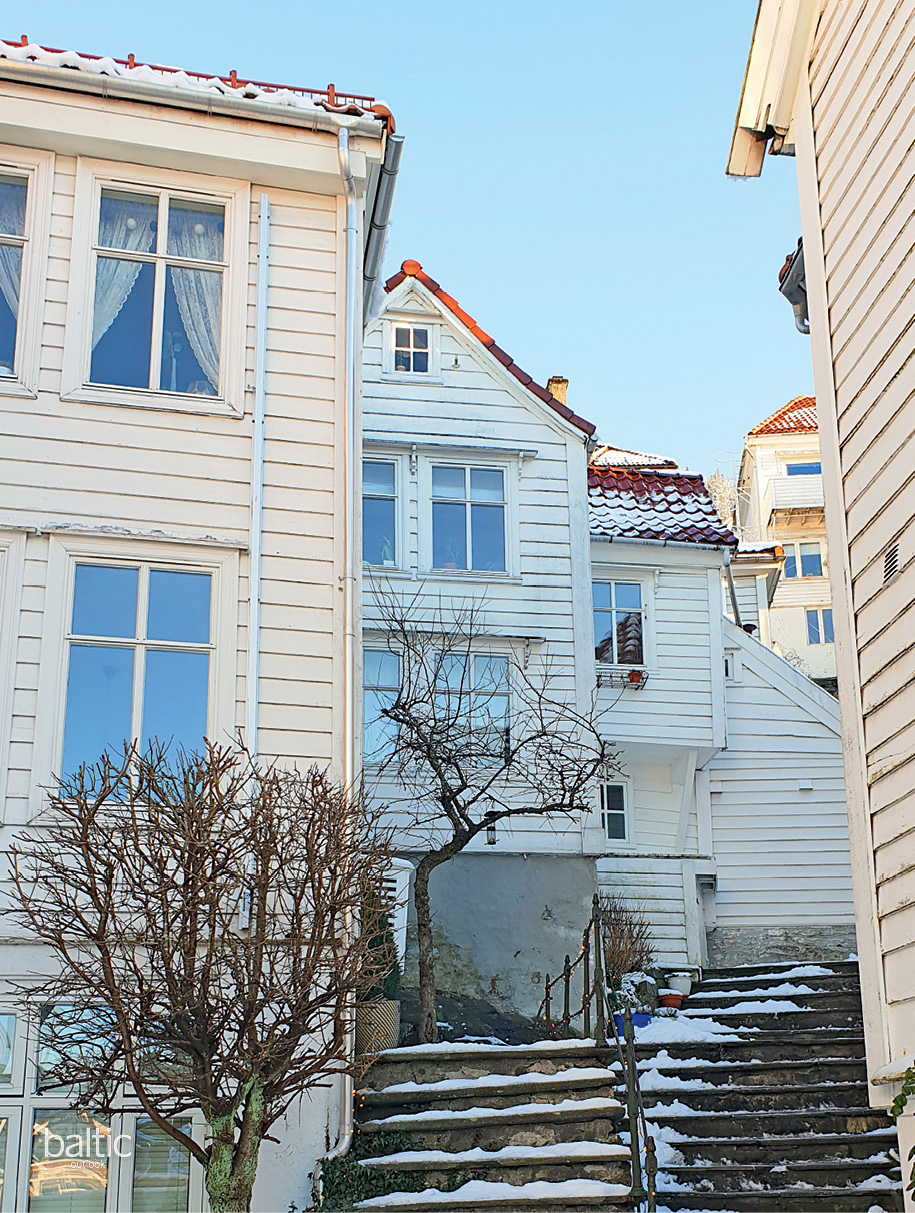 Fjord tours in winter
Bergen has a rich history going back to the Hanseatic traders of the 13th century and the Vikings before them. Set on the west coast of Norway, it's ringed by mountains, including Mount Ulriken, which is accessible by cable car, and Mount Fløyen, which is just a short walk from the heart of the Old Town up a zigzag forest-fringed path.
While the temperature at the top of Mount Ulriken is a biting -7˚C, the mountain views and shadows of glaciers beyond them are awakening a small part of me that I haven't been able to access for over a year, namely, the joy in discovery and appreciation of nature. The Scandinavian concept of friluftsliv is one of the region's many untranslatable ideas – a literal translation would be 'fresh-air life', and it means taking joy and pleasure in nature in a broader sense. It feels like the perfect concept for right now.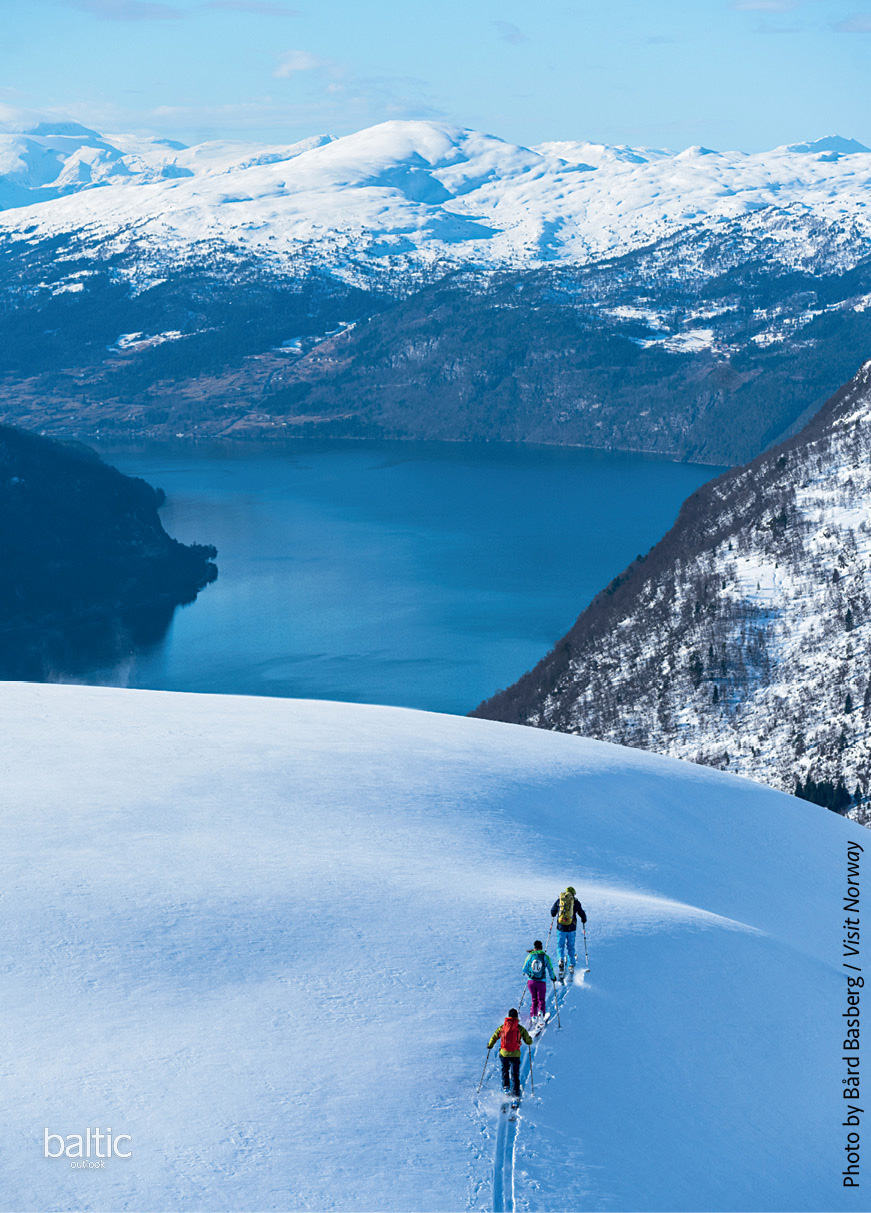 Bergen is the gateway to the fjords. From its harbour, day trips cruise the dramatic channels hewn from the hard rocks by glaciers during the last ice age, offering a glimpse of life on the edge. Colourful wooden houses cling to the cliffs as cruise boats squeeze through the narrowest gaps and double as a postal service, taking mail to these off-the-beaten-track dwellings along the route.
Two key tours run from Bergen. The 'Mostraumen Fjord Cruise' is a three-hour cruise along the Osterfjord to the tiny town of Modalen and a waterfall carrying water from the nearest glacier into the fjord. Standing on the bow of the boat, you can feel the ice-cold spray on your face. The other tour, 'Norway in a Nutshell', takes you through the stellar highlights of the country on an eleven-hour adventure. Starting on the scenic Bergen Railway, it winds through wild mountain terrain to Voss, then on to the UNESCO World Heritage-listed Nærøyfjord. There's more drama, mountainous scenery, and waterfalls ahead on the Flåm Railway, before a return to Bergen. It's one of Norway's most popular fjord tour trips, and in keeping with Norway's sustainable vision, it's almost completely put together with public transport options. If you can, book either the Future of the Fjord or the Vision of the Fjord as your boat options – both are powered by electricity.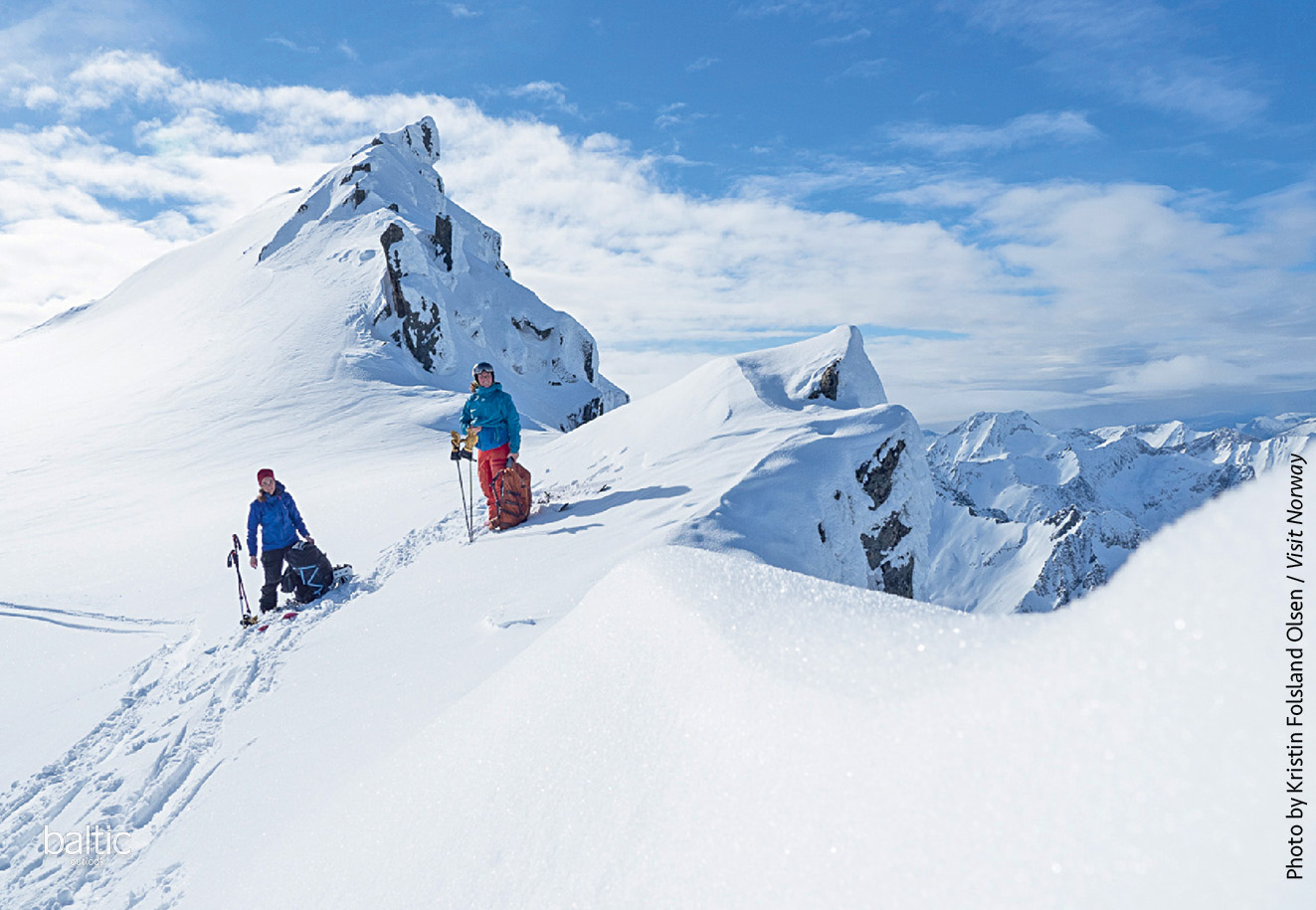 All these tours run in the winter and give you an insight into what life is like in this part of Norway, where you can see snow-topped mountains right through to the early summer. If that's given you a taste for exploration, there's good news – Bergen is the ideal spot to begin a ski adventure, with several resorts within an easy train ride from the main station.
Wide and uncrowded slopes
Although Bergen is surrounded by seven mountains, they're better for hiking than for skiing, so you have to go a little further afield – around an hour and a half's drive – to find a decent ski slope. But you won't be disappointed. 'Decent ski slope' is a bit of an undersell here in the country that has won the most Winter Olympic medals ever for skiing.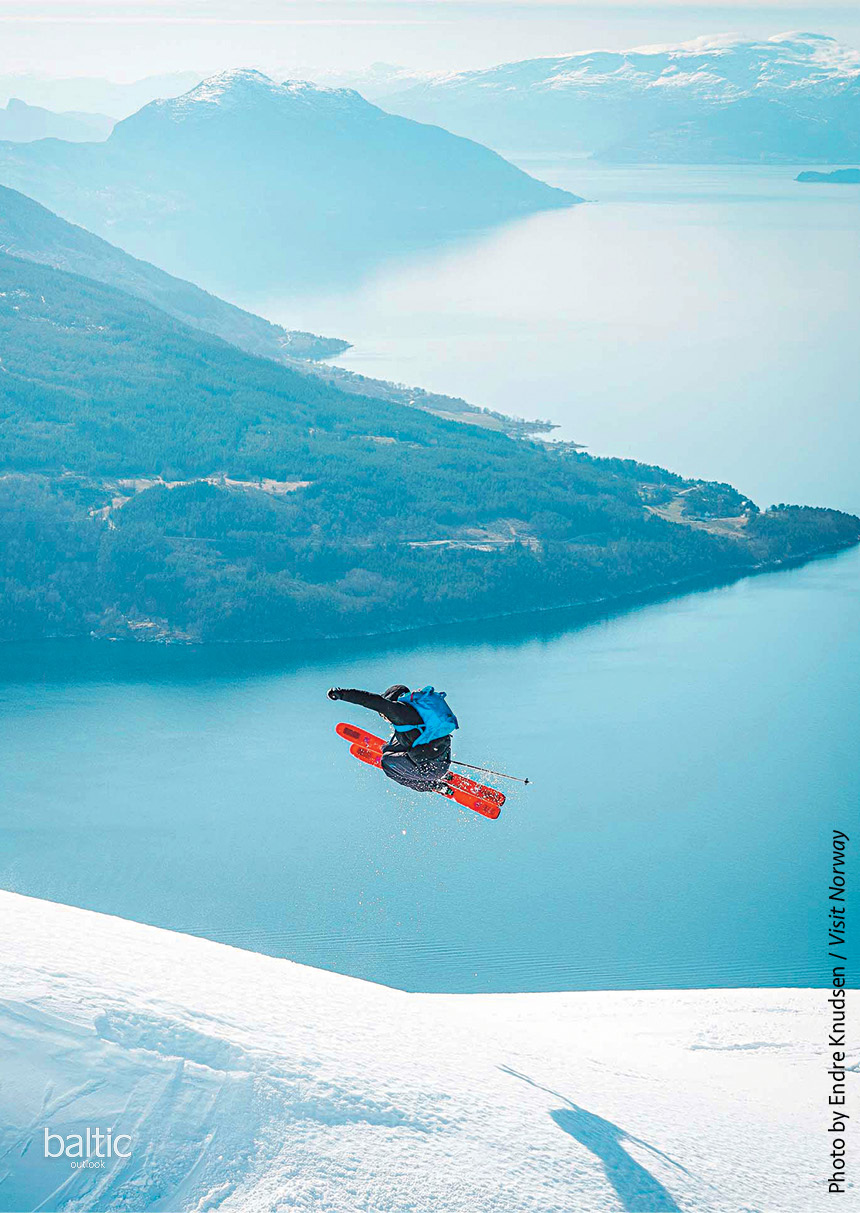 There's even a joke that Norwegians are born with skis on their feet, that's how comfortable this nation is on the snow. For those of us born without them, Norwegian resorts don't only cater to experts; there are plenty of great ski schools at all the resorts, and beginners really benefit from the space and uncrowded pistes. If you thought fjords were dramatic, wait until you see them paired with jagged mountains and the northern lights. It's winter, but jacked up to the max.
We can't promise that you'll win a medal while skiing in Norway– that's up to you – but we can guarantee wide and uncrowded slopes, long runs, plenty for families to do, and reliable snow cover. If you're looking for après ski, it's fair to say that the scene is a little more muted here than what you'll find in the Swiss and French Alps, but it more than makes up for that with cosy resorts, charming villages, and jaw-dropping landscapes at every turn. Norway has a reputation for being pricey, but in the mountains here, lift passes and meals are cheaper than in the Alps, and supermarket food is cheaper than at many Alpine resorts.
Voss is the closest ski area to Bergen. The 1.5-hour drive, or just over an hour by train, makes it an easy add-on to a short break in the city. A cable car runs directly from the train station right to the ski resort. It's the largest ski resort in western Norway, with 40 kilometres of well-groomed slopes, cross-country trails, and more to explore. This being Norway, and wintertime, it's a boon that the resort has a floodlit cross-country ski trail (the sun sinks behind the mountains earlier than you'd expect) along with evening skiing options on multiple nights per week, with more than ten kilometres of floodlit trails for all levels.
There are alternatives to classic skiing and snowboarding if you want to change things up: most resorts also offer dog sledding, snow shoeing, ice rally driving, cultural experiences, and evening meals in mountain tepees. The season runs approximately from early November to April.
Local delicacies
Bergen is a European City of Culture and is UNESCO-listed for its charming Hanseatic Wharf, a collection of wonderfully wonky wooden buildings used as workshops and studios along one side of the harbour. The city is also a UNESCO City of Gastronomy. For a city this size – population 270,000 – that's a lot of high-level accolades. I'm particularly curious about the gastronomy label, partly because I'm not so good at placing Norway on a world food map.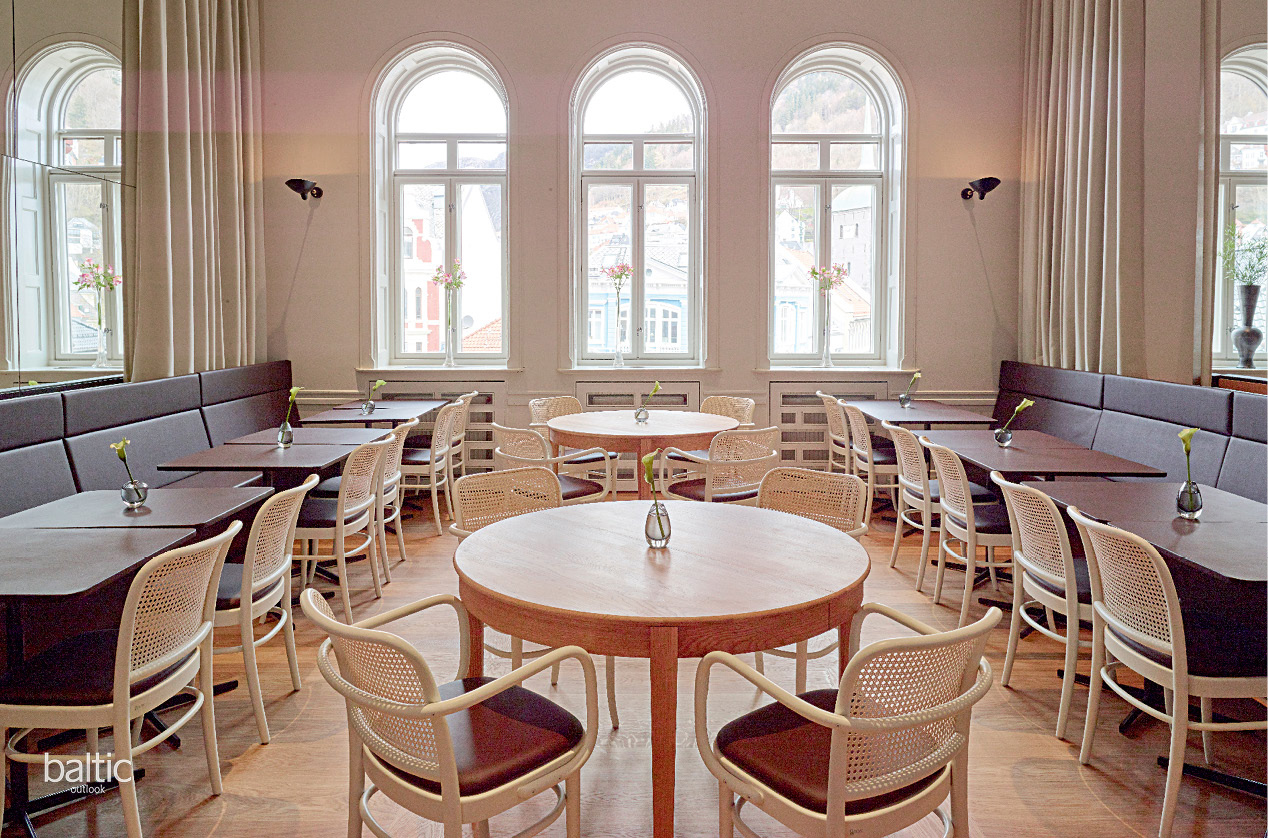 'There's more to food here than herring, right?' I cautiously ask Turid and Linn, another companion on our hike. Down from the mountain, we're now walking the cobbles of the Old Town as they show me Bergen's most famous sights. I have to ask because I'm not a big herring fan, and if eating it is an important part of the city's culture, I'll need to prepare myself. Linn just laughs as Turid gets out a little plastic box. Standing on a back street of the city, hiding from the incoming drizzle under a medieval wooden roof, she motions to me to eat one of the dry-looking white crispy things inside. 'Bergen isn't a herring town,' she says. 'It's built on this stuff: stockfish.'
Turns out, stockfish was quite the thing in the Bergen of the Middle Ages. And while I might not like to eat it all that often, I'm still mildly impressed by this chewy piece of protein from northern Norway that's still fished and prepared today in the same way it always has been. The fish, often cod, is caught in January or February in the north of Norway and is then hung on great wooden structures, like a huge wooden clothes horse, to dry in the wind and sun over many months. It's taken down before the snow melts, meaning that it's always kept at temperatures that inhibit bacterial growth, and then it's taken to Bergen to be shipped on to places such as Portugal, where it's used in bacalao.
Lucky for me, there's something to take the taste away. Turid pulls out another tub, this time containing a thin brown slice of something atop an equally thin white crispbread. It's brun ost, or 'brown cheese', a peculiarly Norwegian cheese that tastes creamy and caramelised, sweet and cheesy at the same time. It's traditionally eaten on flatbread, bread, or waffles, and it's delicious. 'Not a lot of people know about Norway's cheeses,' Linn chimes in, 'but we've got some award-winning cheeses and even hosted the World Cheese Awards in 2018.'
In that competition, the country's Fanaost, a sort of aged Gouda produced from a herd of just 12 cows on a farm less than 20 kilometres from Bergen, was crowned the best cheese in the world. This kind of local, artisan-produced food approach is exactly what you can expect in the city, which last year gained its first Michelin star at Bare, a restaurant specialising in ultra-locally sourced food.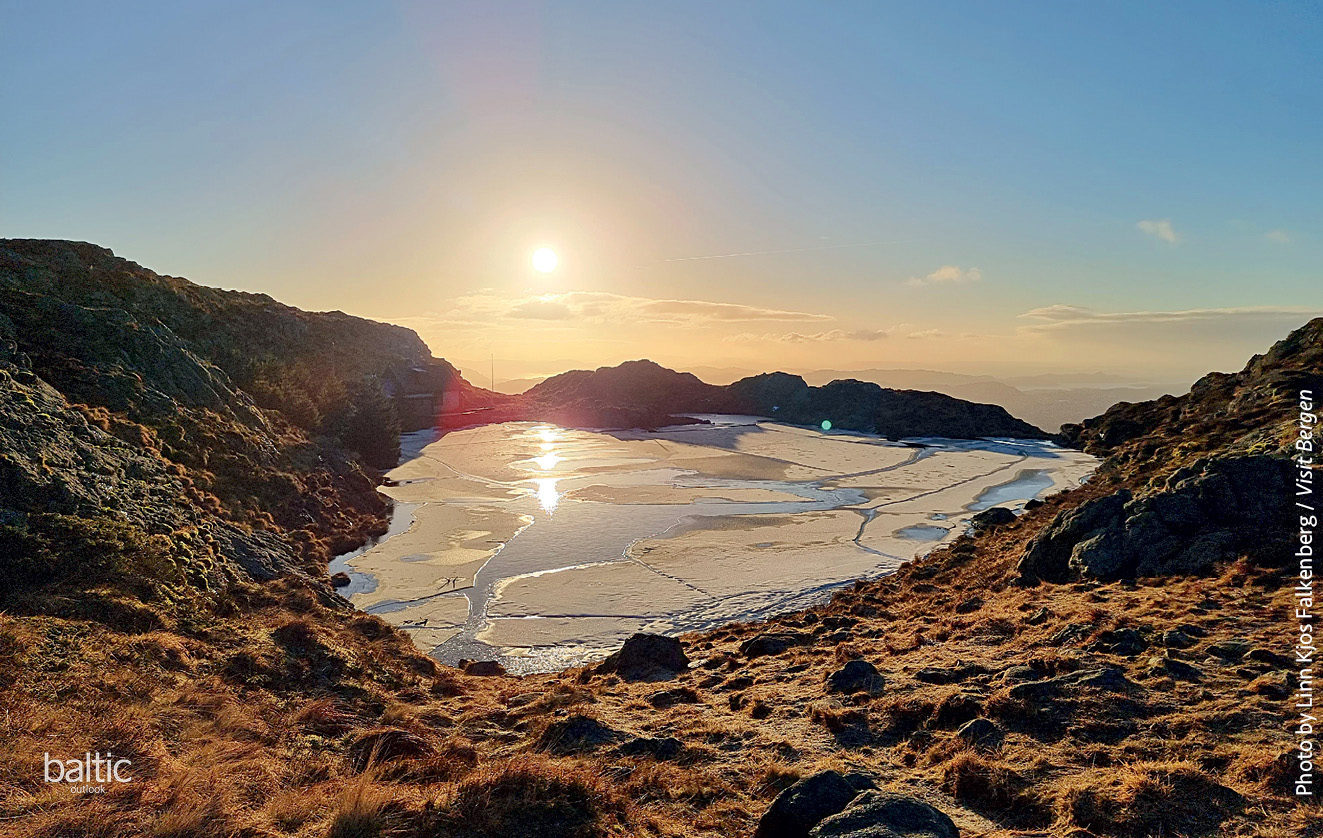 Later in the afternoon, as the sun starts to set behind an island out at sea, I step briskly down a ladder into the seven-degree sea and swim for a few gasping seconds off a pier. A small parade of female swimmers takes the plunge after me, and then we all huddle up in the café with coffee and blankets to warm up. Winter swimming is good for the circulation and good for the soul, a way to strengthen your bond with and appreciation of nature. It's a growing trend here in Bergen, and I love the feeling of vitality that it offers as well as the challenge it presents. After my visit, I feel like I've unlocked a piece of myself in this little city and rediscovered something I thought lost to the stress of the pandemic. Perhaps you will too.
Read more about Bergen in Baltic Outlook.
Text by Laura Hall