Looking for a serene and peaceful beach holidays that will leave you more rejuvenated than ever? We invite you to discover some of the most spectacular beaches and seaside villages in the Baltics. From unspoilt sandy beaches and dunes full of wildflowers to bold limestone cliffs and untouched ancient forests, find it all in this ultimate guide.
Nida & the Curonian Spit in Lithuania
The old fishing village of Nida is a small and beautiful beach destination on the Curonian Spit. With a length of 98 kilometres, this curved sand-dune spit separates the Curonian Lagoon from the Baltic Sea. The scenery in the larger settlement of Nida fascinates with its steep sand dunes, brightly painted gingerbread-like houses, and puffing fish smokeries.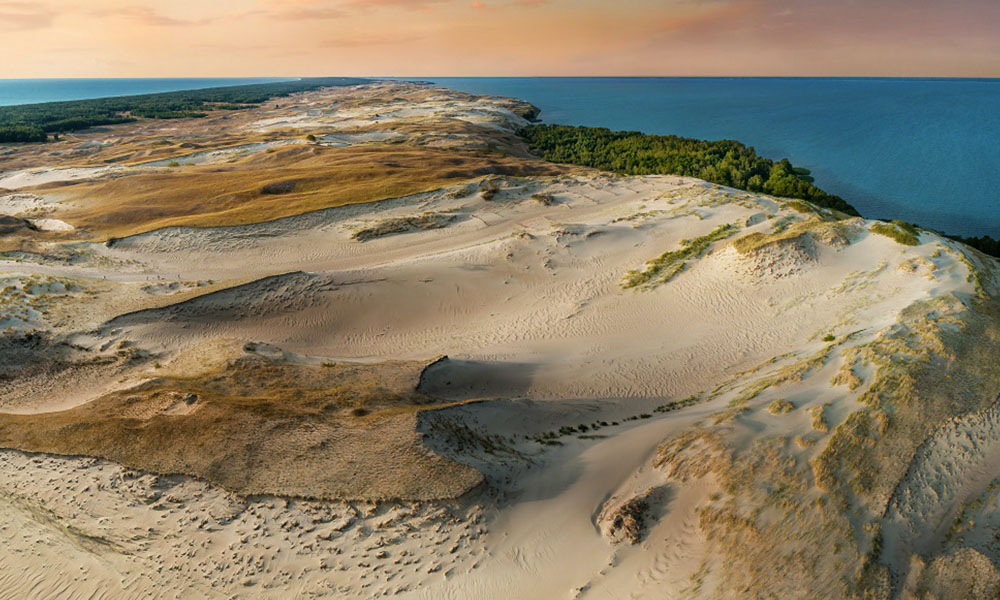 In order to experience the real vibe of Nida, take a walk to the magical Parnidis Dune, which is the largest dune on the peninsula. The mighty yet fragile white dune is 99% quartz and looks like a wavy seabed. Because of blowing winds, the dune is constantly moving and has even swallowed up nearby villages and settlements. Follow the 1.7-kilometre path to get to the Parnidis Dune Observation Deck and the spectacular panorama. With only water, sand, and pine forests as far as you can see, it's truly a magical place. Right next to the viewpoint is a sundial, or solar clock, showing the precise local time. Also, this is the only place where you can see both the sunrise and sunset – over the lagoon and into the Baltic Sea, respectively.
When in town, head to the Amber Gallery-Museum, which tells the story of Baltic amber, also referred to as 'Lithuanian gold'. Here you can become acquainted with the morphology and various colours of Baltic amber as well as see an incredible collection of pieces. Most amber used in jewellery ranges in hue from yellow to blood red. The biggest piece of amber in Lithuania, weighing 3.82 kilograms, is on display here as well.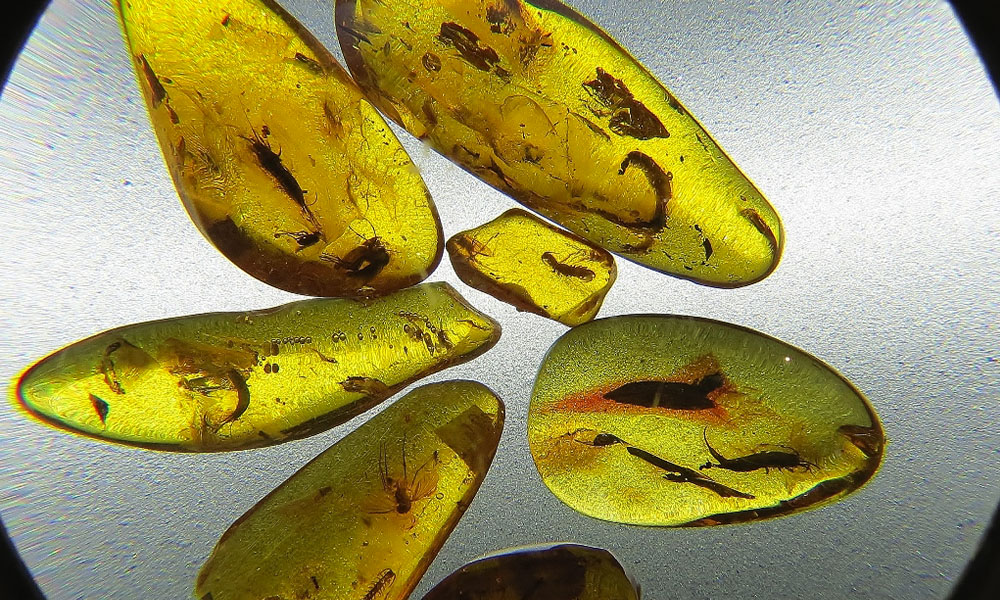 Where to stay: Hotel Nidus is a peaceful oasis with spa facilities for families, groups of friends, and couples wanting to escape the hustle and bustle of the city. The beach is within walking distance.
Where to watch the sunset: The Curonian Spit is the best place for a mesmerising sunset. Instead of the beach, head to the dunes for some privacy, and let the romance of the sea surround you.
What to experience: Rent a bike and cycle the unusual 52-kilometre-long bicycle path from Nida to Smiltynė. It connects all five settlements on the Curonian Spit.
What to try: Smoked fish for take-away, rye bread, and local beer.
Saaremaa & Muhu islands in Estonia
Saaremaa and Muhu offer entirely different scenery for those wishing to spend a holiday away from mainland Estonia. As the country's largest and third-largest islands, respectively, they have always attracted guests with their spas, nature, and ancestral heritage.
Kuressaare, a town on Saaremaa Island, has a long history as a resort town and also the most spas per capita – one spa for every ten residents. Kuressaare Beach is located next to the town's castle and park and is a convenient place for those who prefer to spend their holidays in town.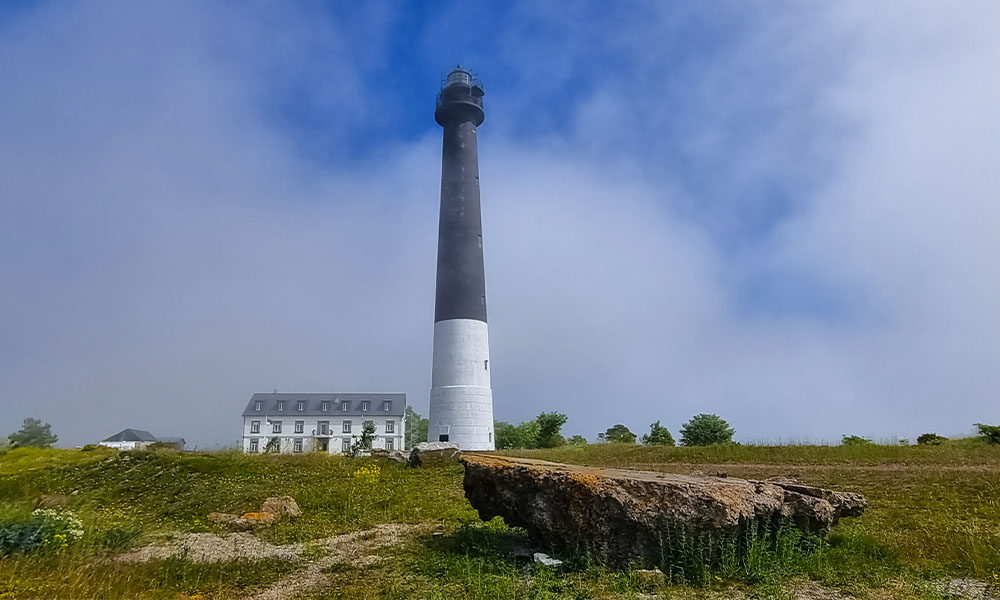 Only ten kilometres from Kuressaare are the famous sandy beaches of Saaremaa, stretching from Mändjala to Järve. The wide sandy beach and shallow water at Mändjala attract a mixed crowd of travellers, kite surfers, and paddleboarders. Get there by car or rent a bike and explore the cycle-friendly road. Remember to pack a picnic basket, because there are no cafés or restaurants at many of the swimming spots and beaches here. There are several more pristine and peaceful beaches around the island. At the northern end of Saaremaa, head to the beaches at the villages of Tuhkana and Jõiste. The beautiful Tuhkana Beach, however, takes a bit of effort to find.
Thanks to the diverse local flora and fauna, the trails in the Viidumäe Nature Reserve and Vilsandi National Park are stunning routes to explore the natural environment and do some bird-watching. Or relax in a rural setting by staying at a holiday farm.
To get to Saaremaa, you'll need to pass Muhu, a small, idyllic island where time seems to stand still. Muhu lures visitors with wild beaches and century-old fishing villages. The highlight here is Koguva, a traditional village now turned into an open-air museum.
Where to stay: Georg Ots Spa Hotel is perfect for exploring Saaremaa. The four-star hotel offers spa breaks for a beautiful, tranquil holiday.
Where to watch the sunset: Go to Panga Cliff on Saaremaa's northern shore for scenic walks and sunset watching. The cliff's highest point was once a sacred site where sacrifices were made to the sea god.
What to experience: The mild climate means an extended golf season at Saare Golf, an 18-hole golf course and country club surrounded by a picture-perfect landscape.
What to try: A loaf of the dark and sweet local bread is a must-try delight of Saaremaa.
Pāvilosta & Jūrkalne in Latvia
Travellers are spoilt for choice when it comes to wild beaches in Latvia. The steep coast and small fishing towns along the country's western shore are a favourite local location for a laid-back weekend escape. Jūrkalne and Pāvilosta bring a chill California surfer vibe to the Baltic Sea.
Every summer, surfers, kiters, and other water sports aficionados head out to the small town of Pāvilosta to race across the waves. Those who aren't fond of water sports can enjoy a relaxing stroll along the town's promenade, where the salty sea breeze ruffles the hair. For a longer hike, explore the beautiful stretch of beach between Pāvilosta and Jūrkalne along the fragrant pine forests and pale bluffs up to 20 metres high. The route is 20 kilometres long and leads along sandy beaches where you'll meet surprisingly few people. This is a tranquil natural landscape for solitude or spending time with close family or friends.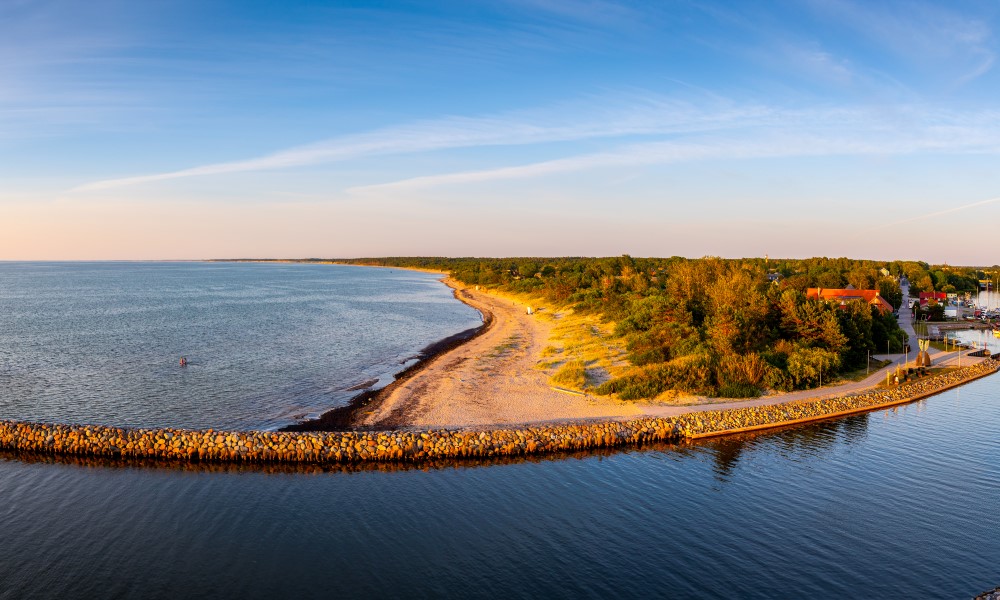 Once you get to Jūrkalne, look for the viewing area that resembles a boat. If you stay here until sunset, you can actually see two sunsets on the same evening. Watch the first sunset down by the water, and then climb up the steep shore to view it a second time a few moments later.
Whether you're an adrenaline junkie or someone who enjoys a more laid-back holiday, there's something for everyone in the Jūrkalne area, including those seeking a bit of personal wellness and beauty. A hidden gem surrounded by evergreen forests, the delightful Meža Spa & Apartments in Jūrkalne offers a wide variety of traditional bath rituals and spa treatments.
Where to stay: Peldmāja features six floating cottages next to the harbour in Pāvilosta. Also check out Pāvilostas šīfermāja and Cardinalis House.
Where to watch the sunset: The Jūrkalne Bluffs provide a picturesque setting in which to enjoy one of the most beautiful sunsets in Latvia.
What to experience: Book a SUP tour along the Saka and Tebra rivers or take a SUP board out into the sea and enjoy the fascinating colours of the sun setting over the water.
What to try: Fresh-smoked fish such as cod, plaice, and herring are a must along the wild western coast of Latvia.
Text by Līga Vaļko