Ever been to a city built entirely out of granite? Ever seen guys wearing skirts or tried real haggis? Although there are over 30 places named Aberdeen throughout the world, this time the one in Scotland is the hero of our story.
The nature and seaside walks go without saying, but there are plenty of other reasons to visit this wonderful city – its architecture, its ancient bridges, the largest number of whiskey distilleries in the whole country, its plenty of golf courses. Impressive castles and unique activities await as well. Fancy a one-of-a-kind experience and unforgettable memories? Let us give you a guide on the best things to do in Aberdeen.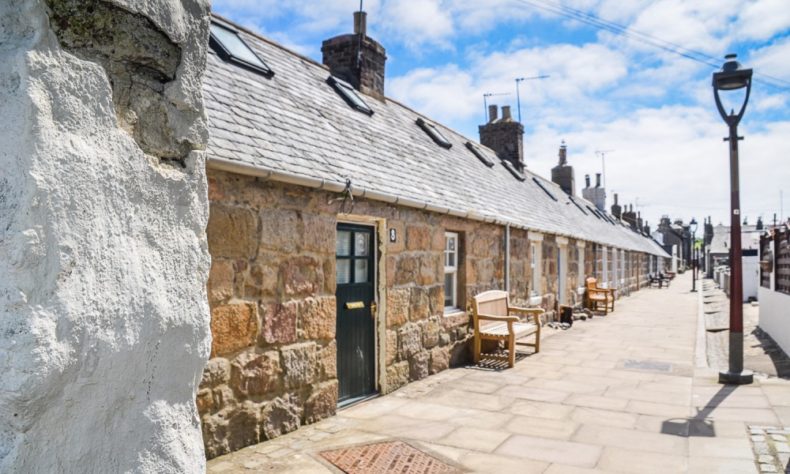 As soon as you have landed, the first question you have is how to get to the city centre, right? Aberdeenshire district has great transport links, offering plenty of options for travellers. Taxis are available at the terminal, and the journey takes about 15-20 minutes and costs around £16 – particularly convenient when travelling with friends or family.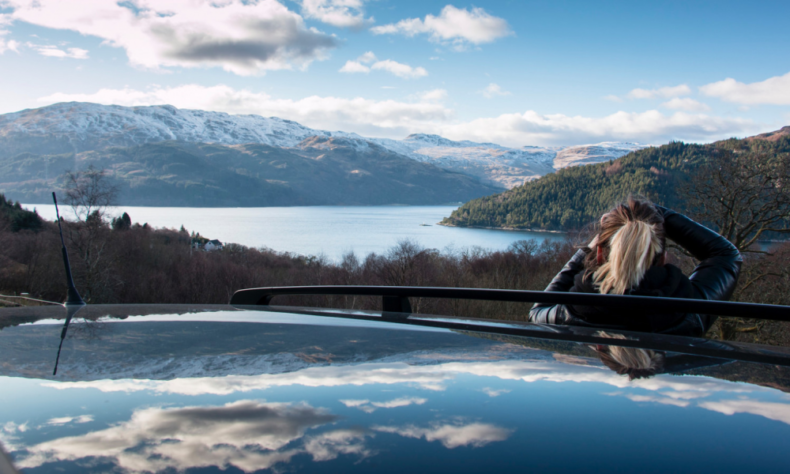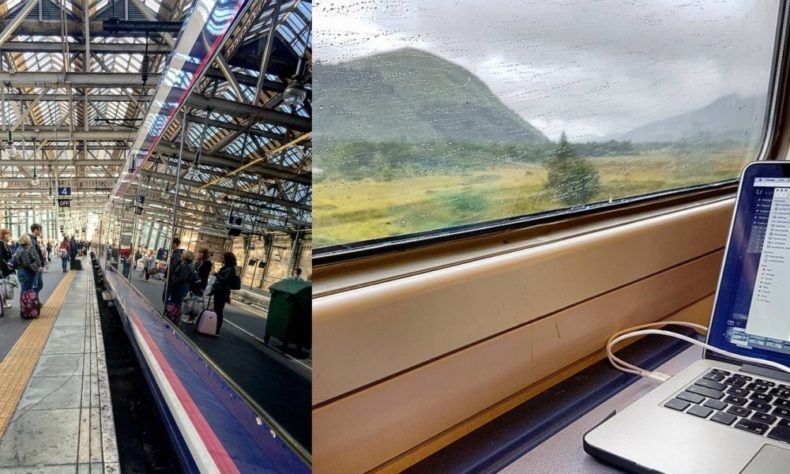 Buses also run between the airport and city centre – look for names such as First Aberdeen or Stagecoach Bluebird. A bus trip takes around 30-40 minutes and costs around £3 per person one way. The train offers sockets and comfy tables with great views. The nearest rail station, Dyce, is just a mile away from the airport and getting to the city centre only takes 10 minutes for just £2.20 per ride. Renting a car might be the best option for those willing to experience more than just the city centre and head further out into Aberdeenshire. Travelling by car is the only way to be flexible in your timetable and get to see the most. If this sounds like a good idea to you, for your convenience Europcar has a stand at the airport.
Fish&chips and beer, also, more parks
Speaking of parks – it's important to mention that cemeteries in Scotland are usually located close to main streets and considered to be perfect spaces for reading a book, having lunch or simply walking. You can grab a snack and enjoy the sun right next to a brilliant piece of 16th century architecture. Thinking of lunch options? Aberdeen is a perfect place for trying the famous fish&chips – because of its coastal location, the sea providing the city with fresh fish.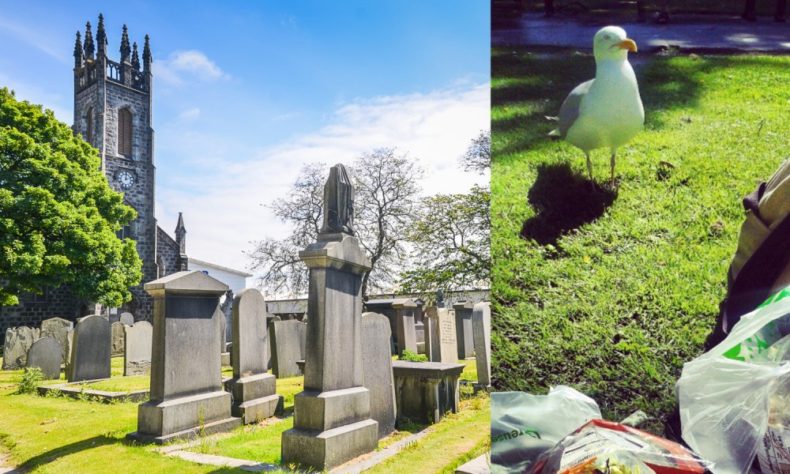 Although Scots are well known for their whiskey distilleries, locals mostly prefer beer to anything else. Here you can try all sorts of locally brewed beer right where it was made. Did you know that Aberdeen is the home of the famous Brewdog craft beer? The brewery itself sits in the fields of Aberdeenshire, and the very first Brewdog pub is located in the city, offering a wide choice of beers – from light fruity flavours up to strong 40% dark brews. Feel free to ask the bartenders for advice, and they will be happy to give you a wee taster first.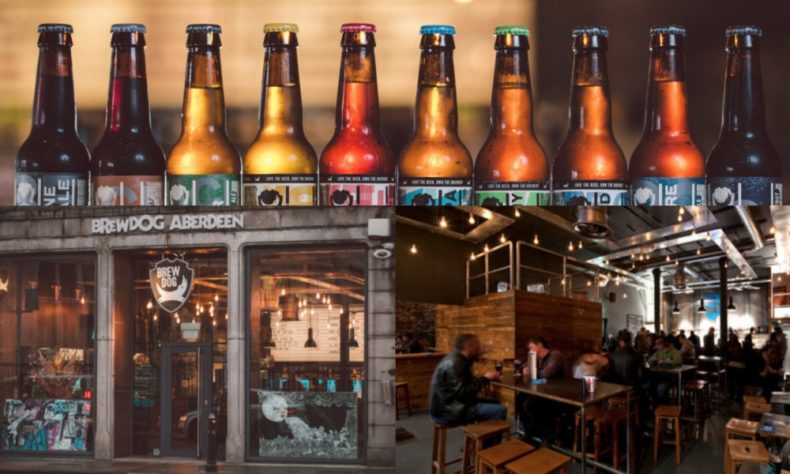 Drinking in churches!
Drinking inside a church? We've got it covered for you! We recommend visiting three unique pubs: The Slains Castle (remember this name for later), The Soul Bar and The Triplekirks. The main attraction of all of them, as you may have guessed, is being inside converted churches. And they serve decent food, too. Make sure you try a delish burger at least at one of them, washed down with a good pint of T – the most Scottish beer, Tennents. Look at you – practically local!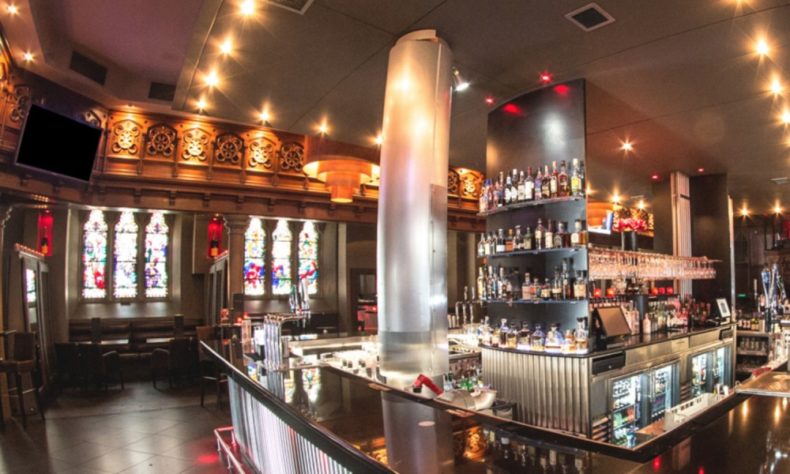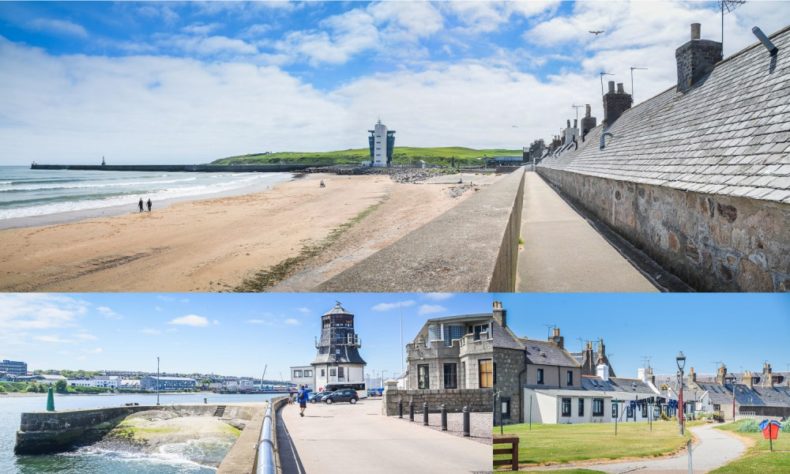 But it's not just architecture and buzzing spirit of the city centre that attract travellers from all over the world. Best of all, Aberdeen has its own golden sandy beach just a few minutes' walk from the city centre.
Scotland is all about castles, right?
Being a northern country with some extraordinarily beautiful scenery, Scotland offers an incredible range of outdoor activities, castle tours, hiking trails and much more. Aberdeen is certainly a wonderful destination for those wishing to explore ruins of historic castles perched atop local cliffs. It only takes half an hour to get to see the most stunning structures and fortresses in Scotland from Aberdeen – what a treat for adventurers!
Conveniently located on the east coast of Scotland, Aberdeen is the best starting point for your 30-minute drive up north along the sea to visit the ruins of Slains Castle, the actual birthplace of Dracula. The idea of writing Dracula came to Bram Stoker while visiting Slains. You may want to grab a copy of the book to read while visiting!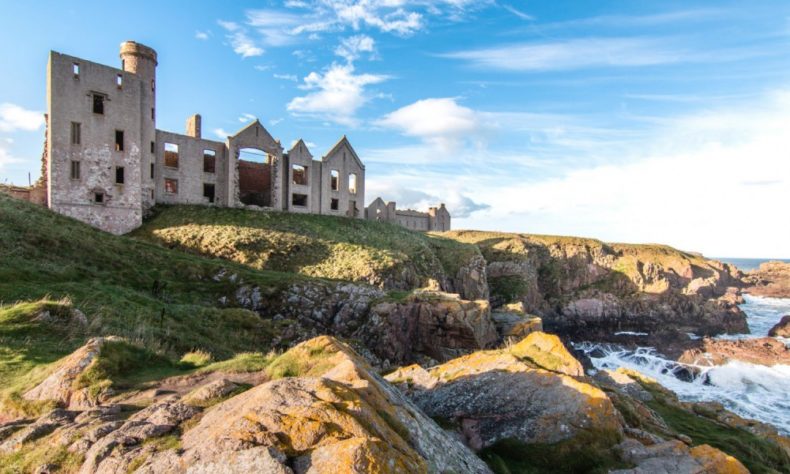 The castle ruins are open daily, and visiting is free of charge. We recommend packing a decent lunch to take with you and spending a few hours climbing and walking about. It might seem obvious, but still we'd like to mention that appropriate clothes and boots are necessary.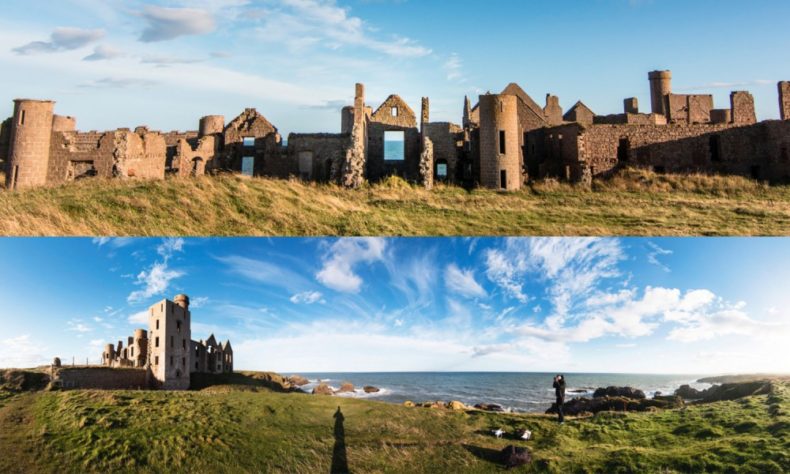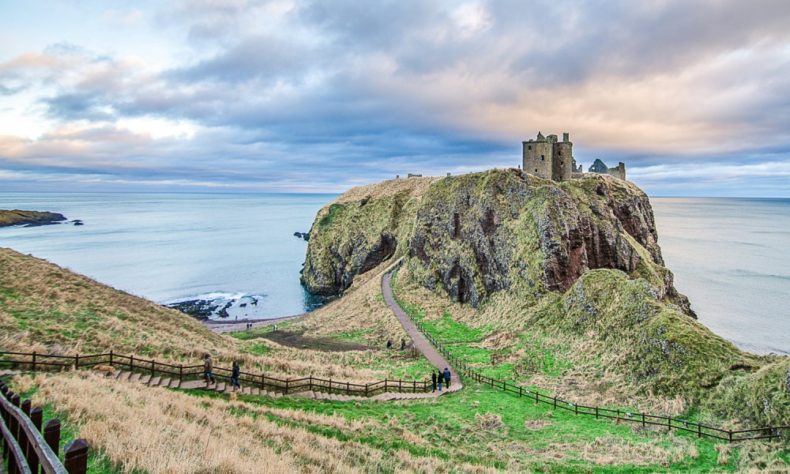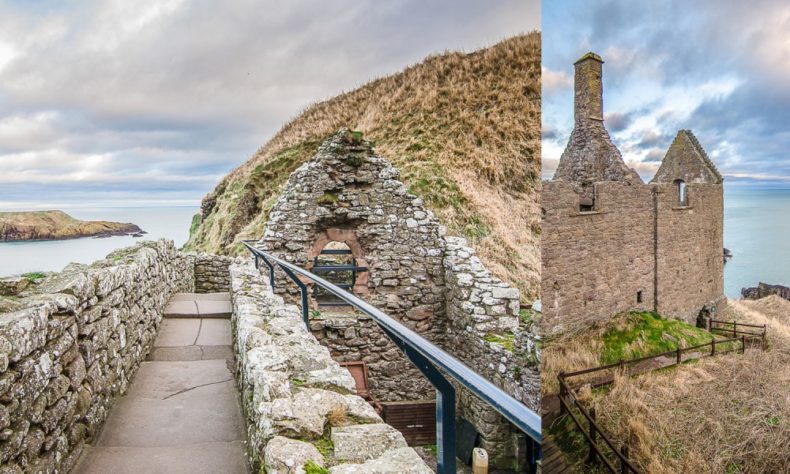 Since childhood, when reading fairy tales or listening to them, we imagined a castle sitting on top of a rock in the middle of a sea, but never actually saw any in real life. Does that sound familiar? We know the exact place where dreams like this come true. Just half an hour drive down south separates you from the absolutely stunning Dunnottar Castle sitting on a giant cliff. It is a ruined medieval fortress on a well-defended headland near Stonehaven in Aberdeenshire, and its name name comes from Gaelic Dùn Fhoithear – "fort on the shelving slope". It is open until 4 PM daily and will only cost you £8 per visit.
Hiking
Never been to the top of the world? That will easily be sorted out for you. Of course everyone comes to Scotland to see the mountains! Of course, you can drive around them or gaze at them through a train or bus window, but the real satisfaction comes to those who walk them with their own feet and get to the very top. Loch Beanie and Duchray Hill is a universally loved hiking route, thanks to its medium level of difficulty and 360'' panorama views. Starting early in the morning is the best choice, so you can enjoy the sun on the top of the hill and the best lighting throughout the hike.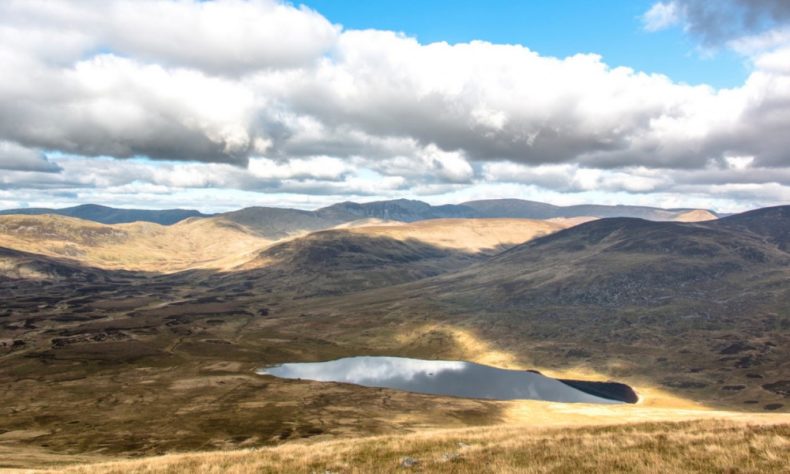 Corrie Fee is a slightly steeper and longer walk. Again, a good pair of hiking boots and appropriate clothes are a must. Do not forget to grab a bottle of water and a wee snack for the trip as we guarantee you will want to spend some time there exploring the waterfalls, the paths and the peaks.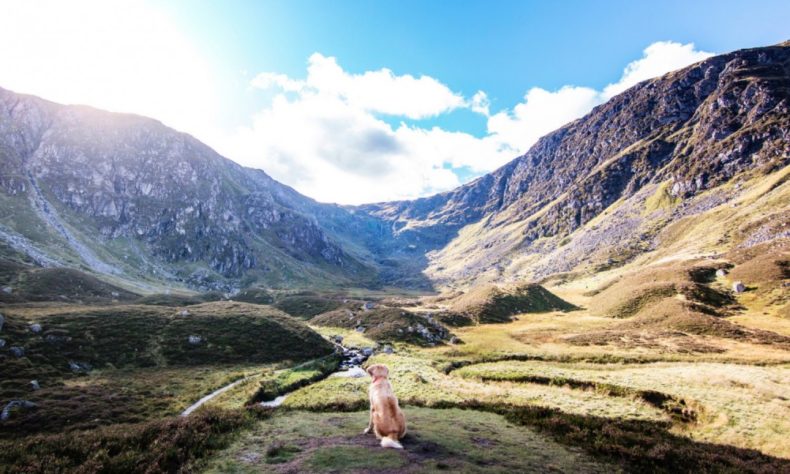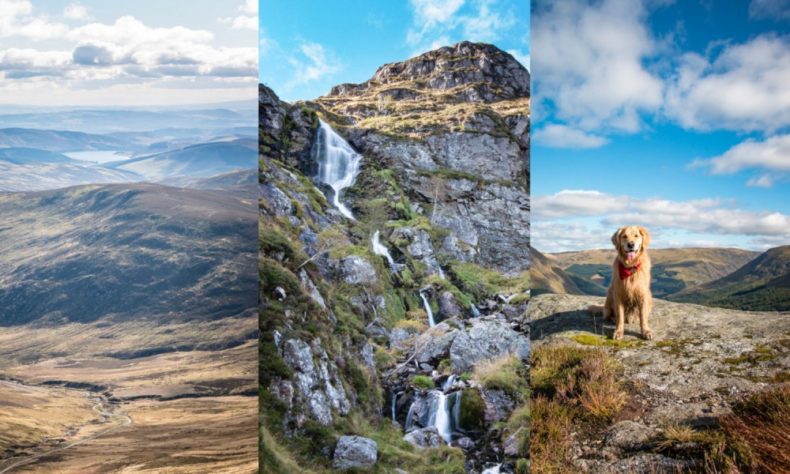 Written specially for airBalticBlog by Anastasija Shirokova.
Pictures were captured by Chris Berridge