Are you a keen golf player or perhaps a first-timer looking to try out this majestic sport? Whichever it may be, we have excellent news for you. airBaltic Key Account Manager Sanda Teihmane, a passionate golf enthusiast, has great insight into the best golf courses in the Baltic states. So today, instead of a runway, airBaltic is landing on a fairway – in golf terms, that's a closely mown grass area that leads the way to the target.
There are many aspects to think about when you are asked to choose the best or your favourite golf course. To some the key factor will be the quality of grass and greens, to others – a great clubhouse and restaurant, or maybe the price, or even the sweet feeling of success at the previous golf tournament. All of these things will sway your answer one way or another.
Let`s try to figure it out and take a look at the top six golf courses in the Baltics – two for Latvia, Estonia and Lithuania each to make it equal.
And, with 70 direct flights to Riga, Tallinn and Vilnius from Europe and beyond, airBaltic will be a great partner whether you're looking for a quick golf break or an extended stay.
Jurmala Golf Club & Hotel
Hurray! Golfers in Latvia are still celebrating the long-awaited course opening, as this year marks its first season.
Jurmala Golf Club & Hotel is located only a 12-minute drive from Riga airport. In 20 minutes, you can be in Riga city centre, while a 15-minute drive will land you in the resort town Jurmala.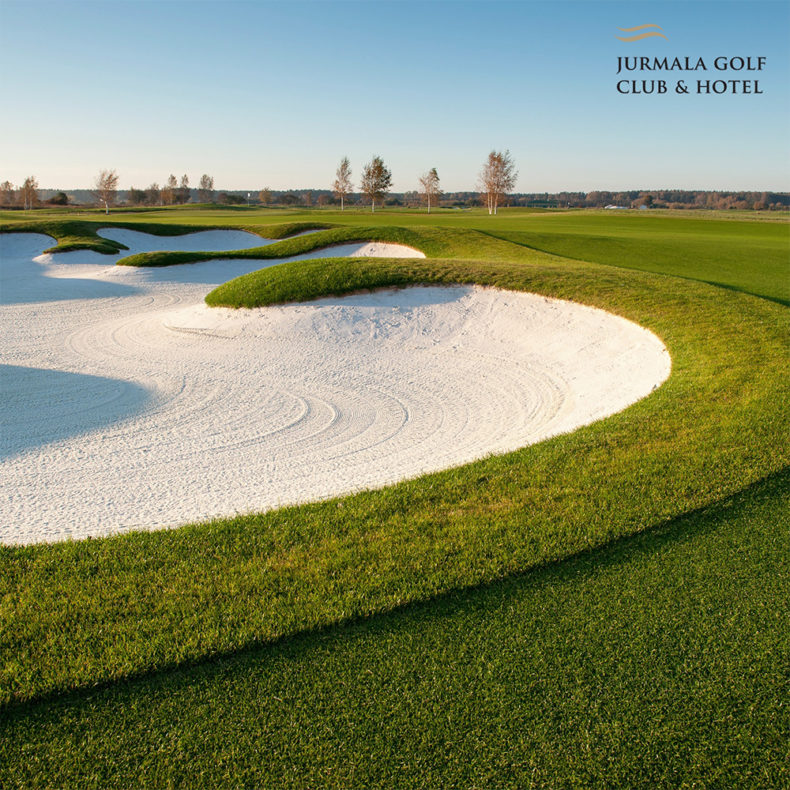 The whole estate is mesmerizing down to the tiniest detail – from the welcoming scent in the clubhouse, reminiscent of a high level hotel,  to the very last gleaming white sand bunker on the golf course. It is worth mentioning that it is a Nicklaus Design 18-hole course; plus you have a chance to test your short game skills on a beautiful 9-hole PAR3 Academy course.
A state-of-the-art driving range with practice facilities is open all year round, so no excuses in the spring for being out of shape! You will also enjoy the fine dining restaurant with panoramic views of the golf course after a good round of golf.
Ozo Golf Club
If modern golf began in Scotland in the mid-15th century, then a few years later, in 2002, the first 18-hole golf course in Latvia was opened. Ozo Golf Club is located at a 20-minute driving distance from Riga city centre and is highly popular among local golfers; it offers an excellent variety of golf holes due to the diverse landscape of the course. The practice area or the so-called driving range is conveniently located in front of the clubhouse. This means you won't feel bored during lunch at Ozo restaurant, but might catch some golf tips while enjoying an excellent meal prepared by one of the best teams of chefs in Latvia.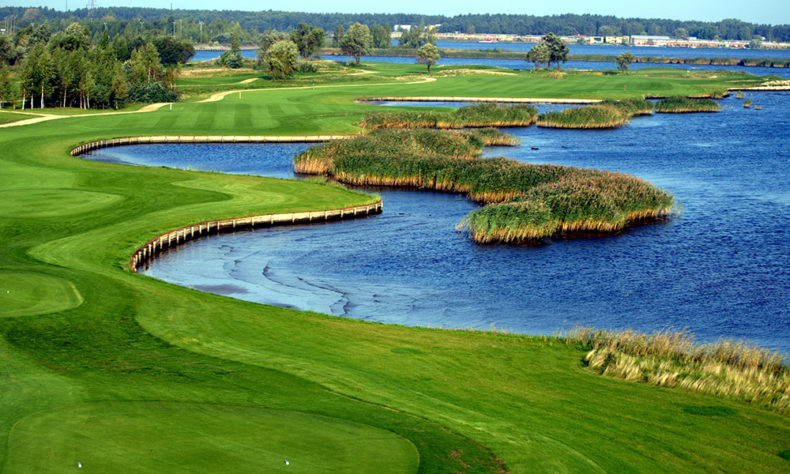 Let's move to Estonia.
Niitvälja Golf
You could describe Niitvälja Golf very briefly – an unforgettable golfing experience. An untouched pine tree forest, magnificent water hazards, and it`s no coincidence that players have named the 15th hole the "island of tears" as it ends on a floating green. Having way more shots than should be there, the only tears I felt coming were from being touched by the beauty of the golf course.
Niitvälja's driving range is one of the biggest in the Baltic States, and you might like the nine-hole open-air mini course for putting. Did you know that putting is the most important part of golf, however, not practiced often enough? Here you can make this part of your routine exciting and challenging.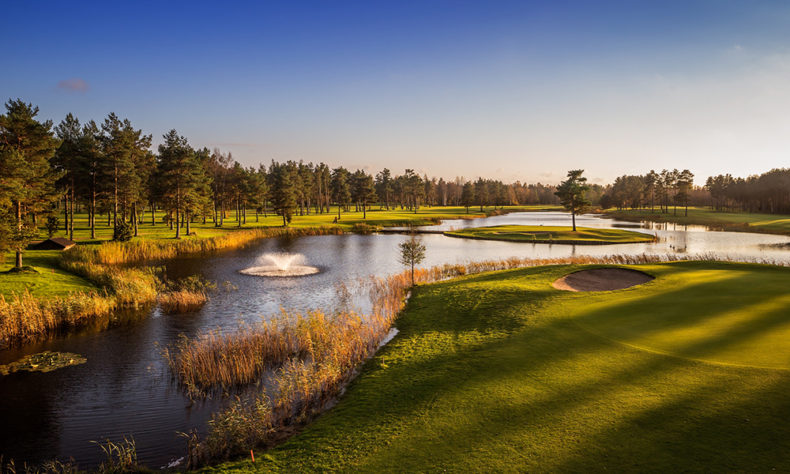 Pärnu Bay Golf Links
Pärnu Bay Golf Links is a links course in the true sense of the word: a coastal stretch of land with sandy soil and fescue grasses. Golfers know how capricious and windy links courses can be, but at the same time they create an authentic golf atmosphere.
Pärnu Bay Golf Links has chosen the hawk as its heraldic charge, and it adorns all tee boxes of the course.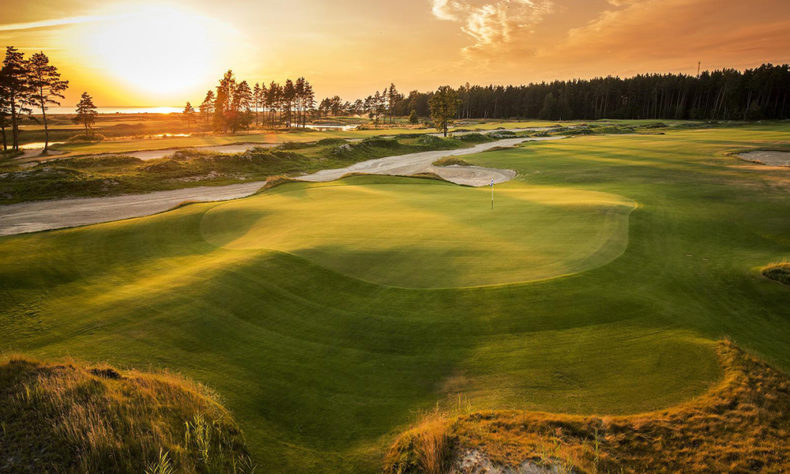 Now we're landing in Lithuania.
The V Golf Club
The V Golf Club is located 20 km from Vilnius city centre and is much more than just an 18-hole golf course. In fact, it is an impressive resort with many different recreation possibilities. With overwhelming lake scenery, hotel "Vilnius Grand Resort" offers almost 200 rooms and suites, a SPA area, tennis, volleyball and more. The V Golf Club design combines the best elements of Scottish links with American golf course architecture, and I have to admit that it is a true test to every golfer`s abilities. The golf course has a spectacular green speed, many water areas, and several holes that bend at some point or the so-called dogleg holes. All of it makes this course one of the most difficult ones in the Baltics.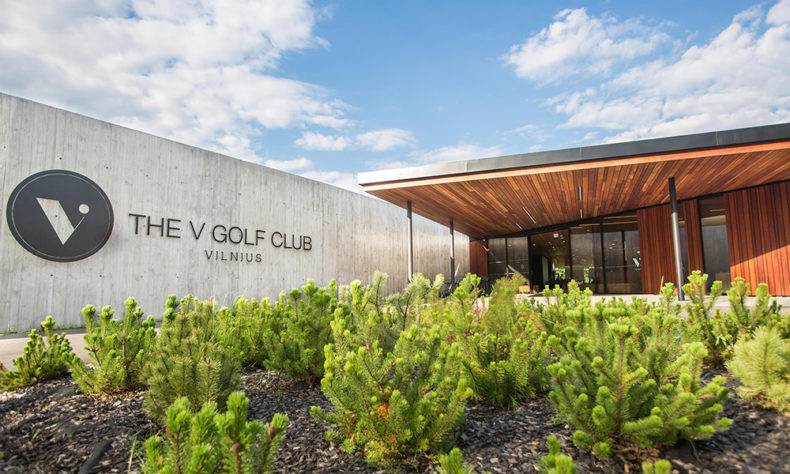 Capitals Golf Club
Capitals Golf Club where the landscape is a true gem was the first 18-hole course in Lithuania. The astonishing panoramic view sometimes creates a feeling that you can see the blue sea blending with the horizon far, far away, but knowing the geography of this location you understand that you are actually looking at hills. The golf course is located 50 km from Vilnius and is completely different from the previous one, and that makes it very interesting to combine both of them.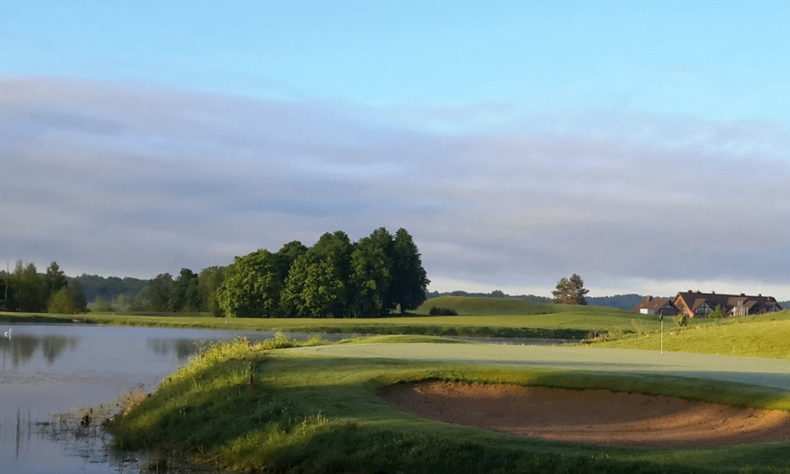 To sum up, it is an arduous task to pick only 6 golf courses in the Baltics. I invite you to play the others as well, like Estonian Golf & Country Club, Otepää Golf Center, European Centre Golf Club, National Golf Club and some 9-hole courses as they all are worth seeing for yourself. Golf season in the Baltics usually lasts from April to October, but normally you can play in November, and keen golfers play even in December. What else can you do – take a quick flight to Riga, Tallinn or Vilnius and experience a wonderful golf break in the Baltics!