London wouldn't be what it is without its markets. Every neighbourhood, every street has one. But the best thing about them is they're all fantastic. Local farmers, award-winning produce, everything from bread and cheese to confectionery. And food trucks offer great meals to be had on the spot. Each market combines street food and locally sourced produce. The aura of London markets is awesome, and the flavours speak for themselves.
Columbia Road Flower Market
The ultimate place to be enchanted by flowers on a Sunday morning. The whole street, lined with little houses, turns into a luscious world of flowers. Don't miss the small windows behind the flower stands where you can get excellent coffee, the great bread at Pavilion Bakery and beer or wine at the Borough wines & beer shop. If you're planning to get some gardening done, pop into Garden Shop for organic seeds, and for some kitchen magic Kitchen House is not to miss. This is a world attracting a lot of Londoners to dive in, head over heels, and not just the neighbourhood locals, but people from all over the great city.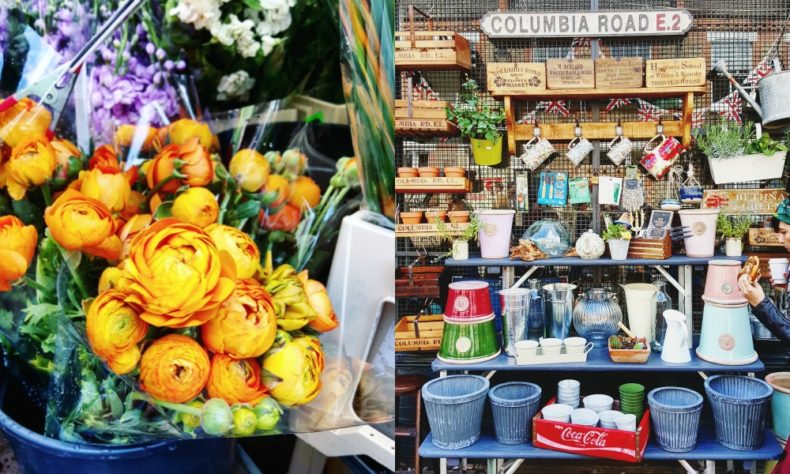 Address: Columbia Road Flower Market, London
Maltby Street Market
Maltby Street Market is a true weekend gem where you can easily lose your head, find excellent flavours, and spend all your money, as this is where old warehouses are transformed on weekends into places offering the best of the best that the London artisanal food vendors have to offer. Grab a hot and gooey panini at The Cheese Truck, be enchanted by smoked Scottish salmon at Hansen & Lydersen, enjoy a superb brownie at Bad Brownie, but if you're aiming for cloud nine with one of the best doughnuts around, St. John Bakery is your stop – get the doughnut with butterscotch cream first. Then try some Eccles cakes – they're magic! On a Sunday the famous Sub Cult sandwiches are a must-try. They're award winners for a good reason – whichever you have (the vegetarian one with mushrooms, truffle and thyme mayonnaise, Stilton and basil, or the 28 day cured beef, onion marmalade, Provolone cheese and black truffle mayonnaise one), they're all brilliant. If juicy and all-round perfect burgers are your thing, do stop by African Volcano at Maltby Street Market and order a Dirty Secret burger. Be prepared – your meal will be so juicy and so, so superb that even if you have no space in your stomach, you'll find some. 24-hour slow-cooked pork, beer braised onions, cheese, sauces and a gently juicy bun. People go nuts for this burger for a good reason. But if you're an oyster aficionado, head to the oyster and champagne spot Market Gourmet – need I say more? A glass of bubbly and oysters make people happy. Period.
Address: 41 Maltby Street, London
Borough Market
Borough Market is every foodie's must-see in this part of London. A paradise on Saturdays on Sundays, when every single delicious thing in existence can be found here. Pieminister pies, English muffins, Bath cheese, locally-made cheeses from London, stands of bread, vegetables and fruit that I could dive into and never return, and, of course, the popular darlings oysters. If you're interested in learning to bake bread, join a masterclass at the nearby Brothers bakery (by the way, their focaccias and cheese breadsticks the size of a whole loaf are to die for). In case what's missing in your life is a cup of coffee, pop into Monmouth Coffee Company, and if Neal's Yard is not on your way, Borough Market also has a Neal's Yard Dairy shop – yet another reason to ponder whether you should maybe buy some cheese. Be sure to taste everything – these are true English flavours.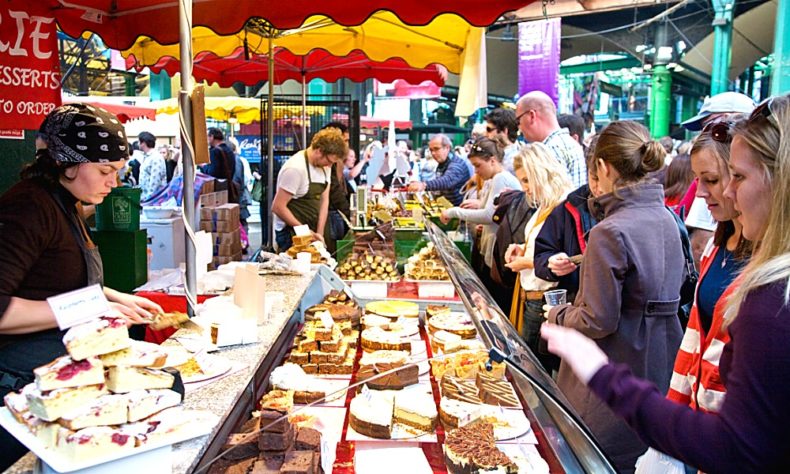 Address: 8 Southwark Street, London
Brockley Market
Even though this is a very local market where locals shop for their weekly groceries, make sure you don't miss the coffee stand, churning out cappuccinos non-stop. Looking for something to take back home? Grab some Olivebranch tapenades or a Great Taste Awards winner, the surprising sweet Kalamata olive, fig and almond marmalade (totally irresistible). The vegetable stand will always have some seasonal fruit&veg, and Good & Proper Tea truck will serve you tea and crumpets with Marmite and Cheddar or lime curd and raspberries. In any case – be ready for things to eat and things to make you go crazy.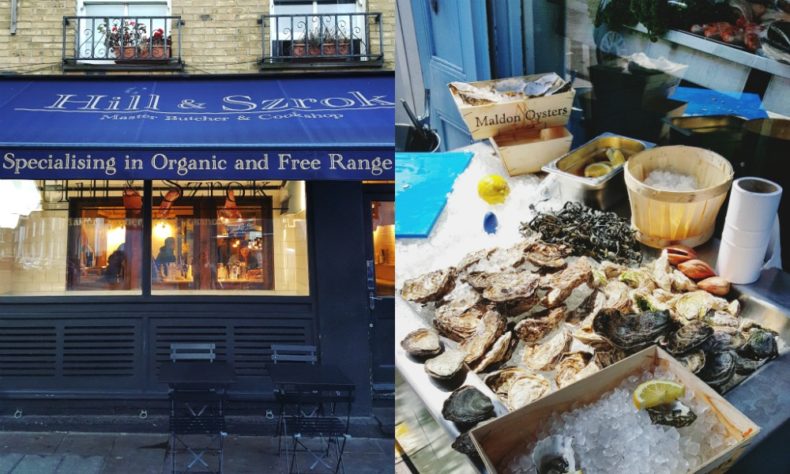 Address: Lewisham Way, London
Book your tickets to London now!
Author: owner/editor of food magazine Četras sezonas, 4 cookbook author and food blogger Signe Meirane.