Madrid can be entirely a museum trip, an all-day tapas and wine experience, or a history enthusiast's dream. It can even be a pilgrimage, a non-stop party, or none of the above. Because Madrid has that rare quality of having everything for everyone while remaining very nonchalant about it. Baltic Outlook writer Nadīna Elekse believes you can say a lot of things about Madrid, but it's first and foremost just cool.
Food fiesta
I reach my accommodation in the city centre at dusk and decide to go out for a walk. My hotel is very close to the bustling Gran Vía, but instead I walk down to the area around the Mercado San Miguel, one of the best food markets in Europe and a tapas paradise. It's the golden hour, and this tail end of the sunset fits Madrid so well. It also feels like the calm before a storm – the moment between the end of the workday and just before dinner. Even Plaza Mayor, the public square at the heart of Madrid, is still quiet.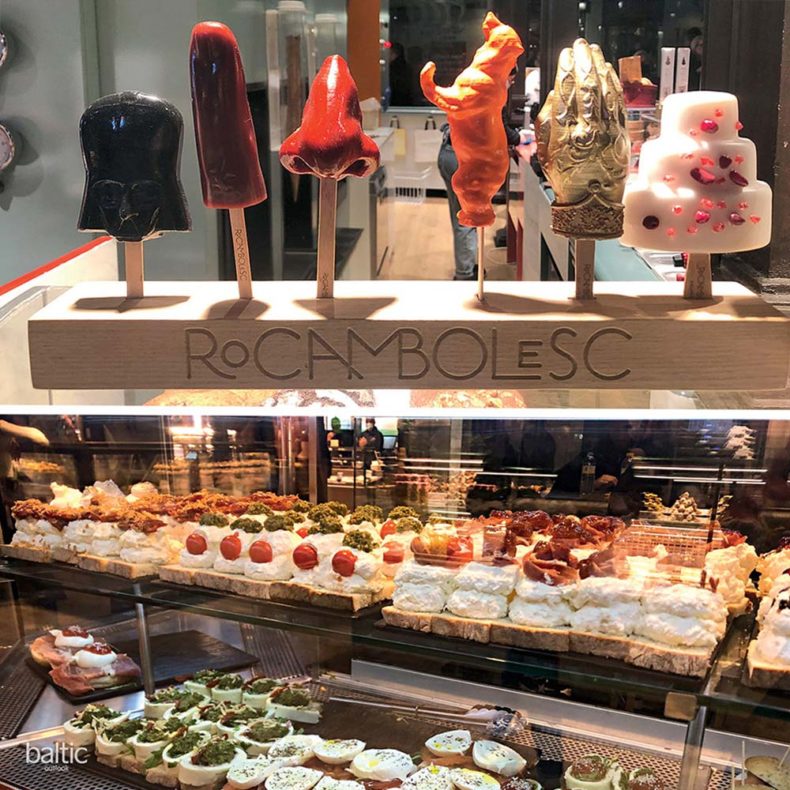 In Spain, the night is always young and it's never too late for dinner, a drink, or some chocolate  churros. Tonight my dinner is booked for 9:30 pm, and it will be an 18-course meal at DSTAgE restaurant. Even though Spanish culture, history, and architecture are known the world over, I have to confess that Madrid's vast and imaginative food scene took my excitement for this trip to a whole new level. Spanish cuisine is famous for putting fresh, high-quality ingredients at the centre of attention. In addition to global influences, new trends and experiments by Michelin-starred chefs promise a new twist on these classics.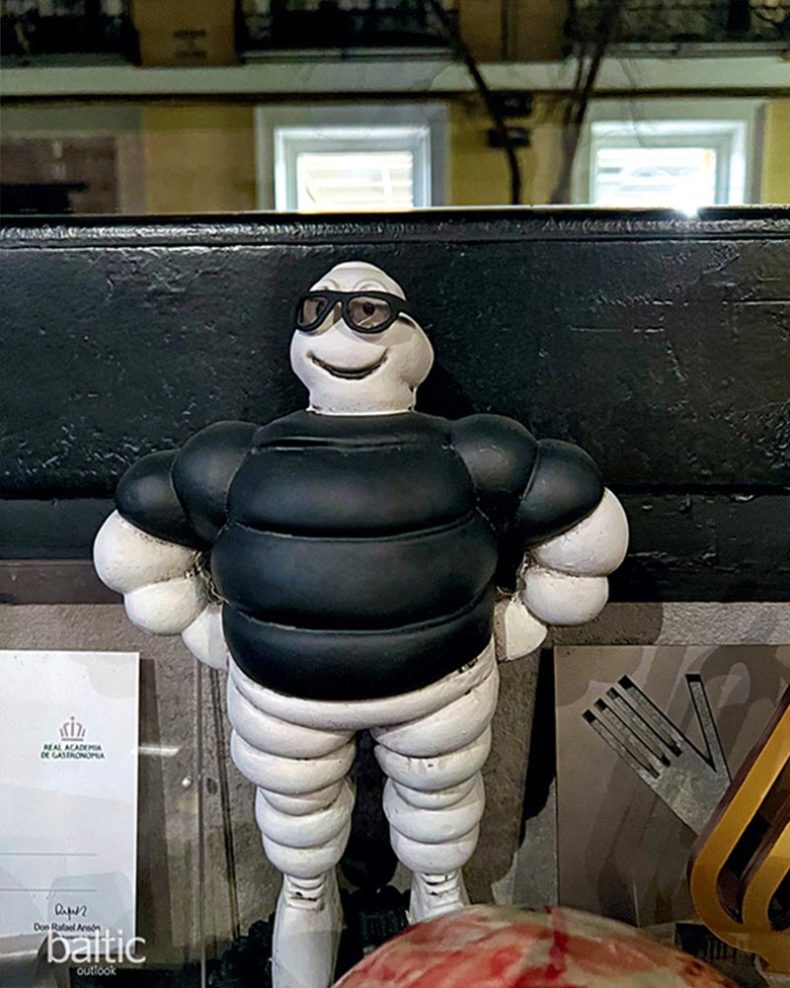 At DSTAgE, for example, the Japanese influence is definitely present in the preparation of seafood, and the menu features a couple of very distinctly Mexican courses as well as some classic Spanish dishes. The star of the show is the Basque chorizo, a classic pork sausage that's highly present in Spanish and Mexican cuisines as well as meat lovers' food fantasies. After this course, when we've exchanged phrases such as 'Nothing beats a good chorizo', the waiter comes over to our table, visibly smiling behind his face mask: 'Do you know that you didn't actually eat any meat just now?' It's a good trick, and he knows it. Chef Diego Guerrero definitely has some high-end vegan surprises up his sleeve.
Other original ingredient pairings at DSTAgE include black garlic with yeast and vinegar, onion and banana, and a dessert made of potato, truffle, and honey. The wine pairing is very generous, and we notice the other tables getting livelier and louder, too. Somewhere around the 14th course, we start to get a little full and take more time to proceed to the next dish presented to us. One of the staff members comes up to us with a heartbroken look on her face: 'You don't like it?' We reassure her that everything's great, we're just not used to eating 18 dishes for dinner at midnight! That seems to calm her. Our dinner experience ends at around one in the morning, and we've celebrated our first night in Madrid with a blast.
Cool museums and parks
'Plan of attack' – that's what I call my next day's visit to the Prado, Madrid's biggest and most celebrated museum. As a pretty hardcore museum, art, and history nerd, I take museum experiences seriously. While history museums tell you about actual events that shaped a nation, art museums have a unique way of showing the spirit of the people who live there. Even though some art movements, such as Romanticism or impressionism, have swept the art world globally, there are subtle differences in how artists have interpreted these trends. One can tell a lot about a place by which colours, motifs, and themes dominate its paintings.
After the experience of visiting an art museum has 'aged' for a couple of months in my mind and all the artwork has merged into a general impression, I find that it is almost always represented by a colour. I remember visiting the National Art Museum in Mexico City and being overwhelmed by how much yellow was present in the artwork; the Latvian National Museum of Art in Riga, for its part, is full of greens and greys; and pastels shine the brightest in Parisian museums. But at the Prado, almost every painting features a very deep, intense red, something between red wine and mahogany. I knew that the Prado would be an essential piece in unlocking the nature of Madrid.
The museum was founded by King Ferdinand VII of Spain and opened to the public in 1819, becoming the first art museum in Spain and one of the earliest public museums in Europe. The crown jewel of the Prado is its large number of works by Velázquez, Goya, and Rubens. The museum also possesses the largest collection of works on paper by Goya and significant works by Hieronymus Bosch, which always draw large crowds and attract interest.
Like the Prado, Buen Retiro Park is also one of the most popular sights in Madrid. The park is the home of the Palacio de Cristal (Glass Palace) and Palacio de Velázquez right next to it. Both of these structures were built as exposition venues in the 19th century and possess that undeniable, mysterious nostalgia found only in buildings, photographs, and literature from that era. Today, both are under the wing of the Museo Nacional Centro de Arte Reina Sofía (Reina Sofía Museum) and host refreshing modern art exhibitions and installations. These smaller spaces can serve as a gateway to the main building of the Reina Sofía, but nothing can really prepare you for an art experience that massive.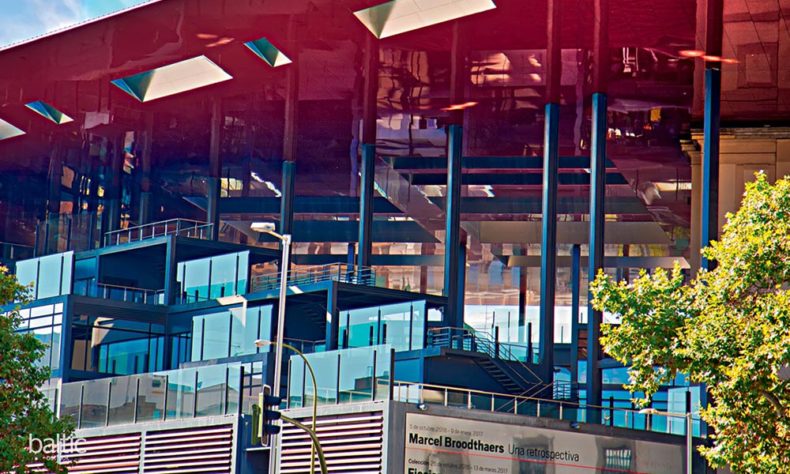 The Reina Sofía Museum is located in a former hospital, which explains the many hallways and side rooms but also creates a fascinating and bizarre analogy between modern art and the human mind with all of its ups and downs. I can't help but imagine this museum as a labyrinth of the imagination, with creativity and genius represented side by side with the dark, haunting, diseased spheres of the mind. 
For an unexpected breath of fresh air, stop by the Atocha train station on the way back to the city centre. There, 7000 plants representing 400 different species from the Americas, Asia, and Australia have found their place among the high-speed trains and rushing travellers. When you think about it, though, it seems quite reasonable – why not have a botanical garden in a train station?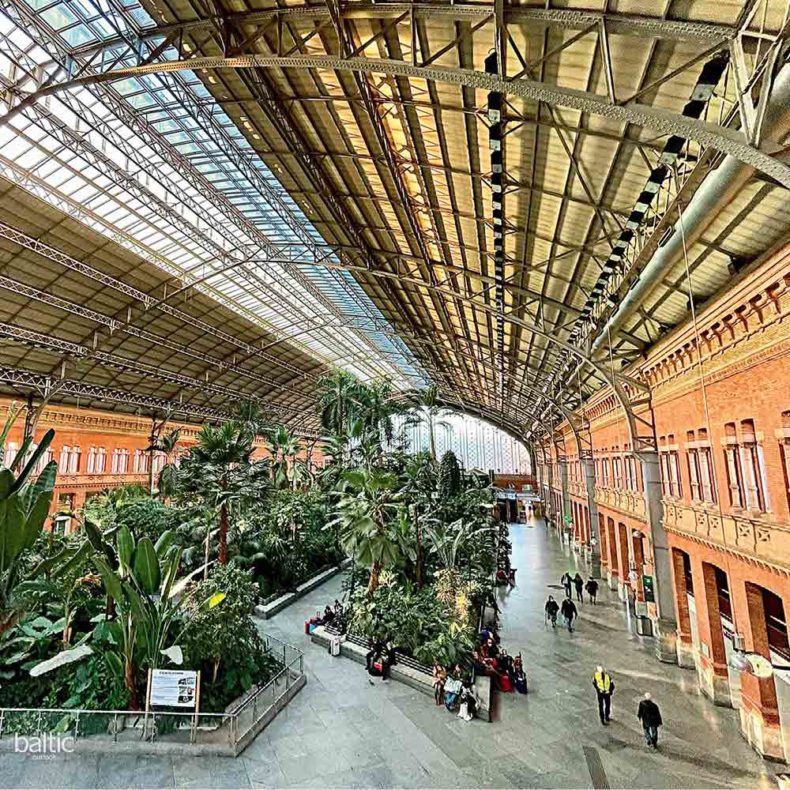 Escaping the city centre
There are several smaller towns within the larger Madrid area that are very easy to visit. For example, we head to the town of Segovia, a World Heritage City, to experience its famed aqueduct and the Alcázar (Fortress) of Segovia.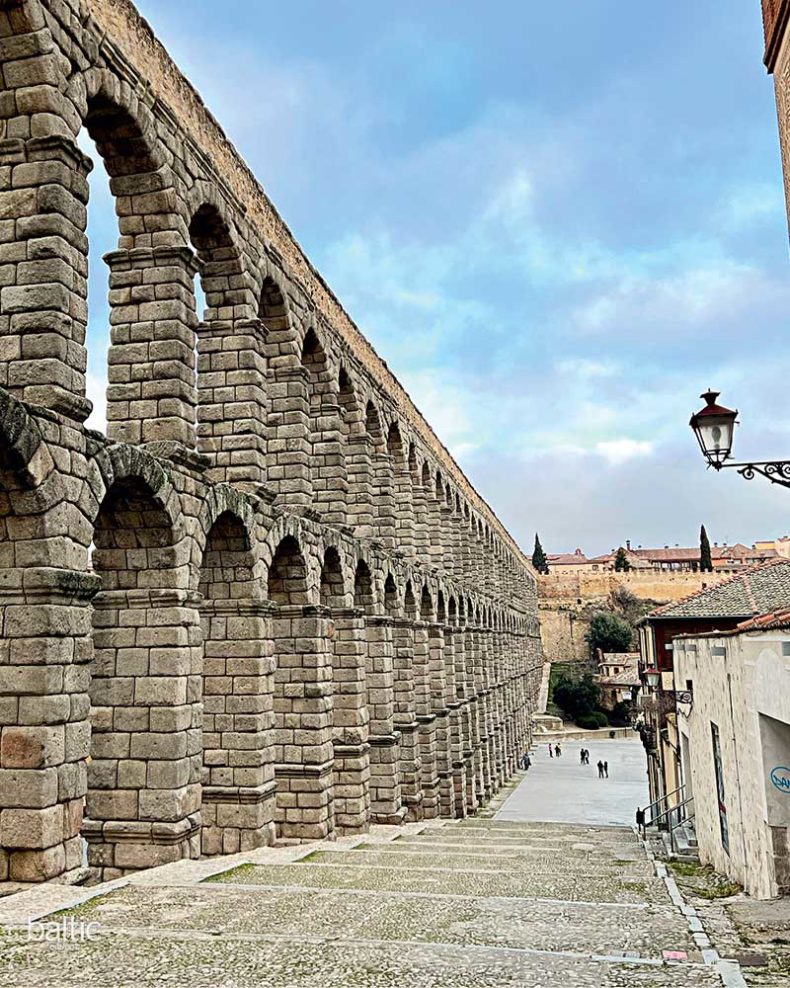 Segovia's aqueduct is unique for many reasons. First of all, it runs right through the city, which wasn't very common in Roman times and certainly isn't common now, when many of the old Roman aqueducts have been dismantled. Second, the enormous granite blocks are joined without the use of mortar or clamps and are held together only by balancing forces. A town square, tourism office, little cafés, shops, and restaurants all exist in the shadow of this giant masterpiece of human ingenuity erected millennia ago.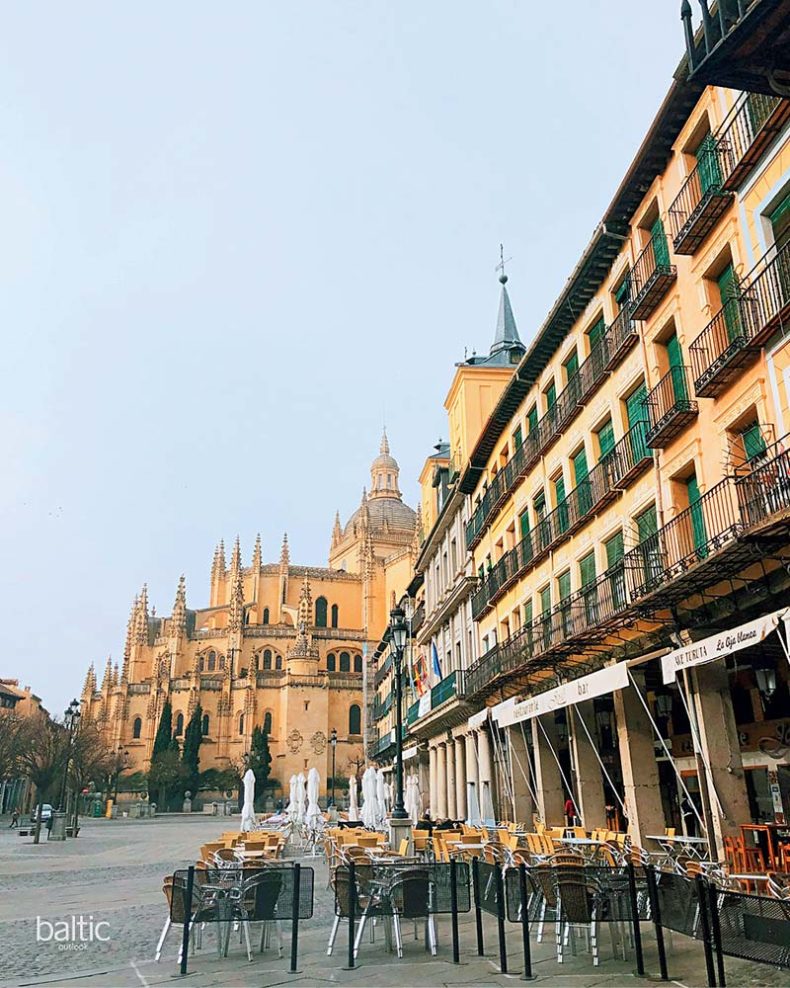 On a weekend morning around ten o'clock, Segovia still seems asleep, or maybe recovering from a late Spanish dinner the night before. That gives me some undisturbed space and time to stroll through the town and the main square and take a better look at the Cathedral of Segovia designed in the late Gothic style, which highlights the light stone used to build it. I immediately feel the change in the air and the temperature here; the higher altitude and mountain air is a cool, fresh, sharp reminder of the fact that I didn't check the weather app in the morning.
On the other side of town, the Alcázar of Segovia was first built as an Arab fort, then used as a palace, then turned into a prison, and then a military academy. Now it serves as a military museum. It's rumoured that this structure served as inspiration for the Wicked Queen's castle in Walt Disney's Snow White and the Seven Dwarfs. While there's no way to tell if that's just an urban legend, the castle does evoke memories of princess stories and it wouldn't be surprising if it really did inspire one. Only a few tourists have taken trains this early, so we're among the first to order coffee and some churros and hot chocolate at the café by the palace, getting stunning views of both the castle and the town in the crisp mountain mist.
Another early morning train takes us to Toledo, a city south of Madrid. This is a promised land for history buffs. UNESCO has declared the entire city a World Heritage Site, and it has one of the most impressive military history museums in all of Spain, the El Greco Museum, and several stunning cathedrals and monasteries. Toledo is a city where Christians, Jews, and Muslims have lived together in peace, and all three religions are still represented here. The city is also famous for its Manchego cheese and marzipan. Even though several places claim marzipan as their own creation (the story of nuns mixing almonds with sugar because there was no wheat for bread is common in both Toledo and Sicily), mazapán de Toledo has Protected Geographical Indication status. Just like cognac, armagnac, and champagne, which can only be labelled as such if they come from the designated region.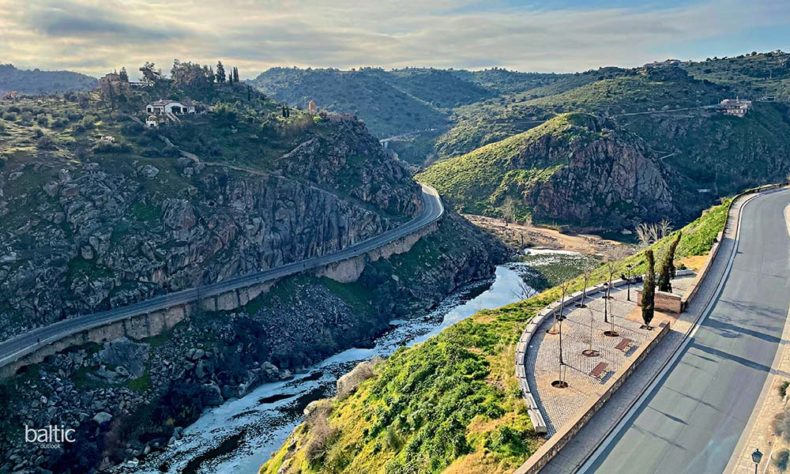 Unlike Segovia, Toledo rises early. The city is buzzing, marzipan bakeries are busy, and tour guides carefully herd their groups to the historical sites. Even though there's tons of historical architecture, cathedrals, and museums here, the one thing you can't miss in Toledo is a small shop called Museo del Queso Manchego, or the museum of Manchego cheese. Here you can buy local cheese, wine, baked goods, jams and marmalades, sweets, and local craft beers as well as see a small exhibition that introduces visitors to the history and production of Manchego cheese. I leave Museo del Queso Manchego and Toledo with a little jar of the pepper jam that I swear to myself I will learn how to make. 
Read more about Madrid in Baltic Outlook.
Text by Nadīna Elekse