Experienced travelers confess that a vacation in the Baltics leaves them charmed by the natural environment of these countries. The Baltic region truly stands out with the fact that its nature is diverse and also little touched by human hands, so make sure to explore the opportunities these countries provide in terms of nature tourism. Here are some ideas for an exciting and beautiful vacation outside in the fresh air.
Hike along the coast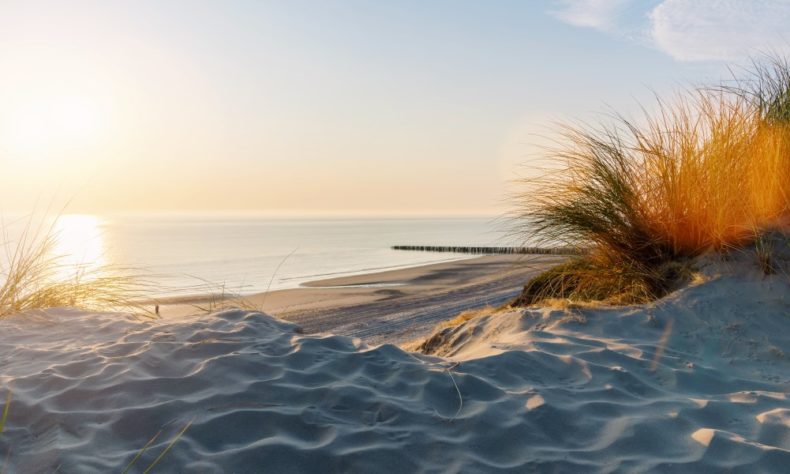 One of the top summer activities is going for a hike along the sea. The golden sand, fresh sea air, and breathtaking sunsets and sunrises are sure to at once energise and relax visitors. On the Baltic coast, all of this is complemented by charming fishing villages and relatively wild dunes and bluffs.
One of the most comfortable ways to become acquainted with the Baltic coast is to follow Jūrtaka, a hiking route along the Baltic Sea coast that's part of the E9 European long-distance path. It begins in the Lithuanian resort town of Nida, continues through Latvia, and concludes at the port of Tallinn in Estonia. The total length of the route is approximately 1420 kilometres, of which 216 kilometres are in Lithuania, 581 in Latvia, and 622 in Estonia. Note, however, that the Lithuanian section of Jūrtaka is still under construction and will be marked over the course of this summer.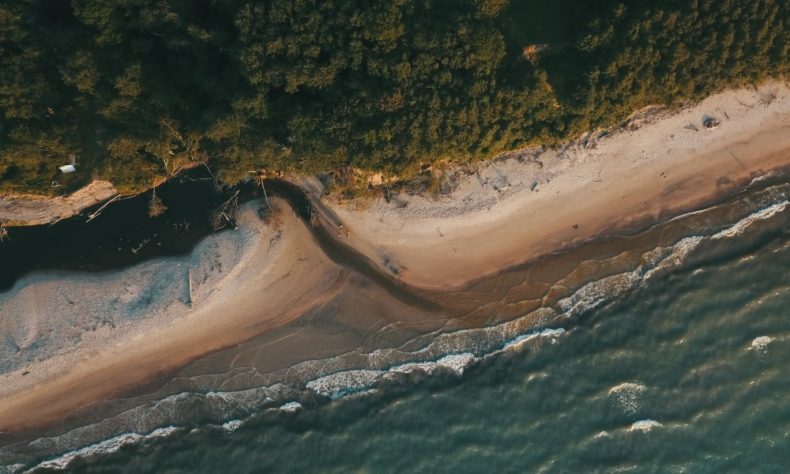 Walking the full length of Jūrtaka takes an estimated 70 days, but the trail is divided into day-long sections and various difficulty levels, thus letting hikers choose the most suitable routes for themselves. The trail can be walked in both directions. Along the way, see many scenic natural and cultural objects, including Curonian Spit National Park in Lithuania, Slītere National Park in Latvia, and Matsalu National Park in Estonia. Interpretive materials provide detailed information about each segment of the trail, including beaches, accommodations, and eateries.
Observe wildlife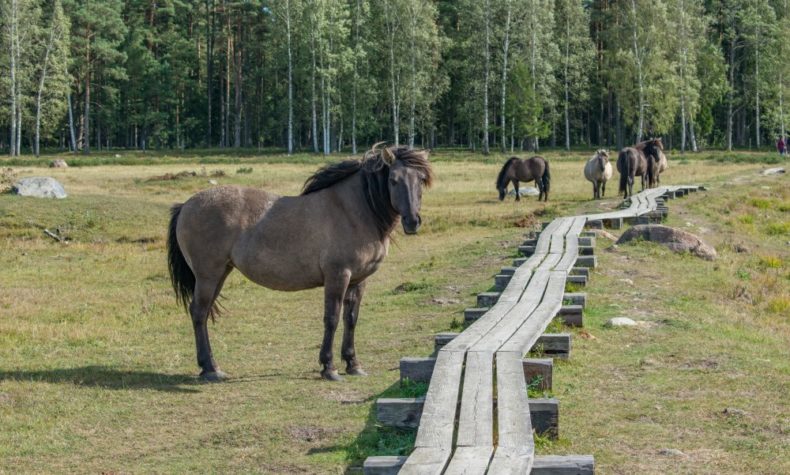 Thanks to its geographic location and diversity of biotopes, the Baltic region hosts a large variety of wildlife. In the forests and meadows here, one can spot roe deer, red deer, elk, wild boar, and many other animals. They most often appear at dusk and early in the morning.
However, one needs to be patient, quiet, and careful in order to see the animals. Careless, noisy hikers are sure to miss much of nature's wonder. The best way to see wildlife is in a small group (one to five people) led by a guide. Be sure to wear comfortable, waterproof footwear and warm clothing that is as inconspicuous as possible (meaning that it does not swish or rustle loudly) so that you do not scare the animals away before you get a chance to see them.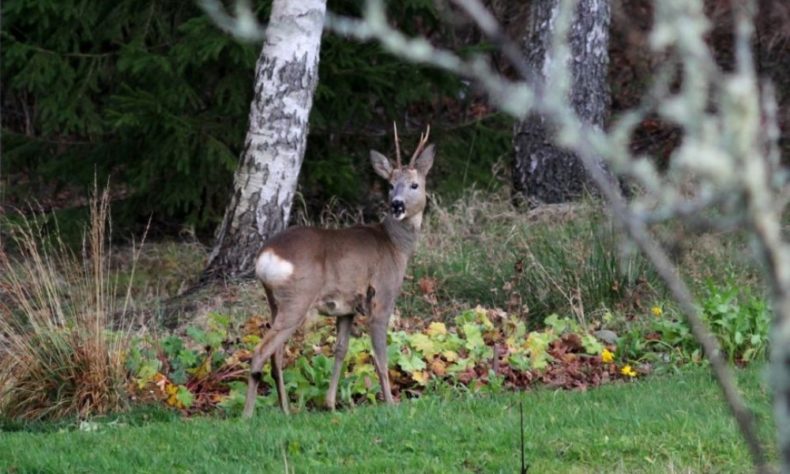 Photo from Enter Gauja website. Animal watching in the Gauja National Park
Wildlife-watching tours are available in Gauja National Park and Slītere National Park in Latvia, and in Aukštaitija National Park and Žemaitija National Park in Lithuania. Those who want to experience something a bit more dramatic can observe brown bears in the wild in Estonia.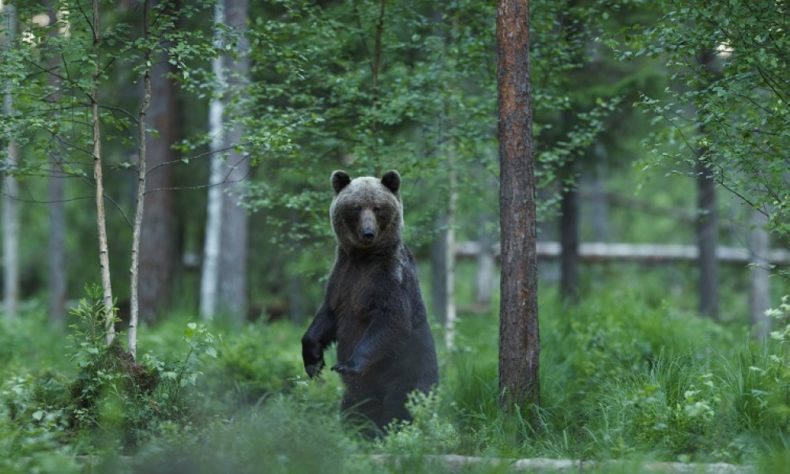 There, the NaTourEst travel company, which specialises in nature tours, has set up special hides, or camouflaged shelters, which offer a completely safe environment in which visitors can spend the night in an area frequented by brown bears living in the wild. NaTourEst also offers a variety of other exciting wildlife tours in Estonia's forests and meadows.
Explore the magical atmosphere of a bog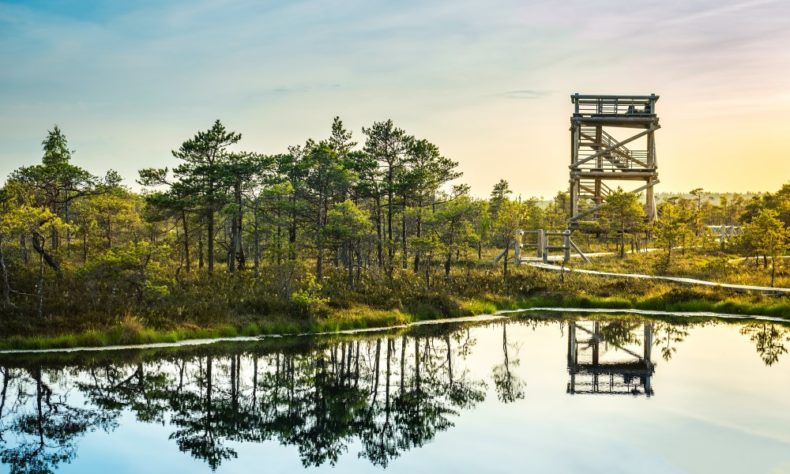 Baltic nature is known for its very nuanced colours, and this palette can best be appreciated in a bog. These special environments seduce visitors with a pristine landscape and pleasing silence that is interrupted only by bird calls and songs. It is estimated that bogs cover approximately 5% of the total area of Latvia, 6–7% of Estonia, and less than 5% of Lithuania. But these figures are in flux, because bogs are also constantly changing. One fact that is indisputable, however, is that about 70% of Baltic bogs are relatively unaffected by human activities. This means that the bogs one finds here are still ancient and magical realms with colours, smells, and moods all their own.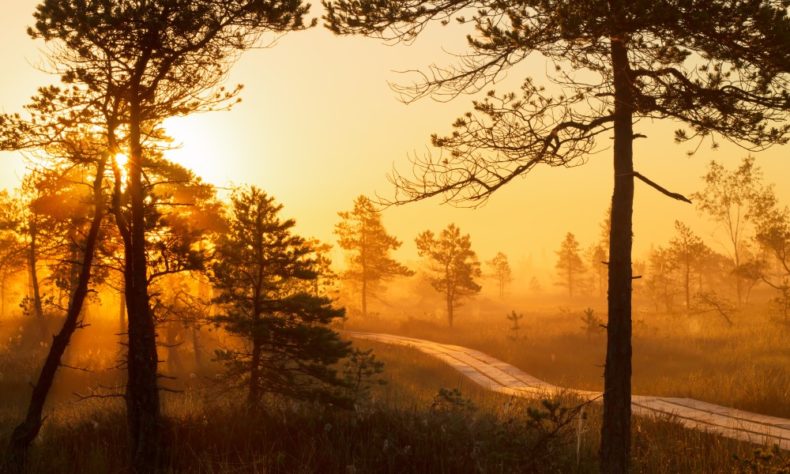 Nowadays, it's possible to hike through a bog and keep your feet dry. Several Latvian bogs feature wooden boardwalks and observation towers. For example, the most popular activity in Ķemeri National Park is its 3.4-kilometre-long boardwalk trail. Here people can become acquainted with a pristine raised bog that's about 8000 years old. The small, longish lakes and deep pools characteristic of the bog make it particularly scenic.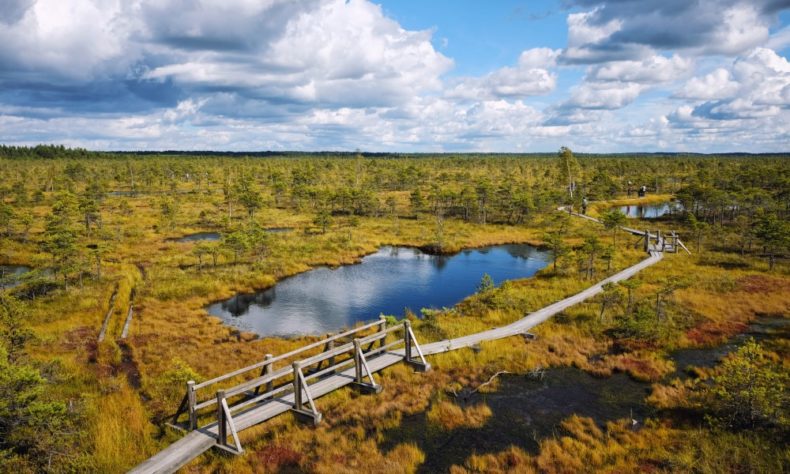 One of Europe's longest boardwalk trails through a bog can be found in Dunika in the far southwestern corner of Latvia. It's almost five kilometres long and leads through Latvia's only pure stand of hornbeams, which is at least 150 years old.
In Estonia, head to the Mukri raised bog, one of the oldest bogs in the country. It formed about 10,000 years ago as a result of the gradual and natural filling in of a lake. Here you'll find a 14-metre-high observation tower to enjoy the breathtaking landscape. Mukri Lake, which has many islands and even more water lilies, is also located in the bog. If you're not afraid of dark water, you can go for a swim in the lake.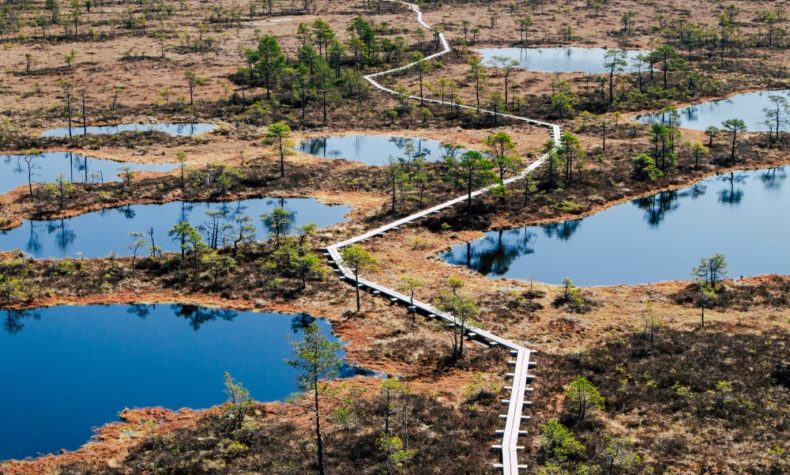 Lithuania's pride and joy in terms of bogs is the interpretive trail through Mūšos Tyrelis in Žagarė Regional Park. This is the home of the country's longest bog trail, measuring 3.6 kilometres in length. Here you'll encounter protected bird species, enjoy the intoxicating aromas of bog plants, and simply relax as you appreciate the unique landscape. Put on a pair of comfortable shoes, bring along a thermos of hot tea, and a wonderful experience at Mūšos is guaranteed!
Visit a manor park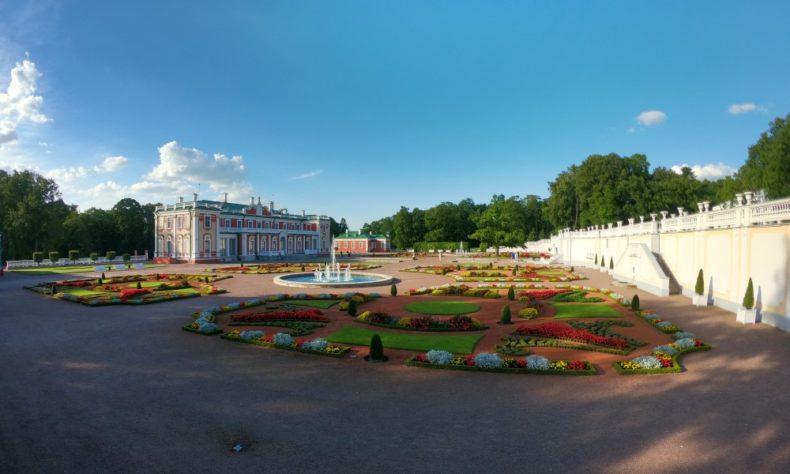 The Baltics have a variety of castles, palaces, and manor houses from different historical periods that highlight the region's history and architecture in a vivid, visual way. The old parks and gardens surrounding many of these structures are a beautiful discovery for nature lovers and romantics. Whether marked by precise, ornate flower beds or overgrown with centuries-old trees, they each tell a unique story about the aristocratic families that once lived here.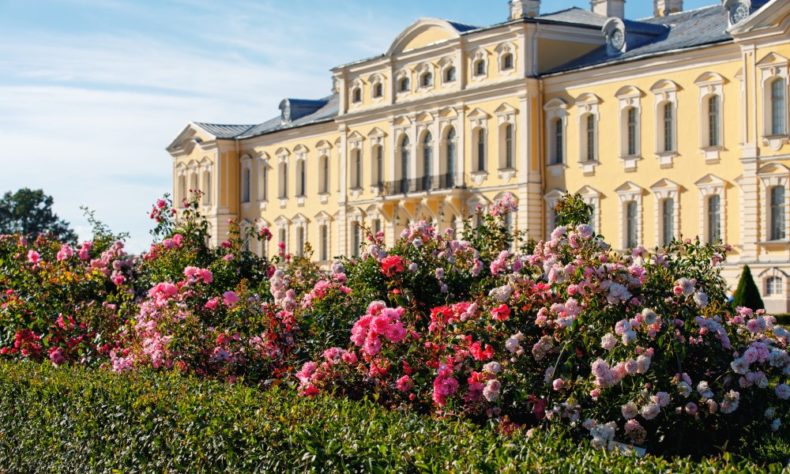 The best-known garden in Latvia is that of Rundāle Palace. This palace ensemble, built in 1736–40 and designed by the famed Russian court architect Francesco Bartolomeo Rastrelli, is the finest example of Baroque and Rococo architecture in Latvia. Its French-style palace garden is the most ornate Baroque cultural and natural monument in the Baltics. The showpiece here is the rose garden, which boasts more than 2200 varieties of the iconic flower.
If you're looking for something a bit wilder, check out the Linde Manor park, which was developed in the 17th century and has a majestic old stand of linden trees that look as if they're growing with their roots in the air. It's definitely one of the wildest and most unique manor parks in Latvia. Find a similar atmosphere in the park at Katvari Manor, where the old allée of lindens resembles a labyrinth.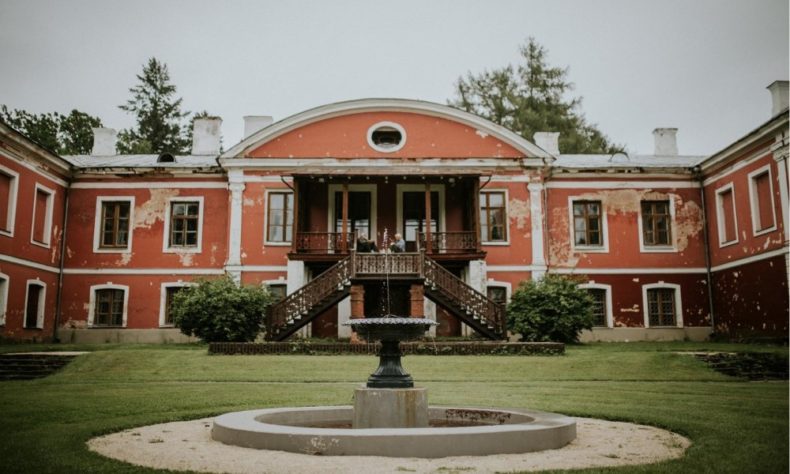 In Estonia, explore the park at Õisu Manor. The manor house was built in the early Classicism style, while the park reflects the English style. Here, a series of garden terraces lead down to a picturesque lake. The park contains approximately 85 different kinds of trees and shrubs as well as sculptures, a fountain, and three ponds.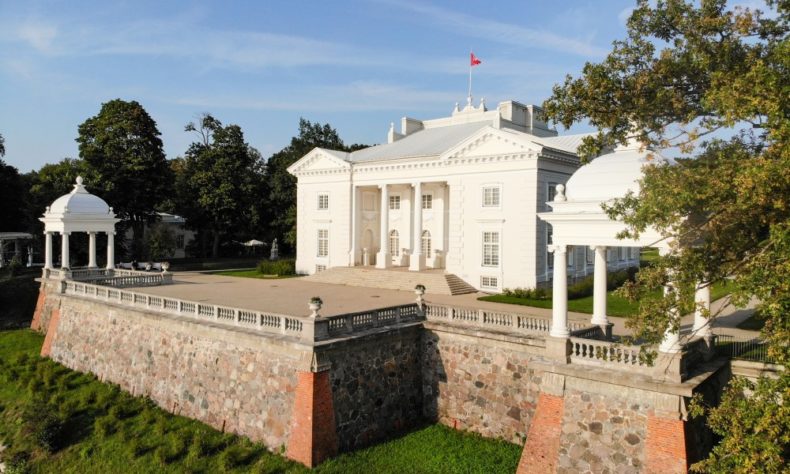 Užutrakis Manor is one of the treasures to discover in Lithuania. Strolling through its mixed-style garden developed in the late 19th century, one can still feel the aura of the aristocracy. The park was designed by famed French gardener and landscape architect Édouard François André. It features almost a hundred different types and forms of trees and bushes, more than half of which were specially imported from abroad. This beautiful manor ensemble on the banks of Galvė Lake invites visitors to dreamy reverie of days gone by. As a bonus, the manor house's terrace opens to a wondrous view of legendary Trakai Island Castle.