Italians are crazy for ice cream. It's important to know in order to understand why there are about 3000 gelaterias (ice cream cafes or shops) in Rome with easy-to-sell claims like "artigianale", "the best", "homemade", "fantastic", "natural" put up in their windows, but they are mostly places where no local would go to get their ice cream. These four places of the 3000 are frequented by locals, and not just on hot summer days but even when Rome is blessed with snow and cold.
Gelateria Alberto Pica
Of the four this is the most classical gelateria, where you'll find a member of the Pica family – mother, father or daughter – behind the counter or at the cash register each and every day. The family has owned this gelateria for 70 years now, 45 of those it has been at this location, and despite the very classic interior the ice creams and flavours they can create are above and beyond what you would expect from a place that looks like this. Apart from all the modern flavours and the great range they offer, which is about 80 different flavours in high season (May to October) and 30 in low season, what you really must try here is their home recipe by mother Laura – gelato riso or riso e cannella (rice ice cream on its own or with cinnamon). And don't be put off by its name, as this ice cream is indeed heavenly – creamy, delicate, with bits of rice, melt-in-your-mouth delicious. Actually each ice cream here is worth every single bite, but if you're looking for something local and truly special, try the rose, crema crostata e ciambella, 7 veli, cassata, pistachio, nocciole or cioccolato. It's served in a cup, as classic as is gets, covered in whipped cream, with waffles proudly sitting on top of it all. A timeless classic, an excellent taste.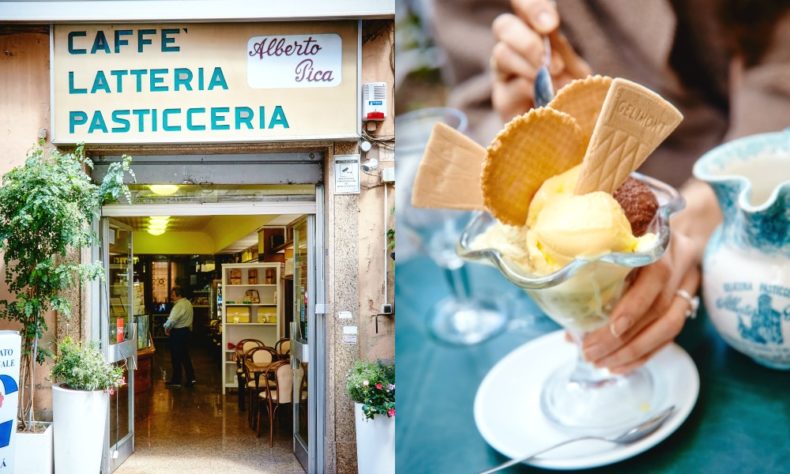 Address: Via della Seggolia, 12.
Gelateria del Teatro
One of the most innovative ice cream places we visited – behind a window you can see how ice creams, created by the owner's wife, are being made, while the owner himself is slowly planting flowers at the entrance. It's a place where the queue never ceases, and even though this gelateria is located in a rather touristy area, most of its visitors are locals – they know the ice cream here is special. Only the best ingredients go into it – from milk and eggs to Bronte pistachios, Amalfi lemons, Sicilian almonds and sage from local gardens. Yes, by the way, the sage ice cream with raspberries is a must-have. A combination you'll find nowhere else, and insanely delicious. Chocolate lovers will feel right at home – there are at least 5 kinds of chocolate ice cream or more here, and the 80% dark chocolate one is to die for. So are their famous pineapple ice cream with mint, white chocolate ice cream with basil, various exotic fruit sorbets and homemade pistachio paste ice cream that puts a bit of pistachio on your tongue with each bite. Ice creams that are special in every way. And if you happen to have some free space in your stomach after all of this, make sure to also try their cannoli, cakes and, when in low season, coffee (in high season there's just no time to make it). And, yes, the rumours of the utter perfection of this place are true.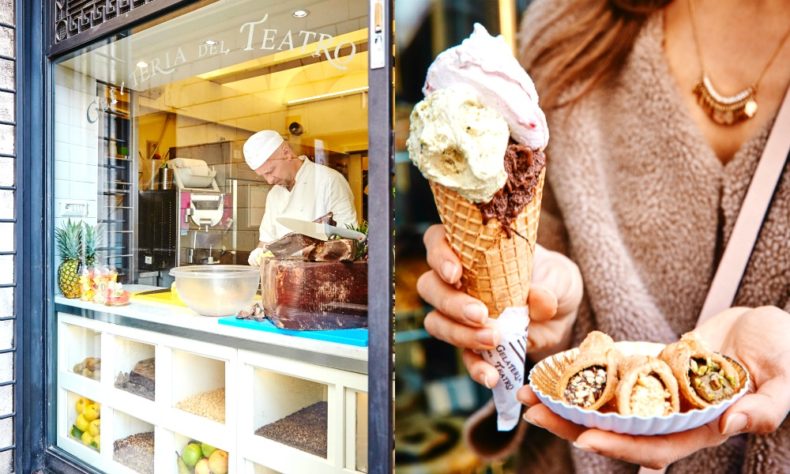 Address: Via dei Coronari, 65.
Carapina
Delicate, creamy, a bit on the soft side – that's Carapina gelato. Ice cream that's made of many, many slow food products, and won't disappoint, whichever flavour you choose – every bite will be perfect. Coffee ice cream made with espresso, pistachio ice cream made with ground Bronte pistachios, gianduja ice cream made with hazelnuts and milk chocolate, and hazelnut ice cream made with Piedmont nuts. They're not too sweet, but so well-rounded – whether you pick a milk based ice cream or a sorbet. Perfect.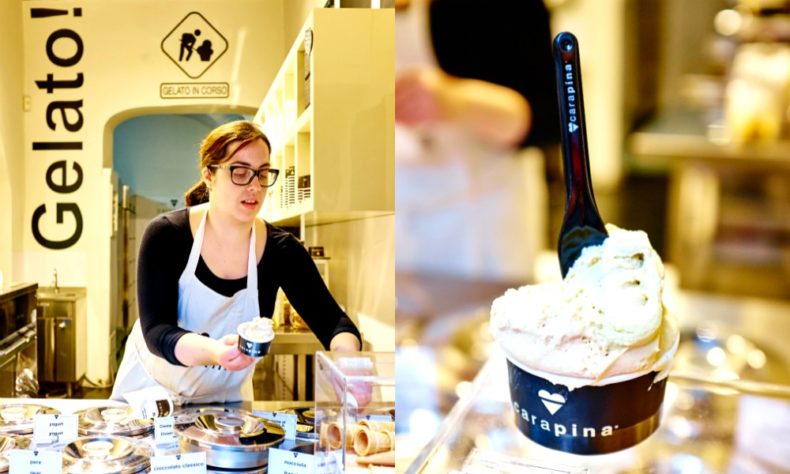 Address: Via dei Chiavari, 37.
Come il Latte
Don't worry if on your way to Come il Latte you feel like it's going to be closed. You do get that feeling when walking the quiet streets of one of the corners of Rome to get to Come il Latte, but even if it's a 40, 50 or 80 minute walk, it's a must for everyone considering themselves a fan of ice cream and thinking they've already had the best ice cream in their life. I'll have to disappoint you – that may not be true, as one of the best ice creams in your life awaits here (although all the places listed here serve perfect and wonderfully delicious ice creams). This is by far one of the most stylish ice cream places I've visited. It already captivates you from a distance with the aroma of freshly made artigianale waffles, but when you try them with one of their ice creams – mamma mia!!! Now that is something! Whether you choose cone or cup, it will be first laid with a base of dark or white chocolate, then filled with ice cream, then topped with one of three whipped creams (white, vanilla or cinnamon), and it doesn't stop here – as a final touch you'll get chocolate-dipped waffle sticks on top of all that. Mascarpone e biscotti Gentilini ice cream is a must-have. So is the caramel ice cream with Himalayan salt. And the rest of them. You'd do well to also give the sexy ice cream sandwiches a try. The combination of pistachios and dark chocolate blew me away. And don't share your ice cream with anyone at this gelateria. Never!
Address: Via Silvio Spaventa, 24/26.
Book your tickets to Rome now!
Author: owner/editor of food magazine Četras sezonas, 4 cookbook author and food blogger Signe Meirane.
Photographer: all delicious photos captured by Armands Meirans.