Hamburg, the second largest city in Germany which 5 million residents, including suburbians, call home, is a popular destination both for business and leisure. And it's so diverse! There's something for every season of the year – in spring, the pink cherry blossoms twirl in the air; summers are great for sailing in lake Alster; museums and culture are best enjoyed in autumn, while Christmas time is all about shopping, and that includes the naughty Santa Pauli Christmas market. Did you know there are more bridges in Hamburg than any other city in the world, and more canals than in Amsterdam and Venice altogether?
Three Places Not to Miss
1. Speicherstadt or the warehouse district
Speicherstadt is an iconic location in the heart of Hamburg, restored after World War II. It is the largest warehouse district in the world and became a UNESCO World Heritage Site in 2015. The pile-supported buildings used to be a place for transferring goods without paying customs, whilte now they are part of the revitalized HafenCity quarter where Elbphilharmonie stands. If you decide to visit the concert hall, be sure to buy tickets well in advance. But if you missed your chance, no worries – get a free ticket at the ticket office for the observation deck and take a look at the city from above! The warehouse disctrict is especially beautiful at night, for instance, from the Poggenmühlen bridge. With illuminated buildings on both sides, this spot will give you a spectacular view of one of Hamburg's most instagrammable locations.
2. Elbe tunnel or a tunnel under river Elbe
The old Elbe tunnel was opened in 1911 and is still used to cross the river Elbe by car. On Sundays, when it's open to pedestrians and cyclists only, you can explore the technological marvel of the early 20th century sans the usual traffic. Two 426 m long tunnels run from one bank to the other 24 m underground, and pedestrians can access them via stairs or the impressive cargo elevator, used for transporting vehicles.
3. St. Nicholas Church tower
All that is left from the splendid St. Nicholas Church since the Allies attacked Hamburg in World War II is its tower. From 1874 to 1876 it was the tallest building in the world. Take the elevator to the 73 m high tower and look around! The water drains of the building bear a resemblance to those of Notre Dame de Paris. When you're through with the visit, cross the street to get to one of Hamburg's most beautiful canals – Nikolaifleet. Don't miss it!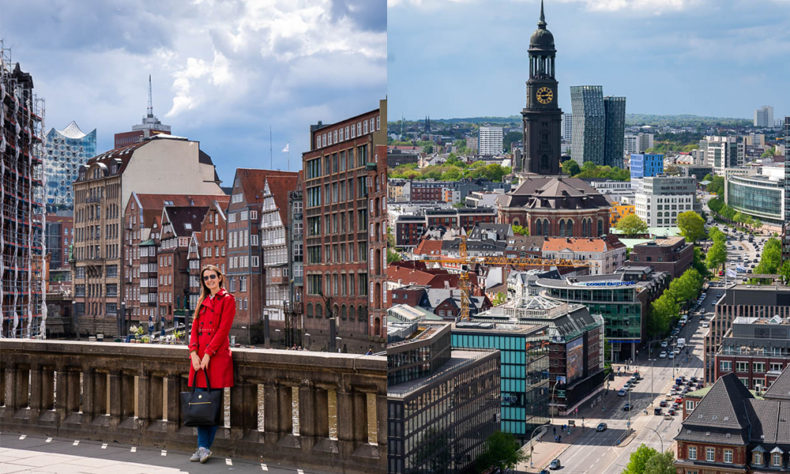 Three Great Dining Spots
However busy I might be, I always find time for a nice meal in Hamburg. The selection is very wide here, and the multicultural mix of people means you get to enjoy fantastic dishes from all over the world.
1.Le Marrakech, Gert-Marcus-Straße 10, Moroccan cuisine
Morocco in Hamburg? Why not! The lavishly decorated restaurant is located somewhere totally unexpected. On the way to the restaurant the taxi winds among construction sites, car dealerships and residential areas, but when we arrive, I know it's been worth it. Tens of vases filled with flowers, a room reminiscent of a market with small huts, moroccan lamps and fantastic food. On Fridays and Saturdays the restaurant is open till two o'clock at night, but in that case booking a table is strongly recommended.
NB! Bring cash, as only German-issued debit cards are accepted.
2.Ashoka, Budapester Str. 25, Indian cuisine
Indian cuisine is not my favourite because it's so spicy, but once my friends had invited me to have a meal at Ashoka a million times, I gave up. And it was totally worth it! One of my friends became an Indian food fan right after dining here, even though he had lived in India for some time. The food is so authentic that even my Indian and Pakistani mates give it a thumbs up. Those into milder flavours won't be disappointed either – their butter chicken, mango lassi and naan are simply must-tries. Make sure to have some jasmin green tea – it is divine.
3.NENI, Osakaallee 12, Levantine cuisine
Israeli food, a dynamic environment, friendly and quick service, and a good location – the heart of HafenCity. It's NENI! I return here time and time again to feast on hummus and the delicious eggplant babaganoush. I suggest getting three starters for 19 eur; I opted for the moroccan 'cigars' to complement the previous two. This is one of the spots where you can get a full belly by having starters only – typical for levantine cuisine.
Getting around in Hamburg
1. Use public transport! One ticket for one ride in zones 1 and 2 costs 3,30 eur, and they're available at the ticket machines at stations.
2. Use the ridesharing app MOIA – download the app, select the destination and go! You might need to walk to the closest stop, but it'll still be much quicker than getting to the nearest station on foot and cheaper than a taxi.
3. There's no Uber in Hamburg, so the most convenient way for moving around privately is getting a cab via the MyTaxi app. The ride from the airport to the city centre will set you back about 25 euros. The taxi usually arrives within 3 to 5 minutes. You can pay in cash if you want, but I prefer cashless payments through the app. You can use the app to pay for rides in taxis you've hailed in the street, in case it turns out they don't take cards.