Award-winning garden designer Carolyn Mullet takes airBaltic on an intimate tour of the most spectacular outdoor spaces in Europe.
Carolyn Mullet is an author and garden designer from the United States who practised in the Washington, D.C., metro area for over 30 years. She is also a connoisseur of the contemporary European garden-design scene and the owner and creative director of CarexTours, which offers glorious garden tours for discerning garden travellers.
'Travel is the best way to gather inspiration for making your own garden, and gardeners and designers in Europe can draw on multiple traditions in this regard,' Mullet explains. Her own path took her to Europe, where garden touring is quite popular right now. 'Europe has such a profoundly deep gardening culture that stretches back to the Middle Ages, so one could say, without too much exaggeration, that making beautiful and productive gardens is in the genes of Europeans,' she adds. Here are some more of her favourite green spaces.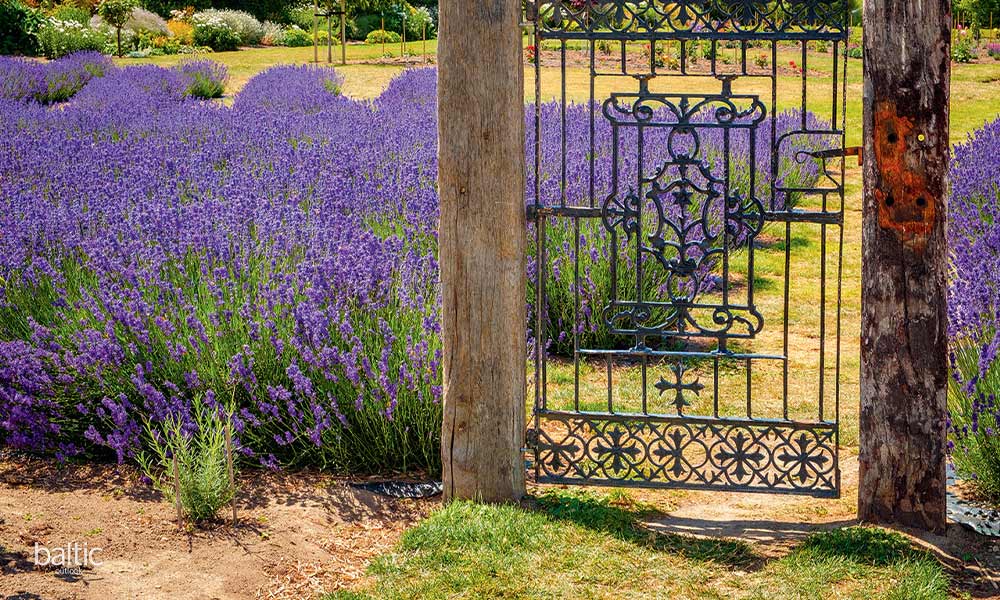 Broadwoodside, Scotland
Broadwoodside in Gifford, East Lothian, is a garden created by Robert and Anna Dalrymple around a handsomely renovated collection of old farm buildings, some dating back to 1600. The heart of the garden is a courtyard with a checkerboard design of alternating squares of lawn, low plantings, and granite, all crowned by a wood-framed aviary for William, the Dalrymples' African grey parrot. Dotted throughout are sculptures, some made by the couple themselves from ingeniously combined found objects and others displaying humorous wordplay.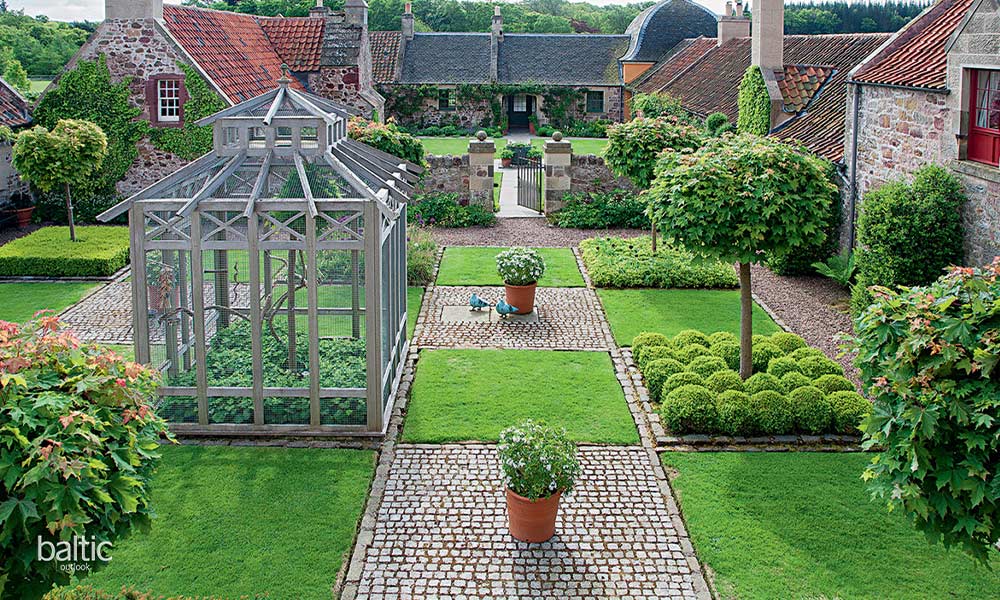 Photo by: Ray Cox Photography
Broughton Grange, England
Broughton Grange in Banbury, Oxfordshire, is a large country garden with a new walled garden built some distance from the house, making it something of a secret garden. Three spacious terraces open on two sides to a bucolic valley. The lower terrace is a modern interpretation of a parterre, the middle terrace features a large waterlily pond, and the upper terrace delights with a ravishing tapestry of plants. This garden is one of the finest examples of 21st-century garden design in Europe.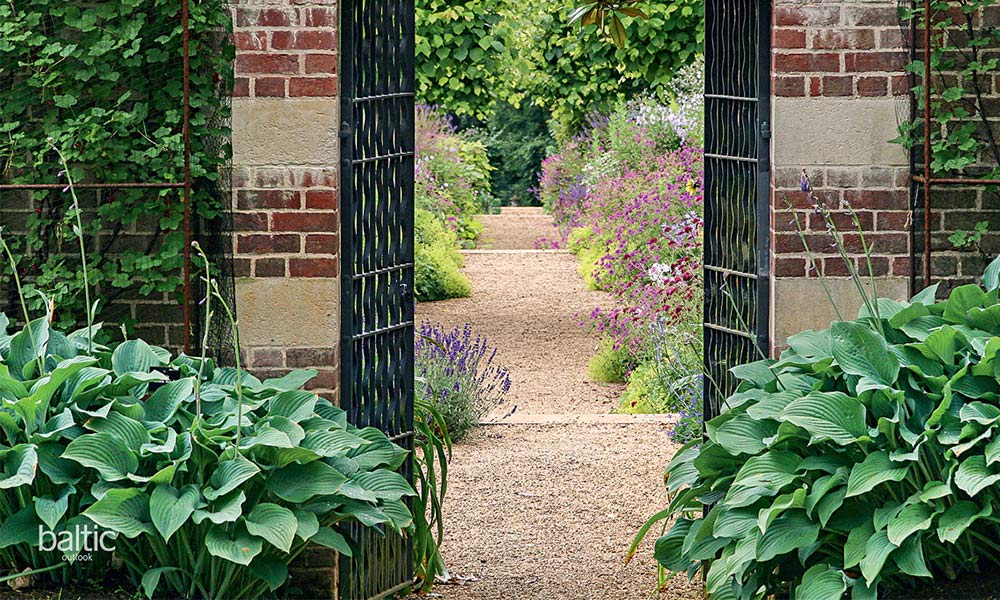 Photo by: Carolyn Mullet
Hortvs, Germany
Hortvs is a smartly designed haven in the middle of the German city of Hilden, not far from Düsseldorf. Owner/designer Peter Janke created this garden with a strong structure to delineate various atmospheric sections and then filled them with naturalistic, wildlife-friendly plantings. One visitor commented, 'If I knew that heaven looked like your garden, I'd seriously try to become a better person.'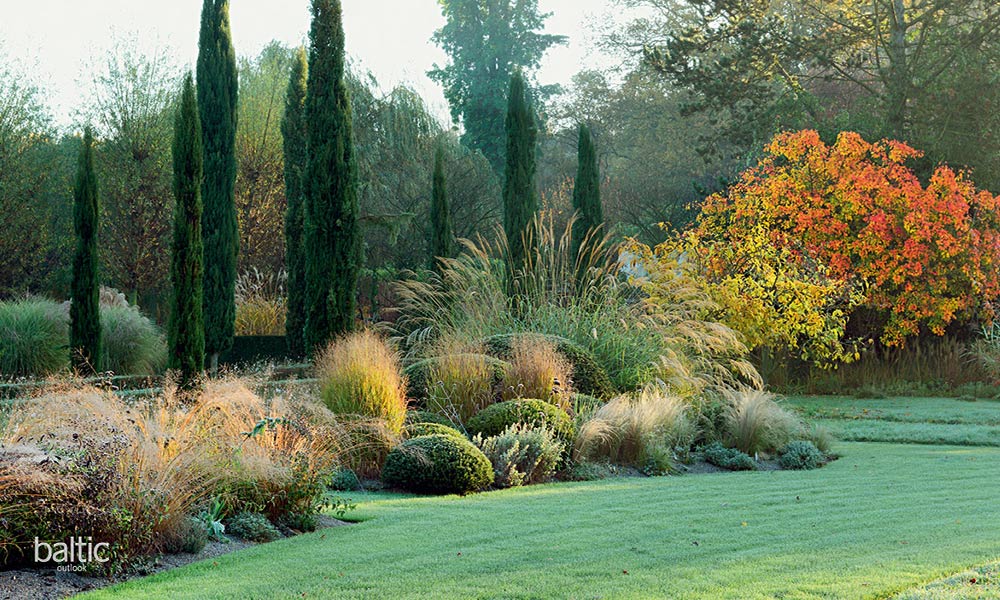 Photo by: Jurgen Becker
Le Jardin Plume, France
Le Jardin Plume in Auzouville-sur-Ry, Normandy, is a garden that fuses the rigour of French formalism with the most up-to-date naturalistic planting schemes combining lavish perennials with feathery grasses. Designed by owners Patrick and Sylvie Quibel, the garden is an alluring combination of modern ideas set amongst traditional farm fields. The effect is both challenging and beautiful.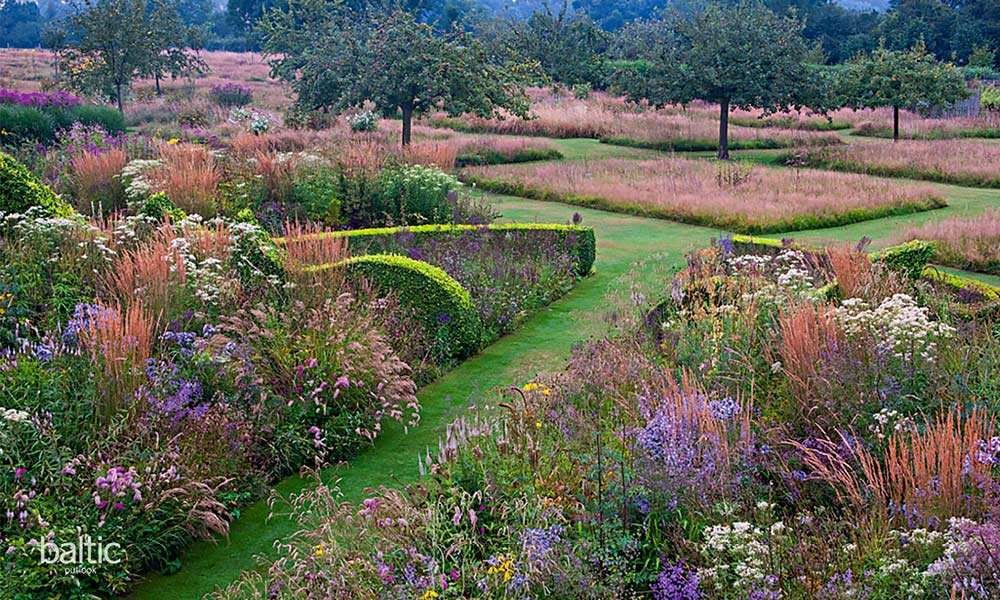 Photo by: Patrick Quibel
Les Jardins d'Étretat, France
Les Jardins d'Étretat is perched high on a chalky cliff on the Alabaster Coast in Normandy. It's a new garden that feels like it could have existed in Alice's Wonderland. On this steeply sloping site, owner/designer Alexandre Grivko has clipped evergreen shrubs and trees into fanciful shapes inspired by patterns from the sea and cliffs around the garden and then tucked modern sculptures in amongst the greenery. Les Jardins d'Étretat is a new kind of garden – playful, imaginative, and filled with surprises.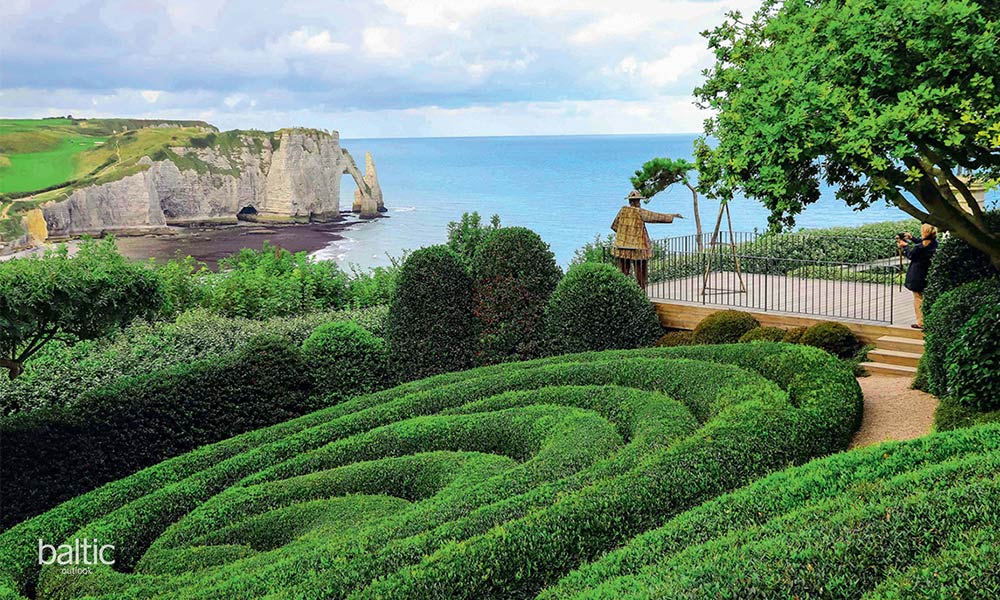 Photo by: Carolyn Mullet
Lianne's Siergrassen, the Netherlands
Lianne's Siergrassen in De Wilp, Groningen, is a European version of a prairie. In a field behind her thatched-roof farmhouse, Lianne Pot has interwoven a rich array of 12,000 densely planted grasses and perennials that immerse the visitor in a sensual Eden. When the wind sweeps in from the North Sea, it animates this prairie garden with a soft energy.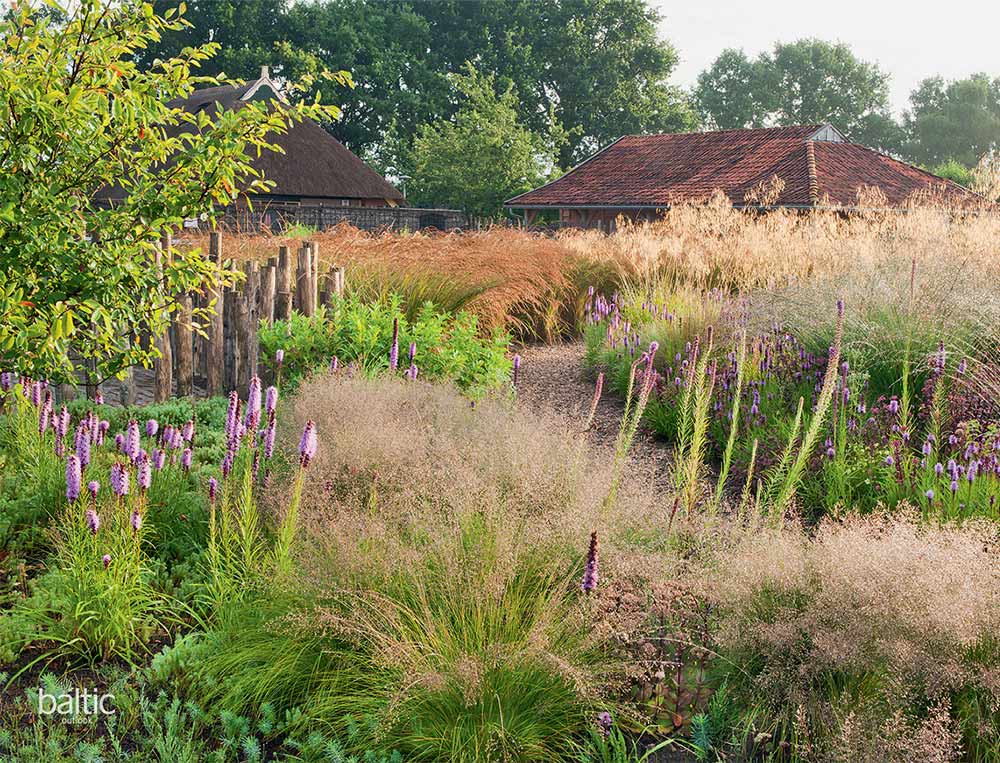 Photo by: Robert Mabic
Pettifers Garden, England
Pettifers Garden in Lower Wardington, Oxfordshire, is a stylish town garden open to the rural countryside beyond. Owner/designer Gina Price loves fresh, clear colours in unusual combinations that make her borders zing. Through constant editing, this lovely and inspiring garden has earned a reputation for being one of the best gardens in the United Kingdom.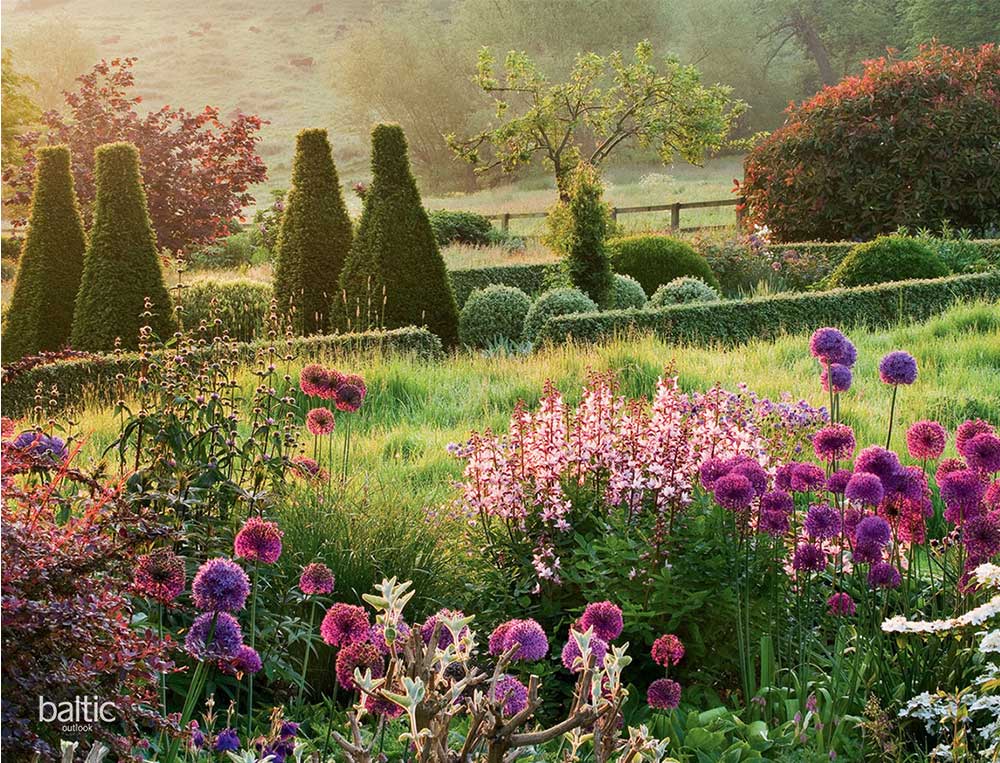 Photo by: Clive Nichols
Son Muda, Mallorca
Son Muda in Felanitx, Mallorca, is a dry, Mediterranean garden on a flat site with rugged, rocky soils. Hélène Lindgens, the owner and designer, knew nothing about creating a garden when she began thinking about what would become of the four acres behind her house. But through visiting other gardens and plant nurseries, she educated herself and today has a handsome formal garden with a vaguely agricultural feel to its patterns. A particularly inspired decision was to use only white flowers.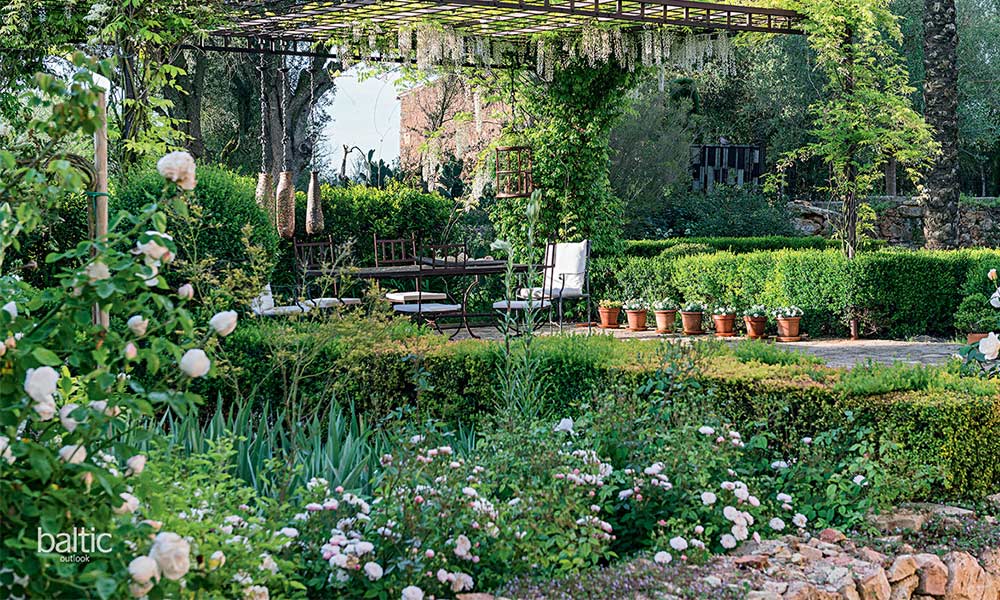 Photo by: Ferdinand Graf Luckner
Book flights to Palma de Mallorca
Read more about authentic travel experiences in Baltic Outlook.
Text by Līga Vaļko and Carolyn Mullet