With global tech companies choosing Dublin as their headquarters and locals succeeding in changing the food scene, the city has gained a cosmopolitan vibe mixed with energy that welcomes visitors and shares the best it has. And it has a lot! Here are five experiences you shouldn't miss to feel the Dublin vibe!
Portobello
Leave the city centre and make your way towards Portobello or Dublin 8, as locals call it. This residential area has been recently experiencing a true renaissance as young chefs and other entrepreneurs have opened new restaurants, cafes and bars here. Barry Fitzgerald, the chef of the amazing Bastible, located in Portobello, told us that Irish food is very simple, and you have to have fresh, good-quality ingredients for the flavours to shine: "We're lucky to have that here – fantastic dairy, meat, and vegetables, which young Irish chefs use, sourced straight from farms!" You can taste the food in all its glory in the cosy Portobello restaurants. Pay a visit to Delahunt or its bar on the first floor, or both. It used to be a grocery store mentioned in James Joyce's Ulysses, now turned into an Irish contemporary food restaurant.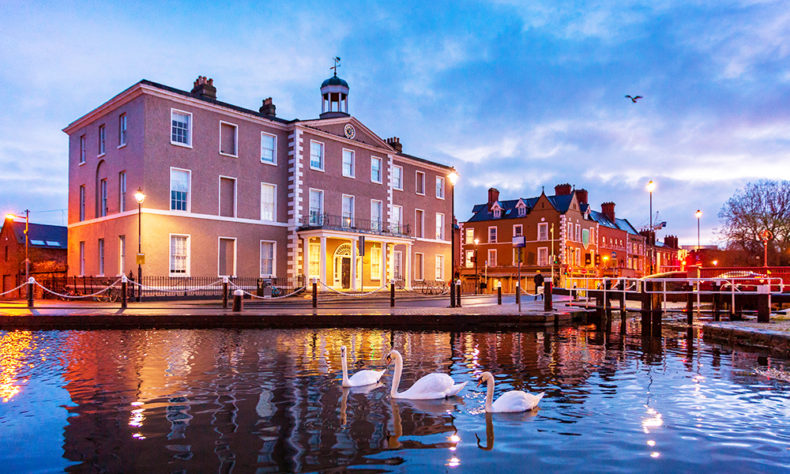 Irish Museum of Modern Art
For all art lovers this place will be like discovering a real gem. First of all, let's take a look at its location and history. The museum is located in the suburb of Kilmainham, on the premises of the former Royal Hospital Kilmainham. It was founded in 1684 and inspired by Les Invalides in Paris, which the French king Louis XIV built for his army pensioners. Royal Hospital Kilmainham reopened in 1991 after nearly a decade of restoration work as the Irish Museum of Modern Art. The stables were also restored and converted into studios for the museum's artists-in-residence programme. And, secondly, of course, the museum's collection of modern art, which focuses on art created after 1940 and includes the works of Louise Bourgeois, Sol LeWitt, Marina Abramović, Roy Lichtenstein, and other household names.
The Long Room of the Old Library at the Trinity College
Even if you don't like libraries, this one is a must and will tick off your classics-in-Dublin box. Book your tickets online and try to get to the college early in the morning to be one of the first to step inside, when sunlight caresses the dark mahogany bookshelves and the ceiling arch. The library was constructed in early 18th century, and the Long room that spans about 65 metres holds about two hundred thousand of the library's oldest books. There are also 14 marble busts of great philosophers and writers connected with the Trinity College, including Jonathan Swift, the author of Gulliver's Travels, who was elected Dean of St. Patrick's Cathedral in Dublin in 1714.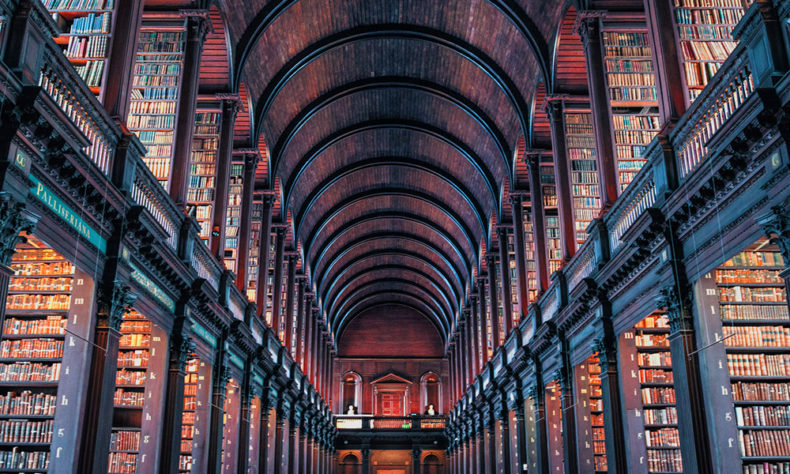 The Parks of Dublin
Dublin is always green. Even in the greyest days in late autumn and early spring somewhere there are strokes of lush green. And parks! Take, St. Stephen's Green, for instance. It is right in the centre of the city, next to Grafton Street and the namesake shopping mall, which was built in the late 80's in the old market square, known as Dandelion Market, and was the site of U2's earliest gigs. In the northwest corner of St. Stephen's Green there is a garden for the blind with scented plants labeled in Braille. The Bushy Park in Tenerure is another great discovery, with a skateboarding park, football fields and 11 tennis courts.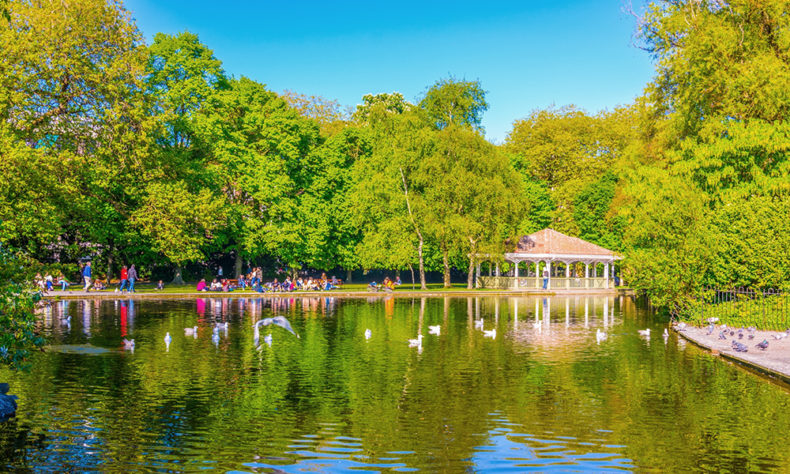 Irish Pub Culture
You can, of course, go straight to the well-known Temple Bar , which unfortunately lost its appeal a long time ago as plastic Irish flags, loud music (don't let the sound of violins fool you), TV screens on the walls and dancing Americans are actually the last things you'll find in a real Irish pub. Irish pubs are quiet. There is no music, and there are no TV screens. If you happen to see one, they show horse racing with the sound turned off. The only sound there is the continuous murmur of people, and as a stranger you'll be seriously scrutinised from the moment you step inside. Try McDaid's, Neary's or John Kehoe's for an authentic experience, all of them a stone's throw from Grafton Street in the city centre.