Magnificent beach resorts and desert camps are just one side of Dubai. Baltic Outlook journalist Una Ulme headed to the cosmopolitan metropolis to explore what else is on the programme this season.
Like a young child, I gaze in wonder and eagerly soak up everything I can during my week in this desert oasis. Dubai is truly impressive enough to fulfil its main goal – to leave a lasting impression. At some point I also feel like I've arrived in a Disneyland for adults.
Ultimate winter sun destination
I spend my first day in Dubai on the water, leisurely finding my bearings. My acquaintances and I charter a yacht and begin our exploration of the city in the Dubai Marine area. The seven-kilometre promenade with its many restaurants and seating areas is a great place for a stroll, while a cruise on the city's canals lets one take in the breathtaking scenery of the skyscrapers. We stop to take a dip in the sea near the famous Burj Al Arab hotel, where a room costs EUR 1500 a night. The water is so warm that it fails to refresh us. But the accompanying breeze takes the edge off the heat outside, which, even in mid-October, remains stubbornly stuck at 38°C degrees. Locals reassure us that a month ago, when it was 50°C, the weather was truly unbearable. The best time to visit Dubai is between November and April.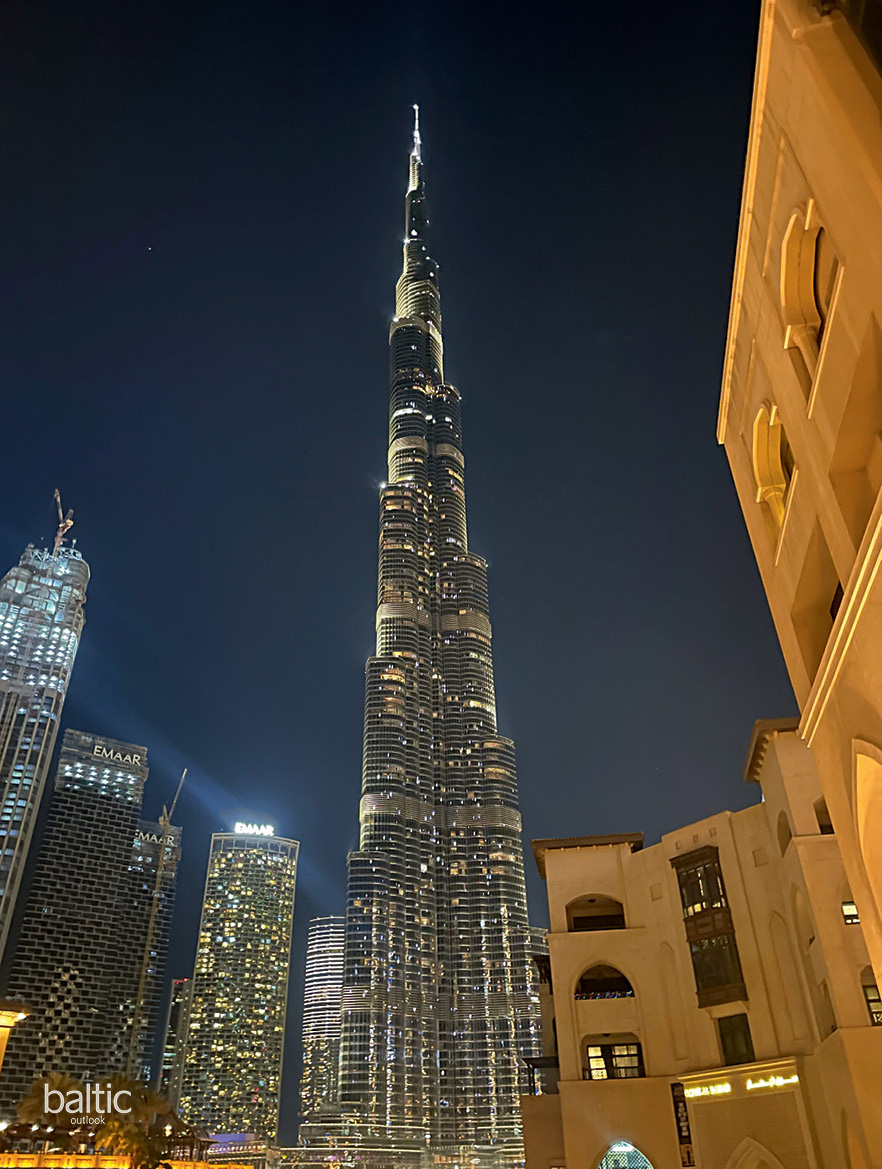 If visitors want to open a bottle of champagne on a yacht, they need to buy it at the airport, because otherwise alcohol in Dubai is only available in certain restaurants. In addition, one must check in advance whether the yacht's staff has an alcohol licence. If they don't, passengers could face a fine – alcohol consumption is strictly regulated here. My acquaintance who has lived in Dubai for seven years says that the enforcement of laws is very strict. For example, a boat travelling along the city's canals is not allowed to make any waves, so as not to disturb the holidaymakers on shore or water sports enthusiasts. If the boat leaves even a small wake, a police boat immediately issues a ticket. However, strict patrols also mean that the city has virtually eradicated crime. There are surveillance cameras everywhere.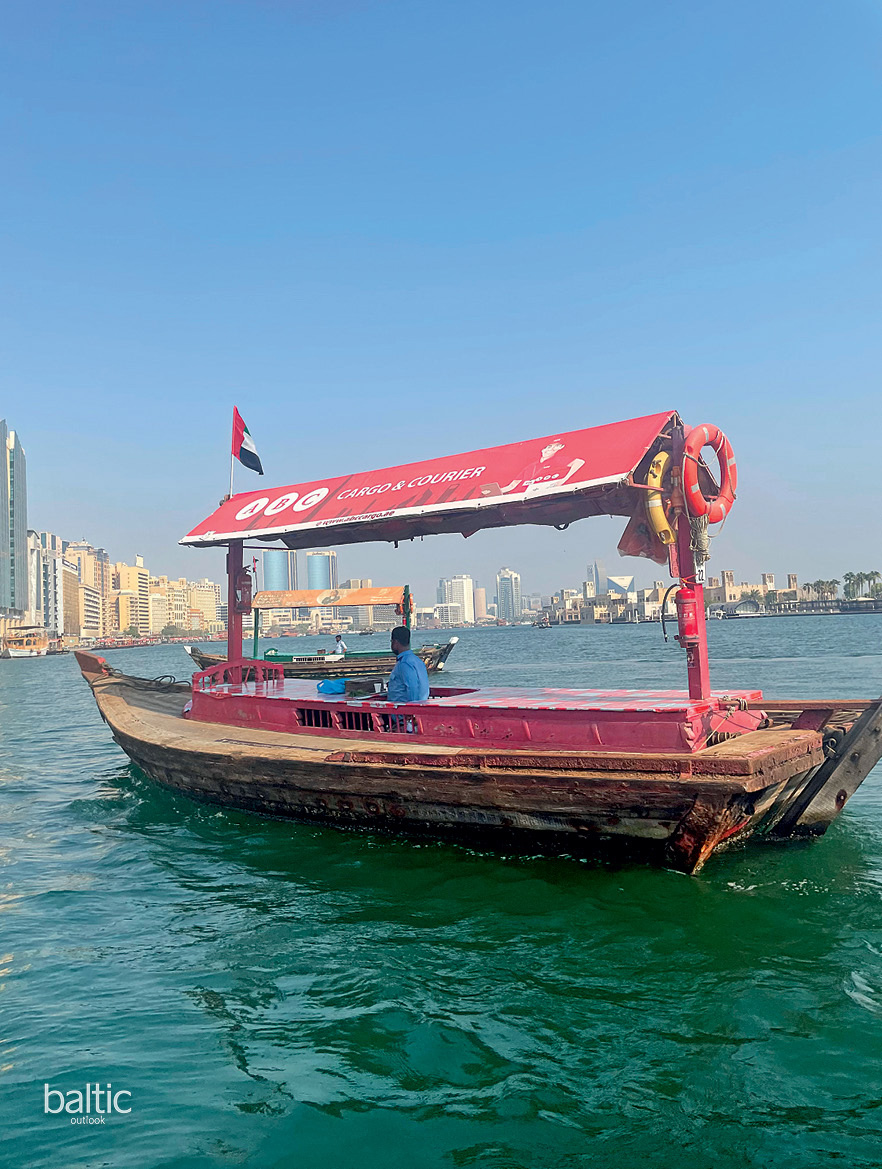 Digging into Arabic food
In Dubai, getting to know the locals, their cuisine, traditions, and culture proves to be quite difficult, because Emirati citizens make up only about one tenth of the population. Thanks to my acquaintance, I manage to arrange a meeting with her colleague Sabrya. We meet at a local Emirati restaurant in the Festival City area, and across from me sits a beautiful, modern woman with tasteful make-up and long, loose hair. Sabrya's pastimes surprise me even more – she does aerial yoga, is a professional pole dancer, and is about to open her own studio. There's no set dress code here, although some families choose to wear traditional clothing. Although Sabrya has arrived at our meeting in a full-length abaya, it's so stylish that I decide to later stop by the shops and look for something similar for myself.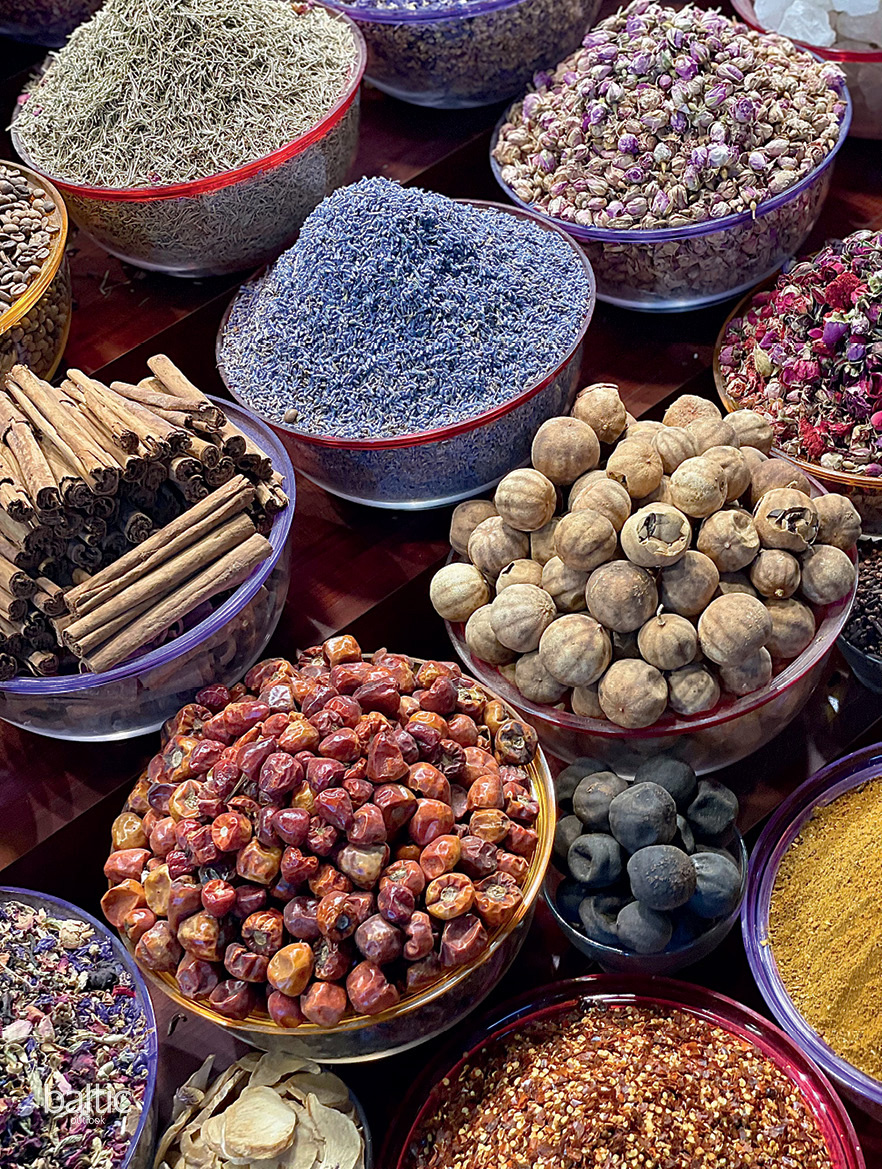 Because Sabrya and I meet at an Arabic restaurant, I have the opportunity to try some traditional cuisine. Since Dubai's rapid growth began, the local cuisine has changed and been significantly influenced by the many nationalities that live here alongside the Emiratis. The first thing Sabrya mentions is seafood, which is plentiful, fresh, and delicious. A favourite local breakfast dish is balaleet – scrambled eggs with noodles to which sugar, cardamom, and other spices have been added, resulting in a sweet-and-salty combination of flavours. Another popular dish is shakshuka – eggs with tomatoes, bell peppers, onions, and spices, which I'm already familiar with from Moroccan cuisine.
The recommendation when visiting an Arabic restaurant is to order one dish for several people, because the portions are very large and impossible for one person to finish.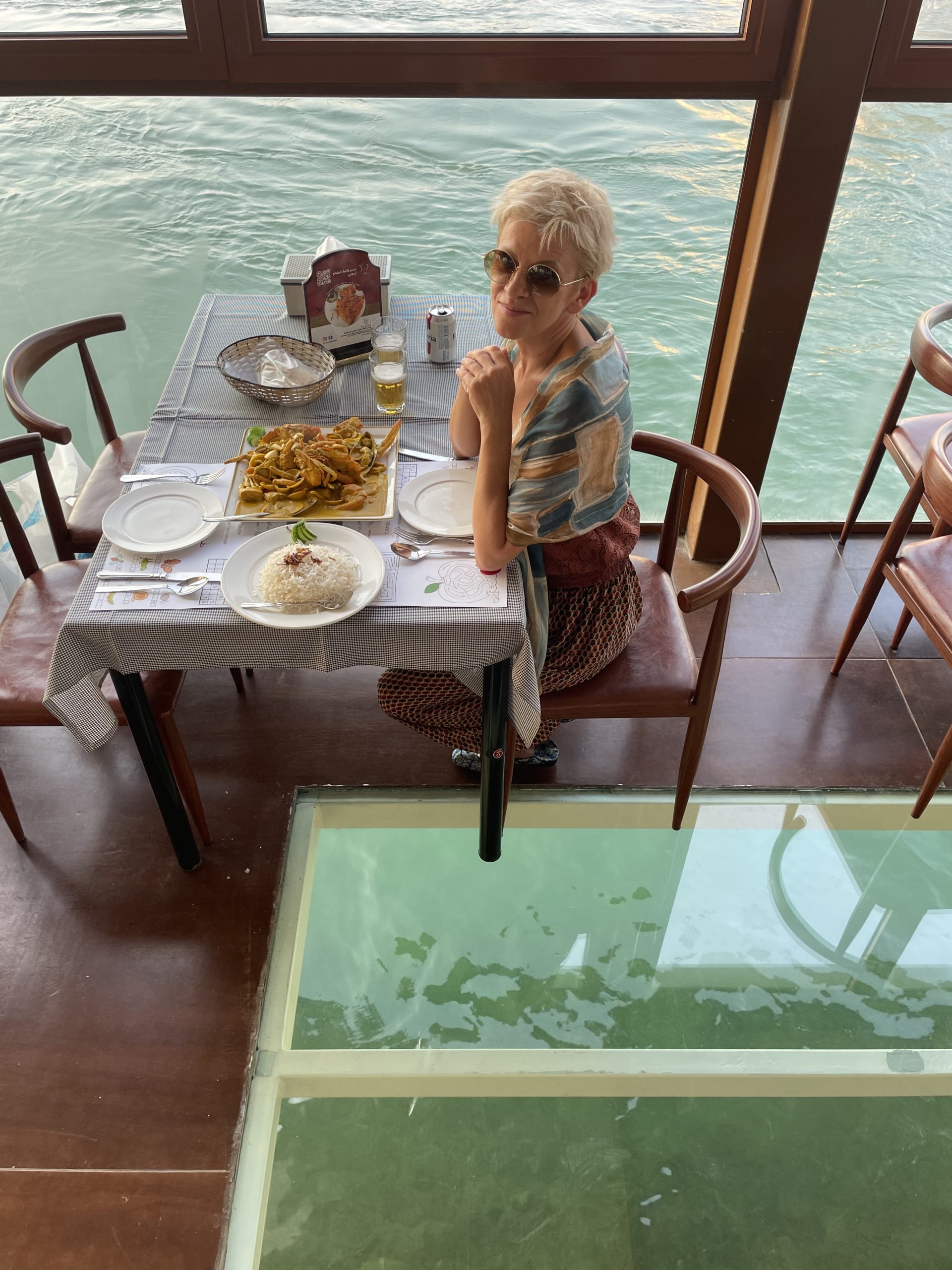 Fascinating traditional markets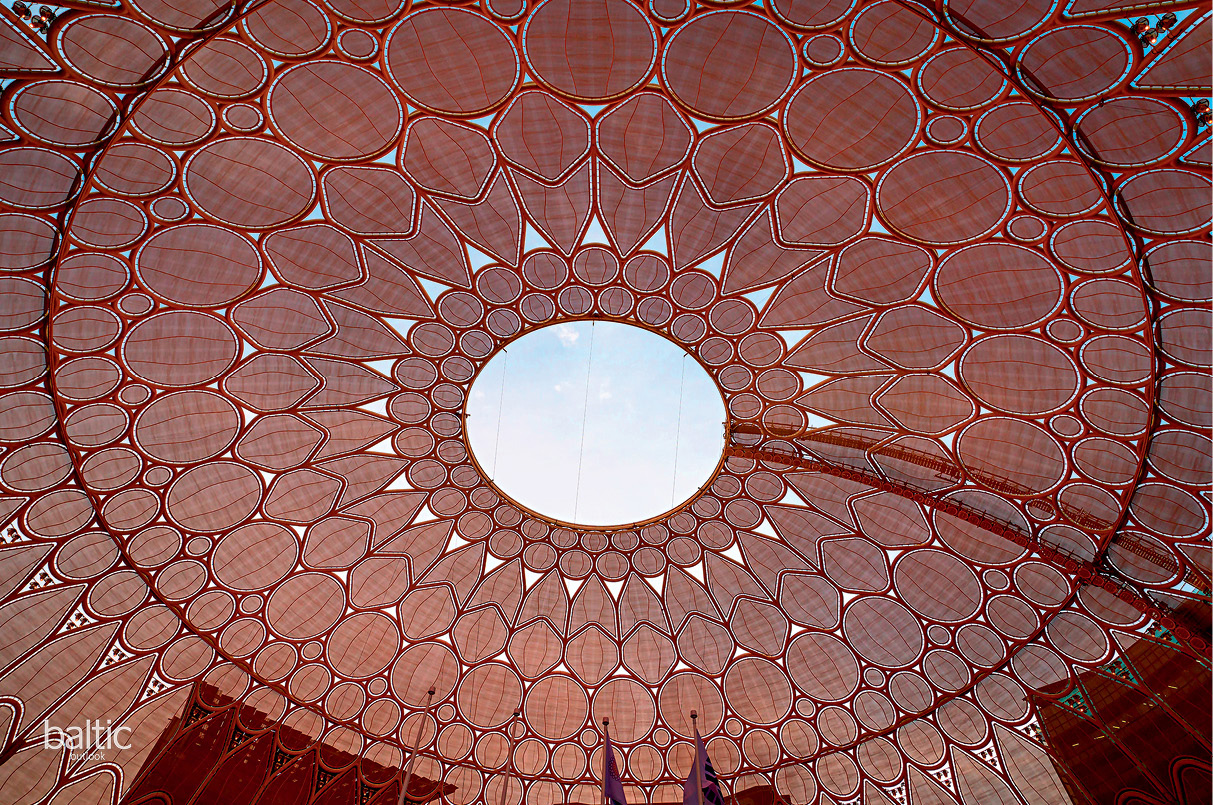 If you want a break from the skyscrapers and see something of Dubai's origins, head to the older district of Deira with its market and low-rise buildings. However, this part of the city is also growing quickly, and there's no telling how long before it changes beyond recognition. To get to the Old Town, one first needs to reach the boat dock, because a canal separates the new and old parts of Dubai. Crossing the canal is done in an old-style wooden boat called an abra, which is also the cheapest way to get around in Dubai – a five-minute ride costs one dirham, or 23 euro cents.
The first impression upon reaching the other bank is that of stark contrasts. We're now in a proper Arab market, with merchants calling out loudly, praising their goods, and trying to lure customers to their stalls. After passing spices, clothing, and souvenirs, I stop at some painted bowls. The merchant immediately comes up to us and the haggling begins. He names his first price, and off we go! But I don't enjoy bargaining, make a few formal counteroffers, quickly agree to a price that's halfway between his and mine, and walk away with the bowls in hand.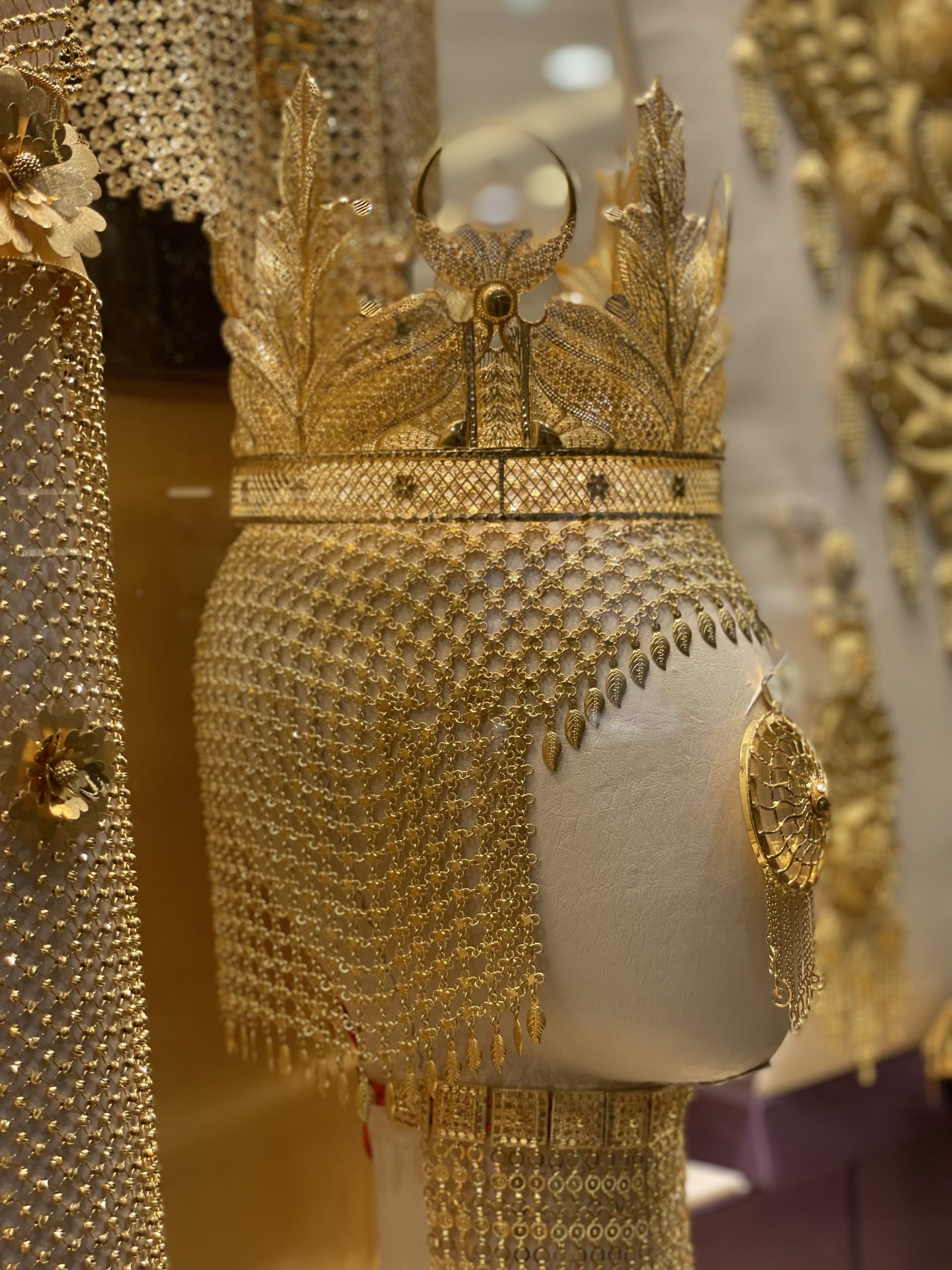 The atmosphere is completely different at the Gold Market. Here everything takes place in small shops, where the local women gather. The shop windows are adorned with an abundance of gold that dazzles the eyes. And it's not just jewellery. There are gold crowns, gold dresses, gold hair ornaments, gold bras – everything needed to dress a woman in gold from head to toe. As late as the second half of the 20th century, Dubai was the centre of the gold trade, and huge volumes of gold changed hands here. For example, in 1966, four million ounces of gold were shipped from London to Dubai, although the most lucrative place to trade gold was India, which had a ban on gold imports, so the price was twice as high. Still, Emirati traders did very well.
Expo 2020 Dubai – a grand parade of innovation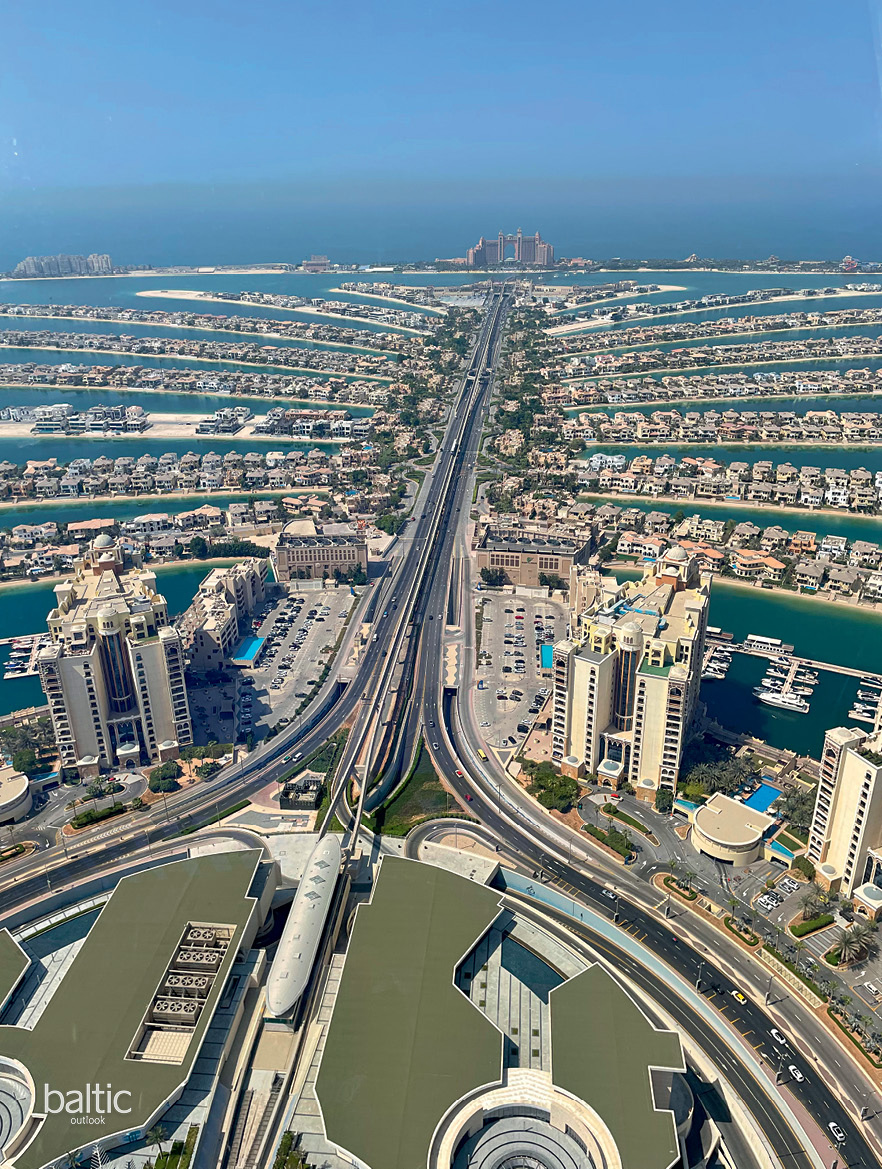 I've reserved two days of my trip to Dubai to explore Expo 2020. That's not much, but I plan to first gather some information and visit only the pavilions that seem most interesting to me. The exhibition consists of three thematic sections – Sustainability, Mobility, Opportunities – and, accordingly, has three different entrances. With 192 country pavilions spread over 438 hectares, it seems like a lot at first.
But once inside the area, it doesn't take long to orient oneself and understand where to start exploring. Some countries rent their pavilions, while others build their own structures, and the exhibition features some true architectural wonders. Actually, the Expo is like an architecture competition, each country wanting to attract the attention of visitors with the most visually striking and technologically advanced pavilion.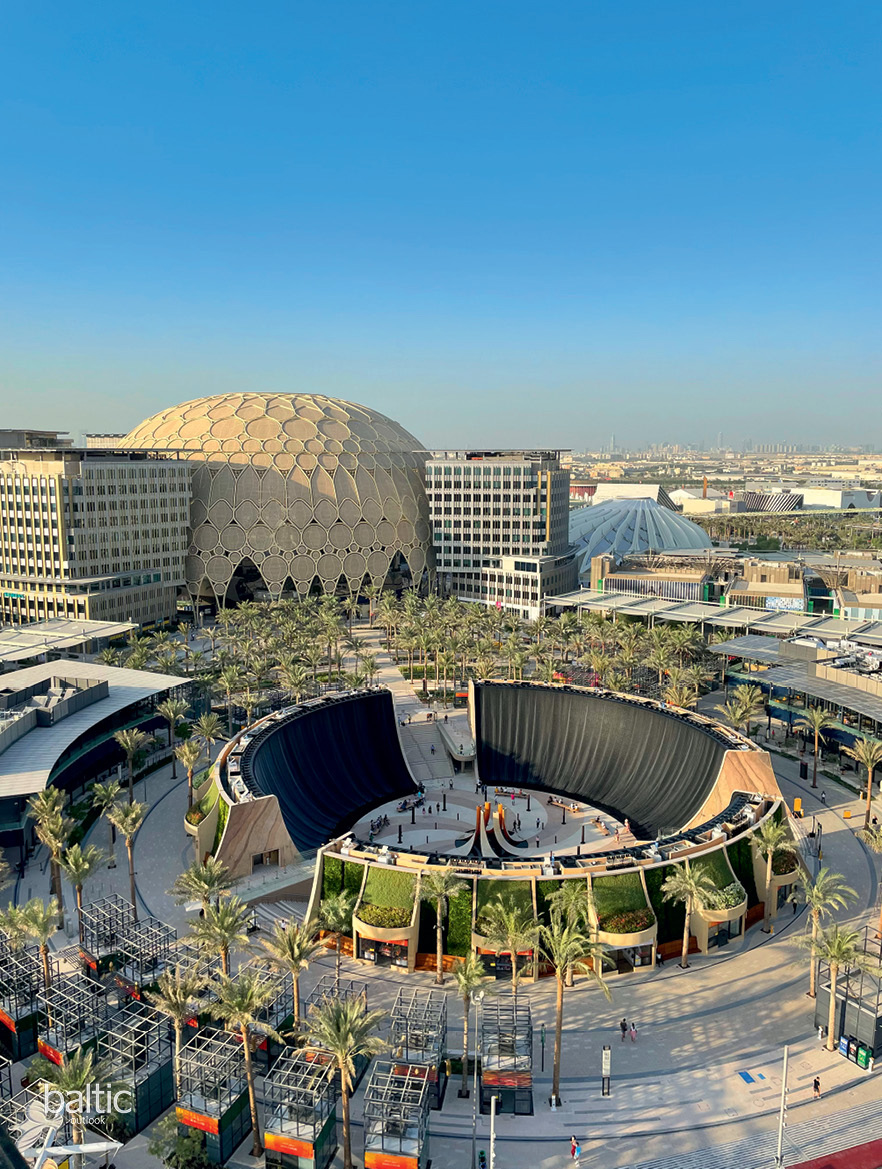 Laser shows, projections, and 3D screens are the most common way countries present themselves at this global exhibition. Of course, budget is a big factor, but the main goal is for visitors to get an idea of each country, so creativity is key. It's very difficult to recommend a particular pavilion, because people have different tastes and interests. Naturally, visitors usually first evaluate their own country's pavilion and those of its closest neighbours. However, based on technological and informative aspects, my top three here are the Spanish, Russian, and Dutch pavilions. Australia, Singapore, Saudi Arabia, New Zealand, Czech Republic, and Italy are also among the leaders according to various criteria.
Consult the VirtualExpo.world website to select which pavilions to visit. It offers a 360-degree tour of the venue, guided virtual tours, and plenty of interactivity.
Read more about Dubai in Baltic Outlook.
Text by Una Ulme