Want to visit mysterious Central Asia but don't know where to start? Don't worry, we've got your back. From mountains and glaciers to deserts, steppes, and canyons, the 9th biggest country in the world offers all of that and even more. Kazakhstan is a perfect destination for adventurous nomads who are keen on exploring nature. Feeling interested and excited? Buckle up and dive deep into the wonders of Kazakhstan. Here are the reasons why you should pack your bags and wander to the south-eastern part of the motherland of apples.
Kok-Tobe
Almaty is the biggest city in Kazakhstan, a former capital that still remains the cultural crib of the country to this day and has many interesting places to visit. But what exactly can the city provide? If you like panoramic views, Kok-Tobe is definitely one of the places you should visit in Almaty. Enjoy a magnificent city view on top of a 1100 m high mountain, have a delicious cup of coffee, feed a carrot to a donkey at the mini zoo, have a Ferris wheel ride or get dressed in traditional Kazakh clothing and hold a real eagle in your hands.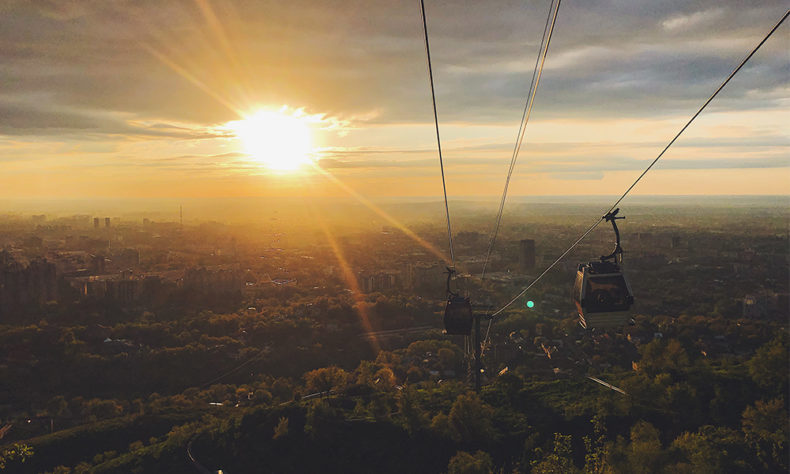 Green Spaces of the City
Interested in history, architecture, and religion? Panfilov Park will make a great place for you. It's one of the most-visited green spaces in Almaty and is famous for the unique, bright yellow Zenkov Cathedral that was built without a single nail, and the Memorial of Glory that remains a remembrance of soldiers who have fallen for freedom of the country. For those who want to have both a calm stroll and entertain themselves, Central Park is a perfect fit. During summer, a huge 100-hectare park is filled with laughter and joy. It has facilities for every taste, including a water park, cafes, water bikes, an amusement park for children, a sports complex and a cinema.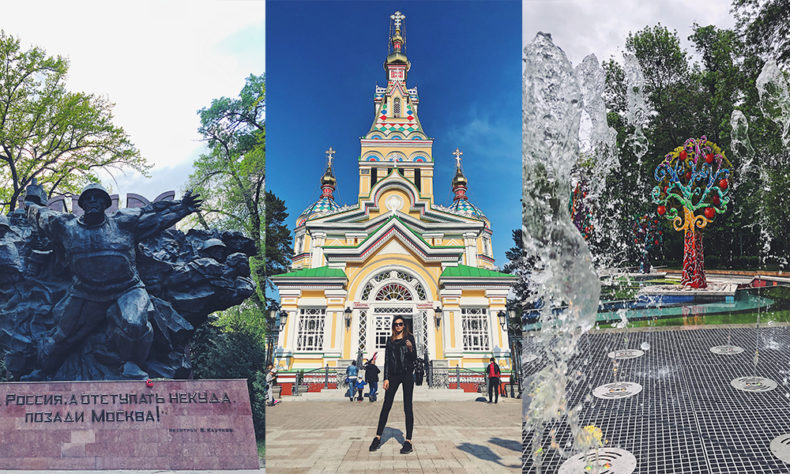 Wine Cafe & Shop and Smug Burger
Speaking of taste, we have some good news for your hungry stomach. Almaty has many cafes and restaurants that serve a variety of food and delight the eye with an exceptional interior. Fancy a glass of good wine with your meal? Choose Wine Cafe & Shop. If you are more of a burger admirer, visit Smug Burger at Dostyk Plaza and try the one with horsemeat – the most popular kind of meat in Kazakhstan. Don't forget to accompany the meal with their homemade lemonade. You won't be disappointed.
Big Almaty Lake
Feeling refreshed and full of energy? Now that you have explored the city, don't forget that the real treasure is hidden in the suburbs. It's time to go on a hike! Some destinations enchant you with their spell and make you believe your eyes will never see something more beautiful on planet Earth. The Big Almaty Lake is definitely one of those majestic mountain destinations that will gracefully invite you to stay a little longer. A unique turquoise-coloured lake and hiking trails attract many adventurers wishing to admire the beauty of nature. If the lake located on an altitude of 2511 m isn't enough, grab your passport and hike up to the Big Almaty Peak, reaching 3681 m above sea level. Why a passport in the mountains, you might think? Since Kyrgyzstan is only several kilometres away, you will have to cross a small border control and space station first. After that, there will be only you, pure mountain air, the peak, and wilderness.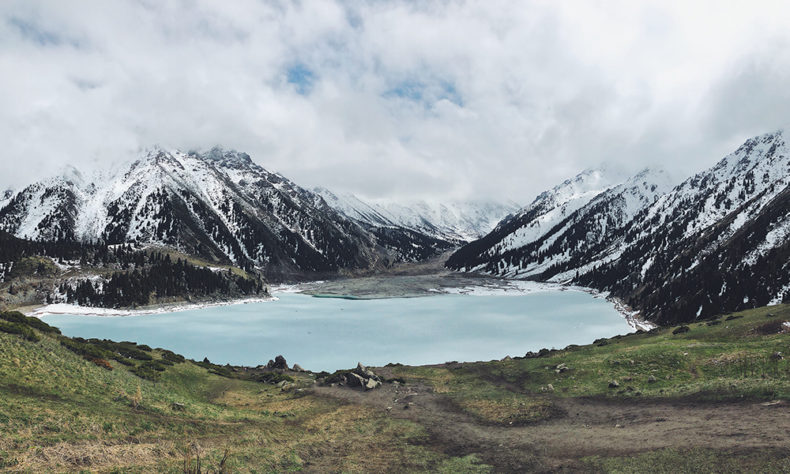 The Wild Charyn Canyon
Want to feel the wild wild west vibe? Hop in the saddle and go to the next wonder of Kazakhstan. After driving through small villages and endless steppes with randomly occurring sheep flocks or wild horses, you will eventually see the Charyn Canyon emerging from afar. For millions of years, strong winds and water have been sculpting the natural castles of sand that today leave the visitors in awe. Take a 4 km long walk through the Valley of Castles saturated with golden and amber towers of time-worn rock towards the oasis of the raging Charyn River. Surprisingly, it's just a drop in the ocean compared to the full length of the canyon, which reaches up to 90 km. The complex of red sandstone sculptures resembles the Grand Canyon in Arizona and is often called a mini version of it. Once you put your foot there and see a golden eagle flying above your head, you'll understand what we're talking about. However, if you think several hours at the canyon are way too little, there are bungalows and traditional Kazakh yurts in which you can stay and enjoy the starry night sky miles away from the civilized world.