Vilnius could be just another charming European capital with a pretty Old Town, but luckily, this one has its bold and ballsy locals. The city has always seemed like the most upbeat and creative of the three sisters that are the capitals of the Baltic states. And the Golden Lion awarded to the Lithuanian pavilion at last year's Venice Biennale didn't come as much of a surprise. So it's appropriate to start a trip to Vilnius by visiting the Contemporary Art Centre (CAC) and an exhibition called Daynighting by Lithuanian sculptor and analogue filmmaker Kipras Dubauskas. Situated on the roof of the building, Dubauskas' exhibition also acts as a preview for the next year, because in spring 2021 it will undergo a long-awaited reconstruction.
Neighbourhood of Naujamiestis
But, artists, art aficionados can't survive on just prosecco. The most eccentric eatery in Vilnius is Delta Mityba bistro, where Chef Jonas Palekas has developed a kitchen that features strong Asian flavour but at the same time extols top-quality local and seasonal produce. At first, Delta Mytiba was open only at lunchtime, but due to high demand it now also serves dinner on Thursdays and Fridays.
As a matter of fact, the Delta Mytiba bistro is a part of Autarkia, an artist daycare centre. 'When artists are going through a rough patch, knocking on our door on a rainy Sunday evening, we sometimes employ them,' Robertas Narkus, the co-founders of Delta Mityba, flippantly explains the concept of Autarkia. Four years ago, when the artists moved in here, this was 'a notorious junkie area', but over the years a herd of creatives have followed their lead, and now the hitherto neglected neighbourhood of Naujamiestis has turned into a beloved hangout for locals.
Many startups are now moving into the area as well. In September, Vinted, a used clothing exchange and sale platform, which is Lithuania's first tech unicorn, will relocate its headquarters here. And Tesonet, a Lithuanian startup providing cybersecurity solutions, will arrive here next year. According to Startup Lithuania, as of April 2020, the number of startups in the country has grown to 1021, exceeding both Estonia (1017) and Latvia (352).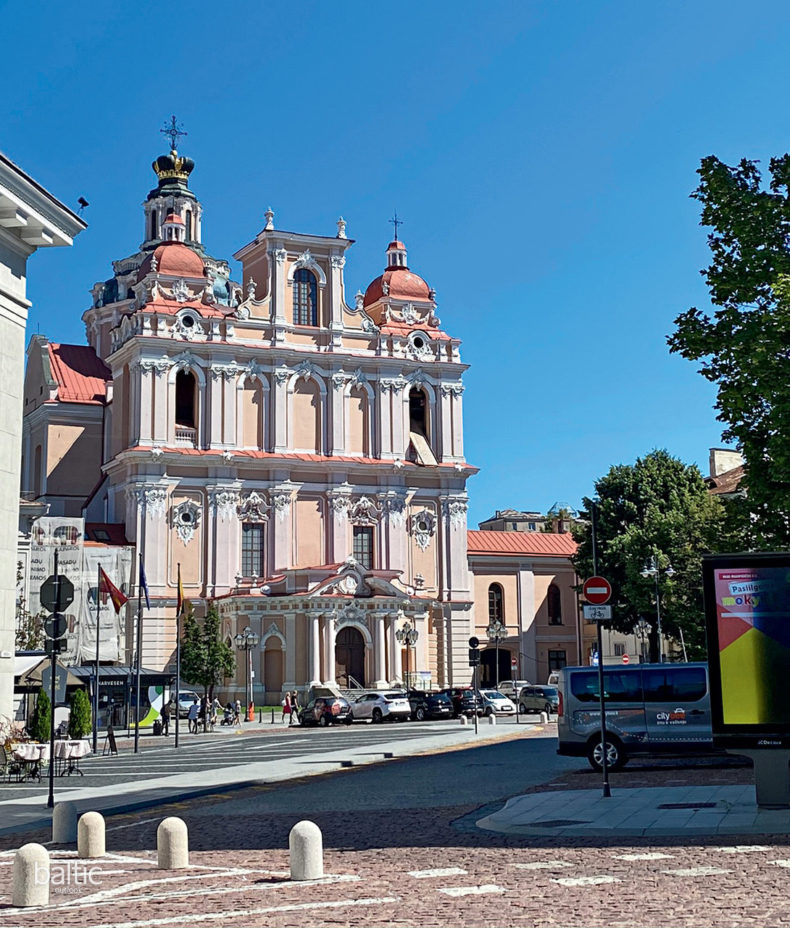 Swallow art space
Swallow is the art space is part of the upcoming Sodas 2123 cultural centre (sodas means 'garden', and 2123 nods to the future) that will harbour an artist community representing various fields and generations. It's located in a typical Soviet-period school building. Namely, in the 1990s many artists settled in Užupis, once a dingy neighbourhood of Vilnius, but now it's one of the most desired locations to live and spend time in.
The sun has started to set and the air has become crisp, but it's still warm, so I decide to head back to the city centre on foot, via Užupis. As I cross the Paupio Bridge, I suddenly feel like the protagonist in Woody Allen's Midnight in Paris, teleported back to 1920s Paris. The narrow cobbled streets are lighted by charming old street lamps and occupied by only a few lonesome flower pots and lovers walking hand in hand. It's almost unbearably romantic.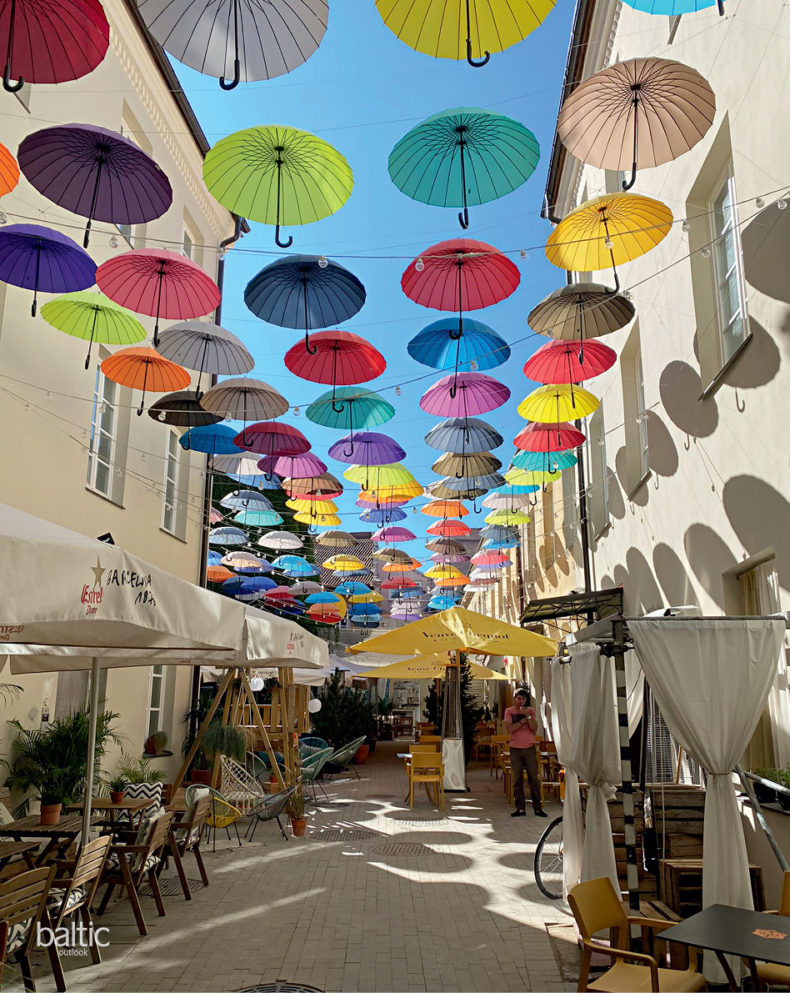 Vilnius' architectural heritage
Once a monarchy and the largest state in Europe, wounded by wars, Vilnius' architecture is not as consistent at it may seem from the airplane window, from where it appears like a red-roofed doll village.
The Old Town has managed to maintain its medieval street pattern. There's Alumnatas Courtyard with a stately Renaissance-style courtyard and an Italian restaurant called Fiorentino. There's also the charming courtyard on Vokiečių gatve with the Love Arch inside. Recently, however, Vilnius has got a new courtyard – Senator's Passage on Dominikonu gatve. The history of the passage dates back to the 15th century. It had served as a residence for a number of noble families, but now Peter Pretzmann, the owner of this place, has transferred his restaurants Nineteen18 and 14Horses here. Both establishments are some of the best in the country and were formerly located in Hotel Pacai places.
The Grand Duchy of Lithuania has left a heritage of Baroque architecture, most notably the Vilnius University Campus courtyards framed by 15th-century buildings and decorated with 300-year-old frescoes.The regular chiming of bells means that you don't really need a watch to know the time. There's the Gothic beauty of the Church of St. Anne, the Baroque gem that is the Church of St. Peter, and Vilnius Cathedral with its crisp white Neoclassical grandeur.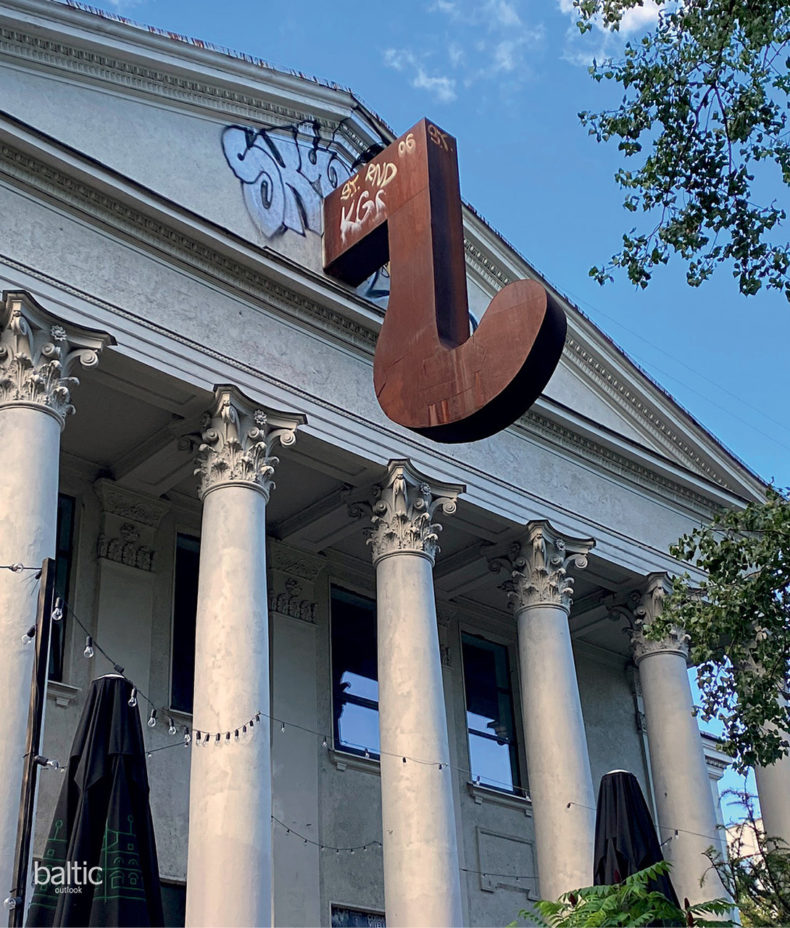 A-list stars and cinematographers
But it's not the thousands of stucco figures in the Church of St. Peter and St. Paul that have drawn many cinematographers to Vilnius. Instead, it's the city's rough legacy left over from the Soviet era. The concrete monoliths of the Fabijoniškės microdistrict are now a famous sightseeing spot, seeing as this area acted as the fictional Pripyat district in the critically acclaimed HBO miniseries Chernobyl. However, it was the filming of another Netflix product that made the local Gen Z really excited – the cult series Stranger Things. The filming took place in the recently closed Lukiškės Prison.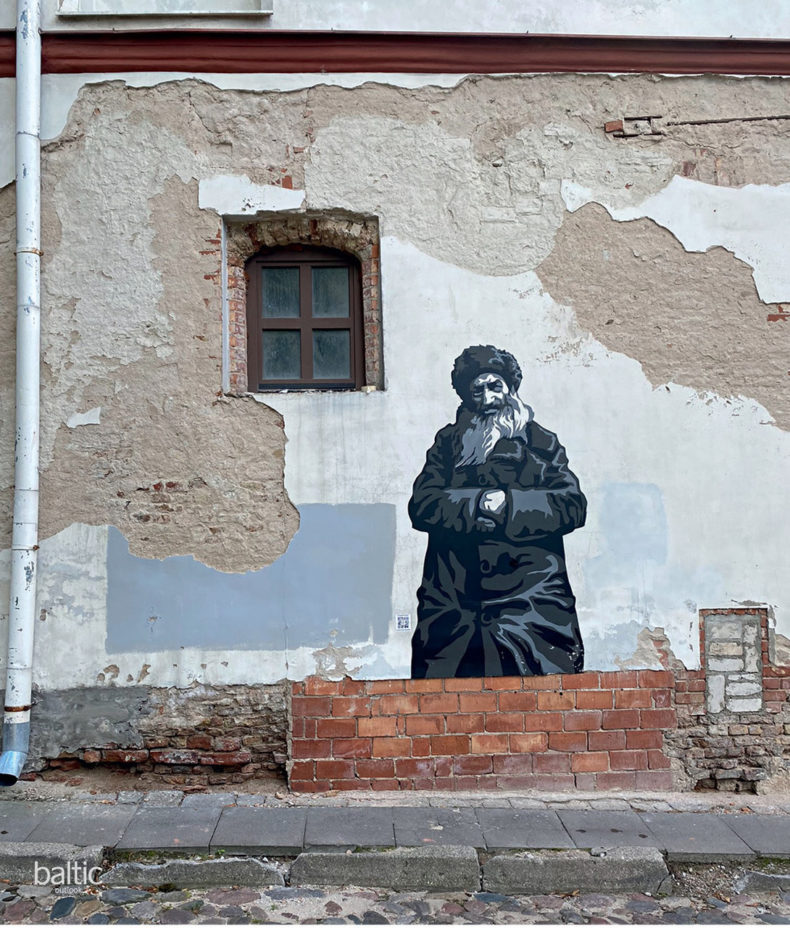 Street art at Open Gallery
The Open Gallery is an outdoor gallery giving a new purpose to factory walls in Naujamiestis. Around ten new murals created by local and international street artists are introduced here each year as a part of Loftas Fest. Together with his wife, Victor Diawara established Loftas, the famous culture centre that finally brought a younger generation of musicians to the region, including Nicolas Jaar, Ellie Goulding, and The XX.
Various stages, many doors, little rooms, backyards – Loftas is like a playground for adults. The building was originally the home of the Elfa electrotechnology factory, the USSR's main provider of tape recorders.