Unlike other megacities, where business districts don't seem to have a single place to eat or, in the best case, the ones they have are expensive, pointless and prim, London proves the exact opposite, because the City has plenty of flavours, views, atmosphere and so much more.
Duck and Waffle
Although Duck and Waffle is famous for being open 24/7, for its location on the 40th floor of the Heron Tower and for serving incredibly delicious Belgian waffles with duck leg confit and fried duck egg, that's far from being all about it – they also serve cocktails in rare flavours and combinations, like an Artichoke Negroni or a Manhattan Roast with caramelized onions. But what brings it all together is the atmosphere and the breath-taking view, especially at dusk, when the city lights up and the day is succeeded by night. That's the time to fancy up and come here for a glass of champagne or a cocktail and enjoy. In great company, with a cheese platter and homemade crackers. If you so desire, you can move to the restaurant after the drinks, but sometimes just a cocktail, a bit of bubbly and a view over London from the 40th floor is enough to make life much, much better.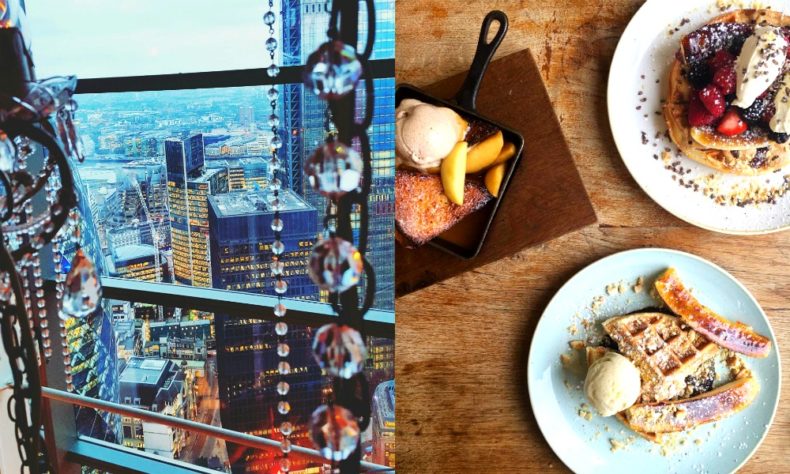 Address: Heron Tower, 110 Bishopsgate, London.
Taylor St. Baristas
The London coffee world today is unthinkable without Taylor St. Baristas, whichever part of London you find yourself in, but this place on Old Broad Street has a very special aura – the one of suited business people, when you feel like there's not a single person in the world not wearing a suit except you, but it's a fine feeling to thoroughly appreciate the fact that whatever we're wearing and whatever we do, we're all united by love for excellent coffee, great food and a charming environment full of life. Up until recently this place only served coffee, small pastries, lemonade and the odd sandwich, but that's changed, and now along with top notch filter coffees with silky latte art you can also enjoy some fabulous salads. One-size bowl and a couple of flavours. The chicken and ginger rice salad was divine – exactly what you need for lunch to keep you going until dinner, with the best aftertaste.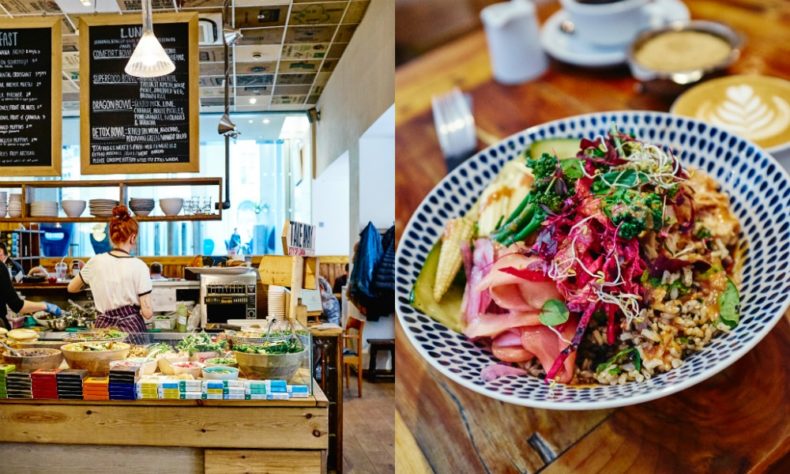 Address: 125 Old Broad Street, London.
Photo captured by Armands Meirans.
Jamie Oliver's Fifteen
When in 2002 Jamie Oliver began The Fifteen Apprentice project, where he trained disadvantaged youths from tough backgrounds to be chefs and then hired them to work in his kitchen, many were wondering what will come of it. 14 years later we have to admit the results are spectacular – fine chefs have been trained, many youngsters have been encouraged to believe in their abilities, they've learned so much that many chefs of the world could only dream about, and they've made so many fantastic meals that are truly memorable for those who have been lucky to have them. And how can you forget such an incredible gastronomic adventure where as amuse-bouche you're served the most delicious and crunchy duck confit croquette, the entrée is a combination of seasonal grelot onions and burrata with smoked walnuts, then followed by mackerel with lemon zest and Granny Smith apples, and then you're taken on a journey to the world of Italian pasta with agnolotti with truffle sauce, pumpkin and nettles, and then comes an oh so tender British duck breast accompanied by the creamiest celeriac purée I've ever had. Freshly baked sourdough bread with light and fluffy butter at the beginning, a chocolate and peanut dessert at the end, a mouthful of espresso along with homemade truffles, and it's absolutely clear that this is a place to return to whenever in London – to enjoy vegetables from Jamie's garden and produce from many British farms, with each owner known here and possibly even the name of each of their hens. This is an adventure opening up a new view of the world and flavours and making you appreciate great ideas and execution, lovely people and excellent flavours.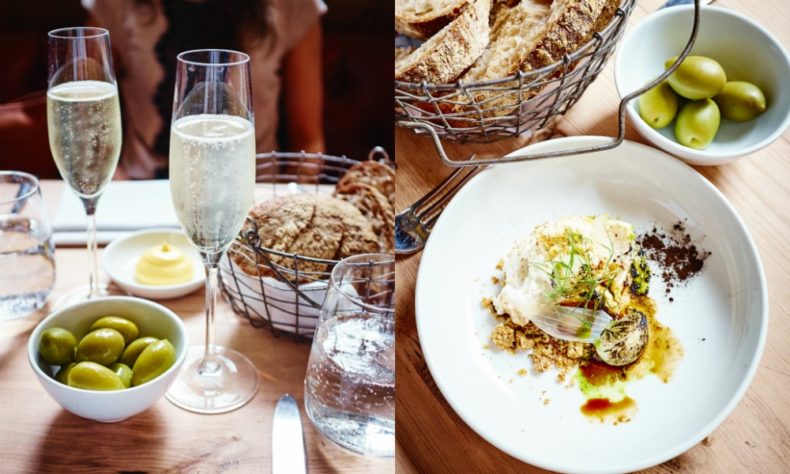 Address: 15 Westland Place, London.
Photo captured by Armands Meirans.
The Modern Pantry
Sometimes when you're travelling and you go for a meal to a place in a city you've visited before, you can't believe you've never been there before – as there's not a single reason for a foodie to miss such a place. Where each mouthful is bliss, be it breakfast, afternoon tea, lunch or dinner. The Modern Pantry is one of those places on the map of London you can't and shouldn't miss. At least I'd advise you not to, because it's a world where New Zealander Anna Hansen has managed to bring together so many nuances, from the interior to the food, that you feel like you're in the right spot already the instant you catch a glimpse of the restaurant door from a distance. The sugar-cured New Caledonian prawn omelette with green chili, spring onions, coriander and smoked chili sambal is their signature dish – it will probably never be taken off the menu, since people are crazy for it (myself included). If you're craving something sweeter, but not too sweet, go for a matcha and pistachio waffle with poached apricots and coconut cream or a coconut and chia pudding with quinoa and granola. But I'd suggest you try as much of the menu as possible – I strongly suspect that each and every dish is perfect here. And coffee, as always, is very good, but if you don't feel like coffee, choose a matcha latte or maybe something even more unusual but super-delicious, like a malt and caraway hot chocolate. The Modern Pantry is a London must-have. For breakfast, for lunch, for dinner, and for afternoon tea.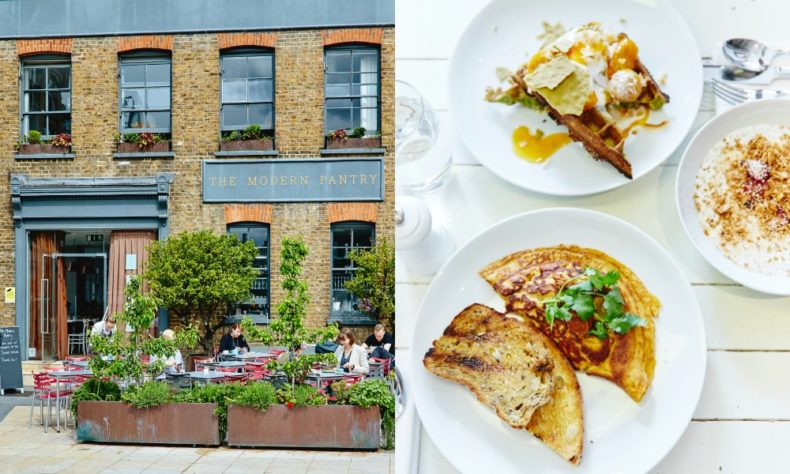 Address: 47-48 St John's Square, Clerkenwell, London.
Photo captured by Armands Meirans.
Author: owner/editor of food magazine Četras sezonas, 4 cookbook author and food blogger Signe Meirane.
Photographer: all delicious photos captured by Armands Meirans.