People say no two sunsets are ever the same. Whether it's the clouds or the scenery, there's something unique about each and every one. There's hardly anything as beautiful as seeing the sun going down in the Baltics. The sky turns a million shades of pink, you can lie back and enjoy the iconic nature turning into a romantic movie scene – if you know where to observe it best! Just choose any of the spots below and get ready for some magical views…
Estonia
Rummu Karjäär
The abandoned Soviet prison of Rummu above a former quarry has become one of the most beloved places for many visitors to the Baltics. It has now been turned into an epic beach, sort of Estonia's own "blue lagoon". By the way, remember Alan Walker's music video "Faded"? It was shot at various locations throughout Estonia, the old prison of Rummu one of them.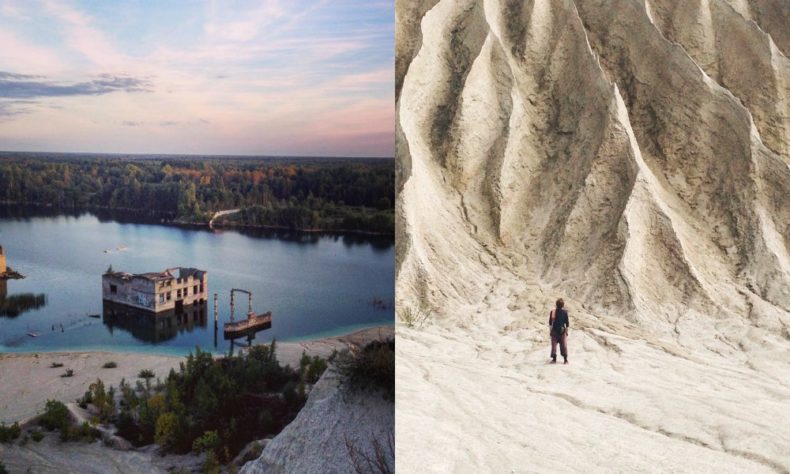 Photo taken by @_reg_i_na_ and @nadezhdadyu.
Pakri Poolsar
Enjoy the sunsets on the coastal cliffs of Pakri in Paldiski – just 45km away from Tallinn. Besides amazing cliffs, this place is also known for the historical 52 metres high Pakri Lighthouse. Anyone with enough strength to climb to the top can observe the lantern room up close and have a royal view of the most colourful sunsets…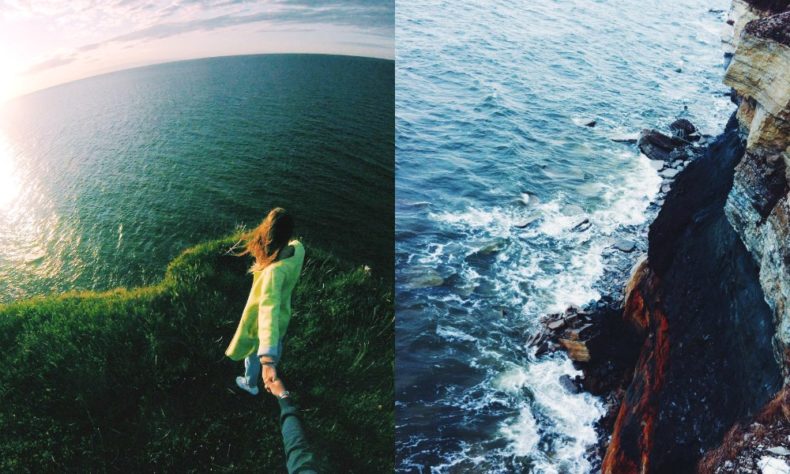 Photo taken by @jana.lumbe and @swaggyalice.
Pühajärv
The biggest and most beautiful lake in the Otepää region – Pühajärv lake. If you're looking for a really romantic spot, this is the one! Relish the calm and peaceful atmosphere with your loved one on the water – take a rowboat out on the lake. Don't miss a chance to enjoy the most dazzling nightfalls right here.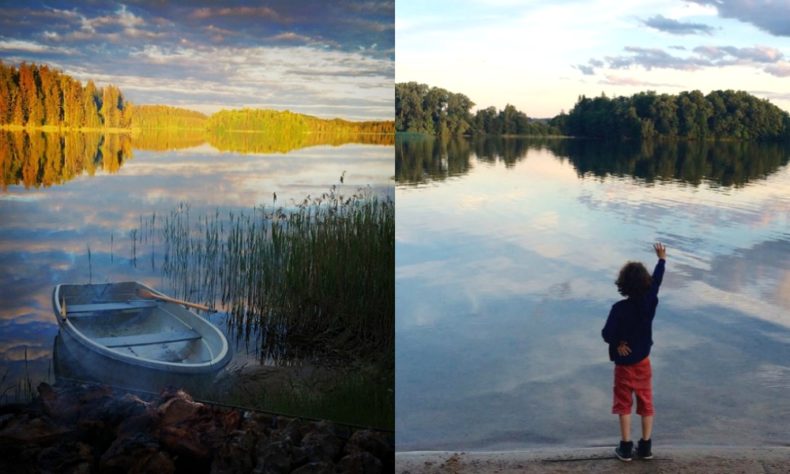 Photo taken by @le_parle and @fadetheory.
Latvia
Liepāja beach
One of the most charming cities of this beautiful country – Liepāja. A peculiar mixture of lifestyles seems to draw people in and steal their hearts. The quite whimsical part of Latvia makes you want to stick around and enjoy every moment. The colorful palette of sunsets here will never disappoint. The whole experience is simply unforgettable…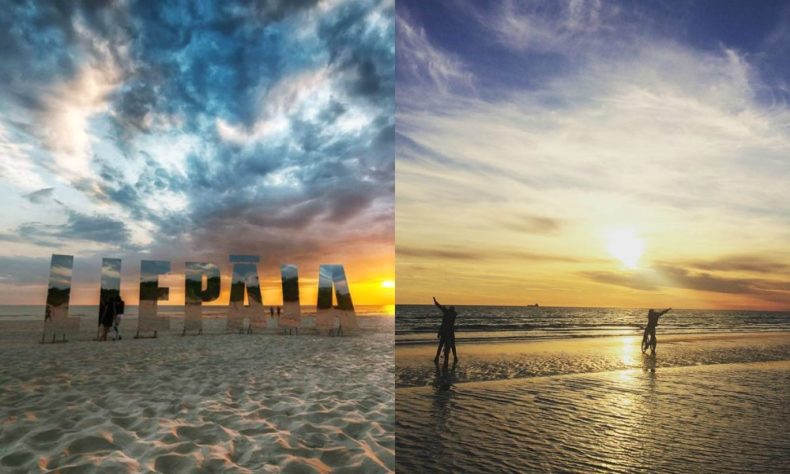 Photo taken by @visitliepaja.
Ķemeri
The heart of Kemeri National Park is the most accessible bit of wilderness in Latvia, where you can gaze at pink-skyed sunsets. This is the kingdom of moss bogs and pristine nature. In fact, Kemeri is an excellent spot not only for sunsets but also for bird-watching. The national park organizes a bird-watching day in conjunction with the European bird-watching day to get the locals and tourists out and about. And at the end of the day make sure to wait for the sun to work its evening magic.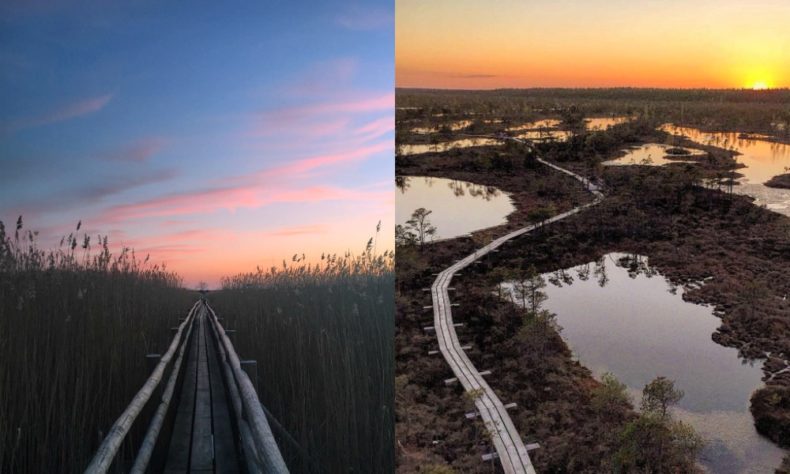 Photo taken by @ligacikanovica and @pv.polina.
Veczemju Cliffs
Wondering if there are any other whimsical places in Latvia? Well… we have our own "Grand Canyon"! This is what it looks like. It's a 12km long section of the seacoast, the only place around the Baltic Sea where you can see sandstone exposures right by the sea. Of course, we can guarantee a breathtaking pallet of sunset colours and many Instagram masterpieces.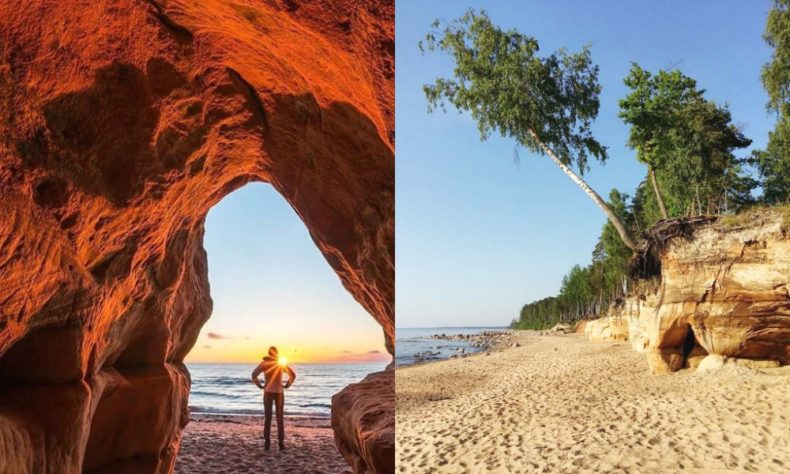 Photo of @lincalincalinca made by @jekabsphoto and second image made by @zandija.
Lithuania
Treetop walking path
Don't miss this most iconic and poetic wooden spot! Connect with nature in the small town of Lithuania Anykščiai where this amazing path is located. When the time comes, the sun dips into a green field of treetops in a magnificent array of pink and orange. And at that moment you feel you're in the right place at the right time!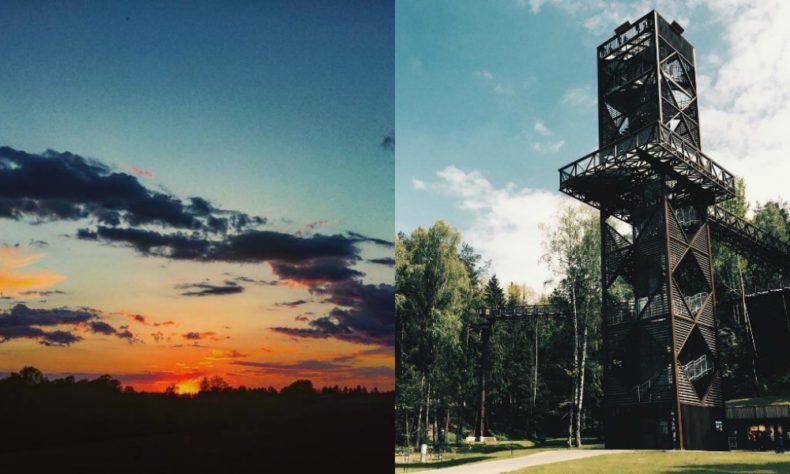 Photo taken by @matasjan and @jah_quashie.
Hot air balloon in Vilnius
There really is nothing like a little bit of air and a beautifully fading sun to inspire the soul. This majestic spot with landscapes will leave anyone breathless. Look at that… It just renders you speechless!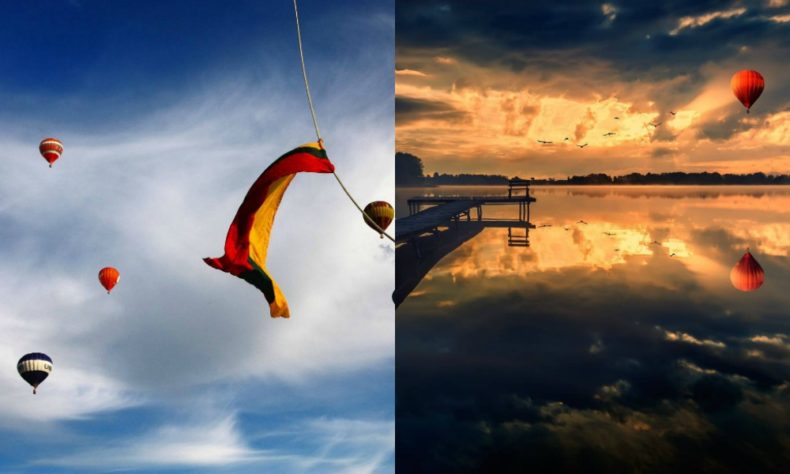 Photo from by @hotairlines and Carlos M. Almagro
Curonian Spit/Kuršių nerija
A very unique and vulnerable, sandy and wooded landscape on a coastal spit, featuring small lagoon settlements. You can catch amazing sunsets here: from pink to burning red and everything in between… postcard-perfect scenes. Swirls of clouds and peaceful atmosphere will provide pleasant memories for years to come.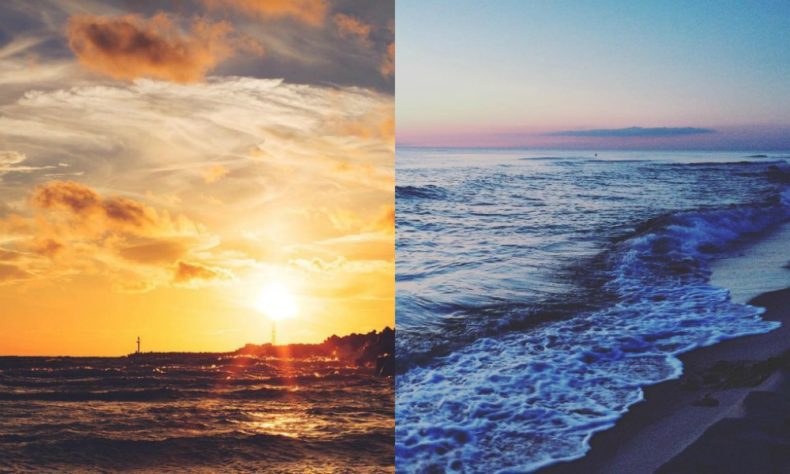 Photo taken by @girliaa and @westbich.
Written specially for airBalticBlog by Eugenia Krupenkina.