Whether it's a dinner at an art studio, enjoying classic German cuisine, or slurping ramen noodles with a river view, or an organic meal at a very simple, yet unforgettable restaurant, Berlin has a lot to offer. You'll find something for every taste and palate – from surprises you never even imagined to timeless classics and Michelin-starred restaurants. This is a city that will never allow you to go hungry, and if you know where to go, your meal with be exactly what you want.
Cocolo Ramen X-berg
For fans of ramen Cocolo Ramen X-berg is a definite must. They serve seven versions of ramen, the Japanese noodle soup – from the simplest miso broth to more elaborate soups made with chicken, prawns or slow-cooked pork belly. Sides – kimchi, soybeans, gyoza dumplings with miso, cucumber sticks in marinade, spinach with sesame sauce and a few other things. That's basically it, but here you won't need much more anyway. Maybe a Japanese beer, or a glass of wine or another drink. The servings are large enough to keep you full and your thoughts off food for quite some time.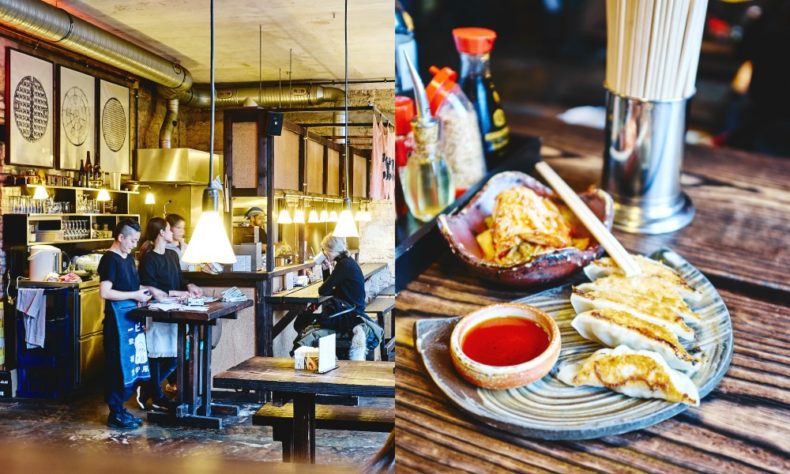 Address: Oranienplatz 14, Berlin.
La Soupe Populaire
You may get a bit teary-eyed when enjoying the same food that the chef of La Soupe Populaire served to Mr. Obama on his visit, but in this case it will only be because the dishes here are so good, not because they were served to Mr. Obama. Recipes that have inspired the chef are German classics – meatballs, potatoes, eggs, beetroot – which he goes on to dismantle entirely and then construct anew, still not losing that unique touch with German cuisine. The wonderfully soft egg, nestled with crisps among beetroot, potato mash and a creamy Hollandaise-type sauce is an adventure in itself. Same with the tender cod with warm pickles in ham sauce and tarragon purée, as well as the meatballs with capers, served with potato mash, wine and butter reduction and beetroot. But, as at all top-notch restaurants, it all starts with the bread, which is served with pickles, speck cream and spicy sausages. And it all ends with one of the most divine desserts I've recently had – honey, a light and airy vanilla foam, interspersed with apricot ice cream and topped with an almond biscuit, accompanied by a cute almond bee on the side. The regular menu here doesn't change that often, but the other menu is inspired by the exhibitions on display in the art gallery.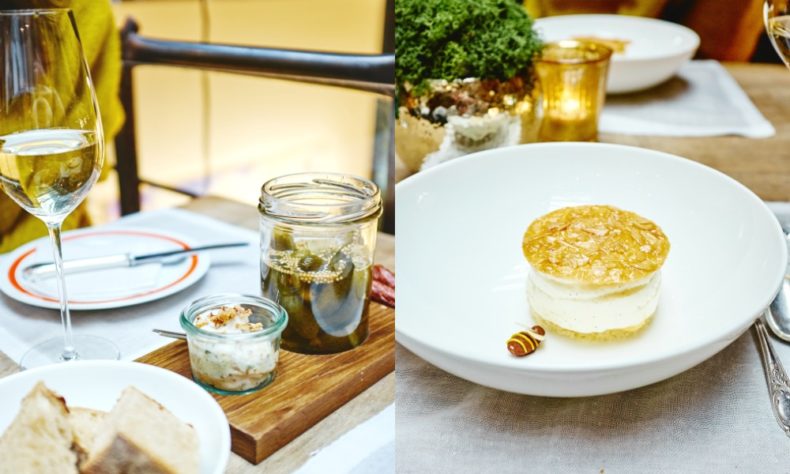 Address: Prenzlauer Allee 242, Berlin.
Reinstoff
One of the must-visit restaurants for Michelin star hunters is the two-starred Reinstoff, masterminded by chef Daniel Achilles. Located in the historical Edison courtyards in Mitte, Reinstoff is a surprise in every sense – the location, the service, but mostly, of course, the dishes and the drinks. The chef works wonders with flavours and ingredients you may have never heard of, like sea kale, mu err dashi, kinzanji miso, and versions of dishes that had never even come close to occurring to me – buttermilk broth, potato strudel dough, Chinese artichoke with smoked oysters, quinoa ice cream, spinach and egg yolk foam, and more, and more, and more. And the wine list. Matching the dishes you've ordered (if you so desire), it reveals estates, grapes, producers and combinations that are truly astounding. Start off your meal with a sparkling Riesling Brut Nature 2007, specially bottled for this restaurant, to then let the sommelier take you on a journey. Some names to bear in mind and try – the unfiltered Odinstal wine made from the Silvaner grape, the South African Mullineux 2012 from the Swartland region, Neuburger wine from Nikolaihof, the oldest winery in Austria, and two digestives that I'll never forget – Dirker Haselnuss (the hazelnut aroma literally sweeps you off your feet) and the Berlin local elixir Pijökel 55, its recipe conceived in 1955. The latter two are drinks you'd do well to bring back home with you. Reinstoff is an adventure, as it behooves a Michelin restaurant.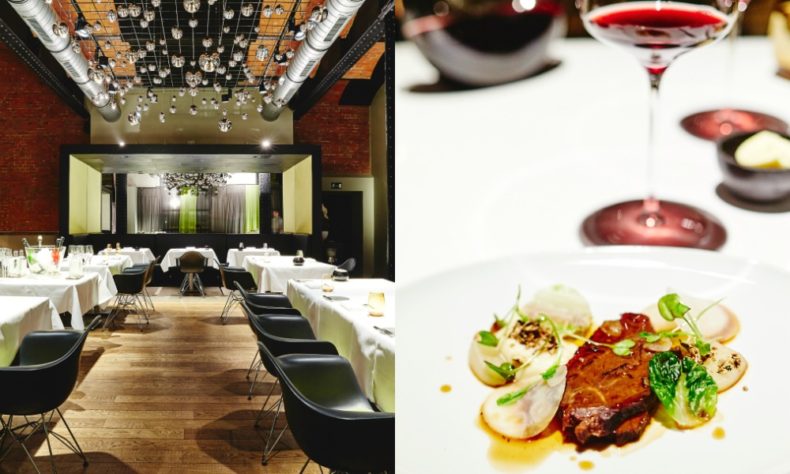 Address: Schlegelstraße 26c, Berlin.
Brasserie ORA
ORA is located in a former pharmacy, with its original shelves, bottles and tubes still intact, as well as most of the ceiling and flooring, with more antique accessories added for character. Two friends, an architect and a photographer, have transformed it into a very special place, where everything is spot on – the location, the interior, the dishes and the cocktails. At 10:00 in the morning the place smells so tempting that it's impossible not to treat yourself to a freshly baked brioche or a cinnamon bun, served with a good dollop of butter. Make sure you try the nut and seed granola they make here, served with yoghurt, pollen, canned apples and pears. Friends of bruschetta must try some of the homemade breads, served in so many ways – with kale, walnuts and poached egg, homemade pastrami, pickles, marmalade, butter and salt, cheese, egg or pickled gherkins. Trust me, the words you're reading now don't half reveal how gorgeous they all are. The lunch crowd loves the seasonal fresh and braised endive salad with homemade mustard, browned butter and nut crumble or the Jerusalem artichoke salad with salt-baked rutabaga and buttermilk. Cakes are simple, but so rich that you'll want to try every one of them. In the evening, after the magical transformation, the menu is replaced by snack platters, composed of local organic sausages and meats (many of them made in-house), cheeses and all sorts of pickles, and coffee is replaced by cocktails that'll steal your heart. Special recommendation: try the Truffle Sour, made of gin, truffles and a lot of other ingredients. From 18:30 the place is transformed into a perfect evening spot – a stylish and insanely creative cocktail bar.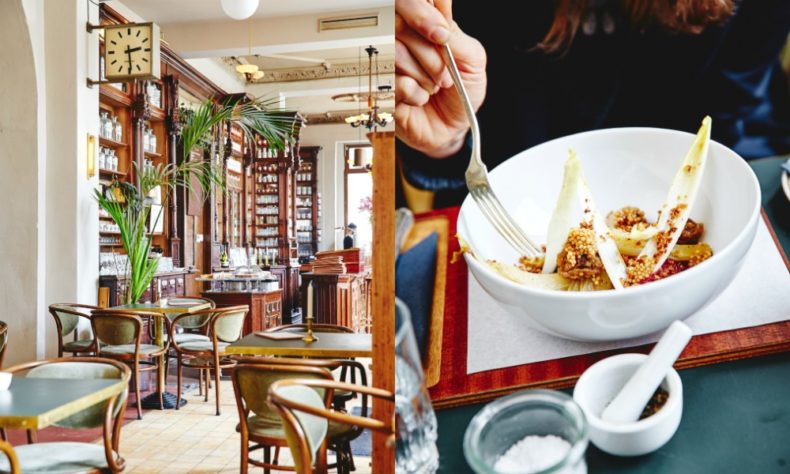 Address: Oranienplatz 14, Berlin.
Where to stay?
Accommodation is one of the most important ingredients of a trip, and if the chosen place isn't what you want, you can basically partly write your trip off – because who wants to return to an uninspiring hotel and to an uninspiring room after a great day out? No one does. Just like no one likes to shop at a supermarket if you can have a taste of the city at a market pavilion just nearby or at one of the many weekly markets. And I have ideas as to where.
Otto
The Otto hotel is very conveniently located – 15 minutes by metro from the centre, 15 minutes from the airport (and literally a 5 minute walk from the bus stop), within walking distance from the zoo and Tiergarten park. The breakfast, using as much slow food and local organic produce as possible, is served on the 7th floor overlooking the roofs of Berlin. Dig into pancakes with organic maple syrup, homemade cakes, organic juices, sparkling wine, a great selection of local cheeses, organic muesli, fruit etc. 14:00-21:00 is the time for afternoon tea, cake, juice and fruit buffet, available for all guests. Fine clean rooms, well-stocked with organic snacks and drinks – and unlike regular minibars, these don't cost a fortune. Much closer to store pricing actually. Some of the rooms have a fully equipped kitchen with an Illy coffee machine and Althaus tea. Brabantia accessories, Artemide lamps and fairtrade cosmetics for all. Otto is the perfect place if you're looking for a good price/performance, sumptuous yet healthy breakfast, light and clean interiors, lots of silence and lovely service.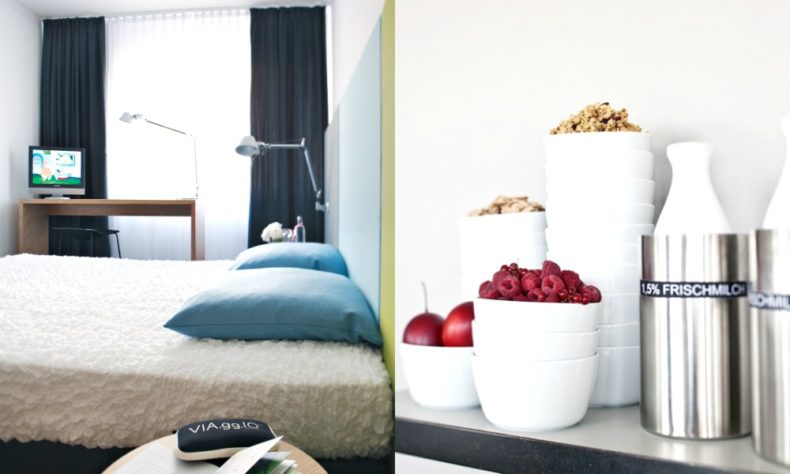 Address: Knesebeckstraße 10, Berlin.
Book your tickets to Berlin now!
Author: owner/editor of food magazine Četras sezonas, 4 cookbook author and food blogger Signe Meirane.
Photographer: all delicious photos captured by Armands Meirans.