There's this one thing with travelling. Whatever you do, whatever your reason to go to any particular country, there's one thing you always need – food. Of course, you can eat just any old thing, but why would you, if you can have a super delicious or a super healthy meal, or both, or loads of other kinds of meals – but the main thing is they can be delicious.
A light breakfast at Johan & Nyström
One of the pearls among southern Stockholm coffee spots, this concept store combines a cafe, tea and coffee rooms and a training space (in case you feel like learning something new when travelling). It's featured in the Best Cafes of 2014 list, voted second best coffee spot in Europe and Sweden, and these are just a few of its measurable achievements. If you're lucky, you'll have your coffee made by the barista champion of 2014, and even if it's made by any other member of the staff, the coffee will certainly be top notch. Organic milk, an impressive variety of organic beans, a perfect cappuccino, espresso, V60 and every specialty coffee possible. And you just can't help treating yourself to one of the excellent cardamom pastries, cinnamon buns or croissants to go with that coffee of yours. Plan to stay for a while – this place is just too good to leave in a rush. And they roast their own coffee.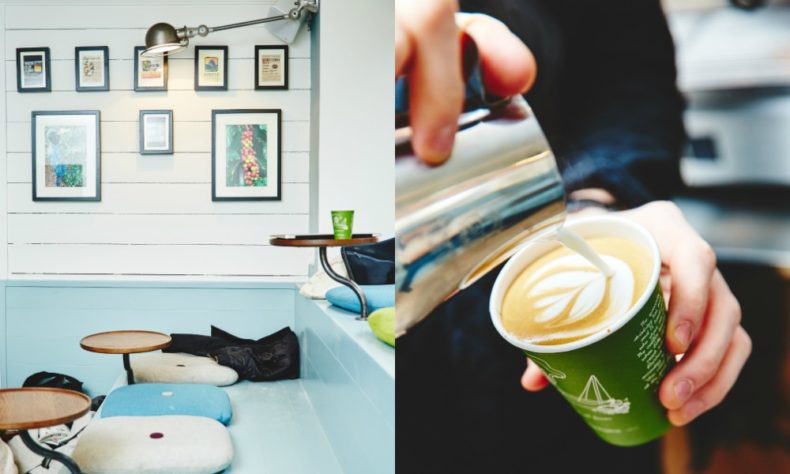 Adress: Swedenborgsgatan 7, Stockholm
Close by 18 smaker
Every fan of ice cream in southern Stockholm knows that the best ice cream this side of town is found at 18 Smaker Glassmakeri. Out of season you'll always find 18 different flavours, liquorice, vanilla and chocolate being the classics and constant menu staples, while the rest is ever changing. You'll also find vegan ices like saffron, coconut or oat milk with chocolate, as well as a selection of sorbets very much worthy of vegan tastebuds. And all the rest is determined by the season and the hearts of the owners and icemakers – caramelised nuts and caramel, pistachios, milk chocolate, walnuts, strawberries and so on. The number of flavours available in season may even stretch into the 30ies. Everything, except for extras on the side like calvados or another drink, is organic. Besides ice cream, you can order a creamy milkshake or sundaes of various sizes – they're just as classic as everything else on the menu.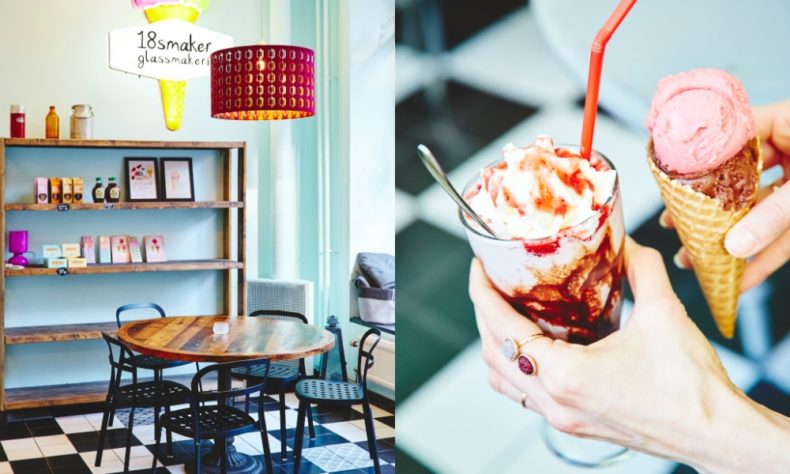 Adress: Hornsgatan 64, Stockholm
Lunch at Kaffeverket (Snickarbacken 7)
You can never get bored with Kaffeverket – it's absolutely wonderful in terms of space, design, feelings and atmosphere. And, most importantly – in terms of food and drink. While the Kaffeverket in Sankt Eriksgatan is small, light and comparatively intimate, their Snickarbacken 7 location is its exact opposite. Set in an old horse stable with magnificent arches and high ceilings, it combines a stylish design shop with a restaurant. It's never short of visitors, and when you try their food, you'll know why – their slow cooked lamb salad with rice noodles and pickles was surprisingly brilliant, and the vegan salad with lentils and caramelised nuts was a hit that also carnivores would love. Another famous salad of theirs is the tuna and salmon salad.
The sandwiches here are reliably great. And, if you still have some space in your stomach for dessert (and I strongly suggest you leave a bit of space), try the raw bomb, the most famous of the famous cakes – a slice of coconut and chocolate – or their pecan and banana bread, grilled just before serving (with fresh honey). Heavenly. And start it all off with a coffee and a matcha latte, they're very much worth it. This is a find to keep returning to.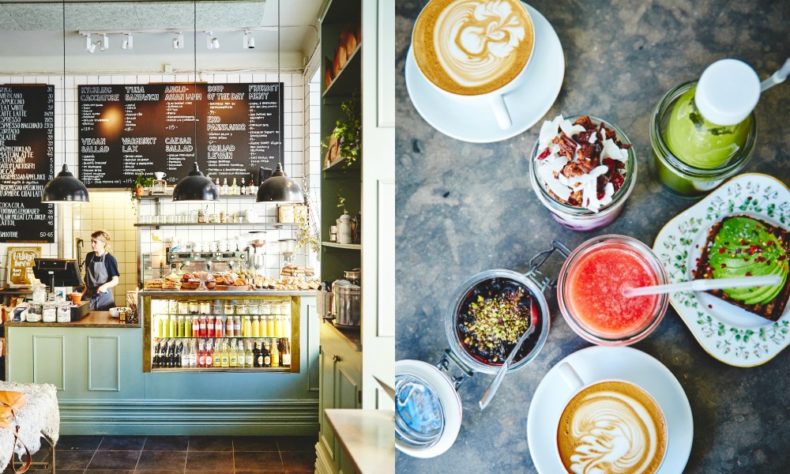 Adress: Snickarbacken 7, Stockholm
Another lunch option – Tous Les Jours
Initially opened as a deli and foodstore, it has now turned into an outstanding, yet simple breakfast and lunch place offering green spirulina smoothies, perfect cappuccinos and other coffee drinks, classic cardamom and cinnamon buns, and of course croissants as well. But that's far from everything – these guys also have a menu, which is modest in size but huge on flavours. The sashimi salad with avocado and spicy sauce is just one of the dishes that will make an impression, just like the turkey toast, served hot with a creamy coleslaw and Tyrrells crisps. The menu is small, but each and every dish is just the way you'd want it – intense, but simple at the same time. Which is why the place is always full. Top tip: on a sunny day take a seat on the small terrace on the sidewalk.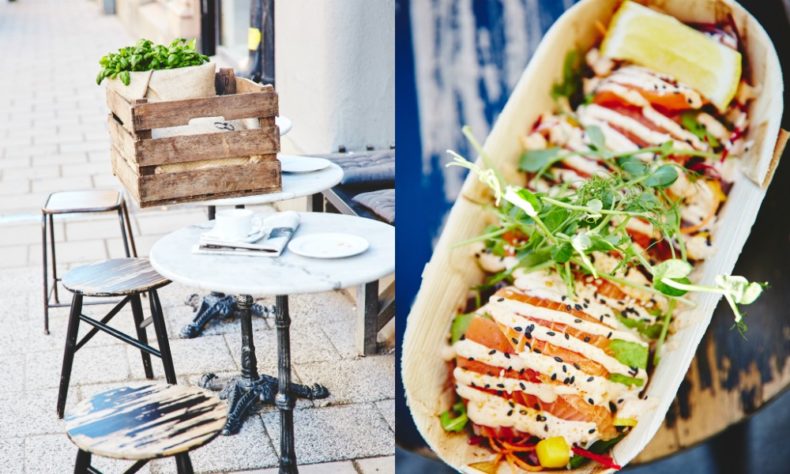 Adress: Tegnérgatan 7, Stockholm
Delicious dinner at Printz
When my acquaintance Fredrik Malmstedt, one of the authors of this place, invite me here, I doubted it was a good idea. A shopping mall and a restaurant – it just doesn't go together. But I was gloriously wrong. This restaurant is a must-visit for any carnivore and lover of great food. And vegetarians, don't despair – you'll find something excellent for your tastes as well. Even if eating at shopping malls is against your principles, I strongly suggest you make an exception – Printz deserves that. The atmosphere is nothing like a shopping mall, and the flavours and textures make you feel like at a top restaurant – these people know what to cook, how to cook it, and use very good ingredients. The main star of the menu is homemade sausage, available in countless variations. To complement those – barbecue sauces, ketchups mayonnaises, all made here on the spot, cured meats, 200 sorts of artisan beer and more, and more, and more. The sausages are all made of highest quality meat supplied by farmers in Gotland, mixed so that you can enjoy various flavours as well as proper juiciness and subtle nuances. Pork sausage with jalapeño and Cheddar cheese, lamb sausage with garlic and rosemary, beef sausage with mushrooms, wine and bacon, smoked wild boar sausage with juniper berries and thyme, chorizo, Thüringer sausage made of beef, pork, marjoram and caraway seeds – that's all for the carnivores. For fish lovers – salmon sausage with lime and coriander, or prawn sausage with saithe, dill and chives. For vegetarians – white bean sausage with truffles or black bean sausage with mushrooms and tarragon. Mouthwatering! Apart from sausages you should also try the tartare, made of beef that's been cured for over 40 days. Just as perfect as all of the above is their burger and Caesar salad. And, as you do for occasions like this, treat yourself to a special drink – organic… champagne, or one of the 200 artisan beers. So if you have the least bit of respect for superb sausages, tartare and wonderfully balanced and nuanced flavours that are ever true to the bone – head to Printz. It's a must!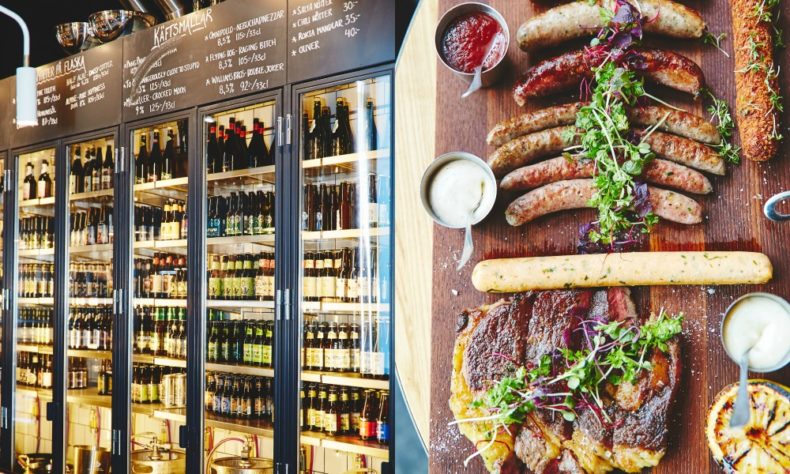 Adress: Mall of Scandinavia, Stjärntorget 2, Stockholm
Book your tickets to Stockholm now!
Author: owner/editor of food magazine Četras sezonas, 4 cookbook author and food blogger Signe Meirane.
Photographer: all delicious photos captured by Kristīne Dzalbe.