Over the last 25 years airBaltic has developed as a strong, profitable and internationally respected airline. airBaltic is by far the best known international brand of Latvia and responsible for more than 2.5% of the Latvian GDP. To start an airline like airBaltic today and to build it to the same level would need much larger investments and years of development. airBaltic is a valuable asset to Latvia and we need to use it and grow it.
BENEFITS OF A NATIONAL CARRIER: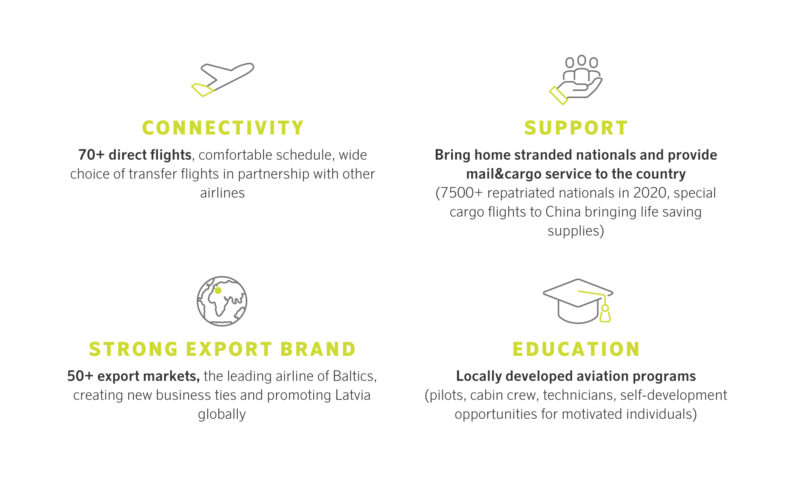 Today, one year after Covid-19 was first confirmed in Latvia, the whole world has learned about the reality of what that virus means for aviation. The impact to the aviation industry is beyond any imagination of what could have happened. All European states know that and are supporting their carriers with billions of euros to ensure air connectivity during the crisis and once the crisis is over.
WHY AIRBALTIC WAS SUPPORTED IN 2020?
GOVERNMENT PROVIDED AID TO ALL INDUSTRIES HEAVILY AFFECTED BY THE CRISIS, and aviation could not be an exception
WITH THE PLANNED IPO, the investment will be returned to the Latvian state in the form of sales of shares
AIRBALTIC IS STRATEGICALLY IMPORTANT FOR THE LATVIAN ECONOMY, with a clear business development plan based on the growth at Riga airport
ONE AIRBUS A220 AIRCRAFT CAN GENERATE AROUND 20 MIO € revenue per year if utilized efficiently – meaning in 2025 airBaltic could produce revenue close to 1 billion €, following the Destination 2025 CLEAN business plan
COVID-19 BROUGHT A 73% DECLINE in passenger volumes due to travel restrictions

Every crisis has an end, and with that in mind we at airBaltic are maintaining our operations and even investing in the future by taking in more Airbus A220-300 aircraft this year. By the end of 2021 we will have 32 Airbus aircraft and with that we will offer 75 destinations from Riga, Tallinn and Vilnius in the summer months. Bringing in foreign tourists will generate thousands of jobs in aviation industry and hospitality field in Latvia.
HOW DOES AIRBALTIC HELP LATVIA PROSPER?