Being in St. Petersburg doesn't mean just visiting the Hermitage, even if it's a great start for your trip. If you want to feel this city like a local "Petersburger", don't limit yourself and accept everything it gives you. So you can fall in love not only on the Nevsky but also routes you won't find in any guidebooks.
Amusement park
Challenge yourself! If you're more of a thrill-seeker than a fan of architecture walks, your first must-visit should be the Divo-Ostrov amusement park. For our trip it was a great start! Here your heart will pump like never before on the wildest roller coasters. There are so many options for fearless adults and children. And entry is free of charge. The price of activities you want to visit depend only on what you want to experience.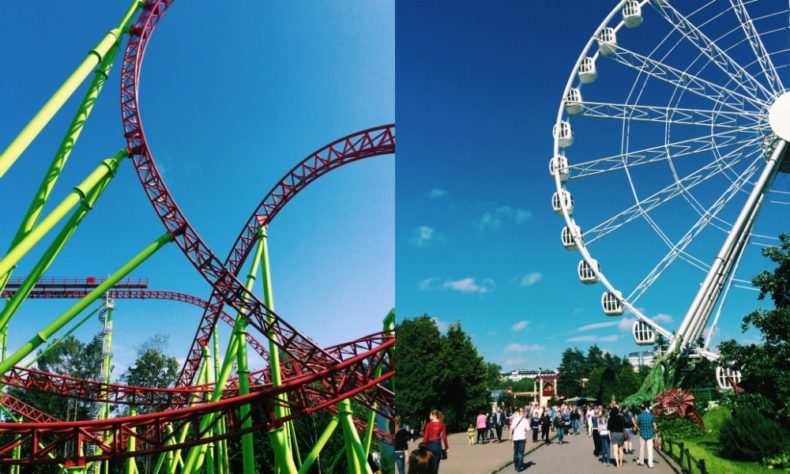 Street Art Museum
When you're a bit tired of the shining old glaze that lies all over the city, it's time to escape into the real "street colours", where modern art meets industry. A laboratory of art and emotion – Museum of Street Art – is a new museum concept in St. Petersburg, exhibiting graffiti and street art in old factory spaces. This industrial area a bit outside the city is a perfect fit for those artists who want to express their opinions publicly and are not afraid of that. How to get there? Walking through the whole city from place to place would be a waste of time. So, why not rent a bike? If you really want to cycle Saint Petersburg then Velograd is a great place rental with friendly prices!
Loft Project ETAGI
You have certainly heard about the drawbridges in St. Petersburg that let ships pass through, and most probably also some rumors about the roofs… Roofs, where you fall in love with the surrounding panoramas from the first sight. Whether it's sunrise or sunset – roofs in St. Petersburg are perfect to enjoy all kinds of vistas. Start your day with a hot cup of tea and a delicious dessert with a view on top of the roof of Etagi or visit Cafe Green Room on the third floor in the same building. Early breakfasts, vegetarian dishes, bio-food from all over the world… If you're a fan of "not in any guidebook" places, you'll love this. By the way, the roof is by far not the only reason for a visit. Etagi also houses designer shops, art spaces, cafes and much more.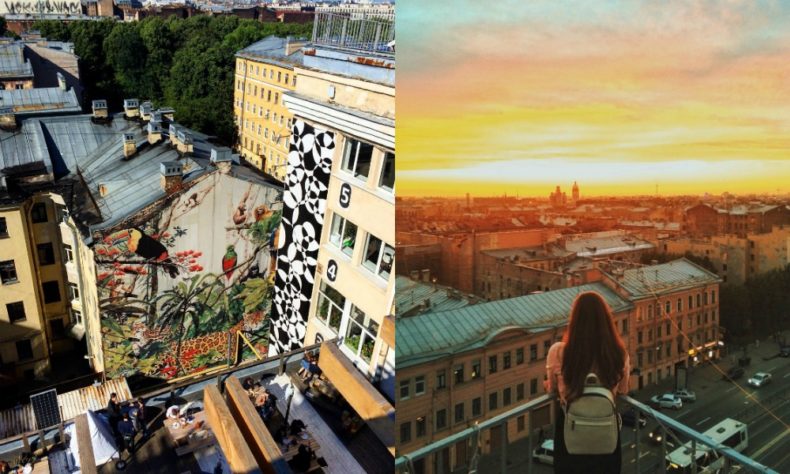 But if you're looking for even more bird's eye views of the city, try the top of St. Isaac's Cathedral. Its colonnade is also open at night.

Explore the city by walking or…
Indeed, the city is so huge that why stick to just one way of exploring it? What we are suggesting? To try at least three of them: walking, cycling and underground.
Walking
Just enjoy the local streets, courtyards, buildings and entryways that exude the same atmosphere that inspired generations of Russian writers. Take your passport, comfortable shoes and a raincoat – with this set you will be well equipped to explore all the hidden streets, backyards and alleys, beautiful even on rainy days. On our way we found colorful street art corners, open art spaces, hidden backyards … It was an unforgettable source of inspiration!
Underground
Purchase a metro token (one of those will set you back 35 rubles) and you'll enter an entirely different world. Each of the stations is a unique piece of art. Every single one has its own meaningful decoration and story… Some are dedicated to the Russian revolution, others are committed to great Russian writers like Dostoevsky and Pushkin. So, when you get off the train, don't be surprised to see mosaics, magnificent paintings on the walls and massive columns with golden trim – enjoy every corner of the art!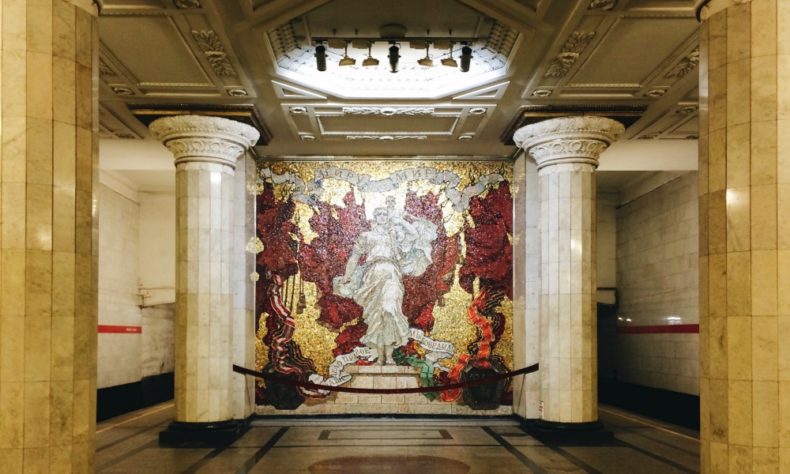 Cycling
When you're out of the underground and still want to discover the city from another angle, take your time to explore around by taking a ride on a bicycle. Use Google maps or any other app you trust or, even better, get lost in the city and find places that are not in any guidebook… This is also a great option for Instawalkers.
Bookstores
One common thing that unites all locals here is books. The whole nation reads. They do it everywhere – while on the metro, while eating lunch… Even if they have a meeting with friends they'll probably just go to a park together to read. And take a bottle of wine with them, to make the moment more romantic. When you're in St. Petersburg you will regret it if you don't visit a single bookstore. Enjoy the search of that very book you've been hopelessly looking for, as you'll most certainly find it here – in St Petersburg. One of the most extraordinary bookstores – The House of Books – is located in the middle of Nevsky Prospect. It will charm you with its atmosphere and the long, long shelves … So before you leave this city, make sure you pack some books to take home…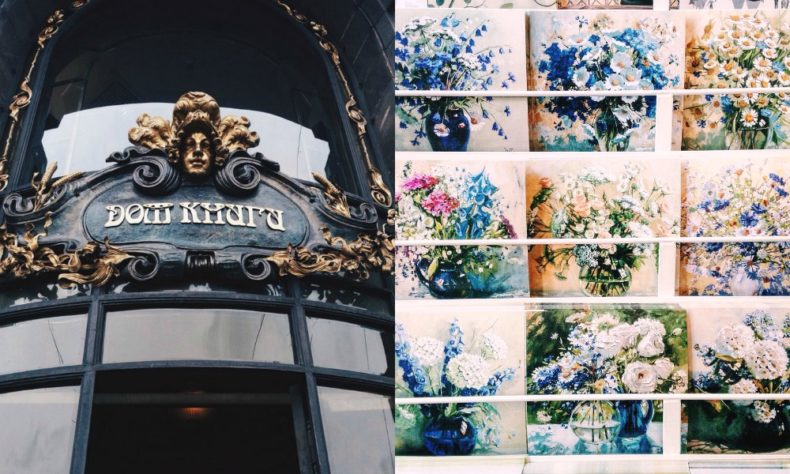 Peterhof Palace
This place is the Versailles of St. Petersburg. You can spend several hours wandering around the beautiful parks and admiring the fountains built here for Catherine the Great. You might just get lost for words when you're there, taking in all the magnificent historical heritage…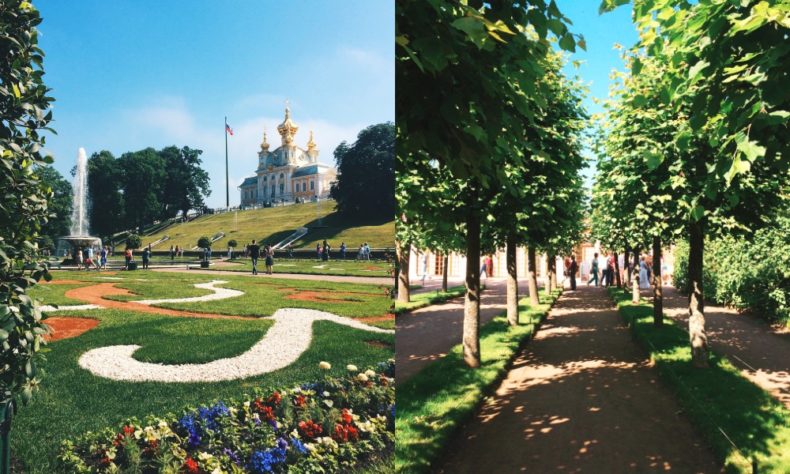 The Venice of the North
Have you ever heard that St. Petersburg is also known as the "Venice of the North"? If Nevsky Prospect is the heart of the city, than Neva River is its main artery. The best way of revelling in the views of historical buildings is to take a boat ride down the river and listen to stories about St. Petersburg. It's a wonderful way to say goodbye when you're leaving the city and an unforgettable end to your trip.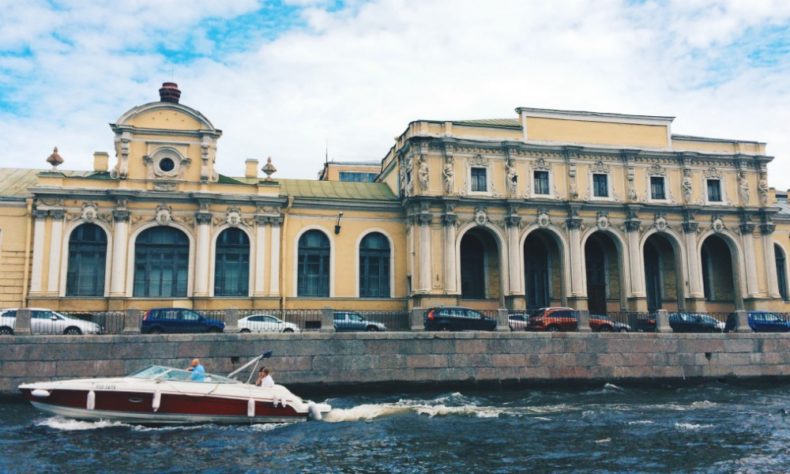 As of October 1, there will be a new free e-visa available for St. Petersburg for which applicants of 53 countries will be able to apply for online. For more information, read here.
Written specially for airBalticBlog by Eugenia Kupenkina.