The Baltic States, the home of airBaltic, are some of the greenest lands in Europe, and we have made it our duty to help preserve the environment wherever we fly. Sustainability and corporate responsibility are amongst our core values. We invite passengers to leave a smaller footprint in the sky and to Think green, fly green. From head to tail proud to be green.
Youngest fleet in Europe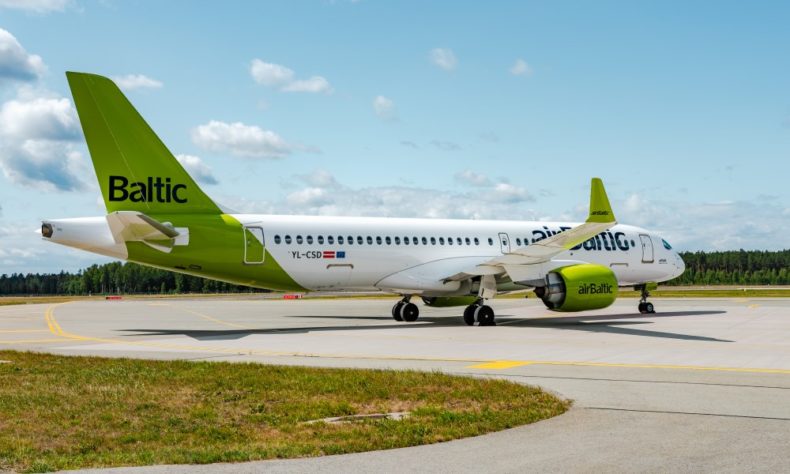 We are proud to have been awarded for the second time in a row as the airline flying the most modern and youngest fleet in Europe (average fleet age only 2.87 years).
The greenest commercial jet in the skies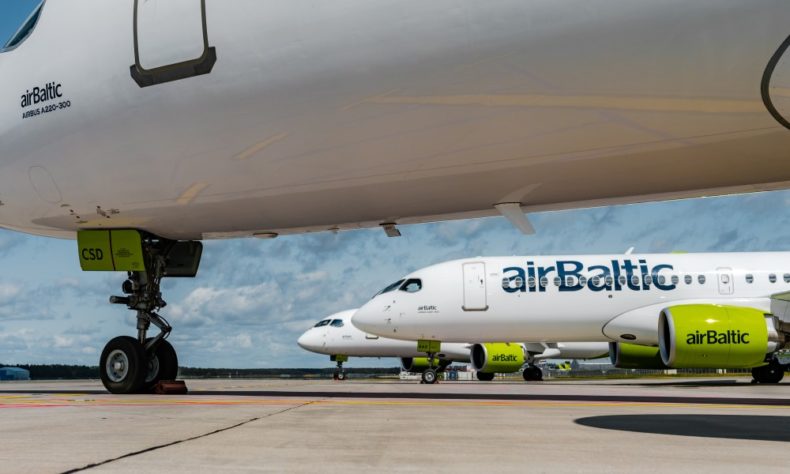 airBaltic's fleet consists solely of Airbus A220-300 aircraft. Created with the perfect balance of proven methods, materials and cutting-edge technology, the Airbus A220 is now the most efficient and greenest jet in the skies. The Airbus A220 aerodynamics were designed for optimal performance and reduced drag, which means that around 20% less fuel is burnt compared to jets and turbo props airBaltic was flying before. There is a considerable emissions reduction – 20% in CO2 and 50% in NOx emissions.
Lower CO2 emissions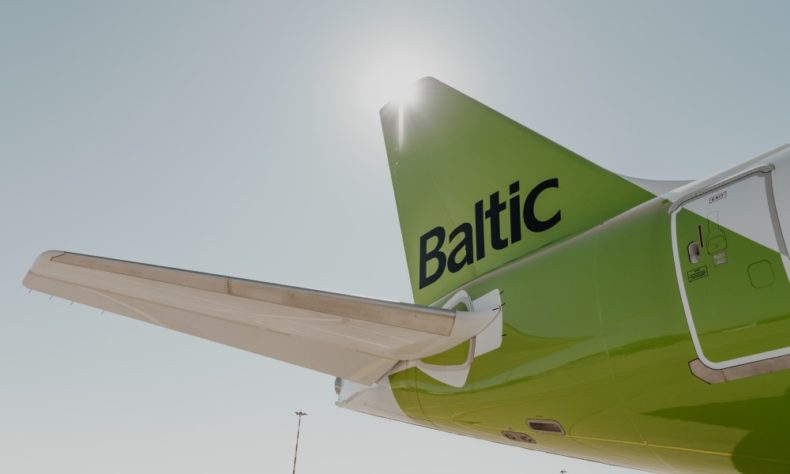 We are proud that through modernisation of our fleet and optimisation of landing procedures, we have been able to reduce the amount of carbon emissions released per passenger km flown by 33% compared to 2008.
Smaller noise footprint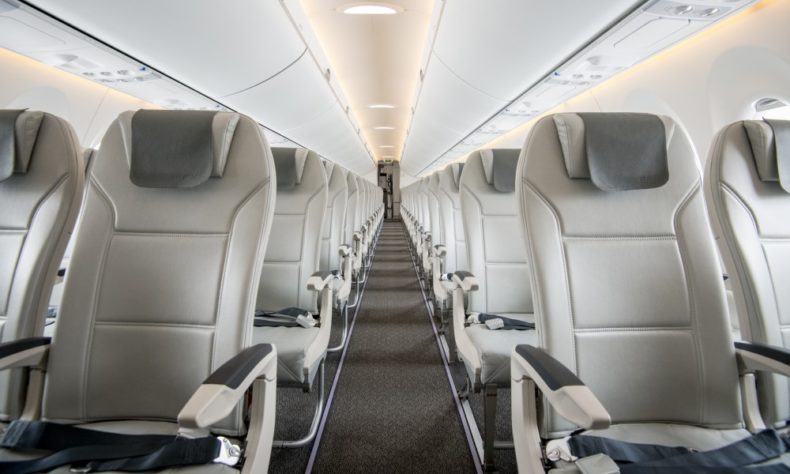 Airbus A220-300 is also the quietest commercial aircraft in its class. By having four times smaller noise footprint, we can fly even to noise-sensitive city airports.
More modern operating procedures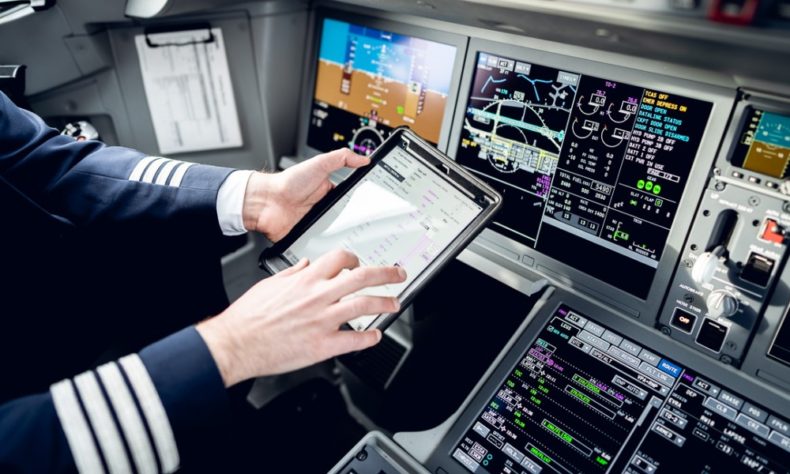 Our flight crews use only Electronic Flight Bags. It means that all operating procedures, various manuals and charts are found on iPads, reducing aircraft weight by 24 kilograms. One more step towards saving fuel and reducing emissions.
Clean cabin air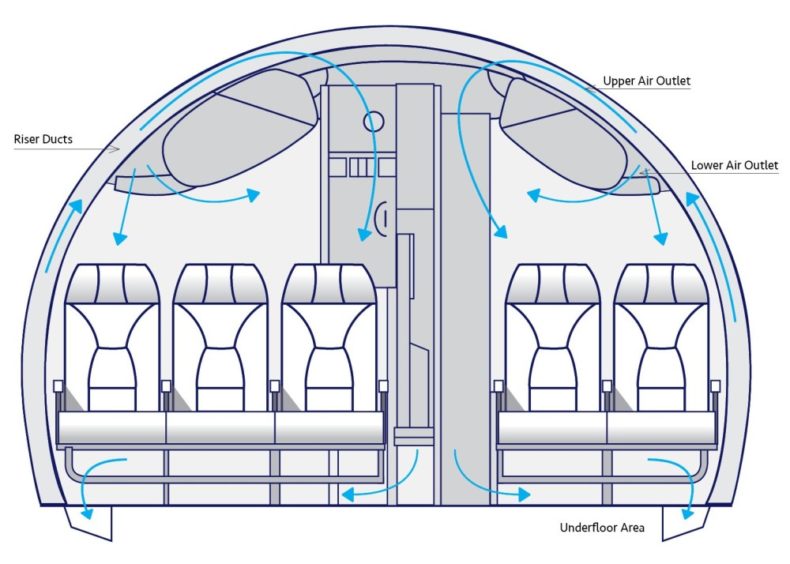 Feel safe in our planes! The manufacturer of A220-300 has used a cabin air recirculation system and High Efficiency Particulate Air filters (HEPA) that provide better performance compared to those used in any other type of public transportation. The air is collected from outside the aircraft through the engine. For your comfort and wellbeing, it is mixed with filtered air from the cabin.
Our network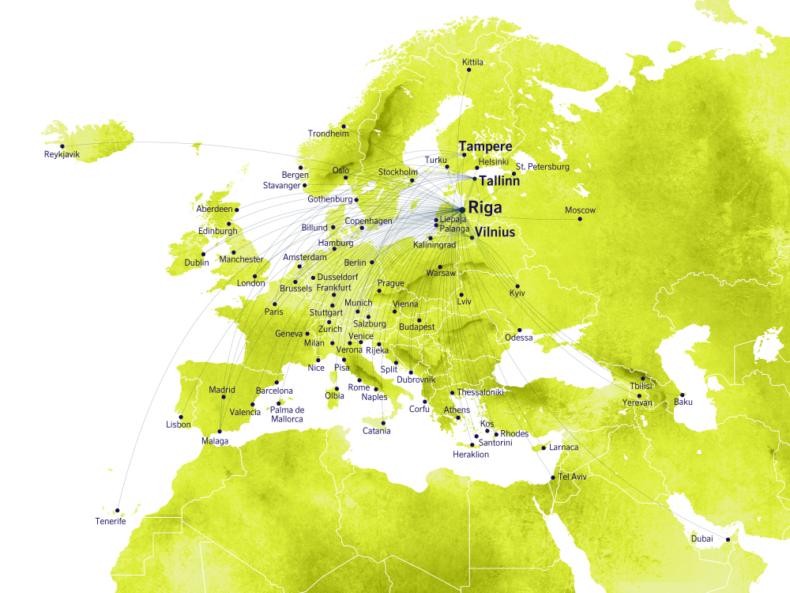 Our network, which now consists of over 70 destinations and to which airBaltic flies from its hubs in Riga, Vilnius, Tallinn and Tampere, is carefully designed to serve our passenger's needs, both business and leisure. But if your travel plans reach beyond that, we are here to offer you the most convenient connections through our 24 code share partners throughout the world.
Life inside the airline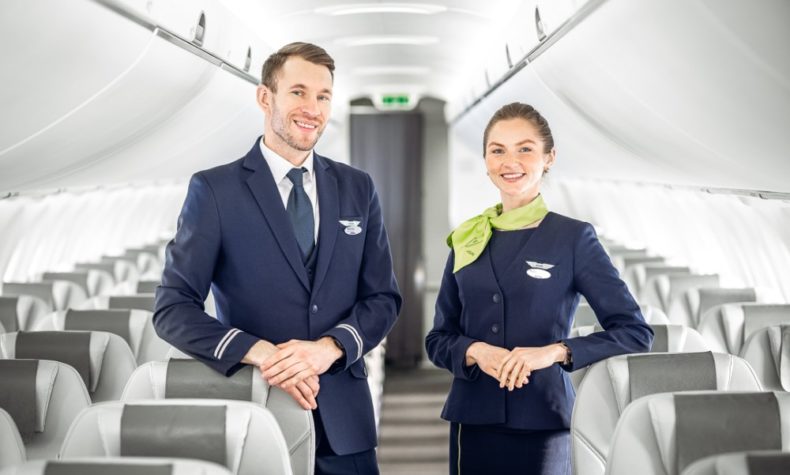 We are also very happy that we've been able to keep our promise and rehire 234 from our flight and cabin crews, who were let go when the pandemic struck. The first group of rehired flight attendants started to fly again in last July, in November we welcomed back the first group of pilots. The process is still ongoing.