The Baltics are considered a great example for dealing with the state of emergency, so you'll feel safe there. The streets of the capitals Riga, Tallinn and Vilnius are never too crowded, but at the same time all the cafes, bars and museums are open and there are no restrictions in place that could ruin your holidays. The Baltics and nature are thick as thieves: you can sense this connection on a hike along the pristine beach or at a lake house sleepover. Every week, a nature trail gets an upgrade, or a new cafe opens its doors – boredom is out of the question!
Few people, countless sights

Riga, Dome square
Population density is low here, and the Nordic mentality plays a role too – crowds or being close to strangers is not something people of the Baltics feel at home with. Hence, there are no problems with distancing. It doesn't mean people are not hospitable, just the opposite! They are sincere and proud of their land, so they're happy to show their guests around.
Hundreds of kilometres of beaches
To be exact, the coastline of the Baltics spans more than 4500 kilometres. Just imagine the number of white sand beaches! And rocky beaches, and pebbled beaches, and beaches hugged by red cliffs. And nude beaches too! Finding a quiet beach is easy as pie; everyone gets a spot by the sea! The Baltic Sea is not that salty, so a shower after a swim is really optional; you can just lie on your towel all day and take a refreshing dip from time to time.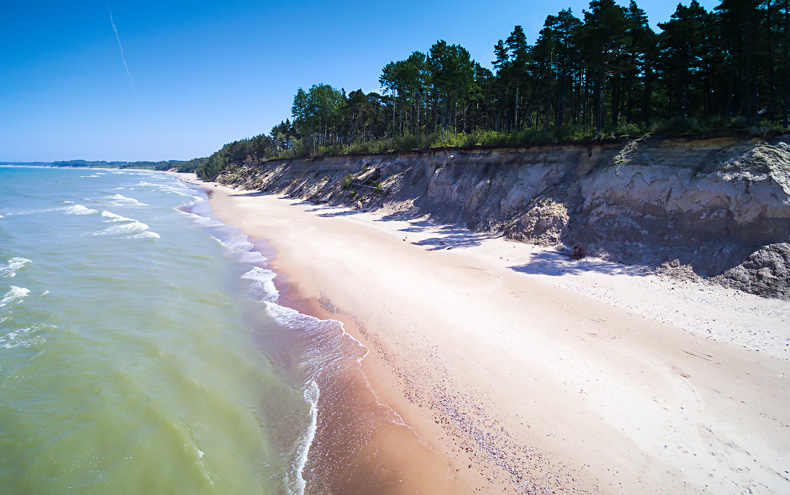 The beach is just a 20-minute ride from Riga city centre. Forbes has named Jurmala Beach one of the safest destinations this summer; Nida Beach in Lithuania is on the list too. A visit to the Curonian Spit is a must – these tall mounds of sand can compete with some world-famous deserts. Stay alert while you're enjoying beach time – there's a chance you'll find a piece of amber; if you do, it's for you to keep as a nice souvenir.

Nida, Lithuania
A chance to see a real bog
In Lithuania, there are more than 2800 lakes; Estonia boasts 2222 islands, and Latvia prides itself on 42 nature parks. Many trails sport benches and wooden footbridges, easily navigable with a wheelchair or a pram.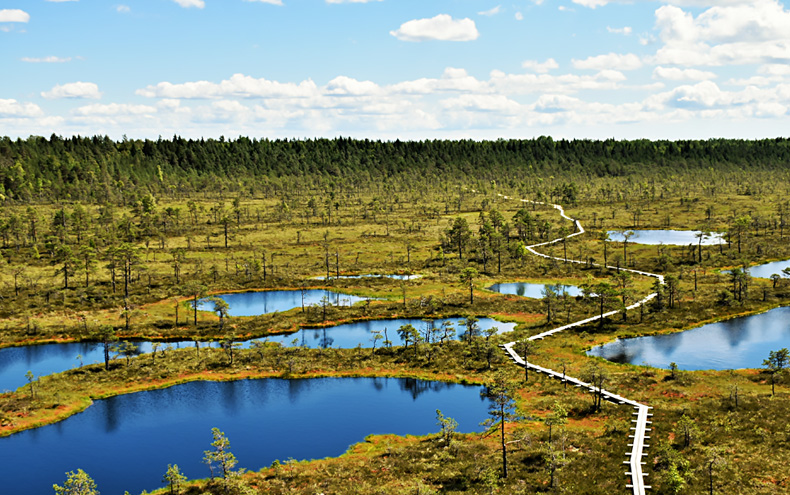 Everybody loves a watchtower that rises high above the treetops; make sure to climb at least two on your holiday. Boat trips are a yearly tradition; they're rather a spring activity as rivers run faster then, but in the summer you are free to explore the waters on a kayak or SUP board. If you've never tried fishing, perhaps this is a good time?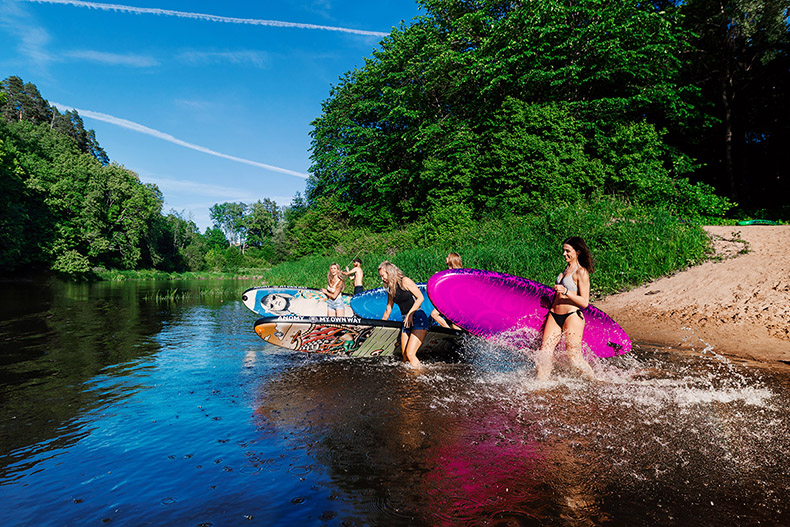 Visit the Lahemaa National Park in Estonia that has everything from forests, cliffs and lakes to rivers and waterfalls. Put the nature trail in the Keila-Joa Park on your list too – it runs along the river for 3 kilometres and finishes at a 6 m high waterfall, which is the 3rd largest in the country.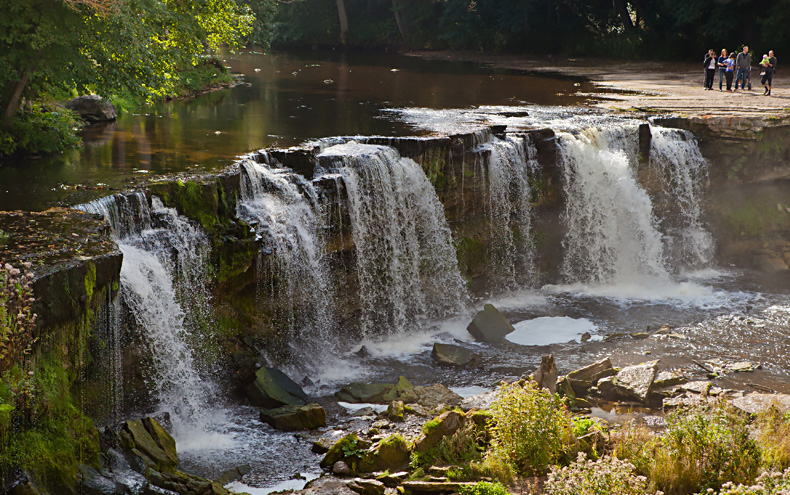 Have you been to a real bog? Choose Vasenieki or Ķemeri bog in Latvia; to find the longest bog trail in Lithuania, google Mūšos Tyrelis. It weaves around a crystal clear lake and leads through a beautiful forest. Does it have a watchtower? You bet it does.
Impressive castles and manors
Every year, there's a special campaign organized to visit the castles and manors of the Baltics. The number is quite high, so one holiday will not suffice to see them all. Visit Rundāle Palace in Latvia, an exceptional baroque and rococo masterpiece, and then take a stroll through the heady rose garden.

Rundāle Palace, Latvia
Rūmene Manor that houses a 5-star hotel lies an hour away from Riga Airport. Lux apartments with private terraces or a separate hut with a private garden are available too. Tucked between two lakes on a peninsula, Užutrakis Manor in Lithuania shines bright; a walk through the restored edifice and its park will provide a good impression of how the 19th century Lithuanian noblemen used to live.

Užutrakis Manor, Lithuania
Pakruojis Manor is the largest manor in Lithuania; it consists of 43 buildings and features two hotels and a brewery. For children, there are goats to pet in the barn and horses to ride in the stables.
Estonian islands
Out of more than 2000 islands Saaremaa is the biggest one; they say it has more spas than all of Estonia.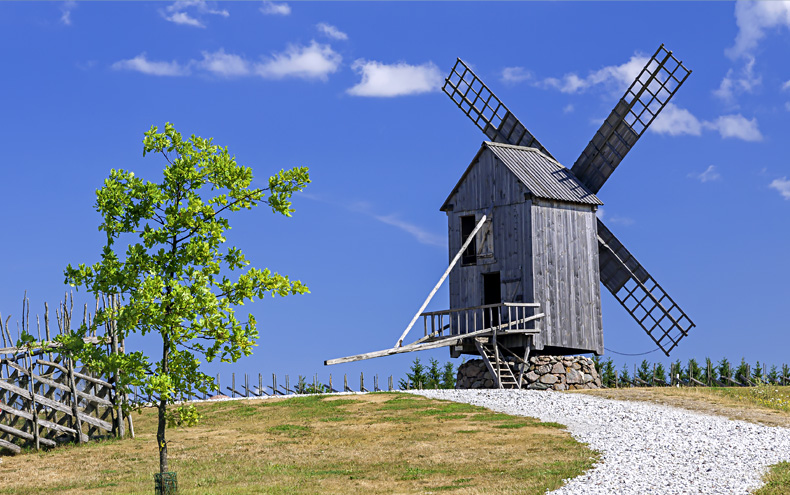 Hiiumaa is next in line; its crown jewel is a lighthouse, deemed the oldest working lighthouse in the world by travel guides. St. Madeline's Church is the oldest wooden building in Estonia, but one of the best restaurants in the whole country is located in the splendid Pädaste Manor on Muhu Island.

A road from Saaremaa to Muhu island
Nice weather
In the Baltics, there's no need for a lunchtime siesta to escape the midday heat, as the average temperature in the summer hovers around 20 degrees. July is the hottest month; on good days, the temperature can rise to 30 degrees. Make your way to the sea on such occasions – the breeze will be just what you need.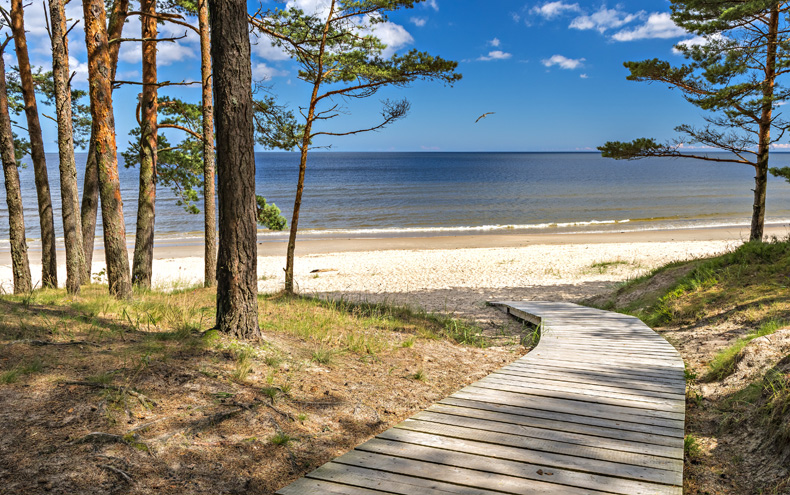 The water in lakes and the sea stays pleasant enough for a dip up to early September. When it's extra nice, Latvians say that the water is as warm as milk – the best moment to make sure of it is the middle of the night when fog hovers above meadows, and the night sky is covered in a blanket of stars. A magical swim can easily be the highlight of the whole holiday.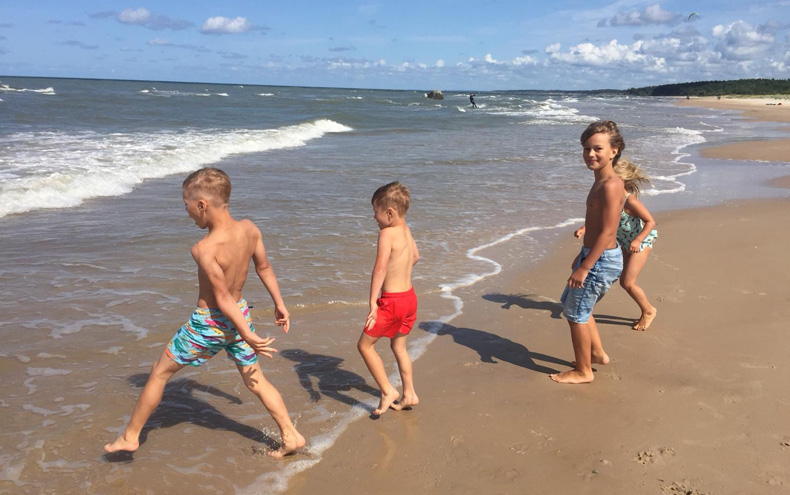 Fresh local vegetables and berries
Summer is an exceptional season for foodies – new potatoes, fresh sugar peas… it feels like you could survive on veggies alone! Don't miss a visit to the market – fresh fruit and vegetables are available for purchase just hours after harvest.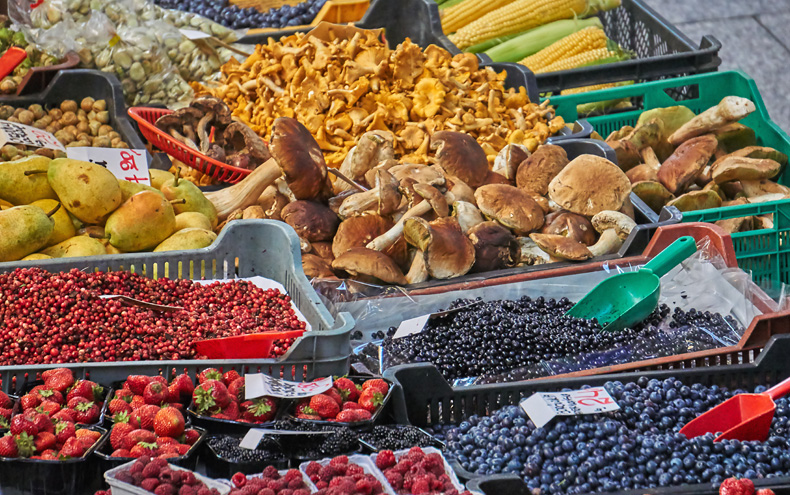 You'll need to accept that most dishes are served with dill.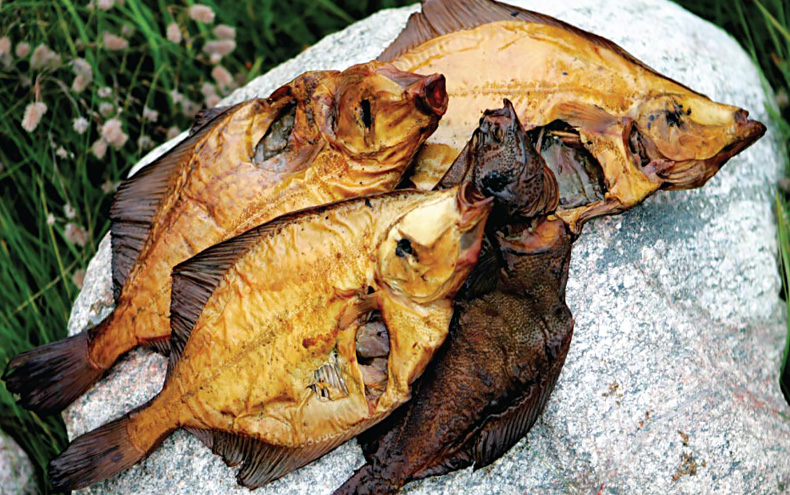 If you're on your way to the beach and notice a poster that has a fish on it, stop right there – this is where you can get some delicious smoked fish. Use fingers to pick up the bites, wipe your fingers on your trousers and top the meal off with a slice of rye bread.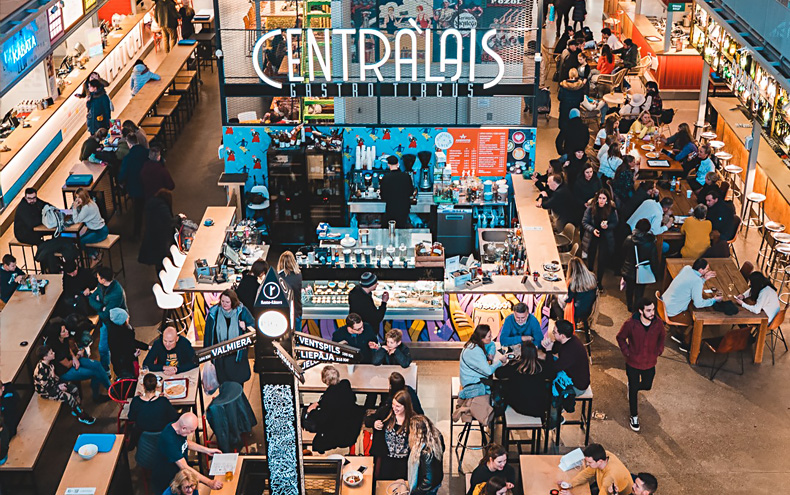 In the capitals, classical restaurants reside alongside hip cocktail bars, and there's such an abundance of breweries that you can have a different kind of beer every day. Try out Labietis in Riga, Būsi Trečias in Vilnius and Põhjala in Tallinn, which also offers a private sauna for rent.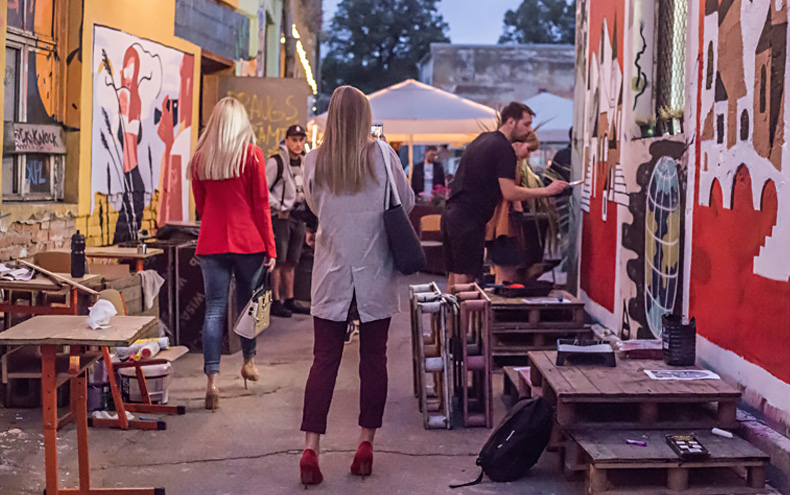 A night in the trees and on a lake
Save spending the night at huge hotels for another time. In Saaremaa, the Ohessare mill, its most romantic symbol, welcomes sleepers. In North Estonia, on the banks of the Rummu quarry, choose one of the huge barrels at Paekalda Holiday Centre. Each end that faces the lake is made of glass! Enjoy sunset straight from your bed, and let the rippling water lull you to sleep. In the morning, take a refreshing swim just a few steps from your bed. In Lithuania, the Birštona municipality is a great choice; mineral water flows from the depths of the earth, so there's a spa in almost every hotel, which means pools, saunas and rejuvenation.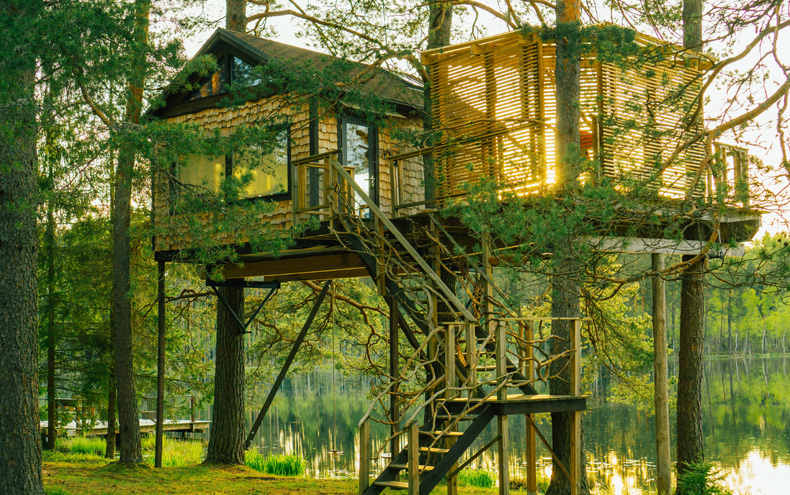 Fulfil your dream of spending a night in a tree in Latvia. For a more luxurious experience, try glamping by the rivers Bārta or Gauja.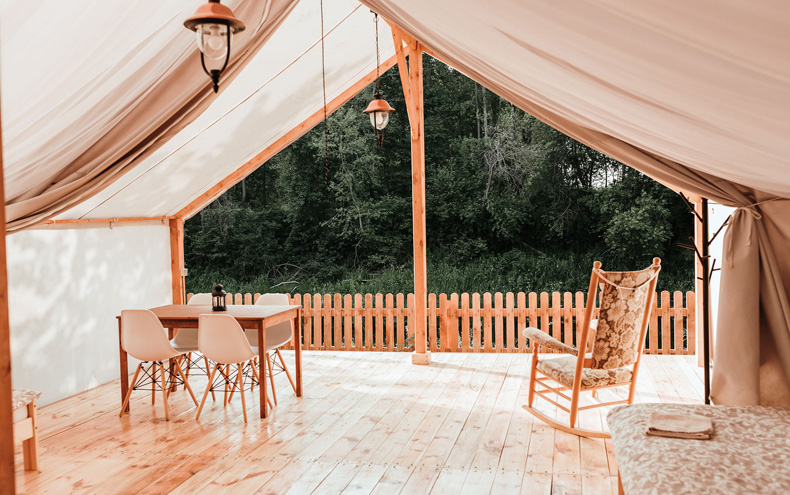 Listen to birdsongs instead of the alarm, and make an excellent dining table out of the blooming meadow. The owners of Gauja glamping have a beehive and brew their own kombucha – an unforgettable experience is guaranteed.
Unusual museums

Tyszkiewicz Castle
Tyszkiewicz Castle in Lithuania houses one of the largest amber collections, but a few hours from the capital you'll find the decommissioned Ignalina nuclear power plant that exhibits its reactor and turbine room. A few kilometres away, there's a block control panel simulator, and you can pretend to be in an emergency situation on guided tours. Overlooked by employees, visitors can press buttons to avert the impending catastrophe. Mind that this tour must be booked in advance! In Kaunas, a bunker 6 metres below ground level is a popular attraction. It displays at all kinds of items from World War Two, as well as radios and medical instruments.

Atominis bunkeris in Kaunas
Meanwhile in Estonia, you can descend into the Kohtla mine, which opened in 1937. Nowadays, the tunnels are silent and only receive tourists who want to have a look at the tools of the bygone era. In Saaremaa, don't forget to visit the Kaali meteorite crater and the Meteoritics Museum.
Extreme adventures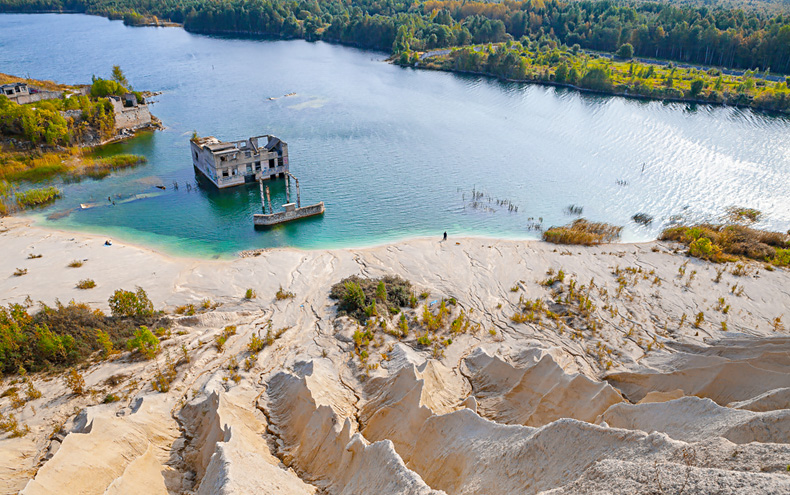 The Rummu quarry is a popular attraction in Estonia because there's an underwater jail, which adventure seekers tour on SUP boards or dive underwater. What do you say to spending one night in the middle of a forest with bears roaming around freely? You can stay at a well-masked hut and try to spot the brown animals through the windows. Don't worry, the bears cannot get in! If there are no bears in sight, racoons, wolves, bobcats, foxes and birds reside in the forest too.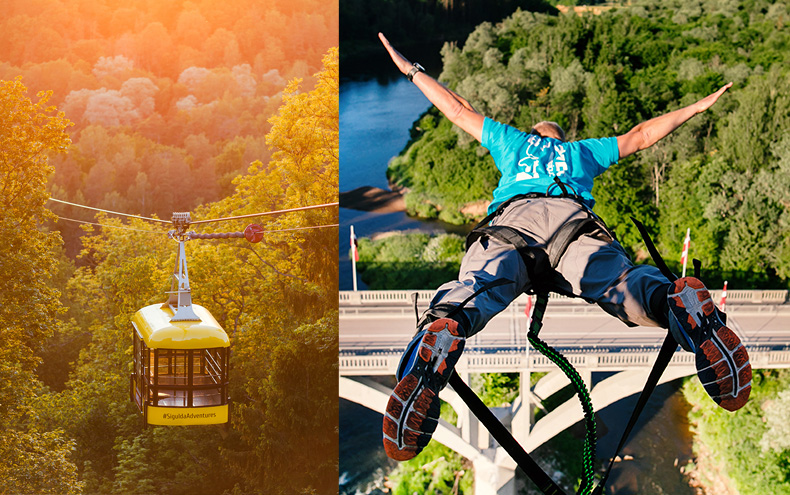 In Latvia, get an adrenaline rush at Bungee Sigulda – jump from the height of 55 metres out of the legendary cable car above the Gauja River. On special days, you can even score a free jump! Where's the catch? You must be totally naked.